Water dripped off my soaked jeans onto the bare rock. Jim sat next to me, relatively dry, and we chatted about programming. We had just crossed the Yellow Dog River below the last waterfall, at Brushy Creek Falls, through two very deep feet of water. Jim had a decent pair of quick-drying pants that detached at the knee while I had merely rolled up my jeans before crossing. Now we sat and waited for me to dry before heading up the ridge near Brushy Creek.
Squeezed between County Roads 510 and 550 is a lumpy chunk of the Huron Mountains, dozens and dozens of scattered rocky hills that jut up between water-carved valleys. Many of these small peaks have bare outcroppings, including the Panorama Hills, Alder Hills, and the well-known Hogsback Mountain. There is something else going on here, though, a different type of formation offering views of the surrounding area and Lake Superior beyond. Ridges, as bare and sudden as giant wooden steps leading down to the lake, cut sharp lines in between the scattered hills.
After a brief look at the falls along Brushy Creek we headed down Bushy Creek Trail (yes, the naming here seems to be at odds). This road appears to be almost passable all the way through, a route connecting 510 and 550, if it wasn't for the deep drop at Brushy Creek. There's no culvert, just a rutted drop down and through the little creek. Today a single vehicle was parked above the road's drop and a fisherman stood downriver on the Yellow Dog. It was a quiet, peaceful setting.
The ridge starts fairly close to the creek but a cabin at the foot of these hills pushed us east. Once we passed the cabin we cut off the road, walking through a relatively clear forest, swishing through the undergrowth and snapping small twigs underfoot. Deep canyon walls began to soar up from the floor, carved by now-dry creeks from the ridge above. We climbed up and down a few of these before following one of the ridges up, up away from the flat ground and towards the rocky outcroppings ahead.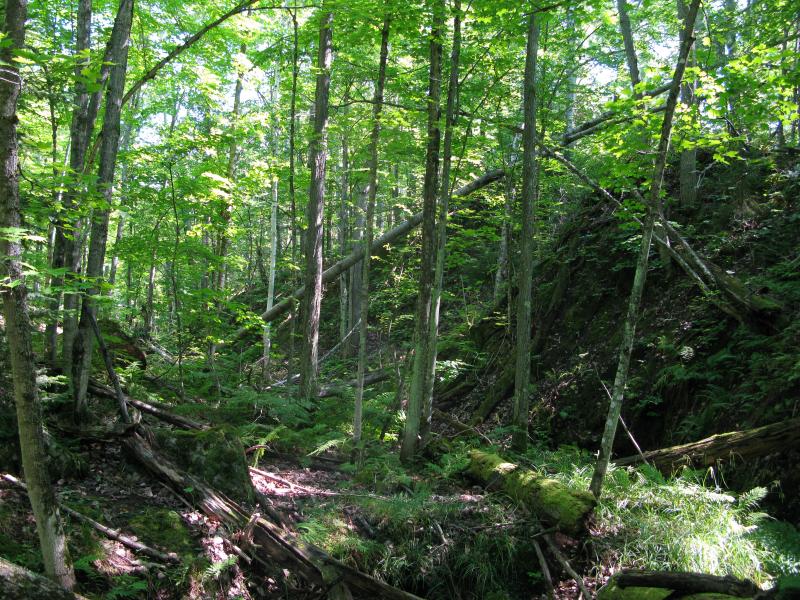 There are five points along this ridge that seemed significant. Starting at Brushy Creek they extend east with a slow northern curve, each one promising a better angle out over towards Lake Superior. The cabin sits at the base of the first one, right next to the creek, and we tried to loop around the private land to it. When we finally broke free of the green woods onto a bared ridge we paused and looked around to get our bearings.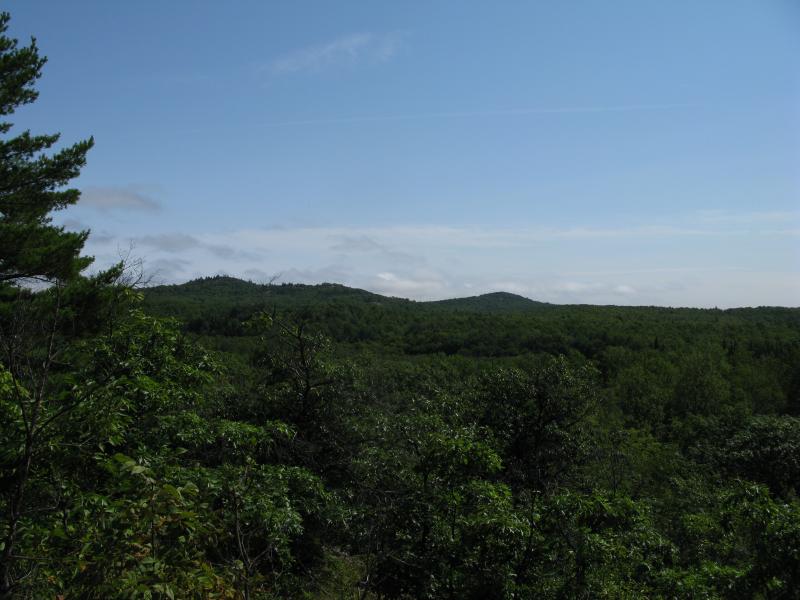 Below us was the deep green of the Yellow Dog River valley, with several hills poking up beyond. The largest ones looked to be in the Johnson Creek area, a hill that I've spotted before from earlier hikes. I'd love to climb that hill, as it promises quite a view from the top, but with a cabin planted firmly near the peak it is probably left alone. To the west, back to Brushy Creek, was the first highpoint of the ridge. We had missed it, and now there was a deep valley in between it and us. Knowing that the views would not change much we turned away and headed east, skipping that outcropping, more interested in the potential views of Lake Superior ahead.
As we meandered northeast, slowly gaining elevation along the way, I kept looking over towards the mountain by Johnson Creek. With a bit of imagination I could almost make out the cabin, a brown peak in the saddle. Jim thought I was making it up at first, dismissing the small peak as just another tree, but then he started to think it was a cabin as well. Owning that thing would be amazing. You could probably make out both Saux Head and Independence Lake, look straight up the Yellow Dog River, and of course have a great view of Superior. Ignoring the steep drive up it is very accessible at less than a mile from 550, too.
After a brief brush through some woods we came out another outcropping, with similar views, and then another. It was hard to tell which section we were on so I had to check my GPS. This was it, this was the first potential view of Lake Superior. Our eager eyes peered east searching for a hint of blue and all they saw was grey.
Low clouds gripped the great lake and its shoreline. Disappointed we wandered east a bit further, meandering along the rocky ground, hoping to catch a break. A new sight showed up, a low line of green that seemed to block our view ahead. I didn't expect this line. Turns out that the ridge near Brushy Creek was not high enough to peer north over the highlands of Bear Lake. Any view of Independence Lake and Big Bay beyond would be blocked. The only thing we would be seeing up here was green hills.
We headed down the rocky slope back to the Yellow Dog River. While this ridge had given us great views over the river and of the surrounding peaks we weren't able to see Lake Superior in the east. Sure, if there was no fog we may have seen something, but even that would have been partially blocked by Bear Lake's highlands. When we reached Bushy Creek Drive we didn't spend any extra time wandering back up the river, making quick time back to the car and for future (and hopefully more fruitful) adventures.