Three trails start from Deer Creek Trailhead and climb up into the Mazatzals: Deer Creek, South Fork, and Gold Ridge. All of them end along Forest Road 201 near Mount Peeley Trailhead, making them more-or-less useless for anyone with a vehicle that can handle FR 201. I don't have a vehicle that can handle the road so these trails, which start within yards of the AZ-87 highway, are very handy to reach Mount Peeley. So I came up with a weird figure-eight loop to take advantage of two of them in order to complete the last section of the Mazatzal Divide Trail from Peeley to Bear Spring.
Another weekend in the Mazatzal Wilderness, another predawn start over rocky ground. This was becoming a standard way of hiking for me, I guess, to knock out some miles before the sun woke up and began torching the earth below. Today I hoped to cover three easy miles before letting the sunlight touch me. And they sure started easy. After some annoying loose rocks and a quick crossing of South Fork Deer Creek my path slid along packed dirt with the growth trimmed comfortably back.
Beside me were lush, green trees, promises of a dependable creek nearby, but on the other side were stark reminders of past wildfires. Willow Fire had burned even here, stretching down into the lowlands, and I think Sunflower may have hit this area as well. I wasn't sure how bad the fire damage would be today. Rumor had it that this trail was not 'bad', maybe a bit overgrown, and that only one trail this weekend (Davey Gowan, which I planned to visit tomorrow) was devastated. One terrible trail out of four wouldn't be bad.
Manzanita and other low land brush continued to pass by as I zipped up the trail, zigging in and out as different tributaries flowed into Deer Creek. I couldn't get over how nice this trail was. There was one washed out section that briefly slowed me down and everything else was gravy. Could it be this nice all the way up to Gowan Camp, some eight miles from the trailhead? That'd be grand. Today I was hoping to cover over twenty miles and the less hacking and route-finding I had to do the better.
Soon after five thirty I reached the grave site of David Gowan, an early pioneer who spent some time up this creek. Or so I guessed, anyways. There was a camp and trail named after him, and his grave was here, so he must have done something in this area. Mazatzal history is hard to find. I nodded politely to the headstone and continued on, soon dropping next to some running water near the Bars Canyon confluence. That canyon would take me right up to Y-Bar, though I think there are some decent waterfalls to bypass if I wanted to get that high up.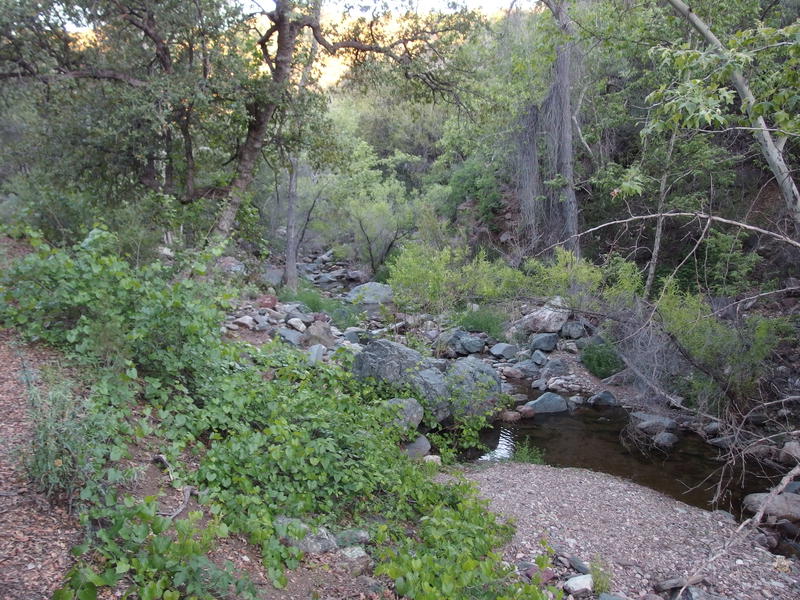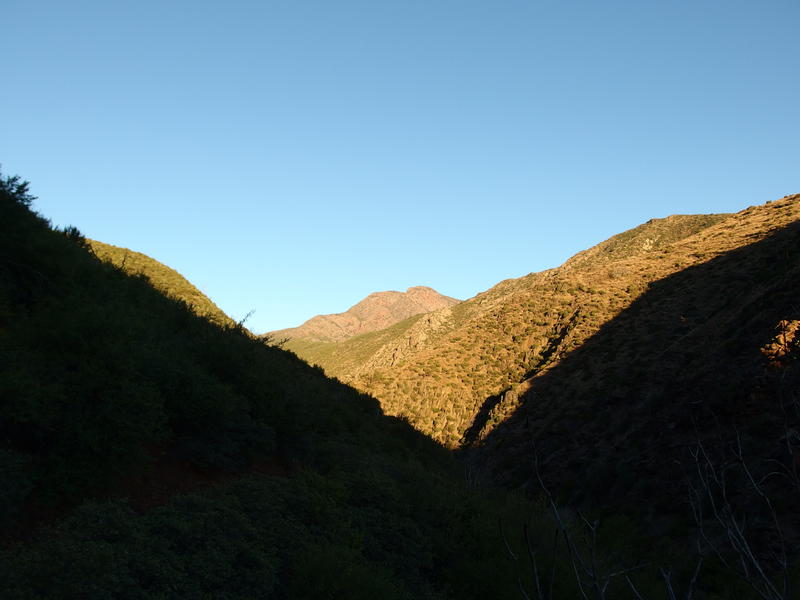 Sticking to this trail rewarded me with a long view of the creek's canyon. It was getting steep up there, the hillsides dropping sharply down as rocky cliffs above the creek. Hope that this trail stays comfortably close to the bottom, cause I didn't feel like riding a roller coaster today. In the distance was a huge mound of rock that really looked like Mount Peeley. If things went well I'd be dancing along the side of that huge mound of rock in a few hours. It seemed ridiculously far away from here.
From the view point there was a steady drop back down next to the creek, passing into the wilderness boundary along the way, and then a few minor crossings. Things began to get difficult to navigate here. Along the creek the trail was quickly swallowed up by deadfall and undergrowth, some places rather bad, and the only cairns in sight marked the crossings. Finding the tread along the banks was an exercise left to the traveler, apparently. Sometimes I felt confident that I was on the correct path, and other times I wandered and looked around like a lost puppy. My quick morning pace slowed to a mix of rock-hopping and bushwhacking.
At least the scenery was amazing. Shade still reigned down here and I kept my hat off, enjoying the pleasant temperatures and riparian environment. There were some sections of rock and many more of trickling pools surrounded by leafy trees. Cactus seemed to avoid the water, probably due to the increased competition, and my only thorny battles were with catclaw. My pace was slow and my impatience brewed, yet the atmosphere soothed away my concerns.
There was one nasty spot where a sharp south bend pushed the trail up a steep bank. Reluctantly I climbed it, worried that the bend might be hiding an impassable drop or wall of catclaw, and as soon as I broke free from the shade the sweat glands woke up. It was a crumbly, spiky, annoying climb, one that dropped on the far side with painstaking slowness, and I'm not even sure what it saved me from. A few extra yards of distance, perhaps. On the far side there was a wonderfully deep pool that I briefly rested next to.
With a liter of water down and one left in my pack I pushed on. I wasn't too worried about water for now, not while strolling along a creek, and I planned on pulling more at Gowan Camp. Or at least checking it out. If everything went well today I would be spending the night at Gowan Camp, after finishing the upper half of my figure eight, so it'd be good to confirm the water situation.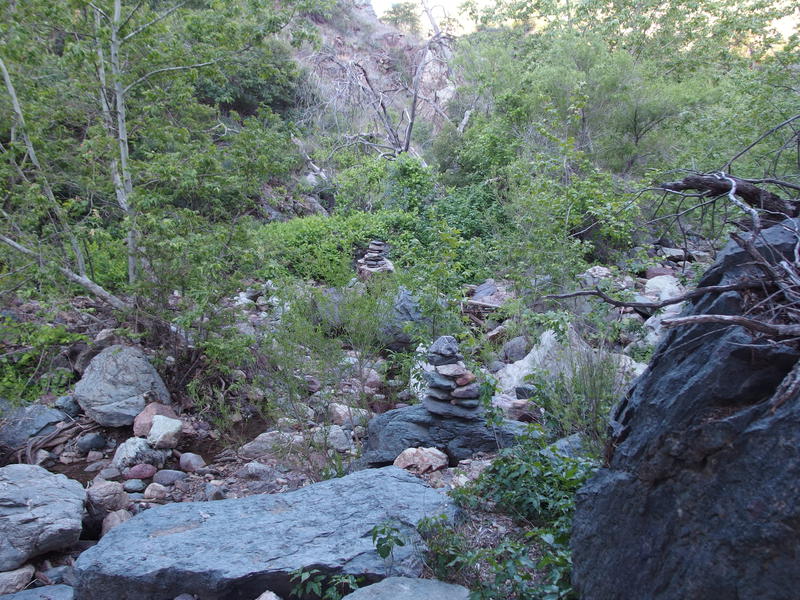 Above the deep pool things began to get even thicker, with the ivy and deadfall working together to mask underfoot hazards. The cairns became tricksters, leading me to cross the creek from one overgrown side to the other and luring me away from the easier creek bed. A few yards of clear path was a luxury that I rarely saw. Few people had hiked this length of trail from end to end in recent years, so there wasn't much information out there about conditions.
Eight rolled past, which is about when I wanted to be at Gowan Camp. Missed milestones weren't that big of a deal this time - just meant shorter breaks and possibly a later exit on the next day. My biggest worry was this afternoon. I had a really tough off-trail section that I was dreading and I needed to know whether or not I should tackle it today or wait for tomorrow morning. As I hiked I tried to come up with decision times in my head, and as I pondered I came across an impressive, if small, stand of pines along the creek. Man, was this whole trail like this before the fires?
Forty minutes after the pines and I entered Gowan Camp, a flat section of grasslands that was once… A ranching camp, maybe? Or maybe a homestead? I'm not even sure. There weren't many clues here, either. A rock wall and a trench, either from a corral or a shelter, and some rusty knick-knacks. I pushed down to the creek and found a stagnant pool to pull water from and got to work. Now over an hour behind schedule, I didn't want to waste much time resting. It would be several exposed hours before my next water source.
The water was okay at best, with plenty of waving green algea to give me pause. After so many crystal-clear pools this morning filtering from this seemed silly. I wasn't about to backtrack a mile, though, and the taste was passable. A quick sock change and I was back up in the grass, looking for hammock spots. There were a few, though most of the good trees were up along the hillside, which would make entering/exiting difficult. This could work for a campsite, I suppose, I had just hoped for better.
To the task at hand - getting up on Mount Peeley. It waited for me up there, beyond slopes of burned trees and towering on sides of hard rock. Eight hundred feet left to climb and I'd be on the trailhead, figuratively on the doorsteps of that mountain. I pushed through some brush and found a surprisingly clear trail leading along the hillside, passing by several running draws and springs.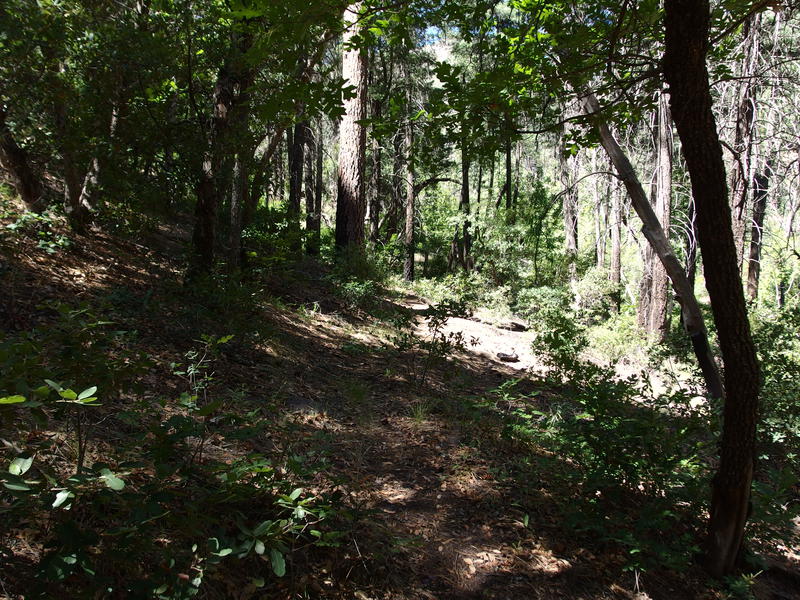 That pleasant trail soon turned into a slog up an exposed slope, with burnt pine stumps letting the hot sun through. There wasn't much deadfall, evidence of recent maintenance, and I appreciated that reprieve, because my legs were just not that into this climb. I'm not sure if they were complaining because of my recent workouts or because of the two thousand feet I had already gained today along the creek. Either way, there was only more elevation to gain this afternoon and they needed to get in line.
Near the top the grade lessened and I zipped past a trail sign before spilling out onto a parking lot. Finally. Nine miles done by ten thirty - all that overgrowth between the grave and Gowan Camp had really slowed me down. I looked around and saw two vehicles, one of them a black jeep parked way out of the way. Perhaps I'd see some other people out here. With little else to do I turned towards Peeley and pushed off, gaining steam on the wide open Cornucopia Trail on my way to finish the Mazatzal Divide.