A steady background hum of bees, flies, and wasps surrounded me as I sat on a half-rotten table at Chilson Camp and plotted my next move. Davenport Trail, my planned route, wasn't going to happen. If I had come up Barnhardt Trail this morning and had a few more hours, maybe. But I didn't have those hours nor the energy to embark on, as far as I could tell from here, a grueling six miles of bushwhacking through manzanitas. So instead of pushing on I was sitting here looking over my topo map and trying to decide where to go next.
There really wasn't that many options. The Mazatzal Divide Trail is a main thruway and makes a north-south cut of the whole wilderness. I could go up or down it, and then would have to turn around and come right back. Two other trails that I knew were in decent shape, Barnhardt and Y-Bar, make a one-day loop with the Mazatzal Divide, a loop that I already passed by. Eventually I settled on a half-measure. I would push further north on the Divide Trail, get at least to the Rock Creek junction, and then decide if it made sense to take that down for a 30 mile loop or what.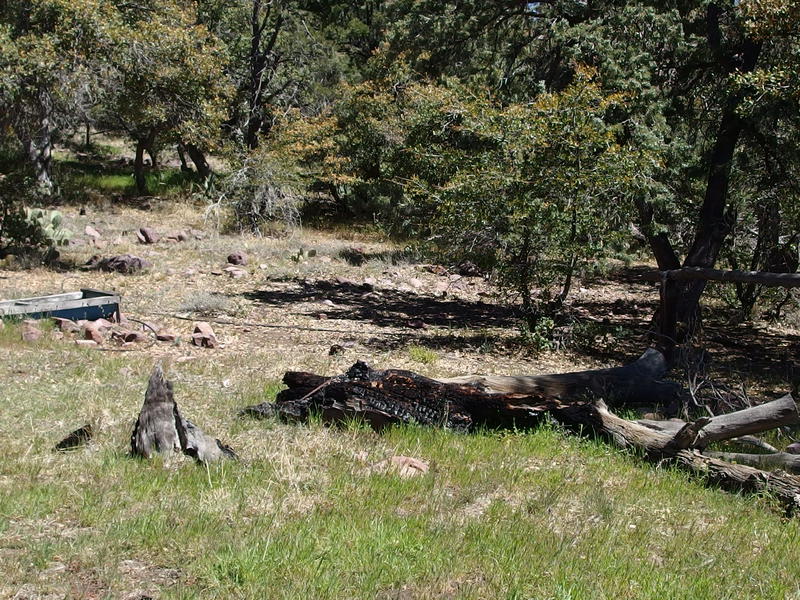 As I sat and pored over my map I was also sipping water, draining one of my three liters that I had filtered from Bear Spring. That wasn't a big concern - Chilson Spring should be somewhere near here. Well, should be. I thought that I had passed it on the way in but had seen neither hide nor hair of it. Packing things up, I wandered back over to the broken water trough and looked for a pipe leading up to the spring. I found some old black ones leading east, back towards the trail, and trudged through the agave and climbed up loose rock.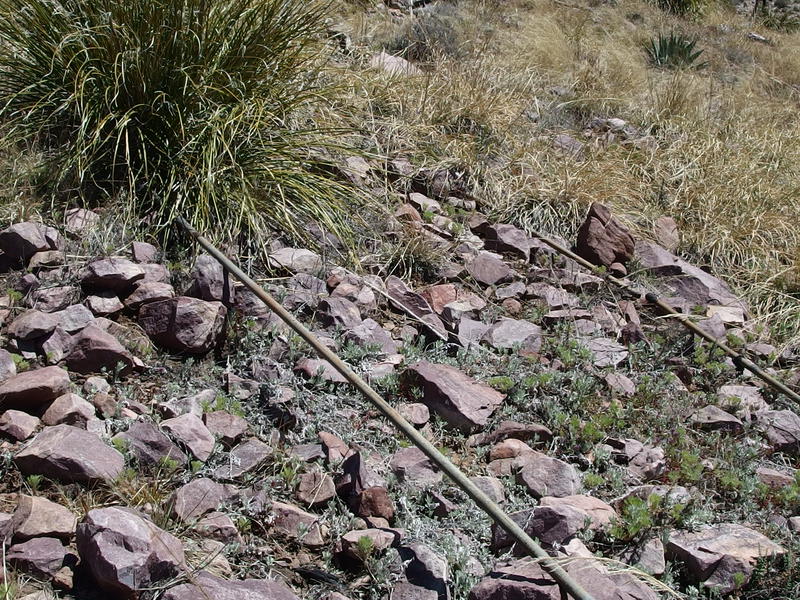 The black rubber tubes wound around annoyingly, disappearing under thick vegetation and piles of rock to re-appear some twenty feet later, and then were suddenly replaced by serious looking metal pipes. This is more like it. The pipes led to the trail and beyond, broken by the narrow footpath crossing their way. Grass did a decent job at hiding them if you weren't looking, which is why I hadn't seen them on my first walk through here an hour ago, and the only mark of the nearby spring was a metal stake hammered next to the trail. No sign, no arrow, no trickling water, just a lonely metal stake. I passed it by and continued uphill.
There were a few footpaths that wandered on the hill, none with any serious dedication, so I jumped between one and the next while guessing where the pipes would take me. There was one or two green trees up on this hill, not much for what was supposed to be a reliable spring. The metal pipes led me up to one of the trees and I heard the sound of trickling water, where I found a heavy metal lid covering an oil drum sunk deep into the earth. Licking my lips I pulled the lid aside and saw that the drum was mostly filled with fine silt, and only the smallest bit of water collected to one side. I had a bulky smart water bottle with me to collect dirty water, not nearly enough to skim this water out. I replaced the lid and headed back to the trail with disappointment.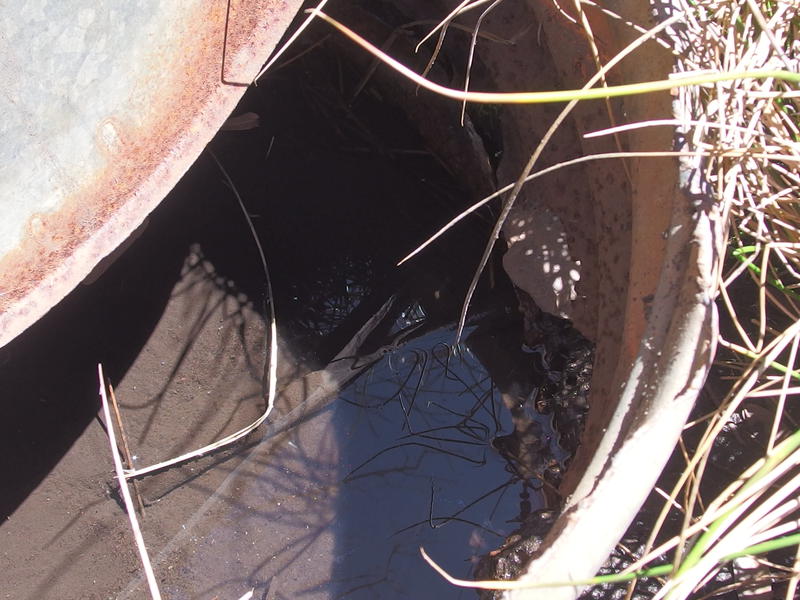 Water would have been nice, though I wasn't too concerned. Within the next five miles of trail I'd be passing some forks of Deadman Creek, Horse Seep, and Hopi Spring. One of those three were bound to have some water. Five miles is usually nothing to push through on a few liters of water. Once I reached the trail again I pushed north with a quick step, passing the fork down to Chilson Camp with a certain amount of disdain before entering again into new lands.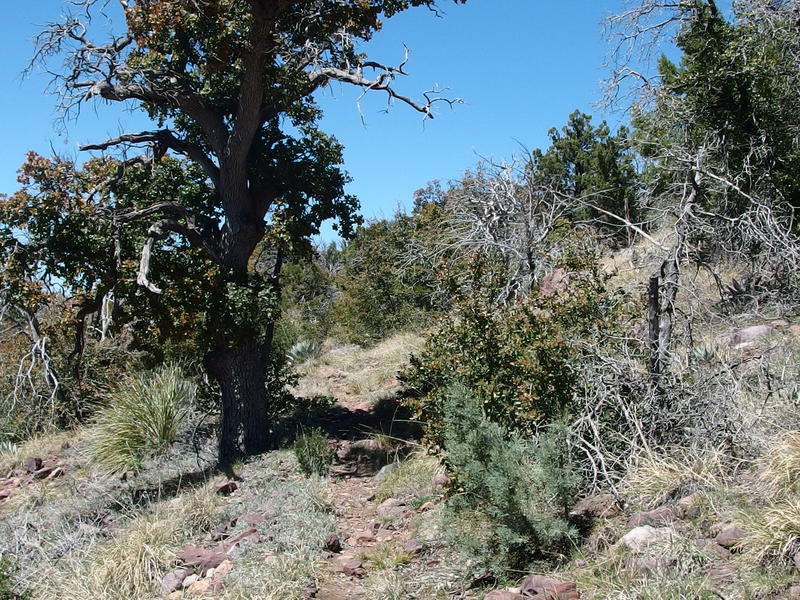 There was still some charred trees here, more remnants of that Willow fire, most of the Pinyons half-dead and half-green in a weird, twisting combination. And there were manzanitas too, low and clustered close to the trail. I had changed into shorts at Chilson, thinking that the Divide Trail would be cleared enough for easy going, and within a few hundred yards had several deep gashes in my knees from the stubborn little plants. Desert hiking is fun.
While the trail was more of the same, if not more overgrown than before, the sights and hills surrounding me was not. That hill next to Chilson Camp faded away behind me, and then the next low hill and saddle passed by, and beyond that was a huge, rugged cliff that led up to a long ridge. That cliff had to be along Deadman Creek. I had heard that the creek is a rugged and scenic area, with several waterfalls on the north fork, and from here it sure seemed like it. The ridge above the cliff stretched far to the north, climbing up and up along the way. So this section of trail basically avoids the deep gash of North Fork Deadman, then swings around to climb over that ridge before getting to The Park, a popular camping location that boasted plenty of Ponderosas. Seemed simple enough.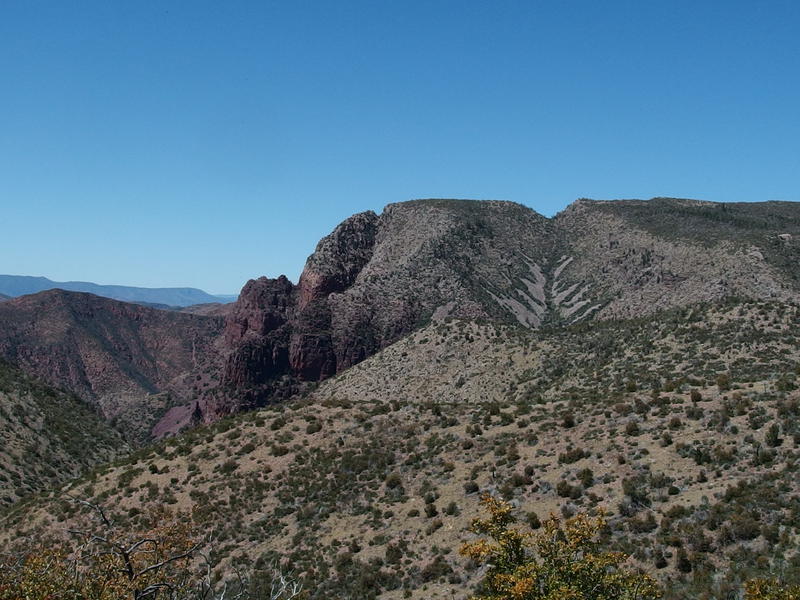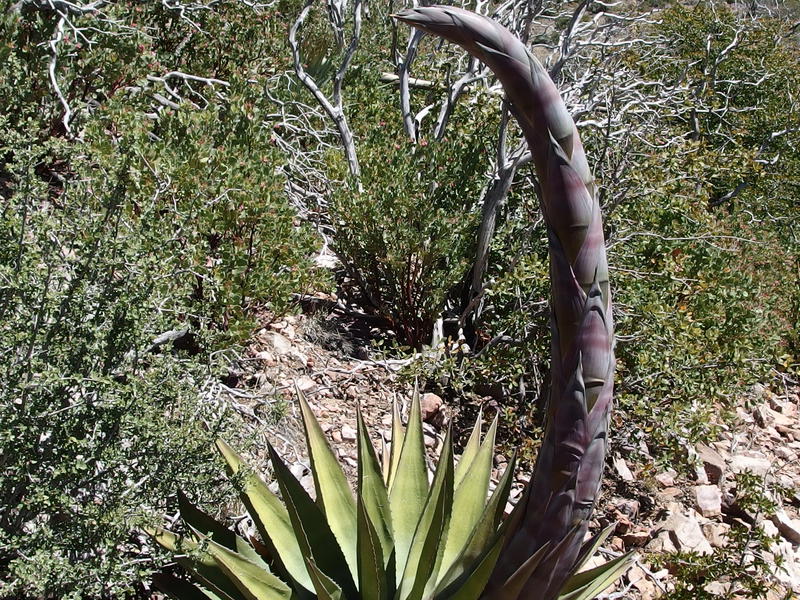 In theory it seemed simple enough, anyways. I wasn't feeling so good. Maybe altitude difference was getting to me, or maybe it was the hot exposure along the open path, but I was starting to feel more than a little dogged. Brush continued to dig into my shins as I marched north, pushing harder to keep going. Maybe I should have stopped for a longer lunch at Chilson, or maybe I should drink another liter of water. Whatever my problem was, when I reached the first fork of Deadman I wasted no time finding a rock and tumbling down upon it.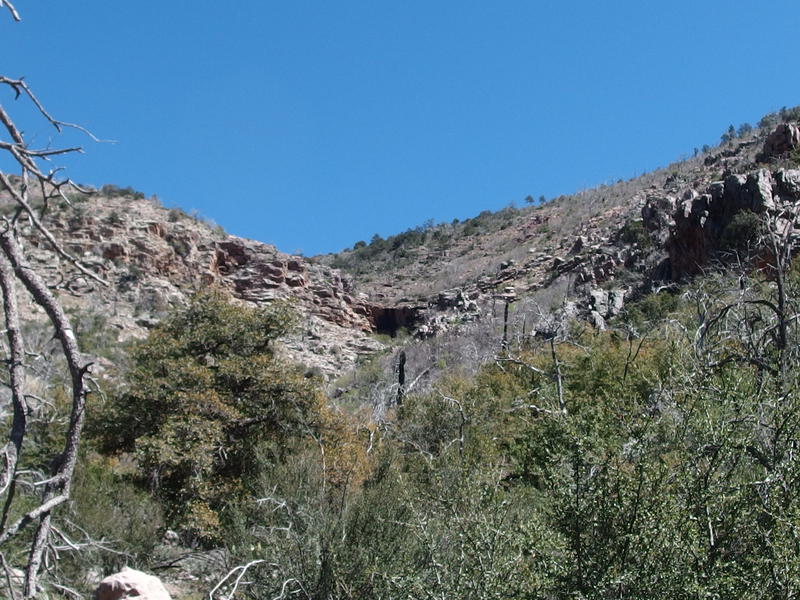 A few small, stale puddles of water lay on the hard rock near the trail, not enough to collect for filtering yet enough to attract plenty of wasps and bees. I kept a wide berth as I cleaned and bandaged my shins. One of the cuts was surprisingly long, though not deep, and the blood from it had coated much of my lower leg. Again, desert hiking is fun. I drank some water, draining my second liter as I rested, and tried to convince myself that I could make it to The Park tonight.
One distraction here was the waterfall. North Fork Deadman Creek had at least one impressive waterfall on it, close to a hundred feet in height, even if it barely runs without heavy snowfall (and these mountains had seen little snow this year). I didn't know where it was. There was a steep canyon that opened up below where I sat, though the drops from here didn't look like more than a dozen feet, and it was obvious no water was running down them. When I eventually got up I did wander a bit off-trail, looking for cairns or trails or a taller drop, and found nothing. Maybe I'll come up here next spring and get a little serious about hunting it down.
Once I swung back on the trail the next waypoint showed up quickly. Another fork of the creek, this one more jumbled piles of rock than hard bedrock, and no puddles anywhere. This is where the Sandy Saddle Trail was supposed to junction off and make a shortcut (from this side, anyways) back to the Barnhardt Trail. There was no trail, no sign post, no cairns, nothing. Only the Divide Trail was here and it passed through the rocky creek with little hesitation. It was looking more and more like every other trail besides the Divide, Barnhardt, and Y-Bar had been completely swallowed up by the recovering wilderness.
Pushing past the rocky wash I made it another few hundred yards along a gradual climb, enough to drag my pace down to a resigned march, before I crashed hard at the next dry wash crossing. Whatever optimism and energy I had started the day with was gone. Thirteen miles, four thousand feet of elevation gain, and the hot exposure this high up had drained me. I sat at the dry wash, pulled out my map, and reviewed my options.
If I continued on today to The Park, another few miles to the north, then I would have two options for tomorrow. The Willow Spring Trail branches off to the west there - I could actually do my original route in reverse, circling all the way around and climbing up the mostly-gone Davenport Trail. Or I could make a smaller loop with Red Hills Trail even further to the north. I was hoping that the northern trails were better defined and that the Willow Fire effects would be minimal up there. The other option I had was to cut the hike short, coming back on the Divide Trail and heading down the Rock Creek or whatever remained of Sandy Saddle. Whatever I ended up doing I needed to refuel and rehydrate soon. I drained most of my last liter, keeping the final third of it for good luck, and pushed onward.
Ten minutes later and the trail forked near a stand of Ponderosa Pines. This seemed like a good sign. I followed the blocked-off fork downhill into the small stand and found a fantastic little campsite with glistening pools of water beyond. This must be Horse Camp Seep, with water both soaking out of the ground nearby and collecting on the fork of Deadman Creek. Perfect. I trotted quickly over to the water, filtered out a liter to sip on, and pulled off my boots and socks to relax.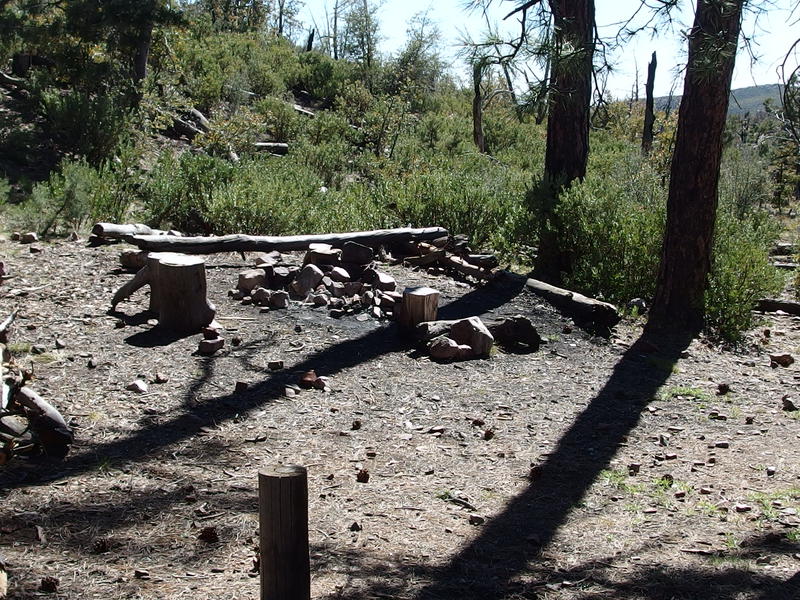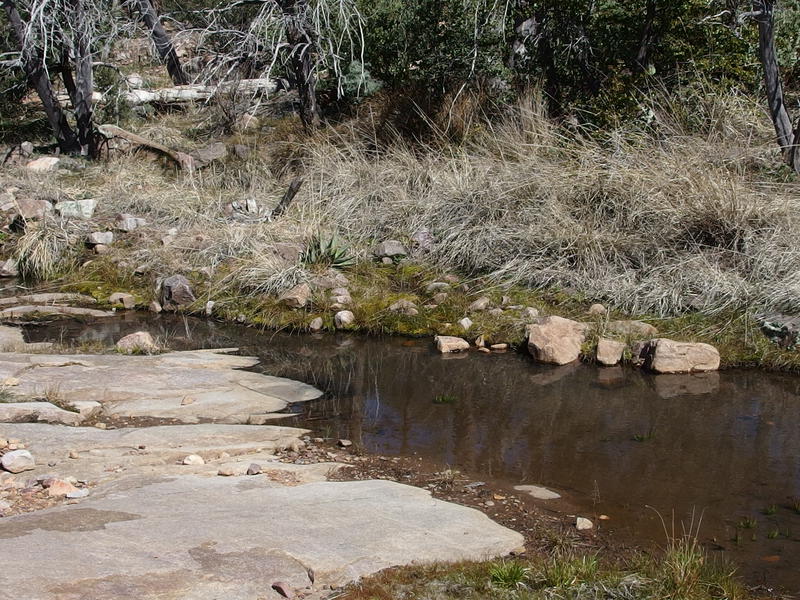 I chilled at Horse Camp Seep for over an hour. My right heel was not doing great. That blister that had started forming earlier today morning was now rubbed raw many layers of skin deep and was starting to bleed. Stupid new boots. They were broken in, I was sure of it. Had to be either a bad heel lock or just the low tops that were not working with my step. So I let my feet dry out, eventually bandaged them up with a healthy dose of Neosporin, and waited until the last minute before putting new socks and boots back on. While I doctored the heel and filtered back up to capacity another hiker walked in, who turned out to be an AZT thru-hiker. We chatted briefly on my way out of camp. He seemed friendly enough, but I was interested in pushing on.
Feeling refreshed and ready to roll I pushed down the trail quickly, eating up the distance and elevation gain with little trouble. I was now feeling better about cutting this hike short, with spending the night at The Park and coming back on Rock Creek Trail, especially with my raw heel. The bandage did little to soothe it now that I was moving again and every step was a little stab of pain. Just a few more miles. The trail entered into another nice little collection of Ponderosas, another quick bout of half-shade that ended far too quickly.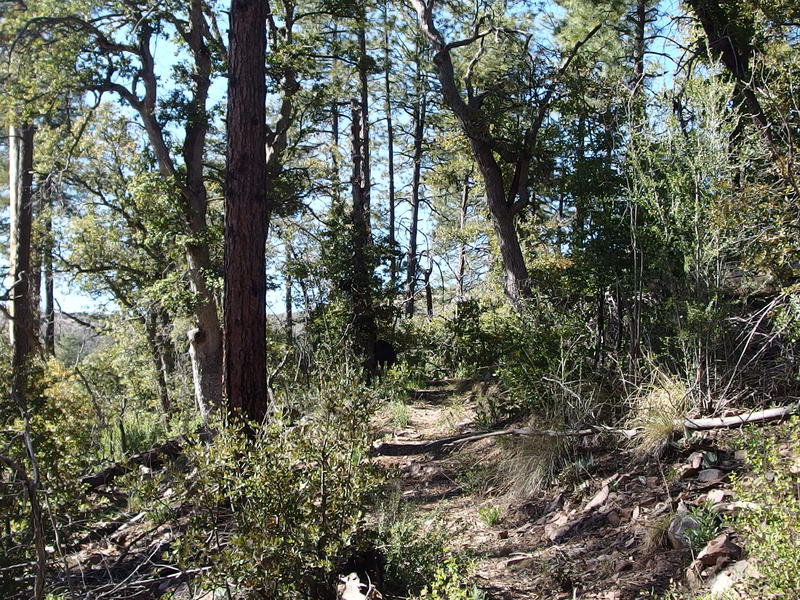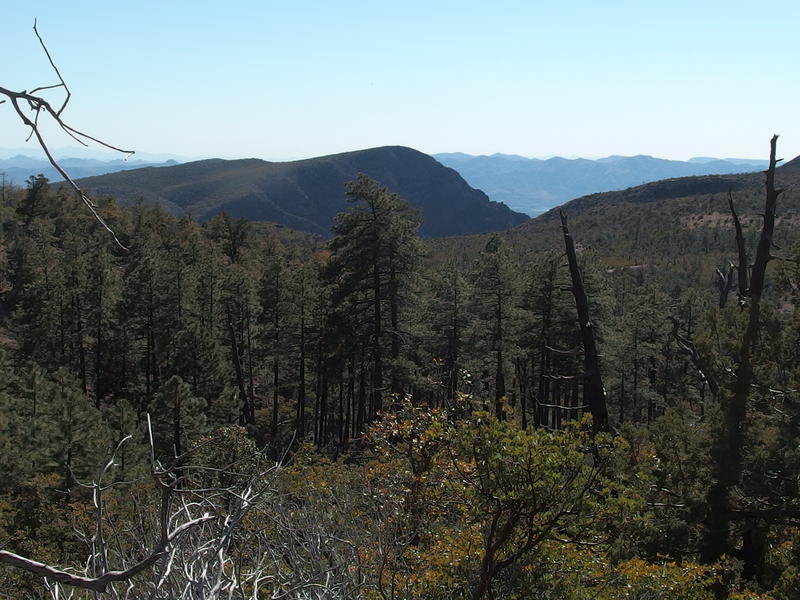 On the far side of the pines, another few hundred yards down the trail, was a wet and muddy section that marked a nearby spring. This had to be near Rock Creek Trail. I crossed the section and kept an eye out for any sort of cairn or trail marker and found nothing. Just more of the blasted manzanitas. This was getting ridiculous. I walked back and forth a few times, looking for anything, and eventually gave up and tackled the wall of brush. Maybe there was some sign of a path in there.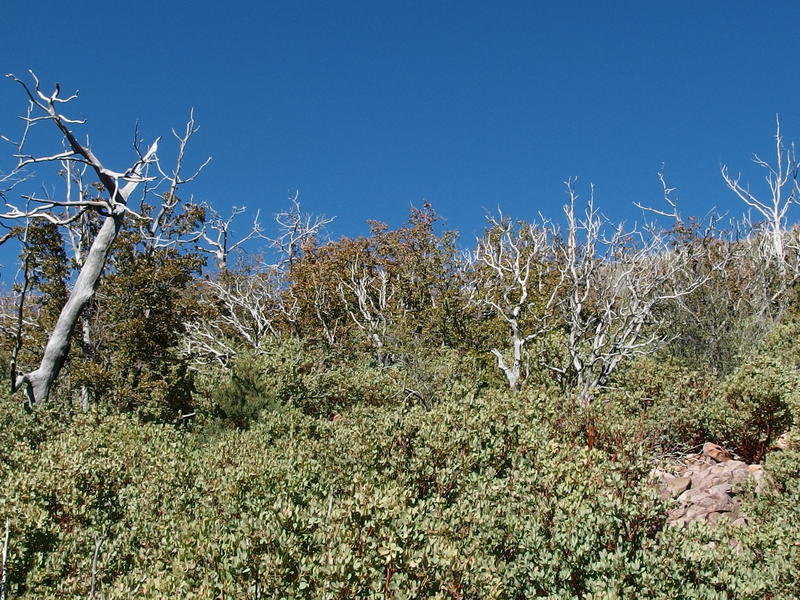 There were a few teasing sections, breaks in the brush that lasted a few yards, all of which was quickly swallowed up and made no sense unless the original trail had some ridiculous switchback strategy. Or maybe I was being misled by one game trail after another. I wandered back and forth, hoping to find something, and even hoping to just push on beyond the ridge above and start the descent now and throw away any hope of reaching The Park tonight. There was no trail, though. I gave in and came back to Hopi Spring, the source of muddy trail, and found a pleasantly large puddle of clear water ripe for the filtering. While I didn't need the water it made for a good place to stop and think.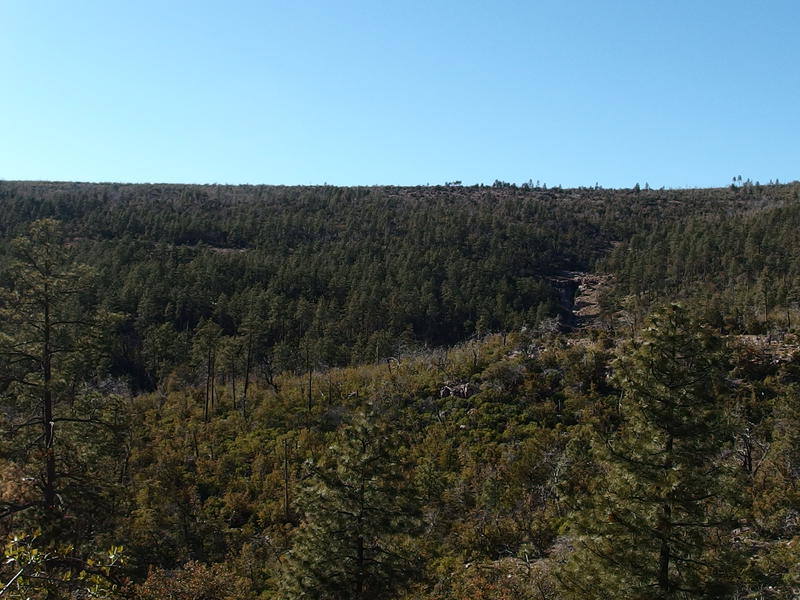 That northern ridge looked so close from here, less than a mile away. The Park was pretty far beyond that, though, and there was the knowledge that no matter how far I walked today or tomorrow I'd have to backtrack on the Divide Trail. Circling around to the west meant bushwhacking up Davenport, something the manzanitas and my heel wasn't going to let me do. And circling east would have to include Rock Creek Trail, which also didn't look like fun. Even if I pushed through this brush here there was 3000' of descent through who-knows-what to tackle, a distance that wouldn't just be uncomfortable but legitimately dangerous. The only thing that hiking onward gave me was more unknowns, more backtracking, and more distance on my blistered heel. With a deep sigh I headed back to Horse Camp Seep.
It's hard to beat a campsite like Horse Camp in the Mazatzals anyways. There was fresh water a dozen yards away, a large campfire ring with benches and collected firewood, tall pines for protection, and a great view down to the western valleys. I didn't feel too bad about my retreat, even if I was going to be wasting two hours of daylight that I could be hiking (well, hobbling). I made my way back into the camp, discovering that the hiker I had met earlier was now chatting with another thru-hiker, and quickly learned that they were both planning on pushing on this evening and I'd have the place to myself.
The two hikers were very friendly, talking about the sections of the trail that go through the Superstitions and Four Peaks, as well as other long hikes that they had been on. Compared to their past adventures on the Pacific and Appalachian Trails this trek, the Arizona Trail, seemed pretty minor at only 800 miles. I say pretty minor, ignoring that it's at least a full month of hiking through mountains and desert and manzanitas, and that with two kids and being the sole provider for my family I could only dream about embarking on anything more ambitious than a week on Isle Royale. I gave them a bunch of my food before they headed on to The Park, wishing them luck yet thankful for the newfound solitude of the camp.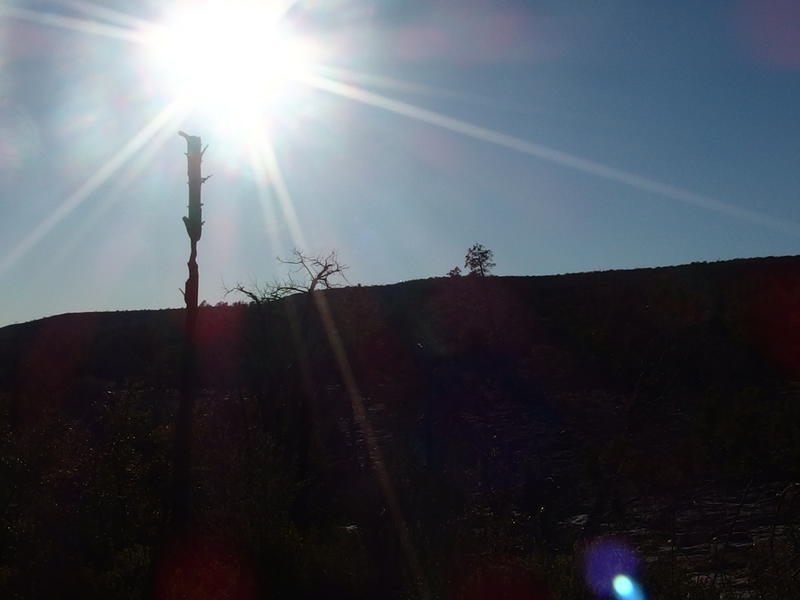 Camp chores had to be done quickly. Only an hour of daylight remained and I had several new tasks to attend to. My tent is now a mosquito net, something I have only set up in my backyard until this evening. Under that I rolled out a groundsheet, bag, and sleeping pad, letting everything air out before nightfall. Cooking dinner was also different. Instead of a propane stove I'm trying out a little Esbit with solid fuel, though for dinner I used pine needles and twigs instead of using up a tablet. It took a longer time than the propane, but the smell of campfire was well worth the extra effort.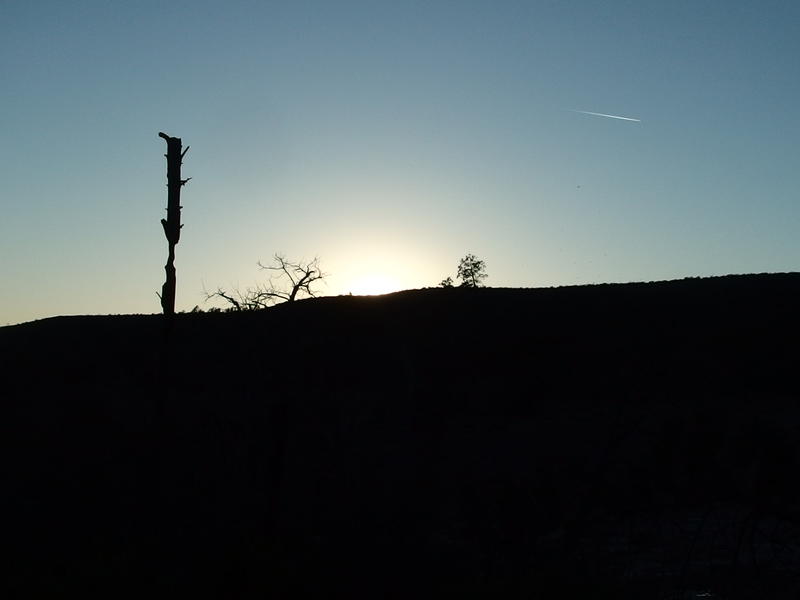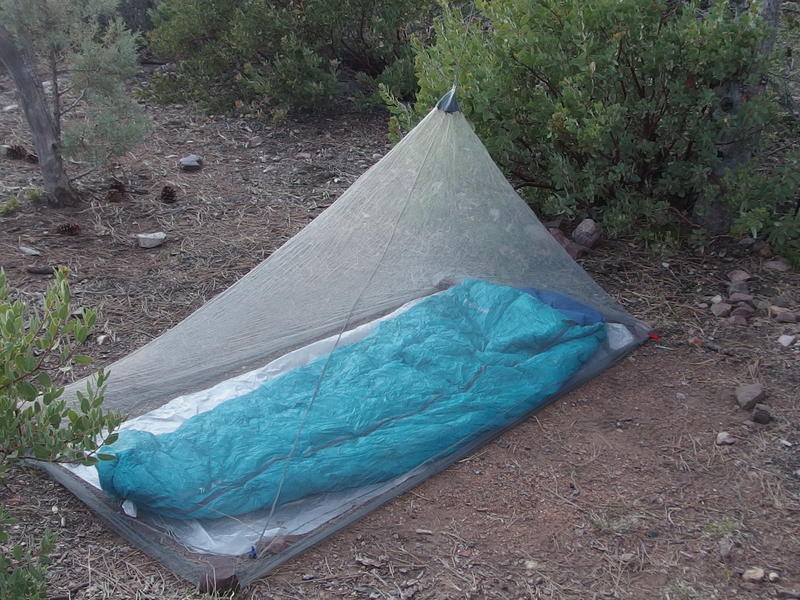 Once the sun dropped below the ridge there was a noticeable drop in temperature. So much for being too hot all day. Sitting still at 6000' and watching the sun disappear can really bring out the chills. I enjoyed some hot tea before packing my gear away and snuggling into my sleeping bag. Maybe I should have set up my tarp overhead to trap in a little body heat. I was too tired to do it now, anyways. My bag is rated to 50 and I was wearing clean socks and most of my clothes, so I figured I'd be good. I read a few chapters before exhaustion washed over and I drifted into a deep sleep, miles and miles from my planned destination of Club Cabin and blissfully even further from the lights and sounds of Phoenix.