Fighting the urge to shiver in the predawn coolness, I busied myself with getting my gear ready to go. The van was parked at Barnhardt Trailhead, an hour's drive from Phoenix, right on the edge of the eastern Mazatzals. At 4000' it was a bit chilly up here - the van's thermometer claimed it was only a few degrees above forty. I finished readying the rest of my backpacking gear, took one last swig of hot coffee, and set down the trail.
After a brief bout of confusion (the Y-Bar Trail is not clearly marked, only a cairn and a fork off the Barnhardt Trail) I was heading south from the trailhead. I had supplies to spend two nights out here, water capacity to last a good ten miles between sources, and not nearly enough clothing to deal with temperatures below fifty. Details. For now I focused on the Y-Bar and its gradual climb.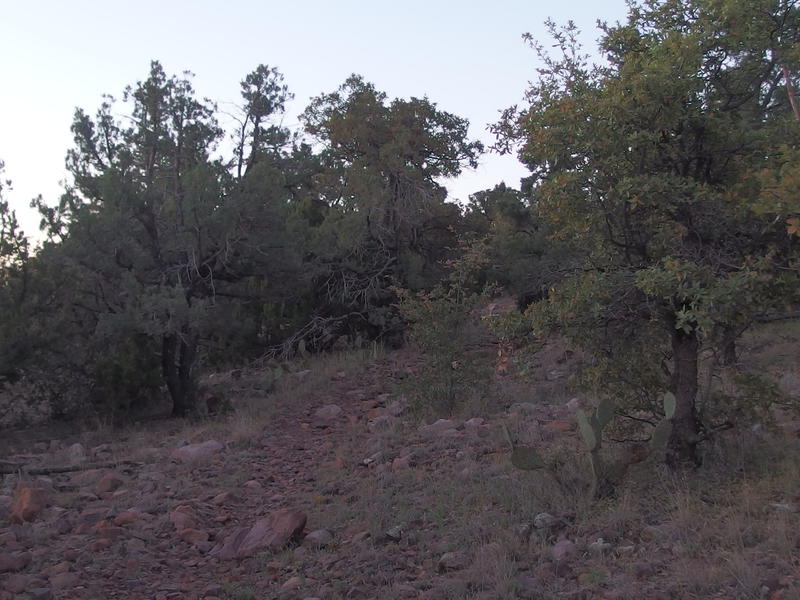 This trail (also known as Shake Tree) circles around and climbs the south flank of Mazatzal Peak. It has an accumulated gain of about 3000' over 5.5 miles, making it one of the steepest trails around. The gain is worth it. It ends on Windsor Saddle on the Mazatzal Divide Trail at 6550', near a reliable spring and with a relatively easy downhill path forward (for those heading north to do the popular loop around Mazatzal Peak).
I was not doing the popular loop, or at least was not planning to. Y-Bar Trail was just the beginning of my weekend. The plan was to push on from Windsor Saddle, follow the Mazatzal Divide trail north to Chilson Camp, and then take the Davenport Trail down to Club Cabin. That's right - I wanted to take the upper Davenport route down and connect with my last hike in the Mazatzals, effectively completing this trail and revisiting that spring. And that was just the first day. Over the next few days I wanted to make an ambitious fifty mile loop around the Mazatzals, circling up and down the ridge and eventually coming back to Barnhardt Trailhead without a single double back.
And it all starts with Y-Bar and a predawn start. As the sun rose I followed the switchbacks to and fro, climbing up and up, meeting the hot red light as it descended down from the hillside above. The sun felt good. I was still cold from the morning and not yet sweaty from the hike, which could have been due to my ridiculously light pack or the high starting elevation or just excitement over visiting the eastern Mazatzals. It's nice that these trailheads start high up - the western ones are much lower next to the Verde River.
Surrounding the trail was Juniper and Pinyon Pines, a pleasant change from the cactus and cactus surroundings of the Superstitions. There was still some desert growth - a few prickly pears, various species of pincushions, and the ever-present agave - but there were enough trees to shade the trail and offer a sharp difference from most other hikes I've been on. And the trail was well-defined. I had heard that it was rocky and was worried about rolled ankles and unsteady ground yet had no troubles. I trotted up the slope, pushing forward with my poles and leaning into the climb.
There are switchbacks to climb up before the next phase - ravines. This trail does circle around a massive mountain, of course, and there are deep cuts for the drainage off of it. After a switchback climb of a thousand feet I began heading south with intent and dealt with one ravine after another. There wasn't much of a drop or climb on these. For the most part they sucked in with the cuts and did a good job with preserving elevation. They were a bit more overgrown than the hillside though, small voracious bushes eating up the open ground of the trail.
I kept a close eye on these cuts and looked for any sign of water. It has been rather dry as of late and there was little snowfall on these mountains, something that many of the creeks and springs depend heavily on during the spring. I had three liters of water on me and could probably stretch that out to make the basic loop around the peak without a refill. Probably. The 'basic' loop is still 15 miles long and has a ton of exposure and elevation difference. Unfortunately, there was no water running in the cuts. They might only run during heavy rains as far as I knew, but it was still something for me to pessimistically ponder upon as I climbed.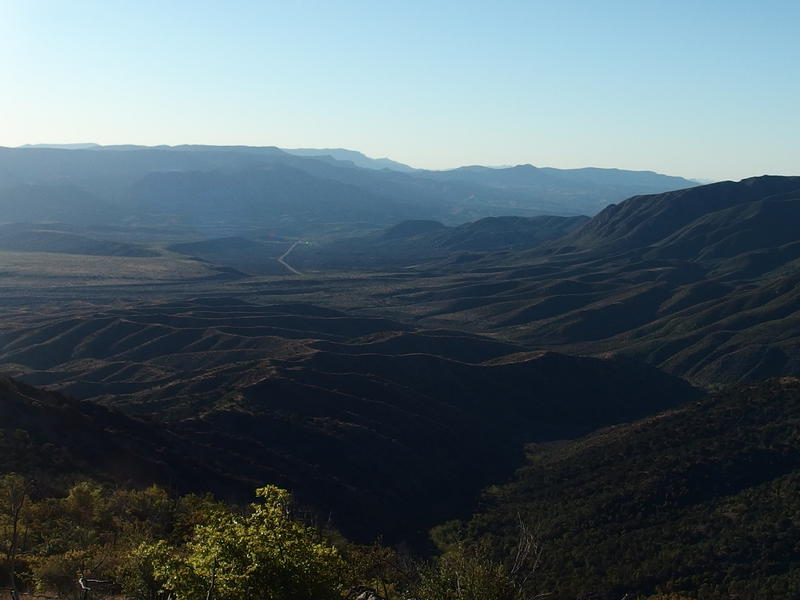 Slowly I made my way around the base of Mazatzal Peak, the eastern shoulder that is also known as Suicide Ridge, and the next mound showed up around the bend. This smooth bluff of rock is called Cactus Ridge. Y-Bar Trail follows Shake Tree Canyon between Suicide and Cactus, a fairly colorful combination of names. From far below I could make out a faint line of road heading south with a cluster of houses. That must be AZ-188, the road that heads down through Jake's Corner to Roosevelt and, eventually, Globe too. US-60, AZ-87, and AZ-188 make a huge triangle that encompasses both Four Peaks and Superstition Wilderness, with AZ-88 cutting the triangle in half and forming a loose divide between the two wildernesses. I was looking down the eastern border of that huge triangle, down the length of Tonto Basin, though Theodore Roosevelt Basin wasn't visible from this angle.
Back to the Mazatzals and today's hike. Once I finished rounding the base I got my first good view of Shake Tree Canyon and was pleasantly surprised. The saddle didn't seem that far away and there was an appealing stand of Ponderosa along the way. That climb didn't seem to be too much, either. Between the earlier switchbacks and some more gain through the cuts I was almost halfway up the ridge already. I pulled out a water bottle and a snack and had a short break under the heating morning sun.
I was feeling pretty good about the hike so far. My pack was light thanks to some recent gear updates (more on that later). The new boots were feeling comfortable thanks to some shorter break-in adventures over the last few weeks. Even the temps were cooperating - it couldn't have been more than sixty out yet. My tight schedule was looking good as well. I had mapped out an ambitious route so it only made sense that I kept a schedule while making decisions on how far I could get each day and when it made sense to make shortcuts. I finished up the snack, put the water back away, and continued up the steep path.
Things were more exposed within Shake Tree Canyon. Most of the surrounding vegetation was leafy instead of prickly or pine-y, and there was plenty of charred remains of twisted Pinyon pines. There must have been a fire along here at some point. The trail was still well defined, still climbing at a steady pace, just enough to keep me from moving too fast. High above to the right was the impressive rock features of Suicide Ridge, red layers of stubborn rock with clinging green growth, like dripping avocado green frosting on a red velvet cake.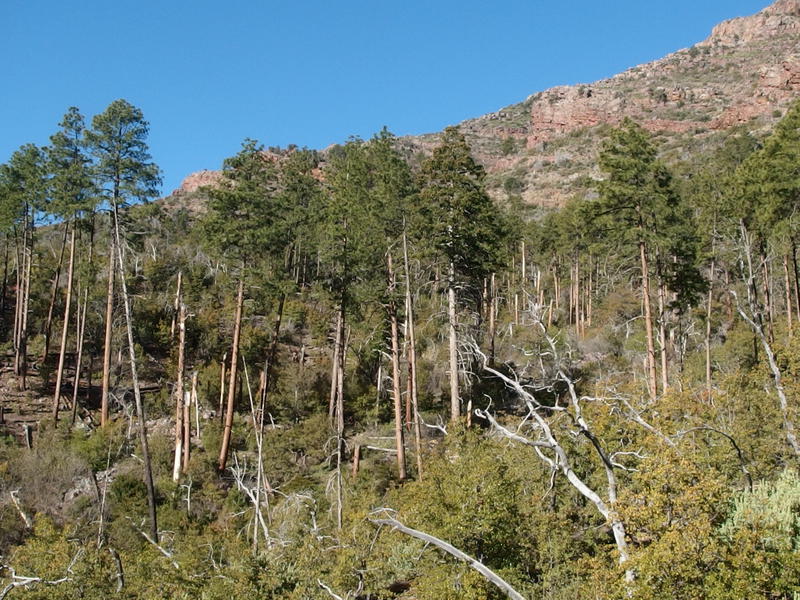 A mile up the canyon and the Ponderosa stand showed up. This was a pleasant change from the open and exposed area I had been wandering through in this canyon. It was a small stand, and it wasn't looking that healthy, but it was still a shaded path over soft pine needles that felt downright luxurious. I've hiked through Ponderosas a handful of times in Arizona - namely, along the Cabin Loop on the Mogollon and in Reavis Valley - and while they don't stand a chance against the thick pine forests of Michigan they are still enjoyable.
Unfortunately, the stand didn't last long. The path crossed a small, rocky creek (again, dry), climbed up with sudden haste, and then re-entered a land of mixed trees and low brush. No more shade. Those nice, tall pines that offered sporadic breaks from the sun were replaced by more charred Pinyon remains and manzanitas. I pushed on without a pause, hoping to crest the saddle ahead soon.
It was surprising just how much I had climbed so far. I was almost level with sections of Cactus Ridge, which had seemed so menacing and lofty earlier, and the flat plains around Barnhardt and Rye were ridiculously far below. With the elevation of this hike I had been worried about altitude weirdness, something both Chris and I have experienced when hiking Four Peaks, and I was already as high up as Brown's Saddle. Breathing is just a little more difficult, walking is with heavier legs, and water never lasts as long as it should. I wasn't having any of those problems yet. It may have been the elation of visiting a new area or the fantastic views around me. Whatever it was, I hoped it lasted all weekend (it wouldn't).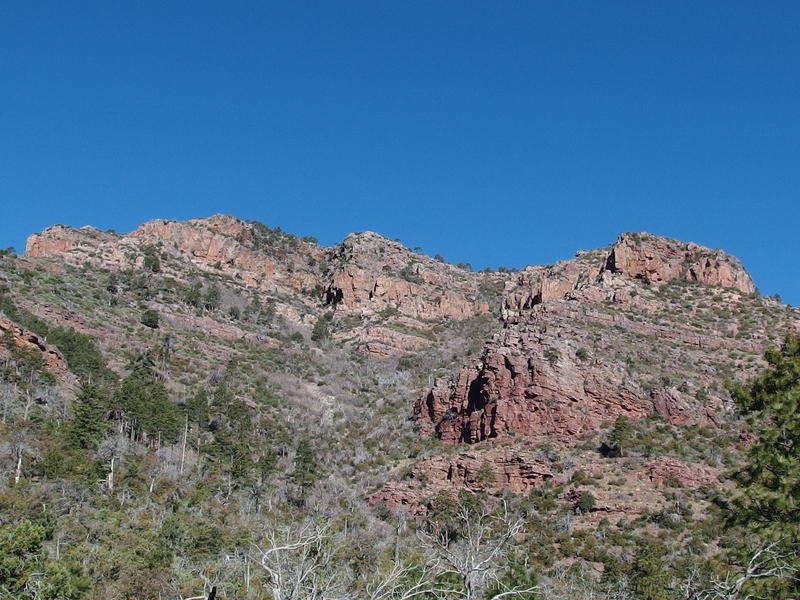 The one thing that didn't get any closer was Mazatzal Peak and Suicide Ridge. That thing still towered up to the north, layers of rock and pine stacked on top of each other. Well, maybe it was a bit closer. Climbing it from here didn't seem completely crazy any more, maybe just a little loony. Ascending Mazatzal Peak from the saddle ahead is one of the main routes up, and with a bit of luck and careful route finding you could probably spend a few terrible hours doing it. Chris and I will probably be trying it soon.
Suddenly the trail crested the saddle and I got an open view down into Y-Bar Basin itself. I was finally out of Shake Tree Canyon, had climbed the upper length and was now just a swing and a climb away from the Mazatzal Divide Trail. I looked down with excited eyes and saw… Devastation. Below me was more twisted, charred remains of Pinyon, and in the distance was rows upon rows of straight dead pine trunks. The green that did exist was scrappy and clung close to the earth, growing carefully around the dead stumps as if not to disturb their remains.
I was hit with two related thoughts. What happened here? I knew that Four Peaks had seen a massive wildfire due to a careless cigarette back in the 90s but hadn't heard anything about something up here. Also, what had this place looked like before the fire? As impressive as the steep mountains and well-defined trails and the few remaining stands of trees were, I couldn't help but feel a bit of nostalgia for the lush green Mazatzal forests that I would never see.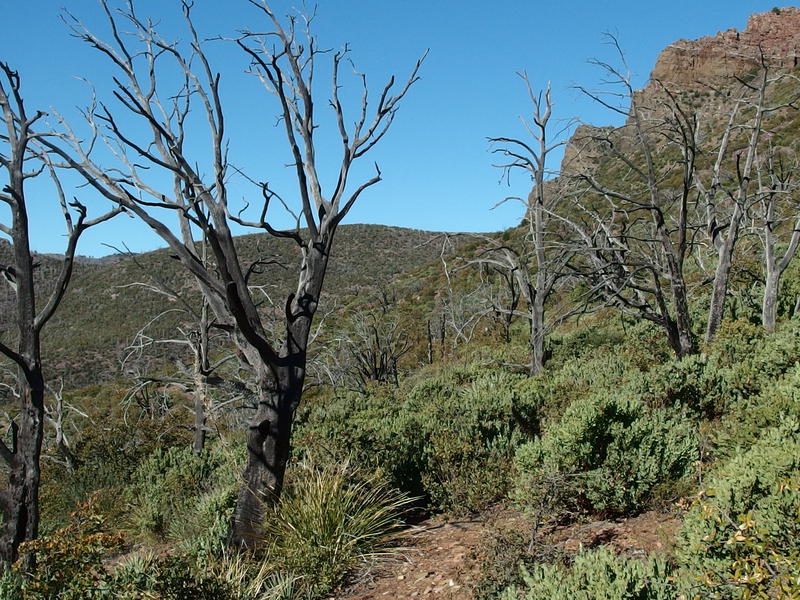 After a short rest at the saddle I continued forward, following a slanted trail along the slope of Mazatzal Peak in and out of numerous cuts. The trail had a few small dips yet stayed surprisingly level throughout. Some manzanitas did attempt to overtake the trail here. I wonder how long it takes for a trail out here to be swallowed up. In the drier, sparser lands of the Western Supes a trail can last as long as a cairn can stand. Up here where things actually grow it seems like it could be as short as a few years of neglect before a path is lost to nature.
Along the way I bumped into a spring flowing across the path, creating a wide section of muddy trail with several small pools and trickling falls below. Perfect. I had just drained one of my three 1-liter bottles and could use a refill. I found a good spot and filled up. One of my new pieces of gear on this outing was a Sawyer Mini, which I used on my last trip out here without much luck. Today I was betting on an easier technique to fill up and filter, an empty Smart Water bottle, and it was much easier to collect a full bottle of dirty water for later filtering.
With full water capacity again I pushed forward on the trail. It was a hot, exposed business, the morning sun beating directly on me in the sheltered and windless Y-Bar Basin. A breeze would have been great. The views up at Mazatzal Peak were quite impressive, towering high up above me. On this side the the stacked red layers turn into out-thrust cliffs, individual fingers reaching out like the prows of a proud naval fleet against the blue-blue sky.
The trail began to climb again as I approached Windsor Spring, one last push before the end. It had also curved even more around Mazatzal Peak and I was now walking north with the sun on my back. I kept an eye out for Windsor, hoping to find more running water like the last spring, and instead just found some mossy pools surrounded by rock and grass. I could probably filter it, though I was thankful that I was already at full water capacity and should just keep going.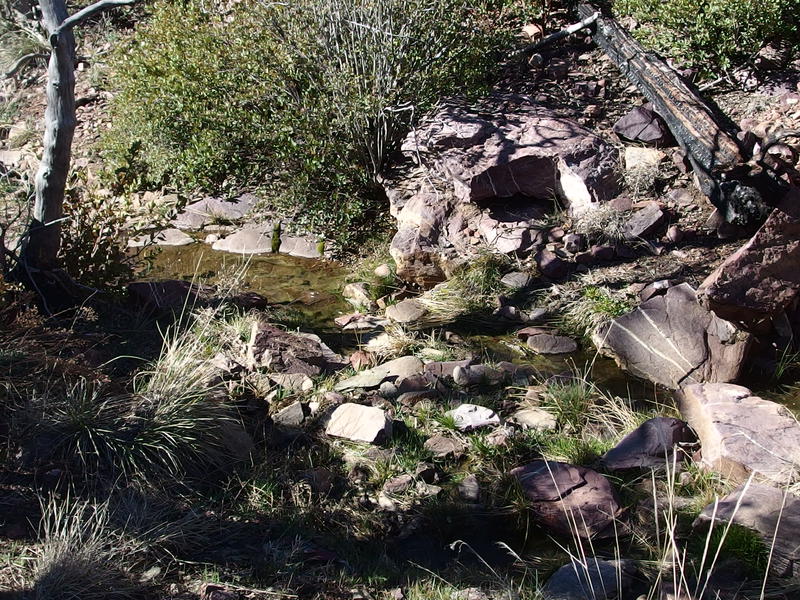 There were a few tricky parts to the trail here. Up until now everything had been obvious, a well-defined trail between green growth, but now there was hard rock to deal with. And there wasn't many cairns out here. There were a few spots where I crossed an expanse of hard rocks and outcroppings, doing my best to follow a straight line across, only to find that the real trail had turned one way or another. The minor bout of route finding here was an annoying distraction when I was so close to the saddle.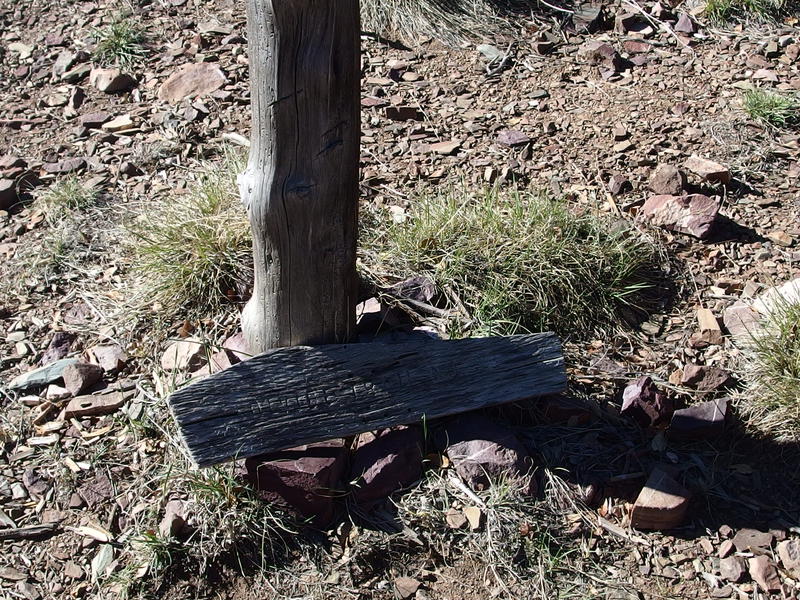 And then the saddle showed up. An old post with a weather-worn sign, too faded for me to make it out, and a well-defined trail junction. I wandered a few yards west on the Mazatzal Divide to a large campsite and took off my pack. There were some basic tasks to get done - socks to change, snacks to eat, water to drink - and the brisk wind here on the saddle was most welcome. I had made it up the Mazatzals and was sitting on a saddle at 6550', over five miles into the day and feeling great. Soon it would be time to drop down the other side.