A distant white dot of moon hung above the tortured remains of the Sunflower Fire. Sunrise would come soon and overpower the moon's dim light and I took some time to savor this moment. With the sunlight would be uncomfortable warmth, and right now I was so cold my fingers felt numb. The chill felt downright luxurious.
Last night was spent huddled in a tent on Squaw Flat in the Mazatzal Wilderness and the temperatures had plummeted. Forecast claimed a low of fifty, which was what my bag is rated for, but when I checked my thermometer this morning it was forty. I had to pull out an emergency blanket to keep warm enough through the night. When my watch showed five I practically leaped out of the tent and quickly packed up and hit the trail. Not only did the movement help warm me up, there was a seep a short distance back on the trail and I wanted to filter up.
Yesterday I had taken FR 479/477 and Copper Camp Trail up from Horseshoe Basin and today I was hiking back. Not directly back, I was going to take Sheep Creek Trail down to Sears, Sears over to FR 479, and then I'd return to my car. Just like Copper Camp, all I knew about these trails were that they were overgrown and saw little traffic. Even the water sources were unknown, as I found out the hard way last night at Squaw Flat Spring. Since I was at a flowing seep now I drank my fill and pulled a full two liters before packing up and starting the day.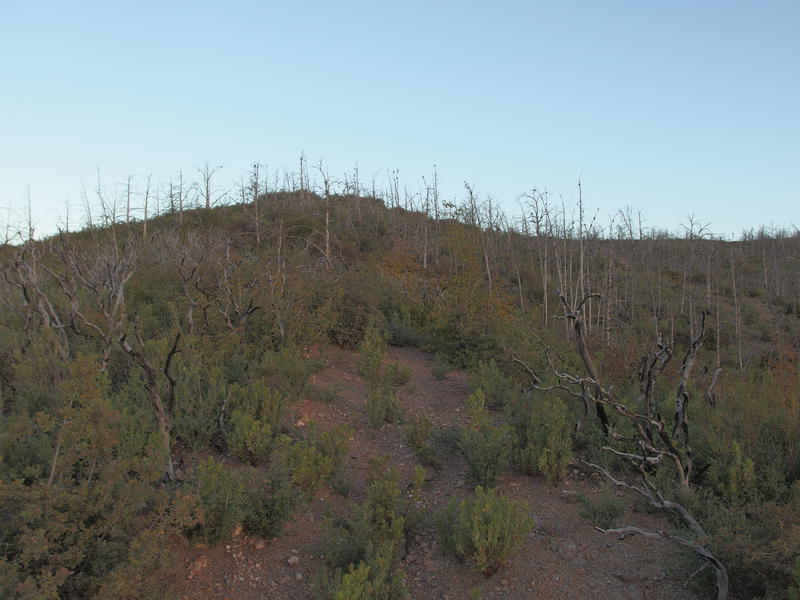 Sheep Creek Trail took off from the seep and quickly climbs up a little hill through more burnt lands. I huffed and puffed up it, pausing near the top to watch the sun began to brighten up Saddle Mountain, and then crested the hill before the light touched my trail. On the far side there was a slight drop into a dry creek bed that was surrounded by mature trees spared by the fire, then another quick climb. There was no more sign of the fire devastation around me now. Apparently I'd have a lot less deadfall to deal with today.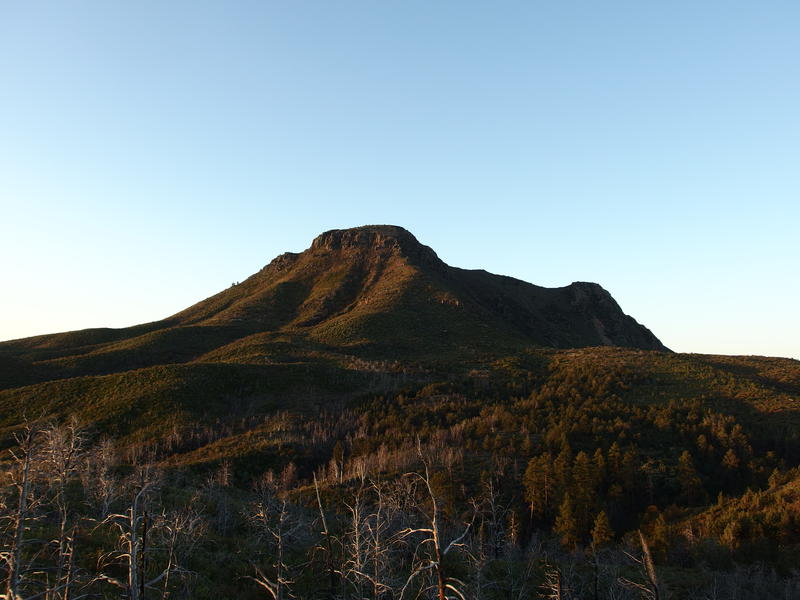 Things became downright pleasant. The morning air had a chill and the sun cast long shadows from the short trees. There were low shrubs next to the trail that did not try to overtake the tread, leaving a wide path for me to stroll down. It was a bit of a roller coaster up and down and around little hills and soon I reached the highpoint of the day around 5500'. I took a moment here to drink in the huge northern views. The western side of the Mazatzals were still sitting in a deep bath of dark shadows, protected from the morning by a ridgeline some seven thousand feet high.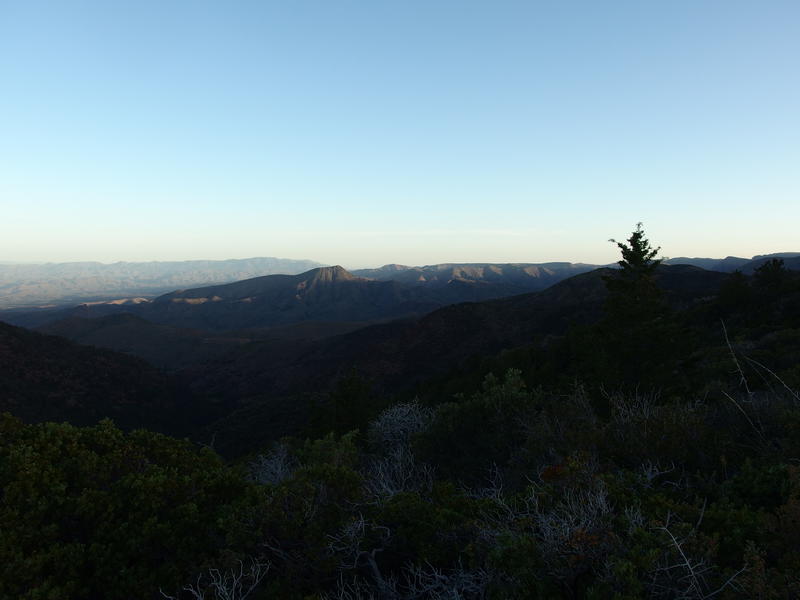 Now it was time for the downhill. I was dreading this bit, concerned for my fragile knees and the possibility of overgrowth. The trail drops a thousand feet in less than a mile. It eases along the side of the hill for a bit before plunging along the spine of a ridge, darting back and forth on tight switchbacks at times and making direct descents others. It was surprisingly easy. The brush was huge here, often over my head, yet it was pushed back away from the trail. The few washouts weren't that bad either.
Eventually I convinced myself to take a break to eat something and drink some more water. I was still a bit dehydrated from yesterday, after all. Plopping down on the bank I munched on a granola bar and quickly downed a liter of water. Curious I checked my GPS and saw that I was already more than halfway through the descent. If only I would have known how easy this section was I would have hiked it last night. Probably could have found a better campsite and I'd be better setup to complete the loop today. Hindsight.
The second half was a bit more overgrown. There were a few times that I confused the drainages for trail and ended up a dozen yards into the brush. My spirits remained high. Going the other way up the hill would be tough on the quads, perhaps. The overgrowth and washouts that I expected on an unmaintained hill like this was barely present. The steepness faded away and an easy footpath showed up next to a dry creek shaded by huge ponderosa pines. I had reached Sheep Creek, or at least a tributary of it.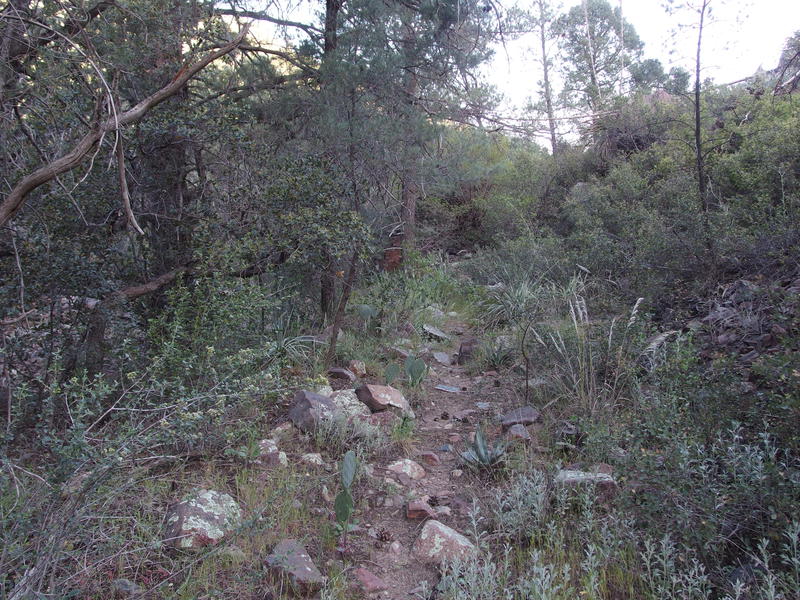 Remembering yesterday's ordeal along Copper Creek, when it made more sense to carefully track the trail instead of hacking along the creek due to overgrowth, I dutifully went across the rocky creek and guessed at a path leading sharply up the opposite bank. And I promptly got tangled up in thick brush, cactus, and a loose slope of crumbling rock. I retreated back to the grassy banks and, upon closer look, realized that the real footpath never ventured more than a few yards away from the creek. After that discovery the way forward was much easier to figure out.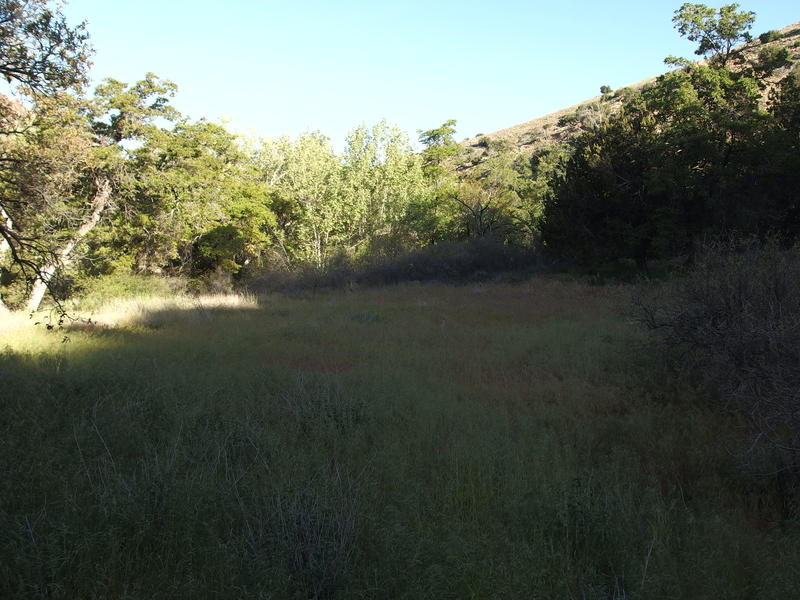 The cool shade of the deep, forested canyon felt wonderful, even as it slowly warmed as sunlight began to angle in. I passed through a few grassy flats that would have made awesome campsites and water began to trickle in sections along the creek. I really should have kept going on this loop last night. Shoot, it might have been warmer down here too, over a thousand feet lower in elevation. I was surprised to not see any established fire rings or tent pads on this section.
To orientate myself I kept an eye on the western bank, watching the steep rockiness of Cypress Ridge turn into grassy hills. This ridge forms a giant barrier between Sheep Creek and Copper Creek and my loop was basically circling around it. Before I could turn down Sears Trail and head back towards Horseshoe and my parked van I had to get past this side of it. As the rocky face of Cypress faded so did the pleasant forest, turning from tall pines to lower leafy trees to general shrubbery, and with the forest gone my path began to get more and more overgrown. Entire sections were completely eaten up by thorny nastiness and I began to default to the rocky creek frequently, preferring the rock-hopping and dancing around deep pools of water to the scratching and gouging of desert flora.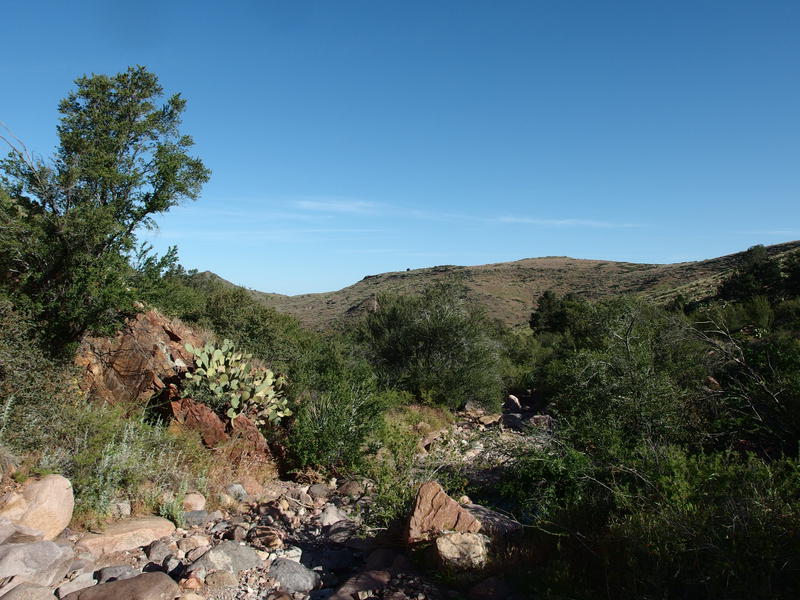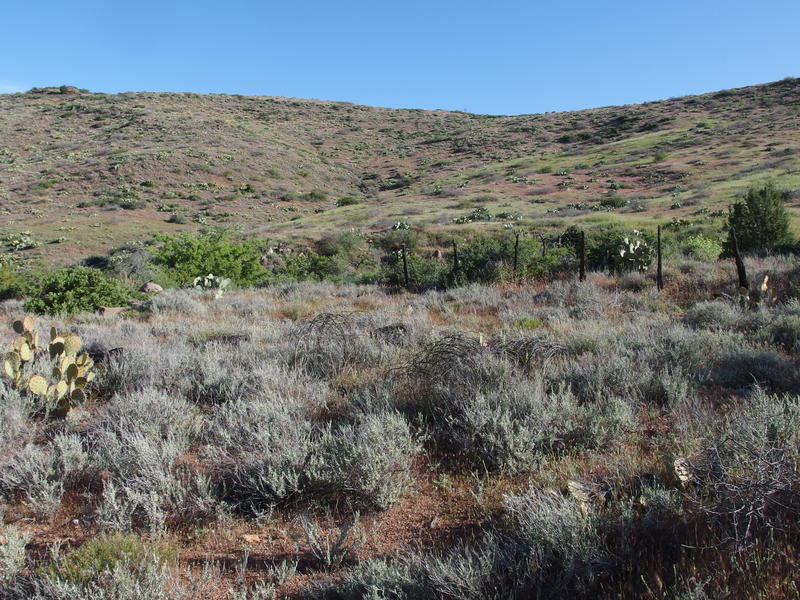 Sometimes, when the trail maintained a wide enough berth from the creek, it was really easy going. There seemed to be a buffer a few yards wide stretching from the rocky banks out that would be ridiculously thick, and then beyond that would be grassy and low bushes and enough cairns to make for quick hiking. An old fence line showed up and that helped too, as the trail tended to parallel the fence for long distances. I'd get lulled into complacency and easy strides and then bam, the brush would take over and it was time to crawl or make lengthy detours to continue north.
Impatience began to wear on me. Even though I had passed dozens of good water sources along the creek I never stopped to filter, pushing forward to my planned breakfast stop instead. My stomach growled and a light headache warned me that dehydration was still hanging over me from yesterday. The trail seemed to stretch for the last mile, rocks and overhanging branches and sporadic cairns, and I tried to pass the time by humming snippets of pop songs.
One thing bugged me as I hiked this morning: Sheep Creek Trail was going to be a thorn in my side for the rest of the year. See, the entire trail is over eight miles long. My plan had been to finish the whole thing on this loop, even though it was only four miles from Squaw Flat Spring to Sears Trail Junction. I had planned to hike an extra one mile in-out as a spur from Squaw Flat to McFarland yesterday, and the three miles in-out from Sears Trail to Davenport this morning. I'm not a fan of spurs but at least the trail would have been done. However, yesterday's delays had messed up that plan. Today I would finish the basic loop and leave those two annoying spurs for another day - well, probably two other days.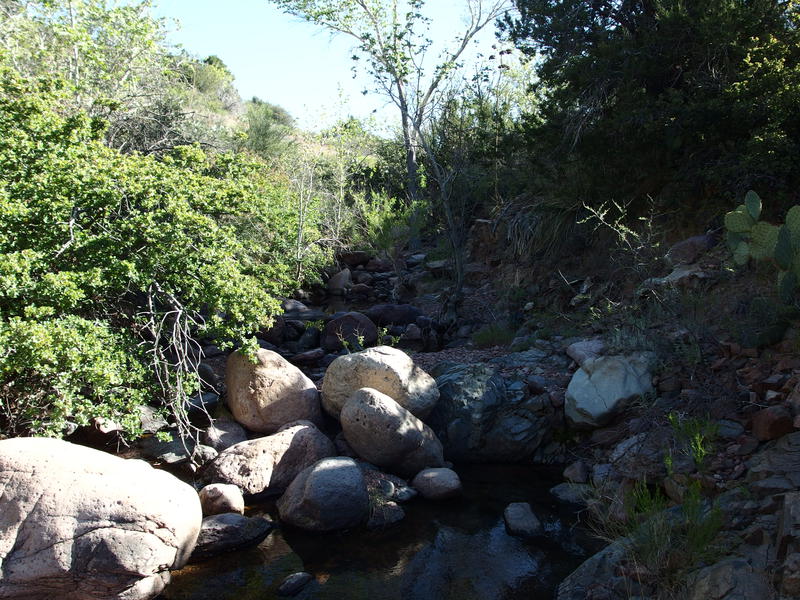 Sheep Creek proper showed up under a tall, prominent rock spur, and I turned with the trail and followed it upstream. A healthy flow poured over rocks and through sand-floored pools so I picked one of the larger ones and plopped down lazily. It was eight thirty and I was ready for breakfast.
I quickly filtered a liter, drank it, and then filtered another one for coffee and oatmeal, and then set up my gravity system to filter a third. I had every intention on drinking a full gallon during this break. There was no guaranteed water between here and the van twelve miles away and I did not want to leave this spot thirsty. My boots came off and I let my feet breath on rocks still cold from the night. Bugs buzzed around me, curious about my stink, and I ignored them as I gorged on water and snacks.
A full ninety minutes passed before I finally left that shaded creek. My stomach was stuffed and my legs were anxious to get moving again. The first thing I found along the trail was Round Spring, a remnant of ranching days that was still flowing heavily decades after being abandoned. There was a decent amount of green algae floating in the bottom and I wondered how well my filter would clean anything pulled from here. The trail continued a short distance along the creek before curving sharply up the hill. I could have continued upstream to find the remnants of a burned cabin and corral and decided to leave that for another day. This hill wasn't going to climb itself.
On top of the hill there was a view, a good view back south over the ground I had covered so far today. The highpoint to the left was Sheep Mountain and to the right was the much lower Cypress Ridge, my path coming down between the two and along the green creek to here. I was impressed. All I had to do was follow another unknown and unmaintained trail some eight miles to the south now. The sun warmed the air around me pleasantly and I turned away from Sheep Creek and began my search for the elusive Sears Trail.