Dim morning light cast the twisted, fire-damaged tree trunks of Squaw Flat into bizarre silhouettes. I shivered and pushed forward on the overgrown trail. This was the third time I've been on Squaw Flat this year and, while the path is becoming easier to remember, the aftermath of 2012's Sunflower Fire is still unnerving. Plus it was still chilly out, maybe a few degrees above forty. My thinning Arizona blood is becoming ill-equipped for these early morning starts.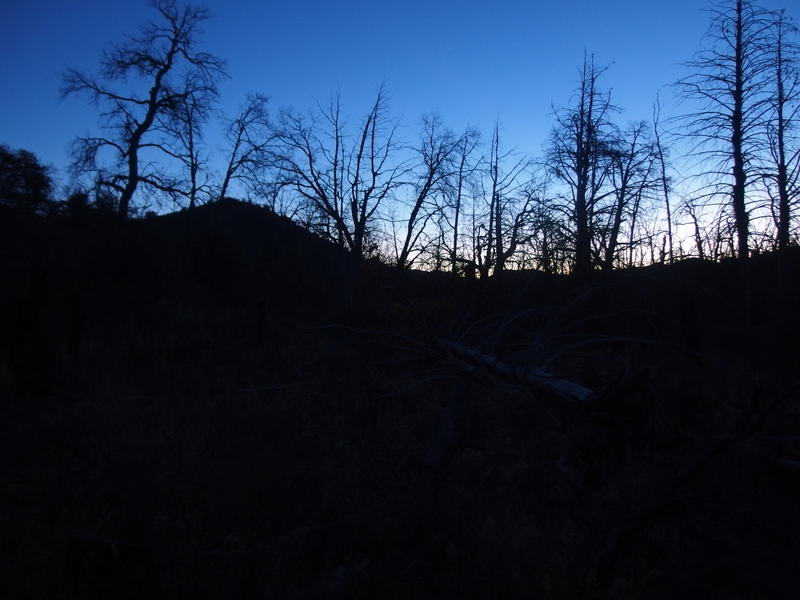 Today's hike was a bit ambitious - a 30 mile route involving some of the more rugged trails in the Mazatzals. In particular, the middle 14 miles is very rough going and would not be navigable in the dark, so I started before four in the morning and planned to finish after sunset. In a rare display of caution I brought along some basic overnight gear in case I got stuck on some of those tough sections after dark.
The early start served me well. I parked at the base of FR 25, walked the road up to Mormon Grove trailhead, and easily navigated the well-maintained Saddle Mountain Trail to McFarland Canyon. There were a few pools of water to filter from here so I drank my fill before taking Sheep Creek Trail to Squaw Flat. Six miles covered before pre-dawn light seemed like a great way to kick off a long day. Once I passed Copper Camp Trail junction I stole a quick look north to Sheep Mountain and south to Saddle Mountain, both rising like two great bastions to this relatively flat… flat.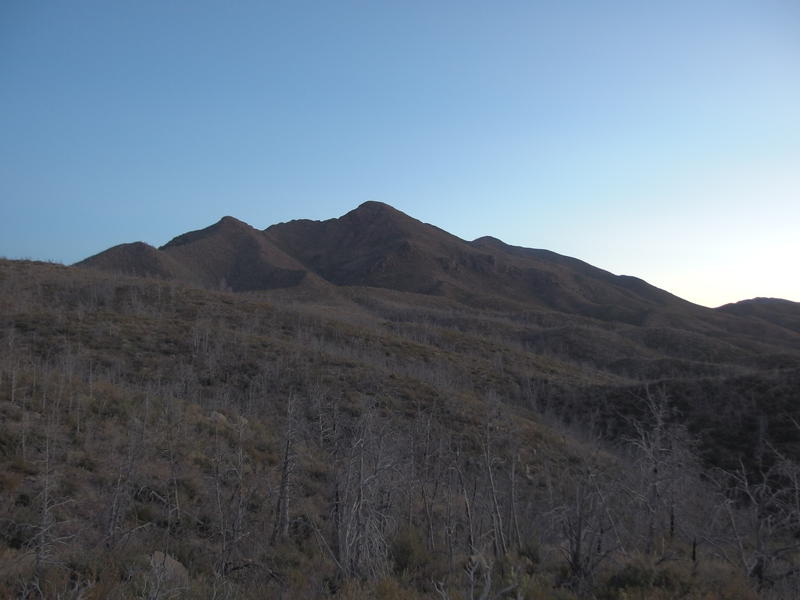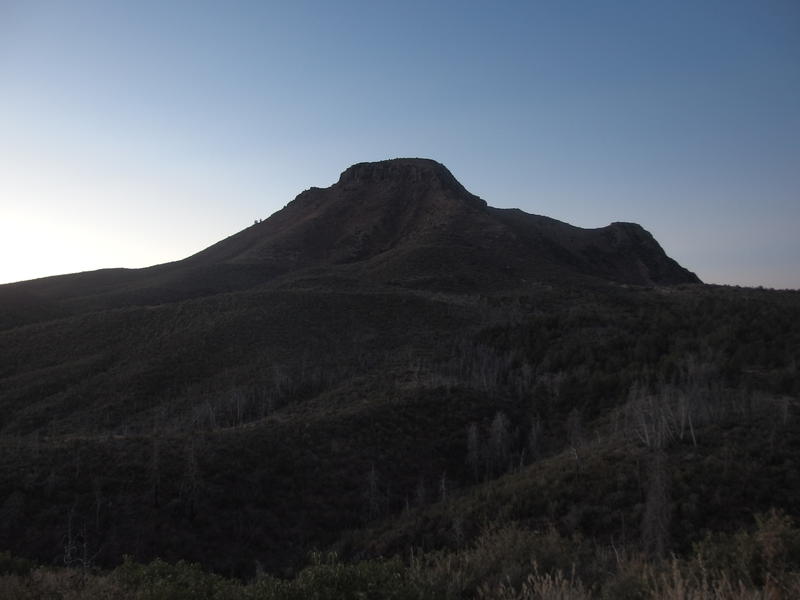 Sheep Creek Trail climbs from the junction, rising quickly away from McFarland Canyon and stepping up one hill at a time towards an impressive drop-off. Along the way it leaves the Sunflower Fire burn area and enters a few sections of unburnt forest, a rarity in this wilderness, though the thin and scraggly trees are a faint shadow of the Midwest forests that I still call home. I rushed through them, pushing my legs to haul past the hills, and reached that drop-off a few minutes before the sunrise. To the north lay the western heart of the Mazatzals, Sheep Creek and Sears and Davenport Wash, still shadowed and dim in the early light.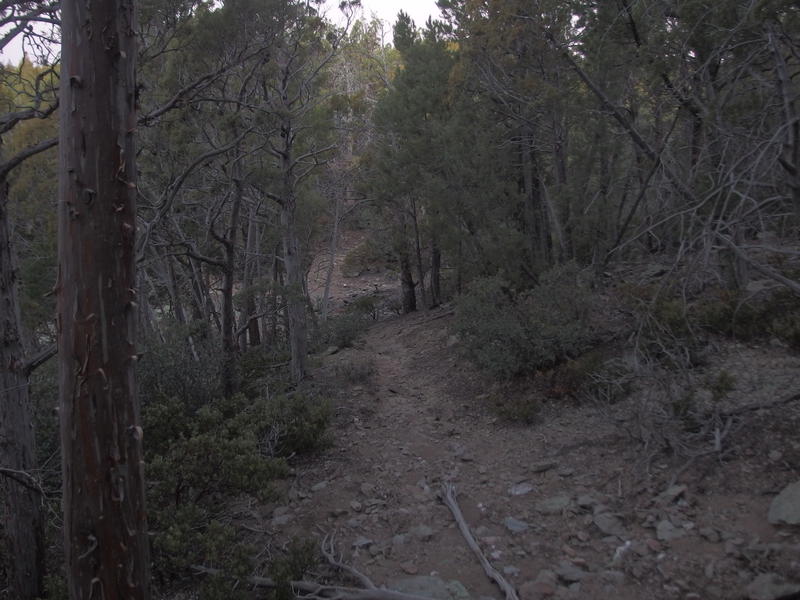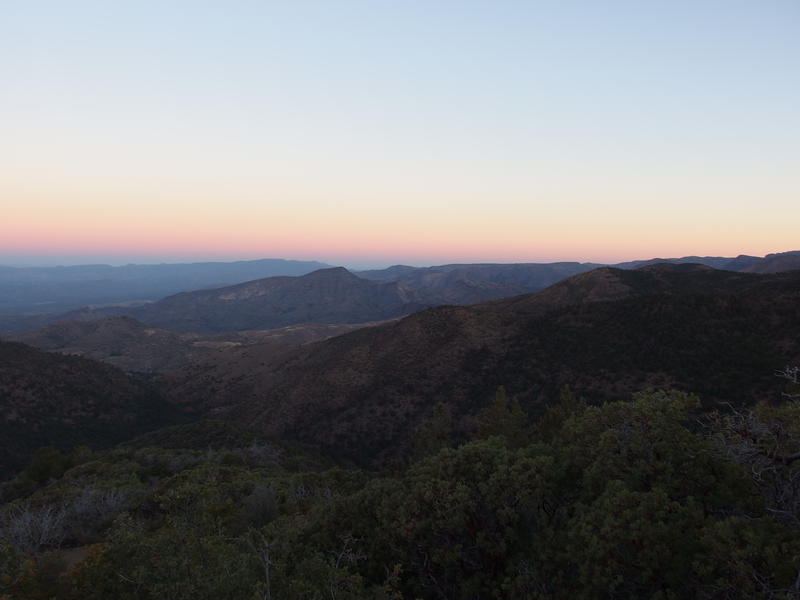 A few yards later and I stopped for breakfast and a sock change. Well, it was more of a reset than a break, I suppose. From this vantage I could see my entire morning spread out in front of me. First I would drop down to Sheep Creek, follow a path that I had been on earlier this year to the old cabin site, and then explore a few miles of new ground to Davenport Wash Trail near Table Mountain. Six miles, half-known and half-unknown, and then a little hop over to Club Cabin. After that things would get real fun, but that was for me to worry about in the afternoon.
Dropping down to Sheep Creek was about as steep and fast as I remembered. Climbing up this thing must be a real kick - I've heard that this is one of the steepest sections of trail in the Mazatzals. Maybe someday I'll try this trail in reverse. Today I trotted (or rolled) down, being careful about my overly-fragile knee, and made it to the rocky bottom unbroken. Down here the path tends to skip from one bank to the other frequently and I only missed one crossing, distracted by the fall colors playing on the dry creek bed. There aren't many leafy trees down here so I had to enjoy the limited color shows.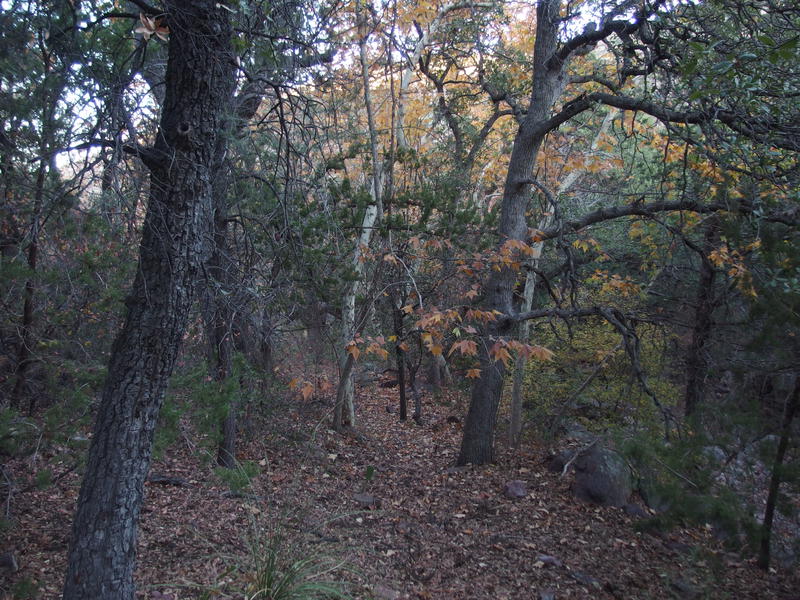 I felt like I was making good time, especially compared to the last time I was on this trail. The first old corral along an eastern tributary and the surrounding thorny overgrowth was easily circumvented, and shortly after that was the main fork of Sheep Creek and Round Spring. Last time I was here the cement trough was brimming and the creek running, plenty of water to choose from before the long walk down Sears Trail. Today everything was dry. Well, shoot, I was really hoping on pulling a liter or two from here.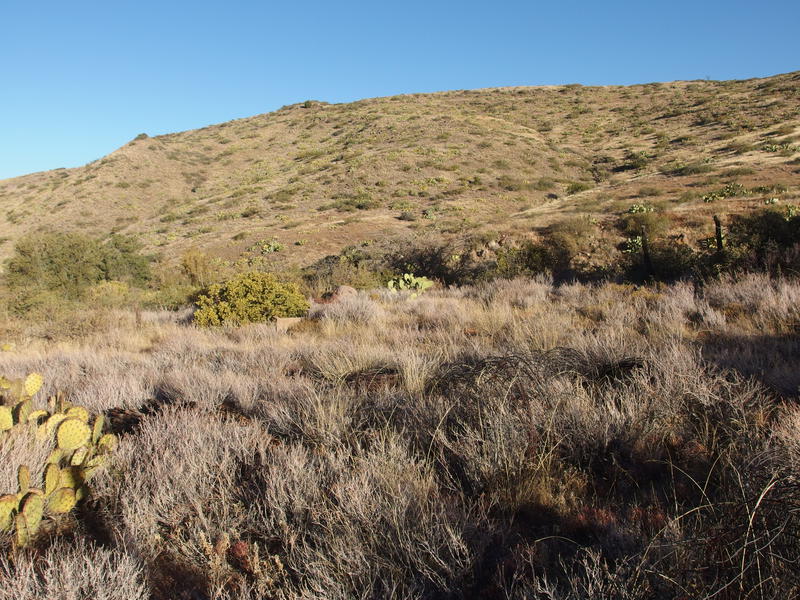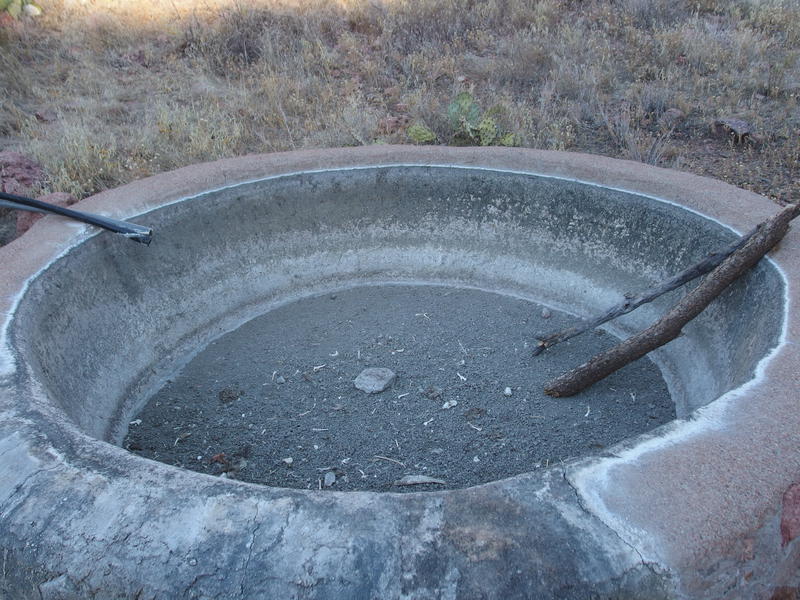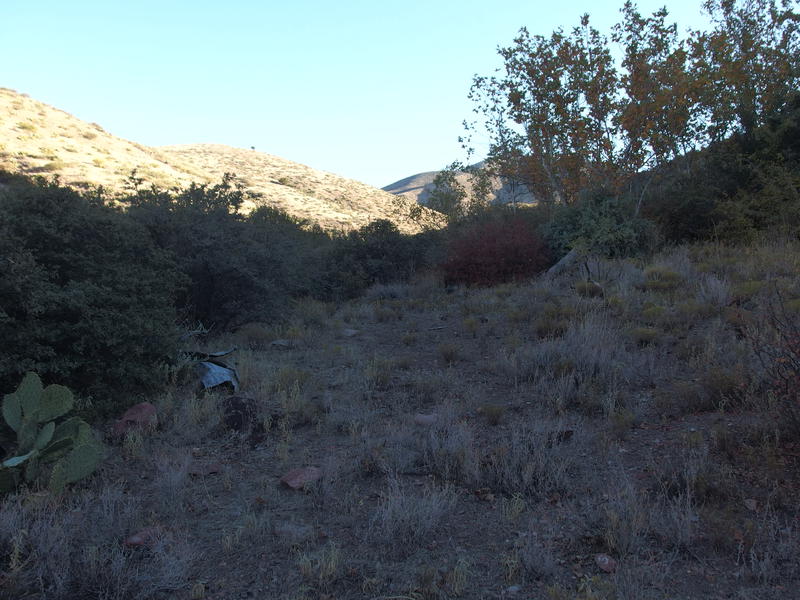 After checking out the old cabin location, which only has a single piece of bent metal roofing to mark a place a ranching operation once thrived, I checked the time. Nine in the morning. Not bad, I suppose. Three miles until Davenport Wash Trail, and then two miles of well-trod path to Club Cabin. Should be possible to knock that out well before noon. I licked my chapped lips, ignored my growing thirst, and pushed up the steep hillside above Sheep Creek. After re-discovering the Sears Trail junction I picked a route to the saddle to the north and tried in vain to find where Sheep Creek Trail goes down.
From the saddle the rest of my route looked downright daunting. Table Mountain was closer, sure, though it still seemed frustratingly distance. The little ridges between the washes along the way that looked so small on a topographic map were now formidable obstacles. And, as far as I could tell, there was no trail here to follow down from the saddle. I picked a slow and careful descent through the grassy slope, avoiding the shin-stabbing agave and loose rocks, before finding a tiny cairn along a narrow path.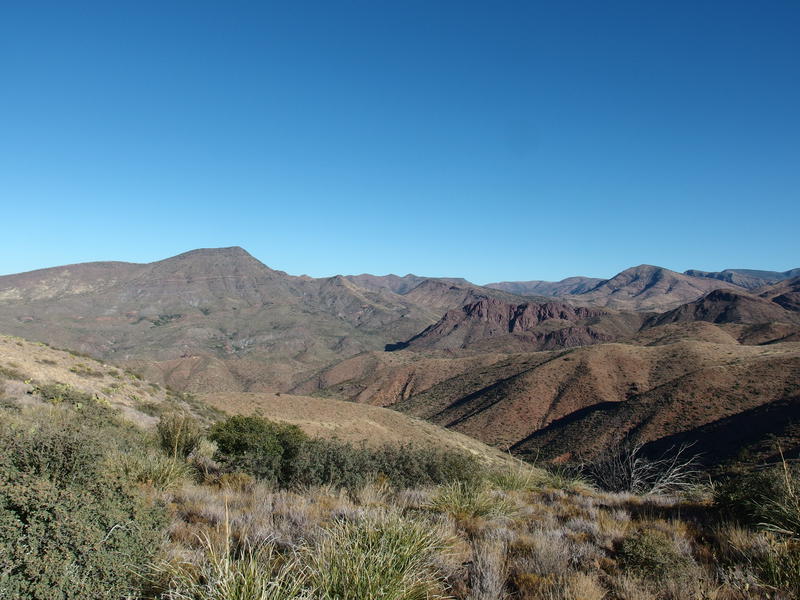 It wasn't a good trail or easy to follow, and the cairns were minuscule and mostly obscured by low vegetation, yet it was slightly easier than bushwhacking. I traced the faint path along the side of the hill and through a few creases before turning sharply down a long ridge. This ridge was made of loose, rolling rocks and was terrible. By the time I reached the bottom both of my knees were reporting with sharp complaints.
From here the trail turned to the left and followed a dry wash for a half mile. There were a few cairns, huge ones that grew out of the rocks of the dry wash like half-natural formations, and not much of a trail to follow. Plus the banks were choked with catclaw and cholla. This hike was just getting more and more fun. I played rock-hop in the wash for a while before jumping up on the bank and tracking game trails (and maybe the real trail by accident), slowly moving north one footstep at a time.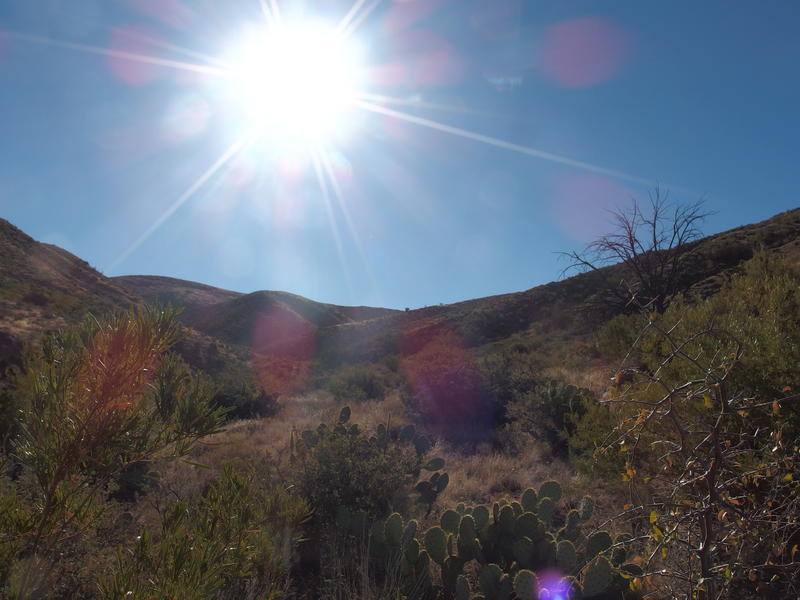 I passed an overgrown corral and left the wash, climbing up a narrow ridge that separates Bear Creek from Mazatzal Wash, only stumbling upon the proper trail at a shallow saddle on top. It was difficult to track and I lost it a few times on the descent down the far side, though I did manage to find a few giant cairns at the base. I paused here, reveling in the scenery and in my position. I was finally in Mazatzal Wash, next to Davenport Wash Trail, near the rocky formation that sits next to Club Cabin. Probably walked past that rocky formation a half-dozen times over the last two years, and now I was close to walking past it again.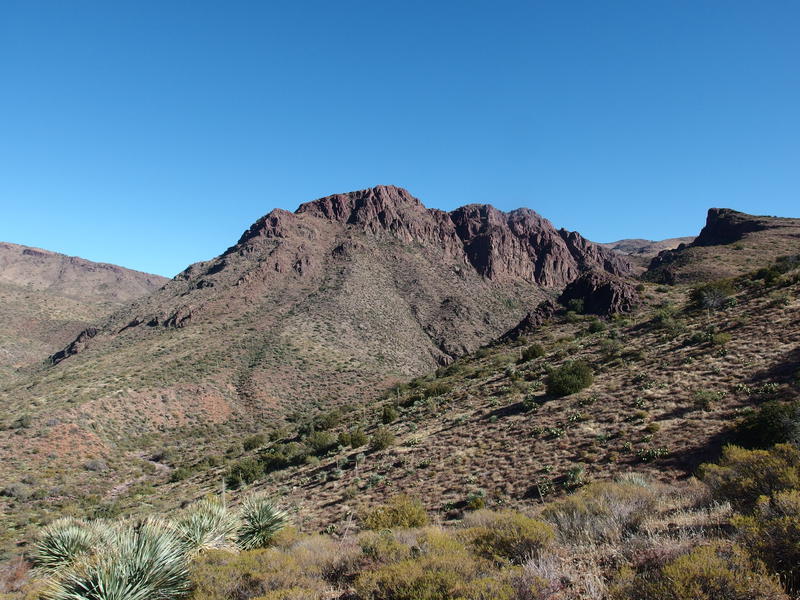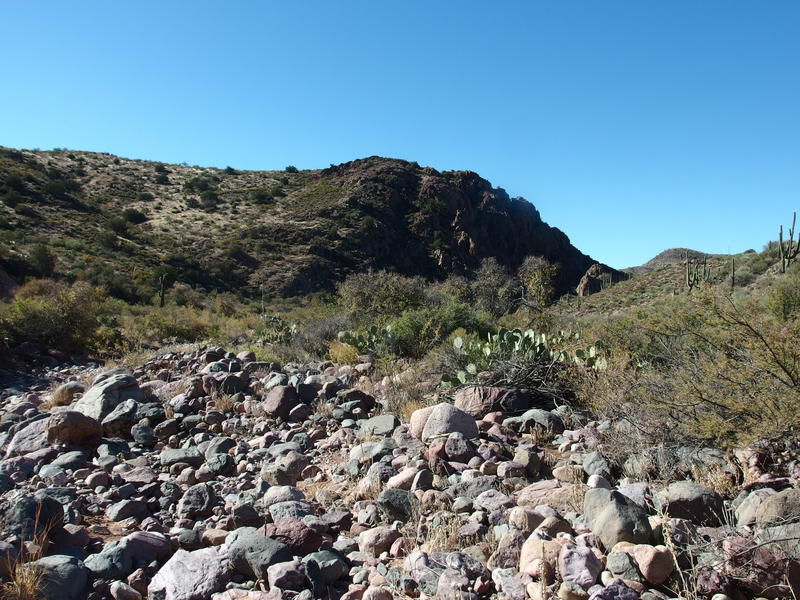 Wish there was some water down here. Well, suppose there might be some a few hundred yards downstream below a bluff, but I didn't want to stray from my path. Besides, Club Cabin was so close that I could almost see the old stable from here… figuratively, at least. Instead I poked along the bank, eventually finding a decent way up, and then circled about until I found a hint of a trail that slowly climbed northwards.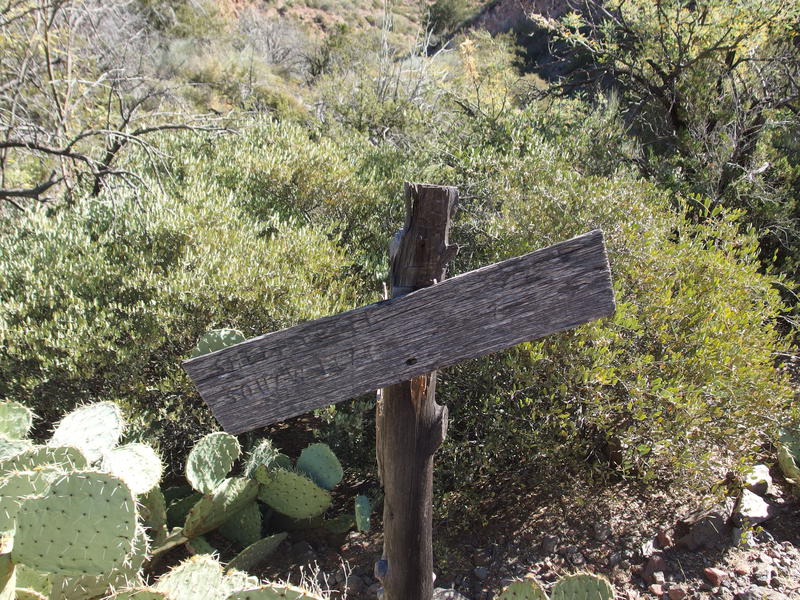 The last few hundred yards stretched on to forever. The brush grew thicker, slight grade got steeper, and Davenport Wash Trail seemed just out of reach. When I finally saw the old, worn sign I almost hugged it. Finally back to familiar ground and done with the faint, hard-to-track Sheep Creek Trail. I followed the track and in a few minutes I stood next to the circular trough at Rock Spring. Great - I had already wandered off on a random spur and lost Davenport Wash Trail.
Humbled, I backtracked to the correct track and started a quick pace east. It was almost noon and the thought of maintaining my schedule was tantalizing. The two miles between the junction and Club Cabin is something that I've walked plenty of times before and is pretty easy going, a few small elevation gains and well-defined single-track, although there are some game trails that compete for attention. I only stopped once to finish off the rest of my water and reached Club Cabin in just over thirty minutes.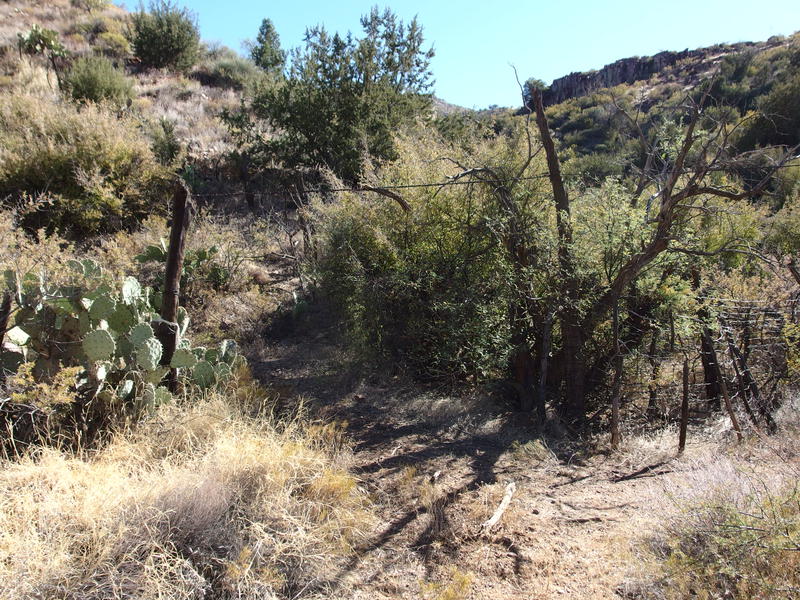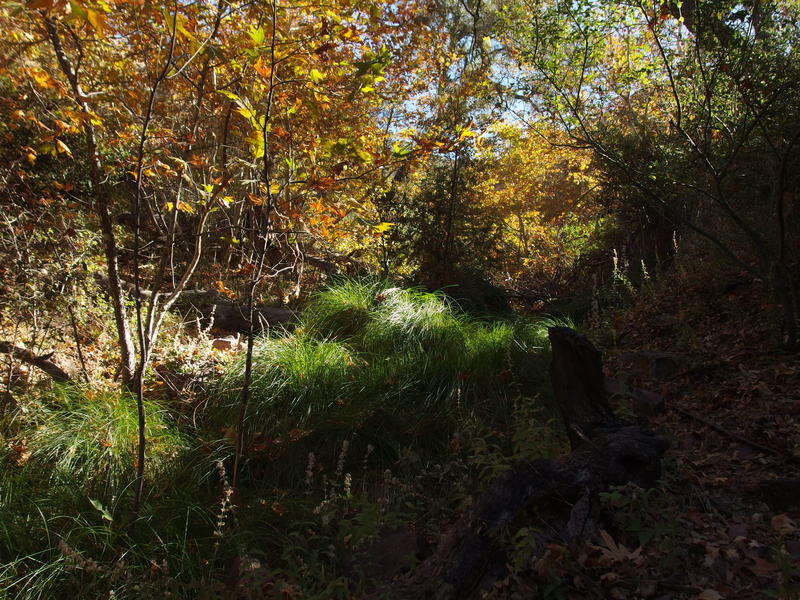 An acrid stench of horse manure hung in the air around the burnt cabin with no horse to blame. Perhaps I just missed them by a day or two. After a few quick looks around the place I pushed up along the creek and found a comfortable seat next to one of the pools below the spring. This isn't the best water, and I can notice a faint taste of rotting vegetation after filtering, yet now was not the time to be picky. I filtered two liters, drank them down, and then started to filter two more while chowing down lunch. The bear was less than twenty feet from me when I finally noticed the sound of crunching leaves.
The big, hairy animal was paying no attention to me, more focused on the ground in front of him than the strange creature sitting next to his water. I gave him a friendly hello and he looked up sharply. Darn bear looked mildly surprised and dismayed. I asked him to wait to take his turn and he slowly turned and walked away nonchalantly. Well, that could have gone a lot worse. I finished my lunch, packed my gear, and headed back to the trail. Time to climb back over the ridgeline and finish this 'dayhike'.