Late afternoon sun heated up Peralta Trailhead as Chris and I stepped out of his car and pulled our packs on. The temps were in the upper eighties thanks to a storm-ridden cold front that had been rolling through the area this week, and it felt surprisingly reasonable out. I might be singing a different tune after the 1400' climb to Lone Pine, though.
Chris and I were heading up beyond Fremont Saddle to a little spot called Lone Pine to spend the night. He has been upgrading some of his overnight gear in an effort to lighten up his pack weight and wanted to do a test run, and this little three mile hike seemed like a perfect option. His base was around thirteen plus four liters of water, and mine was closer to four pounds with four liters. Not that it's a competition or anything.
We hiked together for a few hundred yards, catching up on random topics, and then I decided to push on alone. We started at five and the sunset would be at 6:15 and I wanted to watch it from the top. Stoking the afterburners I booked it up the trail, quickly building up a healthy sweat that soaked my shirt and hat. Even with the constant shade on Peralta Trail and the relatively low temperatures of 80 the unrelenting climb made for a healthy workout.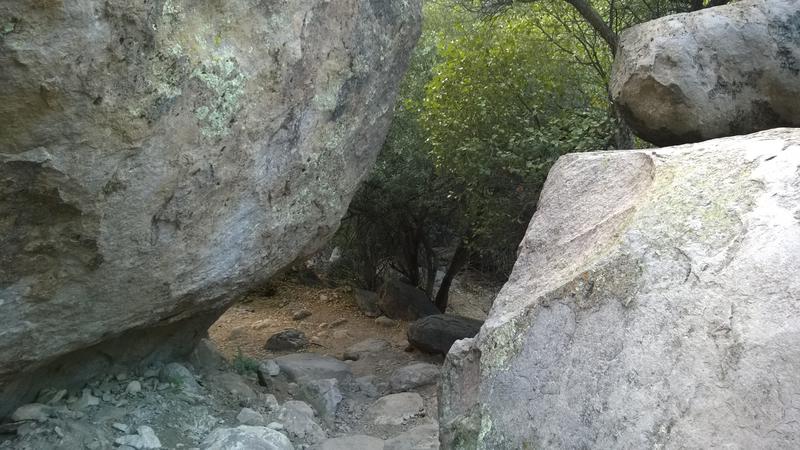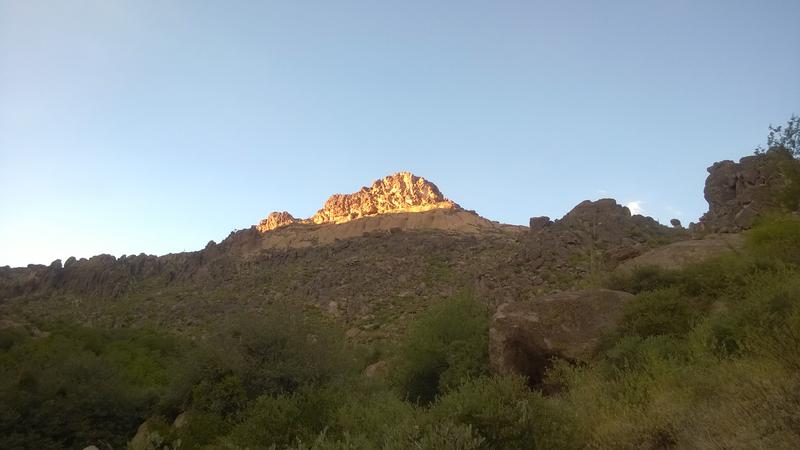 Only two other hikers were on the trail today. I bumped into the first one early on, a man and his dog bumbling up the path with no clear destination. He had seen a rattlesnake back on the trail and seemed disappointed that I didn't notice the single branch he broke as a warning. The second hiker was much further up and I heard him a mile away - he was singing up a storm. We had a quick and embarrassing encounter and then he continued down the hill, slowly building up his tune until he was belting it out full force again.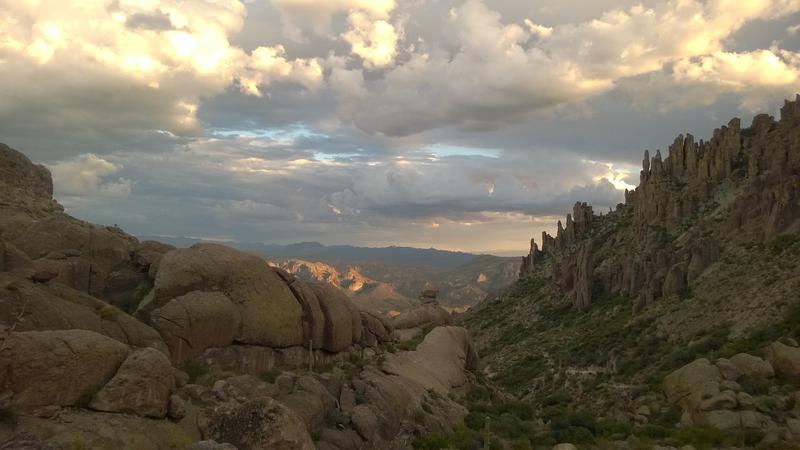 Along the way I kept glancing back to the south. There were some wicked storms out that way. It was supposed to stay down there, or at least I hoped it would, as we only had a 10% chance of rain here. If it decided to drift up to us we'd have a bad time. Our campsite was wonderfully exposed and I was only sleeping under a tarp tonight, which I haven't been under in a storm yet. The longer I can push off that experience the better.
With the exception of a few photos I didn't stop once on the climb, though I did glance up wearily for the saddle many times. After the section that plays around in the overgrown canyon the trail climbs in earnest, switchbacks on the west side, a quick final crossing, and then more switchbacks on the east. I never saw Chris behind me when things opened up, which did worry me. This is his first hike in a long time and he wasn't sure how long it would take him to reach our campsite. Would he call it quits along the trail tonight, especially if it started to storm at sunset, leaving me alone up top?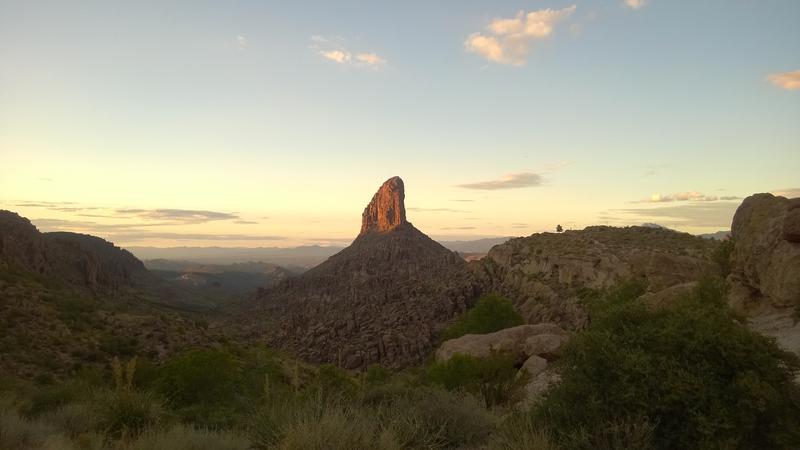 Fully soaked with sweat I reached the saddle right at six, forty-five minutes after leaving the parking lot. Climbing 2.5 miles in that time wasn't bad at all. Only the top half of Weaver's Needle was lit up by sun by now. The Superstition Ridgeline kept the rest of the area, including our campsite by the lonely pine tree, in the shade. I paused for maybe a minute here, catching my breath and enjoying the view, before turning to the right and hunting for the trail over to camp.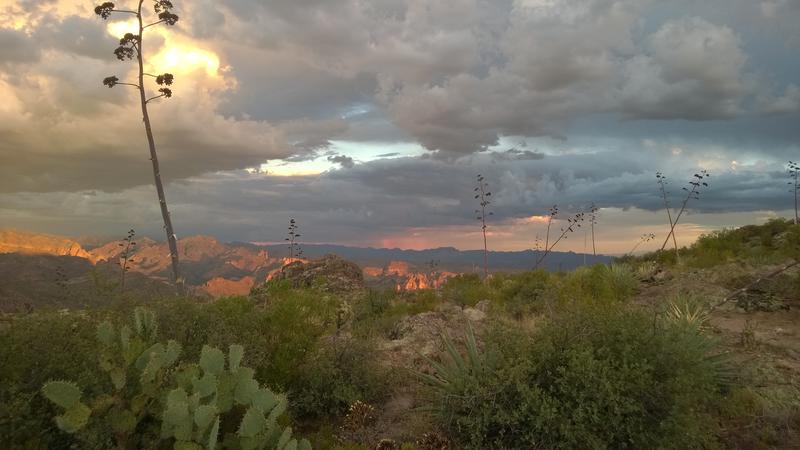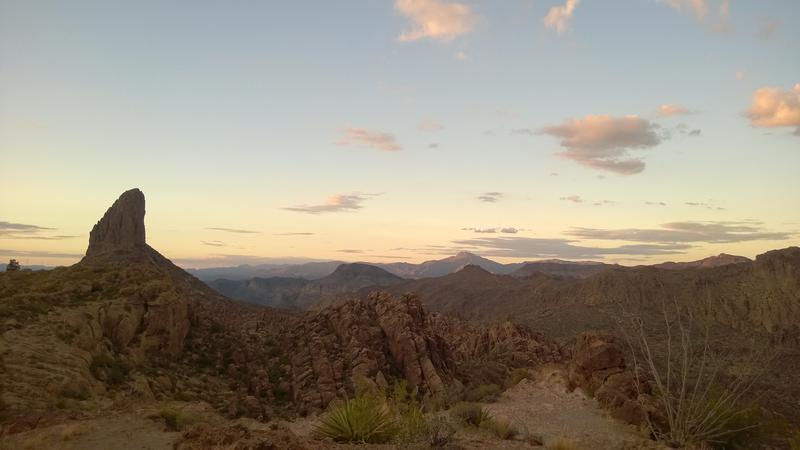 Several paths weaved and forked and re-joined on the east side of the saddle so I just chose whatever looked the best and pushed onwards. The views were fantastic along the way. The southern storms shone brilliantly with the setting sun, a bar of rainbow shooting down in the distance, and the Superstitions to the north were dark with random peaks lit up. In no time at all I reached the edge of the ridge and the Lone Pine and was treated to a fantastic twilight view of Weaver's Needle.
It was now a bit after six and I started on the typical camp chores. The first thing I did was rip off my cotton t-shirt, not my best choice of apparel for a hot afternoon hike, and drape it over a nearby rock to let it breath. Best way to dry it out would be to keep it on me and let my body heat do the work but I was sick of the sweat-heavy thing. Then it was time to set up the tarp.
One problem with that, setting up the tarp - the ground was rock-hard. I was able to sink a few stakes in one corner and that was it. For the rest I resorted to hauling rocks and tying up the cordage around. This worked until the wind picked up and started flapping things around annoyingly, when I ended up shifting things around and doubling up on a few of the rocks.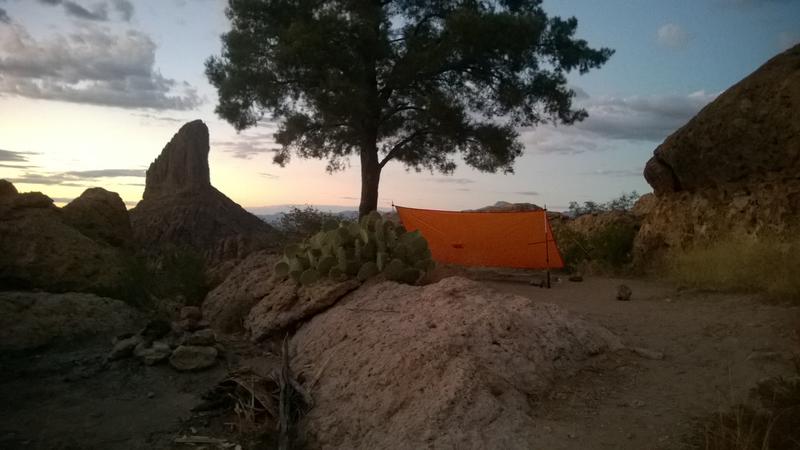 With my gear still drying and sleeping situation figured out it was time to cook dinner. I setup a lightweight (and poorly performing) solid fuel stove and boiled a cup of water for my homemade fiesta rice mix and waited for Chris to show up. The temperatures began to cool down after the sunset, keeping my comfortable as I sat barefoot and shirtless on a rock and watched the flickering stove go. The darkness was almost complete when I saw a lone headlamp show up on the saddle, marking Chris finishing up the climb to the saddle, and I started eating as he rolled into camp. He was in great spirits, if a bit winded, and it took him no time at all to set up his new tent next to mine on the flat pad.
We started a small fire with agave stalks and leaves in a well-built fire ring and relaxed as the stars began to come out. With the exception of the annoying Phoenix night pollution it was a great night for viewing, the new moon keeping the stars of the Milky Way in full view. Things got a little cloudy and we got some sprinkles around eight, otherwise it was clear and calm and fantastic. When it was time to turn in we put the fire out safely, took one last look at the dark needle under starlight, and headed into our respective shelters.
Our alarms were set for five in the morning, giving us plenty of time to pack up and have a hot breakfast (coffee and oatmeal, nothing too crazy) before the sunrise. It took Chris a fraction of my time to tear down his tent. My shelter may be half the weight, but it has so many individual (and fragile) parts that it can take an annoying amount of time to clean up in the morning. By the time we were both ready to roll the sun had already broke the horizon and was lighting up the side of Weaver's Needle.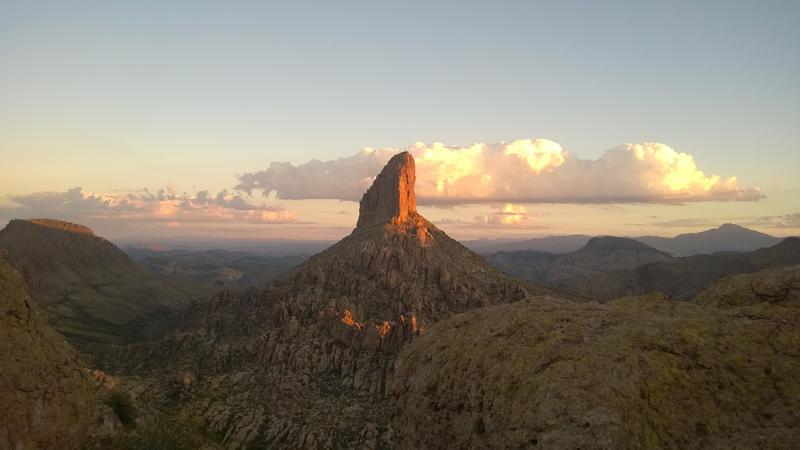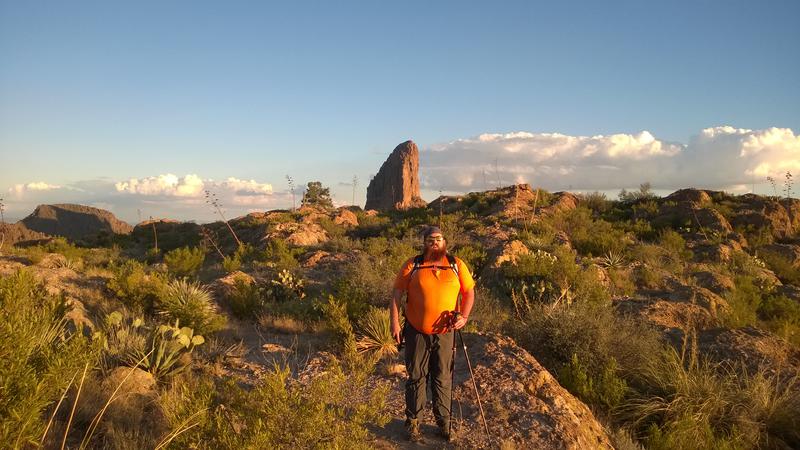 The sun was glaring down on us as we retraced our steps towards Fremont Saddle. We weren't going to completely follow our route, though. As soon as we got close to the saddle we took a fork to the east and continued on the ridge, heading along the rough Cave Trail. We've been talking about hiking this alternative route from Peralta Trailhead for over a year now and this seemed like a good morning for it.
For the first half hour things were simple enough, the path weaving along the ridge and offering great views. It barely dropped at all. When we swung to the west the obvious Peralta Trail was visible down in the canyon, and when we went east pieces of Bluff Spring and Dutchman Trail showed up. After our path followed the bottom of a cliff for a short time the first cave showed up. It was a shallow thing, more an overhang than anything, and was littered with useless cairns.
Must be some Sedona hikers that go this way with too much time on their hands or anything. Don't get me wrong - I'm a big fan of cairns for route finding - this just seemed frivolous. We didn't stop here for long and pushed on, excited to find the next cave. It was a bit harder to find. The trail split along a steep ridge and we headed downhill for a few minutes when I noticed something above us. I hauled up, off the trail, and then called down to Chris. It was a short, annoying, and brushy climb that ended in the gigantic Geronimo Cave. Now here was a cave.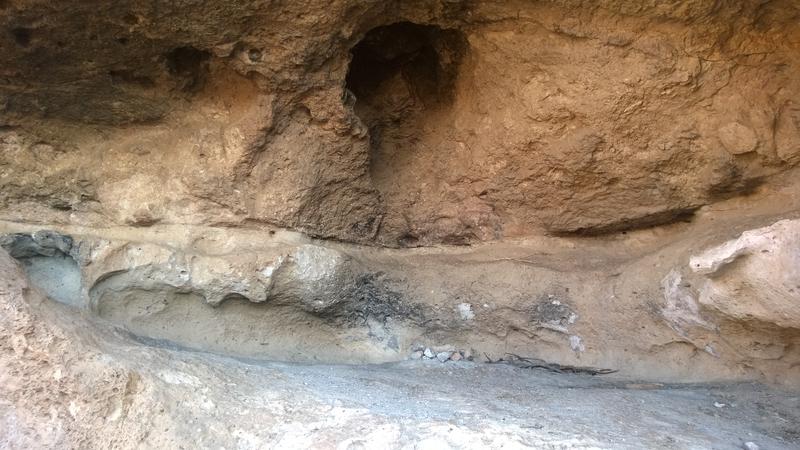 With several good rock seats and welcome shade we elected to pause here for a long break. I had over a liter of water to drink before we got back to the trailhead and plenty of morning snacks, so I set to that. Hauling water or food out is something I always try to avoid. We sat and relaxed, thinking that much of our hike was done with both caves found, and watched the early bird day hikers haul up Peralta Trail below.
Once we decided to continue on we immediately made a mistake. Instead of backtracking to the trail we were on before we stayed at the elevation of the cave and followed a shoddy path south. It led us to the edge of some mild cliffy bluffs. There may have been a descent somewhere, we just couldn't spot it from the top. Instead we backtracked to Geronimo Cave, bumbled down the brushy slope, and then followed the better path down and along the bottom of the bluffs. Looking back there was a few possible descent on the far east side that could save us a bit of distance for next time.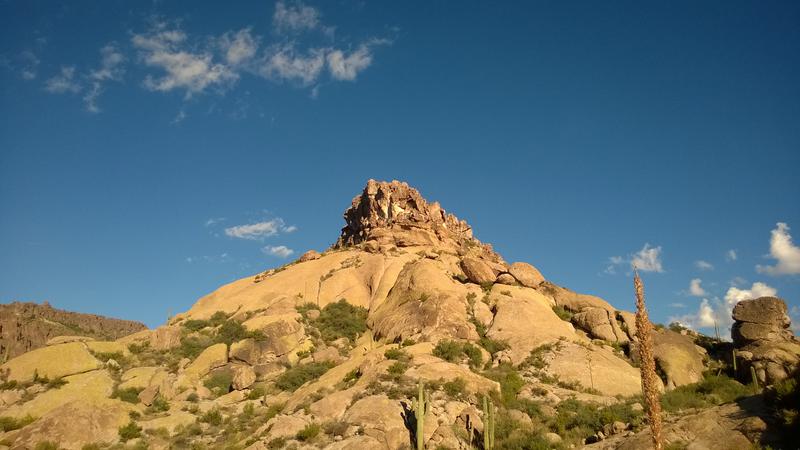 From here the descent was harsh. We dropped down over exposed rocks, the grade painfully sharp on the knees. A few helpful cairns guided us to the breaks in the brush and boulders, though there were less-than-helpful ones off to the side that tried to trick us. There was only one uphill section along the way that sapped away some of our energy, so I zipped up quickly and drank the rest of my water while I waited for Chris to catch up.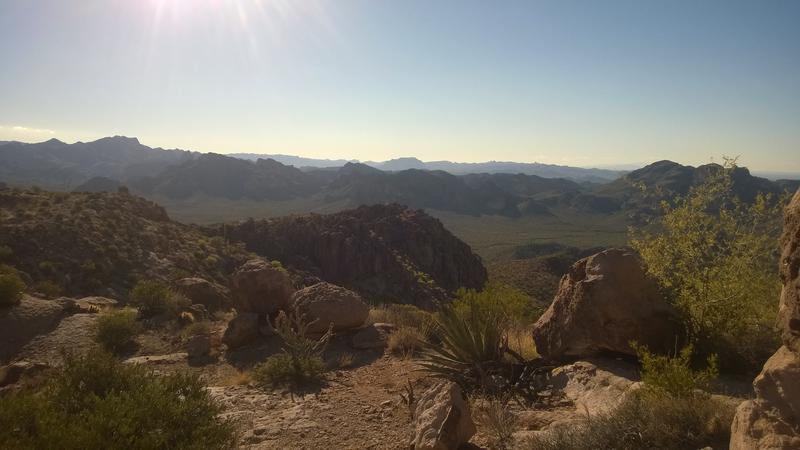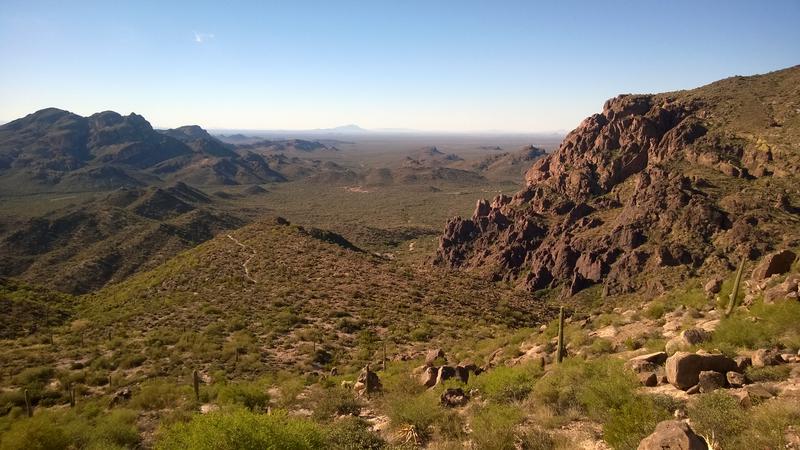 Almost two hours after leaving our campsite we finally bumped into Bluff Springs Trail, right above Cardiac Hill. A hardy day hiker passed us here, someone who started from the trailhead just after six and was obviously more familiar with this route than we were. And probably in better shape, too. We took our time on the downhill, sweating under the ever-warming morning sun, and trotted down towards the car and chatted about randoms.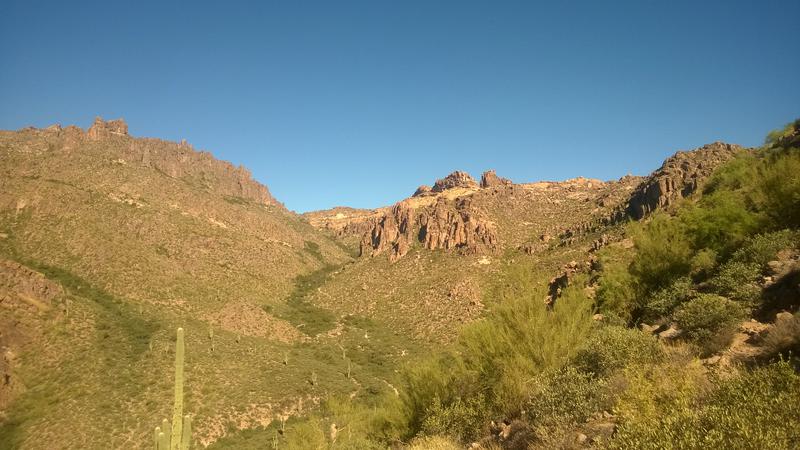 An hour to hike up and two and a half to hike down, though I'm sure I can pick up that descent pace with knowing the route. It made for a fantastic overnight loop. However, I wondered how lucky we were to have the spot to ourselves. I've seen Lone Pine featured on a few online journals as a good Superstition camp site. There's not a lot of room if a few groups were out there at once. For this trip it definitely worked out, both to test Chris's new gear and to spend an easy night outside.