Standing like a tall, lonely guard of the southwest Superstition Wilderness is the impressive Weaver's Needle. This old volcanic shaft rises over a thousand feet from the surrounding desert, the bottom half steep piles of rubble and the top sheer cliffs. Chris and I had seen the formation from several of our recent hikes, from Yellow Peak and different Ridgeline adventures, and it had always been a captivating sight. So we decided to get a closer look.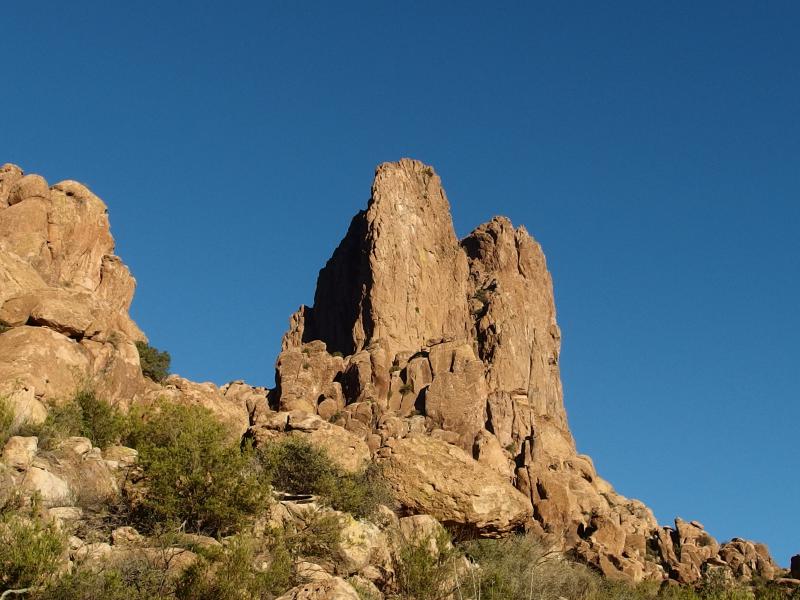 Katie had graciously given me the morning to go and wander around with Chris. For the entire month of January and much of Feburary I had stuck close to home to help out with the kids and household chores (most of the recent Arizona hiking posts were from last year). The catch was that I had to be back by noon-ish. Chris picked me up just after four in the morning and we made it to the Perulta Trailhead with hours of predawn dark left.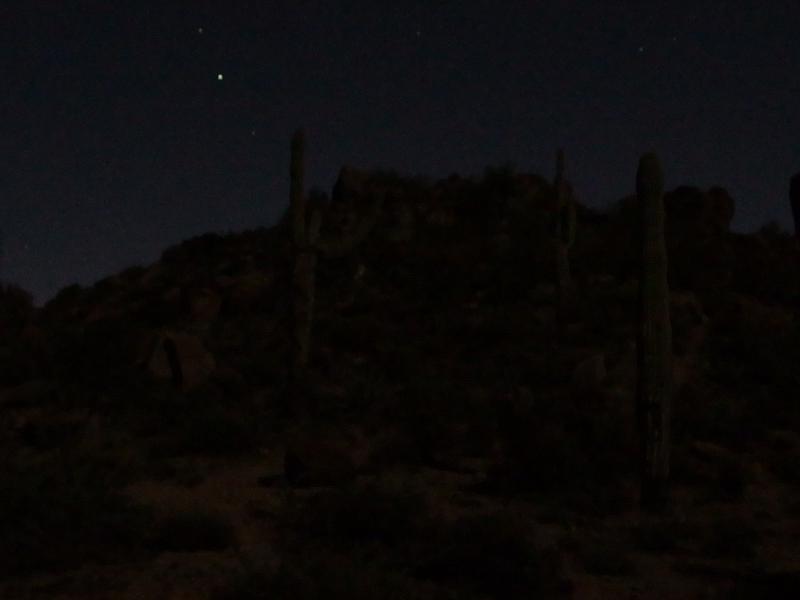 As far as we could tell there was no easy way to climb Weaver's Needle. It is a well-known destination for rock climbers, even with flat land for camping on top, but for normal hikers there is no way up. So we planned out a mild loop hike that would take us to the base of the formation. Starting at the famous Perulta Trailhead we would take Bluff Spring/Terrapin over to the Crosscut Trail and return on Perulta Trail. This eight mile route would give us a comfortable view close to the needle and, if we felt like it, we could venture up to the base for a more intimate view.
The first two hours passed quickly in the dark. We made good time on the trail and only got confused twice on the twisting route. Bluff Springs Trail climbed quickly and then dallied around Barks Canyon for a good long time. On the way we passed by a group of a dozen teenagers heavy laden with gear. They were on a 24-day camping trip in the wilderness as part of their boarding school requirements, something that sounded ridiculously awesome compared to any school curriculum I've heard of. About ten minutes after passing by them and we saw our first view of the distant needle barely lit by dim morning glow.
Sunlight began to slowly filter up from the southeast. We were already well on our way and had great views of Bluff Spring Mountain to the south. That mountain looked pretty epic from here, all sheer cliffs and sudden rises, and I mentally added that to the todo list. Compared to the relatively low elevation of Bluff Saddle along our route that mountain looked darn impressive.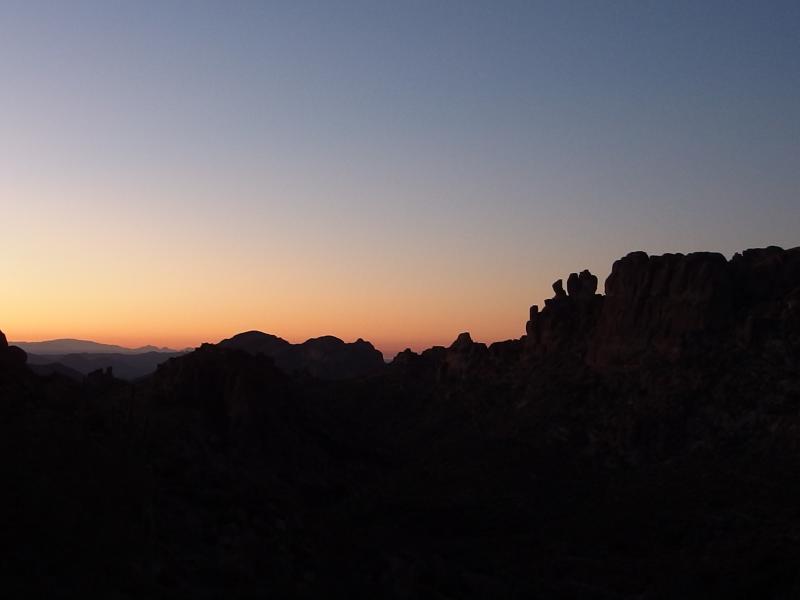 As we neared the end of Barks Canyon and began curving west a sudden boulder looked like a good photo opportunity. Chris and I had pushed hard this morning and we decided to waste some for a quick breakfast break and some vanity poses. Plus, the light on Weaver's Needle was streaming down a bit denser now, making for a great view in the distance.
It is less than a mile from the top of Barks Canyon to Bluff Saddle and we ate up that distant in no time. The trail was relatively flat and easy after the couple of dips and swoops in the canyon, a mild climb up a hundred feet or so spread out over the distance. Along the way I glimpsed back a few times to the west and thought about the other trail, the more popular Perulta Trail.
There had been another group of boys and dads back at the trailhead asking us for directions. We had sent them down Perulta, thinking that the trail to Fremont Saddle would be shorter for them and, more selfishly, that they would take their noise down a different route than us. For much of our earlier hike we could look down from Bluff Springs trail and make out their flashlights far below us breaking a slow parallel path. We would be returning on that trail… maybe. Between us lay a tall ridge that included Geronimo Cave and a trail riding the top. We could also follow that over.
When we reached Bluff Saddle the view was incredible, bright morning sun and long shadows casting sharp contrasts on Weaver's Needle. The formation has two chunks and is split by a deep cut, and from this angle it was easier to tell just how ridge-y they are. From farther away they look like a simple vertical shaft, but up close they are squished and have some narrowness to them. Chris and I had to make a decision soon, figure out just how close we wanted to get to the thing, yet for now we just gaped over at it and slowly headed down the top of Needle Canyon.
The Crosscut trail was easy to make out with bright blazes tied to convenient dead branches. We cut up and over and down and back up, riding the trail as it made its way over to the south side of Weaver's Needle. This trail never really gets too close to it, more of a shortcut in the souther saddle, and after following it for a while we decided to attempt a closer look. The tall hoodoos and cliffs were blocking views and making us impatient for a good view.
Our attempts were met with harsh reality. There were cracks and chimneys between crumbly rock walls that promised certain falls for our novice climbing skills. We wasted the better part of an hour climbing in and around a cave trying to find a good way up before giving up and descending back to the trail, then another thirty minutes trying an approach from the southwest. We got one good view of the thing from the second attempt, looking up at the rising desert scramble and huge bulk above, before giving up. It was time to start heading back on Perulta.
Taking the rest of Crosscut down to Perulta was a bit more difficult than we had imagined, steep downhill over loose and sections of bushwhacking through spikey and prickly stuff. When we reached the trail we got an early taste of the traffic we'd be dealing with for the rest of the morning. Two quick groups passed us within fifteen minutes and a large, noisy group of camping kids were shouting back and forth from either side of the canyon. Our relative peacefulness from this morning was gone.
Between the increased traffic, the wear of the return hike, and the sun beating straight down on us the hike south was not a lot of fun. The trail climbs 400' up to Fremont Saddle, most of it over switchbacks near the saddle itself, and it was a long haul. And when we got to Fremont we walked into a zoo. Several dozen people milled around the top, campers just waking up and hikers ascending from the trailhead. I took a few quick pictures, looking back at Weaver's Needle and Black Mesa beyond and one of our descent ahead, before we zipped over and started the drawn out walk back.
Now, I don't like complaining too much about other hikers. It's great to see people out enjoying nature, especially those ambitious enough to tackle the wilderness and a hot climb over dirt and rocks. Crowds of inexperienced people are a different story. We passed by people in sandles and flats, sweaters and dress shirts, headphones and purses, most sweating and limping and complaining loudly. There were others who came up prepared, bringing packs of water and good boots for the rocky trail, who looked equally annoyed by the inexperienced. There was a lot misery on the trail to Fremont Saddle.
Chris and I reached the trailhead, now filled and overflowing with cars, and we zipped out on the way back to civilization. We had finished our hike right at noon, pretty close to schedule, and now it was time to head back and relieve Katie of solo parenting. As we drove down the dusty roads we talked about future hikes in this area, of doing the Dalcite Loop and checking out Miner's Needle in the west, and how we could avoid the crowds on those trips. Because it was worth a few extra hours of hiking to avoid those crowds.