A blinding sun shone in the east, washing out my view over to the Mazatzal Mountains with harsh rays. For the first time in a long time it wasn't a hot, unforgiving light, more of a gentle warmth. I had been walking down a dirt road for three hours, mostly in the dark, and now I was almost at Sheep Bridge and the start of my proper hike. The sun was a welcome reminder that my first visit to the Mazatzals in over two months was about to begin.
My long absence had a few causes, one of them being a failed attempt to reach Sheep Bridge back in September. The drive from Scottsdale to here is a tedious crawl over a rough dirt road and my last time ended early with two flat tires on Lockwood Mesa. This time I was more patient and made it to the junction with FR 269 in three hours, parking there and walking the remaining twelve miles on foot to the bridge. This final stretch is the worst part, with some loose sand to deal with in addition to the sharp rocks, and my return trip would loop back another way to that junction anyways.
The last mile was about as uneventful as the last few hours. I reached Sheep Bridge a bit bored and somewhat tired from the quick morning walk, though unwilling to stop and give my legs a break quite yet. There were a few campers below the bridge, next to the river, and I gave them a quick wave before crossing. On the far side the trail was wide and well-trod to the Willow Spring Trail junction (which I had hiked back during Labor Day), then faded a bit as it turned north, and then the tracks completely disappeared as I entered Sycamore Creek. Looks like the Verde River Trail doesn't see a lot of traffic.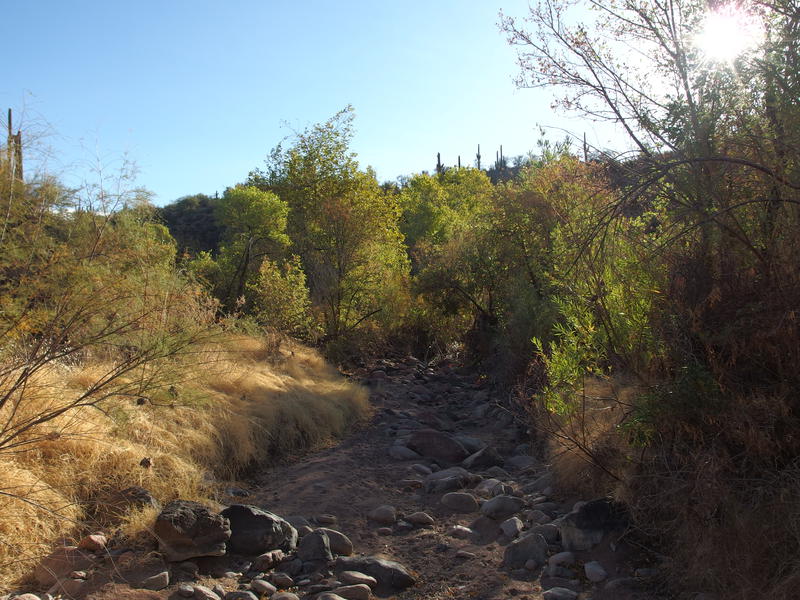 Finally, here on the bank of Sycamore Creek, I sat down and drank some water. My legs thanked me. As I rested briefly I took stock of the humble creek bed - I had planned to camp here, back when I had turned this loop into a longer multi-day affair, and was hoping to find water here. There was none, and it looked pretty darn dry. There was the Verde River rushing just a few dozen yards away, though that water is so green and weird-looking that I'd prefer to avoid pulling from it. Maybe Sycamore Creek would make a good spring campsite.
Back on the trail I soon passed another trail sign, this one for Dutchman Grave, though I couldn't even tell where the junction actually was. No cairn or path led away from my path. I'd like to do that trail soon, hope it gets more defined further up. Then the Verde River Trail slowly rounded a low hill and I lost sight of Sheep Bridge. I began to wonder what my next landmark would be when the ground began to slope downhill and an excellent view into the wilderness opened up.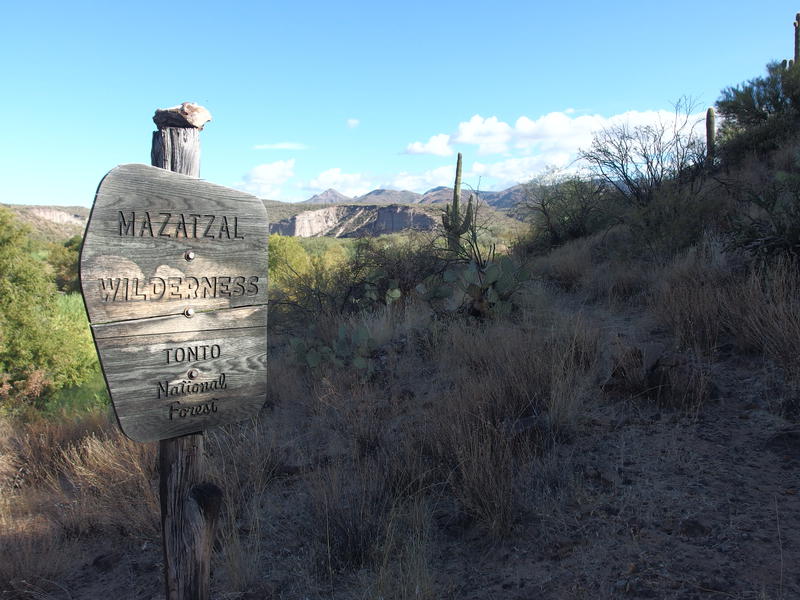 It doesn't get much better than this. The Verde River flowed lazily to the left, surrounded by huge green trees that contrasted sharply against the desert. Beyond Dry Wash was the White Bluffs, chalky and weird, and beyond those were several unnamed bumps that lurk around Wet Bottom Mesa. A faint trail drifted through the grassy plains and in between spiky plants. I stood and drank in the views, excited to explore a new area of this diverse wilderness.
A wide, well-defined path led down into Dry Wash, which was almost the same level as the Verde River, though it was (as you could guess) quite dry. Plants down here were tiny and straggly even for desert standards. I tromped across quickly, starting to feel the growing heat in this exposed area, and promptly lost my way when crossing a sandy bed. There was no cairn to pick up so I just cut a northeast track until I re-discovered the trail climbing up the bluffs.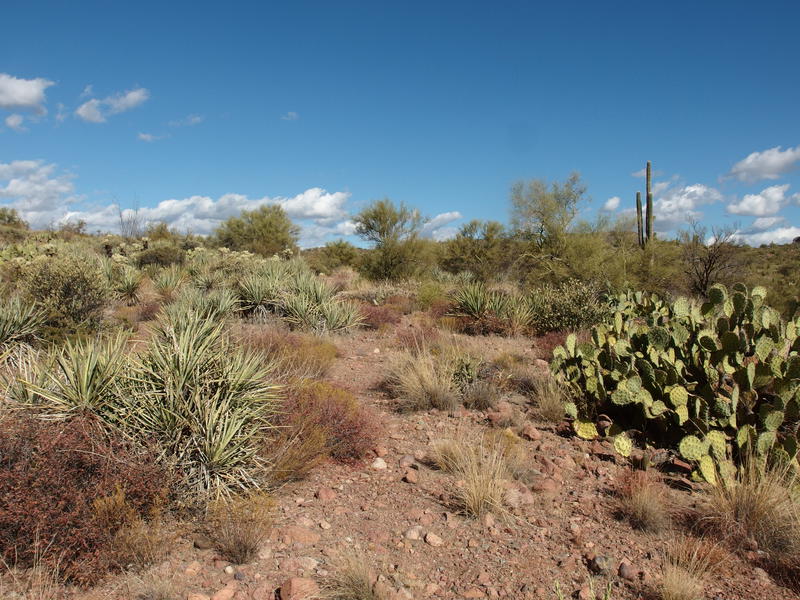 The combination of the now-shadeless trail and short climb, plus all of the miles I had covered already, was starting to get to me. Even with temps in eighties, a relief compared to summer hiking in Arizona, I was sweating and light-headed. My plan was to push through until I reached Wet Bottom Creek near the end of this section of trail, where I hoped to filter up, but when the humble Spring Wash showed up with a surprise juniper pine I stopped for another short break. These trees are usually found around the 4000' level, and here this one was hanging out below 2400'. Nature be crazy.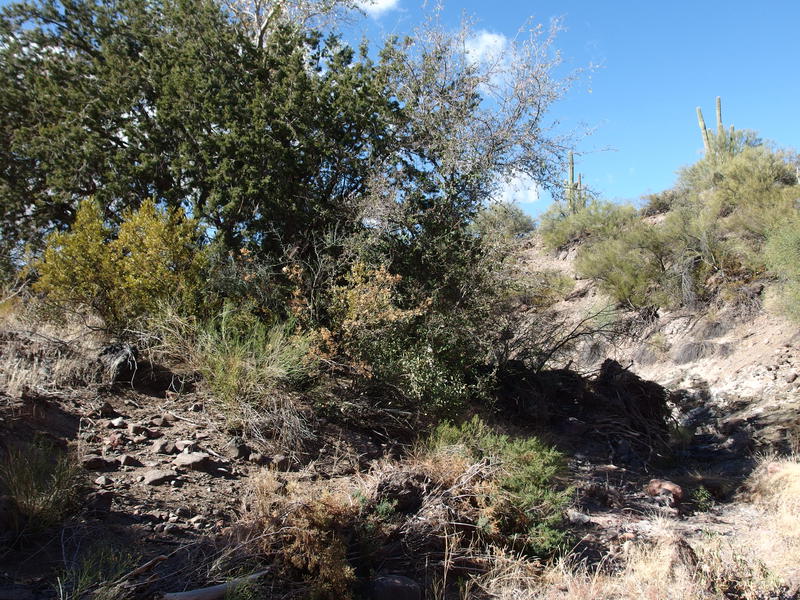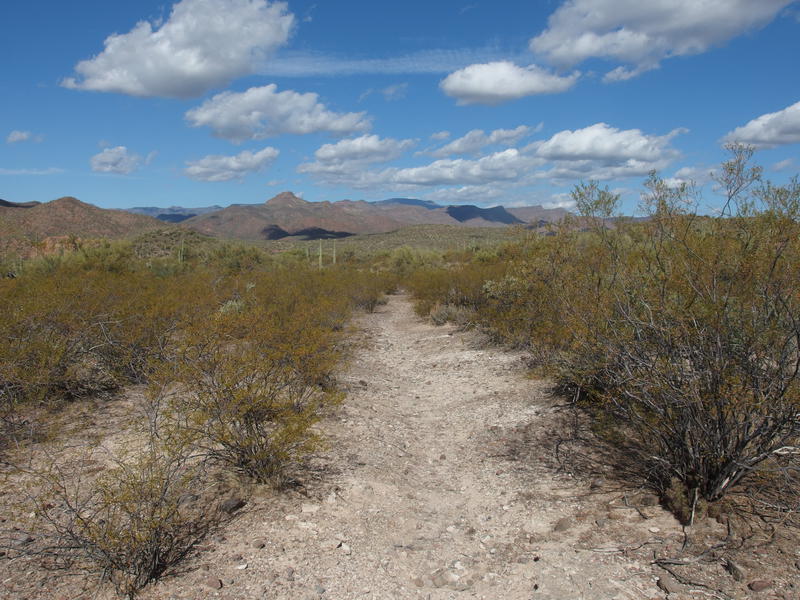 After that short break I felt much better and pushed on quickly, scrambling up the opposite bank and pushing on quick. The Verde River Trail really is quite defined, with large cairns and a wide bed, and beyond that one weird section back in Dry Wash I never had to hunt around. And it's a flat trail. From Sheep Bridge to Fossil Creek, almost twenty miles, there are a few climbs a few hundred feet that quickly drop back down. After Fossil Creek it does haul over 3000' along Cedar Bench… details.
An hour after leaving Spring Wash, crossing a few unnamed washes and climbing tiny hills, and watching Tangle Peak across the Verde River slowly pass by, I finally neared Wet Bottom Creek. The thick foliage was an oasis that looked out of place in this environment. I dropped down with the cairns, checked out a campsite for possible future usage, and then swung over to the creek, looking forward to filtering some fresh water. Not only did my trail disappear, only a single stagnant pool was available. Disappointed I plopped down, drank all but half a liter of my remaining water, and resigned myself to the idea of drinking that weird, green Verde River water.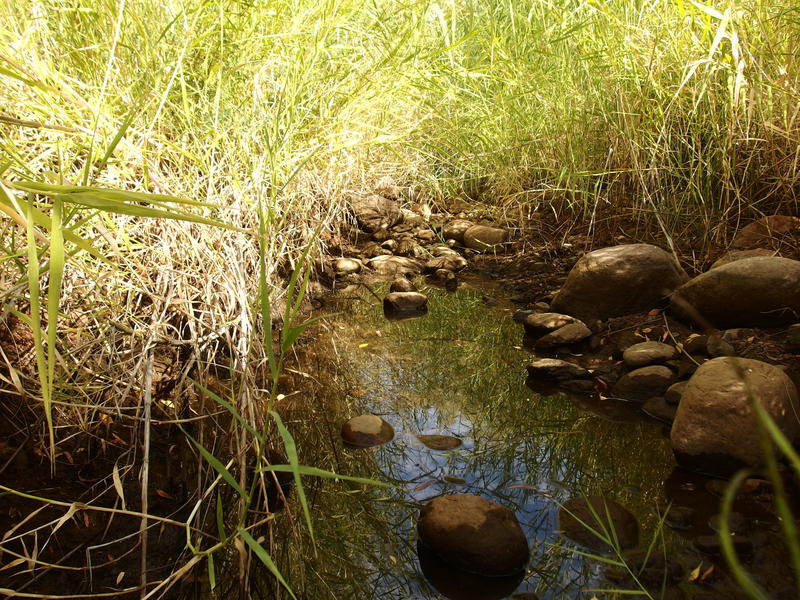 Noon slipped by before I left Wet Bottom Creek, which was only slightly behind schedule, and I got my first good look northward with afternoon light. Table Mountain blocked most of the view, though I could make out Squaw Butte way beyond, which I remembered seeing back when I did that Deadman Mesa loop back in July. Another connection between pieces of wilderness - hopefully I'll be able to hike the remainder of Verde River, syncing up these two trips, this winter. For now I turned away and follow the trail down to the river, with a brief bit of frustration on the rocky, difficult banks, and found a formidable challenge at Red Creek Rapids.
I took off my boots and pants, slipped on some sandals, secured my gear, and made a careful crossing. The water was above my knees and the rocks were slippery and the current was strong. Trekking poles helped with the balance and testing, as did plenty of patience, and I survived without a spill. Once on the other side I dried off and filtered up cool water, interrupted briefly by a small two-engine plane that was landing at Red Creek. Oh yeah, there's a little airport (a dirt strip and single flag) right here.
Aside from the plane there was no one else here, no campers or drivers, so I guess it was quieter than Sheep Bridge. Which was pleasant. Once I was filtered up I packed and walked a short distance up the sandy wash to find a spot of shade and stopped for a long, luxurious lunch break. Jalapeño tuna and Nutella made for a strange, and filling, cracker-based lunch. All of this combined for a lengthy rest and it was two by the time I started moving again, legs stiffened from the break.
Red Creek quickly showed up, turning the dry, sandy wash into a wonderland. Water flowed clear and clean, supporting a healthy riparian environment, and forming plenty of neat waterfalls along the way. I had heard that this was a road, that hefty ORVs can drive down the creek all the way to the river where I crossed, and had expected another road hike. There were tire tracks, sure, that marked where they drove, but this was not a road hike. This was a wonderful rock-hopping, splashing, and scenic adventure.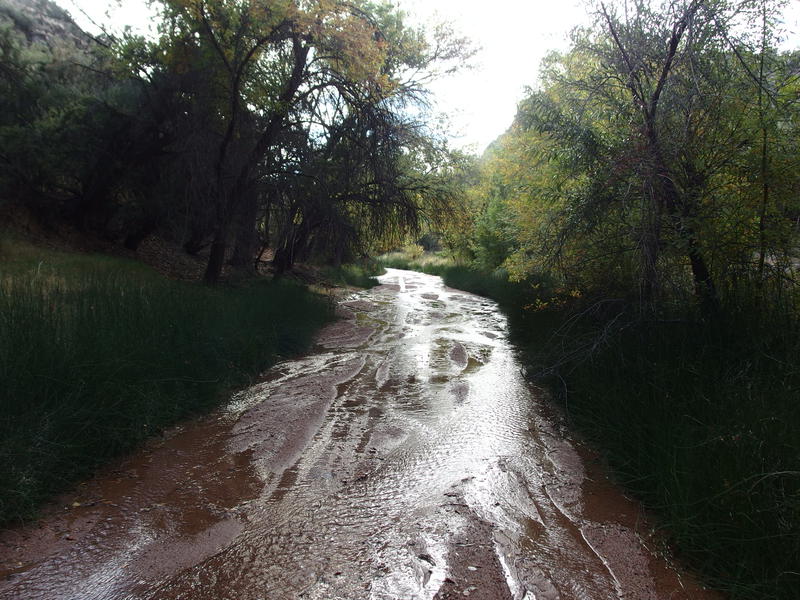 The three miles passed by too quickly. An hour after my lunch break I had reached the end of the creek and had to turn away with FR 18, which would connect me back to FR 269 and my vehicle. I didn't want to. The trickling water and green foliage had taken me right back to Michigan hiking and I had to tear myself back to Arizona. As I left I noticed that there was a small turn-off with a campsite here. Ignoring the rough drive, I would love to bring Katie and the boys down here for an overnight, to give them a taste of camping outside of the desert.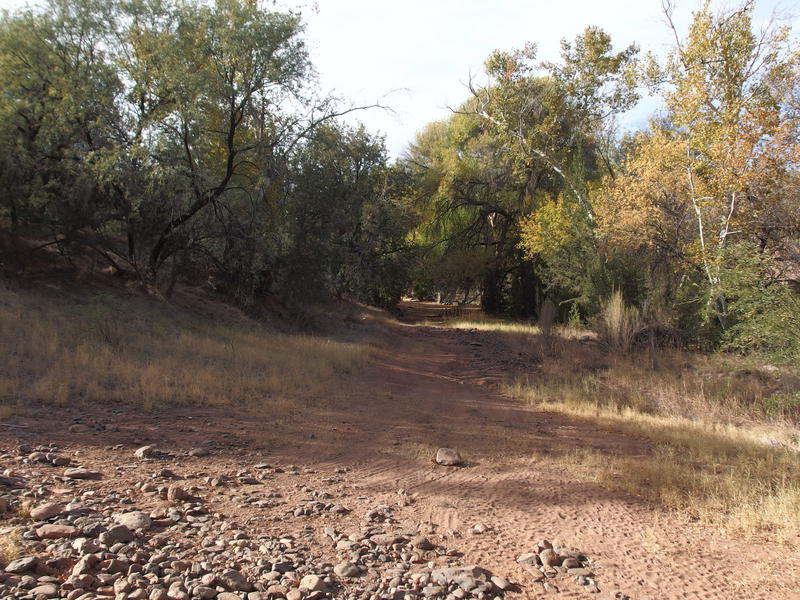 Today the rest of my route was desert, though. I hauled up the rocky road and re-connected with the exposed, dusty, and tedious FR 269. I reached the van eleven hours after I started, which gave me about an hour of daylight to drive before I was plunged back into moonlit navigation on the rocky roads. Six hours of driving, sixteen miles of road walking, and three miles of heaven along Red Creek, all to knock out nine miles of the Verde River Trail. At least I got another twenty-plus mile dayhike under my belt, if that could be considered a good thing.