Sheep Bridge, and the greenery around the Verde River, did not look far enough away. Sunlight was beginning to leak into the five o'clock sky and I had already walked five miles along the Dutchman Grave Trail this morning, yet from this saddle my progress looked minuscule. I sighed in frustration. I was hot and sweaty and tired and I had barely started today's hike. Perhaps it's not the best idea to spend long summer days in the western Mazatzals.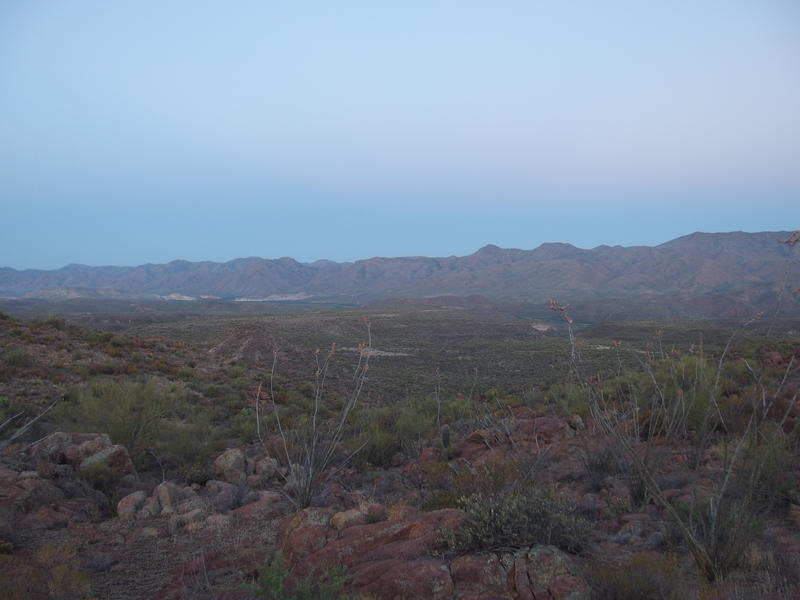 This adventure started yesterday, when my sister and I made the bumpy drive to Sheep Bridge for a riverside camp. We made it right at sunset, which gave us enough time to set up, check out the hot spring, and eat a quick dinner before heading to bed. Emericks like to party hard. She had her two small dogs in the tent and I was sleeping in a hammock, which meant that our overnight coatimundi visitors were fairly disruptive to a good sleep. My early alarm was a welcome distraction to the fitful rest.
I headed over the bridge at three and followed the Verde River Trail by headlamp for a mile, crossing both a dry Horse and Sycamore Creek, before taking the fork for Dutchman Grave. This trail climbs 400' up to HK Mesa, then continues a more gentle incline over a few miles, then quickly zips up a saddle. The route was in great shape and I was able to follow it easily by headlamp. I even did a bit of scouting around the suspected start of an old ranching trail (found nothing but a single large cairn). The biggest complaint of the morning was the heat - it was noticeable all morning, enough to break a sweat just by walking, which is oppressive in the darkness. I did not look forward to seeing the sun.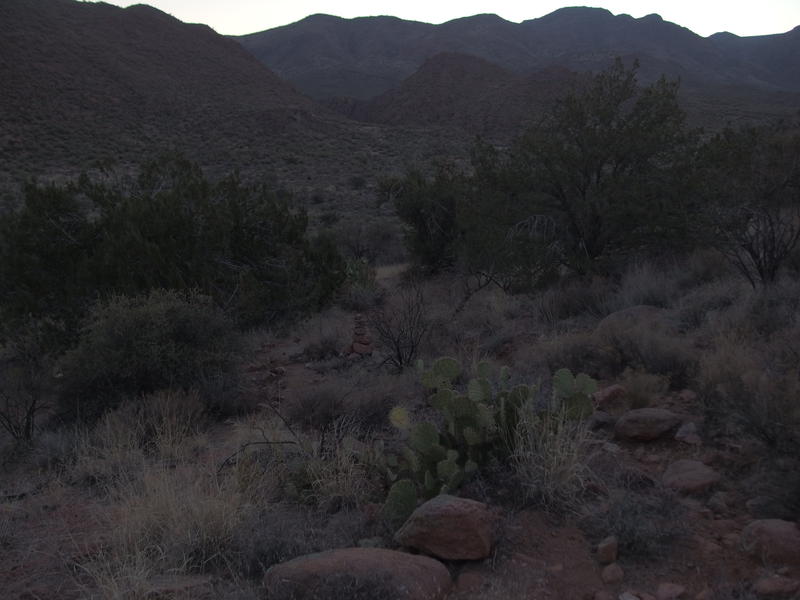 I turned east and headed off the saddle towards the valley where several drainages meet to form Sycamore Creek. One of these tributaries come all the way from Upper Racetrack Mesa in the Red Hills while the closer ones flow off of Cypress Butte and Midnight Mesa. There are even a few natural springs in this valley that I had to check out. As soon as I dropped off the saddle I felt an immediate, and most welcome, drop in temperature. This little valley did an amazing job collecting that cold air.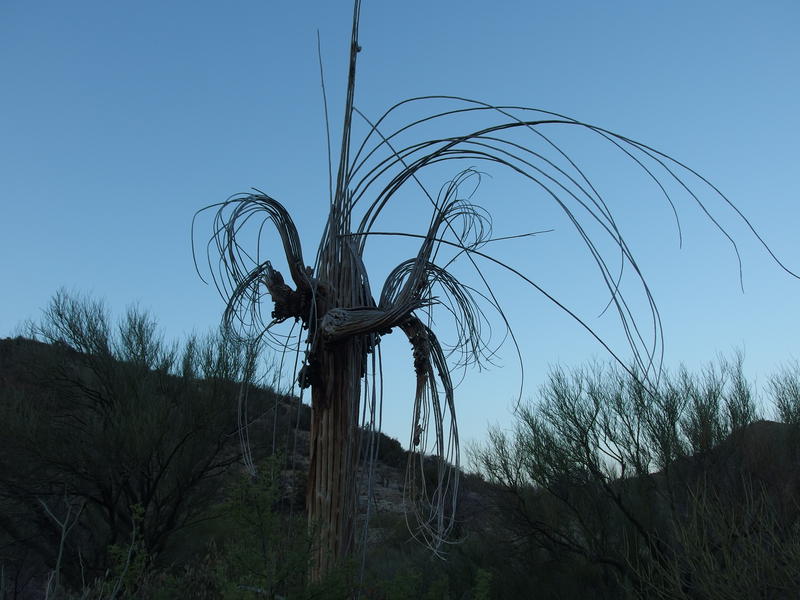 The northern branch of Sycamore Creek was dry, so I quickly skipped over it and entered a forest of mesquite. There was a large campsite here, with a great firepit set up, and I followed a nearby use trail down to the marked location of the lower spring. I found two wet spots, barely big enough to fit a cup in, though either one could probably be dug out a bit in a pinch. A nice campsite with trees, a water source, and within a two hour hike of Sheep Bridge could make a nice alternative to the busy trailhead.
Hopping back on the trail I continued east, passing the junction with Red Hills Trail (someday, not today) and found even more pleasant green trees. There were a few nice campsites along the trail and even more water at the upper spring, two large pools that looked dark and welcoming. This water source was a few dozen yards from the creek crossing. This cool little valley was feeling more and more welcoming.
Once the trail began to climb up I stopped for breakfast. Sunrise had already passed, though the tall eastern hills kept me in the shade, so I sat and enjoyed some snacks and electrolytes. The second half of Dutchman Grave was going to be tough. For now I rested and enjoyed the view, the valley slowly lighting under the rising sun, wondering if my sister was still sleeping next to the Verde River.
Time to climb. I turned east and started up the slope towards 4165'. My route doesn't summit this relatively low peak, it climbs up a ways and then plays along the hillside. The climb was well marked and the hillside was not. It seemed like the trail builders got lazy here, leaving few small cairns to mark the way and letting the inevitable game trails confuse the way forward. This mile was frustrating.
There were several backtracks and some bull-headed pushes through thick brush before I broke out on a ridge on the far side of the peak. Suddenly a good tread showed up and large cairns marched an obvious way across. The Willow Fire had burned here - perhaps there was some fire damage that washed out some of the trail? Or maybe the south-facing slope has more brush and is quicker to get overgrown? Hopefully this was the last of the route-finding. I had a lot of miles to cover and I did not want this loop to take all day.
The ridge was fully exposed to the hot sun and I rushed across, looking forward to sliding along the side of Midnight Mesa. It wouldn't be a complete relief from the morning sun yet it was better than full exposure. Along the rush I did enjoy some good views of Cypress Butte to the north, over on the other side of Sycamore Creek. That Red Hills Trail plays on the other side of the rugged butte. I wondered idly if, had I taken Red Hills up instead of Dutchman Grave, how long it would taken me to reach Fuller Seep (the only dependable water source over there).
Dancing along the side of Midnight Mesa was better than anticipated. The trail climbed steadily, darting in and out of a few drainages, and some of the little drops held pockets of cold air that felt heavenly. I lost the trail maybe twice and found it again a minute later. For a remote trail in the western Mazatzals this thing was in great shape, much better than Davenport or Sears in the south.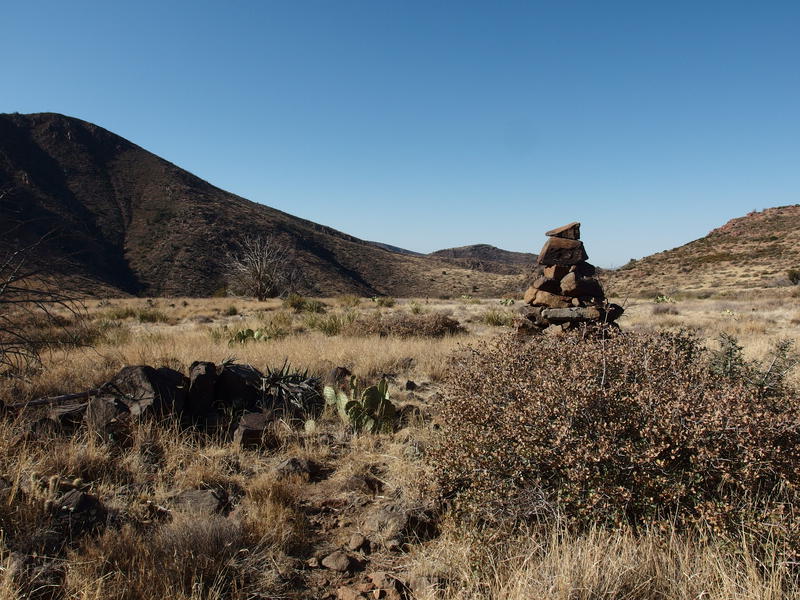 I crested a large ridge at 4328' at eight and was greeted by some of the biggest cairns I'd ever seen. Finally, one little creek to cross and I'd be at Mountain Spring. Well, a little creek and an eight hundred foot climb and a few miles. Details. I wasted no time trotting across the flat land and dropping down to the creek, which was a nasty overgrown thing that was covered with boulders, and then threw myself into the last climb. It wasn't steep and I was able to push through at a steady pace without a break, which was more than I expected from my legs.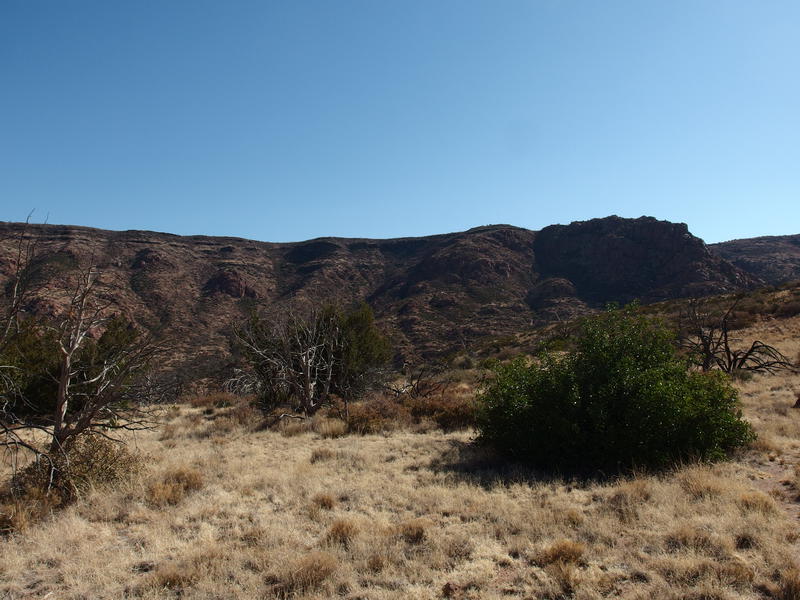 Almost back to familiar ground. Midnight Mesa rose up to my left and it didn't look that imposing, which felt right. Willow Springs Trail dances near its summit a mere three miles from here, so it shouldn't be too high above me now. The surrounding vegetation was transitioning into junipers and pinyons, some of which were still alive, and a nearby peak even had a stand of ponderosas sheltered from the sun. Sure, it was still hot, but I was moving out of the desert and into the highlands.
Finally Mountain Spring came into view, a splash of verdant green against a backdrop of brown and gray. I had just drained my 2.5L bladder (and was halfway through one of my 1.5L bottles) so I was excited to pull some fresh water. I trotted past the junction with Willow Spring, completing my thru-hike of Dutchman Grave Trail, and made my way down to water trough. The water wasn't pretty.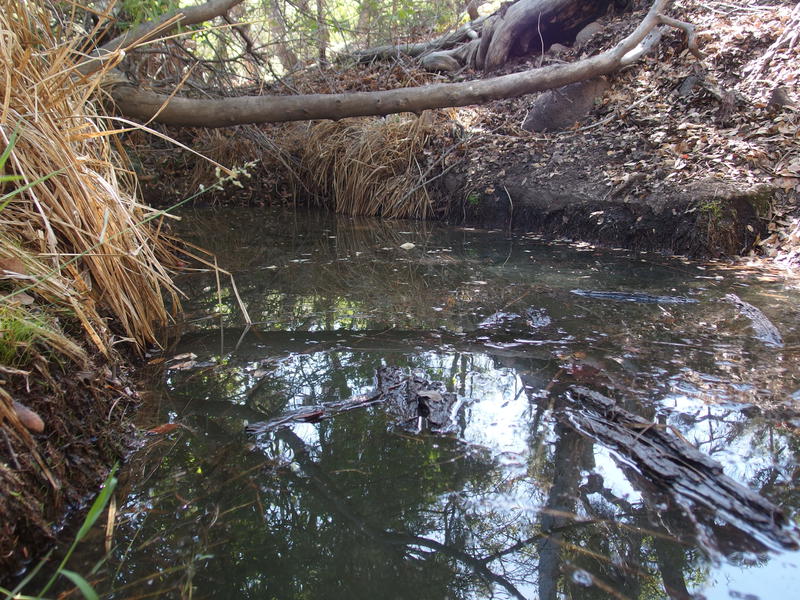 This was not a time to be picky. I drink some water, filtered, drank, and filtered some more. The water had a distinctive taste that I had to add flavoring to mask, and even then it was hard to force down. Since I was pausing to eat and drink I also changed out my socks, put on fresh sunscreen, and squared away my gear. It was a short, productive break, and when I got back up I felt ready to go. The knowledge that I was over halfway done with the day's loop and that the second part was "all downhill" helped.
Of course it's never all downhill. I left Mountain Spring and trotted down past the Deadman Trail junction, which I had taken last year to Club Cabin, and then the trail began to climb up the side of 5193'. There was some deadfall and washouts to navigate around, but it was the steepening grade over the hot, rock-strewn path that really slowed me down. After an annoyingly tough haul I crested the last bit and was treated to a huge, expansive view of rolling hills and desert that lay between me and the Verde River.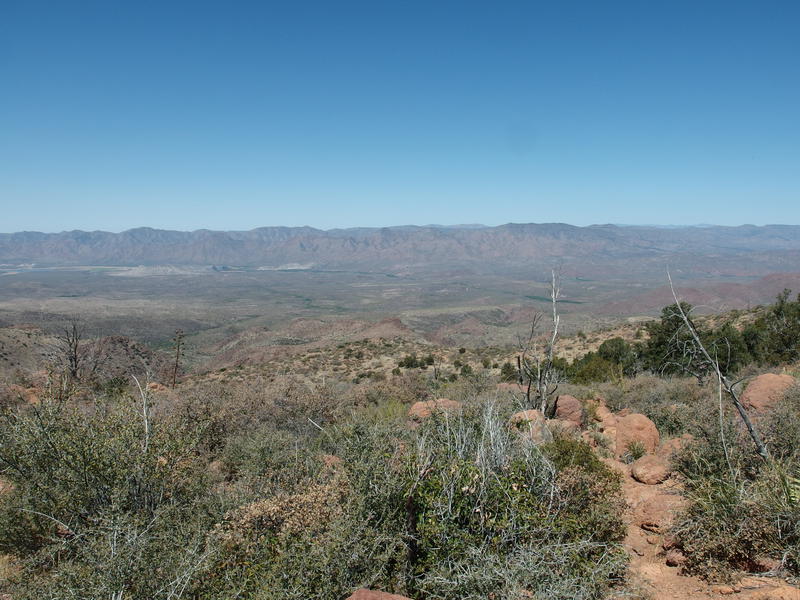 That thin, green line was my destination. I stopped to take it all in, the long stretch of Willow Springs Trail. The upper half is a disaster, barely traveled before the devastating 2004 fire wiped it out, and the lower half is part sharp drop, part boring trek through the desert. This lower half is all I had to do now. Soon I'd be done with this trail and can focus on other, better maintained routes, like Saddle Ridge and Bull Springs in the north. I gave the view one more slow pan before trotting down the steep hill.
Over the next mile and a half the trail drops 1200', over steep switchbacks and down loose rock slopes. There was some deadfall, though most of it seemed to be behind me, on that climb out of Mountain Spring. The views were amazing the whole way. Some of the land to the north swung into view as the route stretched out on a ridge, which gave me a different angle on the hills I had climbed a few hours ago. I imagine that climbing this must be a chore, with the exposure and steep grade, though descending was enjoyable.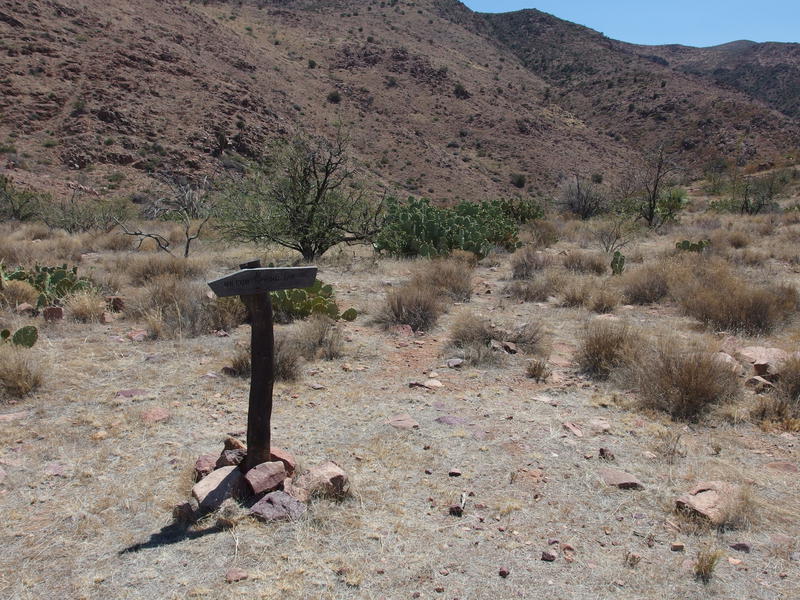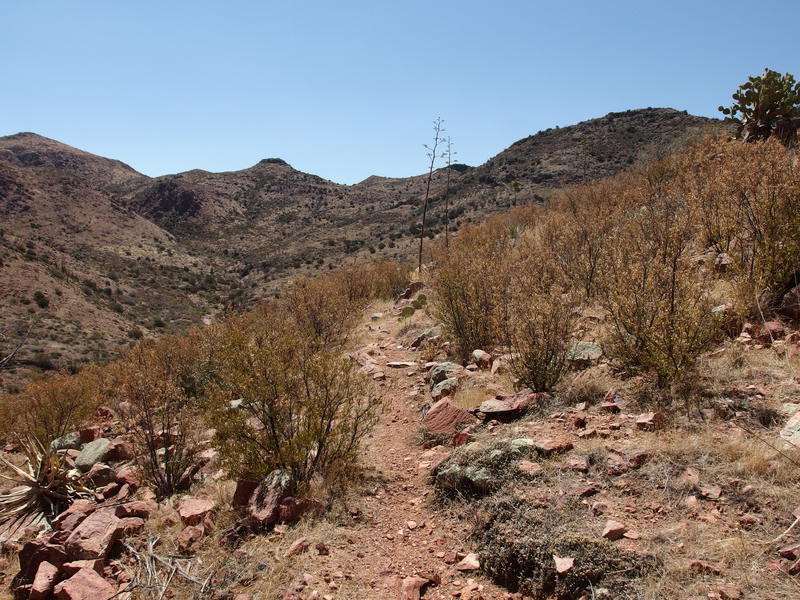 Soon I reached a spur trail and, after propping the sign back up, I trotted down it. I didn't need the water at the base of Willow Spring Trail (instead of Willow Springs?), just needed to complete the trail. The going was basically level until it suddenly plunged down to Horse Creek, which happens to be same creek that Mountain Spring flows into miles to the east. There was a nice campsite down here, and big trees for shade, and an absolutely wonderful source of water.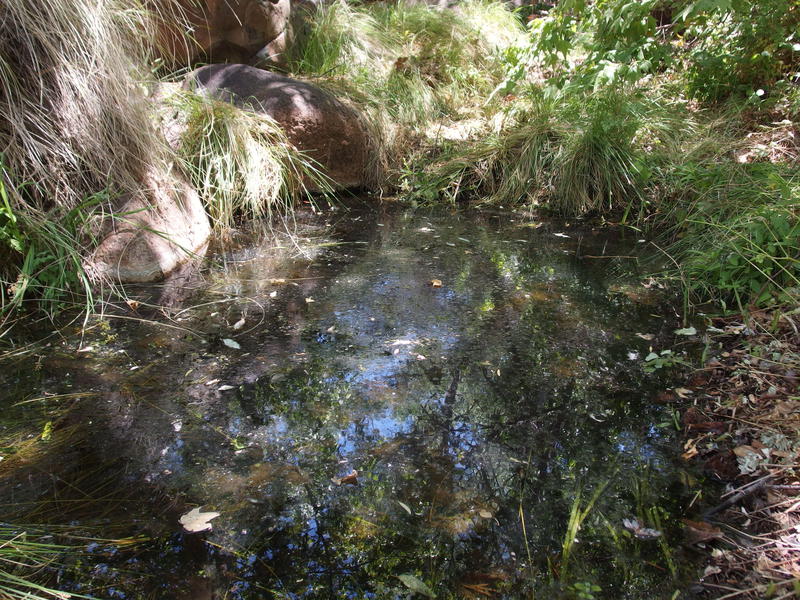 Ignoring the film on top, this has to be one of the clearest sources of water I've seen in a very, very long time. There were two pools, separated by a tall rock waterfall that dripped and splattered. I dumped the skunky filtered water from Mountain Spring and pulled from here, brushing a few bees and butterflies out of the way, and gave myself a short break. It was getting ridiculously hot out and the cool shade down here was luxurious. Eventually I returned back to the mission at hand, losing the spur trail on the way and hacking a painful alternative up, and continued the long downward trek to Sheep Bridge.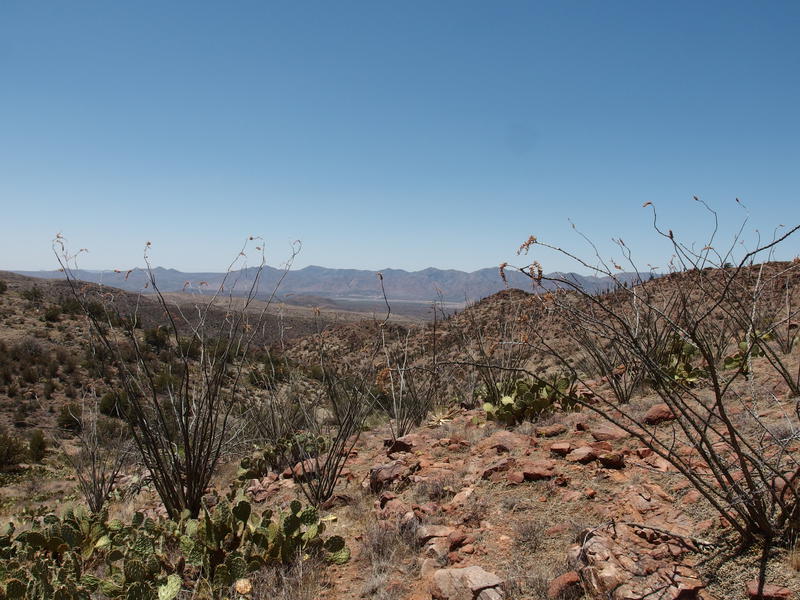 Eight miles left. There was some more drop to handle first, boring and rocky, then a swoop into a surprisingly lush canyon with short sections of shade that emptied into a wide plain of mesquite trees. This variety was pleasant and somewhat cool thanks to a breeze that began to kick up. I checked my map and I was right back in Horse Creek - this trail just seems to keep running into that creek, only leaving it when there was a more difficult way to go.
The mesquite trees faded away, replaced by sporadic low brush and prickly pear, and the cool breeze began to heat under the afternoon sun until it felt like the hot rush from an open stove door. The trail straightened and flattened in a boring, predictable way. I resisted the urge to check how many miles were left and instead began humming some song that faded in and out of attention. I wondered idly how Tara and her dogs were doing. The plan was to spend another day out here, to wander down Red Creek and knock out a section of the Verde River Trail, but it was bloody hot out.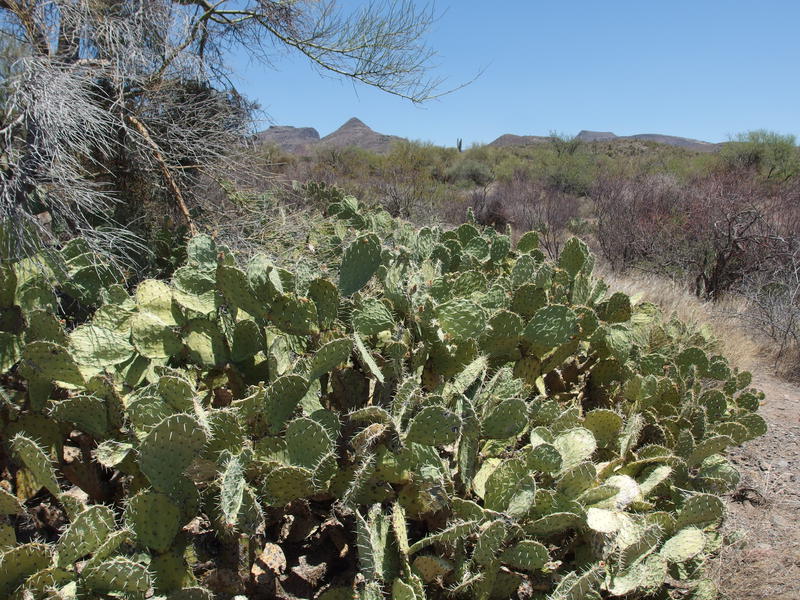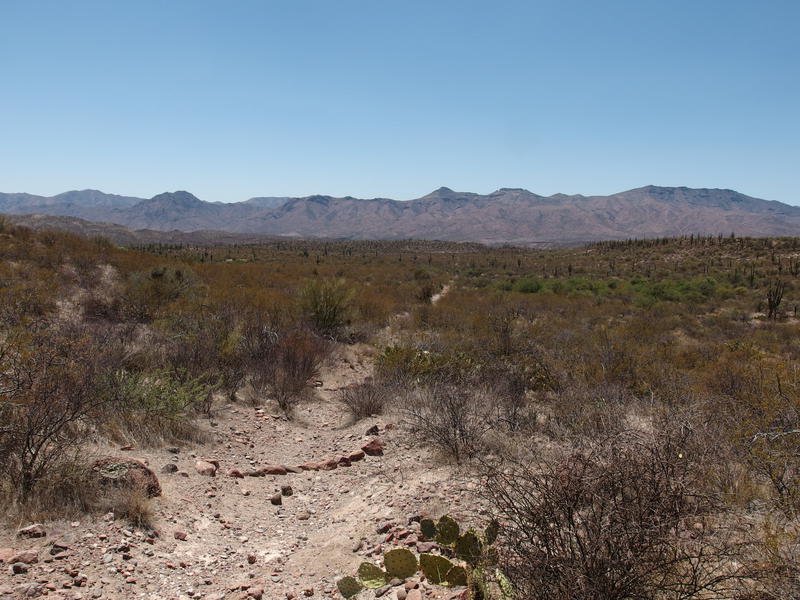 Country music drifted to my ears before I saw Sheep Bridge. Last night there was one other lone camper out here, today there were throngs enjoying the water in a multitude of ways. Couldn't say I blamed them. I felt cooked after the eleven hour hike and briskly walked across the final rocks in bridge powered more by momentum than energy. Dutchman Grave, Willow Springs, and Willow Spring Trail were all complete now, and I was ready for a chair and something, anything iced.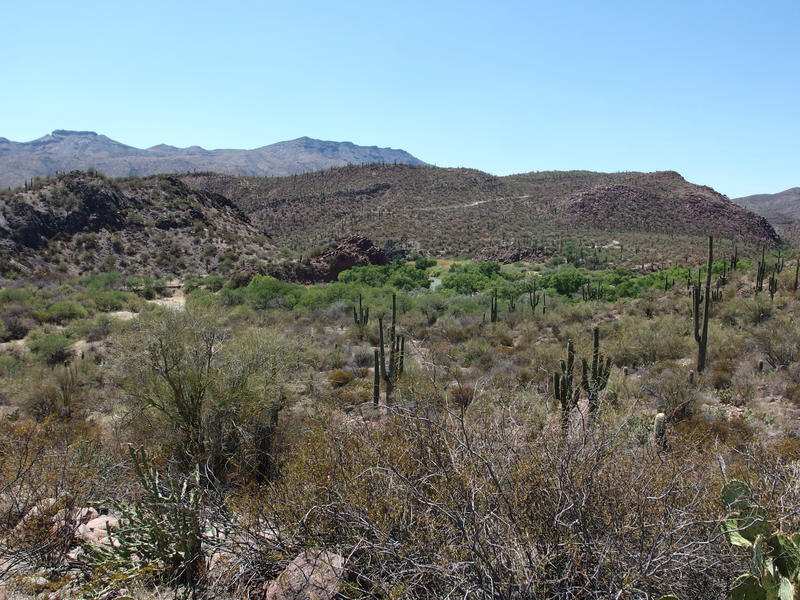 Tara was half-packed when I showed up. Her little dogs were struggling with the heat and she wasn't too happy either. I made no complaint when she suggested heading back early. Today had been a long, hot, and overall enjoyable hike, and that other adventure can wait for cooler temps. One condition: I needed twenty minutes to lay in the hammock with a bottle of Gatorade before enduring the long drive back to Scottsdale. Thirty minutes later and we were on our way, back to civilization and air conditioning and amenities, talking about how her dogs would enjoy future trips in cooler temps under ponderosa pines. Turns out that I'd beat her to those pine forests.