Crisp November air swam around me, filling my chest with each breath and nipping sharply at my nose. It felt delightful to be cold on an Arizona hike, even if that had meant waking up shortly after midnight and driving for hours in the dark, all to get a predawn start in low temperatures. My long legs quickly ate up the hardened two-track underfoot as I made my way towards Red Creek. It'd been a long year since I was last out here, with a lot of adventures along the way, though if I let my eyes wander to the dim outlines of nearby peaks I could feel those memories surge like an undercurrent.
Last year, last November, I had hiked a huge triangle (over 28 miles) along some forest roads, a section of Verde River Trail, and Red Creek. To knock out those miles with short days I had started well before dawn and kept a punishing pace throughout. This year I was back with a 26 mile lasso, again leveraging Red Creek's easy access to the western Mazatzals, to continue working on that long Verde River Trail. It's a long one and my best approach was to break it into sections and worry about them one at a time.
The road passed by slowly, and by the time it dropped into Red Creek there was enough ambient light to turn off my headlamp. Had hoped to get in some more miles by now but the long drive from Gilbert had taken longer than expected, as it usually does. Air temperatures were cooler around the creek's lowlands and it felt like I was slipping into a cold bath. I was wearing both a wool long-sleeve shirt and sweater and I still shivered luxuriously.
Following Red Creek is almost as easy as walking a two-track, partially because the road technically continues (for ORVs) along the creekbed. It wanders bank to bank, staying dry for hundreds of yard before crossing some times, sticking directly in the flat, sandy bottom for other times. There were a few spots that I chose to splash in a few inches of water for a few steps instead of hunting around for a dry alternative, which I didn't mind, as I'd be getting much more intimate with cold water in a few miles.
Fall colors peeped here and there along the walk. Most of the trees were green, with that whole shocking Riparian transition from verdant to rocky desert above the banks, and only a few stands had yellow or red colors. Seasonal colors move slowly out here and some of these may not turn into December, making for a long, muted color season. At least it smelled like fall, and plenty of damp leaves underfoot made it seem like fall, even if the overbearing Saguaros on the surrounding hills kept reminding me that I was far from the Midwest.
There were a few signs of recent humans along the way. A large camp was set up next to a Land Rover about halfway down, and there was a plethora of tire tracks throughout that could mean more vehicular activity downstream. Plus, I bumped into another hiker, a backpacker, with a dog and a very heavy pack. He was decked out in camouflage and informed me that there was a gaggle of Jeeps parked at the base of the creek. We parted ways quickly; I was thinking about those miles waiting for me and he was probably thinking about a hot brunch waiting for him back in civilization.
Near the base of the creek, where it runs into the Verde River itself, is a bush airport, an old ranching site, and Red Creek Rapids, where I planned to cross this morning. Even though I've been here before I had neglected to check out anything asides from the rapids so I kept an eye on the southern bank, looking for a way up, and only found my way to the old ranch remains, some fencing and a rather impressive USFS wilderness sign. One day I'll find an easy way over to the airport. With no other reason to stall I dropped back to the creek and ambled into a large camp surrounded by Jeeps, angling towards the morning fire and awkwardly introducing myself.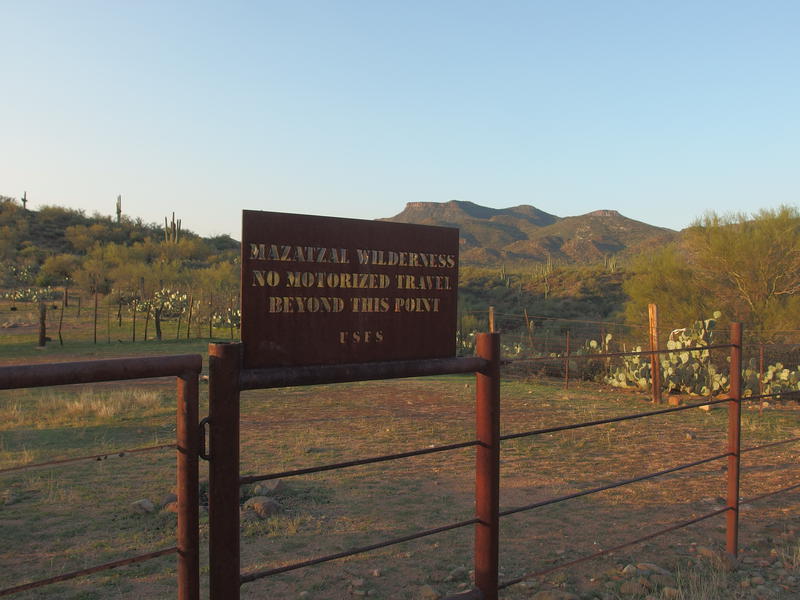 They were friendly enough, offering my breakfast and advice on how to cross, though I still felt shy. This was a group of a dozen older folks who had driven down here days ago to basically sit around and enjoy the area - a reasonable, even admirable, way to spend a long weekend - and I was a lone hiker doing silly long distances and was about to drop my pants in front of them. Verde River is a good two feet deep at these rapids and I really did not want get my boots or pants wet so early in the day. I felt obligated to at least chat briefly with them before excusing myself, ducking behind some brush and a rock formation, preparing for the crossing, and then attempting to make an inconspicuous crossing. At least there was some brush between the campfire and the rapids to provide a partial screen, though I'm sure a few of them got a good view of my boxer-clad rear.
As soon as I reached the other bank I quickly stumbled into some reeds, dried off with a small towel, and tried to get situated. My feet ached, both from the cold and the mild protection that flip-flops gave my soles from the rocky bed, and I figured the best remedy would be to put on some miles with wool socks and solid boots. Once I was fully dressed again I took a quick picture back at the rapids, got buzzed by a plane landing at the nearby airport, and then started hunting for the start of the trail. The Verde River Trail tends to be well-defined when it's away from the river, though as soon as it drops to the banks it disappears, leaving the hiker to find their own way to the riverside, across, and then to the trail again on the far side.
6.5 miles done in 2.5 hours. Not bad, considering how long it had taken me to chat with the campers and get across the Verde. During the planning stages of this adventure I had played with the idea of tacking on an additional 12 miles, something that would only have been possible because of how flat this hike is overall, though this was already out of the picture with how long the morning drive took. If I could keep up this pace I'd be back at the Jeep right around sunset, which sounded much better than tacking on that extra option and stumbling back up Red Creek in the dark.
Now I had to climb. From the riverside I had a mere 800' to gain over 2.5 miles, nothing compared to some of the hauls I've done in the Mazzies. The first half mile was familiar, trail I had covered last year, and the rest (as well as the other trail miles for the day) was all new. The familiar stuff was rocky, a bit overgrown, and steep enough to deepen my breathing, and was generally unwelcome. At least I got a good view of Table Mountain to the north.
Soon I passed the junction and was on Wet Bottom Trail. This was my first time touching this trail and I was a little apprehensive about it: there is not a lot of information about it, and it could be one of those trails that lured my footsteps off course. From this junction it climbs up Wet Bottom Mesa, slides along some steep hills, and then crests along a ridgeline before dropping into a remote basin with an old cabin. All of that sounded much more appealing than today's planned route.
Wet Bottom Trail immediately delivered on the promise. The tread was solid (if overgrown), the cairns large and impressive, and views were excellent. It wasn't too steep and I was able to push forward at a good pace, my leg muscles warming to this whole uphill thing. When I crested the mesa I was greeted with even more pleasant greenery, amazing views of the Upper and Lower Racetrack Mesas to the southeast, and an obvious, luring set of rolling hills further up trail. When I got to the junction with Highwater Trail, today's planned route, I had to physically pull my feet northward to stay on track.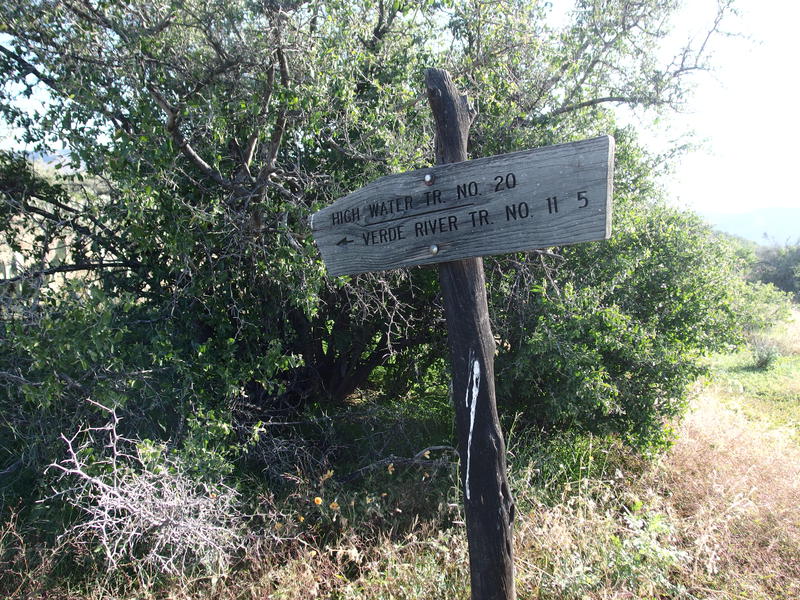 I immediately regretted my choice, as Highwater Trail, even with its large cairns, was more difficult to follow. The tread seemed to dance above a mild drainage and have a hard time deciding if it should cross or stay high, though I'll take some of the blame on adjusting to a different tread. Also, after a bit of flat, it dropped so fast that I had to pick my way around several washouts, carefully testing the rocks before committing my weight. In the distance I could see a set of bluffs that I knew would be a half-way point for this trail. They seemed far and I felt a sea of crabbiness began to rise, fueled by my lack of dedicated snack break and super-early morning.
The path dropped along the same drainage before swinging to the side, finding a small saddle, and offering an excellent view of Table Mountain, and then going back to the east and dropping some more. Steepness subsided and I was able to stretch my legs comfortably on a good pace. We dropped together into a dry wash that I originally hoped was Canyon Creek, though it was soon apparent that it was a mere unnamed tributary, as a short distance later the real creek showed up, complete with steep switchbacks and sycamores nestled in an obvious seep location upstream.
Finding the path across the creek was difficult, as the cairns gave up as soon as they crossed and a flat, grassy, mesquite-rich plain showed up. I traveled in a general northern direction, cutting back and forth and search for a trail, until I found it leading in from the left. Still not sure where it went for those few hundred yards. It climbed up a shallow drainage until I was above the river again and we headed north, and I felt my crabbiness grow. I was now 11 miles in and I hadn't given my legs or stomach any sort of dedicated break.
Those white bluffs showed up shortly after, with a wide assortment of cairns to guide around them, and the mild hundred foot climb in full sun around their back felt far too difficult. As soon as I reached a crest and found a spiky place to sit with some shade I gave in, plopping my pack down and mixing some electrolytes to drink with jerky. Part of me had wanted to make it a full 13 miles before this, splitting the entire hike in half, knowing that the river crossings would count as almost-breaks, though my water strategy didn't work well with that. I prefer carrying flexible bottles to hose bladders, so anytime I want a break I need to actually pause and dig around my pack, which does force me to stop and enjoy the area more than I otherwise would.
It was a scenic enough spot, the tall rise of Wet Bottom Mesa to the south and unnamed hills to the east, though I'll admit I spent most of the 20 minutes guzzling water and food and not enjoying the views. When I stood back up I felt wonderfully refreshed. Less than two miles were left on Highwater and soon I'd be circling back south on a new section of the Verde River Trail, back to Red Creek and an easy, if tedious, stroll back to the Jeep.
North of the bluffs the trail takes on a straight-forward tone. There are a handful of quick wash crossings, all of which were shallow and dry. Pete's Cabin Mesa shows up on the map, though it's really hard to determine the edges of it, as the entire area is just kinda flat. Cairns showed up at regular intervals, tread was wide and well-defined, and the nearby desert growth, even as it thickened and greened around me, stayed a comfortable distance from the route. The lushness was a nice distraction (even as it hid some of the views). Also, a gila monster showed up along the way, the only other hiker I saw on these trails today.
Now, the end of this trail gets weird on topographic maps. It joins up with Verde River Trail in two spots, forming a little triangle, perhaps due to a use trail or something. Anyways, the only other information I had was a pair of hikers doing this same loop four years ago, and they opted to take the bottom leg, and they didn't share how it was. None of the legs are that long so I didn't think it was that big of a deal. When I reached the coordinate I took a quick look around, turned west, and began to connect over to Verde River over what was quickly revealed to be a forgotten and completely overgrown path.
I do think that there was something once here. There were too many piles of rocks that looked to be toppled cairns and a few possible sections of tread. Everything was overgrown by palo verde, though, more overgrown than I'd ever see on a Sonoran trail. If this was once an official route it had to be decades old. I powered through, crawling and hopping around the angrier plants, cursing my decision heartily. Any sort of refreshed spirit I felt after that break quickly evaporated.
When I reached the suspected location of the next trail I had to check my GPS, and then double-check, and then hunt around until I finally saw a tiny cairn. Compared to Highwater this thing was practically invisible. With my device in one hand and my trekking poles in the other I slowly traveled south, frequently wandering off track, confused by the long grass, widespread prickly pear, and faint tread. At least the river was nearby and scenic.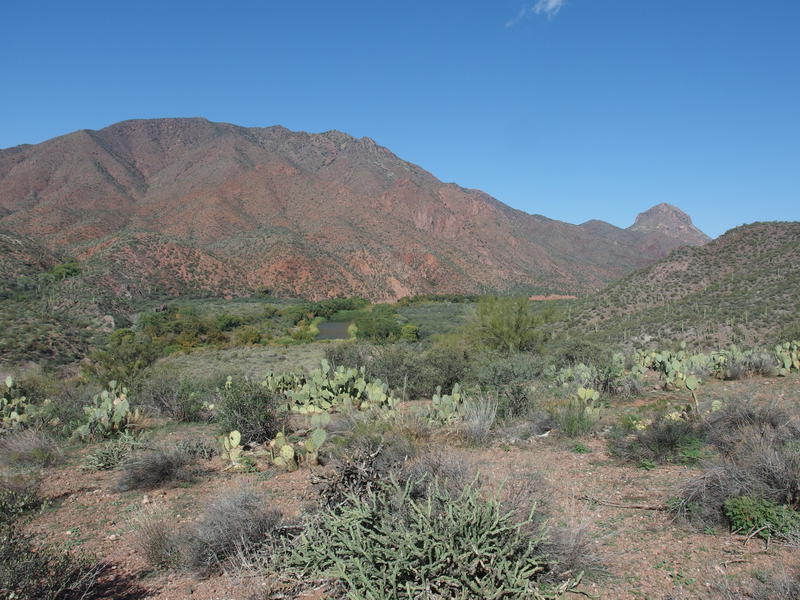 The next mile and a half dragged. The route was nice enough, following the top of a steep bank, and slowly angling downhill until it plunged down the bank and, again, completely disappeared, expecting the hiker to find their own way forward, though it was so faint that I kept having to reference my plotted track in the GPS to keep roughly on-plan. The plunge was particularly nasty, with thorny vegetation destroying any previously defined path. Once down the bank it was time to cross back over the river. This crossing would be a little more challenging than Red Creek Rapids.
There is no defined place to cross, so my plan was to scout up and down until I found a spot that was shallow enough for me to ford and not too rugged for my flip-flops. However, the river was completely hidden by a thick growth of reeds with overflow debris weaving through. I hacked and pushed a way through the dusty growth multiple times before I understood that there was a small island (thick with reeds) in front of me, the downstream side of which had a small waterfall, and that my best bet was to round it on the upstream side.
To even get in the water I had to create a small dock of reeds, pushing swaths of them down into the water and almost sliding directly into several feet of water. There was no nice rocky bank here, no easing into it a few inches at a time, just a direct, embarrassing plunge up to my thighs. At least there wasn't a crowd of elderly Jeep-drivers to check out my boxers this time. The current was gentle enough to not give me much trouble and I worked my way upstream, around the island, and found an easy spot to climb out on the opposite side. While I was here I also pulled some fresh water out to filter. This river does have a funky aftertaste and its the only source I've seen since Red Creek, so it will have to do.
Finally back on the western bank I dried off, packed up, tied my boots, and headed off with a steady clip - and ran into another river. Did I get turned around? I had to double-check and was quickly able to confirm that I had landed on yet another island. There were two here, next to each other, and this one was much larger than the first one. Heaving a deep sigh and a few choice words I got my sandals back on and repeated the whole darn cycle to cross and keep my gear dry. By the time I got on the real, actual, not-kidding-this-time western bank I had wasted a full ninety minutes dealing with this stupid river.
In the distance I saw a telephone pole with a yellow diamond on it so, taking the hint, I headed north along the river until I reached it and found a way up the bank. Then there was a metal stake with a few reflective pieces screwed in which brought me to a steep, well-defined tread heading up a steep slope. Guess such things are more reliable on the river than tall cairns. A quick two hundred feet later and I was high above the Verde, with good views of the area I had been struggling through below, on a faint tread with few cairns. It was time to head back to Red Creek.
Sections of this trail followed contours along hillsides or the numerous washes that drained into the river below. These sections were well-defined, with the tread cut into the grade, and only had a few patches of overgrowth or wash-outs to work around. The majority of the route was over flat land, though, where game paths competed with the actual trail and the cairns were too small to depend on. The majority of the route was a slow and frustrating.
There was one thing I could depend on, something that I quickly detested yet appreciated. Someone had recently taken a bike out here in the wilderness and followed the Verde River Trail, leaving broken cacti, torn-up tread, and tracks behind. Those tracks were easy enough to follow on the otherwise-natural ground. Wheels did not belong in the wilderness, even for watercraft or mountain bikes, let alone what appeared to be something motorized. However had been out here had done a lot of damage - and had done a pretty good job at following the correct route.
After struggling along the trail for an hour I reached the highpoint on this side, a saddle across from Mule Shoe Bend, and was rewarded with some a great view south of Table Mountain and Wet Bottom Mesa beyond. I also saw just how long the shadows were getting. Daylight wasn't a big concern of mine, there was plenty of it left for this hike and Red Creek could be hiked by night, though the thought of the long drive home in the dark was starting to weigh on me. Oh well.
Things got easier after the highpoint. The descent stuck to the hillside for a bit, which meant a solid cut tread to follow. Then it played with a wash, which gave me a solid terrain feature to follow, even when the track got faint. And then a two-track showed up. This two-track was rocky and loose and very easy to follow. For the next two miles I let my legs stretch and my eyes wander as I followed the old track, enjoying the lush vegetation and light playing on the Mazzies.
I reached the end of the trail around four, which gave me an hour and a half to hike the five miles up Red Creek and over on FR 18 to the Jeep. The end was interesting, as it had both a solid gate with signs to show that it was, at some time, an official road and another tall telephone pole to guide hikers towards it. Only bank that didn't have the pole was the eastern one here, at Red Creek Rapids, or at least I haven't found it yet. Anyways, I rested for a few moments, drinking some gnarly water and replenishing my snacks before tracing this morning's steps up the creek.
Not much had changed. A few new tracks, perhaps, and a bit more light. At one particularly scenic drop, where the Land Rover was camped on the bank, a thick cloud of campfire smoke hung in the air, making me not only nostalgic for such simple pleasures but also aware of how much impact such things have on the area. Between those tire tracks and this smoke I was really getting a lesson on human impact today. I shrugged it off for now and continued pushing uphill, reaching my Jeep shortly after sunset without having to unpack my headlamp.
This was a long day, especially with that drive. At least I got everything I wanted accomplished. Highwater Trail was now completely done, a short section of Wet Bottom, and another 7 miles of Verde River. The Mazatzal Project was drawing to a close with only a few trails left. Plus, strategically, those trails formed a perfect two-day loop, something I'd be attempting in a few weeks, and it'd take me to areas of the wilderness I never could have imagined.