There is a loop in the Western Superstition Wilderness that has intrigued me for years. Chris and I attempted a version of it, back in 2016, and even though we split the route up over three days we still struggled to finish a shorter version. I've been steadily increasing my mileage and heat tolerance, and then several wildfires roared through the Superstitions, radically changing the landscape and postponing any reattempt. When the post-fire closures were relaxed I headed back to the area, determined to complete the full Red Tanks Super Loop in a single day.
This 21-mile loop combines Bluff Spring, Dutchman, Red Tanks, and Coffee Flat Trail to create a challenging adventure through a variety of environments and past several dependable water sources. Also, it travels through three different burn areas: Sawtooth Fire scorched Barkley Basin in late 2020, Superstition Fire hit a stretch of Bluff Spring in early 2020, and Woodbury Fire burned a huge swath of the Eastern Supes in mid 2019, reaching all the way to LaBarge Canyon. I expected that the fire would merely knock down some of the desert grass and not slow me down too much, though I did budget some extra time and water in case things got hairy.
An early start had me walking the first five miles in the dark, which sounded great, because the first obstacle is a quick climb up Cardiac Hill, a guaranteed way to break out a sweat regardless of how cold the morning is. And this morning was a cold one. I shivered in my jacket in the parking lot and, even when I shed it halfway up the hill, my breath fogged and hands numbed. Once up Cardiac Hill there is a slow drop into Bark's Canyon, a sudden climb on the other side, and soon I was at Bluff Springs itself, checking on the dripping pipe and staring at the once-lush forest above it, now reduced to stark, blackened branches clawing into the night sky.
Unwilling to stop here I pushed on, hungry to gain more miles, and trotted along the boring descent into LaBarge Canyon. Two miles of gradual descent, swinging in and out of drainages from Bluff Spring Mountain, made for dull travel, and my eyes wandered around at the fire damage under the waking sky around me. This was now in the Sawtooth burn - I had already traversed the Superstition Fire burn area. The trail was in good shape and I trotted along. When I reached LaBarge Spring the land around me was still cloaked in shade, protected from the eastern cliffs of the canyon, and I found a small rock to huddle on, pulling on several layers to keep warm in the cold air, munching on a few snacks and guzzling water between shivers.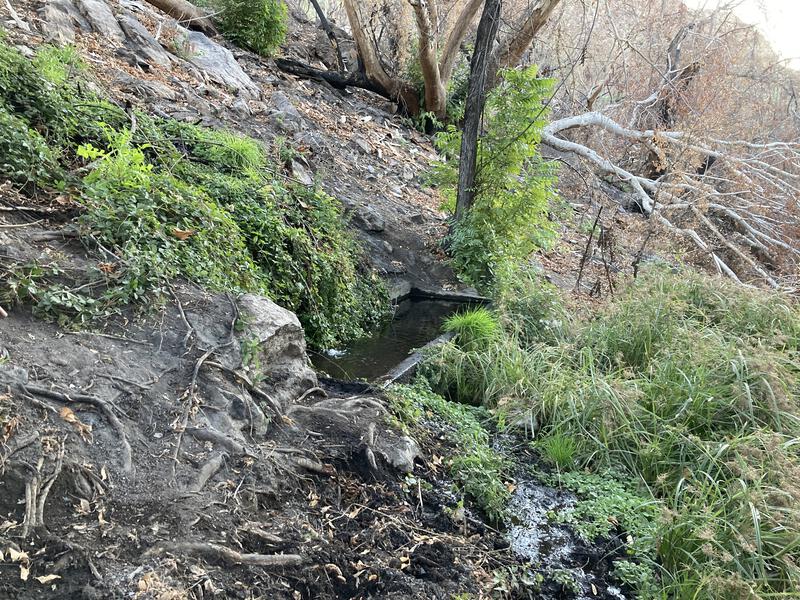 As much as I wanted to have a decent break I could not stop for long, not in these temperatures. Too soon I was back on the trail, heading south along Red Tanks Trail, dodging numerous clusters of catclaw that never seem to thin, even after a fire. When Trap Canyon loomed nearby I slowed, gazing at the narrow break in the cliffs, contemplating the off-trail adventure. The canyon does open up at the far side of Herman Mountain, right where my planned route would pass. An adventure for another day. I pushed on, soon reaching the trail junction with Whiskey Springs and turning east, entering Upper LaBarge Box.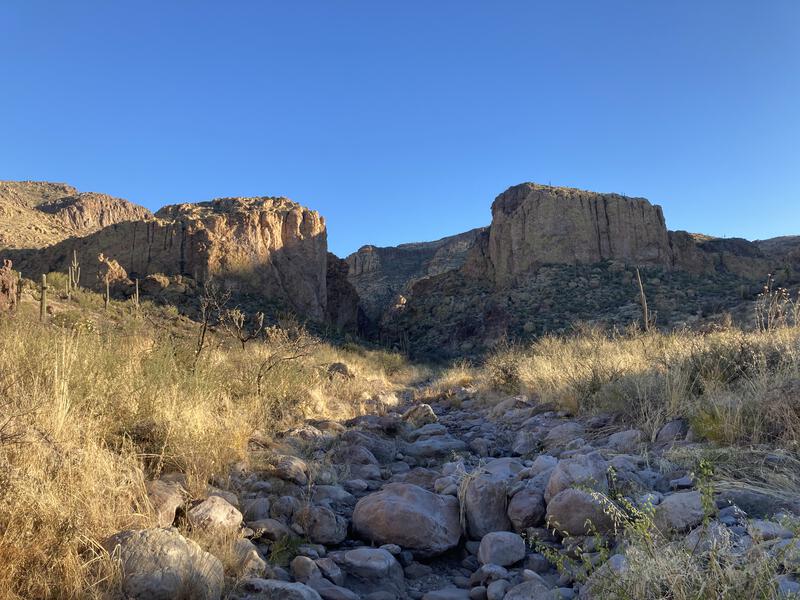 There are a few steep sections within the box, spots where the trail suddenly zips up a hillside of loose rock. There are many more gradual slopes or flat spots that allowed me to stretch my legs. For some reason I was worried about this climb, thinking it would tucker me out, and instead it rejuvenated me, and when I exited the box and entered the flat valley above, filled with half-burned trees, I cruised through the charred forest.
This was where Chris and I had spent our second night, near this little forest of mesquite and juniper, where the trees cluster around the source of LaBarge Creek and soar up the northern flanks of Coffee Flat Mountain. It was sad to see how much had burned here. The saguaro stands were not spared either, and the ones that were still standing had huge, brown scars reaching up from the ground, where the flammable grass led the fire. At some point the Sawtooth and Woodbury Fire had mingled, though I wasn't discerning enough to differentiate which fire had caused which damage. Melancholy began to distract me, and I slowed my pace and meandered up an annoyingly steep final climb to the final saddle, where I found a flat rock and plopped down.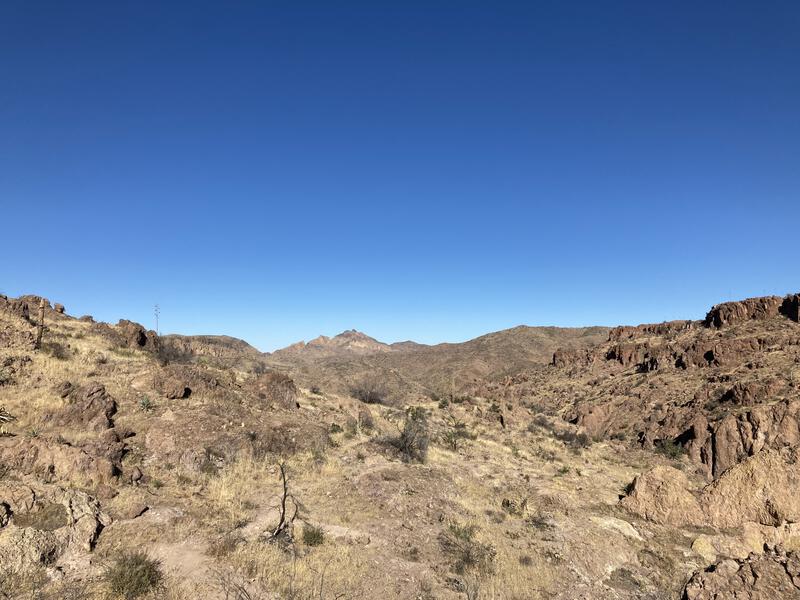 Now it was time to treat myself. The hot sun baked the rocks around me, and the final vestiges of the cold morning quickly retreated from my memory, replaced by the hot, exposed saddle. I hauled out a small stove from my pack and started boiling water for coffee. Hot coffee would have tasted much better down at LaBarge Spring, when I had been shivering in the cold air, but I still enjoyed the bitter drink coupled with a sweet stroopwaffle. As I relaxed a huge B-52 bomber droned overhead, a familiar sight in the Superstitions, and I wondered if the pilot could see me, a small splash of color against the yellow rocks, surrounded by brown and black burn.
Coffee drained, I continued south on the trail, now heading downhill along the actual Red Tanks Canyon, which drains into Randolph Canyon below. There were a few patches of green down in the canyon, stands of trees that must have been wet enough to resist the fire's heat. The hillsides where the trail played on were not as lucky. There was some deadfall from lonely trees that had burned, and a few washouts, and at least two sections where I lost all sign of the path, tread disappearing under ash and dirt. A group of three backpackers, the first (and only) other hikers I saw out there, slowly crawled up the trail, and I passed along some water info. Otherwise this was a sad, lonely descent.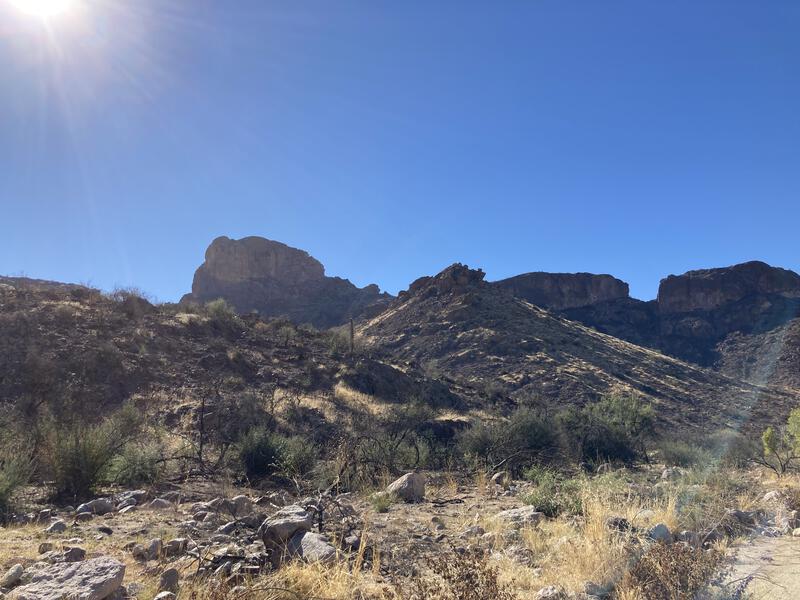 Once I reached Randolph Canyon I turned down Coffee Flat Trail, making quick time to Reed's Water before stopping for my last break. It was annoyingly hot after such a cold morning, and I drained the last of my water, mentally preparing myself for the six-mile, (mostly) flat crossing of Barkley Basin, which I already knew had been badly burned by the Sawtooth Fire and would offer even less shade than normal. As I rested a huge squadron of javelina marched past me, complete with baby reds, and I kept quiet, letting them root and play in peace, until they were out of sight.
The final stretch was boring and I popped some earbuds in, catching up on some podcasts as I zipped up the low hills and jogged down the other sides. Barkley Basin felt like an oven, as it always does. I crested the final ridge and looked down at a full parking lot - Peralta Trail must be a zoo today. At least the trails I had taken today are not as popular. I reached the Jeep and headed out, with almost half a day left to do house chores, happy to have finally knocked out this loop in a single day, with the additional 'bonus' of seeing three different burn areas.