Galiuro Wilderness is a relatively short sky island located between the Santa Catalinas and Pinalenos. Compared to those two mountain ranges, with their lofty 9k and 10k peaks, the highest point in the Galiuros is Basset Peak, a mere 7663'. While it may lack the elevation of its neighbors, this wilderness does feature unique geography, a remote setting, and rich history, making it a worthwhile destination for those willing to breach the surface. On a cool spring morning I headed out to the east side, making most of the drive past Globe in the dark, and reached Deer Creek Trailhead shortly after dawn.
The easiest way to think of the wilderness is more like a mountain valley than a range. There are two creeks - Rattlesnake flows north into Aravaipa and Redfield south into San Pedro River - that are separated by a few saddles and surrounded by rocky, pine-covered mountains. These mountains are incredibly rugged and jumbled, making it difficult to define any consistent range and complicating the trail system. My planned route would start from the east side, climb the eastern hills and descend into Rattlesnake Canyon, follow that upstream to Powers Garden, and then loop back up to a highpoint on the eastern edge again before dropping back down. This route should give me a taste of the Galiuros and leave plenty of the west and south side for future adventures.
After squaring away my gear I headed up the East Divide Trail, which climbs a few hundred feet over a few miles to Mud Spring. Well, I think its the East Divide Trail... there are a lot of competing signs and maps on the exact trail names, and plenty of forks near the trailhead to chose between. The path I walked was easy and well-defined, with a few helpful cairns along the way, and I made good time over the rolling hills and through a few washes. Sadly, I noticed a lot of dead and dying vegetation along the way. The winter has been hard in Arizona, a dry season in a historic drought, and it was apparent that this land was suffering.
There are two water sources at Mud Springs. I passed the first one, a water tank for local cattle that much of the water was piped to, with the briefest of pauses before stopping at the second one, the original spring and trough, for a quick bite. There was a dead cow several years decayed that gave the area an unpleasant aroma, which gave me an excuse to cut my break short and continue onto Sycamore Creek Trail.
Sycamore Creek Trail continued climbing alongside the flanks of Rockhouse Peak, swinging in and out of drainages, which gives the trail a fair amount of variety. There are junipers that provide shade and steep rocky slopes that slowed my progress. I struggled a bit here, feeling flustered to be slowing so early on in my trip, mentally checking in on my planned itinerary. When I topped the final ridge of 6172' and got a good view down Sycamore Creek, which would take me to the main Rattlesnake Canyon, I felt a good amount of relief. Finally, a descent stretch of downhill.
600' of loose, rocky walking passed by quickly, and soon I was on the bottom of a dry, rocky creek. The trail continued to be well-defined along the banks, hopping over a few times, and each crossing had large cairns and was obvious, a nice change compared to the meandering, confusing creek crossings in the Mazatzals. There was a pleasant amount of shade and few deadfall to work around. I was lulled by the quiet and straightforward hiking when I heard voices drifting from ahead. There was someone else out here?
Apparently there were quite a few people out here. I soon stumbled upon the first of three groups, mostly teenagers, and there had to be over thirty total people, all out here on an epic two-week adventure from Rattlesnake Canyon to Redfield, a full traverse of the wilderness. They were already three days in and, based on some quick conversation, had plenty of rest days planned. I was very jealous of their plan and preparation, even if the lead of the first group only had passing knowledge of the trails when I shared my itinerary. I wished them safe journey and continued on.
Two weeks in the wilderness. While I usually plan my trips with a certain aggressive attitude, the thought of lounging around with a few rest days, chatting with friends, does have a certain appeal. The closest I've gotten to a trip like that is with my kids, and while they're great and all... being alone with three kids under eight years old, day after day, on a remote trail does get tiring. Maybe I need to give them a few years. As I pondered their adventure and passed the other two groups the miles passed quickly, and soon I was at Sycamore Canyon Spring, where I plopped down for a lunch break and filtered a few liters.
Less than a mile was left in Sycamore Canyon, though there was a rather annoying climb at the end. Wished that the trail would have stuck next to the creek all the way to the confluence instead of trying to shortcut a few hundred yards, though maybe there is an obstacle that the little climb was trying to avoid. No bother. My trail dropped down next to Rattlesnake Canyon, which had a happy little trickle going down it, and as soon as I saw that I relaxed a bit, thinking that the water would continue all the way up past my planned campsite at Powers Garden.
The other nice find in the new canyon was the trail. Where Sycamore Canyon Trail had been a narrow single-track, with a few patches of overgrowth and rocks and deadfall, Powers Trail in Rattlesnake Canyon felt like a highway. It was wide, often trimmed back to a full six feet, and the grade was even enough to ride a road bike down. I strolled quickly on this trail with the hope of making up some time. Part of me wanted to check out some of the spur trails out here (like Mailbox and Horse Canyon) and another part of me was playing around with the crazy idea of turning this into a dayhike. My loop was only 26 miles or so. I was so caught up in the easy walking and hiking options that I completely missed where my happy little trickle dried up. One minute there was water, the next I was next to a dry, barren creekbed.
I should have turned back and watered up. Didn't feel like I was hurting for water - had at least two liters in my pack - and the temperatures were reasonable. Plus, there were numerous water sources ahead of me. I continued my long strides south towards Powers Garden.
First I passed Pipestem Canyon, which had a signed trail that leads up to the western hills, and it was dry. Then Mailbox Canyon, which supposedly housed both a trail and a well somewhere upstream, and it was dry, so I skipped that exploration for today. Third was Horse Canyon, and it was dry. By the time I rolled into Powers Garden and the old USFS cabins I was feeling a little parched. It was three in the afternoon, the sun was bearing down on me, and there was no water here either.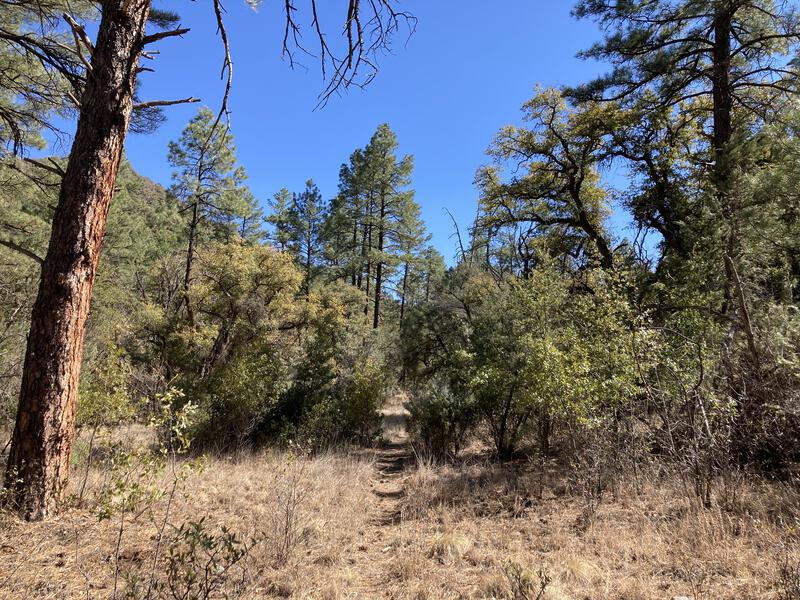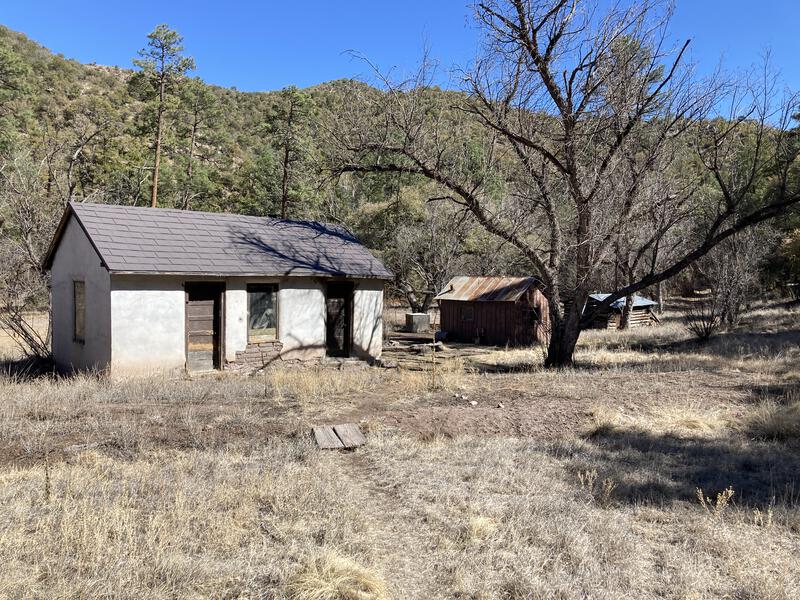 My planned itinerary was falling apart. I didn't have enough water to backtrack to Mailbox Canyon to explore its decommissioned trail, and really did not want to camp here, not without a water source. There were still hours of daylight left, too. I did a cursory search of the cabins and cursed when I saw that they had water pipes and no running water. Frustrated, I leaned against a shaded wall and sunk down, sipping my remaining liter and seriously considering backtracking all the way to the last seen trickle on Rattlesnake, some five miles to the north.
Instead I pushed onward stubbornly, following Powers Trail south towards Corral Canyon. That was my planned exit route anyways, and either Powers Garden Spring or the canyon might hold some water. The trail got a little more overgrown yet still felt extravagantly maintained compared to other trails I've been on, especially given the remote nature of this wilderness, and I made quick time to the spring, only to find it completely choked with algae with hints of dampness. I sighed and passed it by.
When I reached the junction with Corral Canyon Trail I turned and headed east with little fanfare. The Powers Garden area had been quite a disappointment with how dry everything is right now, and I was ready to start closing my loop. There was a slight increase in grade, barely enough to notice, and several nice campsites along the way. When the bear scat showed up I let myself hope, and soon I found a handful of small, trickling pools with minimal algae growth. Finally!
It took some time to pull water while avoiding the green tendrils that would plug up my filter. By the time I had filled my stomach and bottles it was close to five, and I was more than ready to set up camp for the night. I didn't feel like dealing with the bear so I backtracked downhill to one of the campsites, a half-mile from the scat and water source, and started setting up camp. The heat of the day was already dissipating so I took some extra time to collect firewood. As the shadows lengthened and the sun began to drop across the distant western hills of the Galiuros I munched on bibimbap and relaxed next to a small fire, letting the frustrations and stress of the day wash off me. I had a good campsite, water for the night, less than ten miles between me and the trailhead, and a proven water source for tomorrow's hike.
After a pleasant night and a lazy morning I eventually packed up my gear and got ready to move. All I had to do was follow the canyon upstream, crest near Kennedy Peak, and then drop back down to the trailhead, and then I could spend the rest of the afternoon driving home. In retrospect I could have slowed my roll yesterday, spent some of the day exploring Mailbox Canyon and camping near whatever water sources I found back there, and still have plenty of time to finish my loop today, though there was no guarantee I would have found water, and I'm pretty sure bushwhacking in this wilderness would have been less than enjoyable. I shrugged and scattered leaves across my campsite, covering any sign of my stay.
Corral Canyon Trail does a good job at sticking close to the creek... initially. There are a few sections where the canyon gets rocky and the path detours up one of the banks. I watered up at my source from last night and found a much better, crystal-clear collection of pools at the marked spring further upstream, after which the trail makes a sudden switchback and soars high up the grassy hillside, leaving the pleasant shade for exposed climbs. Looking down I could barely make out an impressive drop on the creek which had to make for a cool waterfall during a rainy spell.
Once past the drop, the trail meanders back down to the creek, and there was even a small stand of damaged pines to stroll under. Unfortunately, this also marked the spot where I started to encounter fire damage. Much of the southern and central Galiuros have been burned recently, which I think were all prescribed burns, though the burns did cause some significant damage to the tree stands.
The pines also marked the last creekside stroll. My path turned and headed up the hill, leaving Corral Canyon behind, hauling up the hillside with gusto, and I leaned into the climb, looking forward to topping out. With the exception of two thick overgrown sections it was fairly painless, and I reached the ridge quickly and was greeted with expansive views. I focused on Kennedy Peak, the highpoint of the day, which had some obvious outcroppings that looked to make a fun obstacle.
There were plenty of downed junipers to dance around and I had a hard time tracking the trail along the ridge. Not that it mattered - all I had to do was follow the ridge, turn right, and then I'd be at the next trail junction. I followed the path when I could and guessed when I couldn't and entered a humble surviving stand of trees at the junction, which had a small campsite nearby. Corral Canyon Trail was complete. I was back on East Divide Trail and less than five miles from the trailhead I started from yesterday.
My pack, which was heavier than normal with some extra glamping items, quickly hit the ground, and I turned away from my exit and headed south instead, trotting up the trail towards Kennedy Peak. The summit was right there taunting me and I had to bag it before leaving the area. It took minutes to reach the spur path, and soon I was hauling up the hill, fighting my way through the overgrowth and fire damage that worsened as soon as I left the main trail.
Twenty minutes of hunting cairns, scrambling, bushwhacking, and cursing ensued. It was a tough haul, even without my pack, and the sun beat down on me. Many, I miss the shaded hikes of Michigan. When I finally reached the top I signed the register and spun around a few times, drinking in the views. The mountains on the horizon were only vaguely familiar and the closer peaks were a complete mystery. It was an interesting change from my deep recollection of the Mazatzal area.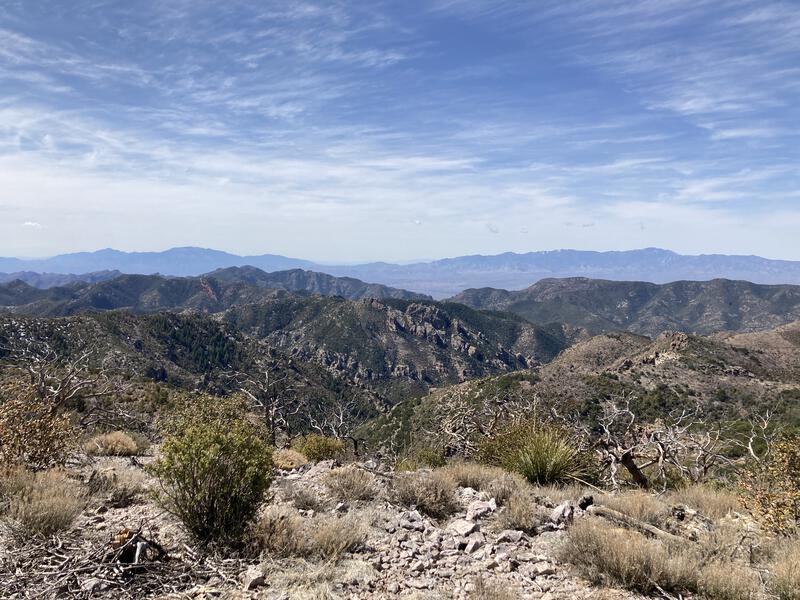 There was still the return to tackle. I was on top of Kennedy Peak, at 7549', and the trailhead is at 4902', giving me more than 2500' to descend. Most of the drop happens in the first two miles before the trail leaves Oak Creek. To complicate things, as toasty as I felt while exposed on top of these ridges, I had noticed snow hugging the northern slopes yesterday, and I was a little worried that I'd have to deal with covered or slick trails today.
Dropping off the peak was slightly easier than the climb, and soon I had my pack on and was trotting downhill, swinging back and forth on tight switchbacks under a badly burned forest. There was only one spot where the snow really covered the trail that was tricky, a slushy mess over slick mud, and my trekking poles kept me upright through the slog. Past that it was auto-pilot, trotting quick down the hill while gazing over the expansive northern views.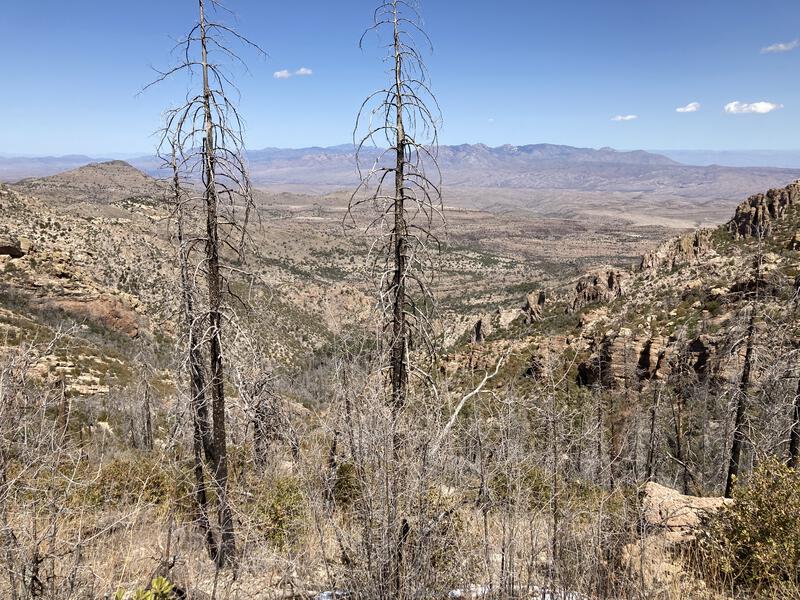 Before the junction with Mud Spring Trail (or is it Tortilla? I'm not sure) things got really overgrown with New Mexico Locust. I briefly considered following that route to Mud Springs, where the group I meant yesterday was enjoying a rest day, and decided to stick on East Divide Trail to see a few miles of new trail instead. This worked out rather well. I think that connector would have stayed in the drainage a bit longer while my trail swung east onto open flatlands, a clear, rocky route between junipers and dried grass.
There were two drainages to cross, then a big arc, followed by a shallow drainage. I strode quickly over the land, mind drifting between my drive home and future Galiuro adventures. For an extra thirty minutes of drive I could circle south, around the Winchester range, and then loop up through Tucson, which would give me all sorts of interesting views of the surrounding sky islands. Guess I'd have plenty of time, as it would likely be around two when I reached the trailhead.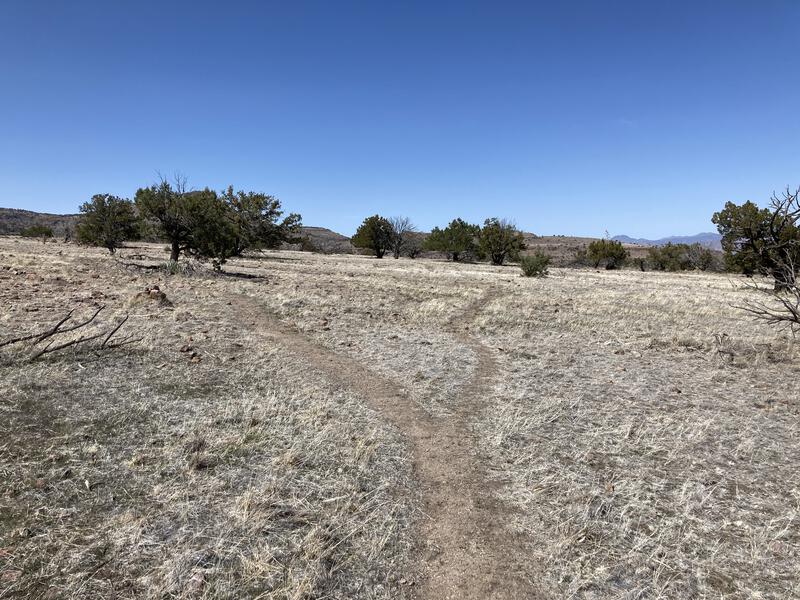 One steep drop and then I was back, for a short time, on the same trail I took in yesterday. Pure loop routes are not easy to find, and I'll take a big lasso over an in-and-out any day. I quickly tossed my gear in the Jeep, changed into comfortable clothes, and headed out, driving south, starting on a slightly different type of exploration. Mixed feelings followed me on the way out. This wilderness seems like a solid challenge, with some fire damage, tough trails, and rugged geography, and I wasn't sure if it was worth it. Mazatzals was also a challenge, an area I grew to love, partly because it is so varied and huge. I'll probably be back, hopefully for a longer stretch of time to get deeper into the land, and maybe my second visit will feel more rewarding.