It was mid-June of this year when I went for a short backpacking adventure up on the Mogollon Rim. The weekend was fun and I learned a lot about my gear and limitations, useful information for my upcoming week on Isle Royale. When I told my brother-in-law Chris about hiking the cabin loop he was instantly sold. We've been hiking together for almost a year now, constantly pushing into tougher hikes with the eventual hope to do a major backpacking trail, and he was pretty jealous that I got to explore such an awesome area. Six weeks after my first visit and the two of us were driving back up to Payson.
I won't go into anywhere as much detail on this return trip as I did the first time. For the most part we followed the same trail. We skipped the tough climb up from Washington Park, did the loop counter-clockwise, and spent three days in the woods instead of two. I'll brush over many of these details and instead focus on one difference: we visited each and every cabin. On my initial trip I was so worried about making good time and pushing my limits (and the worrying performance of my water filter) that I skipped out on most of the cabins on the cabin loop. I didn't want to do that twice.
Our first day was pretty easy. I parked about a mile southeast of General Springs on Friday afternoon and we walked the Rim Road for a few miles before cutting in on Houston Brothers. This allowed us to get the most boring stuff out of the way first (walking the Rim Road was painfully dusty last time) while we still had plenty of fresh water. We bumped into a Boy Scout troop on their way out on Houston Brothers Trail, twenty kids and a few adults reeking of sweat and puberty, but otherwise didn't see anyone. We made it to camp at Barbershop Springs just before sunset, did the basic camp chores, and then sat around a little campfire and talked on random topics. Six miles in and things were looking good.
Chris was a bit slow the next morning. While I've been slowly collecting gear over the last five years (with a significant ramp-up thanks to Isle Royale) he was dealing with unfamiliar rental equipment. Everything from rolling up his pad to figuring out how things packed together just took him a bit longer. When he was ready we booked it down the trail. Barbershop Trail wasn't nearly as bad this time around, fresh legs and a working water filter helping out. It's amazing what following the directions and using a brillo pad can do.
When we reached Coyote Springs it was time for the first spur. Buck Springs Cabin is located about a mile and a half off the loop. Chris left his gear tucked behind a tree and I stubbornly kept my pack on. The spur was easy with the exception of one painfully deep gorge right before the cabin that was neither expected nor welcomed. We came upon the cabin just as a friendly lady was letting her dogs out of the back of a truck. We talked, the dogs played, and I took some photos of the two small buildings.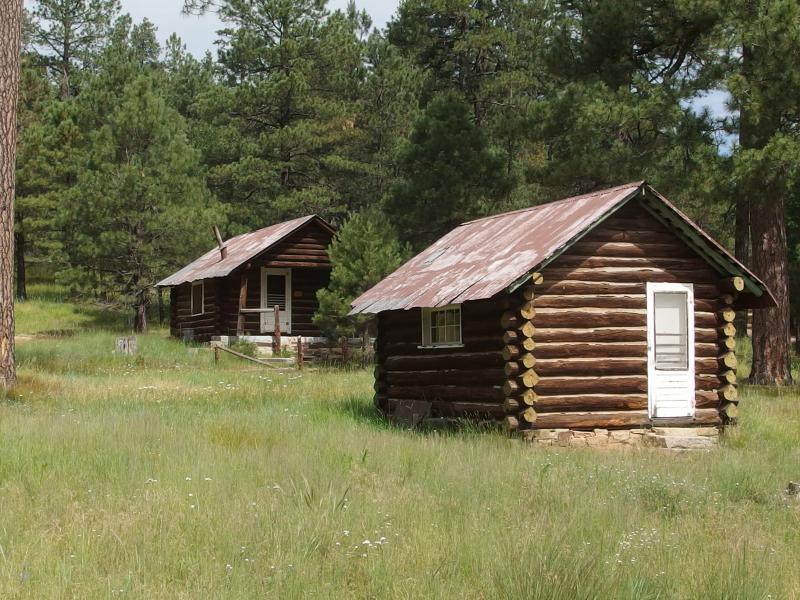 The main cabin was well-lit and had white-washed walls, a wooden floor, and even a partial kitchen in the back corner. There was hay and rodent turds piled up on the floor, but otherwise it seemed in surprisingly good shape. Even the roof seemed solid compared to what I would have expected. Buck Springs Cabin would make an excellent place to seek shelter if a thunderstorm was to come along. Today the sky seemed to be only sunshine and blue.
We returned to Coyote Springs and Chris's gear without any issue and started up U-Bar trail. The late morning temperatures were beginning to rise and I began to get worried about our next campsite. To split up our trip nicely I had hoped to camp at Pinchot Springs, or even on the lower section of Fred Haught, yet my hiking partner was thinking that Barbershop Creek would fit better. Barbershop is a nice spot, its just not as far along the loop as I would have liked. As we hiked and weighed the options our second cabin showed up just in time for lunch.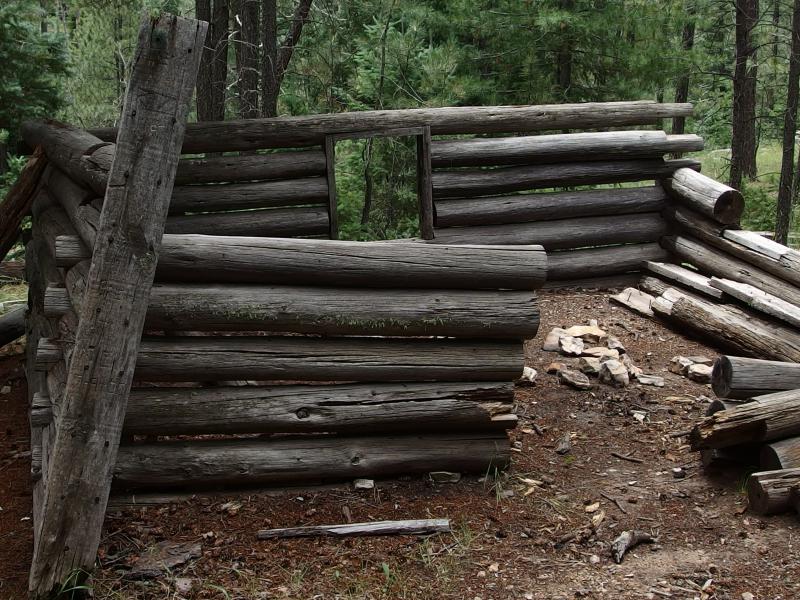 There isn't much to see at Dane Springs Cabin. A few partial walls, a hinge on a nearby tree, and a managed spring off to the side. We pumped fresh water and munched on food. I forced myself to be patient, too. Together we had covered a lot of tough ground today and the day was less than half over. An hour long lunch was something that we could easily afford, and it was something that might coax the hiking partner into spending more time on the trail in the afternoon.
No luck with that, though. Climbing in and out of U-Bar Canyon was more taxing than I would have thought under the hot afternoon sun. Once we finally crested the top there was no presuading Chris - we would be camping at Barbershop Creek. I didn't raise a fuss. The campsite there was great, the creek dependable, and the gorge nicely wooded. Once we stopped there a mere hour later we fund another perk: a deep pool just upstream of the trail crossing.
With hours of daylight left in the day there was plenty of time to set up camp, do laundry, and even go for a dip in the creek. It was pretty warm out, at least in the nineties, and the crisp water felt amazing. Eventually we ate dinner and started a fire, trying to drag out our todos as long as we could, though we still went to bed before the sunset. It's hard to burn five hours at camp after only hiking eight miles during the day.
We were on the trail earlier that morning, with Chris better acquaintated with his gear and much of our gear packed from the night before. A tough climb and a few miles later and we were at the third cabin, Pinchot Springs Cabin. This one was a disappointment from my last hike, as it is completely boarded up and would provide no cover from the storms as they rolled in that evening. I took a quick picture, we filtered some water, and we were on our way.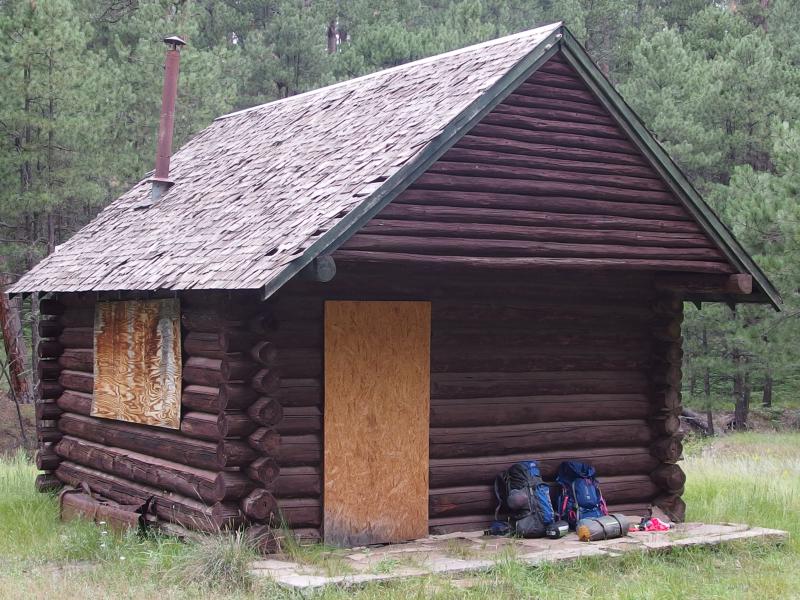 Our trail beyond Pinchot was more annoying than I remembered. It bucked up and down Bear Canyon before a long, slow climb up Quien Sabe Draw. It was noon or close to it by the time we reached the end of that draw and dropped down into Fred Haught Spring. At least we were close to the next cabin. Fred Haught Cabin lay a short distance off the loop trail to the left.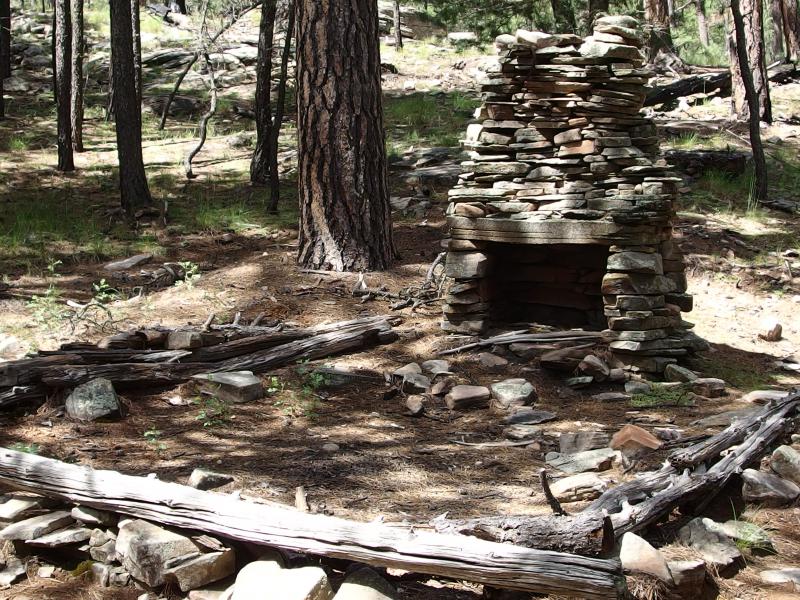 There wasn't much left of this one, just a few logs forming a square and a tall fireplace of stacked rocks. We stopped and ate lunch. I was running low on water again so I headed over to the springs to find something. I had to wander a few hundred yards up a dry rocky bed before finding a pool deep enough to draw out of. When I returned Chris was done and, with the temperatures only climbing, we packed up and continued.
Fred Haught Trail seemed annoying from this angle. It slowly climbs with the creek with frequent jogs up and down the steep banks. It may just be annoying because we were almost done with the loop, too. The end was in sight but it was hot and the trail stretched on. There was a lot more traffic on this section too, couples backpacking and day-hikers wandering, that flew against our relatively quiet weekend. When we finally reached General Springs Cabin I snapped a few quick photos and Chris just continued on.
Like Buck Springs, this cabin is still standing and is open to wander around. It feels quite a bit older, though. The floor is simple packed dirt and the inside is dark and musty. Also, it's very accessible compared to the other four cabins along the loop and sees at least a few dozens visitors each weekend. If I had to pick my favorite of the cabins this wouldn't be it. Maybe Fred Haught. I liked the open-air concept and the fireplace was very retro.
I caught up with Chris and we walked back to Rim Road right where the trail to Washington Park came up. I half-joked about hiking down to the bottom. There is a railroad tunnel I had missed on my first trip about mid-way up, and we still had some time today. Instead we followed Rim Road back to the car, a short and dusty few miles, and ended the day with a total of twelve miles. Not exactly how I wanted to split up the weekend, but we did make it back to Phoenix before dark, so its all good.
Was it worth the return trip? I suppose so. I did get to test some new gear (sleeping pad) and a lighter pack (only 35 lbs this time) and better hydration (yay working water filter). I didn't get to push for miles, though my last trip I clocked in a nice eighteen mile day and felt pretty good after, so I'm mostly comfortable with the Isle Royale distances I'm aiming for. I wished we could have done something different, that Chris and I could have found a new forest with dependable creeks and done a nice thirty mile loop, yet Arizona only has so much to offer for that. Mountains and desert, sure, but year-round water? The Mogollon Rim may be one of very few options for that.