Chris, Kirsty, and I paused on the trail to Brown's Peak for a long breather. It was warm this afternoon, unnecessarily warm for this late in the year, and all three of us were hauling a lot of weight. I was in the lead with a solid fifty-pounds plus (mostly water) and Chris was a close second. When you're backpacking to a campsite without water in ninety-degree weather you need a few gallons of water, especially with our ambitious plans for tomorrow.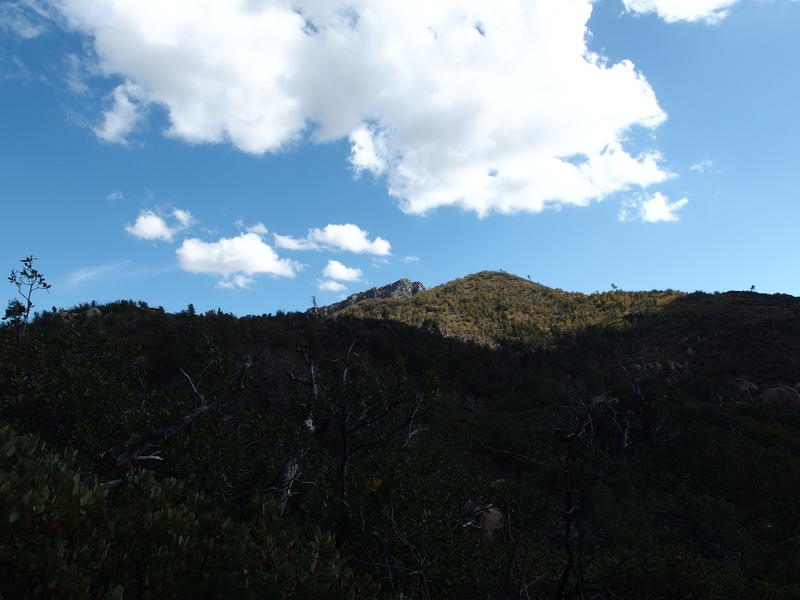 We were heading to the saddle below Brown's Peak to spend the night before hiking the Mother Lode. Oh, the Mother Lode? That's a terribly dangerous route that goes up and down all four of the Four Peaks and involves high exposure and sharp cliffs and all-in rock climbing. Chris and I figured that our best chance at success involved spending the night before up there and getting an early start. Last year we had attempted it and turned around after sweating up Amethyst Peak in the heat of late morning.
With deep sighs we pushed on from our break spot and continued up the ever-climbing trail to camp. There was no rush today. We had hours and hours before the sunset and a mere two miles (and 1100') to cover. The blue skies held only a few clouds drifting lazily high up and we enjoyed the periodic bits of shade they gave us. When we hit the mile mark I began to get impatient and pushed forward alone, planning to set up both my and Katie's tent (for Kirsty) before they reached the saddle.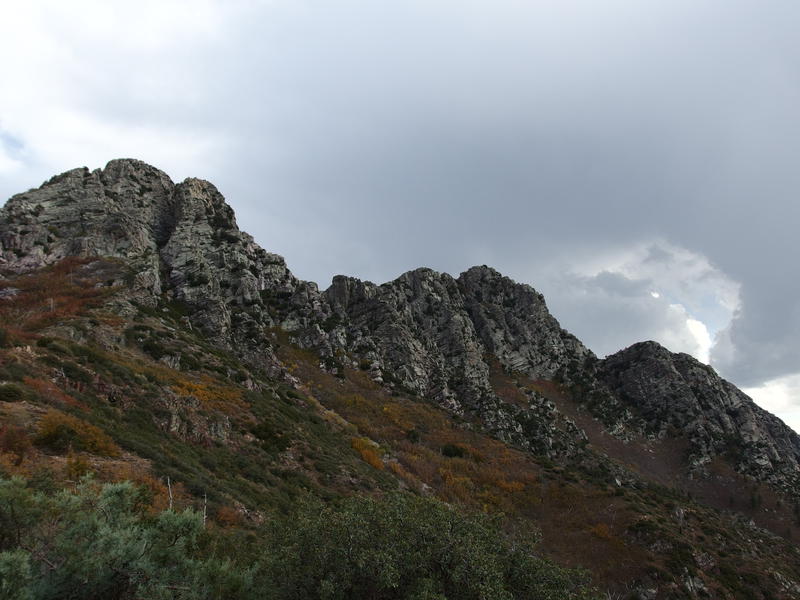 The weather turned sharply before I reached the saddle, dark gray clouds that rumbled incessantly collecting overhead. I trotted the last quarter mile and quickly dropped my heavy pack at the end to start setting up camp. Fifty pounds is stupid heavy after so many ultralight outings this year. With sweat still streaming off me I picked a sloping spot for my tent, pitched it, and began laying out Katie's tent in a more protected spot when the other two showed up. The three of us got the last tent up and our gear stowed away just as the rain began to fall.
While the rain felt great after the hot climb there was the issue of our clothes, so we spent much of the next few hours huddled in our respected shelters. There wouldn't be time for anything to dry out - whatever got wet today would stay wet. Kirsty and I ventured out during a short break to talk to a group that had just been on Amethyst Peak, the last group of hikers that we'd see today, and then jumped right back to the tents. It was a dreary way to spend the afternoon.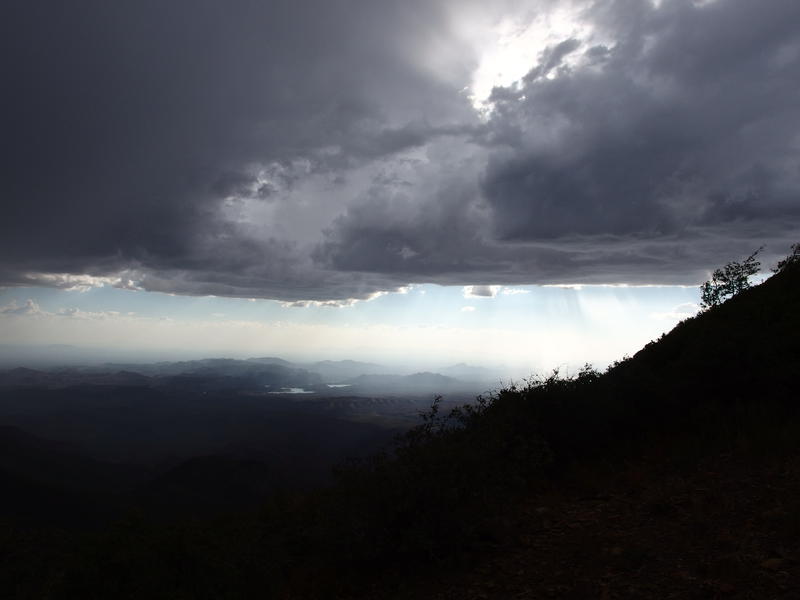 Clouds began to break around five and we emerged for dinner. Chris and I had standard backpacker meals (which I almost never use due to their weight) and Kirsty had some turkey sandwiches. Kirsty probably had the best dinner out of all of us. We chatted and joked, glad to be out in the open air, and enjoyed a fantastic sunset light show.
That storm wasn't quite done, though. The bulk of it moved off to the east and treated us to a lightening show over the Sierra Anchas and Mogollon Rim, distant features that were lit up by huge bolts and rolling booms. A second storm began to appear far to the southwest in the Superstitions and slowly rolled our way, the bright flashes lighting up dark clouds stretching towards us. Kirsty and I stayed up late chatting, eying up the approaching storm with cautious eyes, and the topic of bailing on our campsite did come up a few times. We were horribly exposed on this saddle and none of us felt very comfortable here. When it began to crest over Brown's Saddle we scurried into our tents instead and threw colorful curses back at the shattering thunderclaps.
Things died down around ten and we drifted off, only to wake up at five and slowly start packing up things. Not quite the early start we were hoping for, but after the exciting night the extra hours felt good. It took a while for us to get everything stowed away behind bushes and coffee brewing. By the time we started heading up towards Brown's Peak the sky was already bright with the sunrise.
The climb up Brown's Peak is familiar and straightforward. A path winds up a steep climb, zig-zagging around boulders and trees before dropping into the chute. There are multiple places to drop into the chute depending on how long you stick to the steep climb - we tend to stay out until absolutely necessary. The chute is terribly steep, filled with loose rock, and the bottom of it is a treacherous scree pile. At least it's not that tall. It took us thirty minutes to reach the top of the climb and zip over to the peak.
We rested on the top and eyed up the ridgeline. It looks horrifying. Each peak rises up sharp to the sky with blocky cliffs all around, numerous climbs separated by exposed jaunts. We've done a ton of research about it and there seems to be three separate pieces to overcome: mental, physical, and route-finding. Route-finding is the main one, as the proper route could mean an easier journey that is less taxing while the wrong route could be hours of class four climbing. From up here all of our research into the proper routes seemed useless without an experienced guide.
Both Chris and Kirsty were immediately hesitant on continuing on. I've been working on them, making sure that they were aware of the mental block that would be coming our way when we made it this far, and it didn't seem to help much. Standing on the summit of Brown's Peak was the real awareness of just how ridiculous our day could get. If we could find the right route (unlikely) then all of us had the physical ability to do this, though we had to keep our confidence up.
After a lengthy rest I picked a ravine down the south side and led the way down. It wasn't easy, just as steep as the chute we brought up and nowhere as maintained, with plenty of brush scratching and gouging while providing weak braces. I made it to a fork and was trying to decide which way to continue when Chris and Kirsty decided to bail. Ten minutes in and they were done. Chris lent me his DeLorme for emergency use and I pushed on alone, more than a little bitter at the turn of events.
There were options for them, sure, yet now I had their boredom to weigh on me. The Mother Lode is an all-day adventure, at least, and they were going to be stuck sitting around waiting for me. They could follow Amethyst Trail over to the mine and climb up the southernmost peak, where I would be in (hopefully) six or eight hours. Or they could hang out on Brown's Peak and watch the world spin. Most likely they'd just be sitting at our campsite all day long. As I dropped down the ravine, I realized that I had chosen the wrong fork and slowly swung around a separating knife edge to the other option, and then continued the slow-motion fall to the first saddle. I felt ridiculously selfish for pushing on with the Mother Lode.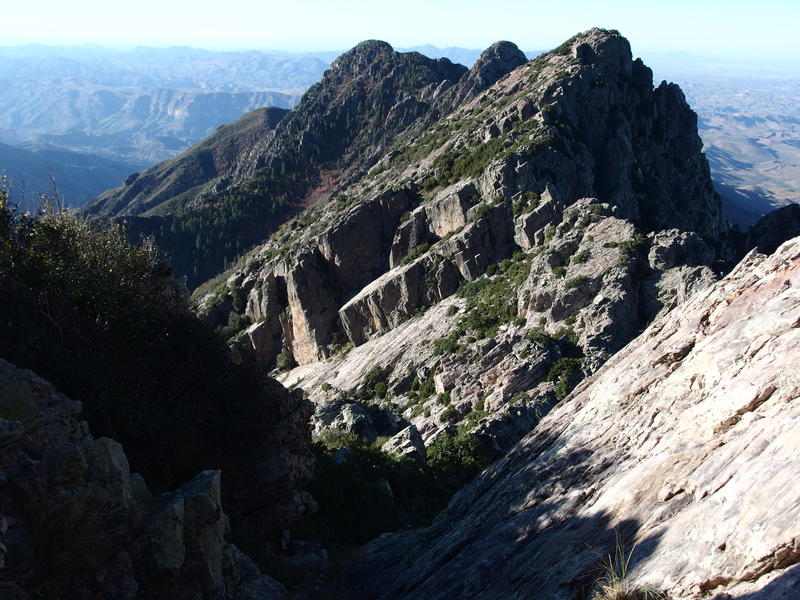 It took forever to reach the first saddle. And once I did things didn't get any easier. There are three little divots in the way that I had to get around. I swung west around the first one and got tangled up in a forest of saplings growing on loose boulders, and then east around the second one and had to deal with manzanitas.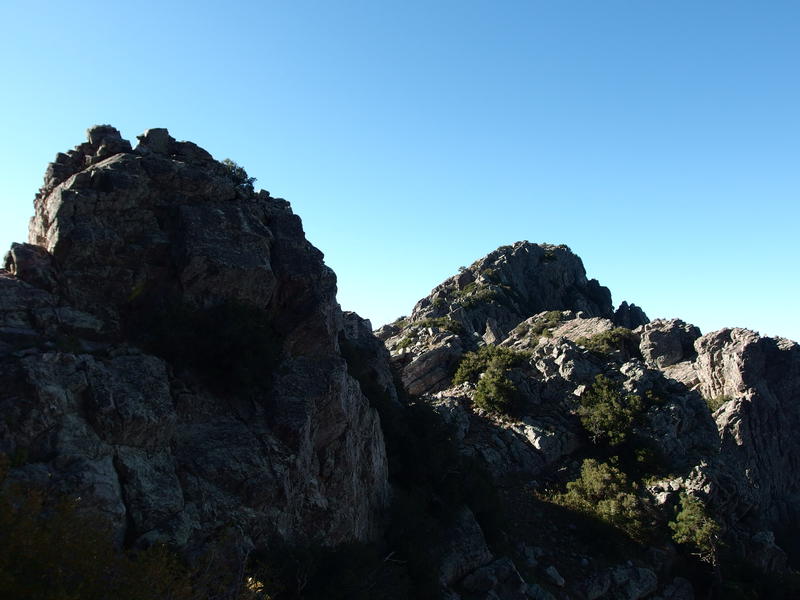 When I finally reached the third divot I decided to climb it in a fit of optimism, hoping that it would connect with the bulk of the second peak and provide an easier way up. It did not. There was a sharp thirty foot drop between me and my goal with a stubborn pine growing up in the split. If I had a twenty-foot leg span I might be able to cross it, but all I got is fifteen, so I simply turned back and dropped down off the divot to continue on.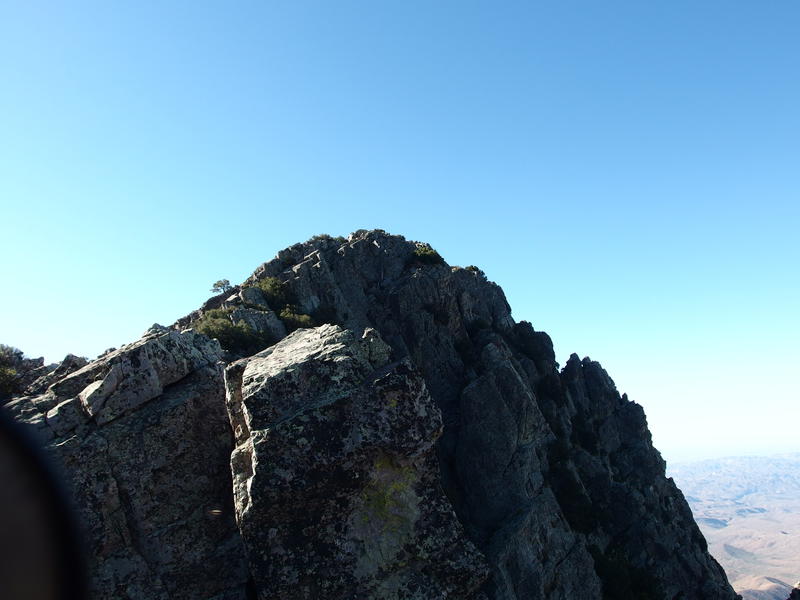 I was not in great shape. Chris and Kirsty turning back weighed heavily on me and I was pushing myself too hard, worried about getting done in a decent time while also hoping to make up some lost time from my slow descent off of Brown's. Plus I had this idea that this was the easiest section of the day. Almost the easiest, anyways. Going up Brown's is easy, 1-2 is okay, 2-3 is terrible, 3-4 is worse, and then down 4 is easy again. So when I finally got past the divots and saw what the start of the climb up 2 (Brother's Peak) actually was things got a whole lot scarier.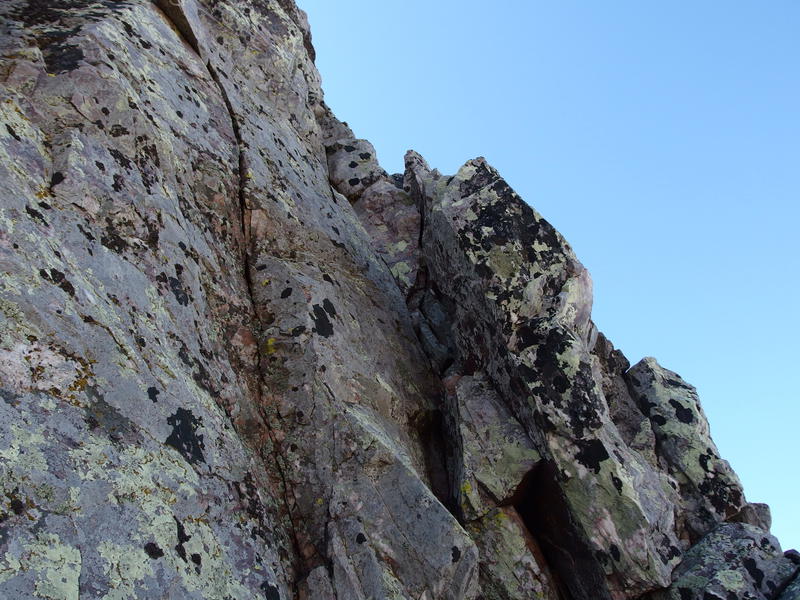 Stubbornly I made it up the first climb, grasping and pulling my way up the rock crack, and then looked around on top to find a second, even taller, climb waiting. This one even had a tiny catclaw obstacle right in the middle. After getting up that one, legs wobbly with fright, I paused to look around. There was no obvious way up from here. I could try to scale a knife edge some twenty feet high, or ease my way left along a narrow crack in hopes to find a different way forward. I had already found a dead end.
150 yards away from the second peak and I turned around. The mental block hit me too - my stubbornness had just kept it at bay until I was a good hour into the thick of things. Shaking and nervous I dropped down the two climbs, cramping up hard on the second one, and then zipped back across the saddle and around the divots. Now that I knew more about them I was able to skip the useless climb and made good time across. Ah, the power of route-knowing.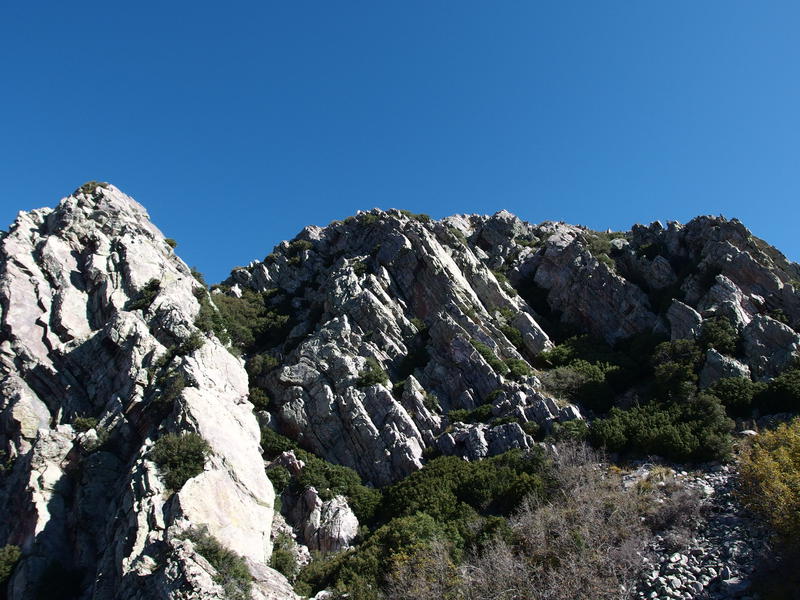 I picked a good ravine up and shot up to Brown's, only stopping once to let my legs cool down and to drink some water. Looks like there are at least two good routes on this section and I had taken the more difficult one down. That wrong turn didn't help any, either. Two hours after leaving Chris and Kirsty and I was back at Brown's Peak. Two hours of fighting brush, rock climbing, route stumbling, and nervous second-guessing. Today was apparently not the day for the Mother Lode.
There were two other groups on the peak by now, an annoying development after the quiet evening and morning. One of them had a six-month-old pup, which was surprising. Had no idea how they were going to get that thing back down the chute. We exchanged a few words before I decided to push down. If I was going to make a retreat out of this I wanted to make it a fast one. The last thing I wanted my hiking partners to do is to start heading down Amethyst, thinking that I'd be out that way later this afternoon.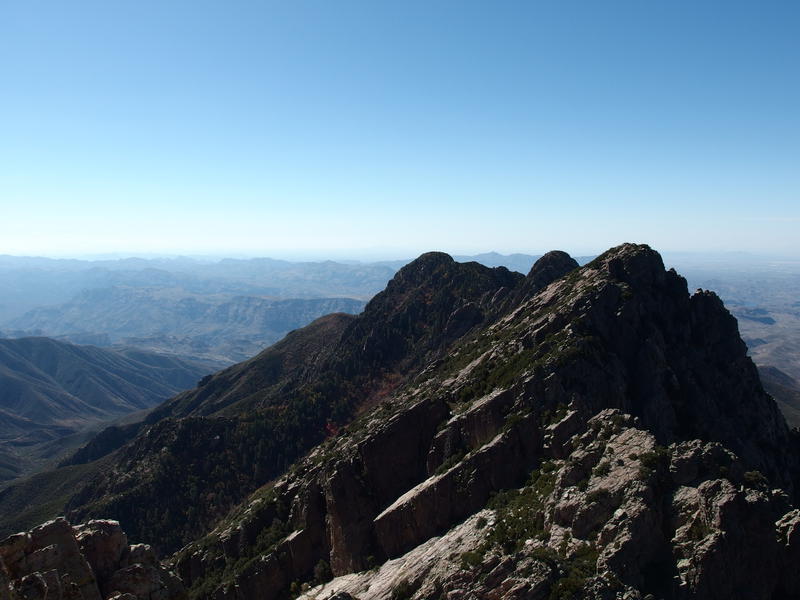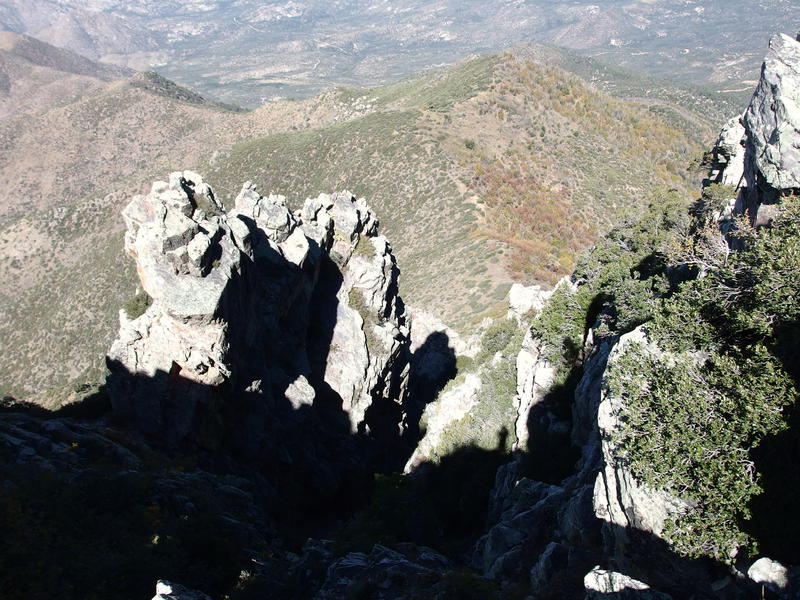 After the ordeal of the 1-2 saddle the chute down Brown's Peak was nothing. I zipped and hopped and skidded down, dropping hundreds of feet in minutes. In fact, I made it out the chute and down the rest of the climb and caught up with the rest of my group just as they reached the campsite. All the time I had wasted trying to do the Mother Lode was spent by them hanging out at the peak and heading down the chute slowly (and safely). Without much else to do today we rolled out hammocks and sleeping pads and rested at the bottom in style.
Between the three of us we had ten gallons of water and plenty of food, so we sat and drank and munched. There were a few talks about the Mother Lode, though by now we had all accepted that its beyond our capacity to do. If we had someone with us that had a route down and was willing to guide us, sure, but not alone. Maybe not alone. As we rested the other groups came off the peak and a few more came up. We shared our water and some stories and, eventually, decided to make the long trek back to the parking lot.
So Mother Lode evaded us again. This was my second attempt, the first one being an ill-advised June adventure that ended up only bagging Amethyst Peak, the furthest one. This time I didn't even summit Brother's Peak. Sure, I know more about the 1-2 route, but there's a lot more to worry about. The third peak (Sister's) still scares me the most. It's the steepest, involves jumping between the east and west flanks, and seems to take the longest to get over. Ah, that's something for Future Jacob to worry about. For now I could enjoy an easy hike down with a warm Four Peaks beer waiting at the trailhead.