Early morning light shone down on Barnhardt Trail and I beamed right back. Barely six in the morning and I was already done with a solid section of today's hike, a two thousand foot climb over six miles. Sure, I left the house at a ridiculous time this morning and spent half of this scenic trail guided by headlamp, and it had been totally worth it. Six miles into a twenty mile loop and the hot Arizona sun was just waking up. I turned away and sped down the Mazatzal Divide Trail towards Chilson Camp.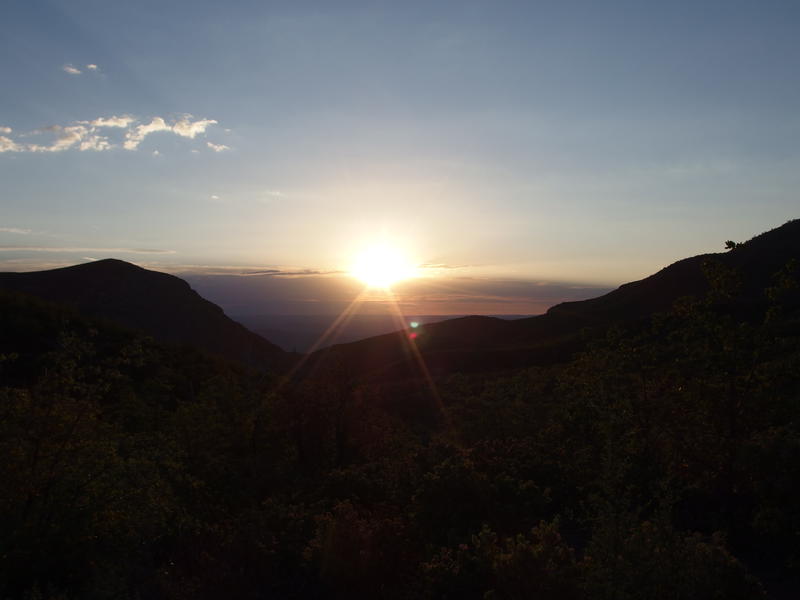 This was the third adventure this year that was part of my Mazatzal Project, an ambitious quest to hike every trail in the fire-ravaged Mazatzal Wilderness. Not every adventure was brand new miles, though. Today I was using Barnhardt and Y-Bar, both of which I've hiked before, to knock out Brody Seep and Fisher Trails. That meant revisiting thirteen miles of familiar to explore five new miles (plus two new miles of the Mazatzal Divide between Bear Spring and Y-Bar).
Turning off the Divide Trail I started on the north end of Brody Seep. The first few hundred yards is well-traveled, as it leads off the relatively popular AZT to a relatively popular Chilson Camp. This campsite is technically a dry one, with only a seasonal spring dripping a distance up the hill, and the main attractions are the proximity to Barnhardt Trailhead and shade from twisted trees spared by the Willow Fire. I did see an orange bucket with some water bottles cached for thru-hikers on the AZT hiding behind a prickly pear.
I wandered over to the edge of the camp and sat on a downed tree to catch my breath. Now seven miles in, I was more than ready for a quick breakfast and water. Brody Seep Trail lay ahead of me, plunging off the edge of the camp flat and slinking across a few washes before climbing back up a ridge in the distance. It barely gets any traffic, one of the few people who've hiked it in the last decade nicknamed it 'Bloody Seep', and there was no information about the springs along it. I tucked my gear away and headed into the easier of the two new trails with some trepidation.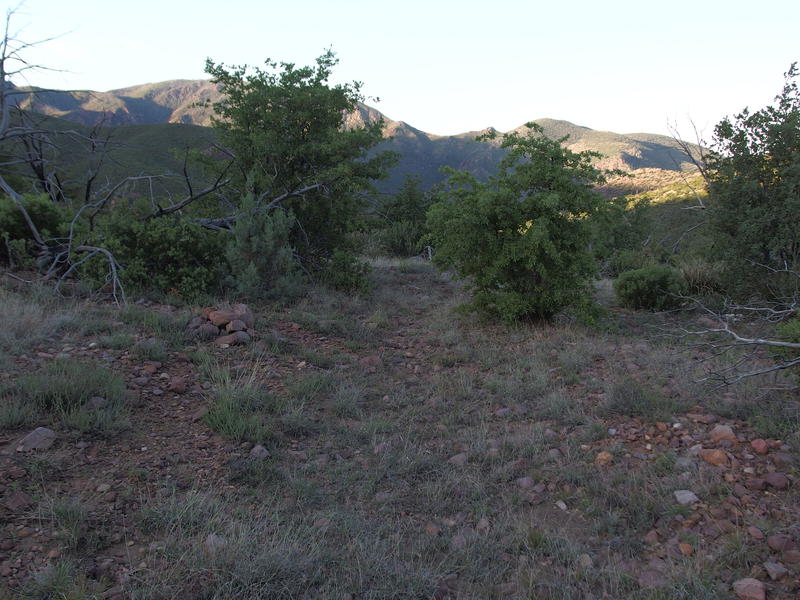 The first plunge wasn't terrible. It was rocky, more a drainage than a trail, though I did find a few log steps driven into the slope. We dropped a short distance together and then turned with the slope and heading into the first wash. There were a few obstacles, large bushes that sprung up in the center of the tread that would force me to make a quick detour, and then I was right back on it. Crossing the first wash was easy and I started up a gentle slope on the other side when I was greeted by a forbidding sight.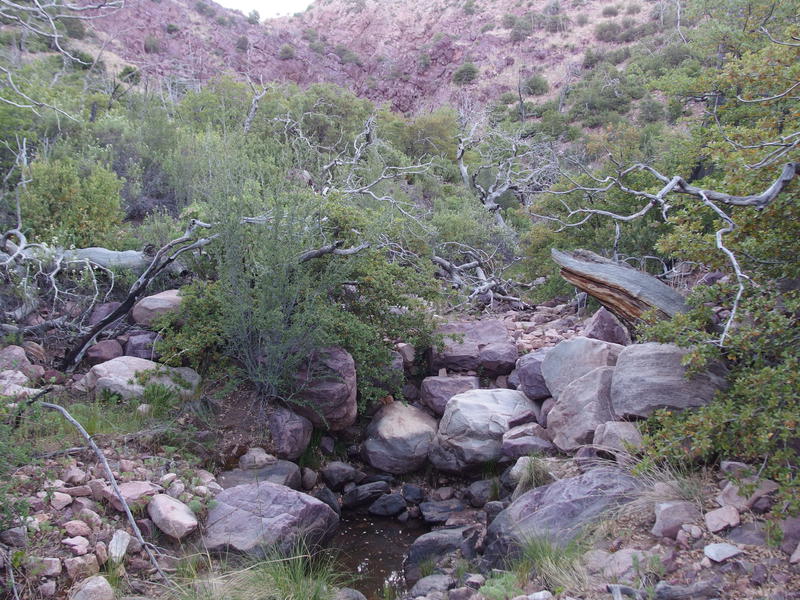 Ahead of me was low manzanita and tangled deadfall, a nasty mix, and one that could swallow trails and hikers whole. I crept forward slowly and kept an eye on the next visible cairn. Surprisingly, it wasn't that bad to keep on the path. I swung along the side of the slope, bypassing the short spur to Malapie Spring in the interest of time, and continued south. There were a handful of little drainages in the hill to weave back and forth, and a few confusing game trails, yet nothing that was too terrible.
Perhaps this trail had an undeserved reputation. Sure, there was some deadfall and faded sections. Nothing that deserved a bloody nickname. This route was a shortcut, a few hundred yards shorter than the Mazatzal Divide Trail above, and it does have water sources along it. With a little bit of maintenance this could be a viable option. At less than two miles long I could see myself spending a long weekend at Chilson Camp and putting in some work to clean the trail up.
Soon I was near Brody Seep itself and it was time to water up. This was the last spring for quite some time, after all. I looked for an obvious location to drop down into a steep creek and then just picked a spot, swinging on branches and sliding on the dirt banks. Landing in a cloud of dust I looked around, ignoring the two small and stagnant ponds at my feet. There was a decent path up the opposite bank, where there really shouldn't be a path, and downstream looked even drier. I headed upstream and found clear, flowing pools of water surrounded by huge rocks. Bingo.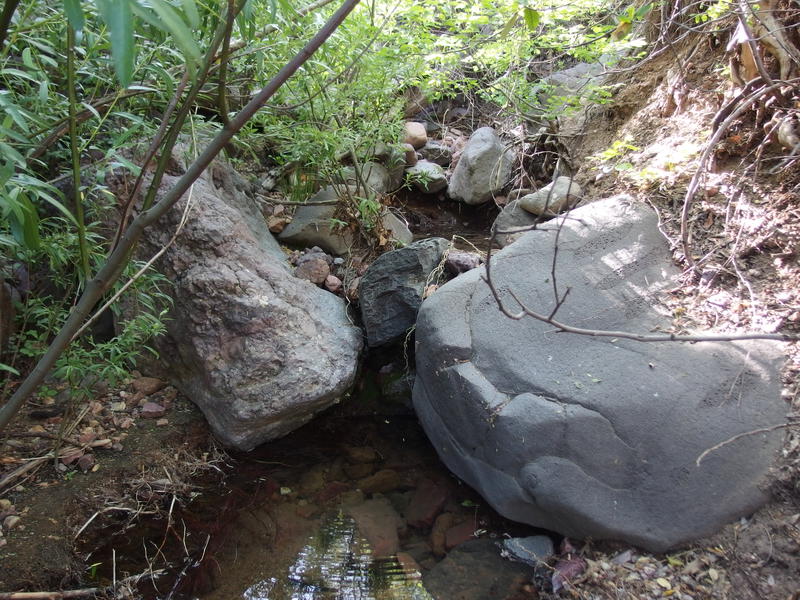 Now this was a seep. I sat down and quickly drained the last of my water before filtering up, munching on some granola bars and swatting away curious bees. It would be hours before my next planned break so I changed out my socks and readjusted my gear here too, preparing for the next leg of the day's hike. By the time eight ticked by on the clock I was climbing back out of the wash, feeling rested and ready for the rest of this trail.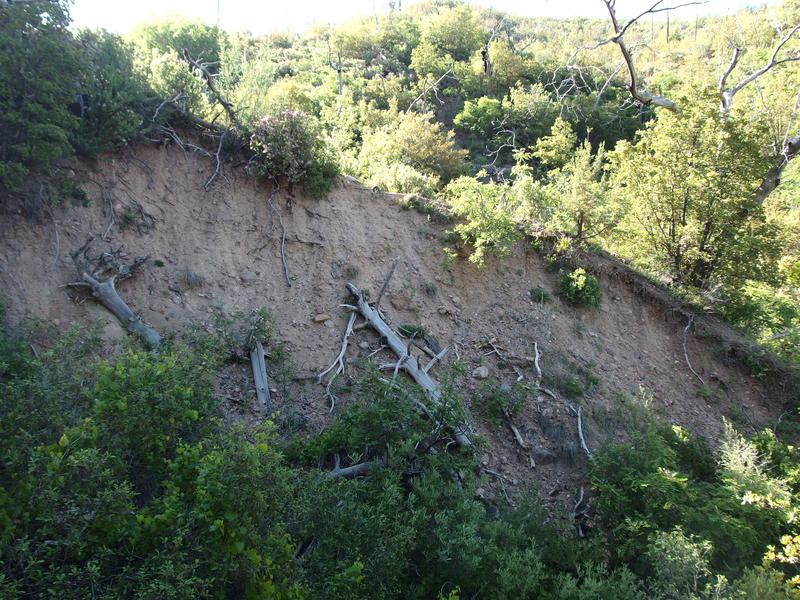 Brody Seep Trail quickly knocked me back a peg. A short distance from the seep there were two huge landslides that knocked out the trail and forced me on a lengthy and brush-filled detour. These landslides were old - I should have noted and planned around them. On the other side was a steep climb up a sandy bank that was definitely not on any trail, old or new. Stubbornly I dug in, clawing in the loose dirt and grabbing at the thorny trunks of short brushes to force my way up.
The old trail was somewhere to my left, a newer track was somewhere to my right, so I chose the dumbest option of staying in between and fought a tough battle with catclaw and manzanita. I won, though I did earn my first cuts of the day. Guess that Bloody Seep got me in the end. After the short bushwhack I stumbled upon the trail, looking wide and inviting after my difficult climb, even if I could barely make it out with all the encroaching growth. I looked around briefly before turning south and making a quick climb up the last bit.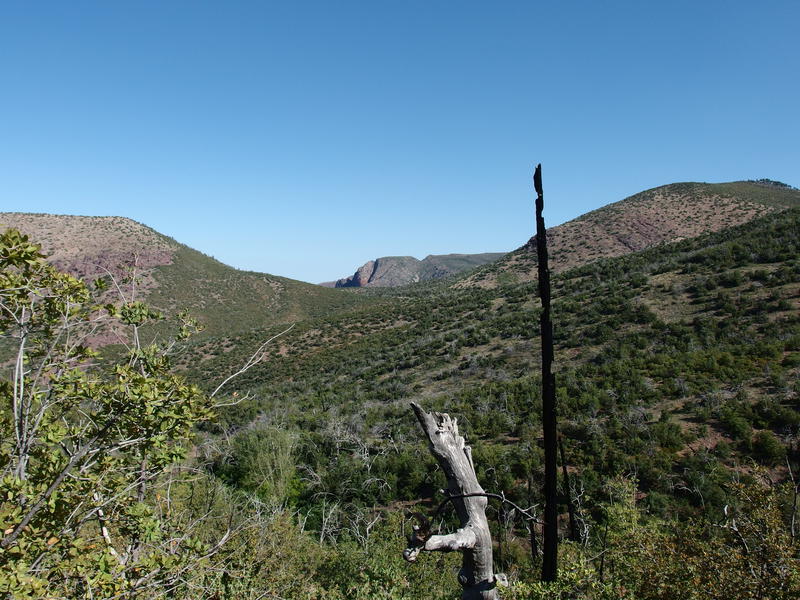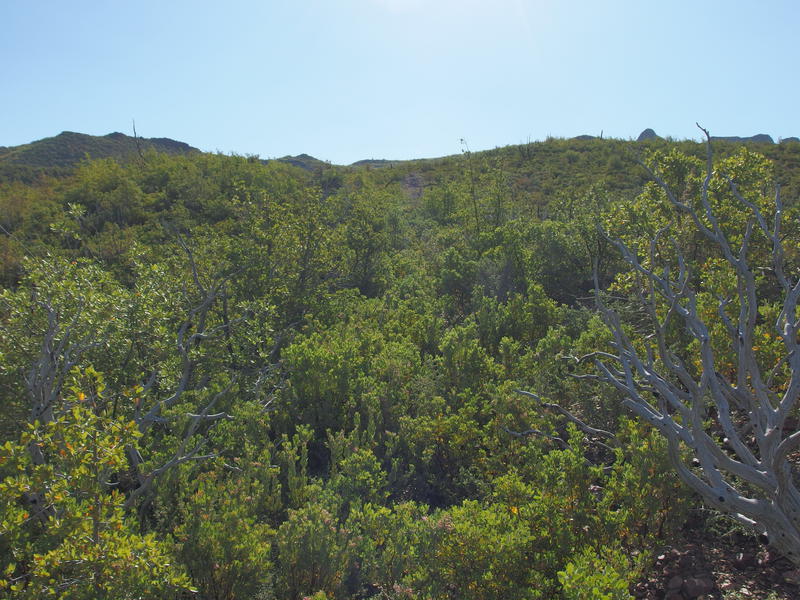 Back on the Mazatzal Divide Trail I quickly noticed an old post, which must have had a sign for Brody Seep at some time in the past. I paused here and quickly assessed the situation. My knees weren't feeling great. Energy levels were fine, there were two liters of water in my pack, and I was right on schedule. I could bail here and be back home in time for lunch, only one new trail knocked out. If I pushed on there would be no easy exit. One last look down towards Davenport, reminiscing on my first hike in Mazzies over a year ago, and I turned and headed back down towards Fisher. It was time for the real challenge.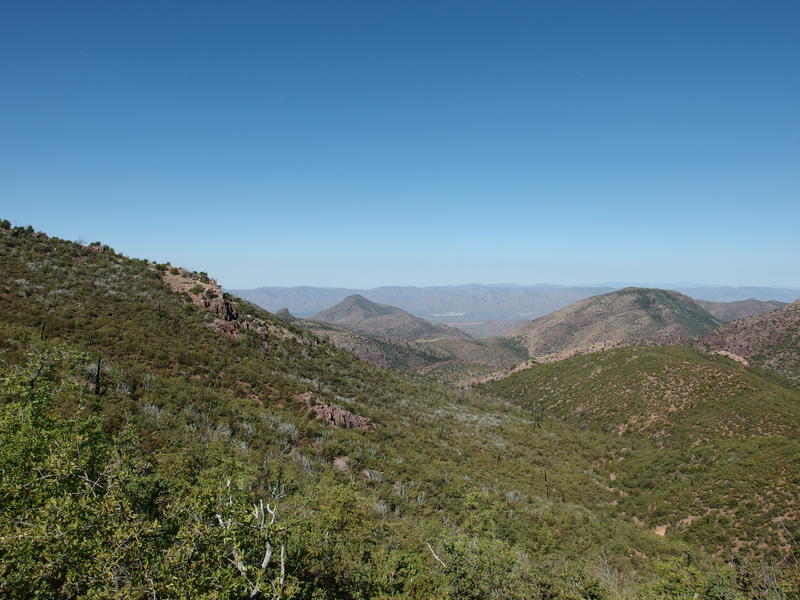 See, no one has been on Fisher Trail. Well, no one on the internet, anyways, and most of the trails out here have some sort of write-up from the last decade. The only information I had on it was the dashed line on a topo map, and I had long learned how untrustworthy those dashed lines can be. Throw in the typical high-desert scrub, poisonous creatures, exposure, and wildfire damage, and any unmaintained route can become straight-up terrifying. Oh, and this trail is almost four miles long and has 1800' of AEG, so it is not exactly a level stroll through the park.
It didn't take long to find where it forks off of the Brody Seep Trail, a short jog down off the Mazatzal Divide. The tread was easy to spot and difficult to follow. Manzanita wasted little time swallowing up this route after the fire, and there seemed to be many times more deadfall to deal with now. For awhile I hacked through, breaking dead branches and pushing through the brush, and then the trail crossed a rocky wash. Faced with the choice between continuing along a brush-choked bank, searching for the old route, or hopping from boulder to rock in an open wash was not really a choice. I stuck to the wash.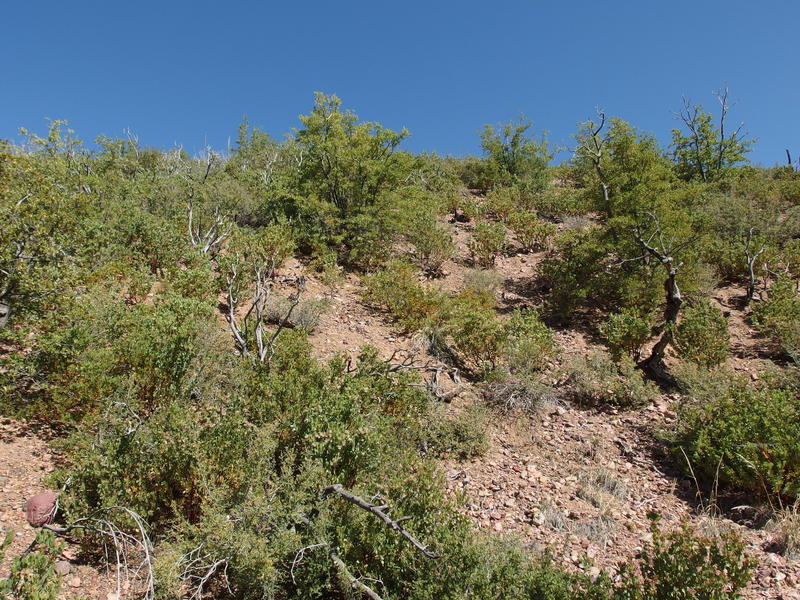 I didn't feel too guilty. Chances are that hikers from yesteryear would have also chosen the easiest option too, and that any path along the bank was that much more overgrown. It's not like the wash was simple. Rocks shifted underfoot and I got at least two good spills from an impatient pace. There was even some large trunks spanning the creek. It did feel luxurious compared to bushwhacking. I got a nice surprise when, beyond a little curve, some living trees sprung up on the edge of a large drop overlooking South Fork Deadman Creek.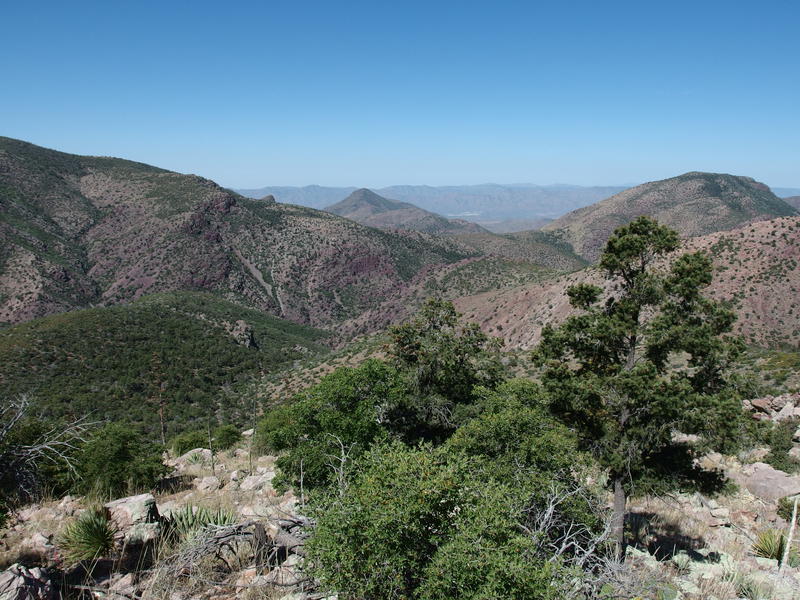 The same view from before, only a little closer, and the deep canyon of the creek below was much more obvious. Davenport Wash Trail crosses that thing. I am really looking forward to hiking that section in the coming months. What I wasn't looking forward to was tackling the southern bank of this wash today. My route curves up a bank and entered into a dark, foreboding forest of tangled brush, looking more like an evil grove of thistles from a Disney movie than not.
Backtracking a short distance, hoping to find a cairn or tread to guide me, I eventually settled on a spot and hacked up. And up and up and up. It wasn't long or high, but when you're fighting through dusty brush that's well over your head distances tend to stretch out like warm taffy. There were hints of tread below the brush that weren't worth tracing, not with all the deadfall. I found my own way, crawling and hacking, and broke through to a rocky, grassy slope above.
Again, there was no cairn to help out here. I paced back and forth a short while before settling on a general southern direction. The lack of markers was really starting to get annoying. I did find a rusty horseshoe, proof that this route was once friendly enough for pack animals, and then a large rockslide from tall cliffs above knocked out any trail that once existed.
The loose rocks made for a brush-free, if treacherous, descent away from the cliffs. Suppose I did want to drop elevation. I was still seven hundred feet above the low part of this trail. Below the loose rocks I entered an interesting game. If I dropped too low I entered in a badly fire-damaged hellscape, and if I stayed too high then loose rocks from the cliffs above became an issue. The trail was nowhere to be found so I tried to pick a way in between the two challenges.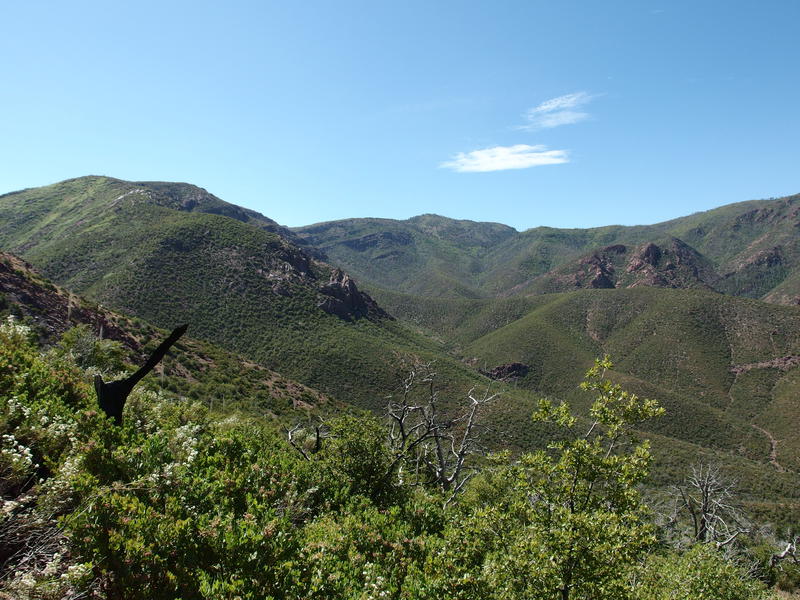 At some point I noticed the ghost of a path underneath my feet, a ghost that was too persistent to be a game trail, and I followed it as it curved east along the high bank of a drainage. Directly above the drainage was the rugged side of Mazatzal Peak. Neat - if I followed it upstream for a mile I'd be at Windsor Spring, near the Y-Bar Trail junction. Maybe there was an easy exit today. I stuck to my route, the ghost of a path, as it wound around and dropped into the drainage, then turned and followed the drainage downstream. There were a few shade trees and a few stagnant ponds along the way, and I picked one shade spot to briefly rest and wipe the sweat out of my eyes. The direct exposure of this morning sun was wearing on me.
I think the trail climbed up and followed the southern bank here. I had no interest in that. Instead I stuck to the drainage, hopping rocks and rolling my ankles a few times on loose boulders. Not sure what I'd do if I actually sprained something out here. Hobbling eight miles back to the trailhead did not seem like a lot of fun. Thankful for my hefty, over-engineered boots I continued downstream, hesitantly picking a random spot to leave the drainage and tackle the thick brush on the south bank.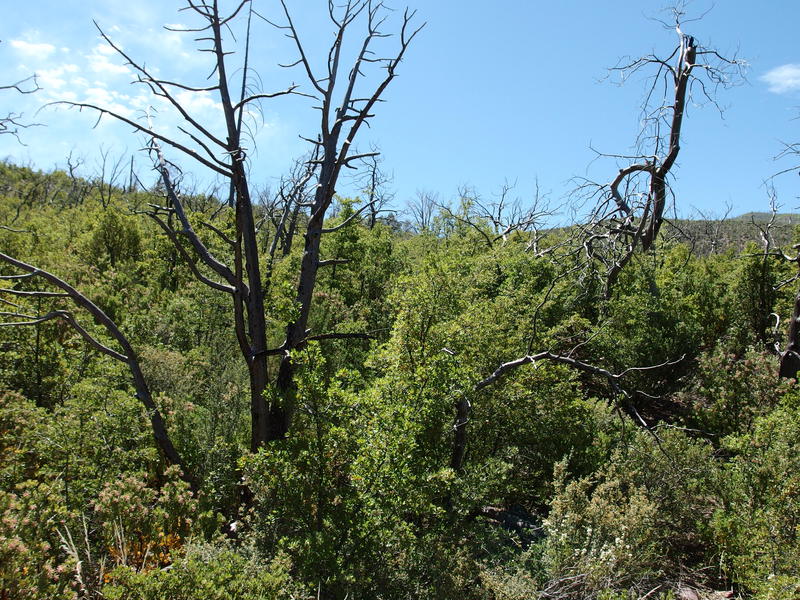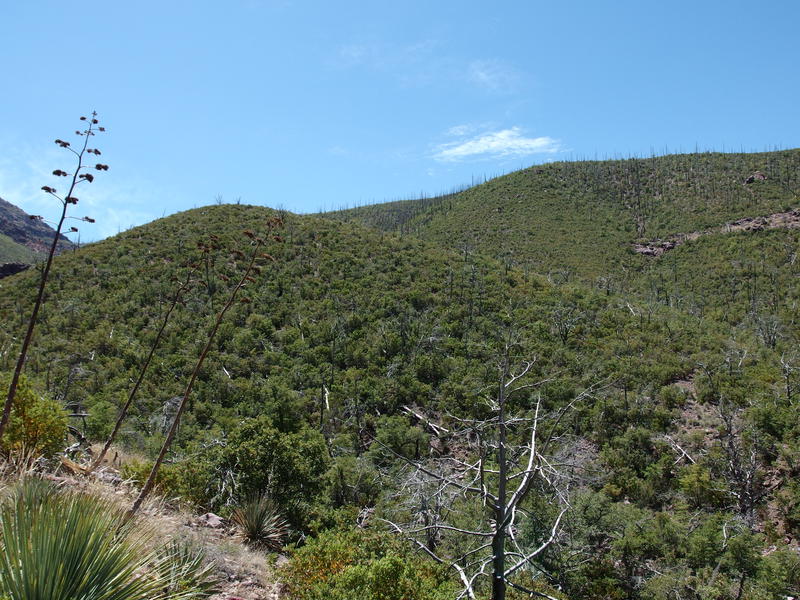 Beyond the thick brush and low ridge was another dry, rocky creek, and then a large hill climbing up the other side. Finally, the first of two climbs. This one was five hundred feet and would take me up and over a manzanita-coated ridge. Who am I kidding, everything out here was manzanita-coated, even myself. I pulled a few clinging twigs off my shirt and headed down into the wash, finding a lone cairn in the middle, and then started up the ridge.
The first part of the climb started simple enough. The trail showed up a few times to help me out, guiding me for yards at a time, before disappearing beneath the growth. My guess is that it zig-zagged back and forth sharply up the ridge, something that is hard to follow after a few decades of neglect. On top of the ridge I looked around and saw the second part, which swooped into a dead pine forest. Hundreds of long trunks littered the ground. This trail just keeps getting more and more fun.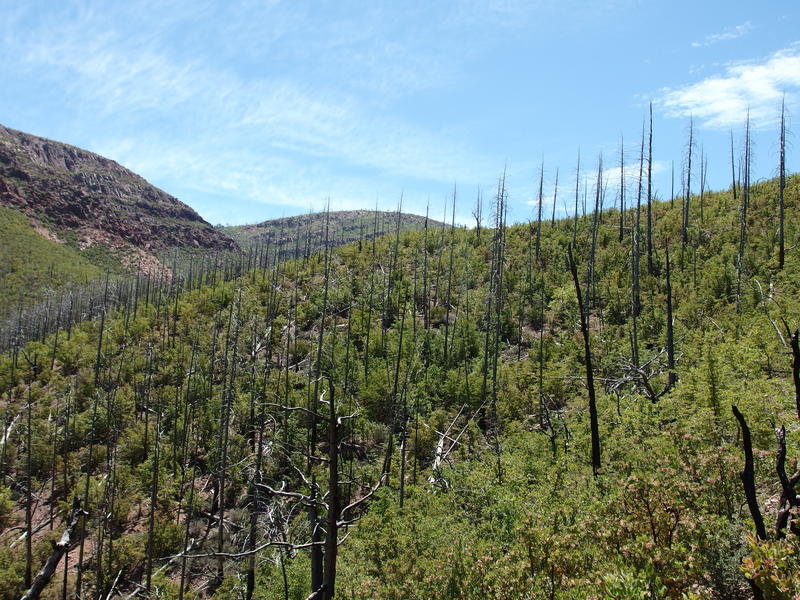 Giving up again on the trail I picked a uniquely burnt stump, headed to it, and then repeated, making my own way up and over the last of the ridge. Once I reached the top I found a spot of shade and rested, draining the last of a liter of water and consulting my map. Almost done with Fisher. One short descent into a tributary of South Fork Deadman Creek and then a climb past Fisher Spring. That is, a one thousand foot climb. My legs felt okay, knees were tolerable, but the heat was growing. Felt a lot warmer than the forecasted eighty out. There was a breeze that drifted in a few times, though I think Mazatzal Peak was blocking most of it from cooling me.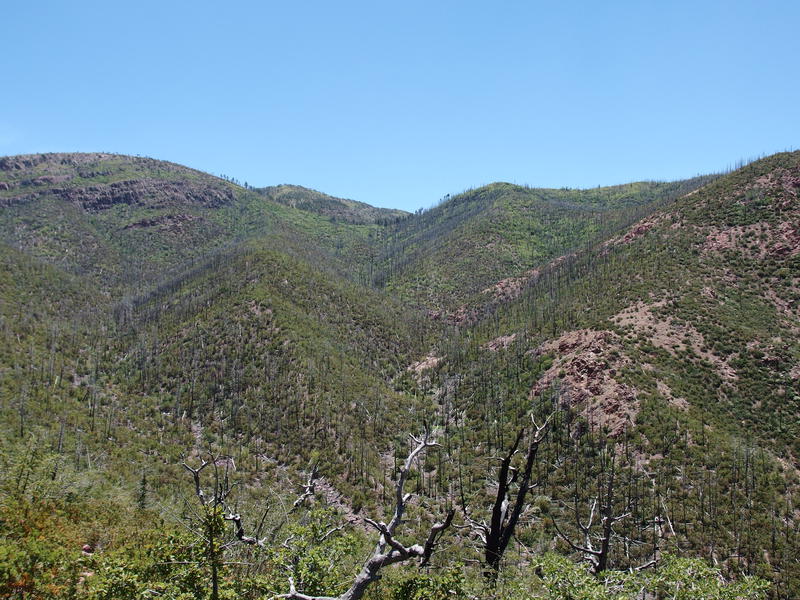 My descent was surprisingly easy. I'm not sure if I was on the actual trail or if enough animals had climbed this way - either way I made quick time down. Within ten minutes I was in the next rocky wash and hunting for a way up, a way up that was suddenly quite elusive. I picked a spot and hacked up the bank, a familiar strategy by now, and then forced a way over to the drainage that would lead me up the hill. The stacks of dead, tall pines made for a haunting vision of how the next mile was going to go.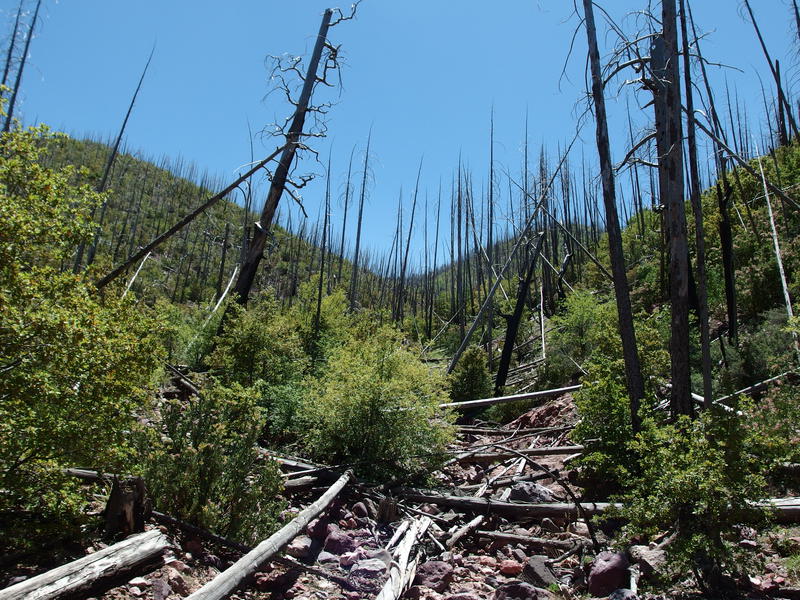 Trying to trace the trail was not even an option I played with. The banks were thickly overgrown with berry bushes that I couldn't identify and, with all these downed trees, hacking through them while looking for the trail would have been a nightmare. So the dry, rocky creek it was. I tumbled over a few logs before realizing that this could actually become a fun game.
There were so many downed logs here, criss-crossed across the dry creekbed, that I could just walk on top of them. I used to the do the same thing up in Michigan while bushwhacking cedar swamps, though back then most of the horizontal trunks were still clinging to life and underneath were stagnant pools of tannis-stained water surrounded by untrustworthy clumps of grass. Anyways, I hopped up on one dead log and walked the length, jumping to the next as it petered out, connecting a zig-zag route that slowly climbed from the rocky wash to solid bedrock and water pools.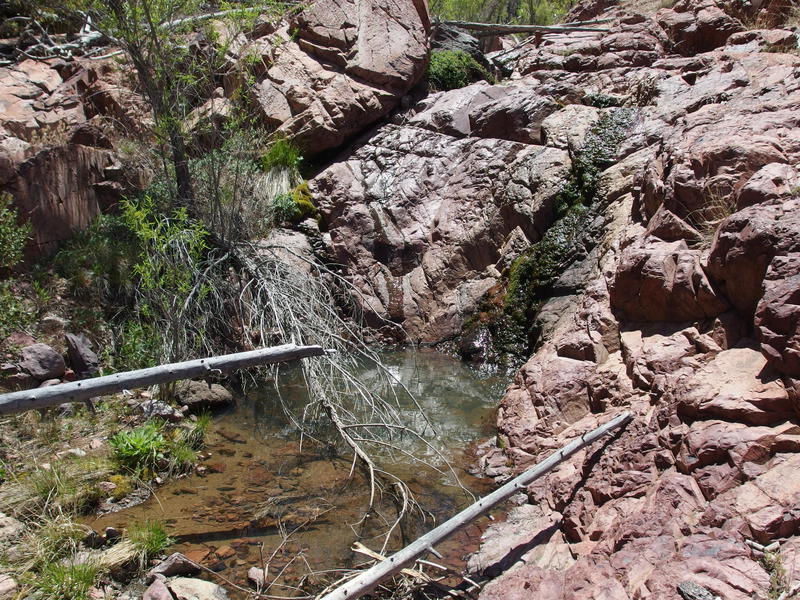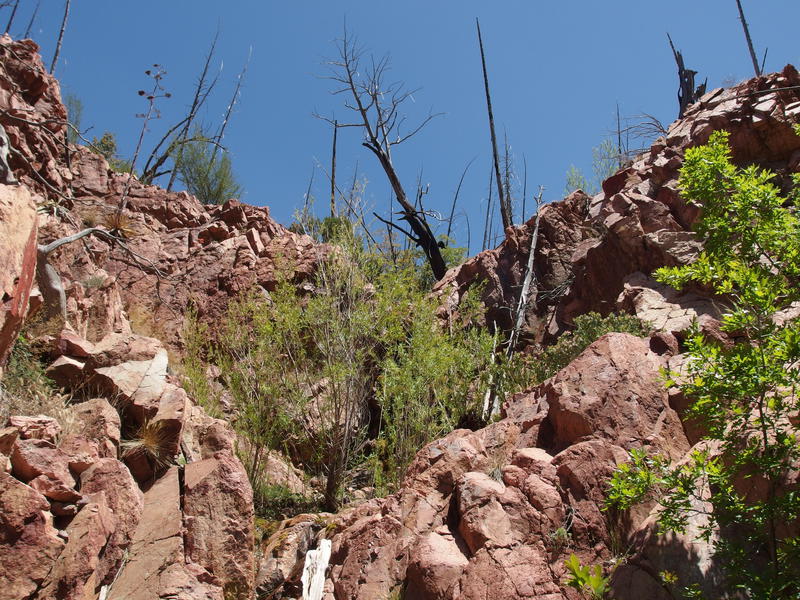 This alternate form of hiking was delightfully easy. No rolling rocks to worry about, I kept above prickly stuff, and most of the logs were solid and wide enough for easy balancing. Practically skipping along I soon ran into the main fork in this tributary, with water pouring down from two separate waterfalls to join in a low pool underneath. The left one was mine, so I hauled up the first drop and found a shaded spot to sit down and relax. I wasn't hurting for water, not with Bear Spring a short distance above me, yet I didn't want to turn away the chance for a quick break.
With fresh water in my stomach and pack I ascended the upper drop, this one forcing me to do legitimate rock-climbing moves up some ledges, then continued onwards. The creek bed was narrower now as I continued upstream and the water soon dried up. Those pricky berry bushes were also more aggressive. With less logs to balance on I had to fight the bushes more frequently, their thorns drawing my blood repeatedly, and I sometimes zipped up to a rocky bank to escape the enclosed tributary. About an hour after starting this climb I suddenly found a small cairn. Checking my GPS I noticed that I was at Fisher Spring.
There was no water here, not at Fisher Spring or the nearby Fisher Tank. The brush was thicker and I even saw some fragile grass blades, though where they pulled their water from was invisible to me. I didn't even see damp ground. Glad I wasn't depending on this for a water source. Curious I looked around for a bit, looking to see if a cement trough or more cairns would lead me to a seep or anything, before giving up. Nothing worth pausing for here and Bear Spring waited for me.
From here the trail climbed up out of the wash and onto an eastern ridge. I guessed that the cairn was supposed to mark where the route bent up but found nothing on the bank. No tread, no more cairns, nothing. No need to be formal, then. I tackled the bank head-on, again digging into the soft, giving soil with locked fingers and scrambling when the earth began to slide me down. A few bushes and clumps of grass gave me extra purchase and I crested the ridge, coughing from the dust and stretching my overworked limbs.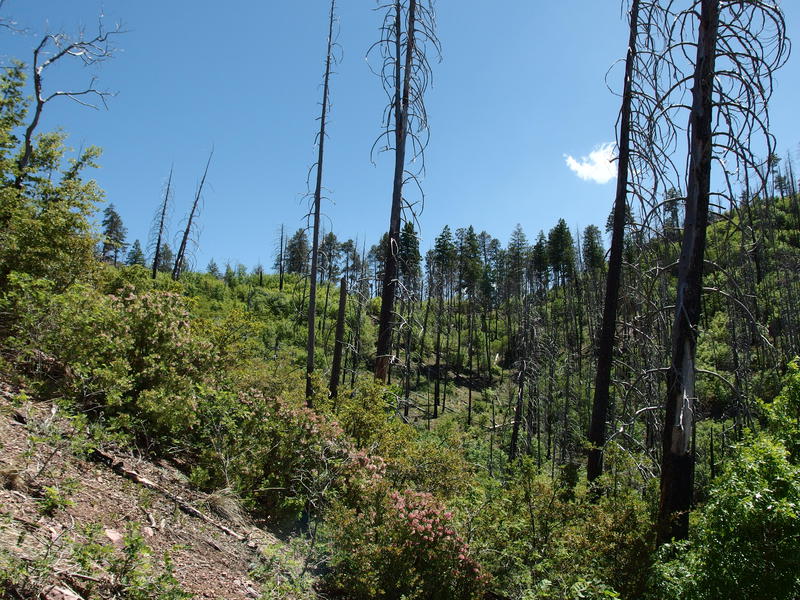 Three hundred yards. Three football fields sat between me and the Mazatzal Divide Trail. Buckling down I pushed through the brush on top of this ridge, lunging off of deadfall and forcing overgrown branches out of the way. There were hints of an old trail, even an old cairn or two, not enough to follow consistently. I stuck to an impromptu path and soon burst upon a wide, clear path through the brush. Finally, a maintained trail. My bushwhacking time on Fisher Trail was done.
Wasting no time for celebration I turned and booked south, making my way to the turn-off for Bear Spring. There were some red streamers here that seemed horrendously out of place. Perhaps one AZT thru-hiker was leaving a sign behind for another one. Shrugging it off I turned towards the spring, sparing one quick glance at the campsite, then sticking to the narrow and cairned path to Bear Spring itself. The water source was small and in a cemented mini-well, maybe a foot deep, and the water had an odd blue tinge. I couldn't care less.
Pulling a liter of dirty water I backtracked the quarter-mile to the campsite and got set up. My knee brace was soaked in sweat and I was past due for a sock change. Also, I wanted to finish up a liter of water from those rock pools on Fisher and at least filter, if not pull more, the water from Bear. Oh, and I wanted to test out my new hammock too.
I've been playing around with hammock camping for almost a year now, using a light and cheap option to test it out. There were good nights and more cold nights, so I figured I'd invest a bit more and get a 'Butt in a Sling'. It is two feet longer than my first hammock and half the weight. Since it's longer I have no way of setting it up at my house, or my in-laws house, so this was the first time I've laid in it. The only spot that worked at Bear Spring was on top of a small clump of manzanita, which seemed appropriate, so it wasn't terribly comfortable. The sun was too bright to allow dozing so I lounged for twenty minutes before sitting up and getting ready for the last leg of today's hike.
Sure, I was done with Brody and Fisher Trails, the two worst parts of the day. I was also eight miles and thousands of feet above my parked van, with a mere four hours of daylight left to spend. I had to head north on the Mazatzal Divide Trail to Wilson Spring and then take Y-Bar Trail down. My knee was not excited about the descent. With the warm afternoon sun I decided to unzip my pants to shorts, roll-up my sleeves, and slather sunscreen liberally before leaving Bear Spring.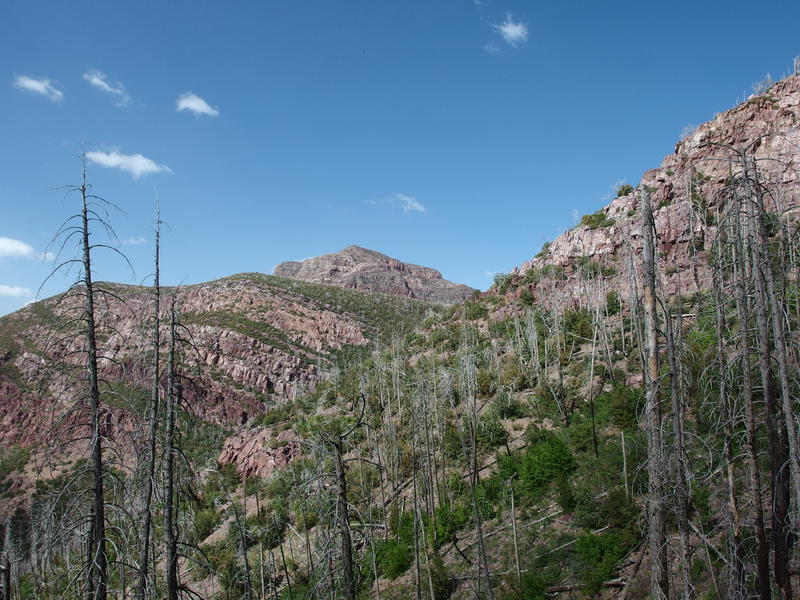 This section of the trail had some massive views, views that I appreciated all the more after hacking through the green nastiness below. Below I could see the low ridges I climbed over and the rocky washes I crossed, and beyond was Midnight Mesa and rugged walls around Deadman Creek. Much of the interesting geology in the western Mazatzals here seemed to have been carved by, or maybe it defined, the flow of that creek. Soon, soon I'll be getting some intimate views of that area.
For now I zipped along the Mazatzal Divide, quickly swinging along a switchback and climbing up to today's highpoint of 6700'. Up here that gentle breeze that occasionally teased me earlier was a gusty wind. It felt wonderful. The brush around the trail swung side to side and any sweat that collected on my brow quickly dried off. Between the cooler air and easy trail it took no time at all to reach the Y-Bar junction.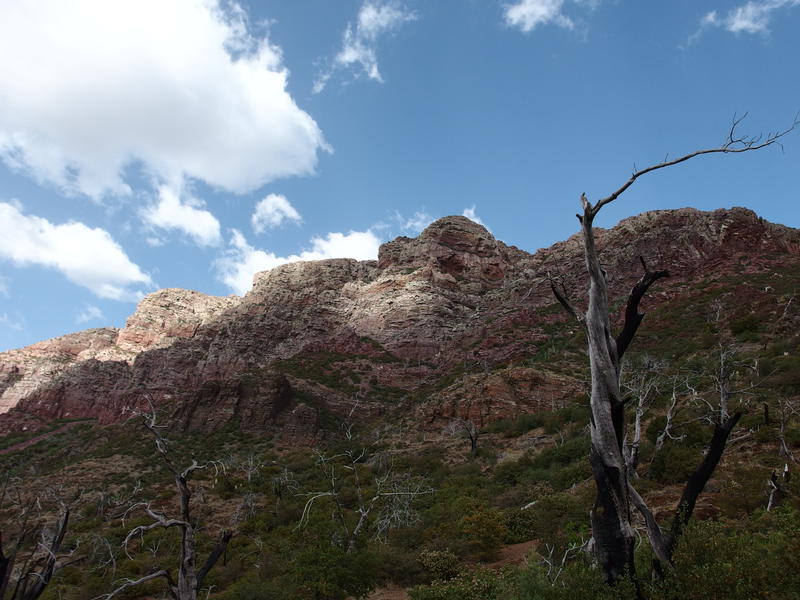 I had less than a liter of water in my pack. Back at Bear Spring I had decided to not pull any more water, thinking that either Windsor or Y-Bar Spring could be depending on. As I started down Y-Bar it was quickly apparent that Windsor was not going to work out. I only made out one shallow pool of stagnant water along my route, more filled with algea than water, so I placed my bets on Y-Bar. There was a third option of tracking the old, overgrown Shake Tree Trail, which swings low here and passes a few dependable tanks, but I was not in the mood for any more bushwhacking.
Y-Bar Spring turned out to be another bust. The water usually pours down in three separate streams across the trail within a few yards, though today only one stream was barely trickling. There was no pool deep enough or flow strong enough for me to collect from. I might have been able to grab a liter with some patience, perhaps. I had no patience. Only four miles were left, all downhill now, and I could survive without a refill.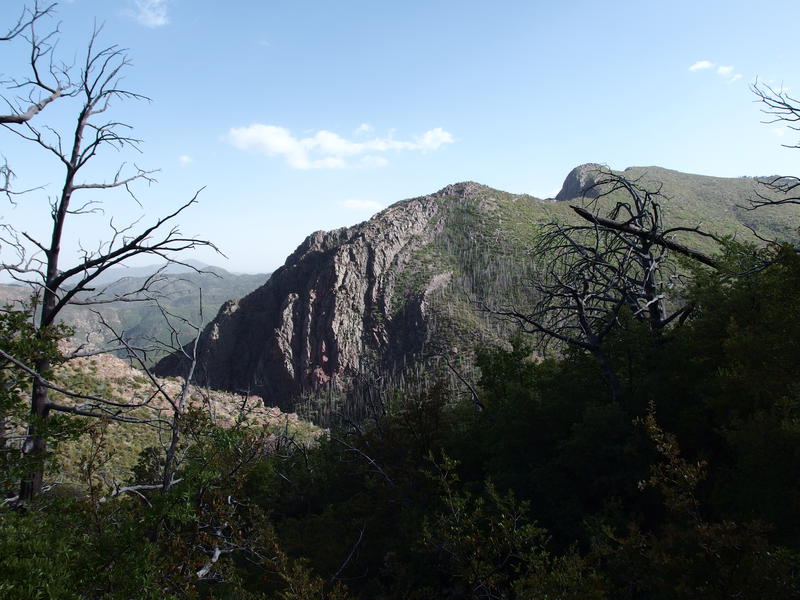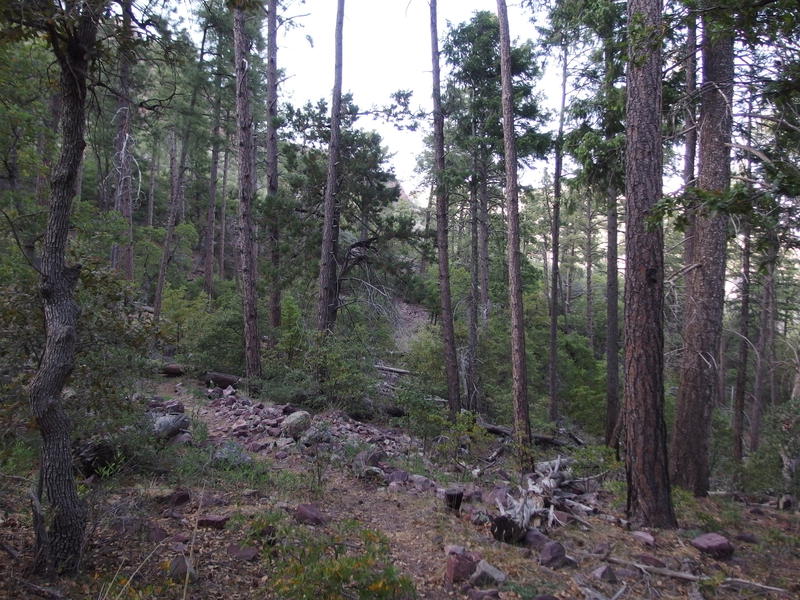 My knees quickly forced me to regret this decision. Beyond the Cactus Ridge Saddle this trail suddenly drops, descending a thousand feet in a mile over loose rocks through a pine forest, and knee pain forced me to creep along with a slow-step pace. Heading up this trail is so much easier than going down. At least I was in full shade now, the afternoon sun dipping below Mazatzal Peak, and that wind was a real force. I had to tuck my hat away to keep it from blowing away.
Beyond the forest was a winding, bucking track along the hillside, and then it was time to turn north towards the trailhead. A few minor downhill sections slowed me briefly. The right knee was being fickle. If the slope was gentle enough to walk, or even run, normally down then it would be nice. Once I had to brace myself against the drops I got shooting pain. One of these days I'll have to go and get it checked out.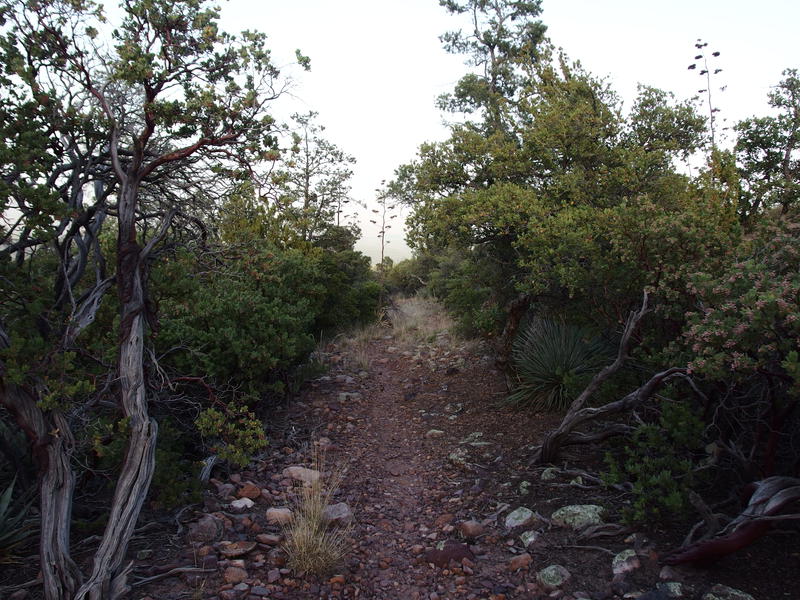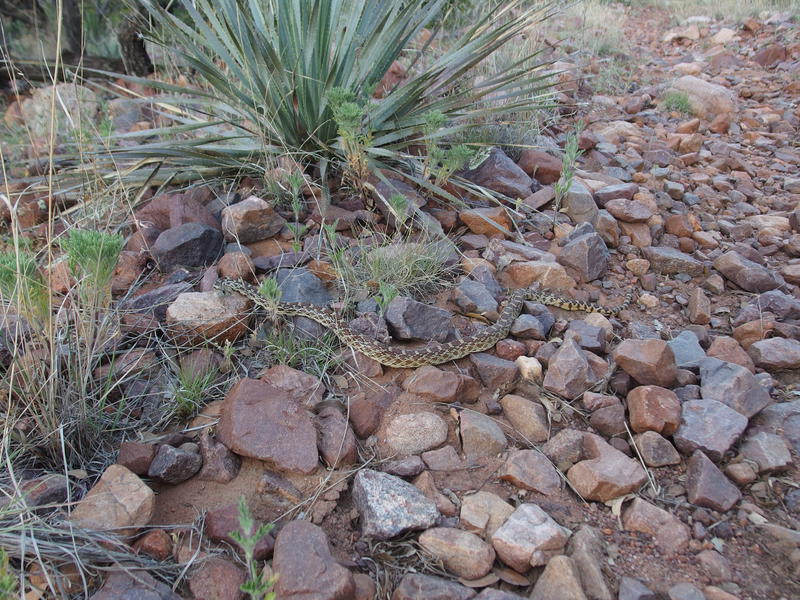 The last mile was a long drop over switchbacks, with the perfect grade to drop fast without aggravating my knee. Along the way I passed two deer and two rattle-less snakes that sure looked like rattlesnakes. Not sure if their markings were mimicry or if they were adolescents - either way I gave them a wide berth. Then I was back on the trailhead. There were a few new vehicles here and not a single person in sight. I had spent all day up in the mountains without seeing anyone.
I drove off with thirty minutes to spare before the sunset. That, that was a long day. Almost fifteen hours to hike twenty miles. My pace wasn't terrible, as my many short breaks definitely added up, but the overgrown trails were quite humbling. Clocking three miles an hour is a luxury that few routes in the Mazatzals are willing to grant.