Several weeks had passed since the boys and I had gone out on a desert hike. I try to take them out on semi-regularly on a little loop in the San Tans near our house, an easy 1.3 miles that Noah is now running through and Thomas rides in the back carrier for the first half and wanders around the second, usually going in the early morning hours before the temperatures get above a hundred. There's only so many times I can take them on that same loop alone before I need a little variety. So when a relatively temperate weekend showed up I bundled them into the car and we headed out to South Mountain in Phoenix to try out a new loop.
Driving to South Mountain involves an annoying amount of highway and distance so it was eight in the morning before we finally reached Pima Canyon trailhead. This is a popular trailhead on a popular mountain and the lots were already overfilled. I parked along the drive and we started walking the few hundred yards to the true trailhead when Noah took a good dive into the gravel. A bloody knee already, less than five minutes into our hike, and I had forgotten to bring along any sort of first aid in my scatter-brained rush this morning. I wiped out the grime with a diaper wipe and when I confirmed that it wasn't going to be a bleeder we headed over to the start of the National Trail.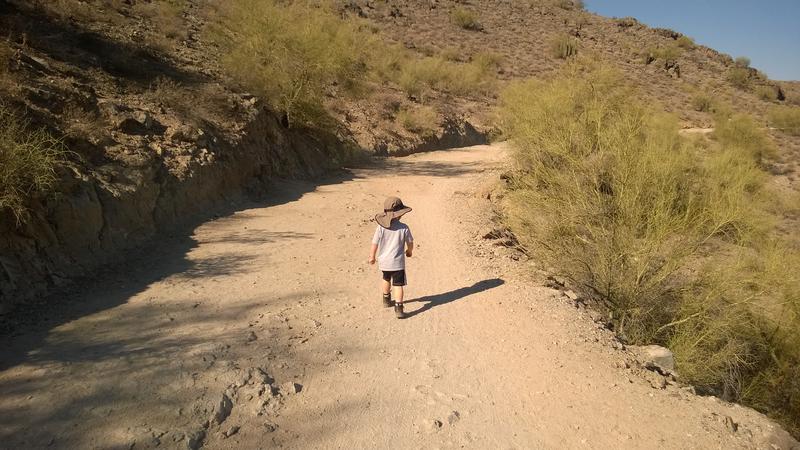 For as the full as the parking lots were, the trails seemed pretty empty, so I let Noah led us along the wide path. Whenever we did bump into a group or biker we would hold hands, mostly to make sure he didn't get run over with his short stature. Thomas seemed content behind me just looking around. That's one of the main reasons I like bringing along Chris or Katie when I hike with the boys - with Thomas in the carrier I can't see if he's smiling or sleeping or grumpy. I had to be content with the half-smile he had on during our selfie.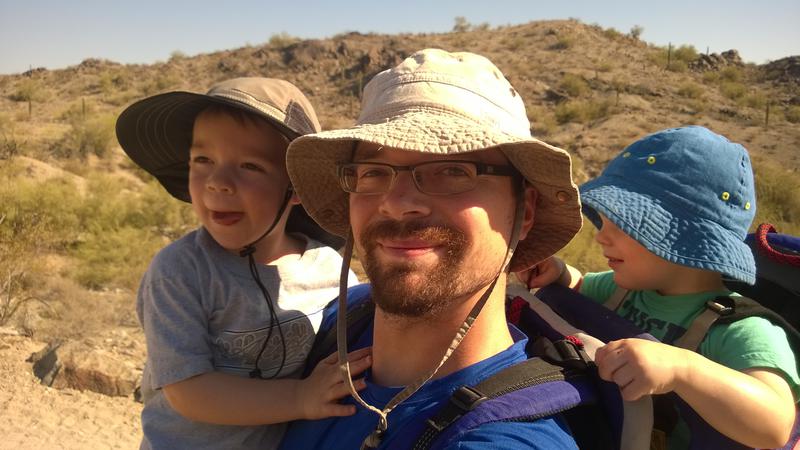 We continued down the trail, sometimes going fast and sometimes slow. I've been trying to make these hikes more fun for Noah and less march-straight-through, especially as I have a tendency to rush through these city routes. We talked about the Palo Verde trees in the wash and the tall cactuses above us. I tried to explain how a wash was kinda like a creek but there's no water, because there's never water in the desert. Some smaller rocks were kicked ahead on the trail. He even led me on a small game of shade shapes.
Soon we reached the point to turn off of National Trail and head up a short saddle to the south. See, the National Trail is a rather long thing, and just about stretches the entire length of South Mountain. We were just doing a small little loop, maybe two miles in all, taking a spur of the Beverly Canyon Trail up and over a saddle on the Marcos de Niza ridge and then the Desert Classic Trail back to the car.
The climb to the saddle started weird, two separate trails leading up and winding around towards the saddle and powerline crossing, so we guessed at one and started up. I'm not sure if it was the right one - I saw another hiker on the other track and a mountain biker passed us - but they eventually merged towards the top. It did get a little steep and loose and I asked Noah if he wanted help but he waved me away. The stubborn little guy climbed the whole way, dropping to his hands on some of the tougher sections, and he got some well-deserved compliments from other hikers.
Once we reached the saddle it was time for a break. Not only did Noah need a chance to sit down and drink some water, Thomas definitely needed to get out and stretch his legs. We relaxed at the saddle for close to twenty minutes, the kids drinking water and munching on snacks, me watching them carefully to make sure no one wandered too far off-trail, before it was time to pack up. Thomas was back in the carrier (it was far too steep on this side of the saddle for him to walk) and Noah took his time.
Dropping down to the Desert Classic trail seemed to take an eternity. Noah was very cautious, which is good because there were a lot of hard rocks and loose dirt. I wasn't the most patient, though. The temperatures on the south face were hot. It was after nine and had to be getting into the nineties already. I tried to let him do his thing and distract myself with the views. I could make out San Tan Mountain the whole time, and some of the little hills beyond it, and a whole lot of haze in between us.
Reaching Desert Classic was a short-lived relief. On one hand it was all flat from here, an easy stroll back to the parking lot, and on the other it was hot and there were a ton of mountain bikes. We were passed by one every five minutes. I wasn't about to risk Thomas wandering along this trail.
So Noah and I walked down the trail as it wound between the southern flank of South Mountain and an encroaching suburb, adobe wall and overhanging non-native trees forming a boundary between desert and civilization. Thomas swung impatiently on my back, feet kicking me in his barely-used hiking boots. This is a long hike for him to be carried through on, and both his impatience and my sweaty back was complaining. Noah made it another half mile before the heat sapped out his energy and I ended up carrying him as well, hooked in one arm, letting my boys chatter with one another over my shoulder as I trudged along.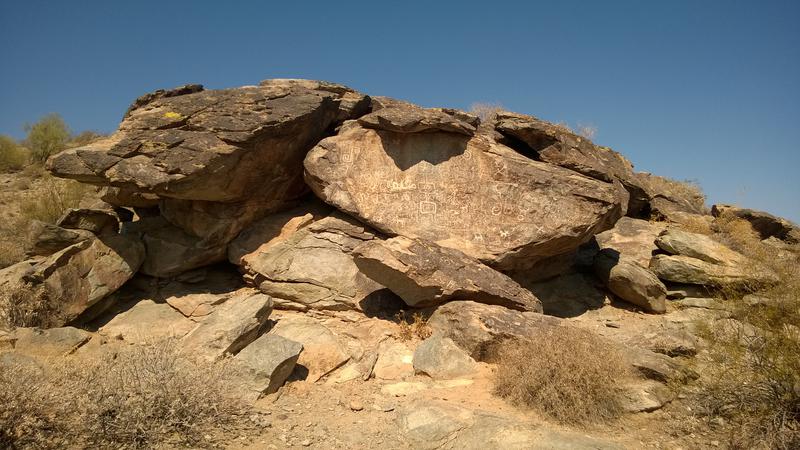 Right before we got to the trailhead I noticed a small fenced-in area and swung over to find some petroglyphs. Noah seemed rested enough so I let him down and we pointed out the different shapes. I tried to explain that people had drawn these a long time ago, just like he draws in his coloring books, but I'm not sure how much he understood. After a while we turned and cut a straight line back to the van, stirring up a road runner along the way.
As I lifted the kids up into the van I noticed how sweaty they both were, even Thomas who had been carried the whole way. They had drank plenty of water out on the hike and I wasn't worried about heat illness or anything, just about our future outings. I've already stopped taking them to the playground in these temperatures. Maybe sticking to that little 1.3 mile loop so close to our house isn't such a bad idea in the summer, keeping things to an hour of sun before retreating back to the AC. These longer South Mountain (or Superstition) trips can always wait until winter.