It's not easy to get my two sons out on a hike these days. Their nap schedules conspire against family activities, being offset just enough to limit the amount of time everyone is awake. The days are short with the coming winter. And then there's the weather to deal with. Even though we live in the Valley of the Sun the temperatures have been dipping down to lows in the 30s, far cooler than Thomas (only 10 months old) is equipped to deal with.
However, just because it's not easy doesn't mean I was about to stop trying. After letting Noah (who is now 2 and a half) have a short nap I woke him and bundled both boys into the van. We made it to South Mountain after four, parking at the Pima Canyon trailhead. Thomas was in good spirits while Noah, a bit sensitive after waking up relatively early, whined a bit as we got out and going.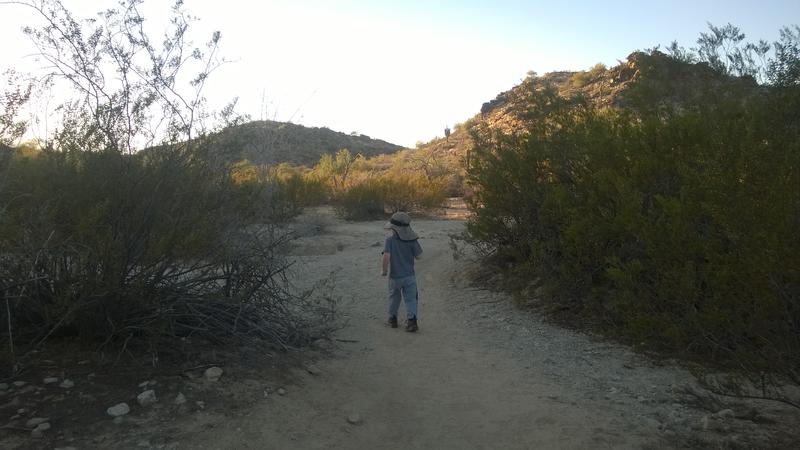 I only had a vague idea of what we were doing here. There are a few trails that lead out of this trailhead, including the one up to National Trail that I had taken Noah on a previous trip to Hidden Valley, but I didn't know this area that well. From a brief glimpse at a map before leaving the house I saw some looping routes east of the trailhead, around the very foothills of South Mountain. One of those could work if I could find my way over to it.
We set out from the car, which I had parked along the drive to the trailhead (the actual parking lot was completely stuffed), and soon found a trail leading down into a nearby wash. Thomas was bundled up in a carrier behind me while Noah led the way. When I spotted a junction with an east-bound trail I pointed Noah to it and we headed down it. Maybe this one of those looping routes I had hoped to find.
The trail wound along the base of the hill, never committing to an actual climb, and followed the edge of a verdant golf course. With the exception of a pair of golfers there really wasn't that many others out here. A few other hikers had been back by the road and no one since then. I had been worried about mountain bikers zipping around a corner and bearing down on Noah, who was only just steady enough on his feet to handle the desert terrain without distraction.
Speaking of Noah, he was doing an outstanding job. All of the crankiness from earlier was gone now that the ground was under his boots and a trail stretched out in front of him. He stuck to the correct path, only needing the occasional prompt from me to keep on track, and handled the tougher rock climbs like a pro. When he did need help he would wait for me, hold my hand, get over the obstacle, and then continue leading. It's hard to believe that a mere year ago we were just starting hiking together with him spending most of the time in the carrier where Thomas now relaxed.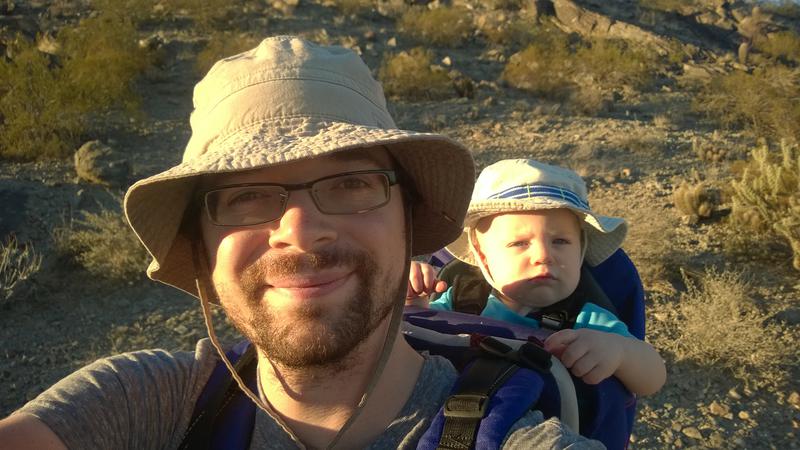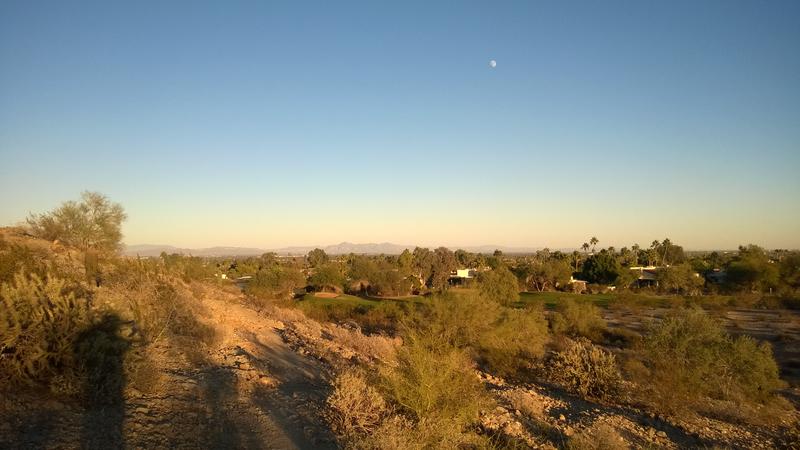 We continued heading east, away from the car and the setting sun, and I began to wonder if we'd ever start the loop around this hill. I didn't mind the warm sun on our backs. It was warm enough for both kids to be in short sleeved shirts though I did have sweatshirts for both packed in the carrier. There was no way we'd finish this hike before the sunset and the temperatures would drop quick. When the trail did curve north and we entered the shade of the hill I already felt a little chill in the air.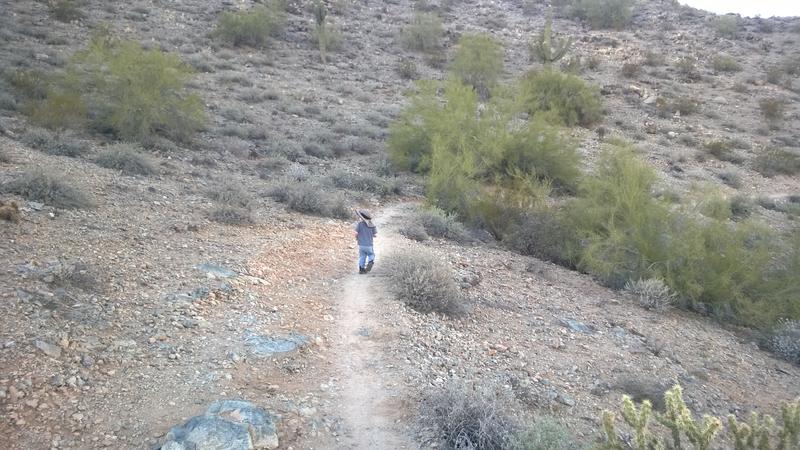 Our route weaved a bit, dropped down into a wash, then made a sharp turn west and climbed into a saddle. Finally, a close to the loop. The grade was a change, not steep enough to get worried about yet enough to slow down Noah. He began to get distracted by washouts on the trail, stopping and looking at everything, as kids do when they are getting tired. I coaxed him up until we were near the top and then, noticing a little saddle to the north, scooped him up and carried both sons over to a clearing.
The Phoenix metropolitan stretched lazily under the last light of the sun, long shadows reaching out from South Mountain across Tempe. Squaw Peak, Camelback, and the McDowells all made appearances across the way, everything lit up in pinks and soft reds of the dying day. Our clearing was in a weird saddle between hills that overlooked the mouth of Beverly Canyon and had some benches and signs of campfire nearby. I didn't think camping was allowed up here. Maybe the Boy Scouts or school groups get a special pass.
I took the break as an opportunity to pull a sweater on to Thomas. He didn't seem like he was getting cold, but best to be safe. Noah was okay for now as he was still going to be hiking on the trail. At least I hoped he was. He had slowed down a lot getting up here and didn't look that excited to get back on the trail.
There was still more to climb, another saddle to cross over, and getting up it was painfully slow. Noah meandered around and began to sit down in protest. The poor guy was getting tired. After the second stop I sat down with him and got a bar out for him to munch on. We pointed at colorful rocks, talked about the bunnies we had seen earlier on the hike, and he ate his fruit bar. After that long break we were able to peak the final saddle, a good hundred foot climb or so, an impressive climb for his little legs. We stopped at the top and looked back at a pink Four Peaks in the distance.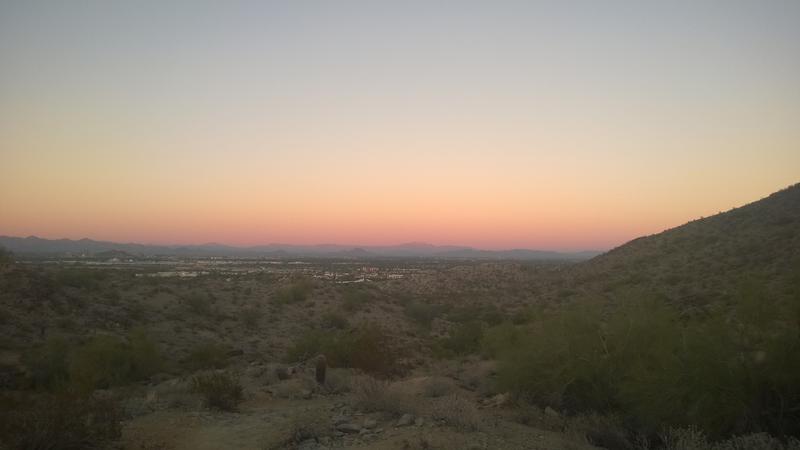 From here I didn't have much of a choice but to pick up Noah and carry him down. Our path was far too steep and rocky for him and he has a tendency to run down slopes as it is. We passed a few other hikers, the first people we had seen on the trail in an hour, before making it to the bottom of the hill. From here it was just a simple jaunt back over a few trail junctions to get back to the car.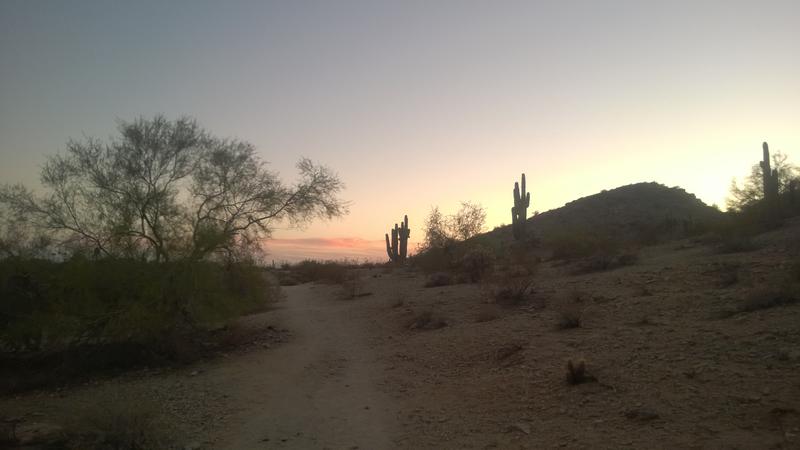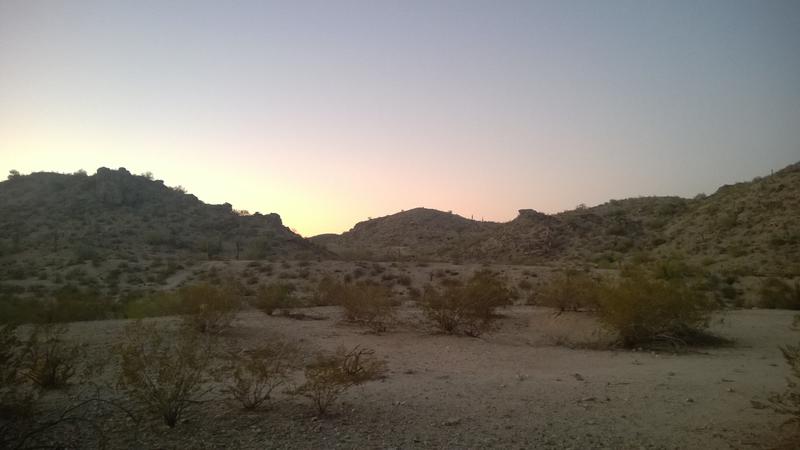 The hike had lasted just over an hour and ventured maybe twenty minutes past the sunset. The last bit was probably too cold for Thomas, even bundled in a hooded sweatshirt, and I made a note to bring along mittens on the next outing. Noah walked (almost) the entire time, though. Over two miles of desert trail up and down a few saddles and he lasted the whole time. Even if it is tough to coordinate schedules I think I need to get him out on more of my hikes.