Pink-tinted daylight spread over the low desert hills in the predawn. It was early, though not pre-dawn early, when Noah and I got out of the car and stepped into cool air. I wore shorts and a t-shirt - he wore pants, jacket, mittens and hat. I'd be carrying my son some six miles today and would soon generate more than enough heat to compensate for the 50-ish degrees out.
Before we could get everything squared away a familiar car rolled up behind us. Chris, Kirsty, and Theresa stepped out, all dressed in many more layers than me. A few quick greetings and the five of us headed up the rest of the way to the Pima Canyon Trailhead. It was crowded already here, cars filling the small lot and spilling out along the access road, people milling around and starting down one of several trails that spill from this access.
Our destination today was Hidden Valley, a spot that Chris, Kirsty, and I had visited many months ago from Mormon Trail. Today's route was quite a bit longer. We would take Pima Canyon up for several miles before climbing up the National Trail which would take us right to the valley. Depending on our energy and Noah's patience we were considering an alternate trail back up on the Guadelupe Ridge, which would add a lot of elevation difference and a more exposed return.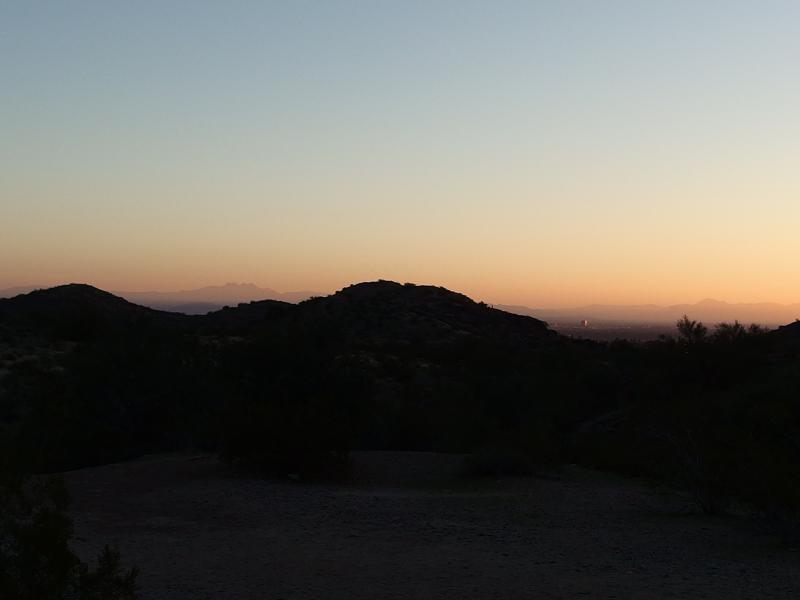 Pima Canyon apparently has two paths up - an access road and a trail. We just walked the road, not knowing any better. Most people were walking the road. It was wide and in good shape and climbed very slowly, giving us glimpses of the city to the south and east. Along the way all of us chatted, getting to know Theresa better (a friend of the Reynolds who was visiting for the weekend) and keeping Noah distracted. He normally does good in the carrier but with Chris and Kirsty around (both of whom he was playing with last night) he was more riled than normal.
We passed some old rock ruins, probably the remains of an old homestead up here, and Beverly Canyon. I wasn't too engaged in the historical value of these areas. This was South Mountain after all, in the heart of Phoenix/Tempe, and the sounds and sights of the busy city impede on just about every hike in these hills. We pushed on quickly and soon came to the end of the service road. The hill climbed up suddenly in front of us, all rock and brush, marking the end of our easy stroll on the wide track.
Switchbacks dominated the way up National Trail though they weren't as annoying here as other paths I've been on. Sometimes the switches are so tight it's easier to use them as stairs. We slowly climbed up the hill, stopping every couple dozen yards to catch our breath or to get out of the way for a sweating biker. This trail was narrow enough to make such passes pretty inconvenient.
The views north and east began to open up more as we continued up, with Camelback looming over downtown Phoenix and the haziness of Gilbert coming into the light. More directly below us was the Ridge Trail, that path I had been on several months ago with Noah during the Beverly/Javelina Loop. We were easily at twice that height already. At least now I knew what trails I had seen that day - that wide path I had mistaken for the National Trail was actually the Pima access road.
We crested the climb, rested for a minute, and then pushed on. We had a ways to go on this ridge yet. It was broken up by narrow winding sections around huge boulders and wide openings that made for easy gathers. I could imagine it being useful for mountain bikers. They could peddle hard, group up in the openings to discuss the next leg, and then tackle the next section. It also made it easier for us to stop and look around. We were still gaining elevation on the way to Hidden Valley and more and more city was visible to the north.
Noah was having a ball. Whatever little issues he had been going through at the start of the hike were long gone. He had stripped off his mittens early in the hike, a common practice of his, but he was still bundled in several layers and had a warm hat on. He was more than comfortable for the relatively chilly air. He played with my hat, talked gibberish to the others in our group, and sometimes even shouted a greeting to people as we passed them by.
Before we knew it there was a sign pointing south for Hidden Valley and we were at the little cave entrance. Theresa and Chris opted to go over, more interested in the adventurous route than in the cool and sandy entrance to the valley, so only Kirsty and I ducked through. Once we reached the other side I decided it was time for Noah to get his hiking in.
Today's adventure was perfect for him. I didn't want him just rambling around the trails with traffic and bikers zipping past, which is why the relative solitude of Hidden Valley and its inaccessibility for bikers made this stretch so perfect for Noah to roam around. We would have close to a half mile for him to walk along, most of over smooth and sandy stretches. As soon as I took him out of the carrier he was all smiles and loud, happy screeches, running around and excited to get a bit of freedom.
Soon the wayward members of our group caught up and all five of us walked through the valley. I kept a close eye on my son, yet not too close. The winter is too cold for most of the desert's dangerous critters to be out, there were few obstacles for him to tumble over, and both Chris and Kirsty were happy to play with him as we meandered along. It was a bit slow going, and a few other groups passed us by, and none of us minded too much.
Too soon we were on the far end of the valley with the narrow crack of Fat Man's Pass facing us. Again, Chris and Theresa opted to go up and over the obstacle. Kirsty went through first, guiding little Noah along, and I followed with some words of encouragement. The crack is so skinny that even the twenty month-old toddler had to walk sideways - and he wasn't too sure of that.
Once we reached the other side we stopped and pondered our route. Guadelupe Ridge was on the other side, to the south, and would give us a different and more challenging return trip. National Trail, which simply looped to the north of Hidden Valley, would give us an easier and well-known walk back. And Noah became a regular terror when he realized that it was time to go back in the carrier and that his brief freedom had come to an end. We decided to take National back.
We made quick time on the trail, glancing over a few times in recognition of the Mormon Loop sections, which Kirsty had taken Chris and I up almost six months ago. The sun was already beating down on us out here, feeling several times hotter than it had on the way up. Oh, and everyone had water except for me. Even Noah was sipping on his cup almost as if to mock me. This was a mild six-mile hike over three hours, not nearly enough for me to worry about carrying water for me.
By the time we hit Pima Canyon again the trails were crowded with hikers, bikers, and runners. We had to zig and zag around chatty groups and were pushed to the side multiple times by road-spanning masses. Noah fell asleep behind me, lulled by the warming day and my rocking gait, and we pushed fast to the trailhead. When we reached the cars things had started to feel more like a zoo on a discount day than a desert hike. None of us wanted to stick around in the mess of people and we all quickly went our separate ways, happy with the hike but done with the crowds on South Mountain.