Bringing Noah along for a hike has been a long-standing desire of mine. A love for the outdoors, for the dirt and trails and campfires, is something that I largely attribute to my parents. Well, my parents and some family friends growing up. We knew a family who camped and hunted regularly, brown-skinned youths and rugged-looking parents, who knew all sorts of valuable survival skills that I greatly envied. Anyways, bringing Noah along for some of my hikes would be a great first step.
Wisconsin didn't work too well for that. A three hour drive to the Upper Peninsula was far too long for an infant/toddler and even when we got there it'd be difficult to juggle parenting with my type of exploring. Maybe mixed with a hotel stay and some meanders around Marquette, sure, but it just never really worked out. And local hikes… the Fox Valley area doesn't have much to offer there. This was one of the few things I was excited about during the move to Arizona. There is a plethora of hikes within an hour's drive of our place in Seville, plenty of easy trips to haul Noah on, and within two weeks of our move I was driving him over to the Goldmine Trailhead of the San Tan Regional Park.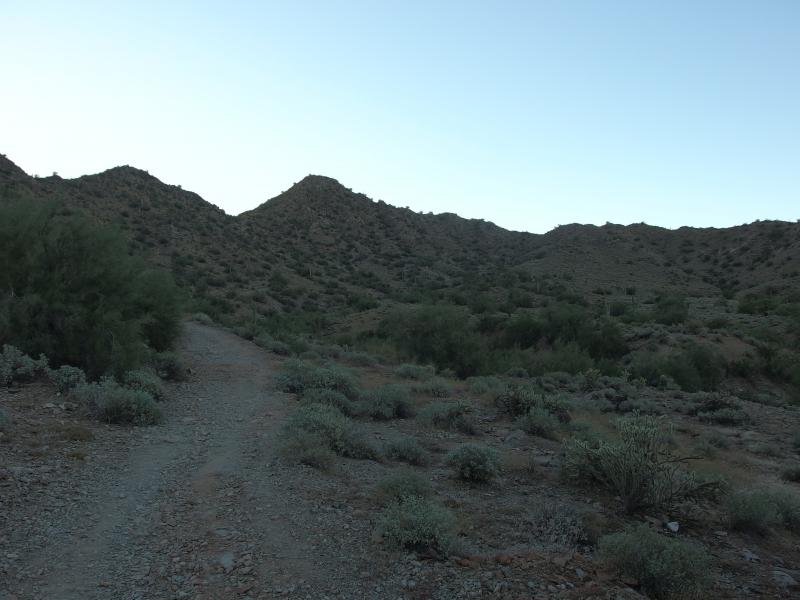 My knowledge of this area was limited, even with it being a short fifteen minute drive. There was a gold mine here at some point, though I'm not sure how successful the venture was. Oh, and the park doesn't include the true San Tan Mountain, which sits within the Gila River Indian Reservation. That mountain makes for an impressive view from my backyard, rising some 1500' above the valley less than 4 miles away. Maybe another day.
The Goldmine Trailhead is located a short jog south of Hunt Highway and is a good access point to the north and west areas of the San Tan Regional Park. There are two trails that split a short distance from the parking area: Goldmine and Dynamite. Combined with the San Tan Trail they make a nice 5 mile triangular loop with around 1000' of elevation change. Hoping to take advantage of the early morning shade (for Noah's sake) I decided to tackle the hike in a clockwise direction, climbing up the steep saddle of Goldmine right away before descending into the main valley to San Tan Trail and taking Dynamite back.
Noah was in great spirits at the beginning of the trail. It was steep going up Goldmine, a steady climb that really accelerates near the main saddle, and I took my time huffing and puffing with his 30-odd pounds weighing on my back. We cut close to the trailside trees for him to grab at (after making sure they were thornless) and he chatted up a storm while playing with the back of my hat. There were a few people on the trail that he eyed up cautiously. He can be very shy, either a trait passed on from me or a side-effect of him not being in daycare anymore.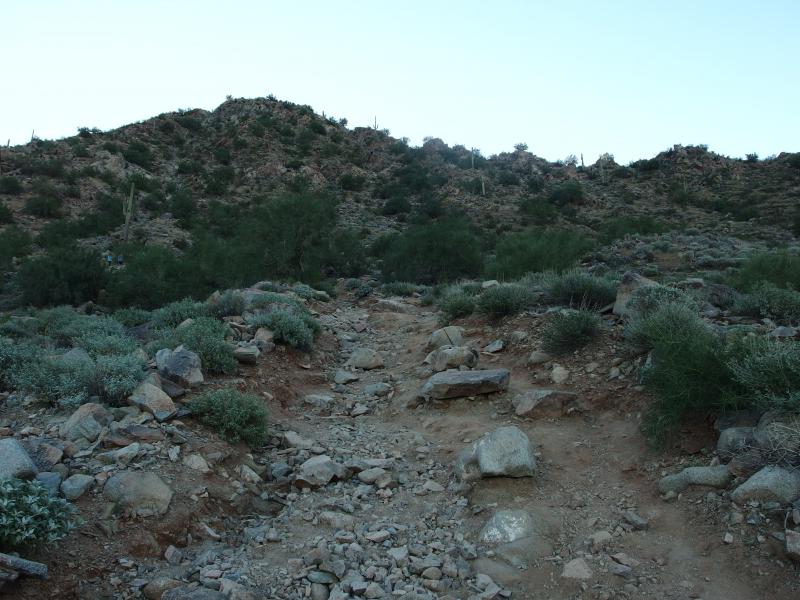 On the way up to the saddle we got some decent views over at San Tan Mountain to the west. It looks like a sweet climb. You'd get some great views of the park over here, as well as some angles on the Sierra Estrella range further to the west. I've heard of previous hikers ignoring the reservation lines and climbing it. It took me several years to get used to wandering around up around/on the HMC land up north. Not sure if I want to start that up down here.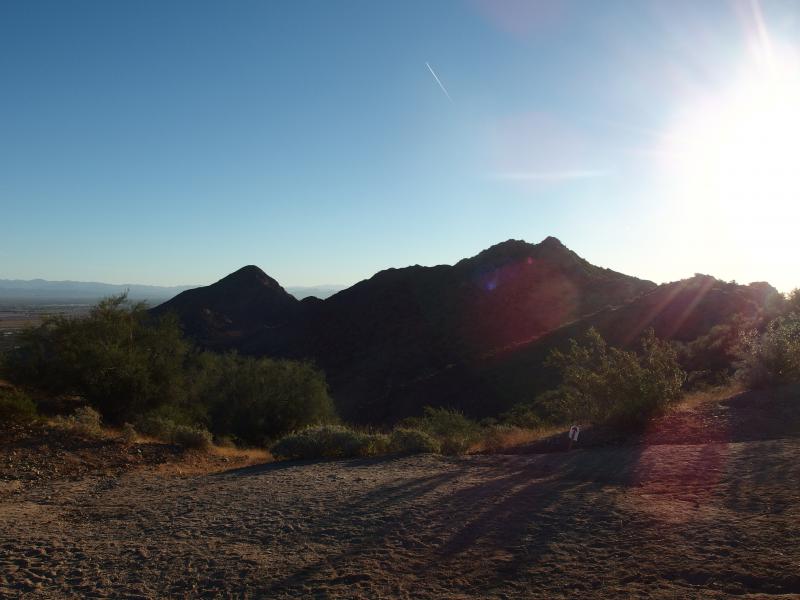 The last piece of the saddle was a steep and rocky climb that knocked the wind out of me. By the time I reached the saddle I was already sweating. It wasn't terribly hot out, maybe eighty or so, but between my Midwestern blood and yesterday's hike up Camelback that climb knocked a lot out of me. This was the first major milestone of the hike, so I took Noah out of the carrier and let him wander around a bit. He wasn't terribly interested in the views or morning sun, content with sitting in the dirt and playing with rocks, so I looked around for him.
We still had a long ways to go. The saddle is roughly the halfway point on Goldmine Trail. There was the descent, and then the valley, and then the long return on Dynamite. This was the steepest part of the hike, though. I leaned on that reassurance as I shared some water with Noah before bundling us up to continue on.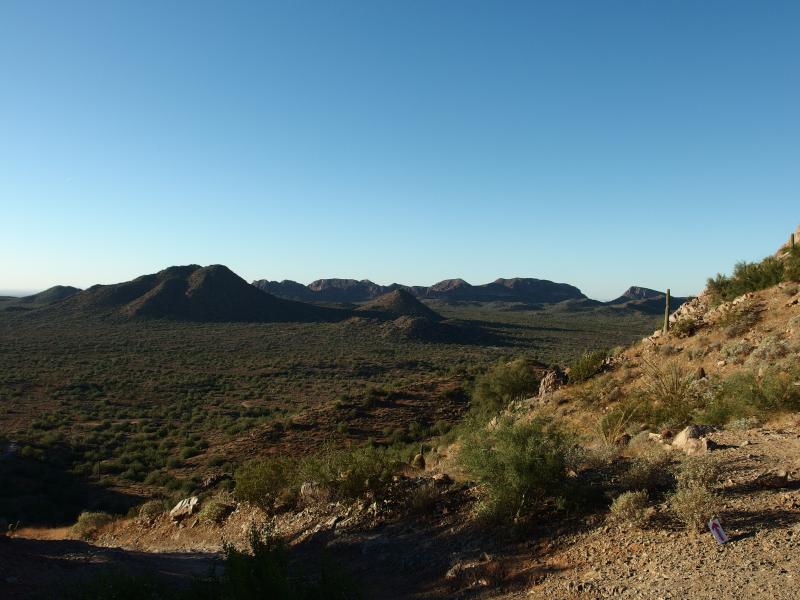 The ridge was short and scenic, offering a few good views north towards McDowell and the Superstition Ridgeline before twisting south into the valley. The valley was beautiful. Hills and bluffs rose up on the far side, hinting at more fun hikes to the south, and everything was coated with a lush green. More green than I would have expected in a desert. Our trail wound around the side of the hill, dropping gently down, and I quickly trotted forward over the gravel and rock path.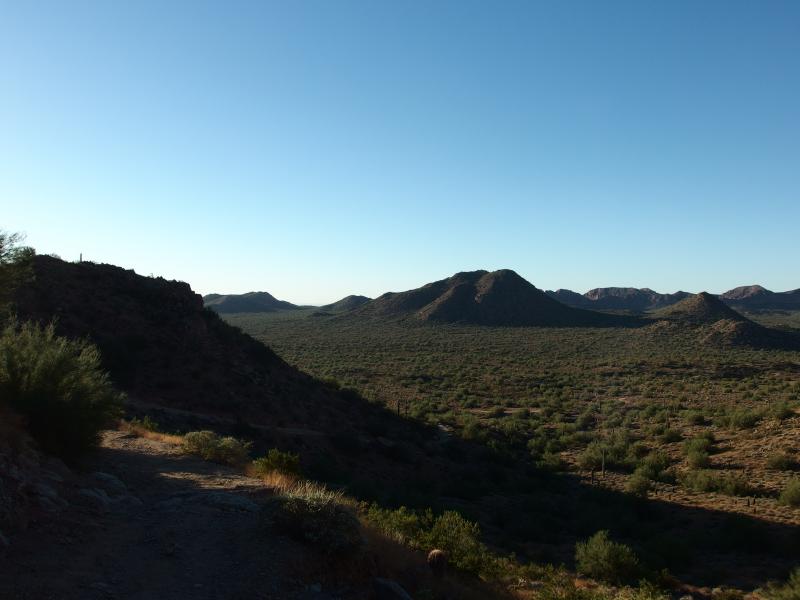 When I reached the base of hill a fork showed up and I headed right, moving west along what I assumed was the San Tan Trail. This worked out well. The sun was high above the valley, hot and bright, and Noah and I could keep our backs to it. He hates wearing a hat or sunglasses, ripping them off with vigor, and as long as the sunscreen on his neck and arms held up we should be okay for this morning hike.
There were less people on this trail. We had seen six or seven groups along the last one, some only climbing up to the saddle before turning around and heading back to the trailhead, and now we were relatively alone. A handful of mountain bikers passed us by, calling out before zipping past, briefly confusing Noah with their colorful wear and odd mode of transport. Everytime one came near I stepped off the trail, and soon he caught on and began to tap on my shoulder when one was coming. He was my little biker alarm.
We made quick time on the flat valley trail and soon came upon another fork. I turned right again, this time onto Dynamite Trail, and we started heading back north. I had plans to stop a second time near here, to give Noah another break, but he seemed fine to stay in the carrier. We played a sort of whack-a-mole on my shoulder, me trying to grab his hand before he withdrew it, and I passed him back pieces of a toddler granola bar. He was a great hiking companion. The carrier, while trapping a lot of sweat on my back, did a good job distributing his weight.
Dynamite Trail climbs back up the hill we had crossed, leaning on the western side and keeping us in shade, and weaves in and out along the different creases. It was easy going compared to the first part of the hike. The climb was gradual and easy up a narrow path. The constant weaving added distance, though the direct views of San Tan Mountain to the west was worth it.
We began to see more traffic on this trail. There was a marathon today on these trails, a long loop through the entire park, and some of the faster runners were starting to catch up to us. This section of the trail was at mile 10 or so, near the half-way point for the longer runs, and the people who passed us were serious and all wiry muscles. I pushed on faster, aware of both the increased traffic and Noah's upcoming nap time.
Some of the traffic began to leak in from the opposite direction, hikers who just started at the trailhead and were taking Dynamite into the park. They were refreshed and chatty, waving hello to Noah and commenting on his carrier, more dynamic than the busy runners or quick bikers we had been seeing for the last hour or so. He ate up all the attention. By the time we reached the merge of the trails he was exhausted, pooped from all the interactions and proximity to nap time.
He fell asleep on the short ten minute drive back to the house, waking up long enough to be put down in his warm crib. Our hike had been almost two hours long, a decent length by both of our standards. And it had been a great success. I eagerly began to plot future adventures, wondering how soon it would be before we'd be walking together down the trails. Destinatins like Flatiron would be far too dangerous to take him on, but anything like Camelback or South Mountain could make great winter outings. Our adventures together had only just begun.