A few miles from our house in Gilbert is a little county park that I have barely explored. Well, maybe I misused the word 'little'. San Tan Mountain Regional Park is over 10,000 acres and offers miles and miles of trails. Until now the only loop I've really explored is the Goldmine/Dynamite, both because it has a nearby trailhead (less than a ten minute drive) and is the most challenging loop at the park (about 800' elevation gain over four miles). Many of the trails in the park are beyond this loop in a little valley that I just hadn't extended out to yet.
The last hike with my sons left me feeling optimistic. Noah was able to hike a solid few miles with little assistance and stayed on trail, and Thomas had been in good spirits for much of the hike. When Katie asked if we could go on a hike in the afternoon I figured that an easy hop over to the San Tan park would work perfect. We could do a little loop in the interior of the valley and explore some new ground for future adventures.
Reaching the main trailhead was a bit longer of a drive. Instead of the quick jump down to Goldmine trailhead we had to circle around to Ellsworth and come in on Phillips, a good ten miles away. Which isn't bad compared to the forty miles to the trailheads of the Superstitions yet seemed to stretch out with an angry kid in the back. Noah had to be woken up in the middle of a late afternoon nap and was expressing his emotions during the entire drive. When we finally pulled into the parking lot we were all ready to get out of the enclosed van and face the open air.
Speaking of the open air, the sun was already hanging low in the sky by the time we started out on the trail. A small hill in the west exaggerated its position and it was obvious that we'd soon be in the shade. It was relative cold already, no more than sixty degrees out, and the temperature would be dropping even lower after the sunset. Both kids were bundled up, especially Thomas, though I figured I'd keep warm enough in shorts carrying the ten-month-old on my back.
Our loop was simple enough. From the parking lot we would follow the Moonlight Trail west, turn south on the Stargazer near the base of that western hill and take it along the base, then circle back north and east up a section of the San Tan Trail. The entire thing was maybe three miles with negligible elevation difference, just long enough to tire out Noah and return to the car a bit after the sunset.
The day was dying fast. A few minutes from the parking lot and I took a look north at the Goldmine Mountains, up around that loop I was familiar with. They were lit up in soft pinks and reds as the sun cast desperate rays at it, long shadows stretching from the ridges down over the desert floor. It would be a gamble on whether or not we'd be out here in the dark.
For now there was only one thing to do - head west down the Moonlight Trail. Katie took over Noah duty and alternated between holding his hand and keeping a watchful eye as he trundled ahead on the path. He was a bit more hesitant today, either too tired or shy to really enjoy our outing, and she frequently had to encourage him to keep moving. Thomas and I held back and babbled back and forth over my shoulder.
There were a few washes to travel down and through and little variety besides. I tried to guess at a few of the desert flora around us, pointing out the ocotillo and chollas, though there were some green-skinned brushy trees that I could only guess at. They were gnarly and tangled like Palo Verde, but I think every tree out here is gnarly and tangled like Palo Verde, so that didn't help. No animals showed up, not even the bunnies that Noah liked to point out so energetically on past hikes. Just the four of us on an empty trail.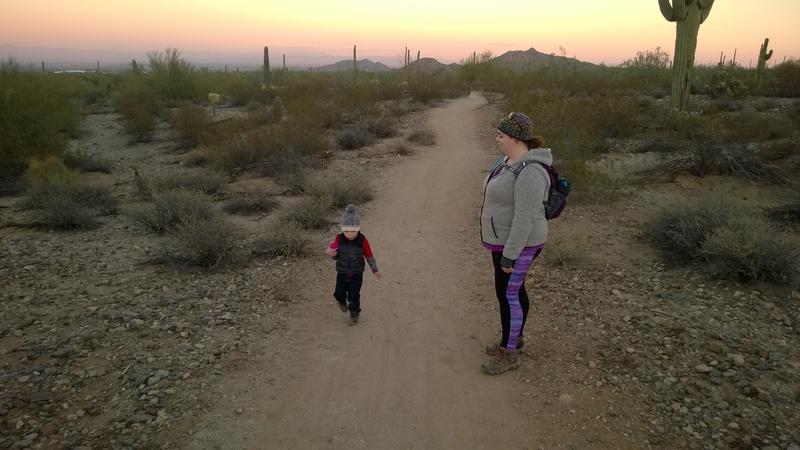 The sun continued to drop around us until no light shown on the Goldmine Mountains and even the distant Superstition rises were dim and pink and void of direct sunlight. I shivered a bit involuntarily. Turning around was an option. We weren't even on Stargazer yet, not even a third of the way through the hike, and the sun was already gone. I kept my thoughts to myself. Even with the sun gone there was still more than enough ambient light to keep going for quite some time and both kids had enough clothes to keep warm.
Soon enough our turn showed up for Stargazer and we started south along the base of the little hill. I kept glancing up the hill and wondered about climbing it. Scrambling up desert hills is always a painful process, bushwhacking through cacti and prickly plants and over loose rock, but the view from up there would have been interesting. The little valley slipped away in all directions with San Tan, and beyond that the Superstitions, sprawled out in the east. For now I kept to the trail and kept an eye on Noah and Katie.
Stargazer Trail was a bit more interesting, climbing a little here and there and sweeping in and out from the base of the hill. It narrowed too, going from the width of an old Jeep trail down to a legitimate footpath. Brush hung close on each side, trimmed back just enough to be interesting and not intrusive. Noah chose this time to slow down and meander even more, forcing Katie to constantly stop and wait for him as he paused to gaze at rocks and plants, and Thomas and I tried to be patient. After the second glove was tossed down from Thomas it seemed that he was getting tired of the slow progress as well.
There wasn't much to do about it, though. We wound back and forth, encouraged Noah to keep going, and tried to keep Thomas bundled up. The sky continued to darken and temperatures continued to dip as we slowly made our way along the base of the hill. At least they seemed to be having fun. Katie and I worried about everything while Noah looked around in wonder and Thomas babbled away happily.
Eventually we passed a bench and turned east, the trail heading down just enough of an incline for Noah to speed up to a little trot. We were on the way back, or at least getting close to it. The sky was a dim pinkish hue turning blue around the edges and the horizon softened in the distance.
When we reached the San Tan Trail and turned north Noah finally gave in and sat down. The hike had worn him out. Katie carried him for a few dozen yards before her hips started bothering her so I offered to help out. Hauling two of my sons on the trail was a lot more enjoyable than the forty-odd pounds I backpack with. Plus, carrying Noah gave Katie and I a chance to walk at a normal pace, a surprising luxury compared to earlier.
We made quick work of the San Tan Trail. Katie was starting to get worried about the coming darkness and I was just straight up hungry. Neither Thomas nor Noah seemed too worried about the dark, though they did quiet up as things disappeared from sight. Our trail was flat and predictable and safe, the temperature cold enough to keep critters away, and I enjoyed the coming night even as I looked forward to the hot pizza waiting for us.
So the interior trails of the park turned out to be a great little trip for us. The trailhead is close enough for quick visits and the terrain flat enough for Noah to make it a few miles before needing help. The fees are a bit high ($6 for a day pass) - if we're here long enough for Thomas to start hiking on his own, I may look into a annual pass. Plus this little loop is one of the smallest ones here. When Noah starts walking further on his own we'll probably tackle some of the longer ones that travel around that little hill and butt up against the neat-looking southern cliffs.