Blinding morning light shone hot over the Superstitions, pouring over the highlands around Bluff Springs and Coffee Flat and trickling onto First Water Trailhead. Katie and I moved like two well-practiced machines under the hot sun. There were sunhats to put on the kids, sunscreen to apply, snacks and water to check, and then carriers to load up. I had Noah on my back in a large backpacking carrier and she had Thomas in a smaller cloth Tula. With a grim nod to each other we walked past the park ranger talking to some other hikers and headed out on the Lost Dutchman Trail.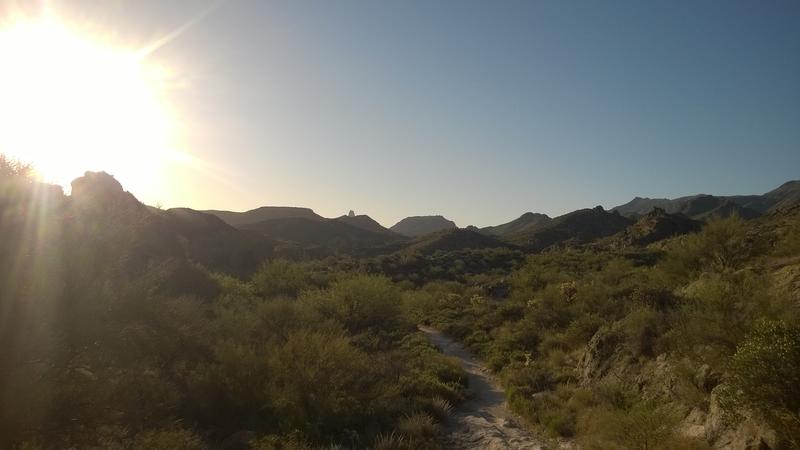 The loop we were doing was nothing new. I had done the exact same route through Garden Valley last year with my parents. Today I was taking it up a notch, bringing both kids and Katie along on the five-ish miles along the outskirts of the Superstition Wilderness. It's not a terribly hard loop. We were going to follow Lost Dutchman Trail to Second Water, which climbs up a few hundred feet to Garden Valley, then turn on a side trail over towards Hackberry Spring and come back through First Water Ranch. While the route is not difficult, it is completely exposed (yay desert hiking), and doing it on a hot spring day with both kids was going to be challenge.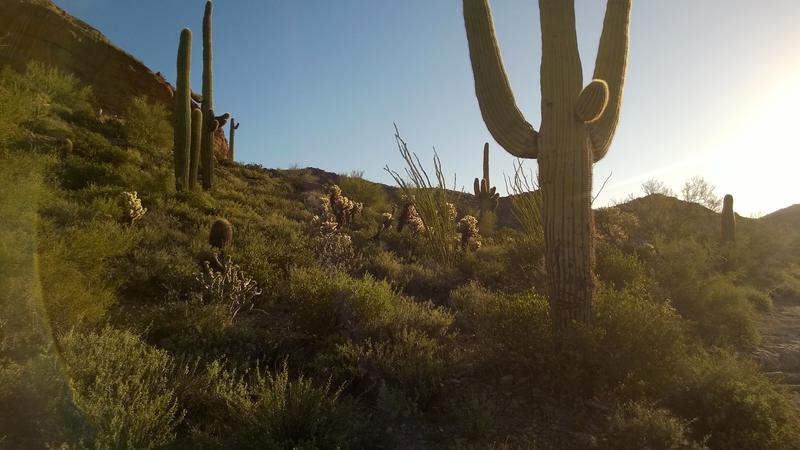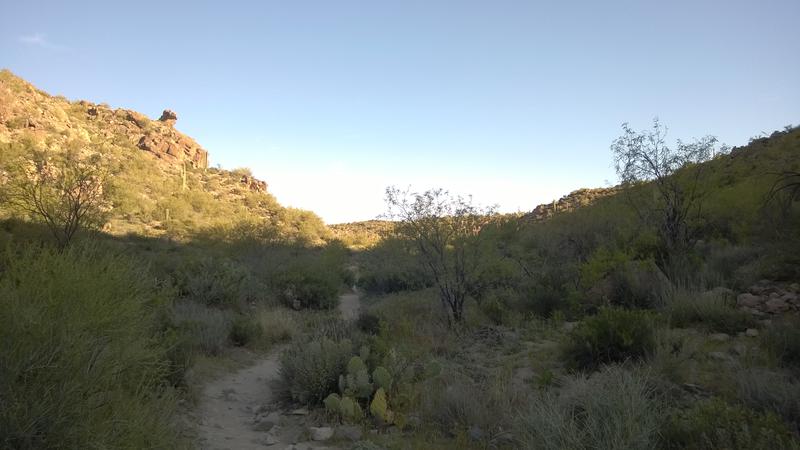 We made it through First Water Creek and up the brief climb on the other side with little problem. Once below Garden Valley, though, we ran a brief sanity check. I was doing fine with Noah on my back - the backpacking carrier I use distributes his weight well (I've used it on almost every hike we go on). Katie and the Tula were not so great. Thomas is darn close to twenty-five pounds now and is pushing the limits on what that carrier can handle. With several hundred feet to climb over unsteady ground to Garden Valley I decided to simply carry Thomas in my arms and get him off of Katie's back.
This part of the hike was shaded, a welcome relief from the hot morning sun, and I tucked into the climb while carrying both kids. It wasn't that different than backpacking, if I was carrying twice as much weight as normal and distributed awkwardly between my back and arms. Katie kept a close eye on my precious cargo as we headed up the cool climb, lumbering from one rocky outcropping to another and dodging under overhanging brush, and eventually all of us made it to the top. I swiftly let both kids down to explore the flat sandy trail and give my arm a break from Thomas's little bulk.
Their first time on the ground since starting from the trailhead, Thomas and Noah immediately went to do different activites. Noah gravitated towards a large boulder and explored all the little crevices and holes while Thomas ran over towards cactus. Boys, right? Katie and I kept a close eye on them, keeping Thomas away from the prickly stuff and making sure Noah didn't get bit by a waiting creature. It didn't take us long to decide to push ahead and direct their pent-up energy towards covering some trail.
Just like last time I was out here, it didn't take us long to reach the fork and head down the side trail towards Hackberry. I'm still confused why the forest services doesn't just consider this a trail. It's wider than the main track through Garden Valley, is fairly well-maintained, and has several good campsites along the way. We bumped into several hikers who were confused up here, looking around for signage and asking for help. Most knew where they were going, though, and passed our slow little troop quickly. I made Thomas walk most of the distance up here, with the flat ground and wide trail, knowing that he'd be stuck in a carrier soon enough.
We stopped for a quick breakfast a few hundred yards before the drop off. We had plenty of snacks for the kids, bananas and sandwiches and granola bars, and I was anxious to unload some of that weight into their bellies. Suppose I was going to have to carry it one way or another, though.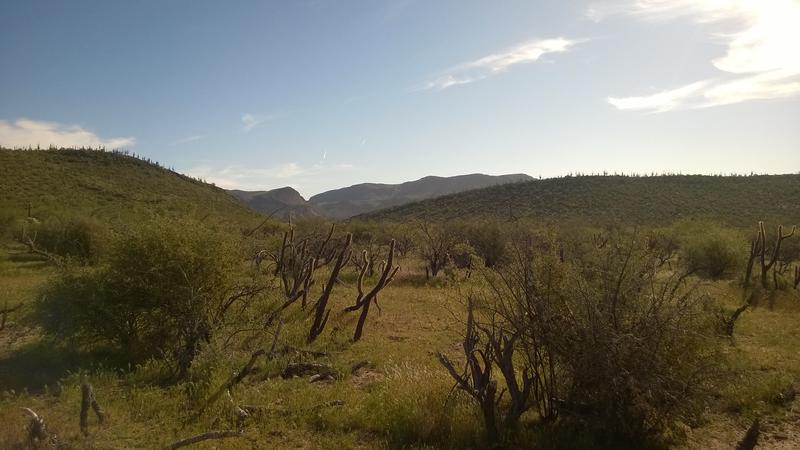 Breakfast out of the way, we loaded Thomas into the nicer backpacking carrier and Katie handled Noah as we started the descent towards Hackberry Spring. It's not a big drop, a few hundred feet at most, but it hugs the side of a steep drop and is a bit crumbly to just let him run it alone. A few fast groups passed us, forcing us to one side or another, making humorous comments about Thomas's free ride and how good of a hiker Noah was being. Noah was doing pretty good - he had probably hiked a good mile now and was handling some tough terrain like a pro.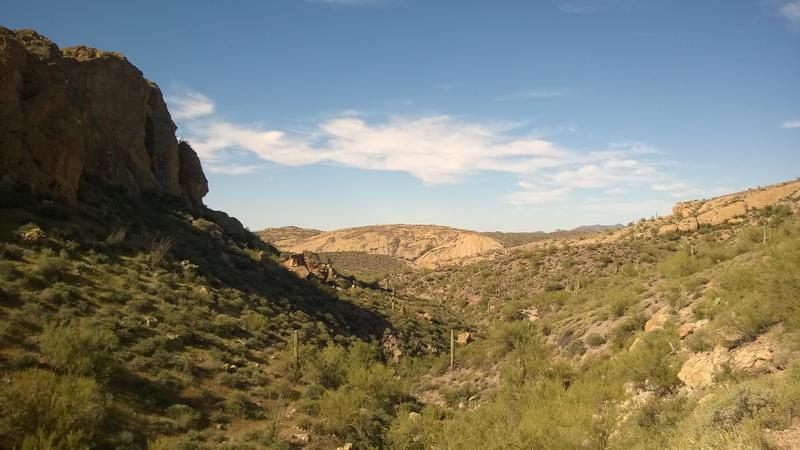 Winding trail led us to a fork, the split between a roundabout way to Hackberry and the more direct path to First Water, and we took the latter. Katie was getting tired, Noah was getting tired, and Thomas was falling asleep. I was a bit bummed, this being the second time I'll miss out on Hackberry Springs, but I'm sure I'll see it one day.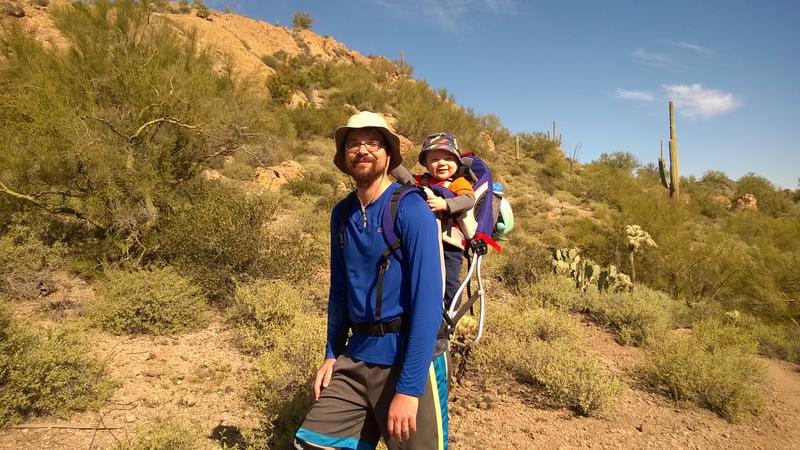 The path down from the split drops fast and is fairly washed out, and it has overgrown Palo Verde to boot. I scooped up Noah in one arm and carried him down, planning to let him walk again once we reached level ground. About halfway I stepped on some loose stuff wrong, he wrenched over the wrong direction, and all three of us went down. None of us were hurt - well, my back was not happy with the fall - and Katie was there quickly to check us over. She and Noah walked the rest of the way while I winced along with Thomas.
Another hot mile of hiking stood between us and First Water Ranch. Katie was a big help and handled Noah, walking patiently with him and keeping his water close by, giving my back some time to decide how much it was going to hurt. Their slow pace didn't sit well with Thomas, who was drifting in and out of sleep in the backpacking carrier, so I began to walk in little back-and-forth to keep a steady pace for him while making sure Katie kept on trail. If I stopped or slowed down he would wake up and complain… He was the perfect coach.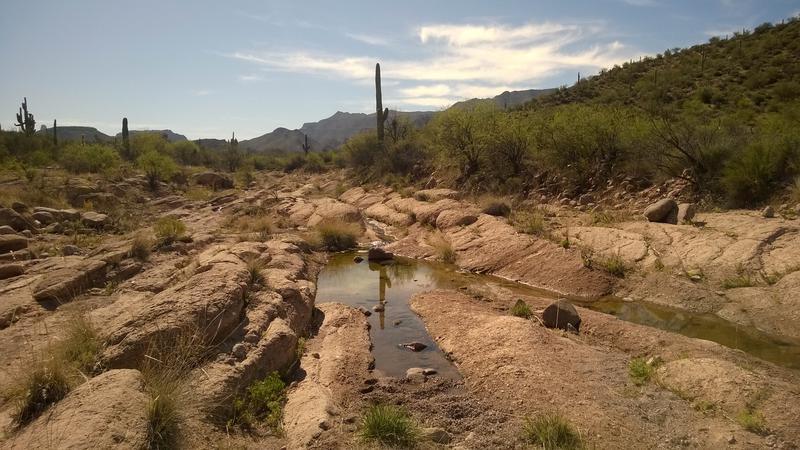 Once we finally reached the ranch I wasted no time in waking up Thomas and getting him back out of the carrier. There is shade here, and benches to sit on, and we still had some leftovers from breakfast to tuck into. Katie and Noah were a short distance behind us and we all split some oranges and rested. We still had to climb out of this little valley and then backtrack to the parking lot so I was in no rush.
Noah was in no mood to walk any further. I couldn't blame him - he had covered well over two miles of varying terrain under a hot morning sun. So we put Noah in the backpacking carrier and I picked up Thomas and we set off. As difficult as it is to hike with a toddler in one arm, it was easier to do that than carry a thirty-five pound child. The Tula was a complete bust for this sort of thing.
We made it to the top and then began the short but hot track down the road to the trailhead. The old ranch road goes up to the horse lot, a half-mile from the trailhead we had parked at. Both boys were exhausted and excited to see the van again. Katie and I were happy too - this was the longest desert hike she's been on so far and my back was begging for some Ibuprofen. We loaded up and headed out, both kids asleep within minutes of getting in their car seats, which is as good of a sign as any for a successful outing.