Cold, damp air kept me snuggled in my old sleeping bag past the sunrise. By the time I finally rose, cooked breakfast, and packed up my gear, daylight was beginning to trickle down into the steep gorge. I tried to suppress my impatience. There was only eighteen miles to cover today and I had all day to cover that distance. The only limiting factor I would be dealing with would be the heat of the afternoon and my clogged water filter.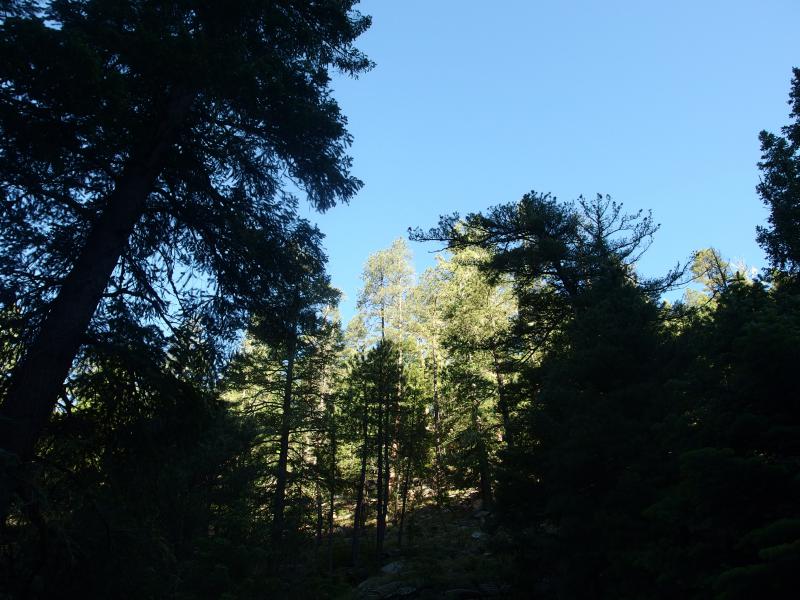 Water. That would be an issue, with how dreadful my filter had been performing so far into this hike. I had pumped for over forty minutes last night and had managed to get one liter of water. One liter is not a lot of water. It wasn't that big of a deal to pump for a long time, just annoying and a bit of an unnatural workout. Even if I had to stop at each creek and spring along the return hike and spend an hour pumping at every single one I'd still make it back to the car before dark. Probably.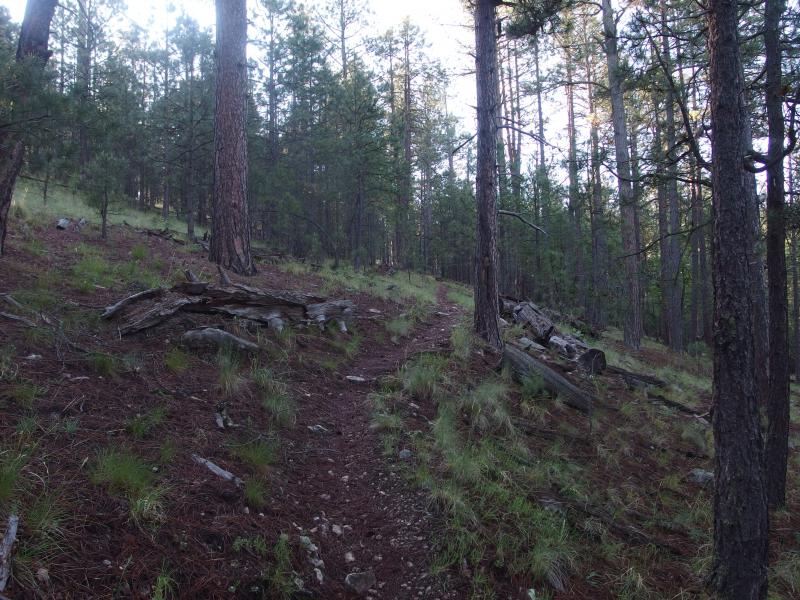 Climbing out of Barbershop Canyon was a cruel way to start the morning. The trail cut up the southeast side and switched back a few times through an open pine forest. Along the way I had excellent views up the canyon and the tall trees dropping down the walls. This land was still a pleasant shock. I've been getting used to the idea of Arizona being mostly dry desert interspersed with dry grasslands. This was a legitimate forest with deep creeks cutting through it, and after last night's rain everything sparkled with dew.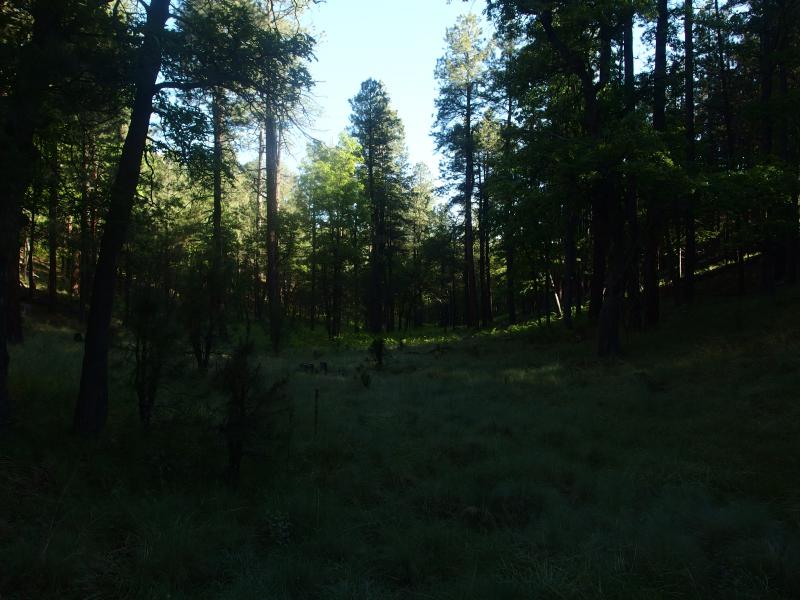 When the land begin to flatten above Barbershop the forest begin to open up with a few clearings. I didn't have long before the next deep gorge, a creek that my trail would follow south, so I tried to enjoy the flat forest while I could. With the clearings came open grasslands and with the grasslands came more dew. My boots, which never quite dried out from last night's storms, were quickly soaked through. Another thing to follow up before future backpack adventures - better waterproofing for my boots.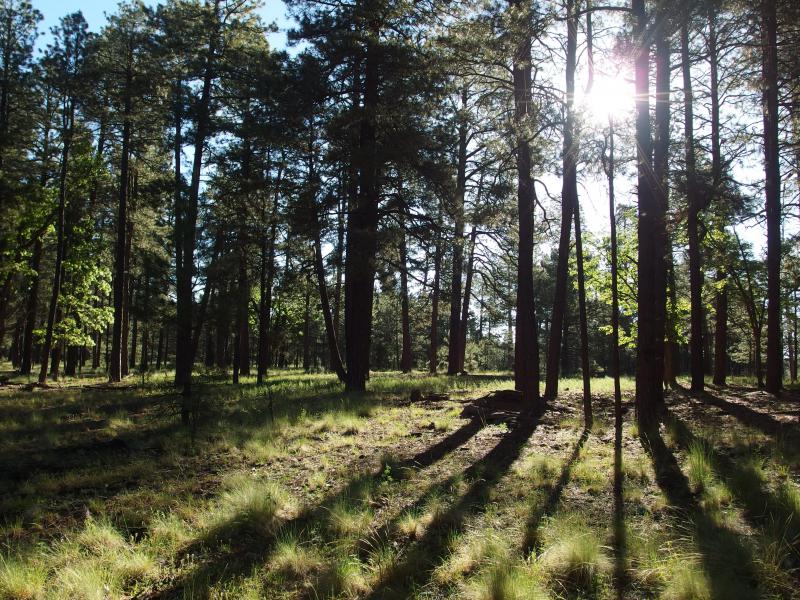 Dane Creek snuck up on me. Almost before I realized there was another gorge and a steep drop in front of me. I peered down, curious. This was had been a second option for camping, another creek that I could have pushed on to and set up a tent on the bank. It didn't look as appealing. There was a wide berth of open grass on both sides of the creek and few trees to offer protection from the cold or rain. More secure in my decision to camp at Barbershop I started down the trail to the creek.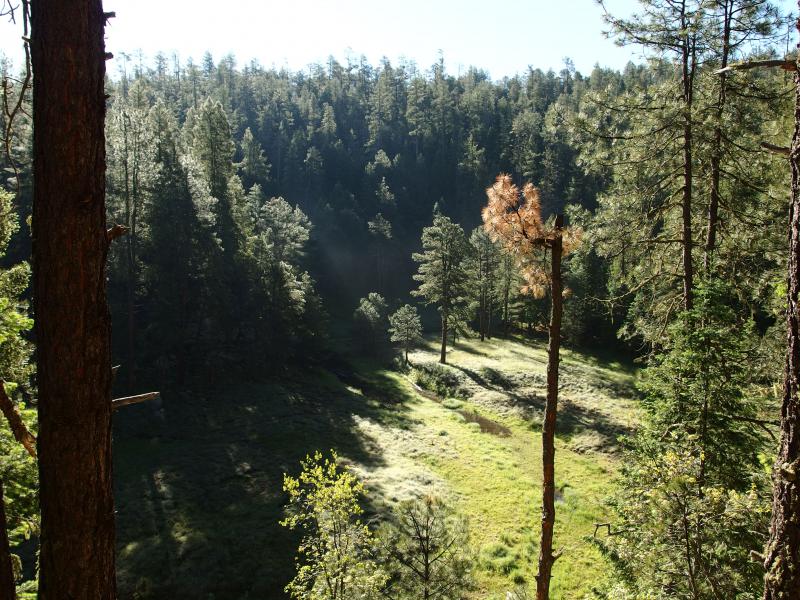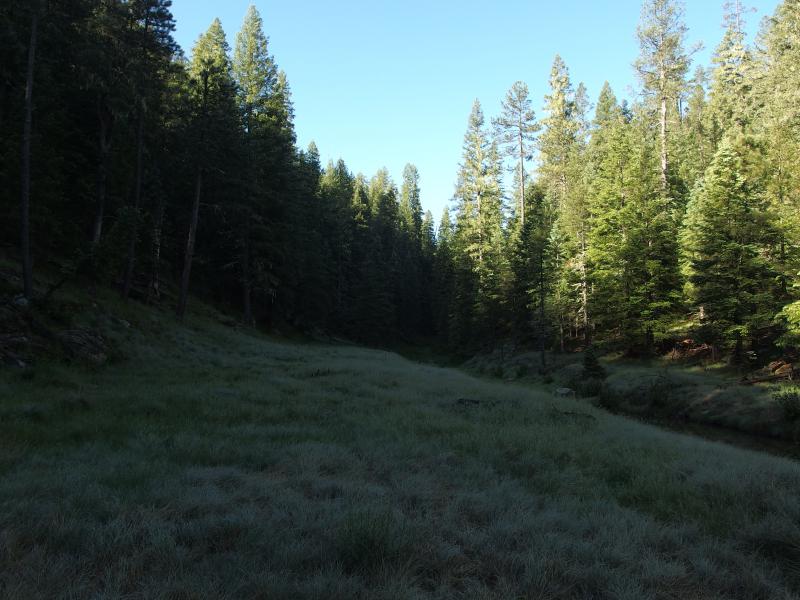 That didn't mean it wasn't pretty. Between the dew and the rising sun just starting to filter through the trees everything glowed with an ethereal light. It just didn't seem like a great place to spend the evening. There was another campsite down here, next to the trail, complete with a campfire and stone benches. The trail wound around a bit and I had a hard time tracking it through this site.
Once I got to the river another little warning sign showed up. This creek was nowhere as fresh-looking as Barbershop Creek. The water trickled from one deep green-grey pool to the next, grass and thick muck along the banks. My filter, while unbearably slow, would probably keep any nasty stuff out - it just didn't seem like the best place to collect water. I stepped over the tiny creek and made a mental note to hold off on sipping from my meager supply.
On the other side of the murky creek was a sudden climb, an unexpected one, and I labored up the steep slope. This didn't seem fair. I thought the trail would just follow the creek upstream slowly, not zip right up the bank. My legs were sore from yesterday and surprised by the morning's first climb. Slow and steady I took the rocky switchbacks until things evened out and the trail finally committed to a southern direction.
So far this weekend I had hiked north along Fred Haught, east along U-Bar, and now it was time to start swinging from south. This was a loop hike, after all. The benefit of hiking north/south was that the creeks ran the same way. East/west was a bit of a different animal. If I could survive the relatively easy southern leg there was the journey back west left to tackle. The journey along Barbershop Trail.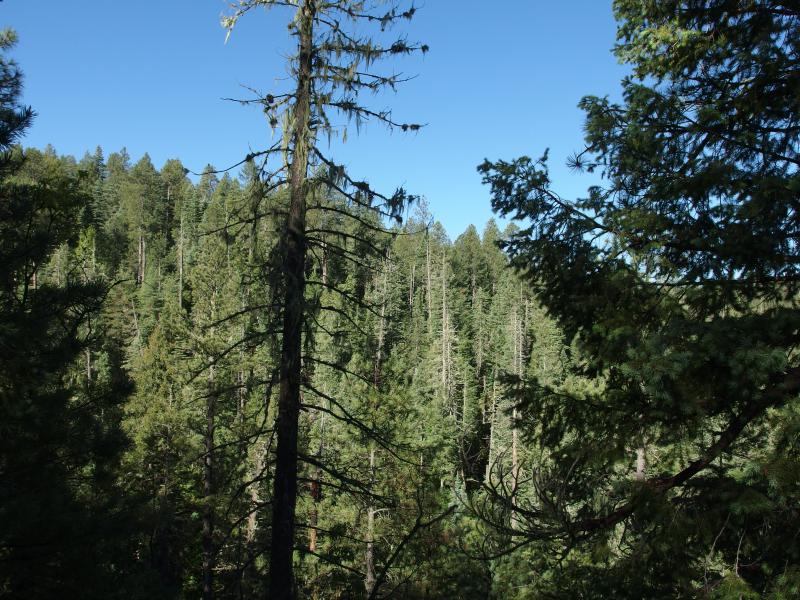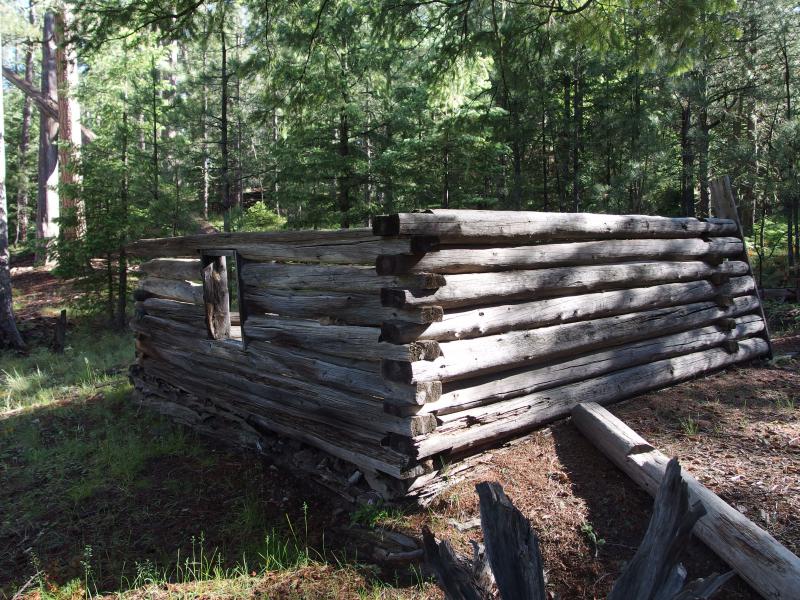 Another mile into the southern route and something showed that did not really belong. There was another cabin. I knew about the cabins at General Springs, and Pinchot, and even Fred Haught, but this was something else. Only half-stacked log walls remained at Dane Springs. There had been no mention of this on the maps or the write-ups of this hike. I ventured around the worn logs and tiptoed into the foundation. This felt like the oldest structure by far, rusted hinges buried deep into nearby trees and walls held together by stones and pegs.
I debated filling up here, at Dane Spring, but decided to continue on. Coyote Springs sounded promising and it was only a few miles ahead. Plus, it sat right at the junction of U-Bar and Barbershop Trail, a bit of a milestone for the day. If I could hold off on refilling my water until that spot then maybe, maybe that would be my last fill-up for the day. As I continued beyond Dane Springs the trail cut through oddly deep lines through green grass under the tall, tall pines.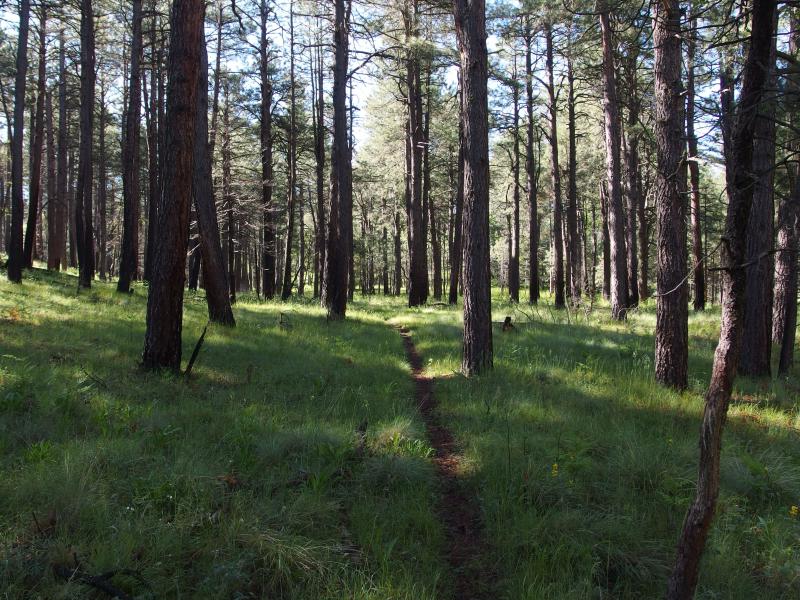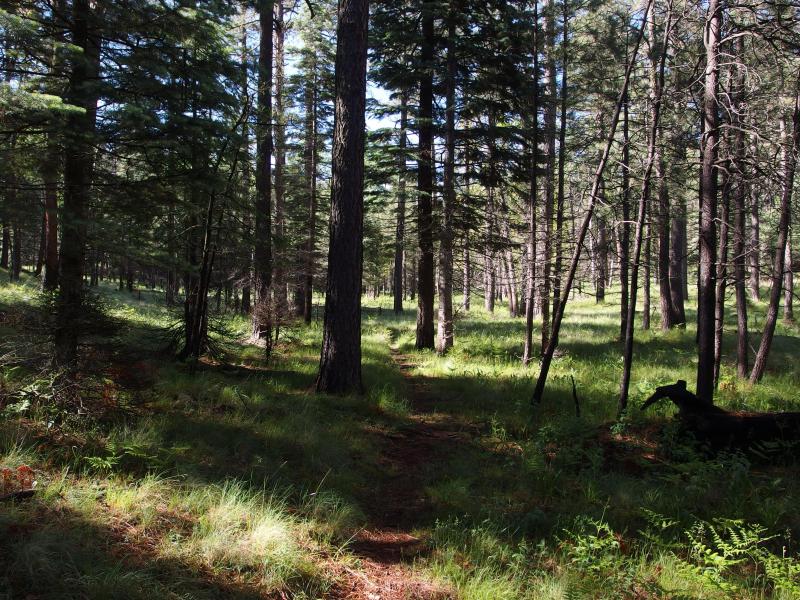 Sure enough, a few miles later and I ran out of water near Coyote Springs. Before the springs, though, I came upon a large group of roadside campers on my trail. A dirt road crosses here before ending and five vehicles, complete with Weber grills and Wal-Mart tents, all clustered on the trail. These were the first people I had seen since leaving General Springs cabin yesterday and an unwelcome intrusion on my quiet weekend, even if they did seem rather friendly.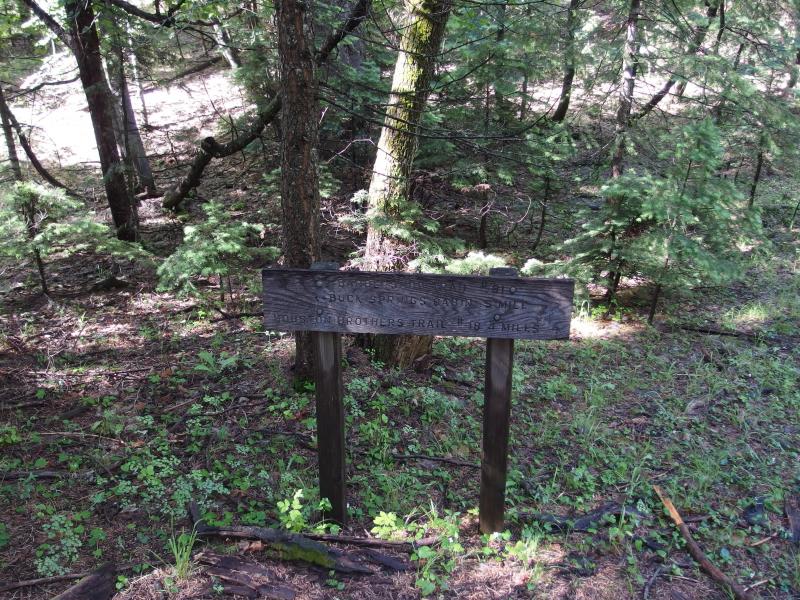 On the other side of the campers was a quick descent down into a little grassy valley. The anticipated sign for Barbershop Trail sat down here. To the left is Buck Springs Cabin, one of the main points on this hike, though it would be a full mile out of the way to visit. I bypassed it and headed right instead. Coyote Springs was within view and I needed a good refill.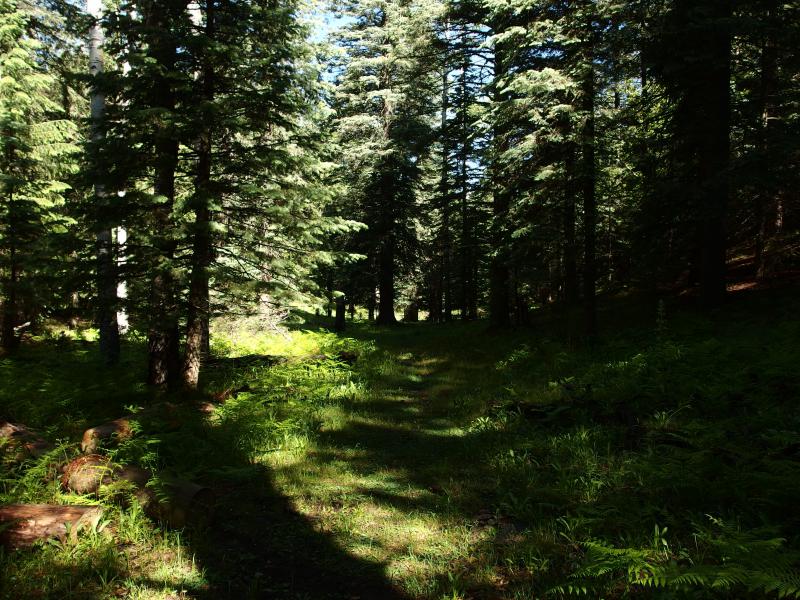 At first the spring seemed like a bust. Instead of a trickling flow of water, or even a seeping spot in the ground, all I saw was a grassy clearing with trees pushed back around the fringe. There was no water in sight. I slowly walked through it and kept a close eye for any sign of water. After a bit more walking I saw a decent trickle coming out from the low side of the clearing and bubbling from one rocky pool to the next. I quickly set up my filter and started an hour-long session of pumping.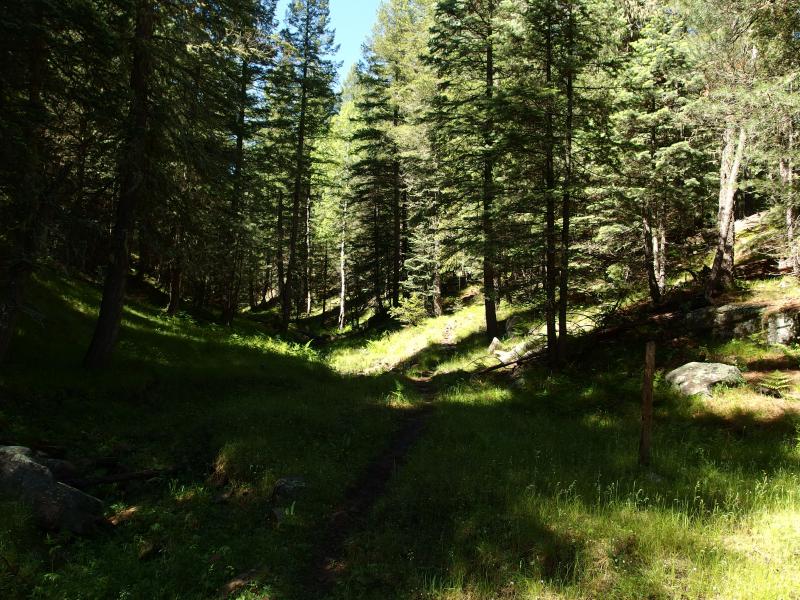 One hour gave me about a half liter. My yield was even lower here. This was getting really frustrating. This late in the morning and the temperature was climbing, damp air from last night burning off under the hot sun. At least the hour sitting along the trickling creek had been relaxing. I got up and slowly moved my stiffened legs around before re-securing my pack. It was time to start down Barbershop Trail.
The trail followed the creek from Coyote Springs for a short distance before climbing up a short bank on the other side. This little creek eventually led down to the deep gorge I had crossed earlier today, one of many little feeders that I would be crossing over the next few miles. There wasn't much time to ponder the flow of the water here before I stepped out onto an overgrown road and my trail ended.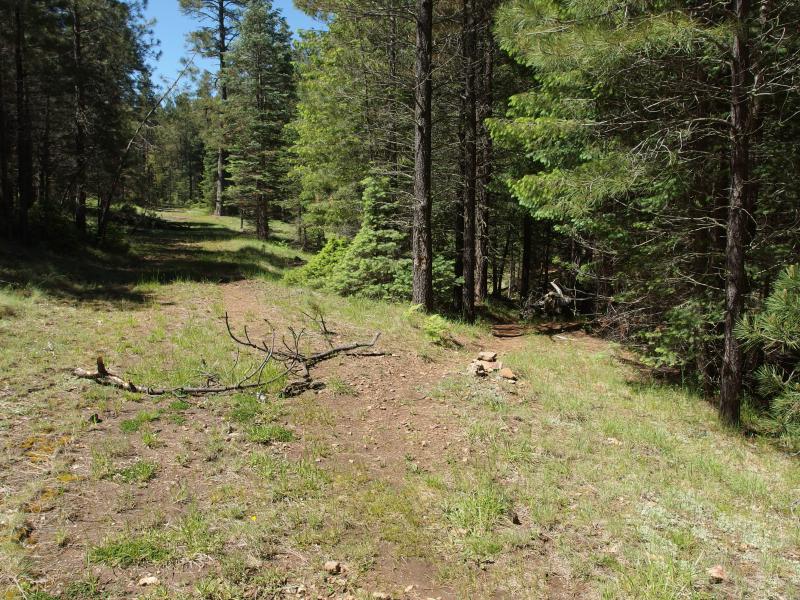 Without much of an option I followed the road through the woods. When it did eventually cut off into the woods, marked with a single small cairn and a downed branch, it soon jumped onto a second track. These old logging tracks were pretty boring to walk along compared to the narrow footpaths, though there was a nice benefit to the tracks. They didn't duck and weave nearly as much. I was able to make good time walking along the old, compressed roads, even with my heavy pack. I jumped from one track to the next, cutting up and down little tributaries between some of them, and tried not to drink too much water.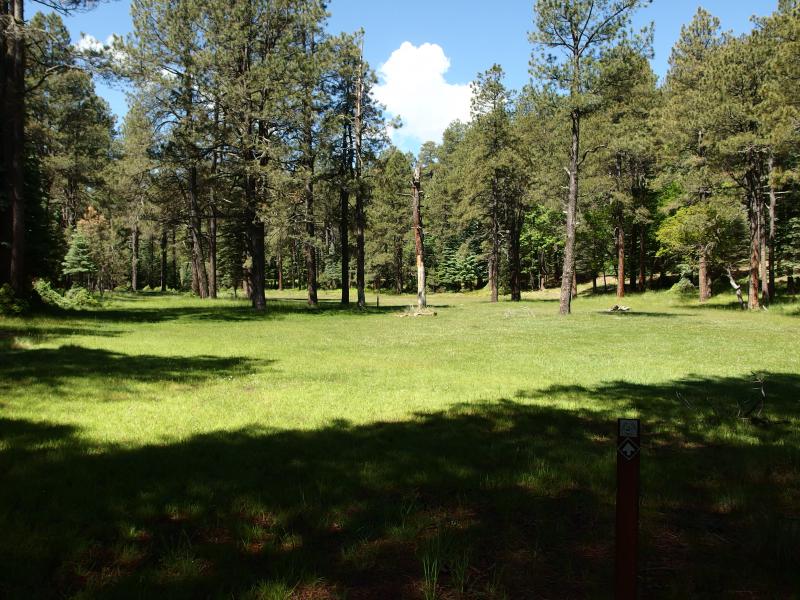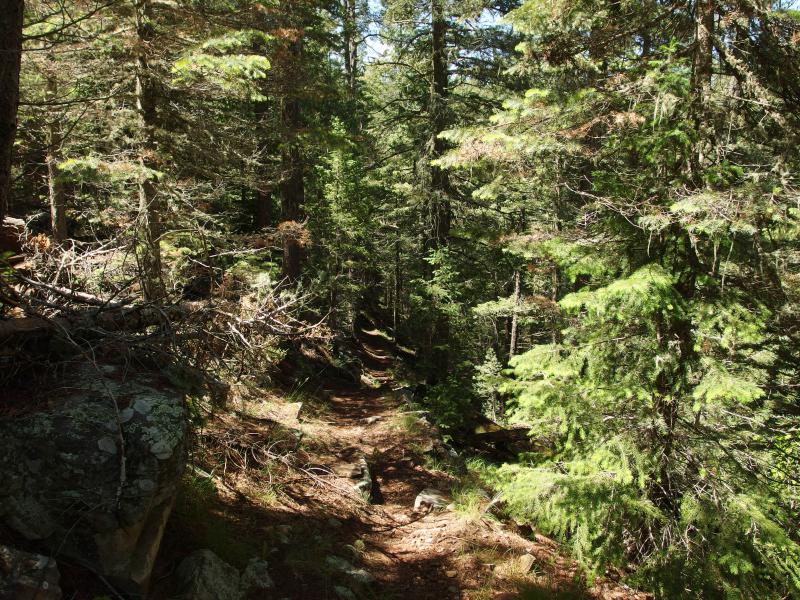 It didn't take me long to accept that I would have to get more water. I had hours and hours to hike before I'd be back at the car. Checking the map I figured that I would wait until I re-crossed Barbershop Creek. Even if the creek itself didn't hold that much water there was a spring on the far side, a spring that would hopefully be as clear as Coyote. And if my filter was still acting up I could always try drinking straight from the spring.
There was one long descent that was a feint, a dried up little valley that held no water at the base followed by a long climb on the far end, before I finally got to climb down into Barbershop. It was surprisingly deep for being this far upstream. Mogollon Rim itself was only two miles or so to the south and didn't leave the creek much to flow from. As I trotted down I finished up the rest of my half liter and dreamed of the crystal-clear cascades that were certain to be down here.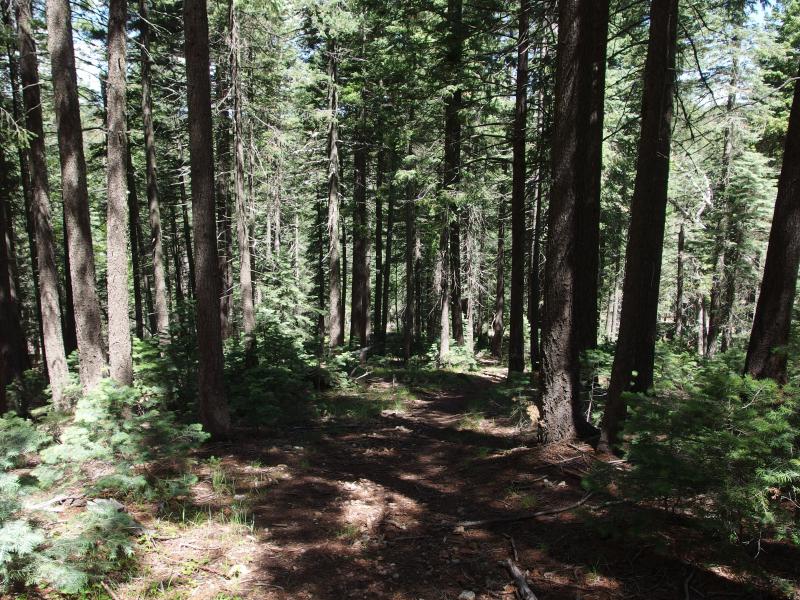 No crystal water flowed down here, only murky green pools that made my stomach feel queasy just looking at them. Yet I needed water. I wandered across the creek and ventured a short distance towards the spring on the other bank, hoping to find some fresh-looking trickles, and found only a dry streambed. I was stuck with the murky pools. With a deep sigh I sat down on a grassy bank and begun to pump. As I slowly worked the filter I stared up at the bright blue sky overhead, watching shapes drift by and trying to drift away from this frustrating process.