Now that Katie is freshly inducted into the cool backpacker's club it only made sense to try out something that I've been playing around with a long time now: a large group outing. Chris and I had gone on adventures, and then Katie and I - why not all three of us? Plus Kirsty, their cousin? Four people could make for a pleasant adventure, especially with all of us at different experience levels. And I had the perfect location in mind, too… Cabin Loop, on the Mogollon Rim.
We headed out in early June, leaving Phoenix right before a record-setting hot weekend, and made good time on the way to Payson. A quick lunch at Macky's Grill and then we finished the drive along AZ-260 and Rim Road. The drive was scenic along the edge of Mogollon Rim, through huge ponderosa pines, and we chatted about our gear and previous adventures, comparing weights and different foodstuffs. This was now Katie's second backpacking outing, Kirsty's first, so there was plenty of topics thrown around. I was going ultralight, with a base weight of nine pounds; Chris was on the other end, with over thirty pounds of gear; and Katie and Kirsty were somewhere in between. It also helped with weight that Kirsty was bunking in Chris's tent and I was carrying the cookware for Katie and I.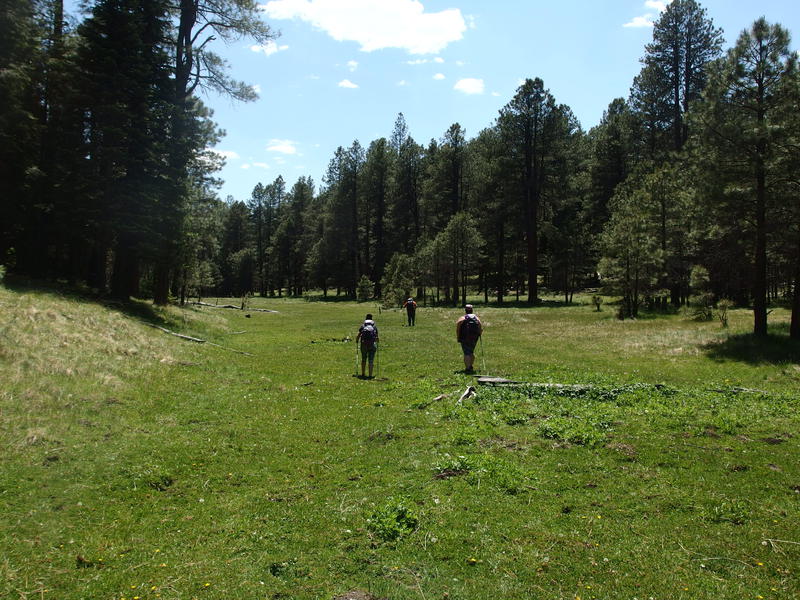 Chris parked off of 321C, right about where the U-Bar Trail crosses it, and we loaded up our gear and headed down to Barbershop Trail and Coyote Spring. The temperatures were in the high eighties - nowhere near the hundred-and-ten-plus that Phoenix was at today - and I kept a close eye on the spring to try to gauge what our water situation was going to be like this weekend. It didn't look great. There was a trickle of water, barely enough in the pools to filter from, much less than there had been last year when I did this loop. At least most our campsites would be on dependable creeks.
With the exception of a root that reached up and snagged Katie less than a hundred yards from the car, the first mile passed by uneventfully. Coyote Spring came and went, and then McClintock Draw, and then a few open sections on old access roads. A few bees buzzed lazily in the heat around us and the green-green of the forest was a shock to our desert-scarred sense of normalcy. It was soon apparent that we were all moving at very different speeds, something that Katie and I had discussed when planning this outing. She brought it up to Chris and Kirsty and they soon broke off from us, heading down the trail with a quicker step, and Katie and I hung back. Both Chris and I knew the trail, and Chris had a GPS to boot, so as long as we agreed on common spots to catch up then our two groups could go at whatever pace fit.
Katie made a great hiking partner. That's not to say that Chris doesn't - him and I have booked hundreds of miles together - yet it's nice to spend time alone with my wife. Kids and responsibilities make our lives rather hectic these days, so this complete break from all that was most welcome. We chatted about random things, pointed out cool trees and flowers, and stopped frequently for water breaks and snacks. Our pace was slow, close to a mile an hour, and I couldn't care less. We had all afternoon to walk the three-ish miles to the campsite at Barbershop Springs.
We got to camp a bit before five and were surprised to learn that Kirsty and Chris had only beaten us by thirty minutes. Perhaps our paces weren't so different after all. They had their tent already set up so we decided to do that next. Katie was using a brand new ultralight tent and I was trying out a hammock, the Grand Trunk Ultralight. Which isn't really that light - it weighs around 12 oz, which is a lot compared to some of the 6 and 7 oz alternatives. It is priced as a good intro hammock, though. I couldn't find two trees that worked near their tent pads so I ended up on the far side of the spring near a rock face, which worked great as an ad-hoc dresser.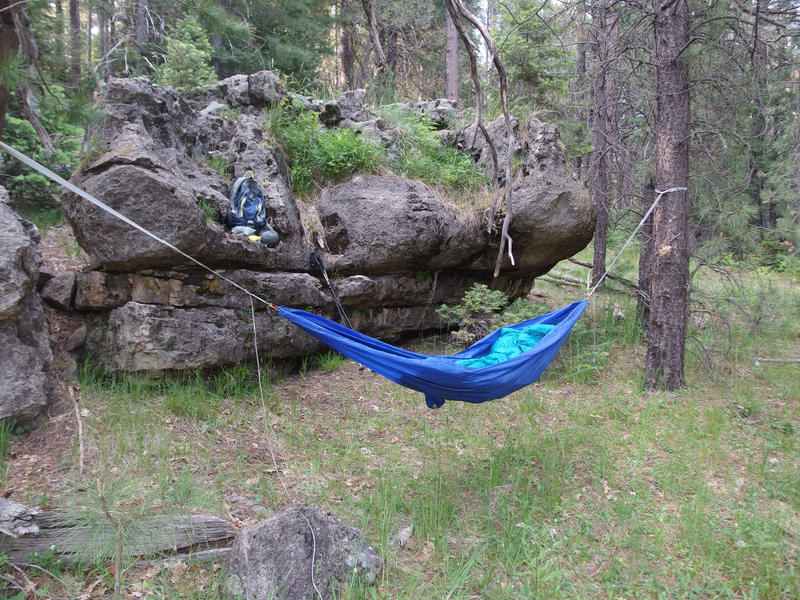 The rest of the evening passed by in peaceful slow motion. There was the standard camp chores to do: filter fresh water, perform wet-wipe baths, cook dinner, etc. Things got dark quickly so we had a fire burning about an hour before the sunset and kept it going well into the night. Bourbon was passed around, as was some cookies and chocolate bars, as the moonless night sky showed off a plethora of stars. We were far enough away from Phoenix and the much smaller town of Payson to get some great viewing in, too. By the time we drifted off to our tents and hammocks it was getting rather late and the temperatures had dropped considerably.
I survived little more than two hours in my hammock before the cold was keeping me awake. With only a fifty-degree bag on top and a three-quarters sleeping pad on bottom I couldn't stop shivering. I ended up knocking on Katie's tent flap at midnight and squeezing in next to her. Her tent, which is one of those that is technically two people but really not, barely managed to fit us. Turns out that she had been getting rather cold herself and with my additional body heat we were both warm enough to sleep in past the sunrise.
Chris and Kirsty also had a cold night. None of us had a thermometer on us, so we weren't certain what the overnight lows got to. They had forty-degree bags so I assumed it got close to that, which made me feel better about wimping out in the hammock. Breakfast was a hurried affair, all of us huddled with sleeping bags wrapped around shoulders as we boiled water for coffee and oatmeal. The rising sun soon heat up the forest and by the time we started out there was no more shivering.
Oh, so speaking of the route. Cabin Loop is a giant twenty-mile loop (or so) that is split down the middle by Houston Brothers Trail. Almost like a sideways theta. Chris and I had both done sections of the outermost loop but had barely touched Houston Brothers. Our thought for this trip was to see how the first day went and use that middle shortcut as a way to shave off some miles. After the first day it was obvious that the middle shortcut was the way to go, so we hiked a short distance west on Barbershop, finishing that trail off, before turning north on Houston. We were now on brand new, unexplored trail.
The first two miles were a bit dreadful. I had assumed that the trail would be a steady downhill without any climbs of note, and it instead made for a little roller coaster that sapped at our strength and demoralized Katie. Some of the climbs were over a few hundred feet, much more than what we promised her. Our group stuck together, though, sometimes Chris and I leading with Kirsty and Katie tagging behind, and other times Chris and Kirsty leading, and then a few times with Chris going ahead and us other three chit-chatting along. We made slow time but Katie stuck with it until we finally crossed 139 for the second time and entered into a grove of huge, ancient pines.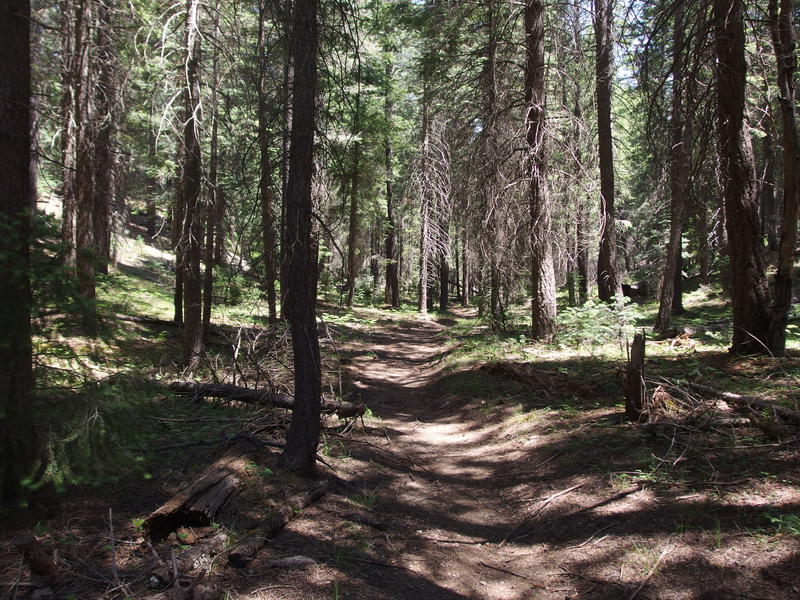 Now it was all downhill to Pinchot Cabin, some four miles to the north, and Chris and Kirsty broke away from us and agreed to wait for us at Aspen Springs (along the way). Katie and I stopped for a quick bite at the beginning of the pines and I started whittling some pieces for a bow drill, something I've been meaning to try out on this trip. Matches are great, and a fire starter is also great, it's just that being able to start a fire with just a few sticks and cordage sounds pretty cool. My knife is nice and dull, which meant that whittling out the blocks and spindle would take a long time.
We continued heading through the old grove, slowly entering the beginnings of a very dry Houston Draw, and then they drifted back as the meadows grew along the creek. Our trail wound in and out of the meadow, back and forth from the shade, which grew more annoying as the day continued to heat up. Today was going to be a hot one up here, at least ninety, and the coldness of last night was quickly forgotten as our skin burned and we sweat. Early June and the Mogollon Rim was already getting uncomfortable for hiking - this did not bode well for summer outings. By the time we got close to the first of several wildlife exclosures I had started carrying Katie's pack on my front, as the heat and distance was starting to wear on her.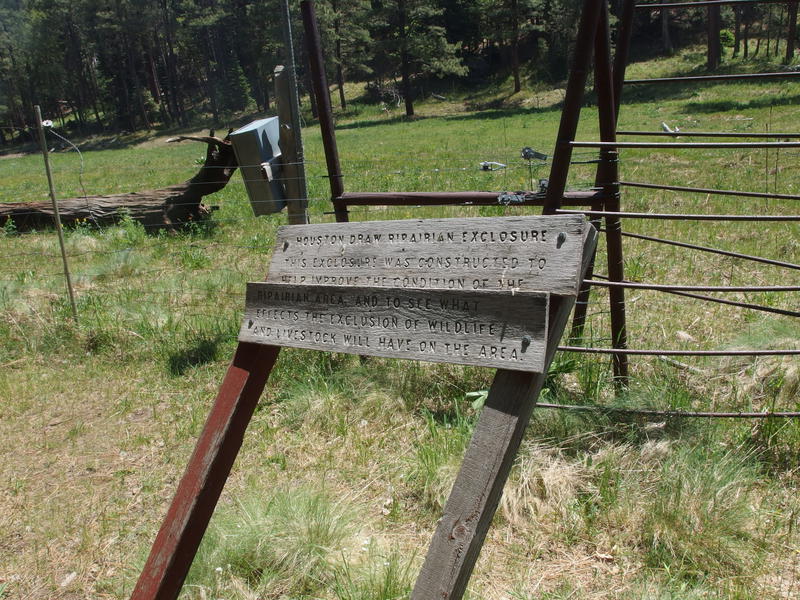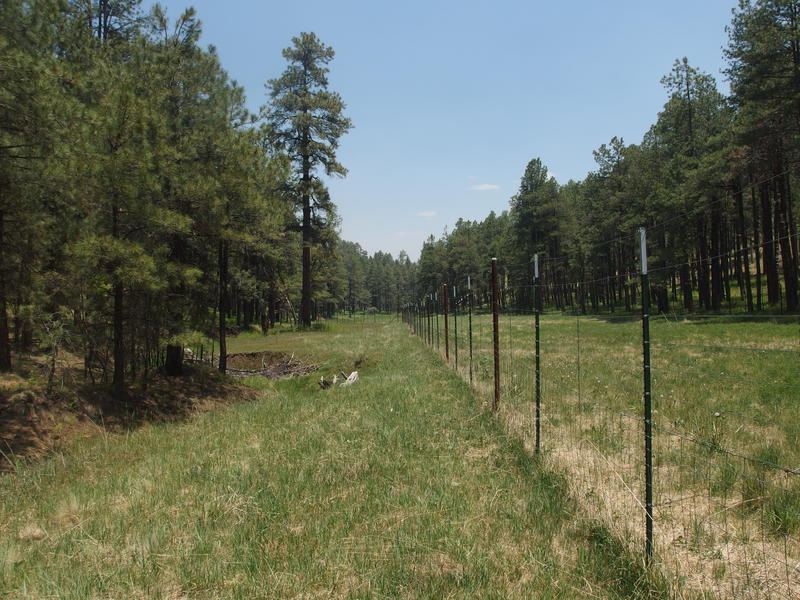 I caught a few glimpses of Chris and Kirsty during our hike, usually on the far side of a meadow, but we didn't catch up to them until noon at Aspen Spring. They had been waiting there for awhile, filtering water and eating lunch, and were anxious to continue on. They were nice enough to hold off and filter some water for us, and chat a bit about the afternoon plans, before leaving us again and heading for tonight's planned campsite at Lower Barbershop Creek.
See, Katie wasn't so sure about finishing this hike. Again, the heat and distance was wearing on her, and it was only getting hotter out here. We still had another three or four miles to the planned campsite, and another four or so back to the car tomorrow morning. And, we had options. Katie and I could camp here, or at Pinchot, and then Chris and Kirsty could finish the hike and pick us up tomorrow morning. Both Aspen and Pinchot were close to forest roads. The catch was that we had to commit to a location. We had no way of contacting them once they left us. We agreed on Pinchot Cabin as a meeting place tomorrow, and they could be there by noon or so.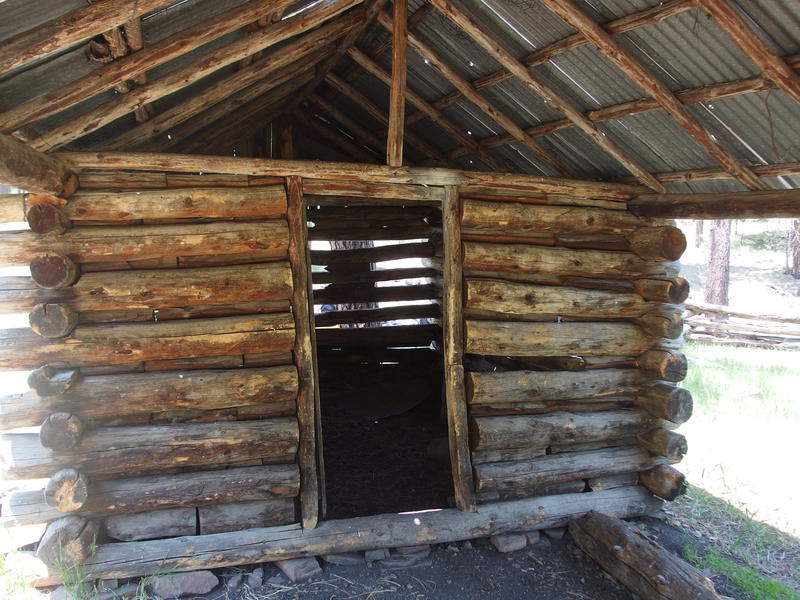 With the new plan set we took our time at Aspen. Katie rested underneath the shade of large trees near the cabin and I took some photos. The spring was fascinating - not only did the water flow from directly below a huge, mossy boulder, there was a narrow cave behind the boulder that I lowered myself into and crawled around a little. I couldn't get far, with gravel and pebbly rocks blocking any sort of deeper adventure, though the temperatures in there were fantastically cool. And the water was cold, too, a most wonderful change from the lukewarm flow I had been pulling from in Houston Draw. After the exploring I too settled down, swinging between two pines in my hammock, and we relaxed for at least an hour as the wind shushed high above our heads.
Feeling well rested after that break we packed up and decided to push onto Pinchot this afternoon. It was only a mile or so downstream and it gave us a fighting chance on catching up with the other two at Lower Barbershop. The draw deepened below Aspen, carving a sharper cut into the dirt and rocks, and our trail followed the edge of a sometimes-steep bank. The absence of meadows gave us plenty of shade and a welcome reminder of similar creeks from Michigan.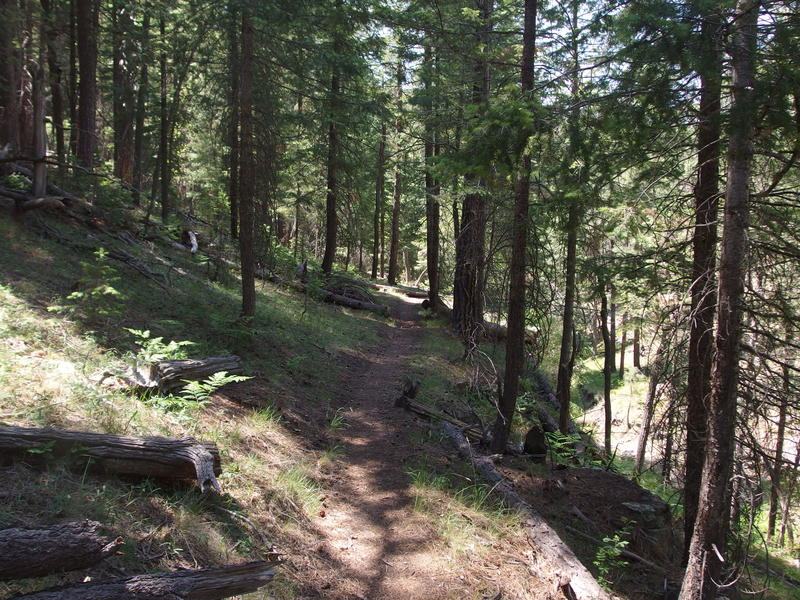 A few confusing twists later, and Katie's discovery of Pinchot Spring seeping out from a hill that I totally missed, and we reached Pinchot Cabin. I made the mistake of not filtering new water from the spring and we were stuck with the warm water from the draw that tasted slightly of spoiled lettuce. Katie relaxed at the cabin while I pulled water, and then we munched on snacks and I told her about my first visit here, when I was still new and fresh into the world of backpacking and waited out a brief shower here only to get completely soaked by a huge thunderstorm thirty minutes later. Today there was no gray clouds in the sky, only hot blue colors and gusty winds too high up to do much to cool us down here.
We left Pinchot after three with the hopes of finishing today's planned route and finding Chris and Kirsty at Lower Barbershop. This had also been part of our plan when we last talked to them at Aspen - either we would wait it out at Pinchot or we'd catch up at Lower Barbershop and figure out how to handle day three then. Less than three miles left for today, with only one good climb that I knew of, and we'd be chilling at one of the best campsites that I knew of out here.
That first climb was annoying, a good two hundred feet over a half mile, and as I waited for Katie at the top I decided to chuck my bow drill pieces. I probably wouldn't have time to try it out tonight anyways, not with how late it was or how quickly the darkness would fall within the deep gorge ahead. Practicing how to start a fire with wood would have to wait for another outing. Once she caught up we continued on the trail, which is more of a two-track on this section than footpath, and chatted along.
I was carrying her pack along with mine, which helped out things quite a bit, and we were chatting about basic survival things when I asked her if she felt she could navigate the route out here on her own. Without a map or GPS on me I had been operating off of memory from my last trips out here and keeping an eye out for the on-again, off-again path and/or blazes. Katie kinda shrugged and said that if we were on the trail right now than she wasn't sure how she'd know it. I looked around and agreed - I had led us right off the trail and into a small, makeshift campsite. We backtracked and found it after a few hundred yards and I continued to led, feeling more than a little humbled.
A few annoying drops and climbs and we finally reached the last descent, the sharp three hundred feet into Lower Barbershop. I pushed on ahead of her, planning to surprise Chris and Kirsty and start setting up the tent, while Katie took her time with the drop. Our hiking companions were tickled to see us. Once we were all together again there was still the typical camp chores to do, this time involving a dip into the deep pool upstream from our site for washing off the day's sweat, and it was dark this time before Katie and I got our dinner started and then we all headed to bed soon after. The long and hot day had tuckered out everyone. I lasted two hours before retreating to Katie's tent to spend the night again… Hammocks are difficult.
We all slept in the next morning, kept in the tents by cold air and laziness, and even when we got out and moving there was a certain reluctance in our step. This was the last day out, and soon we'd be driving back to Phoenix and responsibilities. I volunteered to return to Chris's car first thing in the morning, boldly claiming that I could get there, drive back, and hike down into Barbershop in time to help with breakfast, but both Chris and Kirsty wanted to finish the loop. Eventually they headed out and left Katie and I to relax at camp, and we spent that time reading and listening to the trees move above us.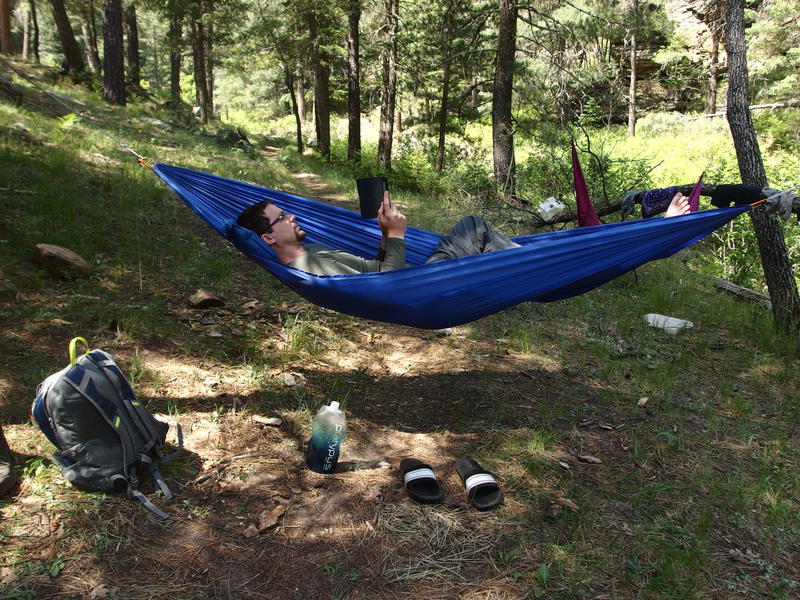 The hike out of Barbershop was quick and painless, and since Katie and I waited to leave camp until eleven or so we made it mere minutes before Chris pulled up in the car. Ridiculously good timing. They had finished the hike in time and had no problem navigating over to the closest road. We drove out on 95 and AZ-87, stopping again at Macky's for a welcome dose of greasy lunch, and then started on the hot return to the Valley of the Sun.
Our talk on the way back was interesting. When I go backpacking I usually see it as a method for increasing mileage - carrying overnight gear allows me to cover longer routes over multiple days that would be impossible to do in a single day. Sleeping outside and cooking meals is a necessary (and somewhat enjoyable) by-product of longer and more ambitious adventures. Chris enjoys the entire experience, though he tends to like the camp part more, which explains why he's reluctant to trim down on his gear list. Katie and Kirsty definitely liked the camping the most, the campfires and relaxing, and would have rather done shorter distances and spent more time at sites… Or just spend all three days at Lower Barbershop. I have an idea for what could be an awesome compromise between our styles, though it may have to wait until after the hot Arizona summer to try out.