The clear sky was a giant blue mirror reflecting back the heat of the rocky earth. At least, that's what it felt like as I stood near the van and looked over at Ballantine Trailhead. The hot air swam around me and my skin prickled with the promise of a sweaty afternoon. With a long sigh I walked over to the start of the trail, slid past the cattle guard, and began the long climb towards Boulder Flat.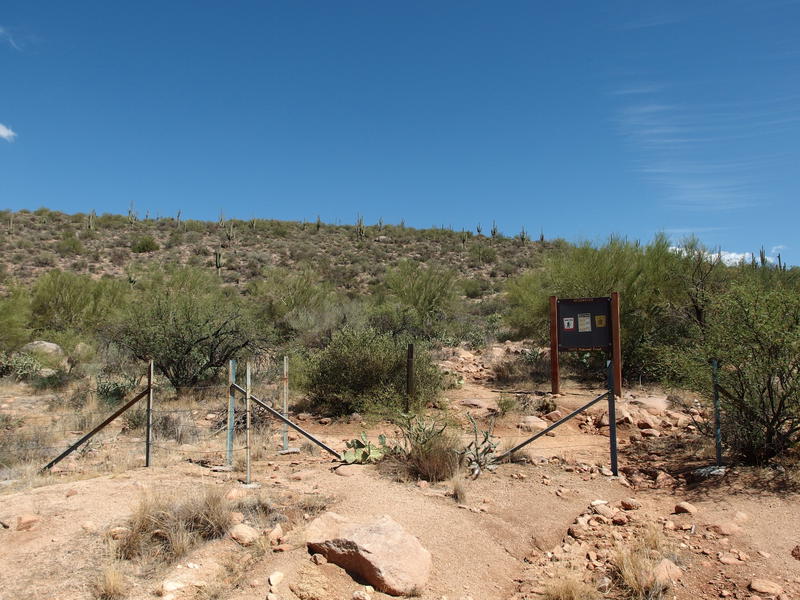 I was back for round two on my overnight plan of Ballantine. My first attempt some weeks back had been thwarted by thunderstorms and flash floods that cropped out of a ten-percent chance forecast. Today I felt slightly more confident about round two. I had cut out a pound of gear, a pound of water, and given myself an extra hour to deal with the long climb. This heat, though, was not cooperating. The temps were supposed to be below a hundred, and it felt much higher than that as I climbed up the steady grade of Pine Creek Trail.
Just to spice things up a bit I reversed my direction on Pine Creek Loop, taking the climb up to the peak first, which added a few hundred feet of elevation before dropping down to the trail junction. Those few hundred feet did not feel good. My legs were jelly by the time I reached the start of Ballantine Trail on the far side. I could blame the pack weight or the heat or some stomach distress from earlier in the day - either way, I was puffing and drained at just over a mile in. This wasn't a promising sign.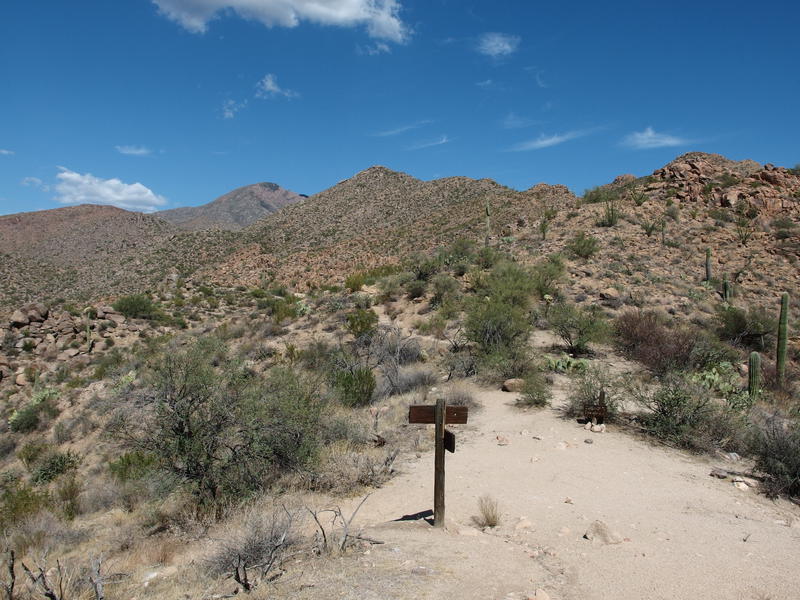 Before deciding to push on I took a good long look to the northeast, almost hoping for a cloud to show up as an excuse to turn around. All I saw was that brilliant blue mirror of a sky. I pulled out my water, took a sip, and then pushed on east. A climb was coming, one that was fully exposed to the afternoon sun, and one that I wasn't looking forward. A thousand feet over two miles or so in short, steep bursts.
Short, steep bursts was the best way to describe them. Some of them were over rocks that formed rough stairs that forced me to take giant, unnatural steps. Others were scrambles over loose sandstone that gritted underfoot. One or two were over shifting rock that felt more like an off-trail mountain climb than a trail. None were more than fifty feet in climb and were broken up by gradual sections, sections that I'd normally pace myself along without stopping to catch my breath before the next burst, but today it was all I could to keep standing. Leaning heavily on my trekking poles, the sweat pouring off of my and pooling on my glasses, this climb was a humbling experience.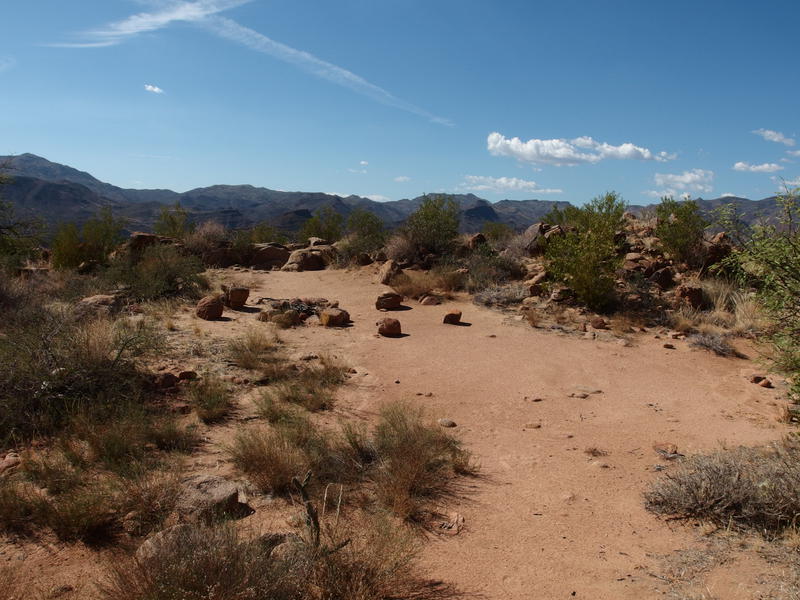 That's not to say it wasn't pretty. There was a campsite with a great fantastic view down Pine Creek to the north. AZ-87 was a constant sight below, though it was starting to get distant enough to be little more than a background hum. The vegetation was typical desert scrub, broken up by huge boulders that burst out from the ground. I was just in a terrible form on this climb. When I finally crested the last steep section I found the nearest flat rock and sat and drank a full liter of water.
From here the trail would start to enter the valley of Boulder Flat. The wash that had been below me to the south, Camp Creek, had finally climbed up over a series of dry waterfalls and ran through this valley. That would make an interesting alternative route, to follow the dry wash up over boulders and steep rock faces, and it must be quite steep compared to the trail. Once I got my breath back I stood up, stretched out a calf that was starting to cramp, and headed into the valley.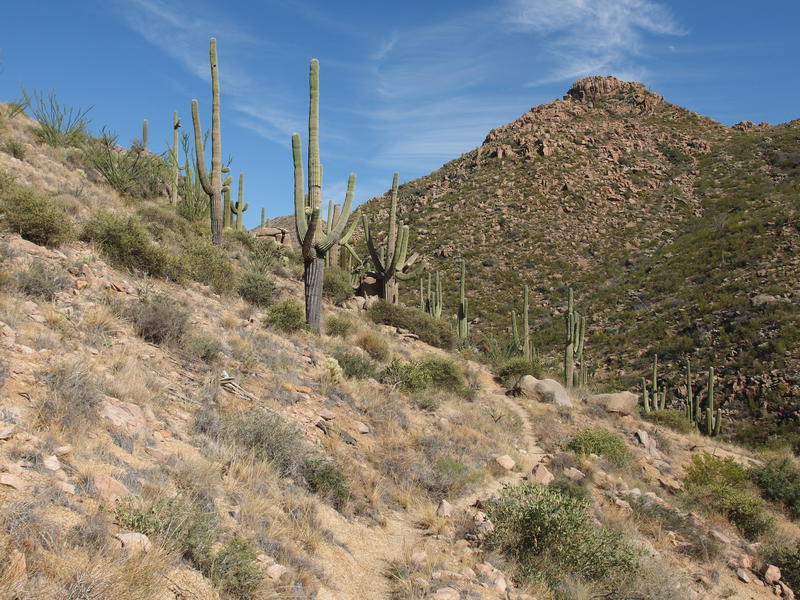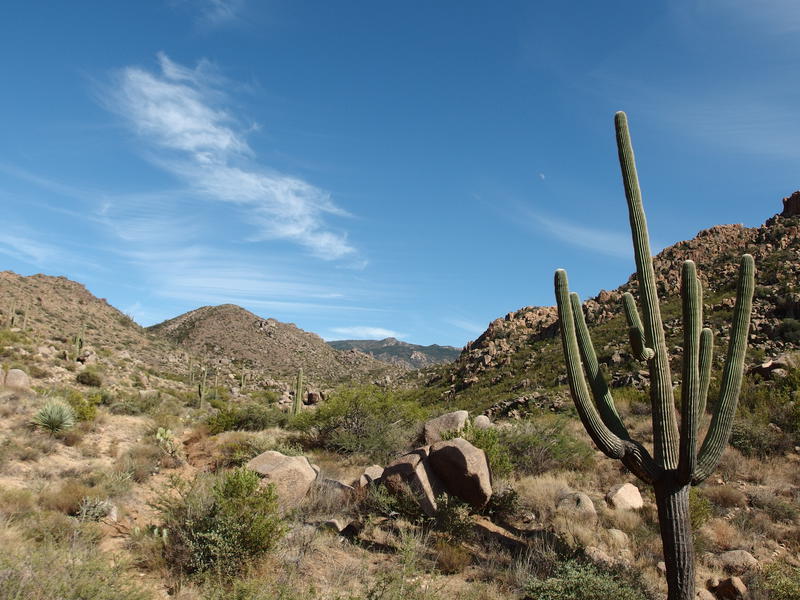 The valley still had an uphill slant, though it felt like nothing compared to the climb from the trail junction. I strode along and ignored my tired legs' complaints. Far off to the east was a rocky mountain with green growth crawling up the sides which just had to be Pine Mountain. Good grief, that was my destination for today. Rock Tanks runs along the side of it. It seemed so far away.
Thirty minutes after entering the valley and I passed the junction with the cabin spur. See, there's a metal cabin out here beyond the northern ridge, a remnant of ranching days gone by. I think there's even an old corral and a spring over that way, though the water isn't dependable. This spur trail was my halfway point. I checked the time - I was over halfway through my daylight. Oh, and I had finished a second liter by now, too. Two thirds of my water gone, half of my daylight spent, cramps clenching at my legs, and I was only halfway to my campsite. There was another 1600' to climb, too, and some overgrown trail to hack through.
I wasn't going to make it. I had assumed an average pace of two miles an hour, with a bit faster on the first half of the hike and a bit slower on the second. I just wasn't moving fast enough. I checked the temps on my little thermometer and didn't believe the reading - 120. Sure, it was hot, but it couldn't be that hot, even at four thirty in the afternoon. No matter. It was time to start turning around.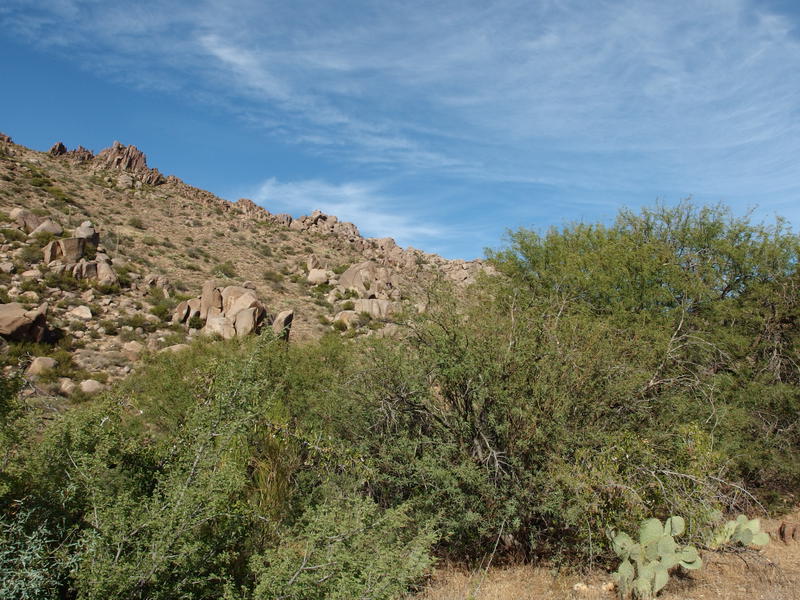 Well, first I wanted to explore a bit more of the valley. Part of me wanted to push on, too. There was water ahead at the camp - if I could stretch my last liter over the next two miles I could go dry for the last section. I meandered east some distance, admiring the piles of boulders high around me and the green foliage that grew up along the trail, before finally turning around. Retreating from this hike for the second time was shameful enough, no need to do it in the dark.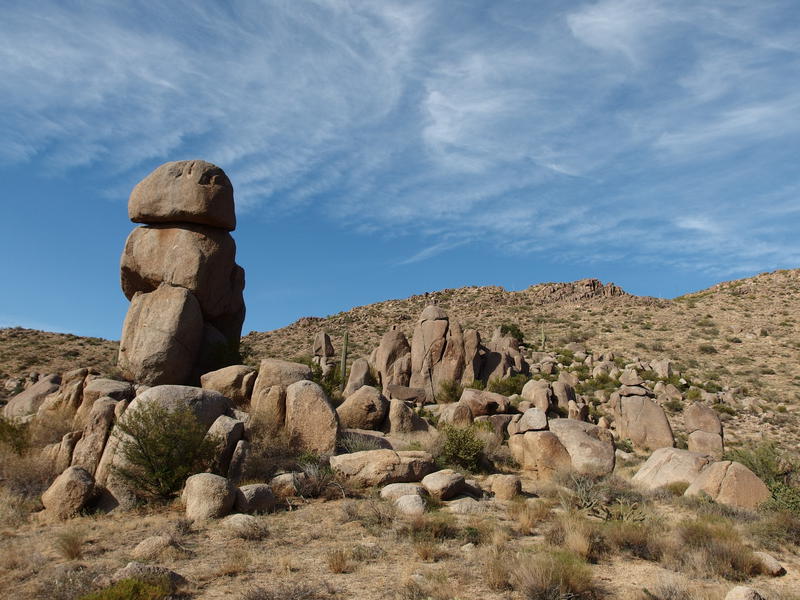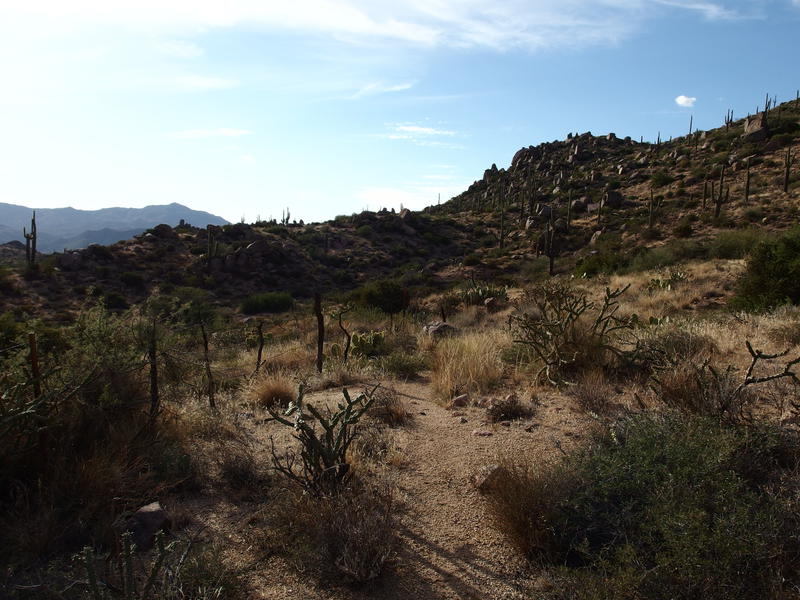 Downhill was faster than up, as it often is, even with the occasional cramp-related stop. I mixed some electrolytes with my last liter and pretended that it helped (it didn't). Food may have helped, but I just didn't have an appetite. At all. I couldn't even think about the granola bars I had stuffed in the side of my bag for easy snacking. When I eventually reached the Pine Creek Trail junction, the same spot I had called Katie on that cloudy Friday and debated turning around to escape the oncoming thunderstorms, I was ready to be done.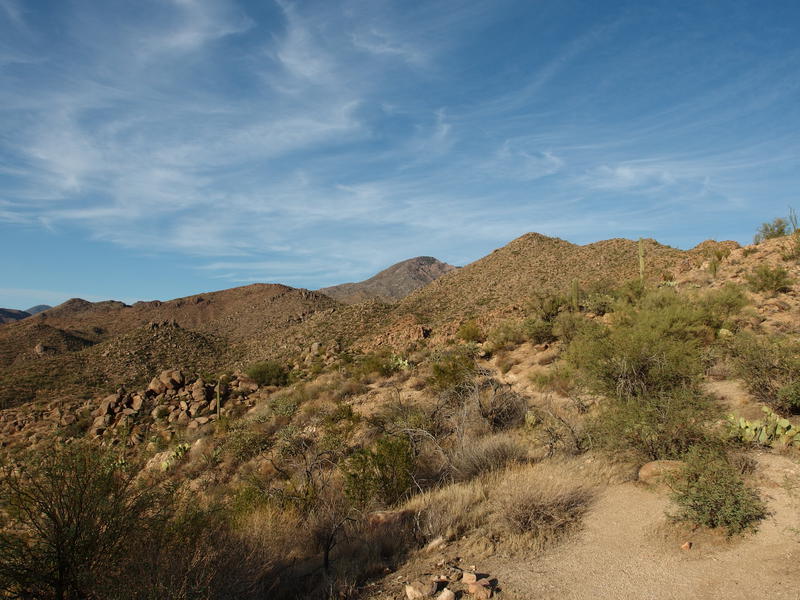 So, two attempts on this loop and two failures. Even for my poor '16 success rate this was particularly bad. If I wanted to get this one done I'd have to be smarter. There's a few options for starting outside of Ballantine Trailhead, though I'm not sure my van would make it. And they involve about the same amount of elevation difference, unless I make it up El Oso. Either way, there's no way I'm touching this again during the summer heat. This definitely feels like a wintertime adventure, complete with heavier, warmer gear and perhaps an established base camp.