Driving to Four Peaks is a dreadful ordeal. There are only two options: El Oso from the east and FR 143 from the west. El Oso is shorter and is in better shape, though to use it you'll need to loop all the way over to Tonto Basin, an annoying seventy miles outside of Mesa. 143 is a much tougher drive but it is a mere twenty-five miles from Mesa. Chris and I had a Jeep at our disposal and didn't want to waste the time driving to Tonto so we went with 143. And we quickly regretted the decision.
I've been on some tough roads in Michigan, and we've been on some bumpy drives in Arizona, yet 143 was something else. Twenty miles of hairpin turns, loose gravel, sudden grades, and washboard track is terribly wearisome. Fifteen miles an hour was a luxury that we seldom experienced on the drive. After waking up at three in the morning to get an early start it was very depressing to watch the sky lighten above Four Peaks in the distance and know there was no way we'd beat the sunrise.
Oh, and we wanted to get an early start for a good reason. Today we were planning on doing the entire ridgeline. Which is a very stupid idea. Brown's Peak sits on the northern end of the four and is a tough scramble up loose scree within a claustrophic shoot that severely tested our fledgling hiking skills last November. And that's the easiest of the four. The other three mountains require expert route finding skills, rock climbing, and tough nerves. One wrong move on these rugged peaks and you'd be in very bad shape. Chris and I wanted to try this out in the early part of summer, when the hot summer sun would be burning down on us along the exposed ridge. So yeah, stupid.
The sun was already high up in the sky with a smug bright look by the time we pulled into the empty parking lot. Between the early morning and tough drive I was feeling frayed, and Chris didn't look much better. We got out, stretched, and headed towards the trail with grim determination. There is over a thousand feet to gain before we even reach the base of the peaks and we had little time to waste.
We started strong and soon had to pause for breaks. Our legs were tired from the drive and the change in elevation is severe. Phoenix sits around 1500' and we were starting from 5700' (above sea level). It's easy to get out of breath when you jump up that high. At least that's the excuse we told ourselves. The grade is also steep and neither one of us are in fantastic shape.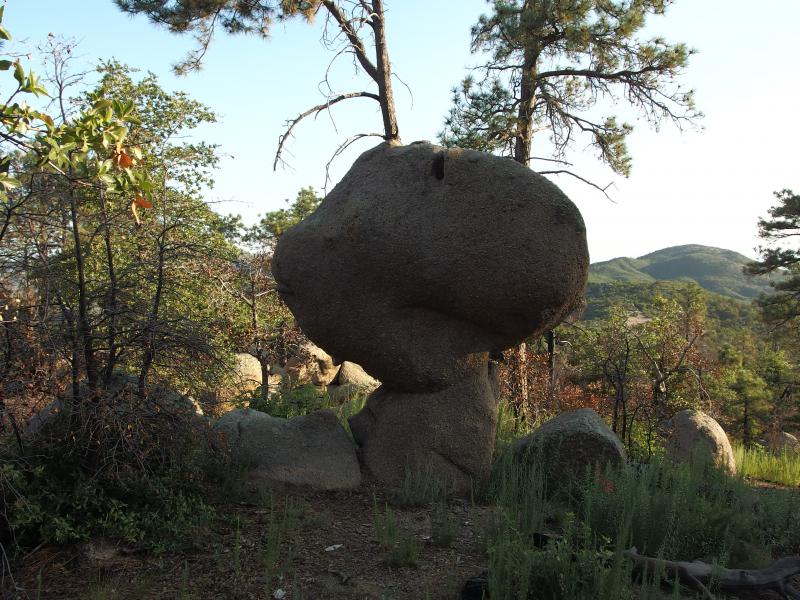 Once the trail leveled out a bit we paused for a longer break and I wandered off to the side. Camping up here has entered my mind more than once. Ignoring the fire that swept through here in 1996 there is a decent amount of pine forest for being so close to the Valley of the Sun. And the temperatures in the winter get pleasantly cool so far up. I wandered off the trail into a small campsite that had just been used within the last few weeks with a glimpse of Four Peaks to the south. Camping here would not only be an escape from the desert below, it would also mean quicker access to this remote hike.
After the pause at the campsite we booked it the rest of the way along the trail. It swings over to the east side of the hills, giving us full view of the Theodore Roosevelt Reservoir and the hot sun that was rising. It was going to be a warm day. And depending on how long we'd be up on the ridge that could be bad news.
The first good view of Brown's Peak always sends a little shock into my system. For much of the mountains that we've climbed there's always something close by to stay grounded. When we hike up Flatiron, North Peak sits a few hundred feet above. Even South Peak, the tallest point on the Superstition Ridgeline, doesn't seem too lofty with so many hills and mounds nearby. The Four Peaks stand alone. The ground drops thousands of feet in all direction and the only thing that even comes close to its incredible height is Mazatzal Peak, dozens of miles to the north.
We scaled the last bit of trail and stood in the saddle next to Brown's Peak. The dark chute ran up the right side and tempted us greatly. It'd be cooler in there, shaded from the hot sun, but that wasn't the plan. We wanted to start from the far south side. Before we went, though, I had to find a way to get the awesome scale of this mountain. So, of course, I used a banana for scale.
With the picture taken and banana eaten (it had been a real pain to carry it with minimal brusing over these two miles) we started looking around for a path. There was supposed to be a way around the west side of the peaks that should take us to the far peak, though I wasn't sure where it started. After wasting some time looking around we simple dropped down and pushed our way through cholla and spiny undergrowth. If we had to bushwhack our way to the south we would. Luckily I found it after a painful twenty minutes - it had dropped down a bit further along the trail.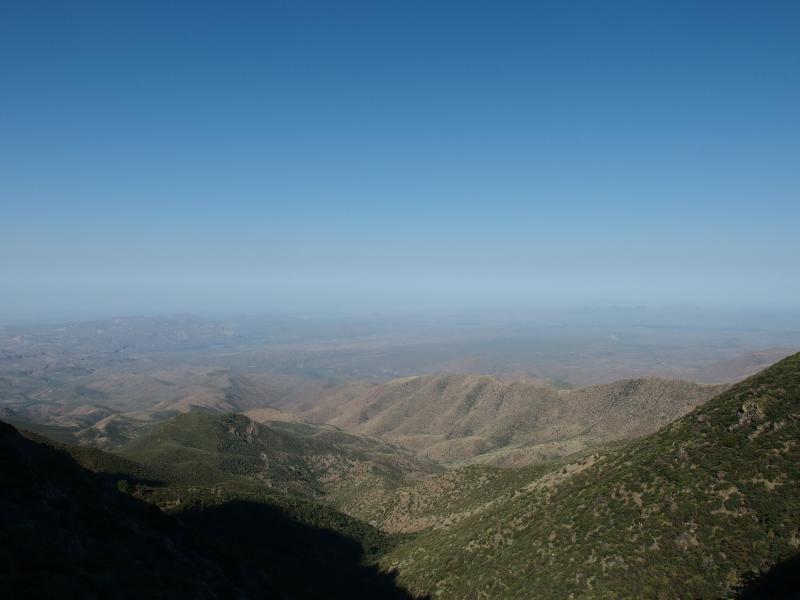 This trail, Amethyst Trail, was really well maintained. Almost better than the trail we had taken from the parking lot. This kind of makes sense, as there is a mine out on the fourth peak and this is the only access to it. I didn't think the mine was active any more. When it was, though, miners would have to drive up the same road we had taken, hike the same trail we had, and then take this path all the way to work. That would make a tough commute.
Along the way I couldn't help but stare up at the ridgeline above. Amethyst Trail slowly dropped and exaggerated how steep the peaks were above. They looked scary. There was no clean path up there, no smooth rock connecting each peak, just sudden jags and ugly spurs. We meandered south on the trail and cowered under the planned route above.
When we reached the end of our path the temperatures were uncomfortable, our legs were wobbly, and neither of us were that confident about what lay ahead of us. A rusty fence with razor wire extending down the mountain blocked our way forward. We were at the site of the old mine, except it didn't look so old anymore. Across the way was an old white building, a leaning Porta-Potty, and solar panels near a blasted platform in the cliffs.
Feeling very uncomfortable we edged our way around the mine and snuck up the deep gully that ran next to the white building. There was no one here today, that much was obvious, yet we had the distinct feeling that we didn't belong here. Other people have done this hike, though. I'm not sure how they get around the mine.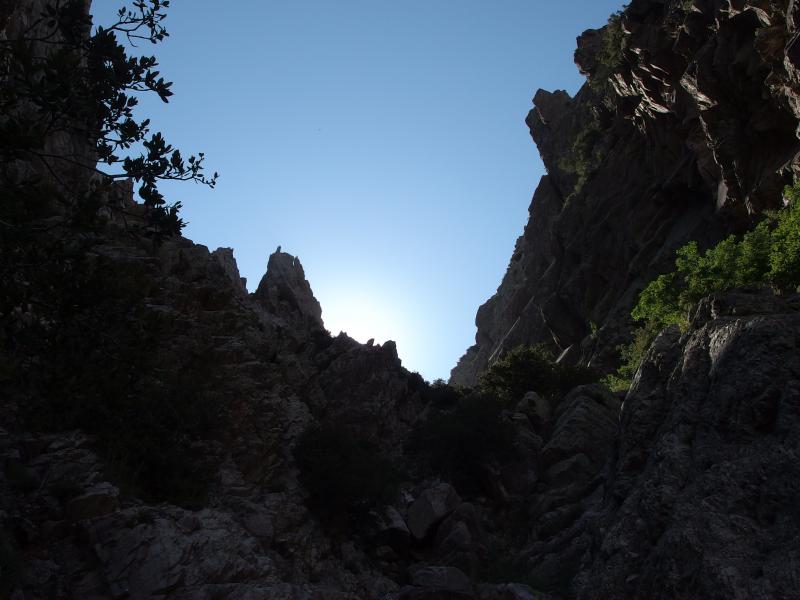 And then there was the cut. The gulf that separates the third and fourth peak, Sister Peak and Amethyst Peak respectively, is at least as steep of a climb as the chute up Brown's Peak. The rock was loose and gave underfoot and, for an additional difficulty level, thorny undergrowth clogged up much of the route. Getting to the ridgeline itself was going to be a challenge.
Chris and I split up immediately. I ventured to the right and crawled my way through the thick brush over loose rock, while Chris headed up the left side and climbed up sheer walls of rock to avoid the brush. We shouted back and forth a few times, spitting curses at this hellish climb, though we often fell outside of hearing range. The sound didn't echo as much as it should in the narrow gulf, not with the brush and tortured interior, and even though we were never more than a few hundred feet apart there were long periods of solo hiking.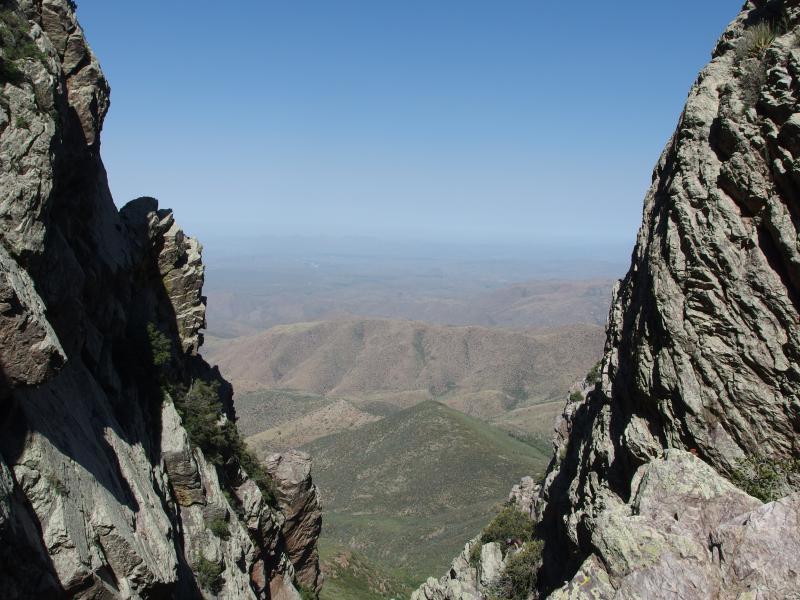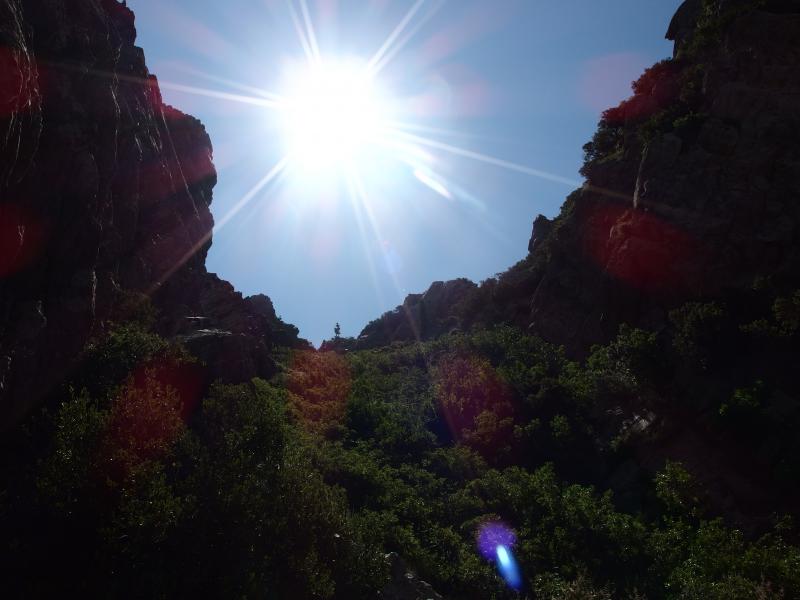 A hot sun poured down on us before we reached the saddle between the two peaks, driving any sort of cool air out of the chute and bathing us in warm, still temperatures. Our trails converged and we made our way up in a slow single-file line. The brush was thicker up here, solid walls of green leaves that hid thorns and sharp barbs, and we bled and sweat along the climb. We were almost at the saddle, though.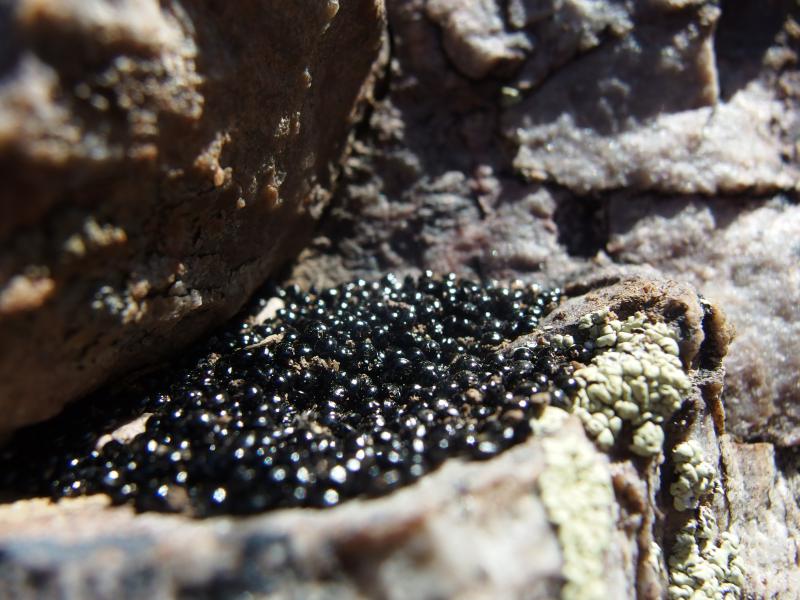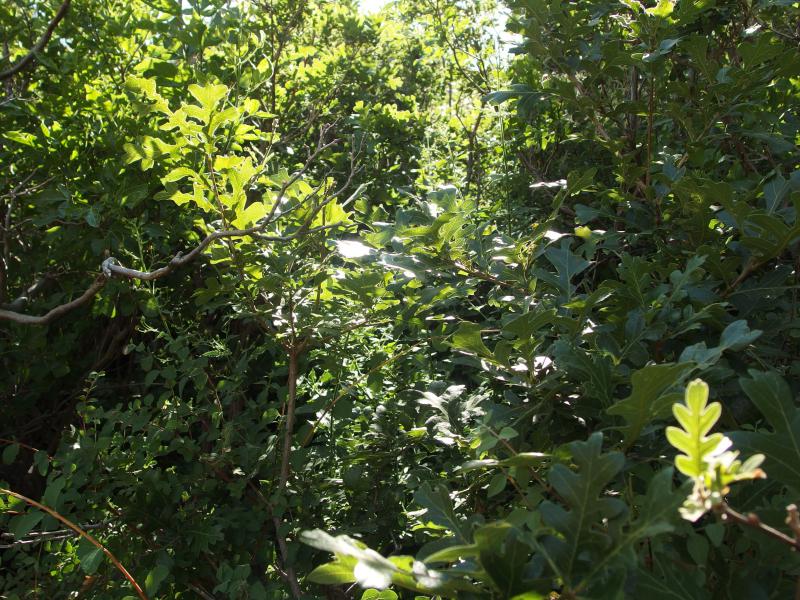 Before we reached it Chris called out for a break. The hot air and elevation was getting to him. We briefly discussed our options. If we took too long up here we'd be stuck with the unbearable afternoon heat. However, if we pushed on to Amethyst Peak there was a good chance of injury. We decided on a compromise. I would push on to Amethyst solo, claiming one of the four peaks, and Chris would just tackle the extra fifty or a hundred feet to the saddle. We'd meet back up there and decide whether or not to try the remaining three. There was always the option that I could do the entire ridgeline solo and just meet Chris back below Brown's Peak, the saddle where we first cut off on Amethyst Trail, though I didn't like that choice.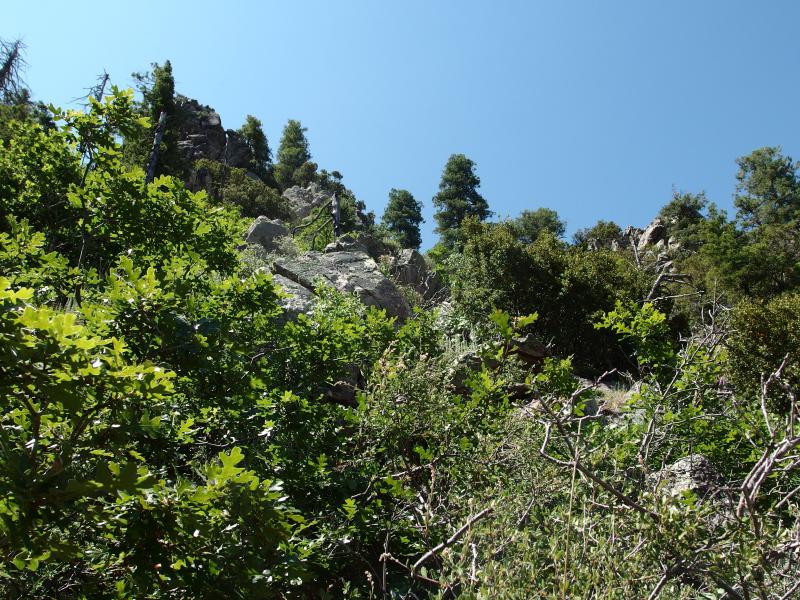 Alone I pushed my way up to Amethyst Peak. It was thickly overgrown, just as the chute had been, yet it wasn't nearly as bad. Thorny undergrowth had given way to leafy trees and loose rocks replaced by downed logs. There was a fair amount of tough climbing and ducking and weaving around, but with no worry of kicking rocks down on Chris I made recklessly good time up the peak.
Without detailed maps or knowledge of the area I simply headed to the tallest point in sight. Which landed me on a false peak northwest of the true Amethyst Peak. I stood on the solid rock underneath and gazed over at the peak, feeling heady and weird from the quick climb and prominence. That didn't look fun, to head over through brush and craggy rocks to reach the highest point. However, a Four Peaks Ridgeline wouldn't be complete without it. With a deep sigh I headed back down and circled towards the peak.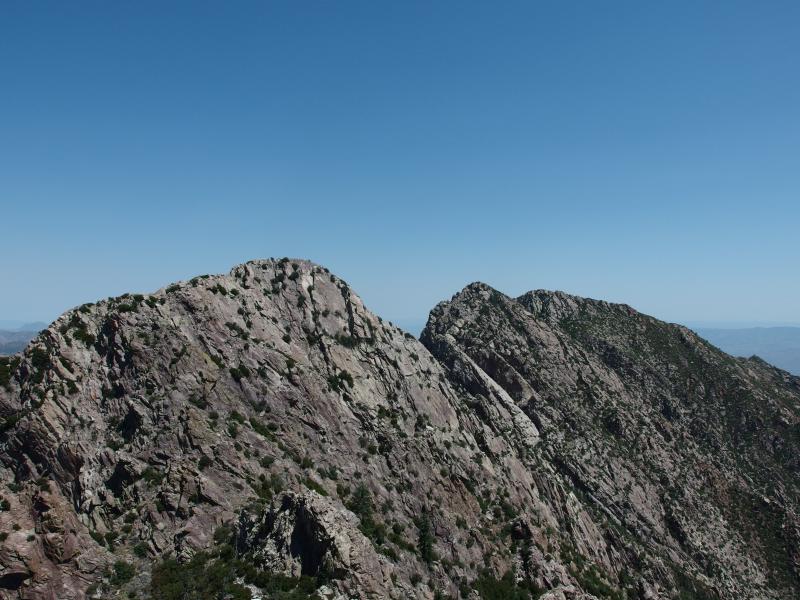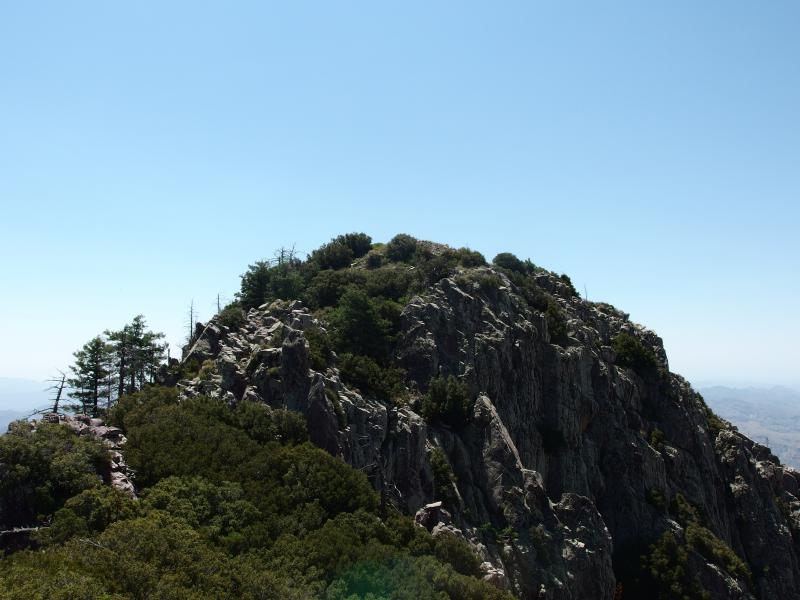 Getting to the peak was not a straight-forward process. There are a few false heights along the way, each requiring difficult climbing and shimmying around to pass over. Some of them offered easier ways around the bottom, but not all of them. And the drops off from this peak was not something I wanted to try out.
When I finally hit the true peak I spent the first few minutes looking for the summit log, finding it buried under a few rocks, and then plopped down next to it. Inside was a few brittle notebooks filled with names and dates and inside jokes. I picked the notebook that looked the most recent and signed it 'Jake and Chris'. Chris had made it close enough to count, anyways. With that done I looked down on the land around me and drank deep from my water.
Phoenix was disgustingly hazy. I could barely make out the most prominent sights - the McDowells, South Mountain, and Camelback - let alone my little neighborhood under San Tan Mountain. Superstitions seemed to be caught up in the haze, though it was easy to see Weaver's Needle and Malapais. A few of the Salt River Reservoirs were also visible. One thing that caught my eye was the long, green shoulder of Amethyst Peak that reached down towards Apache Lake. That land would be wonderfully remote and didn't appear to be that damaged from the fire. The should could make for a fun backpack trip there someday.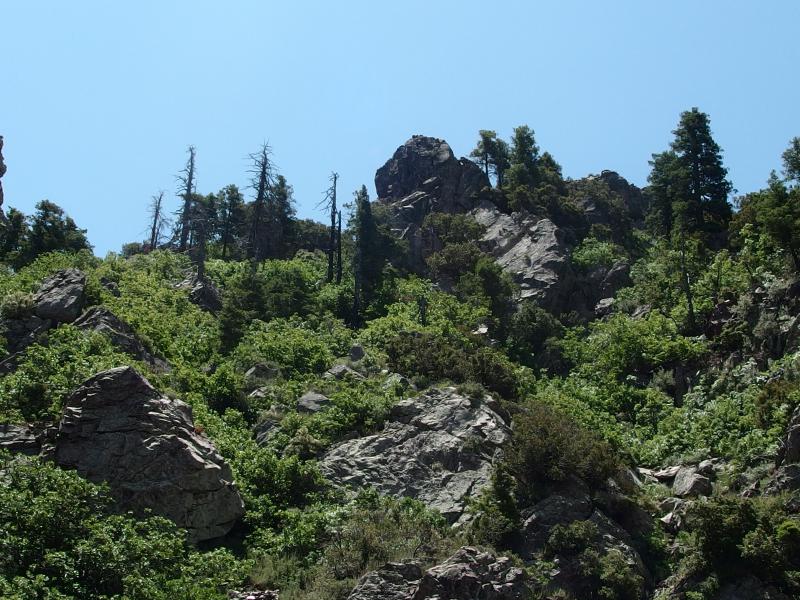 As I started on my hike down I could make out hints of a trail - a footpath here, a cairn there - which made my descent much easier. Most hikers come up the chute next to Amethyst and stick to it until they hit the saddle, then cut over to the peak. I had done a more direct line and had paid dearly for it. With a trail leading to the saddle, where Chris should be waiting for me, I trotted quickly along and easily reached it. Feeling good about the remaining peaks I called out for my hiking partner. He didn't answer.
Some scrambling around the saddle confirmed my fear. Chris wasn't here. There could only be three explanations. Either he started up one of the peaks without me, or he headed back down the chute and was already out of earshot, or he was hurt somewhere on either route. The first one didn't seem likely, not with how much he was complaining about the heat. So if he was hurt he'd probably be down in the chute. Tackling the other three peaks seemed like a silly waste of time at this point. I turned away from the ridgeline and hoped I was following his tracks.
This change of plans didn't tear me up too bad. I was already low on water and energy myself and would have needed to steal some gear from Chris here anyways. He usually carries around four or five liters and almost always has stuff leftover. I bring two liters, which was not enough for today's heat. At least we had a good exploration of the area and a learning of how much exposure drains energy. We could always return in the winter months.
I headed down the chute with great haste, making our climb up feel pitifully slow by comparison. Along the way I called out to Chris a few times, just in case he was conscious and hurt somewhere, and never heard a response. It didn't seem likely that he would stay in front of me and beat me down. I hadn't been away on Amethyst Peak for that long.
As soon as I reached the bottom of the chute and the old (but active?) mine I wasted no time cutting over to Amethyst Trail. From this direction the trail slowly climbs back up to Brown's Saddle, giving my legs constant reminding of the pounding they had taken today. The sun beat down on me, the ridgeline hung far above and mocked me, and the trail slowly crawled up to the saddle. When I rounded the last bend I made one more loud call for Chris - and he answered. He had gone down the chute and returned on the trail, reaching the saddle a mere twenty minutes before me.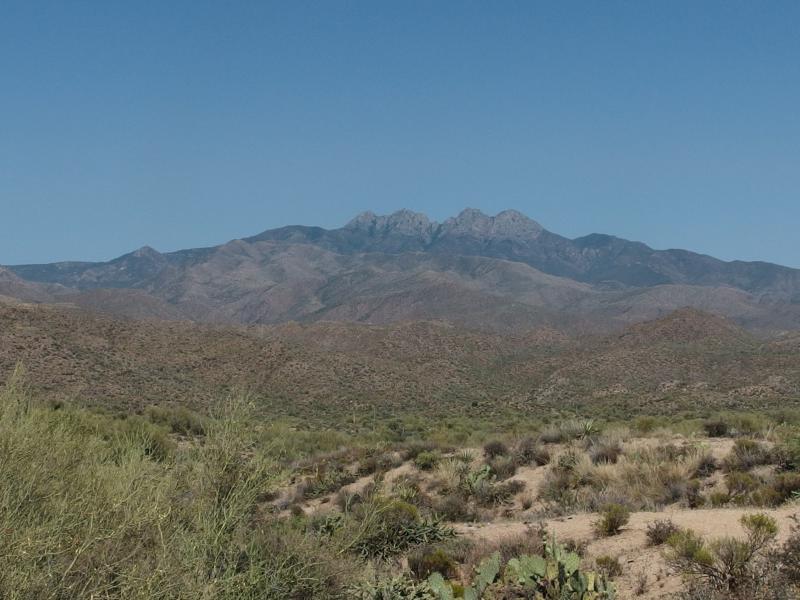 The way back was not remarkable. I stole some water from Chris, we talked about the return, and we headed back to the jeep. The drive was long down 143 and it was mid-afternoon by the time we got back to Mesa. Four Peaks Ridgeline still hung up there, waiting for us, though I'm more content with waiting to tackle it now. Hiking under a warming winter sun sounds much more appealing than being exposed on a narrow knife of rock at 7500' under a sweltering summer fireball.