While a newborn girl has been a pretty big event for our household, the largest adjustment is dealing with three little ones. Even relatively simple things like grocery shopping is next to impossible to do with only one parent. I can't even imagine how I'd take all three of them hiking or to the zoo right now. With Katie to help some things become feasible, though she's still recovering and has limited means. Plus I like to give her breaks during the weekend. It's just that trying to juggle three little kids, especially when one is a newborn, is not that easy.
I should start with Charlotte. She's been simple as far as babies go - sleeping most of the night, not picky about where she takes naps, and endeared a few colds already (thanks to her older brothers). She's strong, too. The way she holds up her head makes me wonder just how long before I can throw her in a back carrier and take her on a little hike. Our only limitation with her right now is making sure she is in a stroller/carrier and we have a food source nearby.
Where things get tricky is when the boys get added in. Noah's only three and Thomas two, so they are at the right age to get in all sorts of trouble. If they're in the house and near Charlotte we need to keep an eye on things. If I walk them to the park then I either need to hold their hands or pull a wagon with them strapped in. If we go to the zoo, or anywhere else with crowds, they're holding my hand. The only time I let them run free is on a hike, which is totally safe to do with cactus needles and rattlesnakes all around. Anyways, all this means that I don't have an extra hand or eye for Charlotte.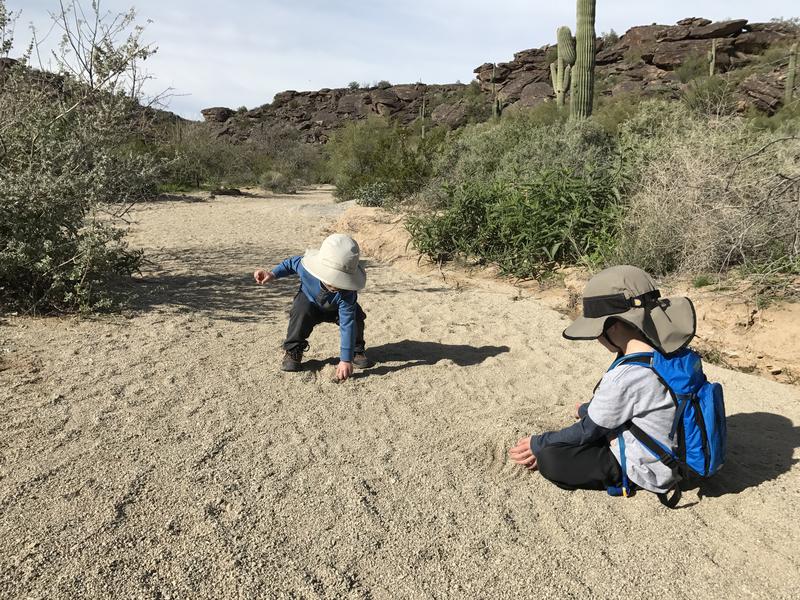 So for now I've been escaping the house with the boys and leaving Katie and our daughter at home. I take them hiking, to the zoo, to the aquarium in the mall, etc. We've had some great desert adventures in the relatively mild spring temperatures here. Recently we hiked Silly Mountain, which we had done last fall, and this time around Thomas walked the entire loop. Last year he had to be carried the whole time. It's surprising how much he's grown in a few months.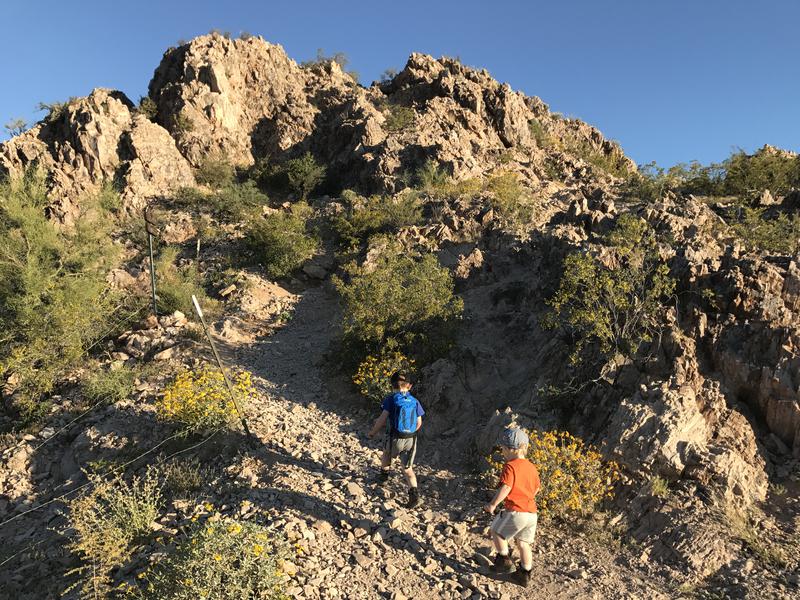 I do want to haul Charlotte along on our adventures. Next weekend I might try something basic, like a car ride over to a nearby playground, and let the boys play in the sand while I push the baby around in little circles nearby. I've thought about taking them to the aquarium in the mall, though I'd have to trust Noah and Thomas to hold onto the stroller through the parking lot and past tempting toy stores and the like. Katie will probably come with me on some of these outings, but I do like giving her a break. Maybe it'll get easier when I can keep Charlotte in a carrier and have both hands free to deal with the boys.