Predawn light streamed over Cliff Lake, dim pinks and blues reflecting off the calm surface far below. I stood uneasily on the outcropping. It would be at least an hour before the sun would break over Mt Benison's bulk and throngs of mosquitoes already surrounded me with a steady whine. A full of hour of standing still above the lake was unthinkable. Grabbing my gear I continued north along the western shore, leaving the outcropping and view behind.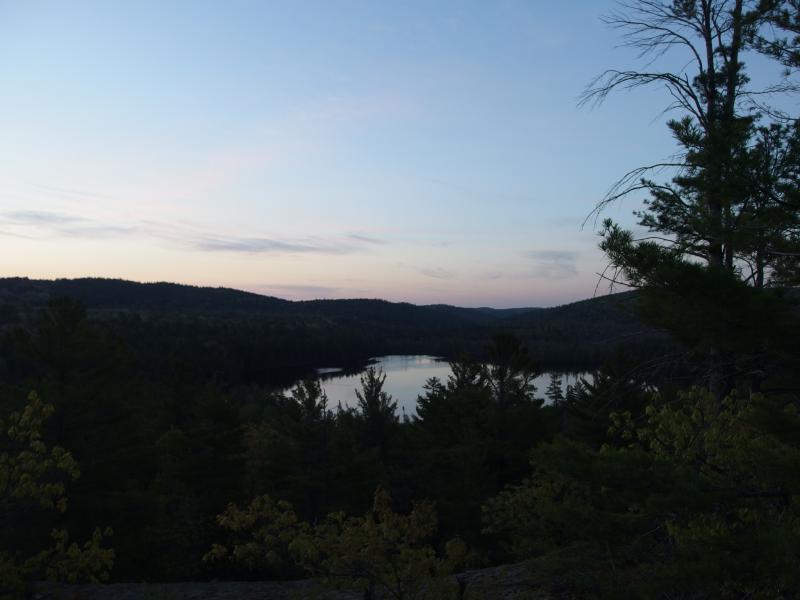 My route was a bit uncertain here. I knew, from bitter past experience, that there is a nasty swamp on this shoreline. Water seeps out from a rocky dam to trickle into Little Huron River, creating a soggy section of land that was bound to be infested with bugs on this spring day. Going due north was not an appealing option. I wandered west, onto another outcropping, and found an overgrown logging track. The track led me even further west along the edge of a low hill and dumped right onto the drive to Cliff Lake without ever entering the small swamp. Perfect.
Today I was heading to Turner Point, a small outcropping sitting on Mountain Lake. It was a six mile walk from Erick's Road with a hefty climb over the shoulder of Benison to get there. If I made it, though, I would be greeted with an awesome view of the southern shore of the lake. Plus, Turner Point was a great starting point for the next leg in today's grand hike.
It felt good to be on a gravel drive, a drive I had walked many times before. I left the bulk of my gear in the woods and trotted east. With me I had a few items of food, some water, and a water filter that I couldn't wait to try out. Oh, and bug spray with a scary percentage of DEET. The spring bugs were horrific.
When I hit the fork in the road I had to double check my route. I thought that the left fork, the one that would take me along Benison, was a wide gravel track. It was only last year when I followed it to Tokiahok Head. There had been a lot of snow that day, though, and little green. The overgrown fork was the correct one. Maybe this side of the mountain didn't get as much traffic as I thought.
I tried to slow my pace but didn't. The bugs were bad. Mosquitoes formed most of the army, with biting flies and no-see-ums filling out the ranks. I had already applied a thick layer of spray on me, covering my exposed skin and clothes with the chemical smell, and yet they attacked me again and again. My fingers were already bitten up, making handling my camera and map an itchy and painful experience, and they were working on my face next. This was going to be a long day.
The green track led down and then back up. A small stream began to flow over it, eroding away at the gravel and dirt and creating small, muddy puddles. I strode and danced forward, anxious to get to open air. When the route began to steepen I started to glance to my right. There were outcroppings up there, open rock that looked over Cliff Lake, and I wanted to get up there.
The bare rock cliff showed up suddenly to the side. There was some minor logging activity around the base, dead branches and trees scattered below the rock, and I had to climb over them like a jungle gym. It was far too steep to climb outright. Circling around to the right I crept up the side, using foliage and dirt to spider-crawl near the exposed rock.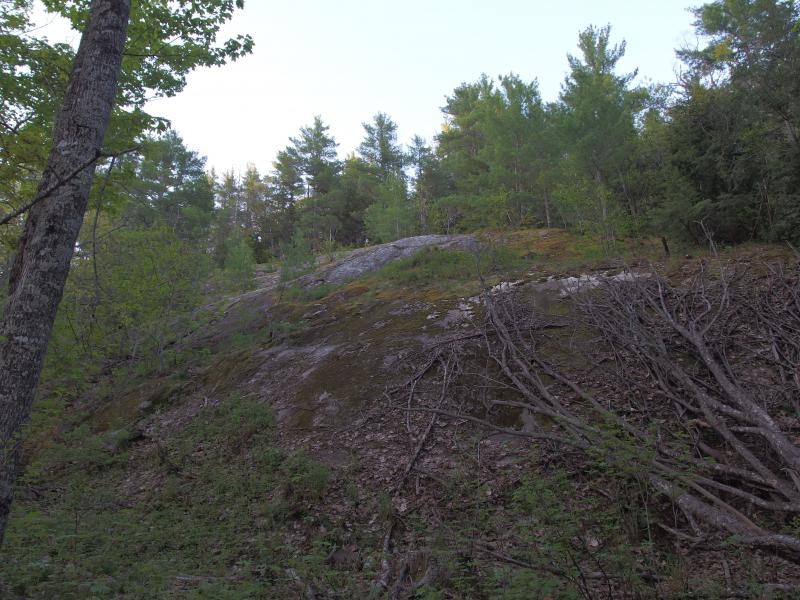 A decent view welcomed me at the top of the buff. Tick/Cliff Mountain was out there, an odd bump of trees and shade, and a few rises of Superior Mountain crept up to the side. Benison hogged most of the view, though. The huge mound of rock and trees still blocked my sun and cast a long shadow over the woods around me. Maybe, maybe if the sun would just break free it would burn all the blood-suckers around me away, leaving little puffs of ash to sprinkle down. That's how it works in the movies, right?
I turned and headed over the bump. Climbing up the rock was one thing - I still had to crest the ridge to get any views on the other side. Rays of sun began to trickle through the woods, lighting trunks and branches. Not enough to warm me or to discourage the bugs, but at least it was trying.
After a few sloppy rambles around I burst free from the forest onto a wide open outcropping. This was exactly what I was looking for. Cliff Lake lay below me, a smooth mirror of water reflecting the tall pines around it, The swamp on the eastern shoreline, much larger than the one I circumvented, featured towering dead stands that scarred the green forest. More welcome than the view, though, was the breeze. A gentle wind was kicking up, sighing through the trees and pushing the bugs away from me.
With my own sign of relief I plopped down and enjoyed a few minutes of rest, taking out an apple to munch on as I examined my map. In the last hour I had made my way around Cliff Lake and climbed a few hundred feet. Turner Point was at the end of the ridge I stood on. All I had to do was follow the ridge up and down a few minor bumps and I'd be on Mountain Lake. Plus, there were promises of open outcroppings along the way, easy to walk on and offering views of Cliff River, Cedar Creek, and Burnt Mountain.
I applied an additional layer of spray, tried to avoid scratching the bites collected already, checked over my gear, and then continued east. The sun had broke over Benison now, visible through the trees on this ridge, though it didn't scare away any of the bugs. They were dayfliers.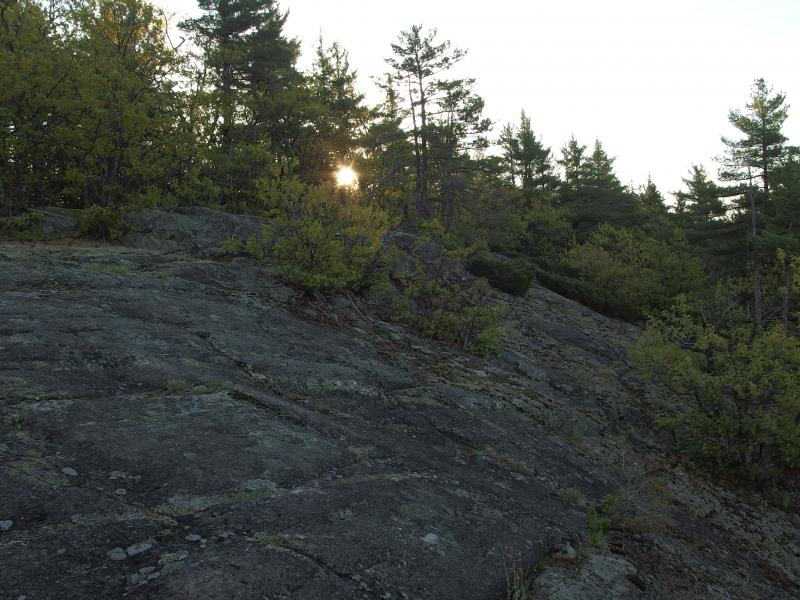 Following the ridge east wasn't too bad. The terrin changed a few times, going from broken rock to solid rock to forest floor, and the forest also switched between giant pines to low deciduous. I did my best to stay on the south side of the ridge. This way I'd keep from cresting and heading too far north. Plus, I didn't want to miss any views from the potential outcroppings ahead.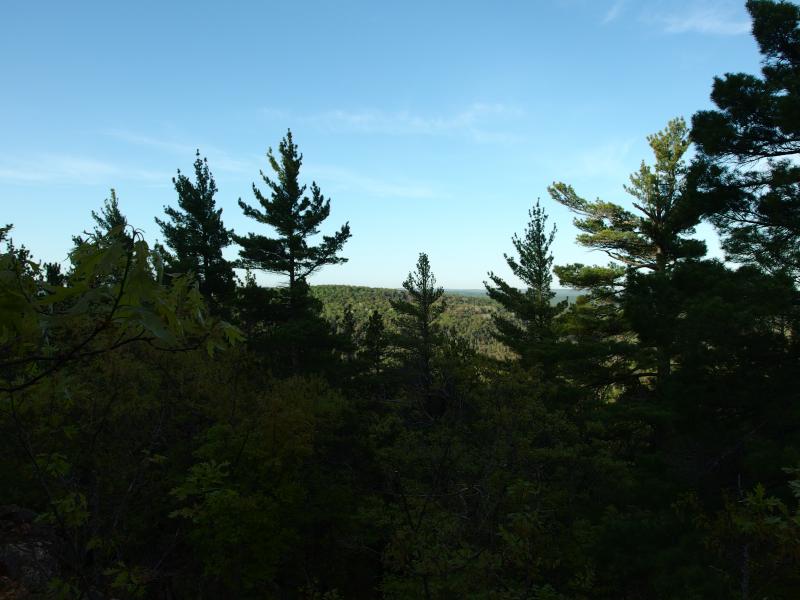 The views ended up disappointing, though. There were outcroppings, sure, bare rock covered in lichens, though the trees grew tall and thick around them. I got a few partial views to the south, more forested hills that were bathed in the sun. There was nothing that compared to the first view, no calm breeze to blow the bugs away or wide vistas. Just patches of not-forest surrounded by forest.
Another hour passed on my stuttering journey east. The land began to dip down, slowly giving way to the large lake ahead. Where there should have been a road there wasn't, a dashed line on the topo map that would have made a great alternative approach from Forty-Foot Falls. The line lied - there was only trees up here. The trees began to grow larger, too big for two people to encircle, and the forest opened up. I was entering in old growth, or at least woods that hadn't seen an axe in many, many decades.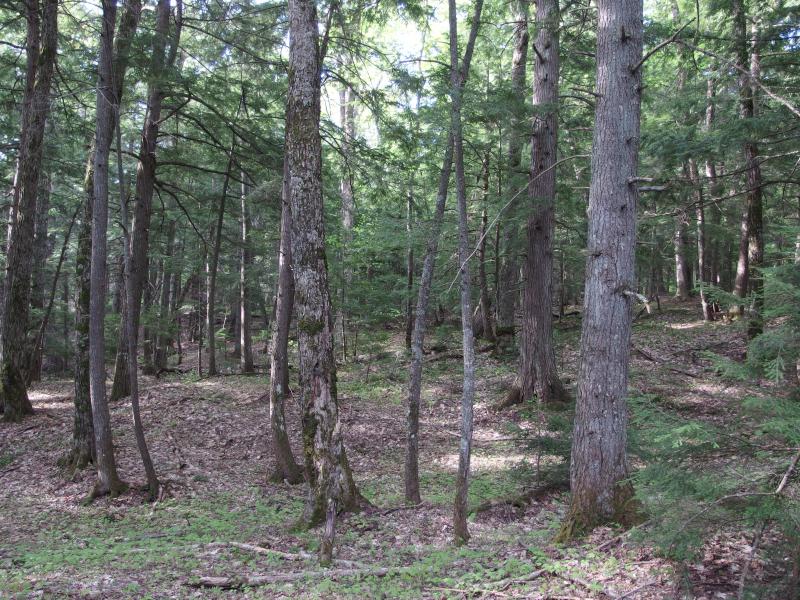 As the ridge descended down to Turner Point I kept my eyes out for more outcroppings. There were a few I had noticed from the maps, bare patches of rocks that may offer views of Burnt Mountain. Many more were further south, along the impressive gorge of Cliff River, which were too far out of the way for today's hike. Even these outcroppings disappointed today, though, with the surrounding trees too high for anything more than obstructed glimpses to the east.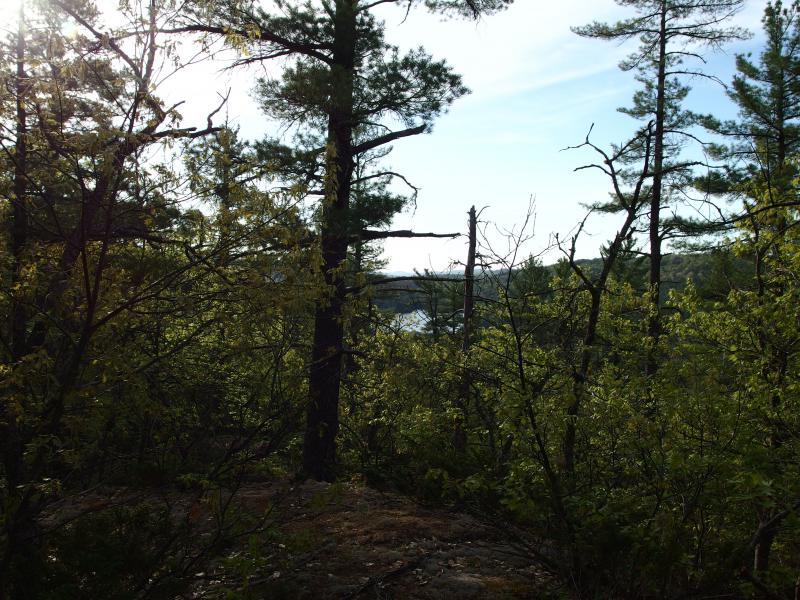 I trotted and slid and snuck down the ridge. It soon became a mindless tumble - just keep going downhill. Suddenly I noticed something weird. The ground was soft. Ground shouldn't be soft on a rocky ridge. I had accidentally veered to far to the south.
The southern shore of Mountain Lake is a little terrifying. The lake has two main outlets: Cliff River and Cedar Creek. As they near the lake they began to slow and spread out, forming a swamp a few hundred yards wide as they meet. I can't even tell where that swamp ends and the lake begans, it's all marsh and deep water co-mingled. There is no good way through or around this area. The barrier is just as effective as an electrified fence from Jurassic Park.
And I had stumbled onto the edge of the swamp. The bugs thickened noticeably around me, ground squelching underneath and water glinting a few dozen yards away. I slowly backed away, reclimbing the ridge behind me. Maybe, maybe one day I'll try to go through this swamp, but not today. With the high waters of spring and the bugs and the humidity the thought of this area was disgustingly unappealing.
A few long minutes later and the trees began to think over hard rock. My destination was close. As soon as I saw the blue waters I lept down the rocks, sliding over pine needles and rock tumbles, until I stood at the edge of Cliff Lake. A cool breeze drifted across the picture-perfect waters and ran across my face like a kiss. This, this was what I needed after the stillness and heat of the enclosed forest.
I sat and relaxed a bit, enjoying the views across to Burnt Mountain and the unnamed shoulders of Homer. There were still bugs, sure, though the breeze did its best to dissuade them from sticking too close to me. I gazed at my map. I was three hours into the hike, three surprisingly tough hours up and down the ridge and through clouds of bugs, and I still had a long ways to go today.
Turner Point didn't have as much on it as I thought it would. It may be part of club property, though I didn't see any signs or markers or wire along my route. Even so, an outcropping on the shore of a large lake like this usually has a few trails and clearings for campsites. There was a fire pit and an upside-down pail for a chair, that's it. Turner Point was weirdly empty.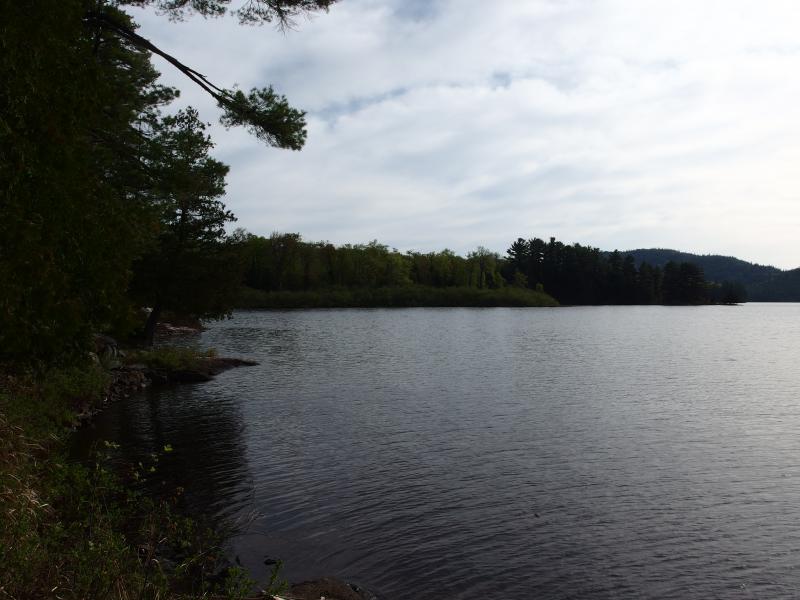 With a slight groan I stoop up and stretched. My legs were not used to the heat or the hills and complained as I pushed north. Along the shoreline I could make out the large, unnamed intrusion into Mountain Lake across from Dudley Point and, before it, the mouth of Mink Run. I headed towards the mouth, rolling slowly to the next leg of the hike. It was time to climb the small creek to the peak of Mount Ida.