Called Tick Mountain by Geocachers, there was a rocky peak on the outskirts of the Huron Mountains that had steadily become a thorn in my side. I first tried to climb the peak with a friend during the winter and was forced to turn around within site of the final climb because of time constraints. My second attempt ended abruptly when both I and my hiking partner fell through the ice of Little Huron River in the early spring. This was my third attempt, in the midst of summer, and I was determined to make the climb.
Tick Mountain rises from the banks of Little Huron River like a long spine of rocky peaks. There are four separate rocky outcroppings, with the eastern one being the tallest at 1342'. This point is separated from the rest of the spine by a 300' dip, which is the challenge I turned away from during my first climb. The first two outcroppings have limited western views of Bald Mountain and an unnamed peak nearby, but the second two have expansive views in all directions. This makes the mountain an ideal spot to view the unreachable Huron Mountain Club peaks as well as the much tougher rocky outcroppings to the north.
Starting from Little Huron Road in the early morning, I took off with my dog and crossed the Little Huron River (a small, swampy creek) and headed due east. Tick Mountain has some very tough cliffs on the north and south sides, so I planned to travel the top of the spine on my way to the highest point. The first few outcroppings were easy to climb, and the elevation change was a pretty steady uphill grade. I didn't have my GPS Unit with me, but the route was obvious (if a bit overgrown).
After reaching the point where I had turned around before, I was faced with a 80' drop before the next climb. I had to head north first and navigate a few huge rock cracks before climbing uphill again. The final climb wasn't as difficult as I expected, and the dog and I found ourselves at the top of the mountain after forty minutes of hiking. The best way we found both up and down this peak was from the northwest, as the other sides has surprisingly ugly-looking cliffs.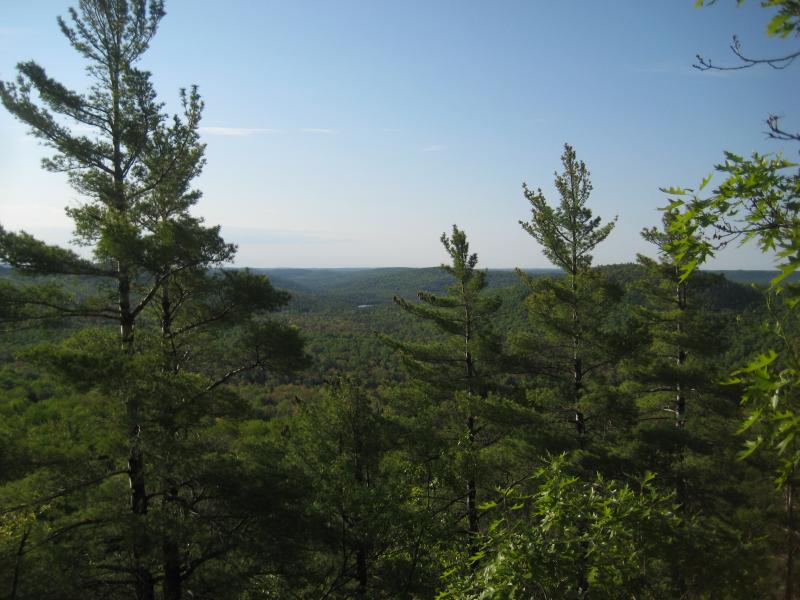 The views were slightly obscured by towering pines, but still offered some excellent photo opportunities. Mt Arvon was visible to the southwest, Cliff Lake to the east, Mount Benison to the northeast, and Lake Superior to the northwest. A few small rock piles were the only sign of previous visitors, giving the mountain a rustic feel. After enjoying the peak, we headed down the mountain to the north to visit a few other peaks before heading back to the car. For a hike less than a mile in length, though, it's hard to find a more rewarding view of the Huron Mountains outside of Club property.