Dark gray clouds boiled and churned above Barnhardt Canyon. Turning my back to them I pulled my gear out of the van and tried to put them out of my mind. Of course it would be cloudy - the forecast had promised rain and storms up there into the early hours. But it was supposed to clear up, and there should be no precipitation in the Mazatzals over the next few days. Those clouds were just a empty threat. Or so I hoped.
There was some activity at the trailhead this morning. A half-dozen vehicles were parked in the corner with several tents pitched, and I saw them moving around and murmuring in the dark predawn. One voice called out 'Fifteen minutes!' There had to be close to twenty people getting ready for something big. I thought briefly about wandering over there for a quick chat and decided not to. I had miles and miles to hike today, and as long as these clouds didn't turn into rain I could enjoy their shade.
Half Moon Trail heads north from Barnhardt Trailhead, skipping along the base of the Mazatzals in one crescent curve after another. It crosses multiple washes along the way and has a few decent climbs in between. The first wash was the base of Barnhardt Canyon itself, and while the trail down was easy enough, the bottom of the wash was filled with boulders and I get completely turned around. Ended up doing some bushwhacking on the far side and found the trail some dozen yards later. I didn't have time for bushwhacking today. I shook it off and pushed quickly on the trail.
A short distance later and I rounded the first hill and stopped briefly to enjoy the views. More of the northern Mazatzals were visible now, complete with gloomy clouds hanging low off the ridgeline. Somewhere up those steep rock cliffs and dark clouds my next trail climbed. Gosh, that was a bit frightening. To distract myself I glanced back to the south and enjoyed a chunk of clear sky and color that heralded the coming dawn.
My path then swooped back in to complete the first crescent and into Eisenhauer Canyon, blocking my view of the parking lot for the rest of the day. I headed down into the wash and hopped across the boulders, this time finding the path on the far bank more easily. Somewhere up to the left was Eisenhauer Spring, and back in Barnhardt there was a Garden Spring upstream, but I didn't want to waste time hunting them down. I had two liters of water on me and was fairly confident that would last long enough without checking out questionable sources. Besides, these washes were so dry it was hard to imagine that there would be a flowing spring a thousand feet up.
Coming out of the second wash was a little climb of about a hundred feet over loose gravel and through desert scrub with the occasional cow pie to dodge. Guess this trail must not be within the official wilderness boundary, not if there was livestock out and about. It was still well-maintained, frequent cairns and pushed back brush. I cruised over the little climb and dropped through a few unnamed washes as the day began to wake.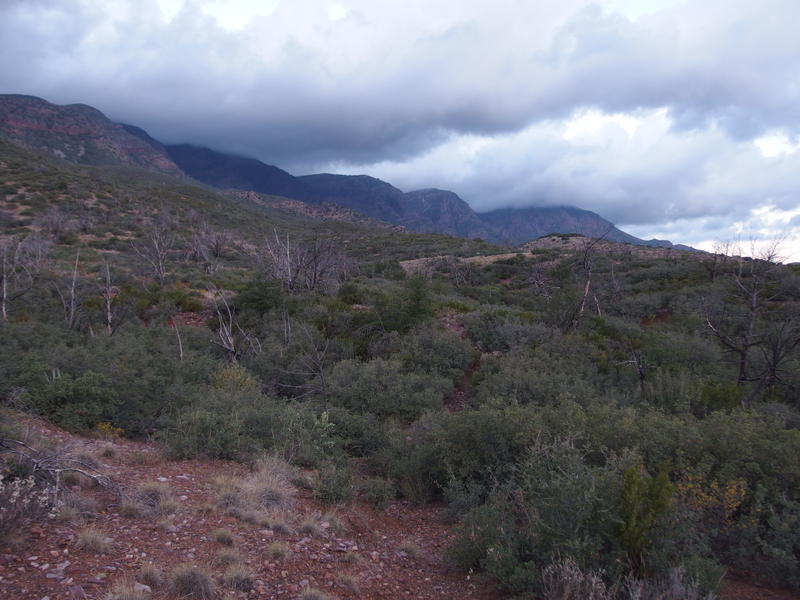 Those dark clouds that looked so angry above the Mazatzals were breaking up almost as soon as they blew over the ridgeline, piling up into fluffy white stacks before dissipating completely. It made for an interesting sight. I could tell that they were moving fast towards the northeast, possibly dumping loads of water on the western flanks, and then disappearing a mere mile beyond the ridgeline. Between the breaking clouds and passing dawn there was even sun on the mountains that had looked so dark and ominous not an hour earlier.
From the unnamed washes there was a brief climb along the grassy flank of hill, a gate to pass through, and then it sloped steadily downhill. I was approaching the lowest point of the trail near Rock Creek, around 3700', a point that I was particularly dreading. See, this trail was nice enough, and dodging cow patties had been the only inconvenience, but I was about to enter cat claw country. The trail slowly curved to make it's final crescent, and I lost it a few times through the open land spotted by low trees, and then the field of prickles showed up in front of me.
Much of it had been pushed back by trail maintainers, with only a few sections of over-reaching branches gouging my shins through the short field. I pushed as much as I could out of the way with my trekking poles before wading and wincing past. Five minutes and I was through it. Not bad at all. I dropped down into Rock Creek, wandered under large trees and hopped over some boulders, and overshot a turn thanks to some recent deadfall before climbing back out on the far side.
Now, there is an old road that sits a hundred feet to the north that I could have cut over to. This road goes to the start of Rock Creek Trail, and, well, the north terminus of Half Moon Trail. After the devastating wildfires a decade ago that road was washed out and abandoned, forcing most of the traffic to this trailhead to park back at Center Creek. I wanted to stick it out to the end, even if it meant dealing with the toughest climb so far.
Toughest climb so far - ha. 250' was nothing compared to what I would be facing soon. Still, it did knock the wind out of me, after cruising up and down gentle slopes at a good pace. The sun finally shone down on me here and I was on an exposed ridge. A brisk breeze did it's best to blow my hat off my head as I huffed along the narrow trail. I kept glancing over to the west, trying to guess where the next trail would climb up the ridge, and it all looked impossible.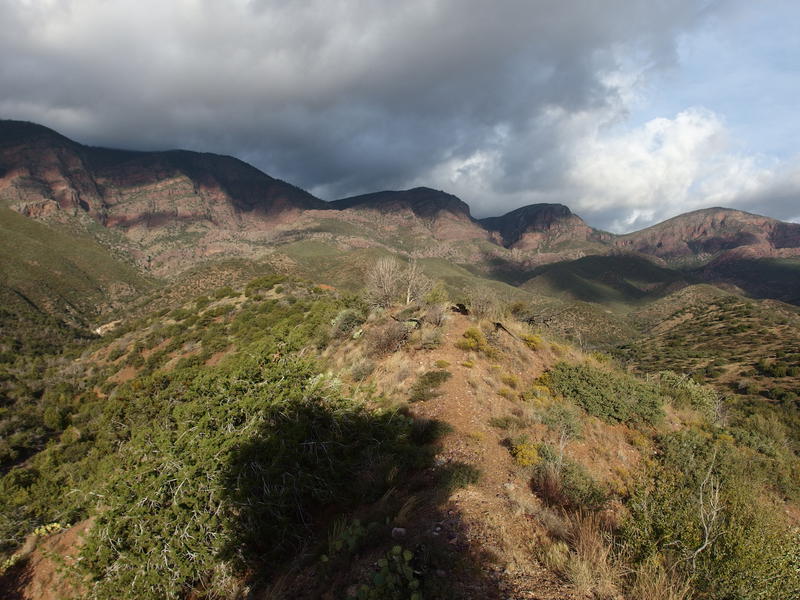 Once I hit the crest of the trail it was smooth sailing along the northern flank. Well, smooth sailing with a bunch of annoying sudden dips and climbs, zigs and zags, and overgrown sections. My patience with this trail was wearing thin, especially with the ridiculous section waiting for me. When I finally hit the end of Half Moon, 4.3 miles covered in 1:45, I didn't waste any time for snacks or water. I took a single photo of the vague signpost and pushed on.
Finally, Rock Creek Trail. This was today's big challenge. It started simple enough, playing around in Center Creek, before soaring up 3500' up to a distant saddle. And then there was an impossible descent down the other side of the saddle, but I'm getting ahead of myself. One step at a time.
A wide path led down to a boulder-filled and dry creek bed and then disappeared. Not too worried I figured it probably just followed the creek upstream and hopped from rock to rock while looking for a cairn. No cairn showed up, and as things got overgrown I decided it was time to hop up on the far bank. The trail must have crossed at some point, so I did a tough bushwhack up the eastern bank through various prickly things and managed to find it. These dry creek crossings were really schooling with my route-finding skills.
By now I was starting to drag. I had been going steady since leaving Barnhardt, only stopping for the occasional photo or path-hunt, and my stomach was feeling quite growly. The trail stayed on the east bank for a while before cutting back across Center Creek and I found a large rock to plop down for a break. Snacks were hauled out, water was sipped, and I even changed into some dry socks. Twenty minutes later I felt slightly more ready to start the steep climb.
I followed the trail across the creek and enjoyed a brief section of shade before a series of switchbacks pushed me a hundred feet up over a short distance. It knocked the wind out of me. Refusing to stop I pushed on along a manzanita-covered ridgeline, exposed to the morning sun and stiff winds, ignoring the sweat that began to pour out of me as the hills rose steeper ahead of me.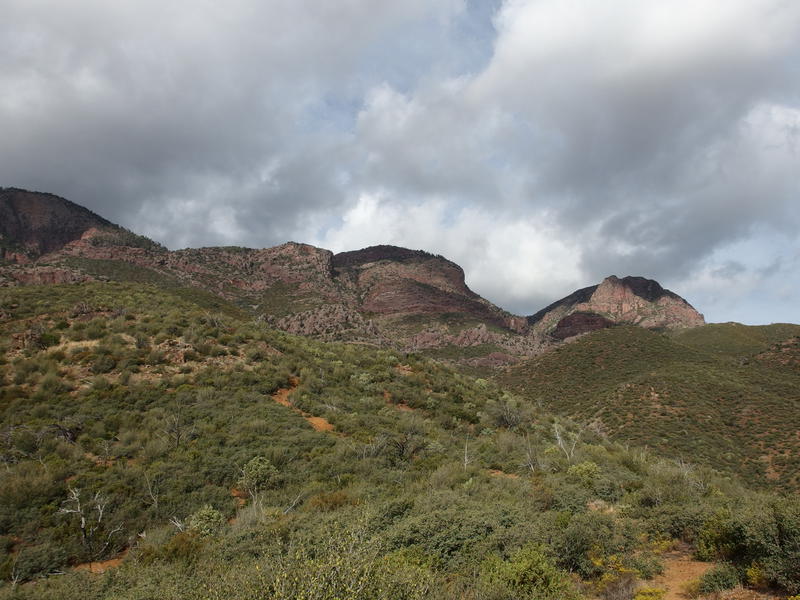 Someone had been doing a bang-up job maintaining these route. It was wide and had sections of loose dirt, even a few washouts where water had taken advantage of the lack of roots, yet the pokey brush on either side was comfortably pushed back. I had no trouble following it or even picking it out as it wound up the hill ahead of me. The good trail conditions helped me deal with the ridiculous grade that I was faced with.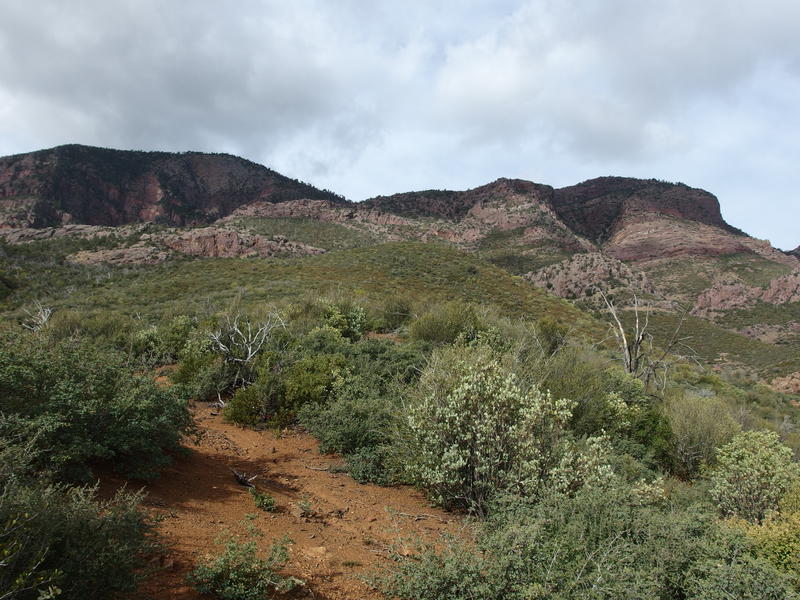 The sun had been out for some time now, slowly burning away the clouds and coldness, and it gave me some great views of the surroundings. Above was a general mystery and I had no idea where my path was going. To the south was more familiar. With some elevation behind me I could make out Suicide Ridge of Mazatzal Peak and the general Barnhardt area. Rolling green hills lay in between us and the crescent shapes of Half Moon made a deal more sense from this perspective - climbing up and down those things would have been pretty tough.
Together the trail and I hauled up over the green hills, slowly passing the 5000' elevation point and approaching a set of rugged cliffs that cut across the climb. Guess we'd have to find a way over those. The trail marched straight towards them and then curved a bit through a little cut and, after a bit of ducking through undergrowth, dropped me off right on the top of the cliffs. Over a thousand feet down seemed like a great milestone to finish off one of my liters of water and take a short break.
I had broken up this trail into three sections. The first thousand feet would be over manzanita hills with high exposure; the second zig-zags between two rock cliffs; and the third a long, swooping climb to the saddle itself. A water/snack break between each climb seemed like a good goal to reach for, and there was supposed to be pools of water after the second climb. One of my biggest concerns for this adventure was pushing my leg muscles to hard and dealing with cramps/exhaustion, so regular breaks like this seemed like a good approach.
Besides, these breaks would give me ample time to enjoy a rather scenic and remote climb into the Mazatzals. Most people take Barnhardt or the Mazatzal Divide up and skip this trail, as the trailhead is hard to reach and the climb is a bit more ridiculous than the other options. There had been no trash or footprints on the trail yet, no sign of anyone passing this way in a long time, though the trail maintenance itself was indicative that someone loved this area. I wondered idly if anyone else would even be out here this weekend, or even over the next week.
Ten minutes was long enough this time. I pushed up and continued past the first set of rock cliffs, entering a vastly different environment with sporadic trees, big stumps, and overgrown brush. The views were awesome. To the west was an entire mountainside carved away in broad red strokes by Rock Creek, the wavy layers of rock exposed by erosion, and directly above me was the second section of cliffs. The path cut back and forth on switchbacks and slowly approached those cliffs in terribly steep slow motion.
Oh, and there were great views down too. I was a bit disappointed by the haziness that hid the Mogollon Rim far out there, but looking straight down was gut-churningly great. Had I really climbed from those tiny green hills, so far away? Almost made the ache in the legs worth it.
When the trail hugged close to the second cliffs the path went from iffy to incredibly well-defined, rocks shoved against the wall to form a steady and long-lasting route. I had heard somewhere that this thing was originally built in the 1930s. Whenever it was, they knew how to construct something that would last. And they knew how to move around rocks. Can't even imagine spending weeks tossing rocks around to build something this sturdy.
This last climb was a tough one. As much as I enjoyed the workmanship the grade was still steep enough to take away my last bit of energy. One tired foot in front of the other eventually got me to the top while I worried about my schedule. I had to hit a certain timeline to finish my planned route, yet if I pushed myself too hard I knew I could completely fail. For now all I had to do was finish this last climb. Once the crest was hit I trotted quickly forward on the now-flat earth to my second rest stop, a lofty 6100' up, and found two full rock pools.
Socks off, two liters filtered and one drank down, I sat on a mostly-comfortable rock and munched on a stroopwafel. The water here wasn't too bad, only a bit skunky, which did worry me. It had rained hard up here last night and throughout last week, yet everything felt so dry. None of the washes below had been running and these pools felt stagnant, like there hadn't been any flow to flush them out in a long time. I worried about the water situation further up in the Mazatzals. Would Pete's Pond be full, or Fuller Seep or Midnight Spring flowing? If any of those were dry I'd be in for a real tough time.
That's a problem for future Jacob. For now I drank my fill, filtered up to full capacity, and pulled dry socks on. As I crouched down to collect the rest of my gear a little warning cramp trigged in my quad. No, no, no, I didn't have time for cramps today. I had been mixing electrolytes in most of my water intake specifically because I didn't have time for cramps today. Quickly standing up I stretched out my legs into long strides, hoping to eat up the last thousand feet of climb before my muscles could realize what was happening to them.