Roads that lead east from Big Erick's tend to lose their name. Sure, there is Ford and the Northwestern, two roads that are difficult to define as they twist and fork over rocky and pitted ground. There's one road that I've always called Erick's, the one that leads past Bald Mountain and along the Little Huron River. I've seen a few address signs who claim that Erick's Road also goes south, along East Branch Huron River, but I like my named road better.
I've driven down this road dozens of times, in winter and in summer, for a wide variety of destinations. Erick's Road is the main access path to Bald, Superior, and Tick/Cliff Mountain; Raven's Nest and the mouth of Little Huron sit near the road; and even Cliff Lake and Mount Benison are easy to reach from it. There are a few year-round residents who plow the road through, making it one of the easier places for my tiny car to visit when most roads in the Huron Mountains are buried in snow.
In all my journeys down this road I've missed an easy destination, a mound of a hill sitting right next to Erick's Road. It wasn't until a few geocachers stashed some things on the outcroppings that my attention swung south of the road, to a few bare spots sitting high above swamps and trees around Chink's Creek. When I realized I had a few hours before sunset I decided to head over and check out this hill south of Erick's Road.
I turned down the first logging road I bumped into, maintaining a wide berth around a deep mud puddle left over from the spring melt. The track was wide and well-maintained. If I had to guess I'd say that they were logging here within the last twelve months, pulling timber out to L'Anse. Past the puddle I tried to trot quickly. A few hours before sunset is not a ton of time.
Forks sprung up on the sandy track repeatedly offering me more options than I expected on this tiny chunk of land. I chose right, then left, then right again and slowly gained elevation. The first logging road was level with a nearby swamp, leaving me with a good couple hundred feet of elevation to gain on this short jaunt.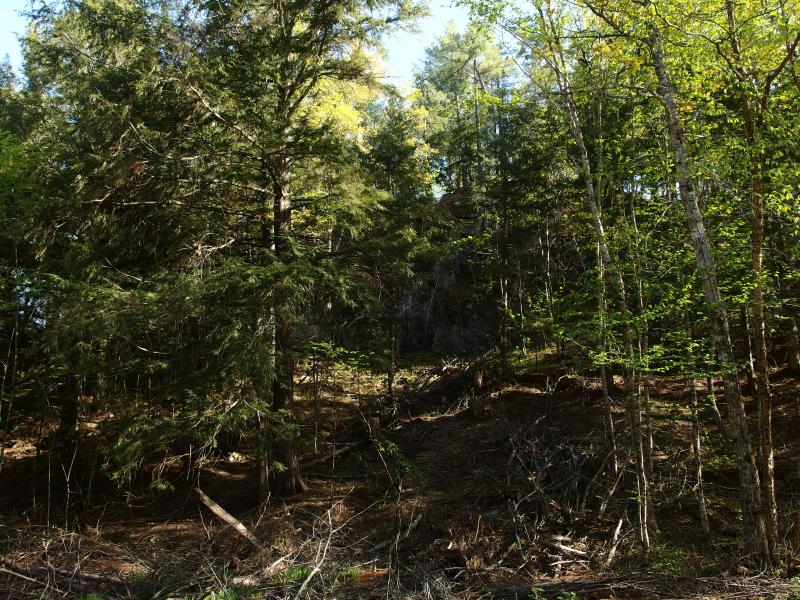 The first outcropping showed up with little warning, an ugly smattering of mixed forest, downed trees, and bare rock. With a grimace I turned and started picking my way over the dead trunks and branches. Loggers left a lot of clutter here. When I finally made it to the wall of rock I realized that it was too sheer for me to climb. I'd have to circle around a bit for an approach.
Turning to the right I followed the rock, looking for a decent cleave or spill to let me climb up. As I picked my way over the loose ground and dead trees a branch reached up and grabbed at me, catching at a boot, and my knee crashed down on a rock. Excellent. Less than thirty minutes into the first hike of the weekend and I had already injured the knee.
After an obligatory minute or two to cradle my injury I tentatively stretched, stood up, and continued forward. I could deal with a bruise. I did not want to deal with a rewoken tendon issue. The limb worked fine so I found a way up and climbed up to the top of the rock. It was a low, craggy area, with excellent views to the east.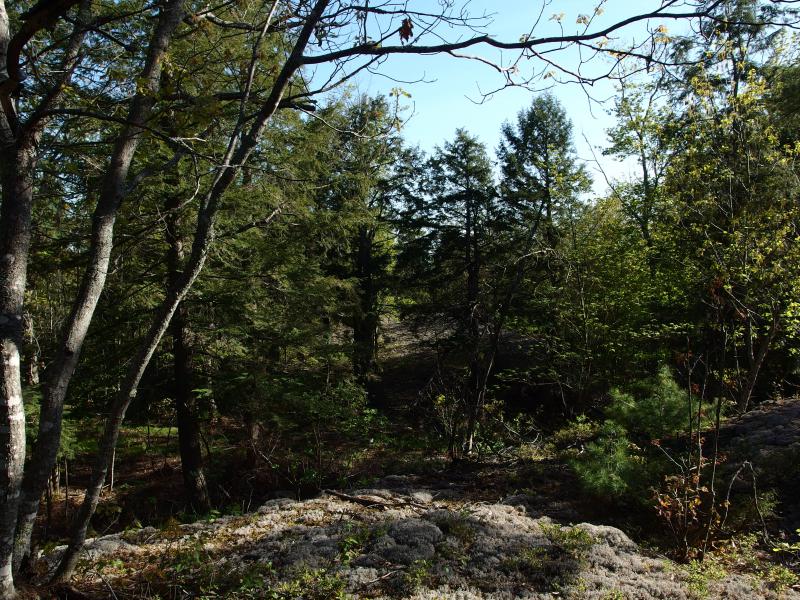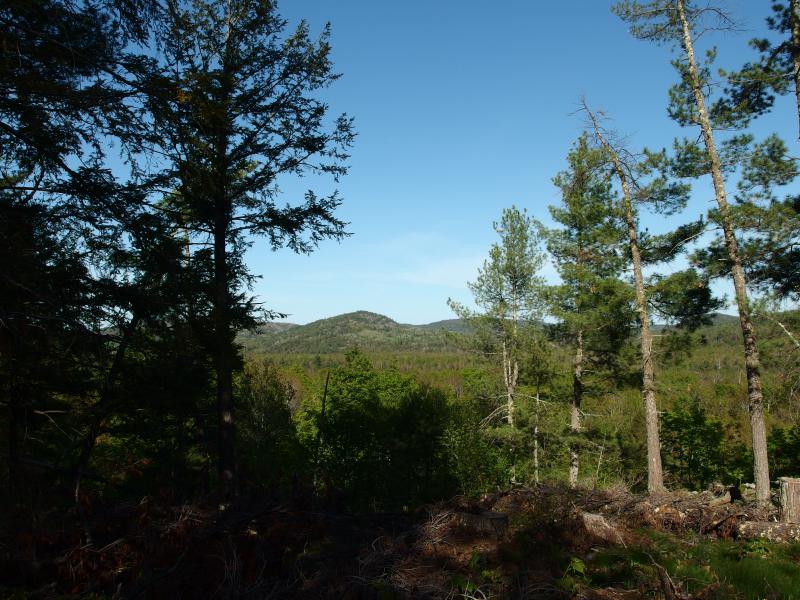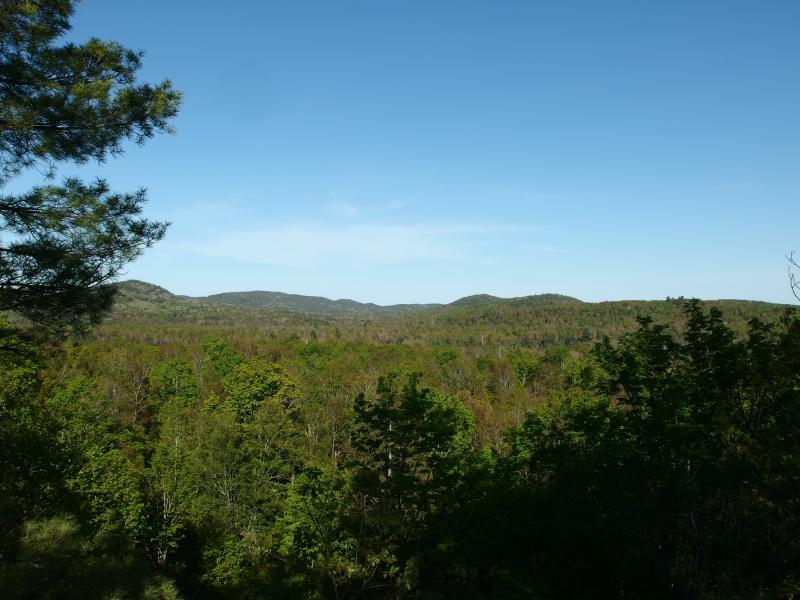 Wide vistas opened up, the angle and recent logging working together to give me an excellent view towards Tick Mountain and beyond towards Cliff Lake. I was surprised by how much I could see. The mountains to the north, Bald and Superior, all have to deal with the bulk of Benison sitting directly to the east. Here I was south of that bulk, able to see right up into the little valley where Cliff Lake sits (though the lake itself was hidden).
There was more than the eastern mountains to gape at. Directly north was the unnamed spur that sits southeast of Bald Mountan, towering high above me. I looked at it enviously. It's not a hard climb, a quick fifteen minute scale, and the views from the top are some of the best in the area. Turning away to the south was just swamp, dark cedars and lowland around Chink's Creek. No views of Arvon from here.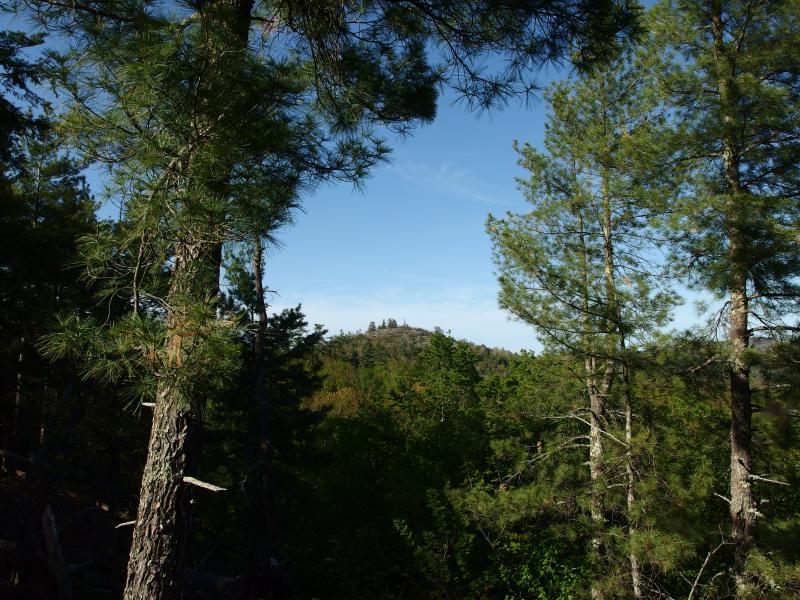 I lingered on the outcropping longer than I should have. There was a nice breeze up here, an occassional gust that would blow the thick clouds of biting bugs away for a short break. They were just mosquitoes and spring flies, no black flies awake yet, but there were a lot of them.
Pushing back into the woods I headed back to the logging road and continued forward, following it up the hill. Before the sun set this evening I still had to get to my campsite out by Cliff Lake, a healthy four miles from here, and hauling my gear in the dark through these bugs did not sound like fun. I quickened my pace, skipping lightly over the ruts in the packed dirt.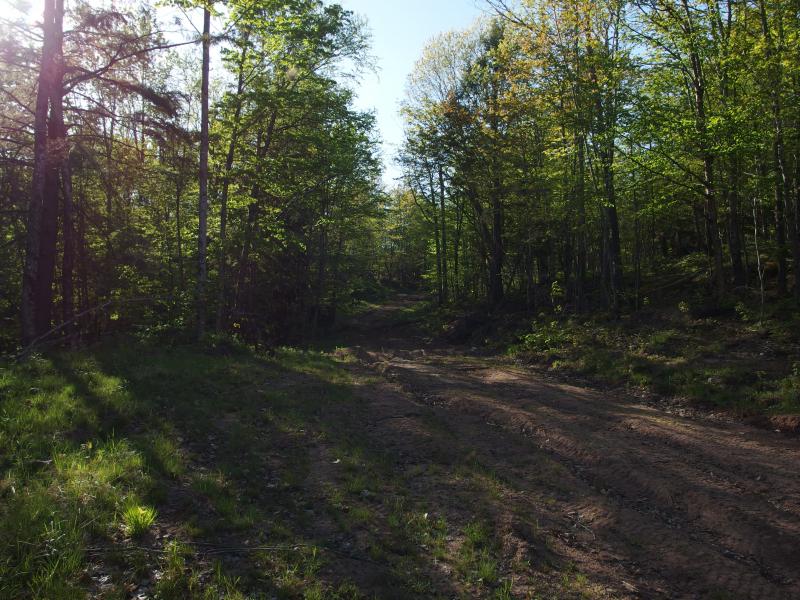 There was another outcropping ahead marked on my map, another patch of grey surrounded by deep green. When the road began to curve past it I cut off, reentering the woods and the home of the bugs, spring leaves and brush slapping at me. It didn't take long to reach it, a small patch of rock surrounded by scraggly little trees. There was no view here, only the rock, and I moved on quickly.
From here there was a quick little canyon before the highpoint of this hill, a spot around 1100', or five hundred feet above Lake Superior. The brush closed around me quickly, allowing me a few glimpses of open views through the trees that were too cluttered to make out any features. It's too bad, as the views of Bald Mountain to the north would be nice to make out.
I still had one hope left, an outcropping just south of the highpoint. I pushed forward, leaving the brush, passing a small hunting blind before popping out on a huge rounded expanse of ancient rock. It was a lovely exposed thing, smoothed by glaciers and water and time, but it wasn't high enough to poke through the forest. There was no view here.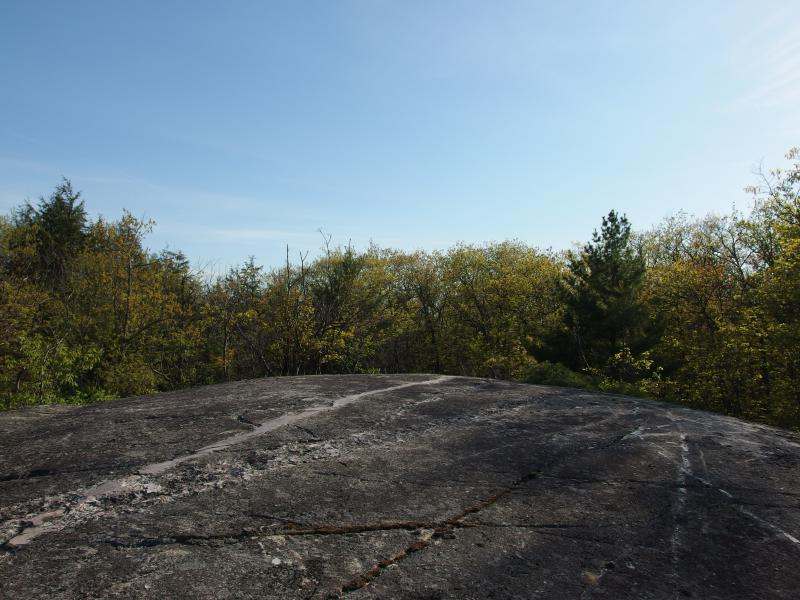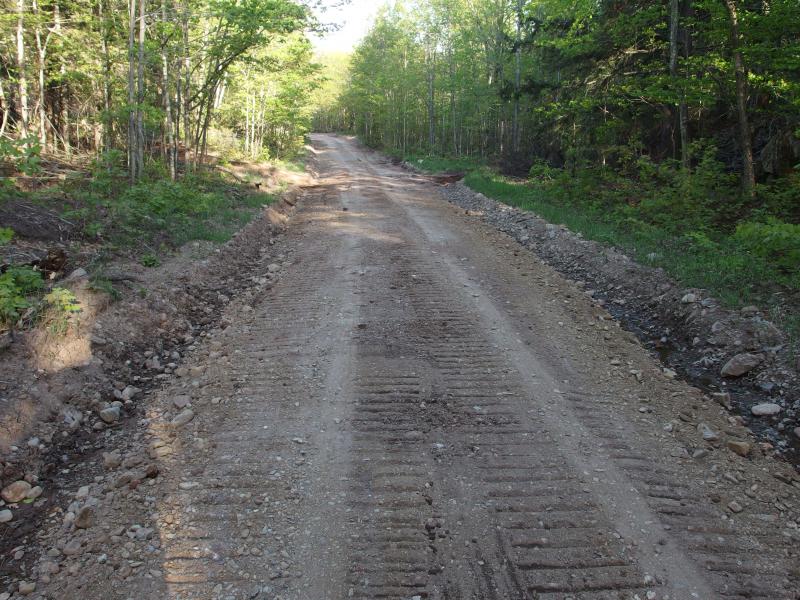 And that was it. I was out of time. I pushed back through the brush and found the logging track, following it as it circled back to Erick's Road. My knee still ached, a surface ache, not the deeper pain that would signify a real problem, so I half-trotted down the recently graded (and still very soft) road. I had made it to over half of the outcroppings on this little hill, which was more than enough for me. There is so many mountains and hills in this area that offer much better views that I didn't feel too bad about skipping the few west-facing outcroppings.