Mount Arvon is the highest point in the state of Michigan. At 1979' above sea level (1380' above Lake Superior), it slowly rises out of the Baraga County forest on the northern end of the Peshekee Highlands. I had avoided visiting this mountain, more interested in the rocky outcroppings of the Huron Mountains to the north and east, but I finally gave in with a combination of curiousity and convenience.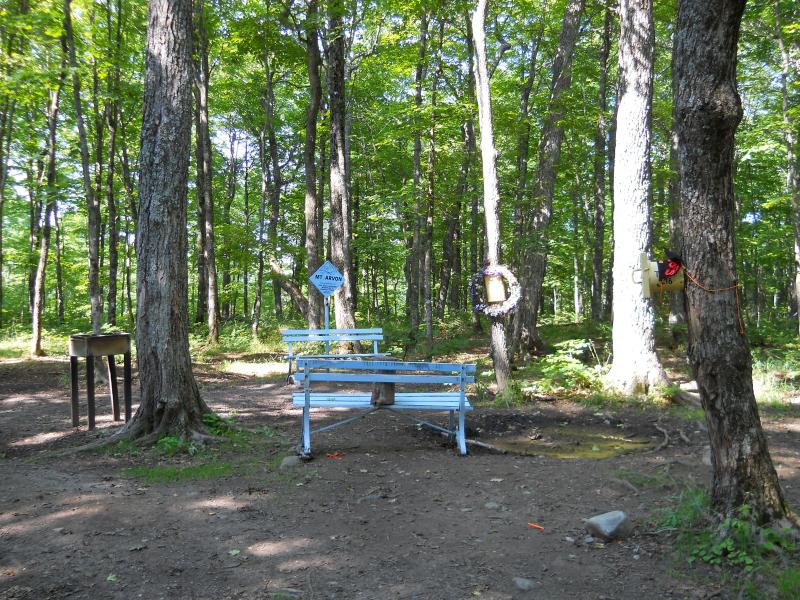 After searching for an upper drop on the Ravine River (which doesn't exist), I continued south and west on Ravine River Road. This remote logging road slowly winds it's way up the northern face of the mountain to within a 1/2 mile of the peak. The drive was pretty neat, with a small creek cutting a deep gorge right off the edge of the two-track, and it did most of the elevation gain for me. The road made a sudden stop after a sharp right turn, so I parked my car and headed bast the rock-and-concrete barricade.
The two-track up the mountain remained relatively wide and was easy to follow. I continued on foot, slowly gaining elevation. My climb was not nearly as steep as most of my other mountain climbs, which frequently involve using both my hands and feet to get over some of the tougher outcroppings, and I was able to reach the high point without breaking a sweat. A quaint pair of benches, small campsite and stove, and a friendly sign greeted me on top.
There is no natural views from the top of Mount Arvon. I headed down several of the small trails leading away from the campsite, most of which appeared to offer only different routes up the mountain and no view. I had noticed from a topographic map that there was a steep elevation change to the southwest of the peak but didn't feel like bushwhacking to it on this buggy day.
A small loop connecting the clearing at the top to a point further down the trail I had taken up offers a northern view to Point Abbaye. I headed down the loop to the cleared-out swath and enjoyed a view of the muggy Lake Superior. While it was nothing compared to most of the mountain views I have seen, it was clear while standing here that Mount Arvon is the tallest point in the state - the trees below look miniscule compared to most of the rocky hills in the Upper Peninsula.
On my walk/trot back down to my car I stopped briefly to check out a small pond near the parking spot. There was a air of tranquility here, with a few turtles sunning themselves on a log and some ducks paddling across the water slowly. This mountain may not offer the panaromas or rocky outcroppings of the Huron Mountains, but it was well worth the drive and hike and I was glad I finally stopped by to visit.