After a few city hikes in Phoenix I needed a good challenge. Camelback and Piestewa, each steep thousand-foot-plus climbs, had been good warmups. I needed something to make me sweat, something that I test my limits against. Flatiron, a rock formation high above Siphon Draw, looked like it would do just that.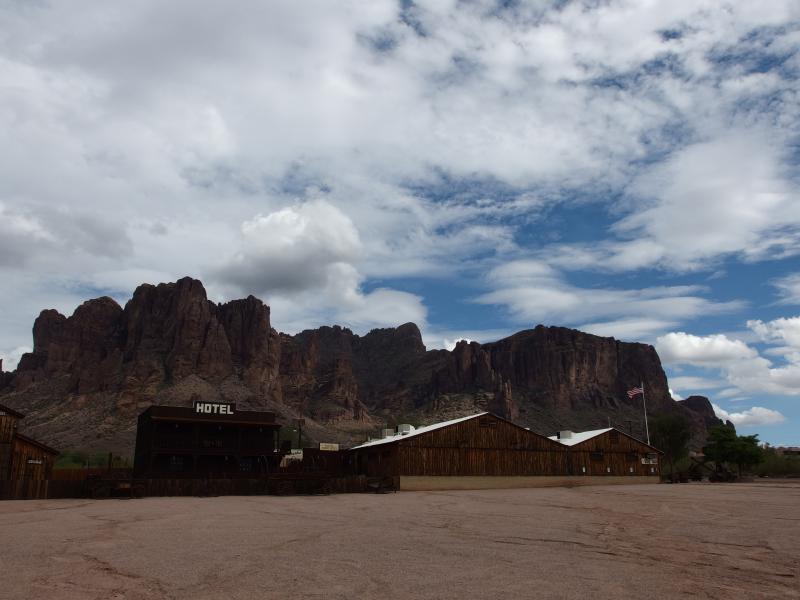 Finding climbs in the Valley of the Sun that have over two thousand feet of gain is tough. To get that type of climb you're either looking at the McDowells or the Superstitions or climbing a series of peaks to add things up. And the McDowell Range has nothing on the ruggedness and rich history of the Superstition Mountains. This land is contained in a large wilderness area, with a few unmarked trails running through it, and looked like it would be a great time for me to waste weekends in over the coming years.
I headed over to Apache Junction after work, getting to the shortcut trailhead with about four hours of daylight to hike in. The normal trailhead starts at the Lost Dutchman park and charges for parking. Instead I parked at the Mining Restuarant off of Apache Trail, cutting around on the old McKellips route to the trail.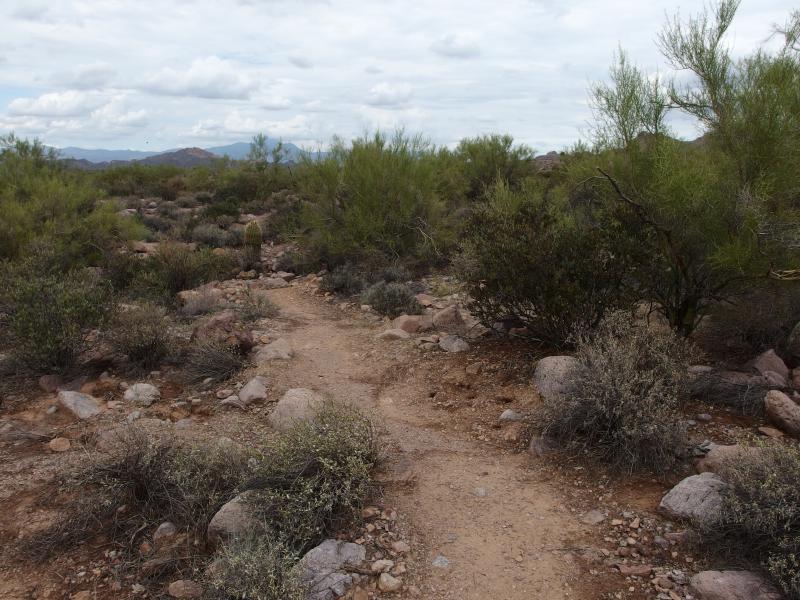 The vegetation was surprisingly thick along the shortcut, crowding the narrow trail with spiny and tough branches. I weaved along, getting a few scratches, until I bumped into the proper route. The main route was wide, ground underfoot by decades of travel, and headed up towards the impressive face of the Superstition Ridge. And that was a humbling view.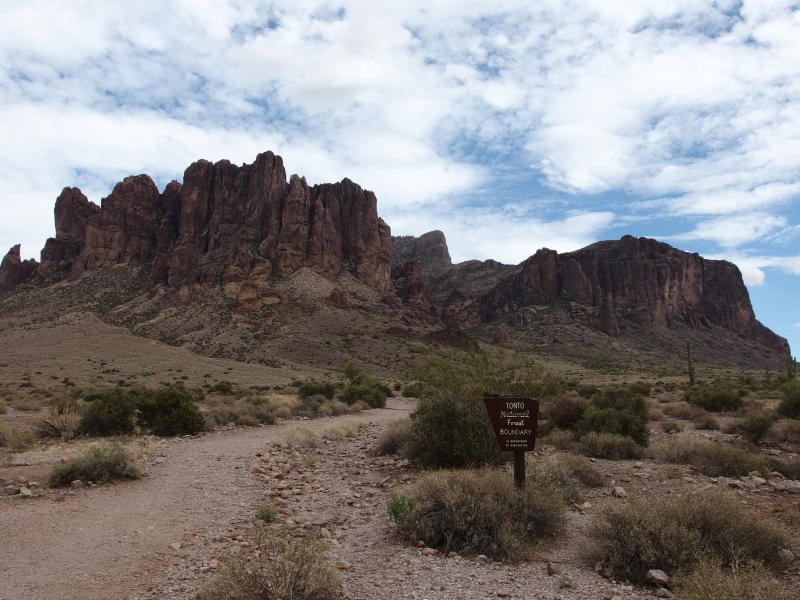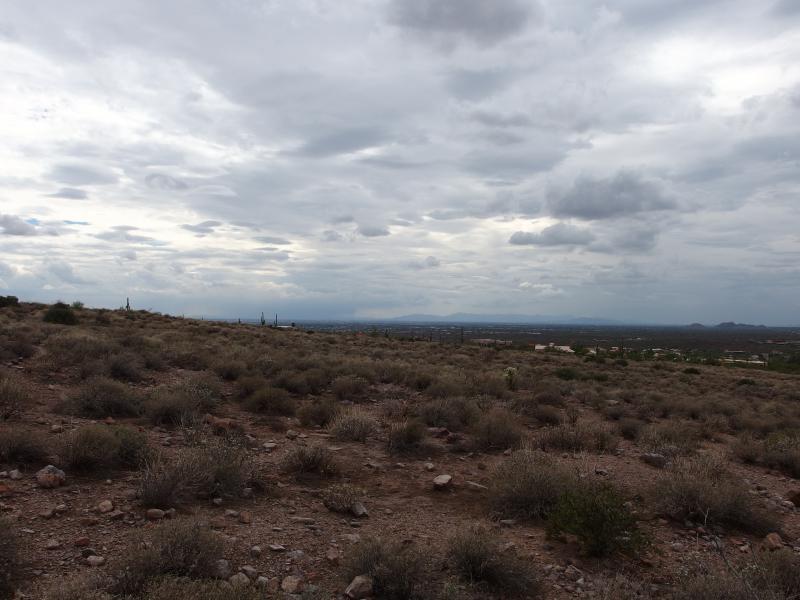 My destination today was the distant peak sticking out above the canyon. To reach that I had to enter the canyon, climb around a waterfall (Siphon Draw), and then scale a wash that would be half-bouldering and half-gravel scrambling. Flatiron is a 2600' elevation gain over 3.5 miles, the majority of which is over the last mile. Even though the desert floor was already starting to slope up I pushed my legs quick, knowing that this gentle slope was nothing compared to what I'd be dealing with soon.
As I scurried along the trail I kept glancing to the west. There was a chance of storms today, a 30% chance. That worried me. Most of this hike was in a desert wash, and those tend to be bad places to hang out during storms. Plus, lightning. I've never really gotten over my fear of lightning. Getting struck is incredibly rare, and I try to balance it with other more common hiking mishaps (like running into bears), but desert lightning was a different beast. There's no pine trees to cower under out here and I'm easily one of the tallest things out here. I pushed on faster.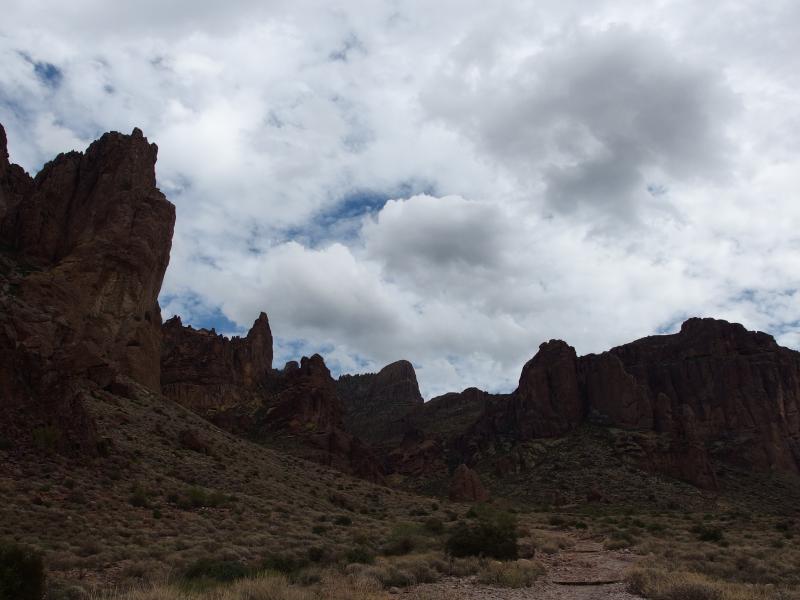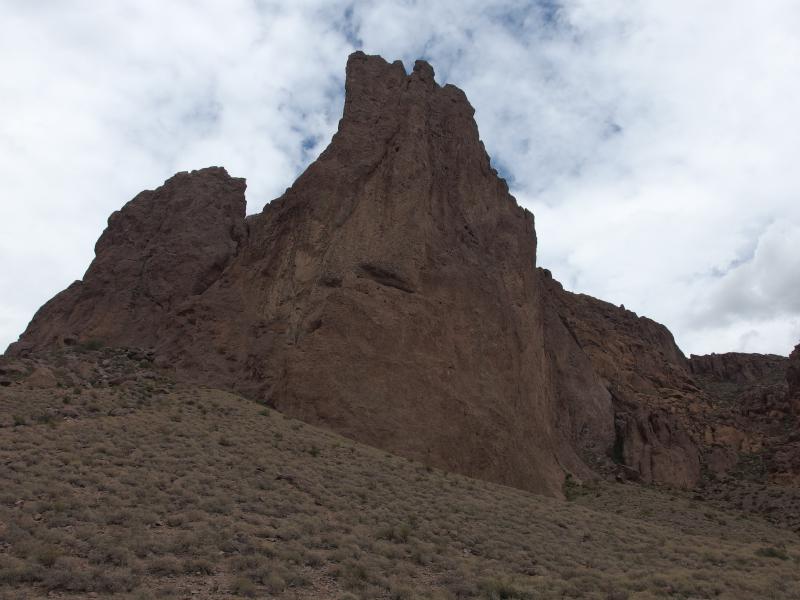 Canyon walls begin to enclose around me, welcoming me into the rocky embrace of the Superstition Ridge. These walls are tall, close to a thousand feet tall, and towered over me like few features in the Midwest could. Small pockets and caves began to ease into sight. There's been mining in this area, small explorations around the turn of the century, and I wondered how deep some of the caves went. Maybe on a future trip.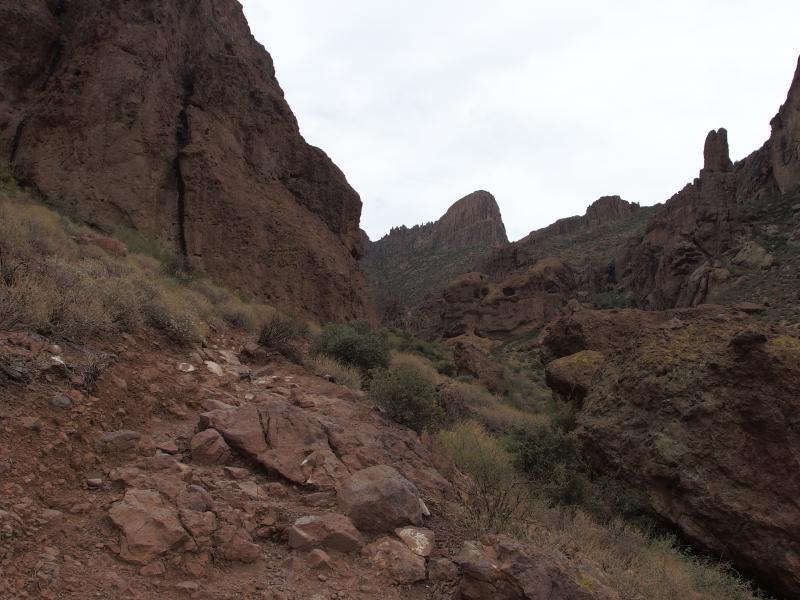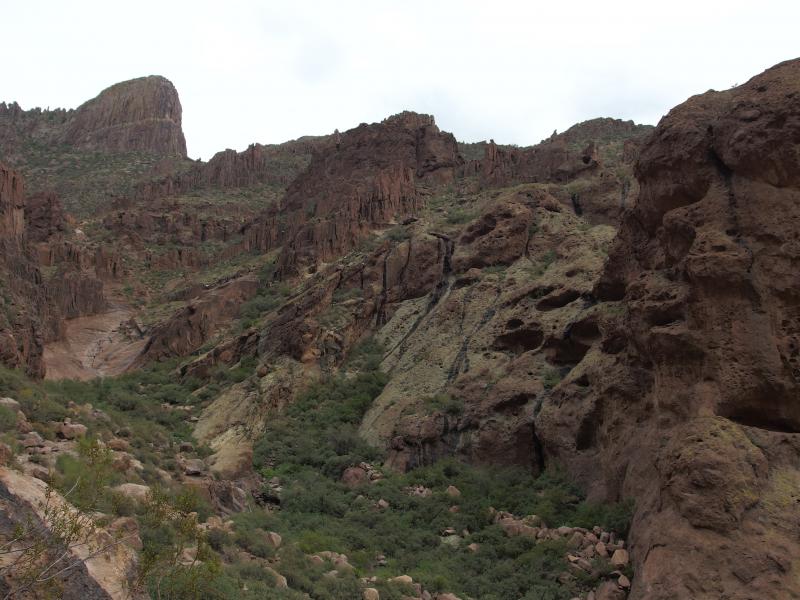 As I traveled into the canyon my hike began to change. For a long time I was on a slow yet steady climb up with low brush on each side of the trail. Now the trail began to wind a bit more, making a few detours around boulders and thick patches. A few steep sections of loose gravel showed up too, remnants of the past day's storms. I continued up the draw.
The amount of green was still surprising me. There were cacti, of course, but there was also trees, bushes, moss, and even grass in here. The sheltered canyon may explain some of the extra growth. Plus the monsoon season was just starting to let up. As I ducked under another branch and wandered along a narrow path between brush and grass I didn't feel like I was in a desert. It wasn't an overgrown swamp or anything, just more than I would expect.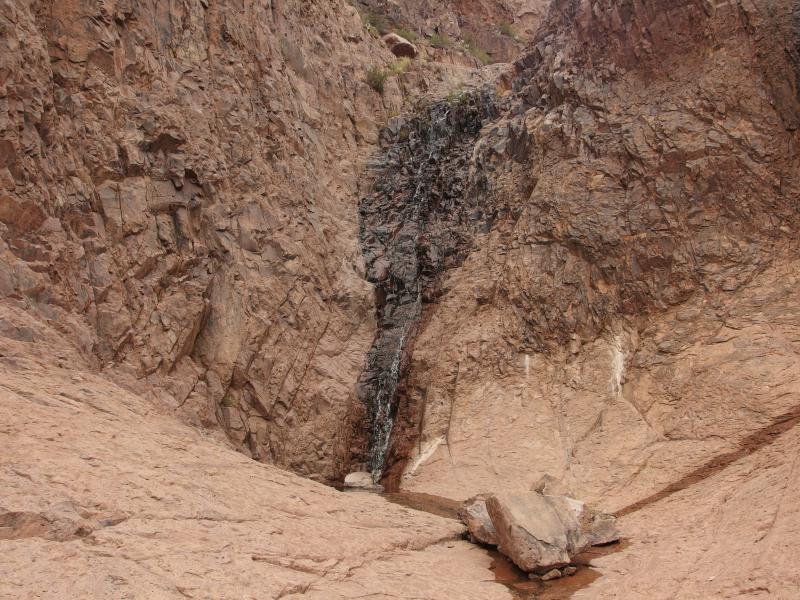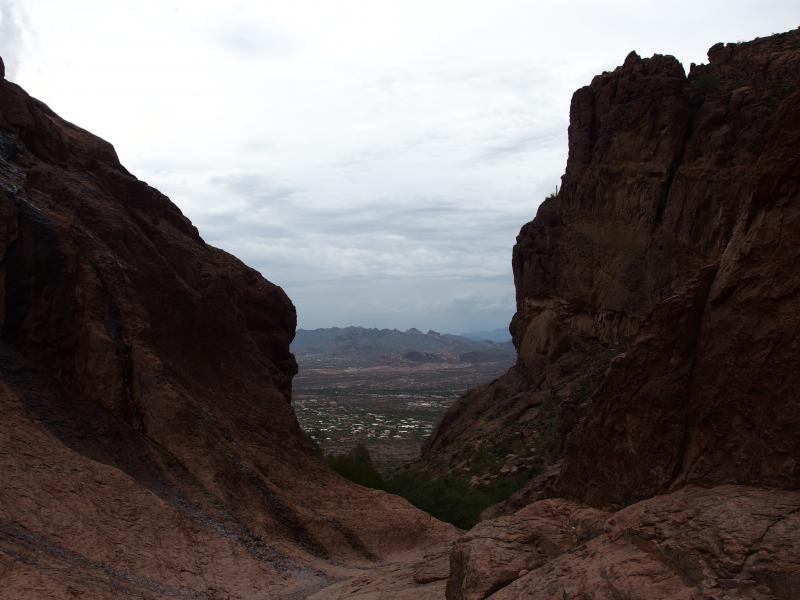 My route went from a thick creek to hard rock in a blink of an eye, and then the waterfall of Siphon Draw showed up. It was at least twenty feet tall over jagged rock and ended in a small pool. Harsh yet scenic the little spot gave me pause on the hurried route. I was less than an hour into the hike, a thousand feet gained, and I felt good. This felt doable. Now I just had to climb the equivalent of the Empire State Building over 1.5 miles.
The climb wasted little time getting tough. Getting out of the rocky bowl of the waterfall was an all-out scramble, as was the sudden spur above that. When I reached a small ridge where the trail dropped back down I was greeted with a stunning view of Flatiron. Out of breath I pulled out my first water of the hike and drank deeply, still eyeing up the next leg of the hike.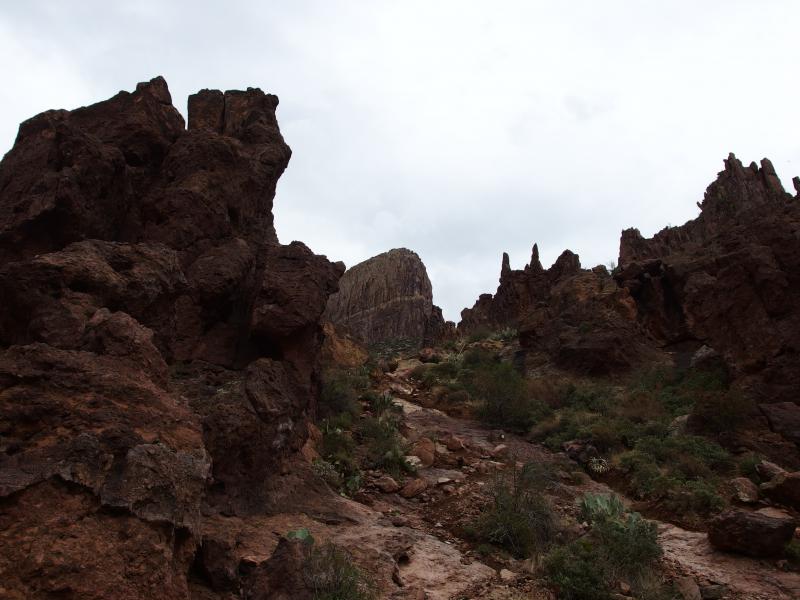 After the pause I dropped a short distance with the trail, entering the rightmost of three washes that drained the North Peak area, and began the real climb. Some of it was bouldering, awkward hopping from one giant rock to the next. Most of it was scrambles up loose gravel. There were few pauses on this section, not much flat to stretch the legs and get some relief, so when I did need a break I was forced to come to a complete stop.
I saw a few pieces of wildlife. There was a lazy lizard that didn't feel like scurrying away at my approach. There were some hummingbirds that flew close enough to my head to stir hair. And flies, too. No rattlesnakes or scorpions, unfortunately.
While enclosed in the deep canyon I had started to forget about the chance of rain. When I came out on top, still below the base of Flatiron, the clouds over Phoenix were me a stark reminder. Dark and grey they hung, rain falling from them in the west, and the wind blew it in my directions. This was not ideal. Lightning boomed in those clouds, the clouds that were moving towards me. This was also not ideal.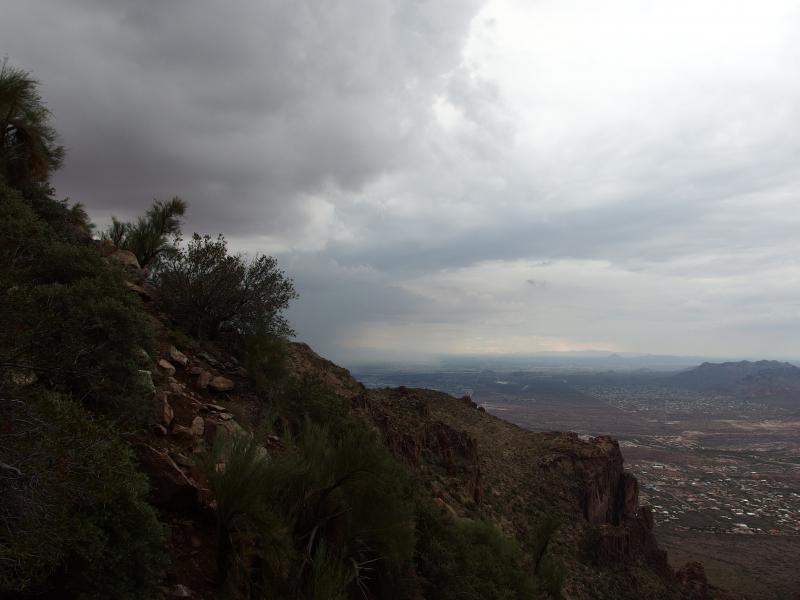 Maybe, just maybe I could rush the top. I couldn't be more than 500' below it by now. In an adrenaline-fueled rush I rushed at the trail, climbing higher out of the canyon and reaching the base of Flatiron in a quick ten minutes. That's all that was left, a literal climb up the formation compared to all the mess that came before. I could make out the agave on the top.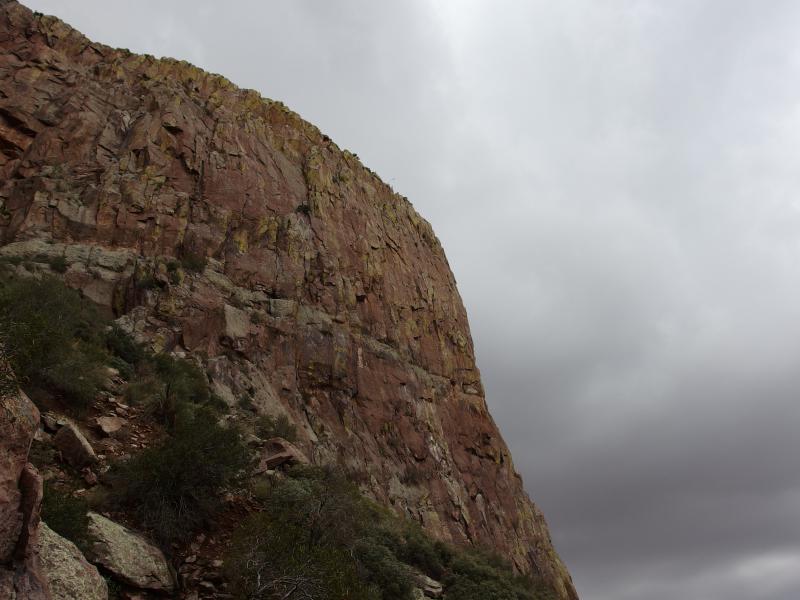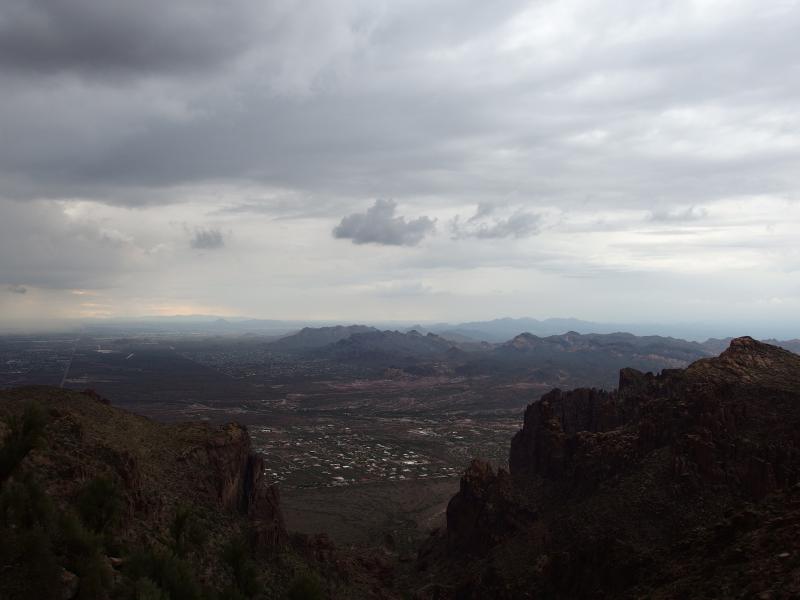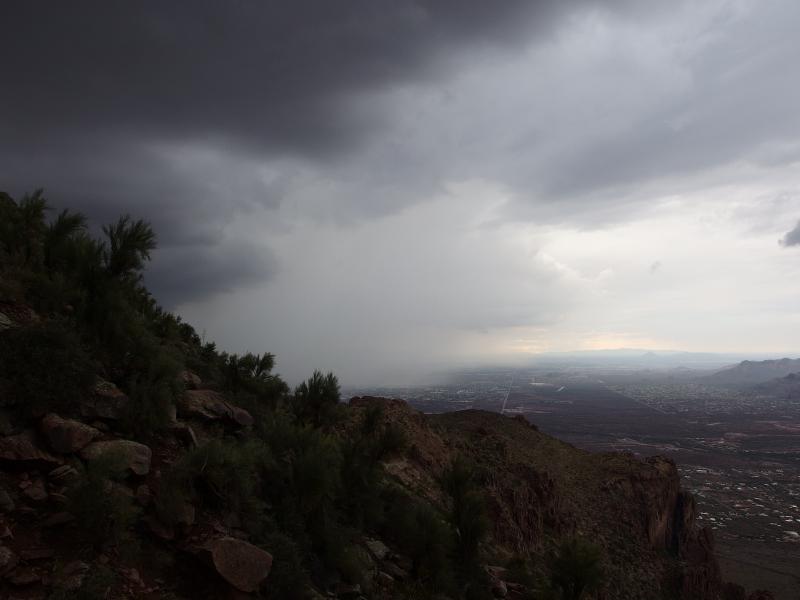 Then the drops began to fall. Not just drops, I guess. Huge masses of water plummeted down to smack against rock. One boom sounded out, than another in quick succession, echoing off the rock around me. I stopped, gasping for air, wrestling with the urge to turn around. As if to taunt me I saw clouds began to flow above and around Flatiron. I was physically going to be in the middle of a thunderstorm. That did it.
Leaping and sliding down the rain-slick route I looked for shelter. I could make out the lightning now, bright flashes of light that seared through the darkening skies, and the thunder was deafening. When I found a scooped-out boulder I slanted towards it, kicking brush and cacti out of the way, and huddled in the small overhang it made. Above me the clouds thickened the rain came down in earnest. Shoot, I didn't even know if I'd be able to make it down to the car tonight.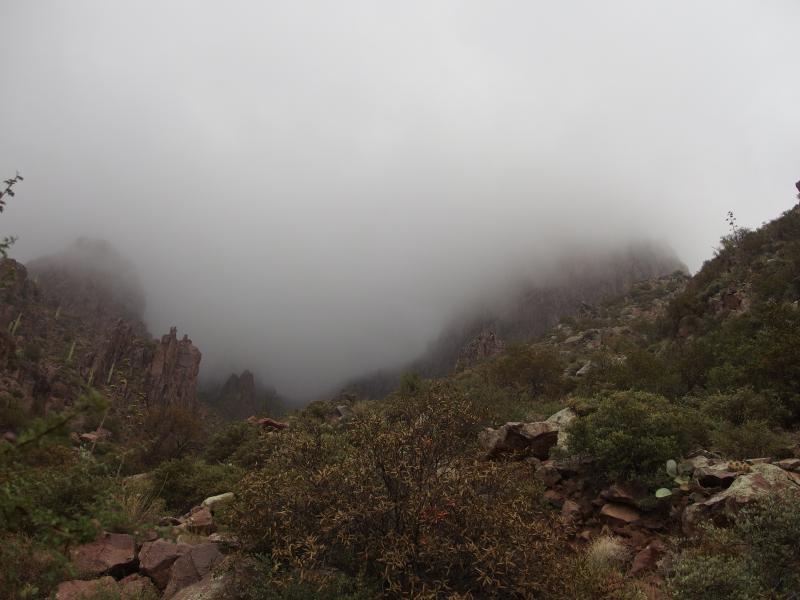 It took close to an hour for the storm to subside. The rain lessened and then turned to drizzle as the skies began to brighten. Everything was wet-shiny around me, the once-dusty rocks now glistening, colors enhanced like a HDR photo. I crept out from the rock and brushed a few ants off the pants as I looked around. I was still pretty high up above Siphon Draw, maybe 2000 feet to descend, and there was only an hour of daylight left today. I gave a sad look up at Flatiron and started heading down. There was no way I could bag that climb today.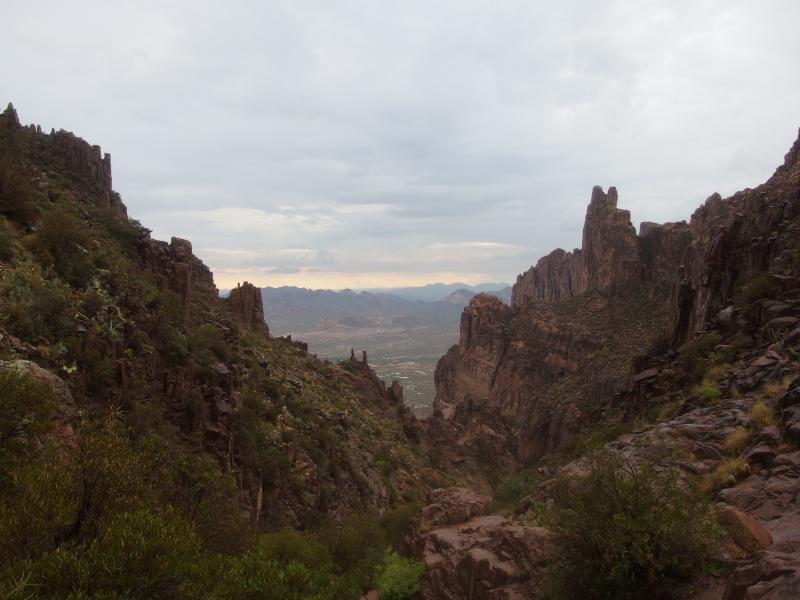 Going down was tough. Not only was the path steep and slick, all the loose gravel that had slid underfoot was now even looser and muddy. I was forced down to a crab crawl several times, sliding down sections on my rear, choosing to suffer a wet bottom instead of a twisted ankle. The worst section was right above the waterfall in the flat bowl. Half-sliding on one side I cruised down some fifty feet of bumpy rock before coming to a hard stop at the bottom.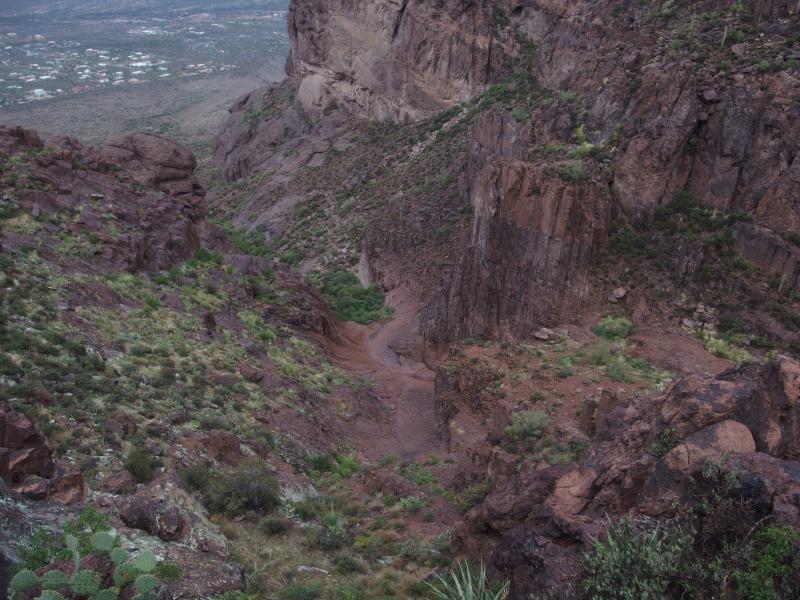 Reaching the waterfall was a big milestone, though. The rest of the trail was reasonable to walk on with or without light. As I exited the canyon I got to put that to the test. Under a still-cloudy western sky the sun made a final brilliant blaze, lighting up the city of Phoenix and the Supersitions behind me, before setting behind the White Tank Mountains.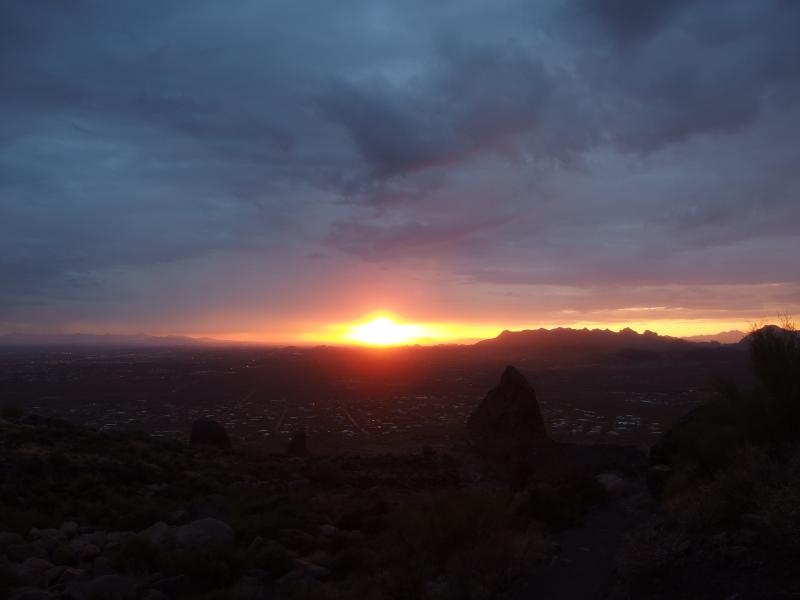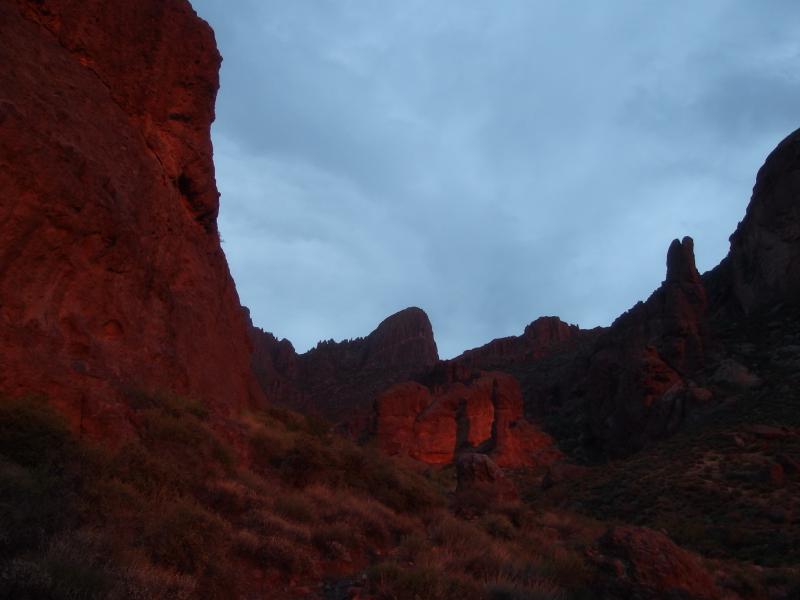 Thirty minutes of dark hiking and I was back at the car at the restuarant, calling to calm down a worried wife and desparate for a good (quick) dinner. I didn't bag Flatiron. I didn't feel too bad about it, thought. At least there was a challenge waiting for me when we would move down here, a tough yet achievable climb. Oh, and I didn't get hit by lightning. There was that too.