Dim light seeped in from the east over the ridge, just enough to highlight the impressive rocky peaks of the Superstition Mountains. Everything else was dark. Our trail was dark, the cacti surrounding us was dark, and the mid-sized rocks that waited to roll under our ankles were dark. We carefully crept along the narrow trail towards Flatiron in the pre-dawn dark and wondered why we ever wanted to try this so early.
Based on my previous hike in this area, where I was turned around before reaching the summit by a sudden desert thunderstorm, it would take us most of the morning to reach Flatiron and return. That was the hope, that we'd be back to civilization around lunch to relieve Katie from watching Noah. It had taken me less than an hour to reach Siphon Draw and an hour twenty to reach the base of the main formation. So, maybe two hours with a sprinkle of route finding on top. I gave us six hours in all, the extra time if we wanted to venture over to nearby North Peak.
Chris and I parked at Miner's Restuarant again, a small shortcut from the main trailhead at Lost Dutchman, and we bumbled along the poorly marked path until we reached the main route. From here it was easier going. The main route is wide with only a few railroad ties and rocks to trip over. Off in the distance we saw a distant Four Peaks, a future destination that called out to us. That range is visible from most of Phoenix and towers over everything else nearby, topping out above 7000'.
We continued up the trail. Chris had brought along his new headlamp for the walk but I traveled without a light. Between the dim light overhead and his harsh beam I had no trouble sorting out where the trail was. We made fairly good time as we climbed up, soon entering the canyon where Siphon Draw flows. The sky was really getting bright over us. It was hard to tell just how high the sun was, with the towering rocks all around, and I had to guess at another half hour of pre-dawn before it broke the horizon.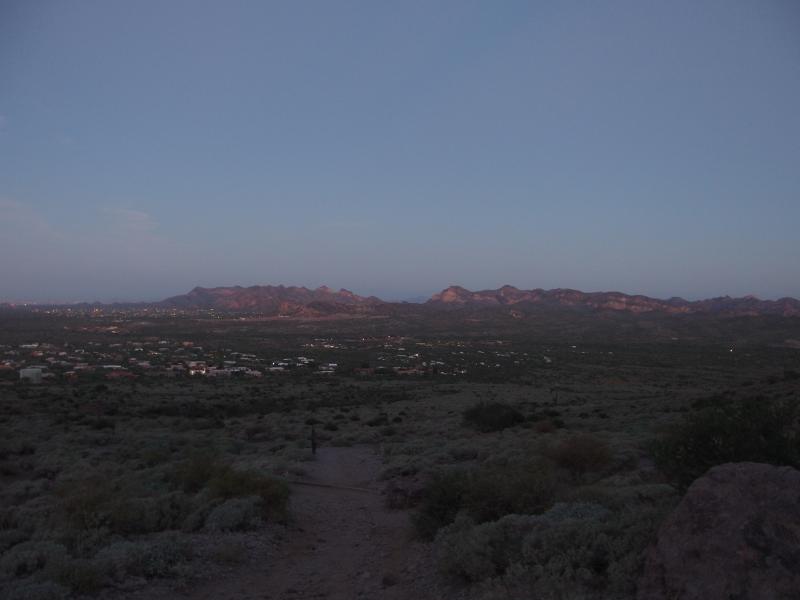 There were a few pauses on our way up to catch our breath. The climb from the parking lot is deceptive with the abrupt cliffs ahead. There's almost a thousand feet of climb to do before reaching the waterfall. On one of the pauses two guys zipped past us, well-stocked and lean men who walked the ground with a familiar stride. They wouldn't be spending much time route finding. We could make out a few other groups below us now, some of whom would probably be passing us as well. Chris and I may have been the first ones on the trail this morning - we would not be the first to Flatiron.
We passed some of the more prominent landmarks on the way up the canyon. There was a large tower of rock that looked like a praying monk, the tent of rock slabs with a pleasant camping site underneath, and then a crying dinosaur. The path began to get more rugged up and down the rocks, a few questionable stretches with gravel scattered over hard rock like malicious ball-bearings, and then some ducking under thick green growth. And then the waterfall of Siphon Draw showed up in all its barren glory.
On my last visit this waterfall was running. Sort of. Even with a recent deluge and the thunderstorm there had been barely a trickle flowing down the rock, just enough to wet the soles of my boots as I strode through. Today it was bone-dry. There was a small pool of brackish stuff under the drop, stuff that smelled funny and may have been water at one point, and everything else was dry and dusty. We sat a short distance away and refueled. The first leg of the hike was now done. Now all we had to do was climb Flatiron.
From the small waterfall we headed up and to the right, following a side channel before tackling a steep climb. More a scramble than a climb. Up until now we had merely walked along a trail, never having to grab at the rocks or brush on the way. Now we climbed, hands and feet, up a steep and loose chute of rock. This is one of the tougher sections and works as a good test for the rest of the hike.
Chris chose one way, I another, and together we emerged above the steep chute. We rested in the small saddle and looked around. The dry waterfall was far below us now, Siphon Draw lost in the distance, and above us Flatiron towered. It didn't seem quite as far away any more, much more achievable, even if the steep rock sides were still intimidating.
From the saddle the trail dipped down into a narrow wash filled with green. This wash would take us all the way to the top, the narrow trail bouncing around from side to side through the thick foliage. We dropped the short distance and began the boulder-y ascent.
The sky continued to lighten above us as the sun continued to rise. We didn't catch any rays, though. The narrow canyon and steep ridge would keep us protected just about all day. Which makes this hike an appealing summertime destination. Outside of all the annoying boulder-hopping, that is.
Over two hours into the hike and we finally broke over the first canyon's lip. Sort of. Our hike was within a deep cut of a wash that climbs up through two levels of cake-rock. The second level is the prominent Flatiron, and the first is just there. It makes for a good marker, almost 4000' up, and we knew we only had a few more hundred feet to go now.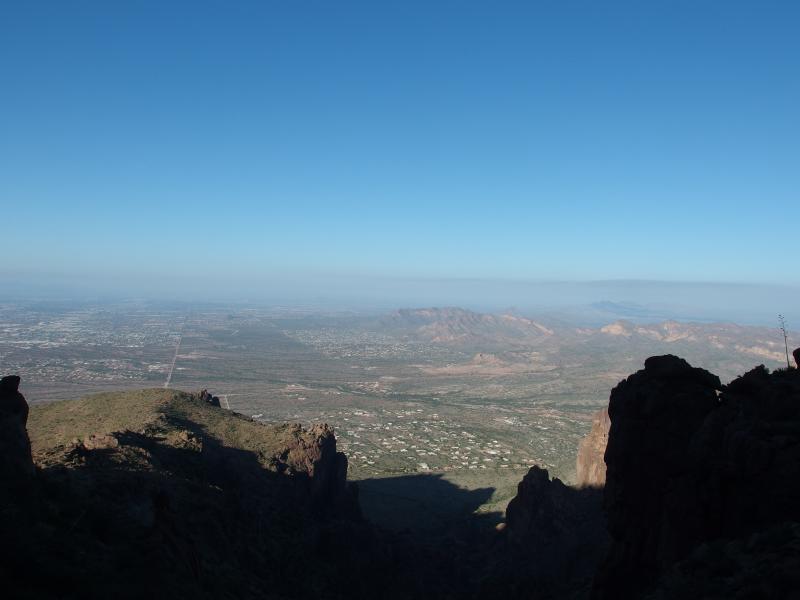 There was one section ahead that we were worried about. A rock wall, some ten feet in height, that some people simply turn around at. Chris had heard that it was a class 5 wall, something that is best tackled with equipment. We didn't have equipment. Shoot, I had finally caved and bought a two-liter Camelbak. Rock climbing equipment was far down on the hiking buy list.
When we reached the wall there was a handful of people clustered around, most of whom were talking about different approaches to the climb. A few of the older hikers were resting before turning back down, seemingly content in missing the nearby summit. The wall was nothing. Chris and I tackled it straight away and were above it in seconds. It's not really a wall, more a jumble of rocks that form a loose vertical staircase. Compared to the some of the slick sections of rock with scattered gravel it was a cake walk.
After the wall we were level with Flatiron. We cut over to the right with one of the forks and headed out towards the edge. There were a few groups up here already, sitting and chatting nonchalently near the steep five hundred foot plus drop. There was no trail to the edge, just a few footpaths that meandered to nothing as everyone chose their own ways through the cholla to the edge.
Three hours to summit. Not too bad, even if it didn't give us much buffer to explore. We stretched in the warming sun and shuffled through our packs for food. I had brought some craisins for a mid-morning breakfast and Chris some powerbars. It was nice to be in the sun and to see a good east-facing view, even if the Phoenix smog was dreadfully obvious at this height.
The view to the south was very distracting. Superstion Ridgeline stretched out that way, a series of minor peaks and dips heading some six miles out before a steep culmination at Superstition Peak (also known as South Peak). That, that looked like something we'd have to hike. The ridge is an all-day adventure, one with enough exposure to demand a non-summer approach, and the views of Phoenix to one side and the wilderness to the other would be incredible.
After a solid fifteen minutes of chatting and resting we slowly shouldered our gear. Three hours in. If we wanted to guarantee a noon return to the car we should start heading down now. But heading down is usually quicker and North Peak was so close. It couldn't take too long to swing over and bag that peak.
I convinced Chris to give it a shot. We retraced our steps over to the wash we took up and took the left fork this time. It meandered a general path north before fading away in brush and cactus so we bushwhacked up the hill. Our legs, tired from the morning climb and rebelling against the too-brief respite, fought against this continued upwards assault.
Everything about this climb was tough. The trails we found faded away quickly. The brush was thick and pokey, even the few plants that were not cactus sticking and slashing at us. Huge boulders forced us to squeeze and crawl onwards. At several point we questioned the decision to scale this point. We had already reached Flatiron, why not wait on North Peak for another day?
Stubbornly I pushed us forward. We had enough gear left for this side destination, even if we were running low on energy and time. Besides, we hadn't gotten a good view of the wilderness that lay to to the northeast. Until now we had been treated with views of Phoenix and the ridgeline, yet nothing to the other direction. There had to be some of that up here.
When we scaled the last climb and looked back down on our route it was a shockingly good view. Flatiron lay far below us, some three or four hundred feet down, jutting out like the prow of a proud ship high above the city lines and smog. We just had to take some vanity shots.
Poses done we scampered over to the northeast to see what we could find. The views over here were incredible. Weaver's Needle was the only formation we could name, far to the right of the panorama. There was plenty of other things to point out, though. Distant peaks, flat mesas, sudden canyons all rippled under the scattered light. There was so much potential out here, so many hikes and adventures waiting for us.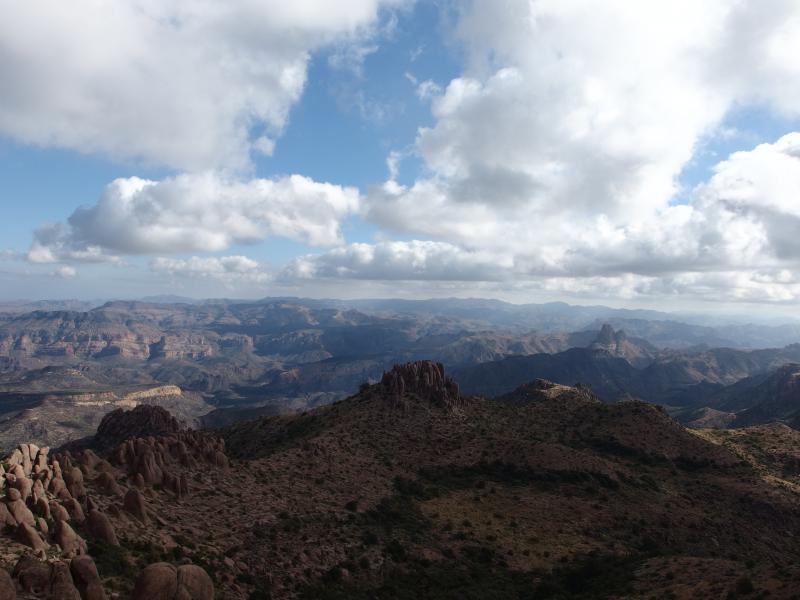 As we gaped around another visitor came up from the south. While Siphon Draw and Flatiron had been fairly crowded, a good dozen or more groups scattered at different points on the climb up, we were probably the first ones on North Peak. This other visitor was a nice surprise. He and his girlfriend/wife knew a lot about the area, pointing out different features in the distance and recommeding some good access points. After twenty minutes of chatting we thanked them and headed down. We had a long climb ahead of us.
That is one thing that I miss about Upper Peninsula hikes. I knew the area very well and planned the routes carefully, always trying to tackle the longer sections first and keeping the return short and quick, often along logging roads or ATV trails. Out here I've been sticking to the trails. This means a long hike in and, in the case of these out-and-backs, the same long hike out. We had several miles and several thousand feet to cover before making it back to the car.
There were many more groups that we saw on the way back down, especially groups that were only heading as far as Siphon Draw. A few families, a lot of couples, and every once in a while a loner zipping up the slope. We made some conversation here and there. The way down Flatiron is hard on the knees, lots of sudden drops and slick crawls over flat rock, and we took it slow. On one occasion Chris came down hard on an ankle and we were stuck in a single spot for twenty minutes before we continued, giving us plenty of time to chat with other groups.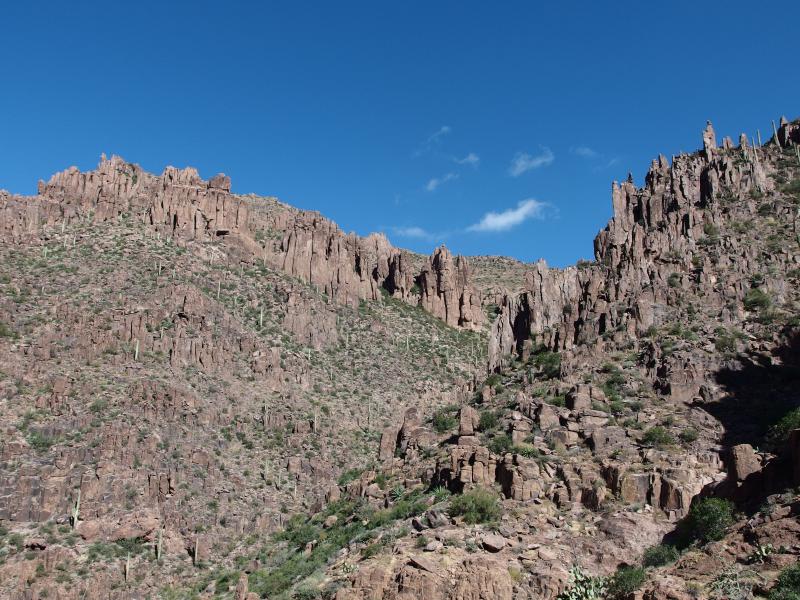 In the end it took us about two hours to descend, much shorter than our time up. Add in the extra time for North Peak and the total adventure was six-and-a-half hours, a mere thirty minutes longer than planned. Not too shabby at all. When we ventured over to car I touched base with Katie to let her know we were on our way out and I'd be taking over Noah for the afternoon. We caught one last glimpse of the profile before leaving, now lighted and looking very different from the morning's dark silhouette, before driving back to Mesa.