It's been a few years since I climbed Sugarloaf Mountain. The area is one of those spots I tend to skirt around, with marked trails and frequent visitors, even though the views of the Marquette shoreline are very impressive. This evening seemed like a good time to stop by. It was late enough to discourage others from climbing up and I was looking forward to seeing how much ice was still on Lake Superior in mid-April. I pulled into the sparsely populated lot for Sugarloaf an hour or so before the sunset and slowly headed towards the split trailhead.
My legs were so, so sore from today's lethal mix of snowshoeing and hiking all over the Upper Peninsula. As I slowly tread to the split, stretching tired muscles with false subtlety, I decided to take the 'easy' trail up. Maybe it would be more scenic, or take me to some unique areas or views. At least that's what I tricked myself into thinking. I was looking for the easiest way up the three hundred foot climb.
The easy trail swung to the right, close to 550, and the angry sounds of traffic easily cut through the woods. It wasn't too bad otherwise. The forest was mostly pine and open, letting the remnants of winter melt in the open sun, and the path lay wide before me. I strolled along easily, tripping infrequently over half-buried rocks, and tried to ignore the loud cars.
I thought back to my first climb here, along the hard trail, which is steeply sloped over mud and rocks for the first section. This trail started much easier, and when it inevitably was forced to climb, did so over stairs. Easy or not it still had several hundred feet to climb, it just chose to do so over spaced-out stairs instead of a gradual rocky climb. I kinda prefer this roundabout route.
The trail swings far to the south and is nestled between a narrow little canyon. As I climbed up the stairs and entered this rocky box the sounds of traffic died away, leaving me alone with the pines. This, this was nice. There was some snow built up on the trail, half from wintertime visitors packing it down and half from the shaded canyon, that emitted a cool and wet draft of air underfoot.
Eventually the easy route climbed out of the canyon and left me perched up on the shoulder of Sugarloaf, maybe a hundred and fifty feet left to climb. This was where the 'hard' route joined up again. It's all stairs from here on up anyways, no reason to have two separate sets. I let a slow sigh out. My legs were not ready for this climb, not after the long day. Good thing there were handrails.
I swung up the stairs, powering up each set, pausing briefly to let the tightness subside on the flat sections. Even as my muscles threatened to cramp I took the steps two at a time, too stubborn to use stairs like a person of normal height and gait. During the pauses I looked around a bit, admiring the view that was slowly opening up. Partridge Bay was visible to the east, blue water and white ice, and either the island or Presque Isle beyond. It was hard to say at this height.
As I approached the last long cluster of stairs I stopped and leaned heavily against the railing. Voices trickled down from above, the first voices I had heard on the mountain, and I didn't want to pop up on the peak completely out of breath. My first climb, some years back, had been on a cold and nasty morning that kept other visitors away. I wasn't so lucky today, not with the warm spring day so close to finals week. There would be college kids up here.
With a last burst of energy I climbed the final cluster of stairs and popped up on top of the mountain. There were a few groups of kids up here, either high school or college, each off in their own little world. A few were climbing underneath the decking, trying to sneak up on one of their friends above, while others were perched just out of sight on random croppings. It felt more like middle school playground than the peak of a Huron Mountain. Everyone enjoys these areas differently, I guess.
I wandered around, trying to be inconspicuous in my travel-worn gear and camera, careful to take pictures aimed away from others. The sights were excellent, much clearer than on my previous visit, though the bright evening sun washed away my views of Hogsback in a heavenly aura. The shoreline to the north, though - that view I could never get tired of. The sweeping shoreline in and out, distant rises stained with tall pines and bare hardwoods, all beckoning me to leave the relative civilization of Marquette for the wilds of Powell and beyond.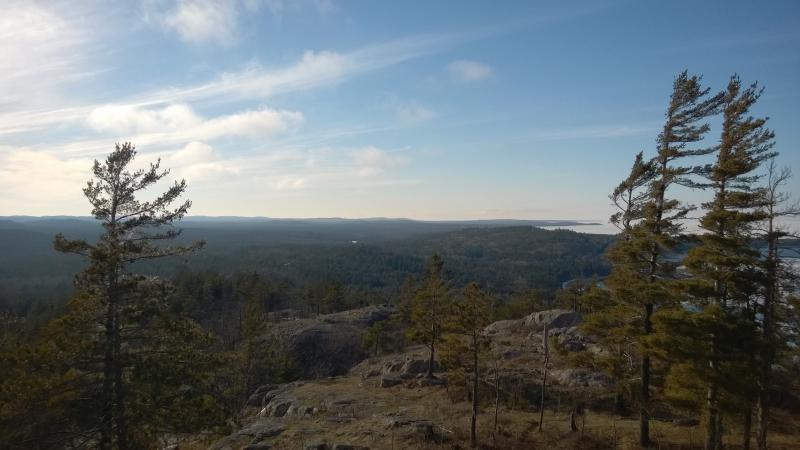 When a group left the eastern peak I meandered over, trying not to be too obvious as I lept up onto the overlook deck. I couldn't wait to see the vast ice still sitting on Lake Superior. And there was a lot. Slushy bergs stretched out from the shoreline, far too loose to support weight yet to thick to let much blue shine through. Incredible. So much ice left out there.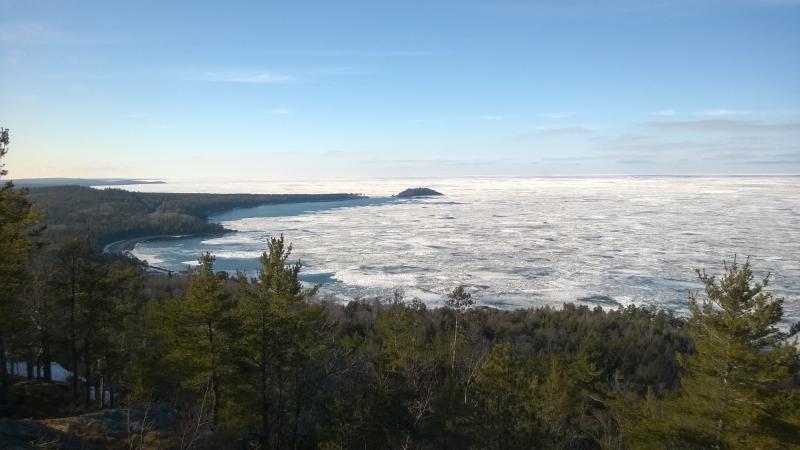 Loud steps and voices announced another group heading up the stairs. It was already too crowded up here for my solitary hiking tastes, so as soon as they were up I snuck down, clopping loudly over the stairs. It felt good to let my overtired legs swing freely down. Right before I reached the join between easy and hard routes a second group plugged up the route, a solid two score of NMU students heading up for the sunset, and I stepped aside to let them pass. Wasn't sure if it was my duty, as a Tech grad, to trip or taunt any of them. Forty-on-one didn't sound look good odds. I kept my exchange with them to polite nods as they passed.
At the join I didn't hesitate to take the hard route. It was shorter and I was going downhill. It was definitely more sloppy, too. Some snow lay on the trail and a seasonal tricky ran through mud and slickened up the rocks. I semi-cautiously plodded down the hill, enjoying the evening sun on my face, winding around the tall pines.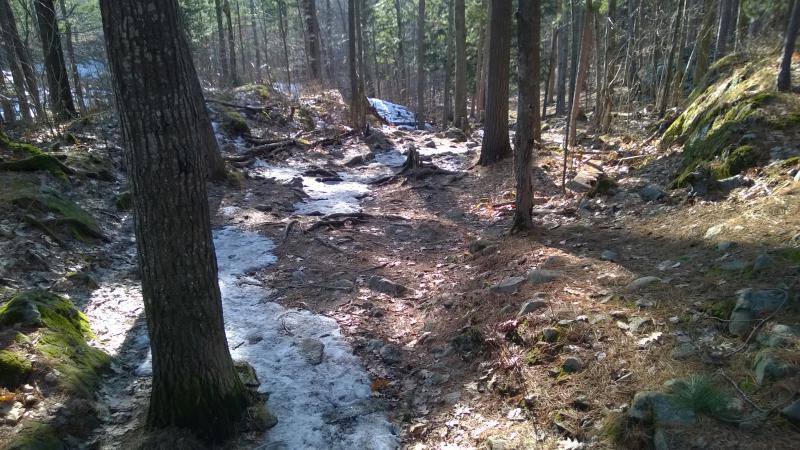 As I neared the bottom I noticed a stone staircase hewn into the rock to my right. That must be the original route up, perhaps a route that circled around and approached from the north. Interesting. Maybe that was even more difficult (steeper) than the 'hard' route. As I came out on the parking lot I made a mental note to check it out on a future trip. If I came back to Sugarloaf anytime soon. It'd be a lot of fun to retrace the original route up, even if there was a small crowd of people waiting on top.