There are a lot of hiking options on Isle Royale that are more reasonable than my ambitious perimeter loop. Most people would rather have short days and time to relax at camp, with the additional bonus that this could lead to repeat visits in the future. This was apparent by the discussions I had with other hikers on the island - most of them had been out there before and were exploring new areas and trails. Anyways, here are a few cool route ideas for people interested in visiting Isle Royale, something that readers may find useful.
East End Loop
Rock Harbor is a fairly crowded part of the island, with the resort and primary dock and all, and the entire east end sees a lot of traffic. For visitors who aren't looking for the solitude of the interior, though, there is tons to see on this side of the island. A convenient and varied loop can be made by combining parts of the Greenstone and Rock Harbor Trail.
Thirty miles would include Mount Ojibway, Chickenbone Lake, Moskey Basin, and a long walk along a rocky shoreline, and there are plenty of campsites to break the days into short chunks. Well, plenty of sites depending on how it's hiked. There is a tempting choice that could make for at least one long day - the scenic trail from Mount Franklin to Ojibway.
To start off the thirty mile loop, either Tobin Harbor or Rock Harbor Trail will lead to Threemile Campground for an short first day. The Tobin Harbor trail is an easy and quiet walk over a dirt path while Rock Harbor is much rockier and exposed to open winds and weather from Lake Superior. The next day would be the long one - up the Mount Franklin Trail, over to Mount Ojibway, and then down to East (or West) Chickenbone - which would be at least 10 miles in all. An option to this would be to aim for Daisy Farm on either the first (or second) night and then go up Ojibway and over, breaking the longer stretch on the Greenstone into a more manageable 7 miles.
From Chickenbone Lake there are some options, though the general idea is to eventually loop back. McCargoe Cove is a short 3 miles to the north, West Chickenbone only 2 miles west, both of which are much nicer campgrounds than East Chickenbone. Near West Chickenbone is the trail junction down to Lake Richie, which loops back around to Moskey Basin and eventually Rock Harbor itself.
The route back has variety. The trail from Chickenbone to Lake Richie is a little roller coaster of fifty foot climbs under thick foliage that winds between barely-glimpsed lakes. From Lake Richie to Moskey Basin is mostly over a hard rock ridge and a few swampy sections, which continues all the way to Daisy Farm and beyond. And there are campsites every four miles, which could make for a series of easy days or a game of leapfrog over them. For example, a series of 10 mile days would be Threemile -> East Chickenbone -> Daisy Farm -> Rock Harbor, though plenty of easier routes could be broken up.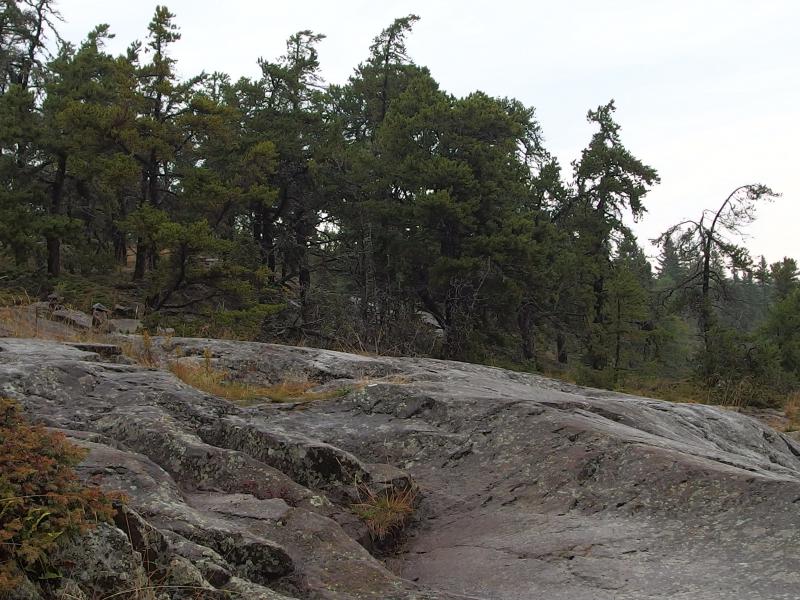 Some shorter routes could be created based off of a Rock Harbor start, though they would all involve in-and-outs. An easy route would be Rock Harbor -> Threemile -> Daisy Farm, then loop up and around Mount Ojibway, and then return the same way. No day would be more than 5 miles and the trek up to the Ojibway Firetower on the Greenstone Ridge wouldn't even require a full pack. It wouldn't be a true loop, but it could make for a relaxing few days - pending weather, of course.
Feldtmann Loop
Starting at Windigo, this thirty mile loop is on some of the easiest yet most overgrown paths on the island. There are a few overlooks and a short jaunt on the Greenstone, and everything else is flat walking through brushy forests. Four campsites are spaced along the route though many hikers opt to bypass Island Mine and its unreliable water source.
Counter-clockwise is the common way to hike the loop. The leg between Windigo and Feldtmann Lake is around 9 miles long and, with the exception of a short few hundred feet climb up Grace Creek Overlook, is even ground through a brushy forest. The last three miles can get overgrown late in the season, low tangled growth all but hiding the path underneath. The campsites at Feldtmann Lake are basic affairs, though there is a short trail over to Rainbow Cove on Superior to spice things up a bit.
The start of the 10 miles from Feldtmann Lake to Siskiwit Bay is easy enough, and the views from Feldtmann Ridge are amazing. Heading down the ridge is another story. The swamp is terribly overgrown and, while the trail is never that hard to follow, it will scratch and slap with every step. At least Siskiwit Bay is a beautiful campsite, easily one of the best on the island. From here it's an uphill 4.5 miles to Island Mine up the Greenstone (this trail can also get overgrown, walk the beach instead), and a downhill 6 miles from Island Mine to Windigo. Oh, and there are lots of cool ruins at Island Mine.
It's easy to see how this hike can be done in three or four days, maybe a few more with some rest time built in. It's also easy to tack on additional miles. Huginnen Cove to the north of Windigo is a 7 mile loop with a fantastic campsite on the north shore. Windigo -> Feldtmann Lake -> Siskiwit Bay -> Washington Creek -> Huginnin Cove -> Windigo would make for a great week. Another option is to head east from Island Mine down to Hatchet Mine and then loop back on the Minong Ridge Trail, though that would more than double the total mileage.
Minong-Greenstone Loop
Hiking the two main ridges of the island is an ambitious goal, even with more than enough campsites and water sources along the way to make it reasonable. Also, there is a lot of wiggle room for distance. The shortest option from Windigo would only be around forty miles in all, while a longer option starting at Rock Harbor gets closer to ninety miles. Oh, and I can't underestimate how bumpy this route can get - the Minong Ridge is a long series of two hundred foot climbs and drops.
First, getting to the loop. Coming in from Rock Harbor the quickest way is through Daisy Farm and East Chickenbone. There is always a longer route through Lake Richie, which would avoid a climb up a tall part of the Greenstone. Either way this takes between fifteen and twenty-three miles one way (lasso-style) and plenty of extra days. For most hikers starting at Rock Harbor it probably makes more sense to ferry at least once to Windigo and save some miles.
Windigo, by contrast, is practically on the loop. The junction of Greenstone and Minong is only .3 miles away from the dock. Going counter-clockwise (Greenstone first), a good first stop is at South Lake Desor, a gradual 11 mile climb up two of the island's tallest mountains (Sugar Mountain and Mount Desor). Island Mine does sit in the middle of this leg for those interested in shorter days. From South Lake Desor to Hatchet Lake is an easier, and more scenic, eight miles up and over Ishpeming Point.
Hatchet Lake makes for an fun choice. Those who want to pack in the miles could continue on the Greenstone, climbing up Mount Siskiwit and circling back on the Minong at McCargoe. This adds fifteen miles to the forty miles mentioned above. Mount Siskiwit is an open section of trail with great views south over Siskiwit Lake, and McCargoe Cove is on a beautiful fjord-like cut in the island. Plus, there is an open mine at McCargoe and good views over Otter Lake on the Minong Ridge. Otherwise, the cut-off trail at Hatchet Lake connects over to Todd Harbor and starts the forty-mile loop's return back.
From Todd Harbor it is an easy six miles to Little Todd (in fact, it makes more sense to hike straight from Hatchet Lake to Little Todd without stopping at Todd Harbor). Things get more difficult west of Little Todd. The open, rocky Minong Ridge really starts to pick up on the way to North Lake Desor, steep climbs and sudden drops, and the trail is not always well-defined.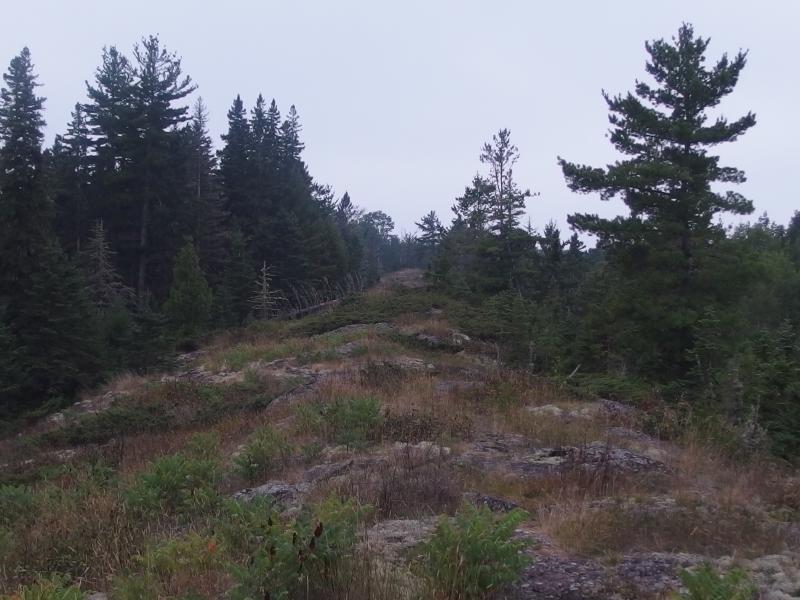 The stretch between North Lake Desor and Windigo is the longest single section of trail on the island, over ten miles in all, and easily has the most variety. Repetitive climbs can be challenging, swampy sections are sloppy, and the few beaver dams may lead to a wet journey, yet thru-hikers will be rewarded with a truly amazing part of the island. On the west end of the Minong are two campsites - Washington Creek at Windigo and Huginnin Cove - though Huginnin Cove does add six miles to the trip.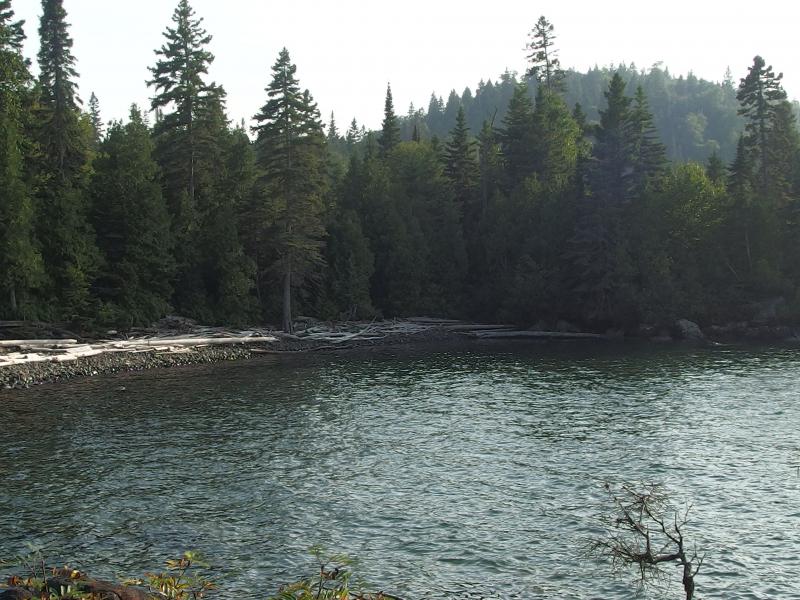 Outside of the base forty mile loop from Windigo, there are plenty of options to add complexity and more miles. There is a long and short option, and then where to start from, and then all of the different length and campsite choices. If I had to recommend one route, though, for someone interested in 10-ish mile days, I'd go with Windigo -> South Lake Desor -> Hatchet Lake -> Todd Harbor -> North Lake Desor -> Huginnin Cove -> Windigo. Add in a rest day at Todd Harbor (which may not be necessary, as Hatchet Lake -> Todd Harbor is only 4 miles) and this makes for a long week through a beautiful part of the island.
Thru-Hike with the Ferry
All of the routes discussed above are loops, which ignores the greatest advantage to hiking on an island: boats. It's easy to land on Windigo and be picked up at Rock Harbor, or fly into different ports, or hitch a ride on the water taxi or Voyageur II to different docks. Some time will be eaten up by more travel, as well as some possible delays for weather, yet it can really open up some cool options.
The most obvious route is a Greenstone Ridge thru-hike, which may or may not include Lookout Louise. Each leg is about ten miles long, though if Lookout Louise is included then a lengthy detour down to Lane Cove will be needed for a east end campsite. Otherwise, doing a Windigo -> South Lake Desor -> Hatchet Lake -> West Chickenbone -> Threemile -> Rock Harbor is a great five day, forty mile thru-hike.
Another good option is a Minong Ridge thru-hike. This shorter route is less than thirty miles, though it will probably take just as long and be much tougher. Being dropped off at McCargoe Cove and hiking to Windigo is probably the best way to approach this adventure. This opens up an chance to swing up to Huginnin Cove, something I brought up above, though that does tack on some miles. Starting from a drop-off at McCargoe Cove, this would be McCargoe -> Todd Harbor -> Little Todd -> North Lake Desor -> Washington Creek, with Little Todd being an optional campsite (easy enough to bypass it and just do the ten miles from Todd Harbor to Lake Desor all at once).
An interesting route that opens up the scenic east end of the island without doubling back would start with a drop-off at Chippewa Harbor. From Chippewa all the way to Rock Harbor are campsites every three to four miles, always on Lake Superior, with the option to swing into Lake Richie for a night on an inland lake. Keeping the mileage down, this would look like Rock Harbor -> Chippewa Harbor -> Moskey Basin -> Daisy Farm -> Threemile -> Rock Harbor, or seventeen miles over five days.
So, there's a lot of campsite names thrown around in this post, names that won't mean much without looking at a map. Nat Geo has a good one (that will be flipped over many times during planning), or else a simple Google search can turn up a few printable single page options. Also, if there are any questions about these or other routes, I'd be happy to answer what I can. Another good source is the Isle Royale Forums. Anyways, happy hiking!