Hunter's Point and Porter's Island sat across the harbor under the morning sun. I stood at the dock in Copper Harbor and felt a wave of nostalgia as the Isle Royale Queen IV was loaded up. Less than a year ago I had explored those trails and watched the sunrise from that point and so much has changed since then. Katie and I moved to Phoenix, we had a second son, and I was unsure if I'd ever see Lake Superior again. And yet today I stood in Copper Harbor, waiting impatiently for the ferry to start on its way, and soon would be on Isle Royale for a nine-day solo backpacking adventure that was far beyond anything I've ever attempted.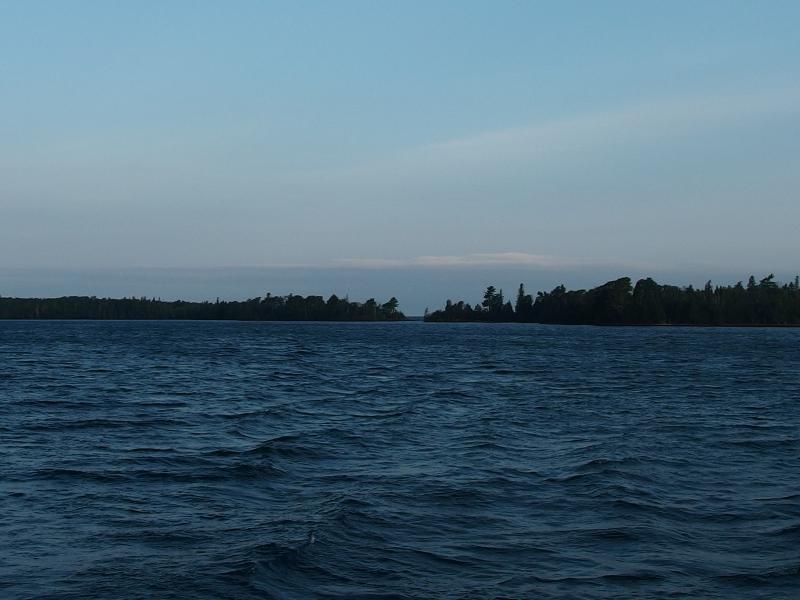 While I stood on the dock I tried to guess what my fellow travelers would be up to on the island. Many of them were obviously going to straight to the lodge and had already handed their rolling suitcases to the crew. Others were probably going out for dayhikes and had brightly-colored camelbacks they were holding on to. And then there were the backpackers, with large packs weighing over thirty pounds and sturdy boots, boonie hats and convertible pants, anxious faces and prepared stances. These, these were the people that I'd be seeing on the island trails over the next week and a half.
Boots. I took a quick glance down at mine. My Vasques are over five years old and have cracks and broken seams that worried me. I spent several nights over the last week going over them with Sno-Seal and airing them out and still didn't feel secure in their waterproofing. So many of the other backpackers had shiny and unscuffed boots and I stood here in my old beaten-up pair. At least mine were comfortable.
The time came and the captain said some words and we began to file into the boat. By the time I stepped into the main cabin it was mostly full so I cut a line to the stern. I wanted to say good-bye to the Keweenaw on the way out. I was soon joined by a young couple who were planning on a small east-end loop before coming back and car camping at the Pictured Rocks. We chatted about the Chapel Loop for some time as the boat moved away from the dock. Once we cleared the harbor the boat turned and I got a full view of the sun over Lake Superior… Good grief I missed the Upper Peninsula.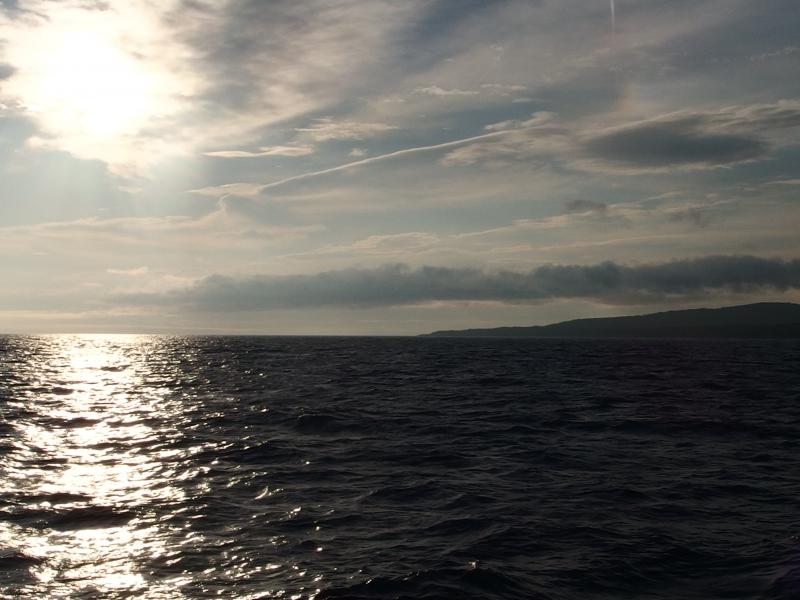 I tried to stay on the stern for as long as possible. The noise, cold wind, and diesel fumes did their best to force me inside. A group of five guys came out that I recognized from breakfast and we shared a few words before I finally caved in. My teeth were chattering and the Keweenaw just wasn't disappearing nicely in the horizon like I hoped it would. With swaying steps I made my way to the forward cabin, the only cabin with open seats, and crashed on a chair with a book.
It didn't take long for the rocking boat to lull the book closed. I laid down on the bench and went over my mantra, the same lists I had been repeating for the last few months. Lane Cove, Todd Harbor, Little Todd, Huginnin Cove, Feldtmann Cove, Siskiwit Bay, Malone Bay, Moskey Basin, Rock Harbor. Easy, hard, easy, hard, easy, easy, hard, hard, easy-ish. 7, 20, 7, 20, 12, 10, 20, 24, 12. My planned route for the 9 days was ambitious, over 130 miles with a 38 lb pack on, and would take me over every major trail on the island. The rolling boat and mantra had me drifting off to sleep in minutes.
By the time I woke up there was less than thirty minutes left before docking. I jumped up, used the restroom (which was an experience), and headed out to the bow. There were close to a dozen people clustered here watching the island slowly appear on the horizon. I settled for a starboard seat, took a few photos, and shivered my way to the dock.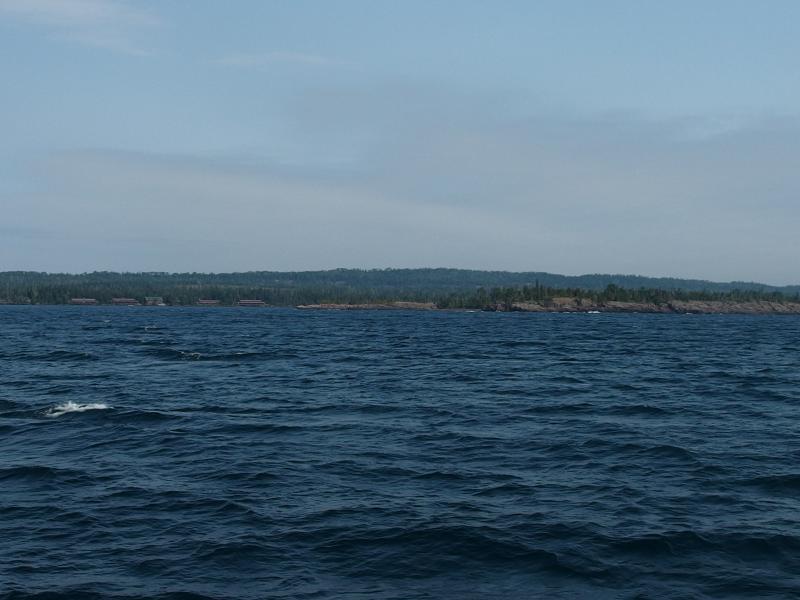 Before we tied up I noticed that the captain was making some announcements to the main cabins that were completely unhearable from my seat. I asked the man next to me if he would also be backpacking, as he looked fairly serious, and figured I would just follow him through whatever orientation there would be. We got off the boat together, stood through a brief 'Leave No Trace' session that seemed a bit broad for 'Leave No Trace', and then got itineries approved at the station. The ranger questioned my first twenty mile day, shook her head at the second, and then quietly clucked over the rest of my route.
Still shivering from the cold boat ride, and maybe a little bit of excitement, I quickly trotted through the rest of my pre-hike errands. I needed to juggle some gear between my travel bag and real backpack. And then I needed to drop off the travel bag in storage at the lodge. And then there was camping fuel and matches to buy at the store. By the time all that was done it was close to 12:30 and I hadn't covered a foot of my route. There were two more things I wanted to do - weigh my pack and fill up water - but I decided to skip them. Isle Royale was calling to me and I needed to get in the woods.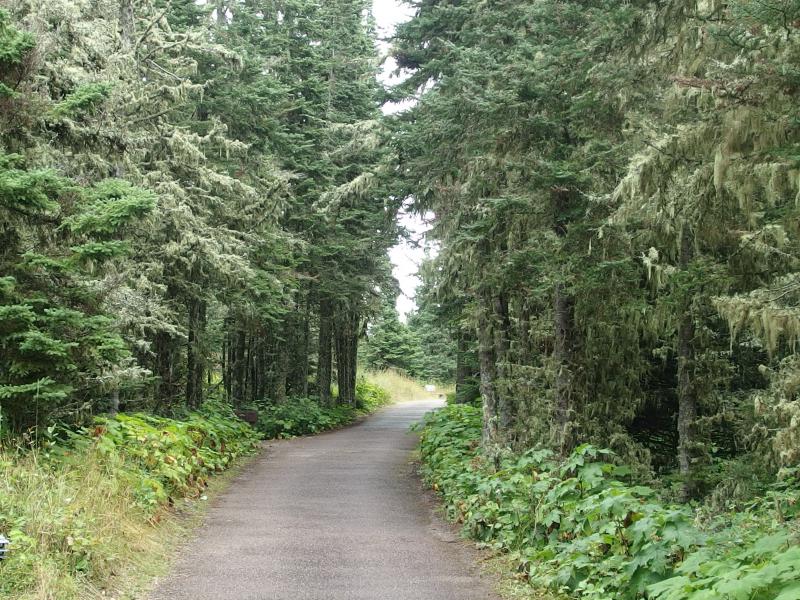 Finding the Tobin Harbor Trail is not straightforward. You go up a paved drive to the northeast, take the second trail to the left, and then take a half-hidden left fork. I was near that fork and about to go right when the backpacker from the boat cruised up from below and proudly exclaimed that we were both going the wrong way. Figuring that we had gotten confused at the last fork I showed him the half-hidden option and we headed west along Tobin Harbor. Turns out that the man was also going to Lane Cove this evening so I held back a short time to chat with him and learned that he was a rock climber from Madison. I started to get a vibe that he'd rather be hiking alone so I began to stretch my legs and left him behind.
This was a pleasant little path, the Tobin Harbor Trail. It dipped up and down in little waves, always within a few yards of Tobin Harbor to the north, though it did have plenty of roots and rocks embedded in the trail to trip up the unawares. I had to keep one eye on the trail and let the other roam around with abandon. This area was fantastic.
Thick clumps of old man's beard hung from most every pine along the trail and moss and thimbleberries surrounded the dirt trail. Tobin Harbor, the narrow finger of Lake Superior that separates Rock Harbor from the Greenstone Ridge's northern terminus, had little islands that blinked in and out of sight as I cruised along. And across the harbor rose thickly forested hills that would eventually form Greenstone Ridge itself. This was it - I was back in God's country.
The thick fog and cold boat ride had me still in my down jacket during this trail even as the exercise began to warm me up. There was an inexplicable driver that rushed me along. I had no reason to hurry, with plenty of time to reach campsite and not that many miles to cover, yet hurry I did. I passed by a few groups, including four young men who were boiling water for lunch next to the harbor, and procrastinated on filling up my water or taking off my jacket. Being on the trail just felt too good.
Three miles in and I came to my first junction. The Mount Franklin Trail runs from Threemile to (near) Mount Franklin and also marks the western end of the Tobin Harbor Trail. I turned just in time to bump into a group of three taking photos. Apologizing I stepped back, not wanting to photobomb a bunch of strangers, and let them finish their thing before continuing on. It was time to turn north, to cross over Tobin Creek and pass by the head of Tobin Harbor, and make the 500' climb up the Greenstone Ridge.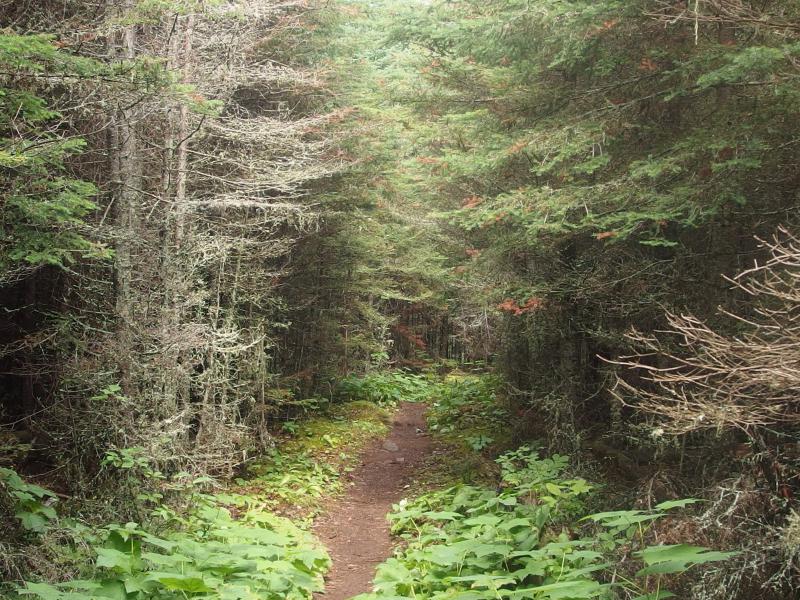 A corridor of pines and boardwalk over the creek were easy enough to pass (Boardwalks? Oh man, this is fancy!) but when I bumped into my first rock bluff I got the wind knocked out of me. It wasn't much, maybe a hundred feet, but it was enough to leave me gasping. Which worried me. I was in a different climate, carrying just under forty pounds of gear, and I had no idea how my body was going to react to this outing. I was used to climbing thousands of feet down in Arizona on an early morning hike with a few liters on my back. This, this was new.
When I crested the first climb I came upon a small swamp with several little creeks and boardwalks. It was time. I swung my pack off, hauled out my filter, and pumped and drank. It was the first real water for the day and it tasted fantastic even with the brown tinge that seeped through the ceramic filter. Topping off the liter and taking off my jacket helped me feel like a brand new person. Maybe the rest of this climb wouldn't be so hard.
I was wrong. One group after another came down the trail, all heading downhill, mostly day hikers with smiles and friendly words. Compared to them and their small packs I felt like an overweight mule trying to push a boulder up the trail. The temperature soared as I climbed, either from breaking through the cloud layer or coming inland, and my shirt was quickly soaked through in sweat. All of my hopes of the long perimeter loop was swiftly disappearing in a haze of humidity and heat.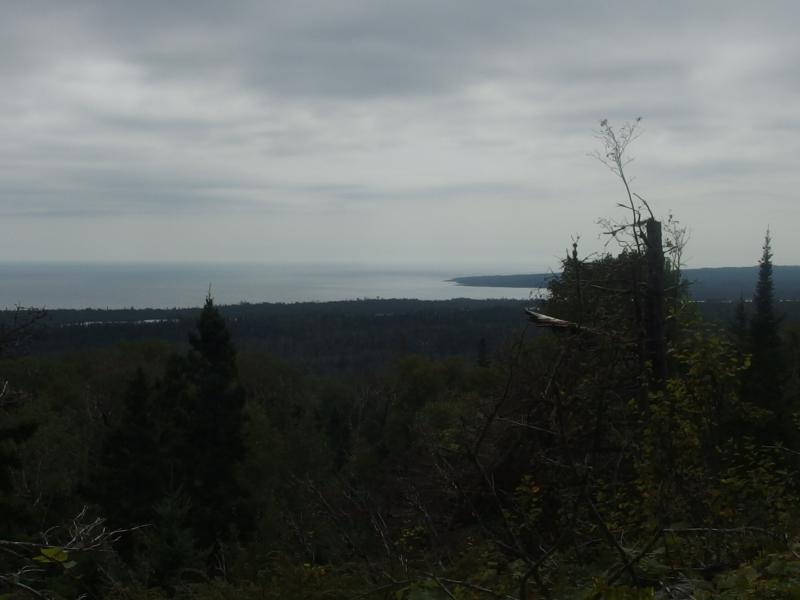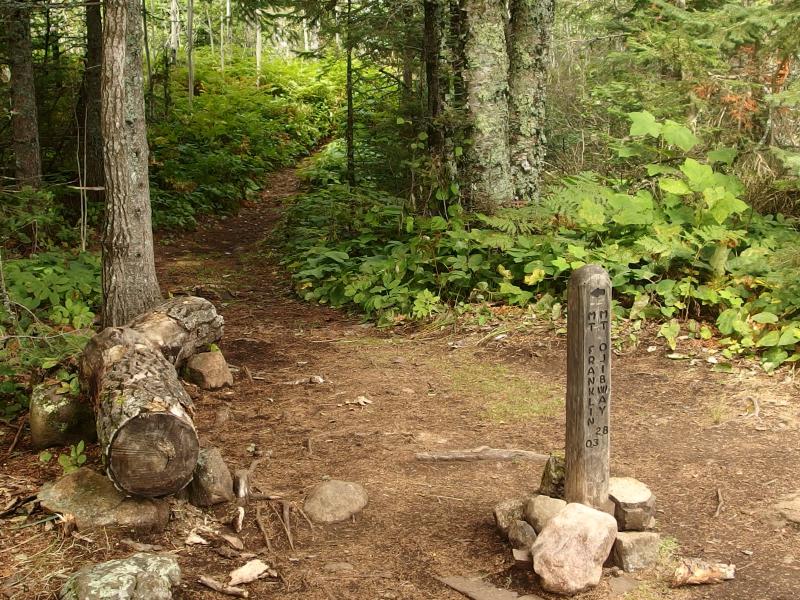 Suddenly the trail stopped climbing and I realized that three directions stretched away. I was on Greenstone Ridge Trail. Behind me lay Rock Harbor and a shameful retreat. To the right was Lookout Louise, and to the left Mount Ojibway and Windigo beyond. Ahead was my planned destination: Lane Cove. I stood at the junction long enough to catch my breath before tumbling down towards Lane Cove.
This trail wasted little time before dropping over a series of switchbacks. The first set dropped over a hundred feet before coming out on a brief flat growth of birches and then there was a second set. I caught one okay view along the first set of the lake on the north side of the island, a few islands parallel the shoreline, since most of the drop was through fairly thick woods.
I kept a close eye on my surroundings during the descent. Tomorrow I planned to hike a long section of the Greenstone that, as far as I could tell, would not cross any creeks or get close to any lakes. There would be no access to water for close to nine miles. I would have to fill up somewhere along this stretch to make that long segment more reasonable. That wouldn't be a problem - I passed several decent creeks along the descent that had more than enough standing water to pull from.
As pretty as the trail was, and as much as I was enjoying being back in a temperate climate, I was starting to wear pretty thin. Lane Cove Trail began to buck up and down a few ridges as it worked its slow way north and I felt every uphill jog. The liter I had pumped earlier was running low and the few snacks I had for today was giving me little, if any, energy. And my trekking poles, while fun, were becoming an annoyance.
Ah yes, the trekking poles. They were a splurge for this trip. I know some experienced backpackers (David Clark) who swear by walking sticks found along the trail and decided to try out something a bit more shmancy. Komperdell Carbon Expedition Vario 4, with a max length of 145 cm to fit my lanky height and a mere 7.2 oz per pole. I found a heck of a good deal on them from some random site a few weeks before coming out. And so far they had been an annoyance at best. They helped going downhill for sure, taking a lot of weight off the knees and stablizing over rough sections, I just couldn't get a good rhythm down. I felt like I was spending too much time focusing on alternating legs just to get all confused when I would inevitably get them tangled in the undergrowth. Maybe I needed a few more miles underneath my belt before they got useful.
The trail climbed, the trail dipped, the trail traveled over long boardwalks through cedar swamps. When the trail flattened and swung around next to the lake I began to get hopeful. It was here that I bumped into my first group of hikers since leaving the Greenstone who told me that there was only one group of campers staying overnight at Lane Cove. Last night had been crowded, apparently, but tonight there was only one group and me so far. Excellent. I rolled into the campsite and began setting up at Site 3.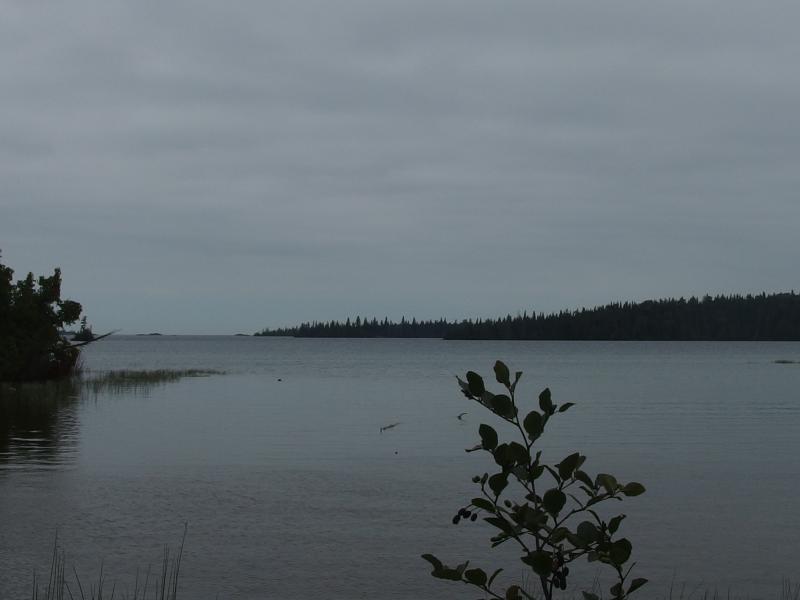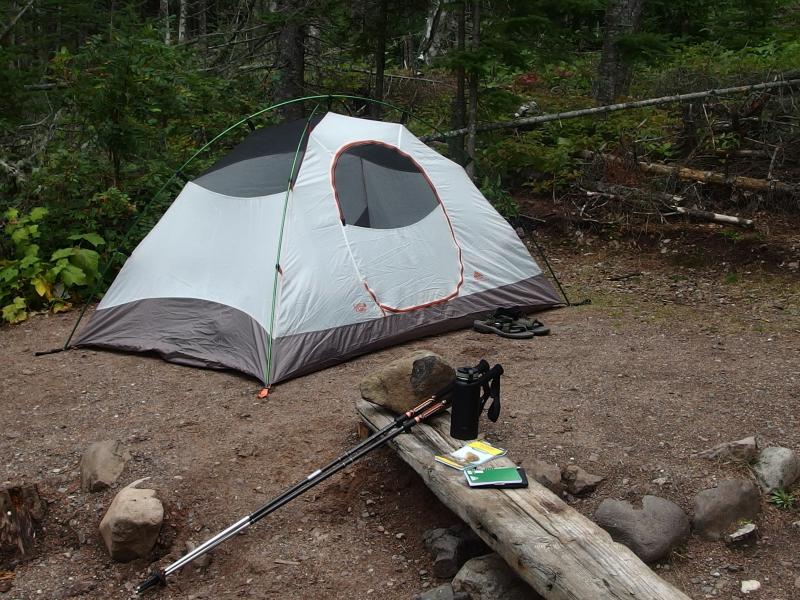 There was plenty of things to do. I drank a few liters from Lake Superior, took a quick bird bath in knee-deep water, changed into dry clothes, and listened to loons flirting out in the cove. I brought one of my luxury items out, a Kindle that Katie got me for my 30th, and read a few chapters. After a few hours the rock climber from Madison came to camp and took Site 5. Then another group came in. And another. Soon a couple bumbled down to my site and asked if I minded some company. Lane Cove was officially overfull.
By seven that evening every site had at least two tents on it. Still, everyone was quiet and civil. A ranger pulled up on boat and drifted past the sites, checking in on people and making sure no one was planning on starting any illegal campfires. A bit after the ranger left I made some tea and watched the sun set over the cove. Things were crowded and uncomfortable here, much more than I expected to see at an out-of-the-way campsite on Isle Royale, but I tried to make the best of it.
After the sun was down I wished my fellow campers a good night and headed to my tent. Tomorrow was a big day. I wanted to clock twenty miles, much of it along the Greenstone, and be far up on Minong Ridge by the end of the day. If I couldn't pull tomorrow off then the rest of my trip would be completely unachievable. Today didn't leave me with a lot of confidence, either. The seven miles from Rock Harbor to Lane Cove had been oddly tough. I read a little and slowly drifted off to an uneasy sleep, wondering just how much I had bitten off with my itinerary.