Driving to the Sierra Estrella Wilderness was a long and boring ordeal. Chris and I had left Mesa at six in the evening, knowing full well that we'd be driving through the night, and as the time ticked by we griped and complained anyways. First there was the traffic to deal with in central Phoenix as we drove west, then the confusing twists and turns through Goodyear and Estrella, and finally a bumpy unimproved ten miles that more resembled a desert wash than a road. At least the last bit was interesting and remote, a small relief from the long two hour transit.
Once we reached the trailhead we set up camp a few yards from his vehicle. There was a picnic table, clearing, and firepit right there, and no one else in sight, so might as well take the easy option. We both brought beers and Chris started a fire and we stayed up late, watching the stars above and talking about random work things. I drank a significant amount (four whole beers!) and we didn't put out the fire until well after eleven. As an aside, a belly full of beer gave me one of the most comfortable hammock sleeps I've ever had.
Waking up before five was hard after the late night. Trying to clean up camp, cook a quick breakfast, and ready gear was even harder, thanks to the dark beer still swimming in my gut. Maybe drinking before this hike wasn't the smartest idea. We were in the Sierre Estrellas at the foot of the only official trail, a 2.6 mile 2500' climb up Quartz Peak. There was enough to worry about on this waterless outing already.
The first half mile was a simple stroll through a forest of cholla. Our path was wide, an old track for the most part, and it even had giant cairns two feet high to guide us. Not that we needed it - those chollas gave us plenty of encouragement to stay on the right path. That simple stroll ended with a steep climb up a ridge, a climb that wouldn't let up until we reached the peak. I had stuck with Chris up until this point and now, with a few words and a nod, pushed on alone with a brisk pace. Time to burn off those beers.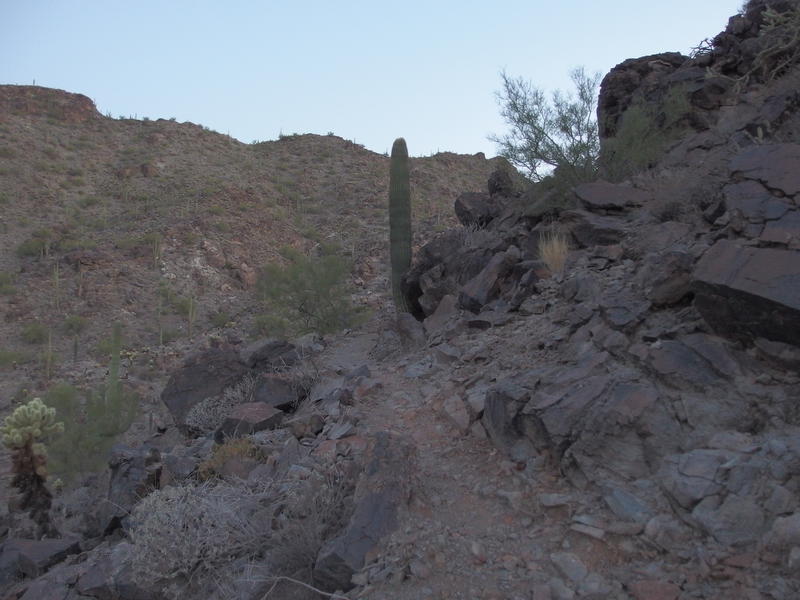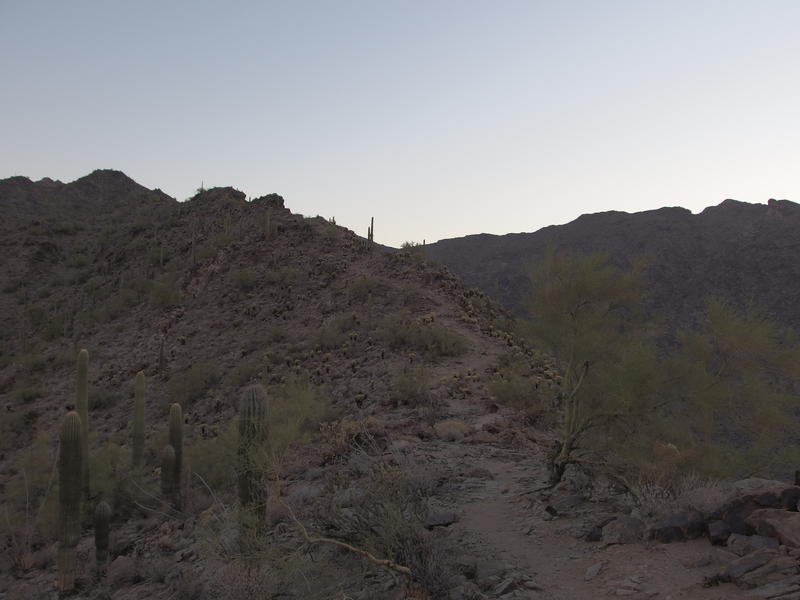 Dancing first on the east side of the ridge, then crossing over to the west, then switchbacking up a slope and skirting the top of a ridge, this trail got real interesting real fast. And it was fantastically maintained. There was no growth hanging over to dodge, few errant rocks to watch for, and I rarely had to watch where my feet fell. Except to double-check shadows for snakes, anyways. It was a fun, challenging go, and I controlled my pace to avoid any breaks. After one particularly steep section I did stop just long enough to catch my breath and eat a granola bar, plus admire my first view of Quartz Peak in the distance, and then it was back to the races.
While the sun had technically risen already, the bulk of the Sierra Estrellas had kept this trail in the shade so far. Which was most appreciated, as the lows had barely gotten to 65 and the steep hike was giving my sweat glands plenty to work with as is. As I climbed towards the ridge and sun climbed up the sky it was inevitable that we'd meet, even with the trail sinking to west of a narrow ridge for a good chunk of time. When the ridge gave out I got my first full blast of today's sun.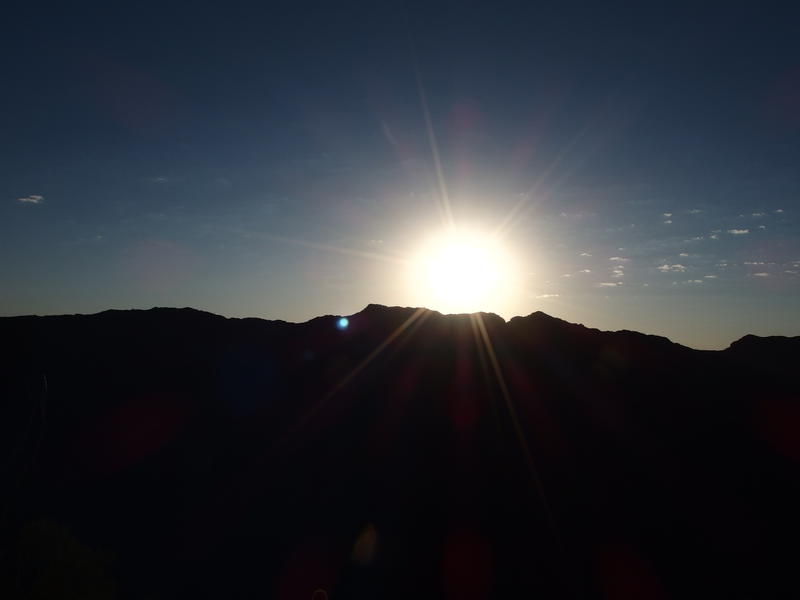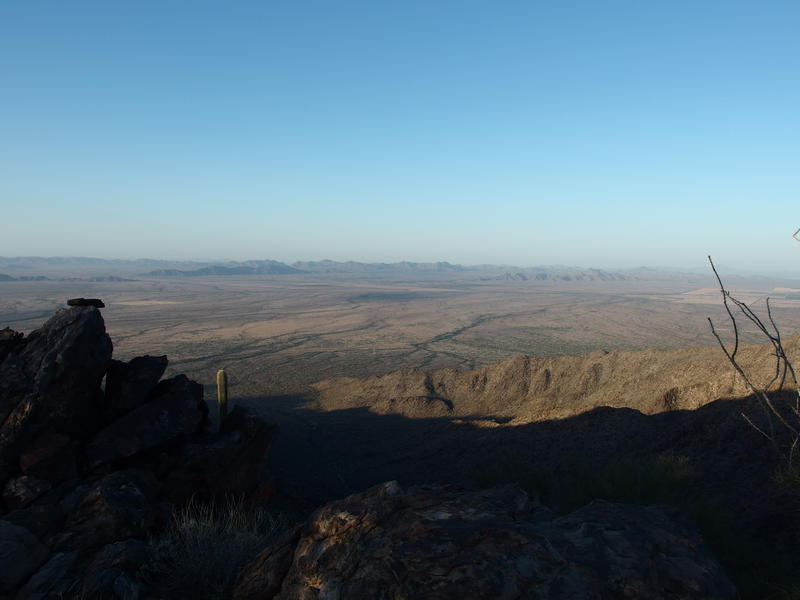 From here things got a whole lot less fun. The path, which had been easy to follow and well-graded, began jumping from boulder to boulder, guided only by sporadic cairns. Instead of walking easily I was forced to hop, step, lift, and swing my way along, turning what had been an easy aerobic outing into a full-on workout. That sun didn't help any either.
At least the views were different. To the west lay Rainbow Valley, just waking up in the morning light, an area I had never really seen. I've driving around it twice, and some of the mountains far in the horizon looked vaguely familiar, and that's it. Hiking to the west of Phoenix meant driving through Phoenix which is never an appealing start. The valley seemed to be mostly desert with a smattering of agriculture. I wondered if the water used by these farms are the last drips of Gila River after it 'flows' through the city or if anything makes it out of here.
Finally the climb ended in a narrow saddle between two peaks. To the left was Quartz Peak and to the right an unnamed spur. I had made it to the top in less than two hours - not bad, given the elevation and that annoying last half mile. Without a pause I tossed my trekking poles behind a bush (I was tired of carrying them) and climbed around the unnamed spur. Quartz Peak wasn't the only thing on my list today.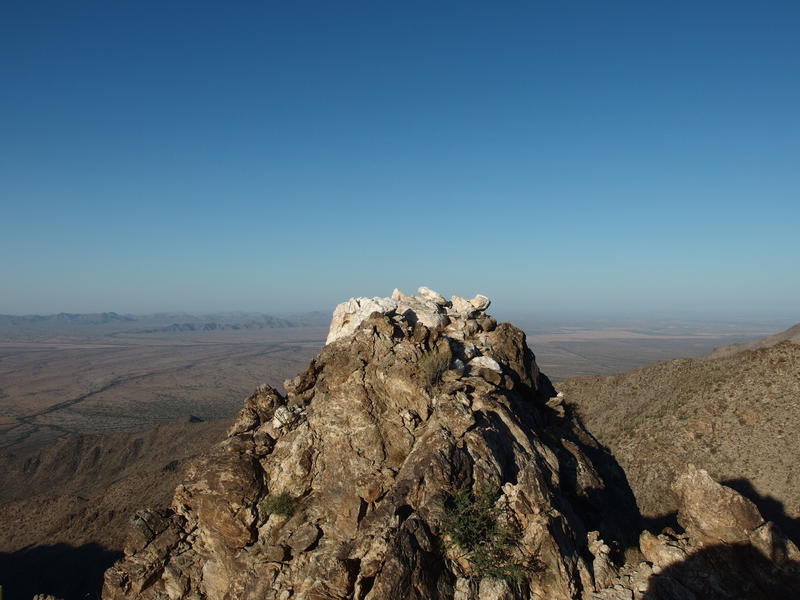 My main reason for pushing so quick up this climb and leaving Chris behind was because I wanted to bag a second peak today. Butterfly Peak is located about a mile to the east and is much more difficult to reach. If I could get up here fast enough I might have time to zip over, climb up the twin peaks of Butterfly, and then come back just as Chris made the first summit. Theoretically. I had no idea how tough the transit over would be.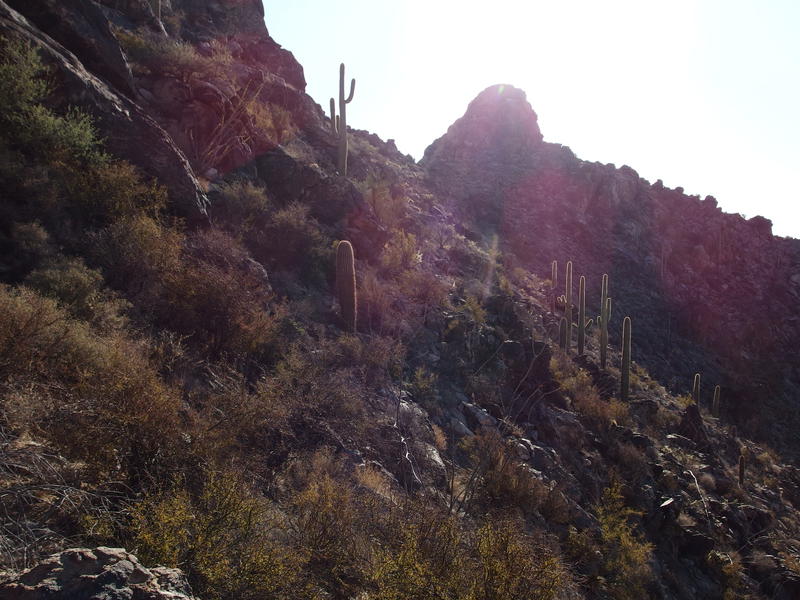 Thirty minutes later and I had a very good idea on how tough the 'zip over' would be. There was no path or cairns, just the rocky Sierra Estrella ridgeline, and this ridgeline is not trivial. After climbing that unnamed spur there was yet another climb, then some bouldering, then hacking through catclaw and cholla. Thanks to some bad route decisions I cliffed out twice and dropped fifty feet too far on a saddle. And then another few hundred feet to climb over shifting gravel with only ocotillo and agave for hand holds. I was not in a great mood by the time I neared the peaks.
Any energy I had left over from the main climb was completely sapped out by now. The sun beat down and my legs stung from a dozen cuts. Shoot, I even had the tip of an agave that snapped off in the meat of my thumb that I couldn't dig out with tweezers. Those beers still churned away in my gut, aggravated by my hiking and the heat. The two liters in my Camelbak tasted like dish soap and garden hose, further souring my mood. When I reached the base of the first peak and saw the climb my ambition fled me. Just to make sure I circled halfway around, looking for an alternate way up, and didn't find anything better. The only way up this peak was to attempt rock-climbing and I just didn't have the gumption to try.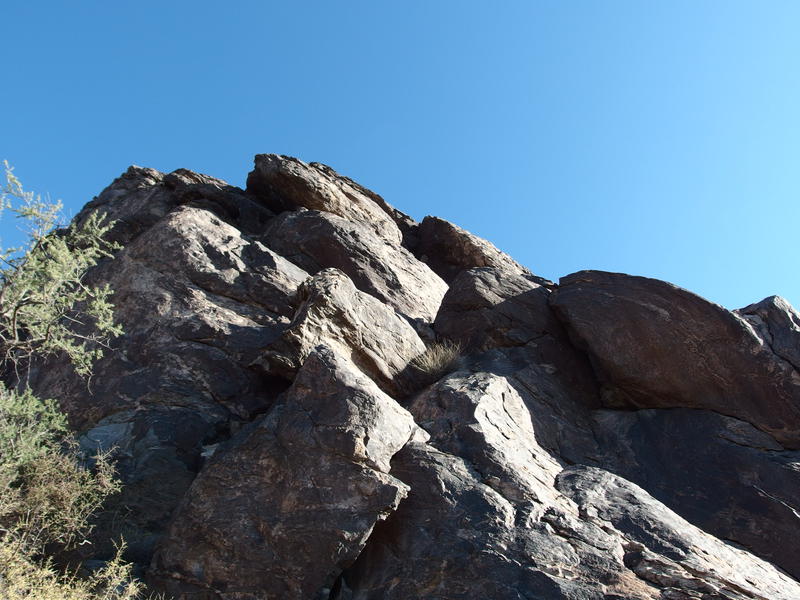 If I couldn't climb up the first spur of Butterfly then the second one could wait. Angrily I pushed away, heading back to the west, and quickly tripped over a rock and landed right on my agave-flavored splinter. Perfect. Cursing and sweating I headed back, retracing the terrible path over, wishing I had never even wasted my time with this little spur. At least Chris was almost done with his climb. I could make out his orange shirt about a quarter mile below Quartz Peak.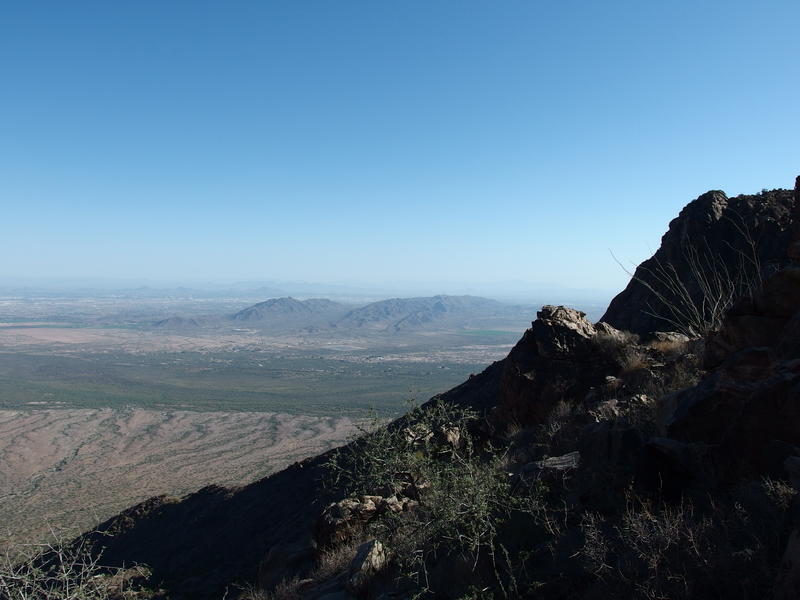 Much of the way back was easier. I avoided dropping so far on the saddle and only cliffed out once. I remembered a game path, or at least what passes for a game path in the desert, and made good time over a few hundred yards. My biggest mistake was avoiding climbing up one of the ridges, hoping to stick to the southern face instead. A few clenching crawls along tiny cracks just wide enough for toes and finger tips and I was forced to backtrack. I tried to pass the time by drinking up the views to the west, the view of South Mountain and Phoenix that I had been ignoring so far today.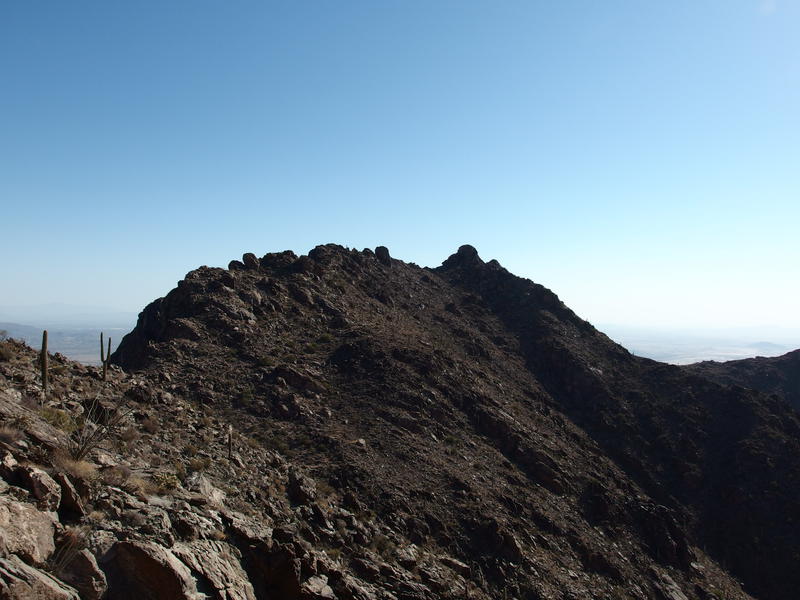 Two hours after leaving Quartz Peak and I made it back. Chris had found a comfortable seat on the white rock and waved cheerfully at me. I may have cussed back at him as I lumbered up the last few steps. I was not in the best of moods. He was having a fun time looking through the ammo box on top, checking out the geocache and reading some old logs from past visitors. While he explored past memories I lay in a spot of shade, slowly ate Slim Jims and various bars, and felt miserable. Beer was a really, really bad choice last night.
At least the views were good. Quartz Peak is near the center of this mountain ridge, offering a great vantage point of both the north and south peaks snaking away into the horizon. Rainbow Valley stretches out to the west and Gila River, South Mountain, and the brown blur of Phoenix are spread out in the east. Of course, the white rocks of Quartz Peak, interspersed with mica-rich dark rock, was also pretty awesome.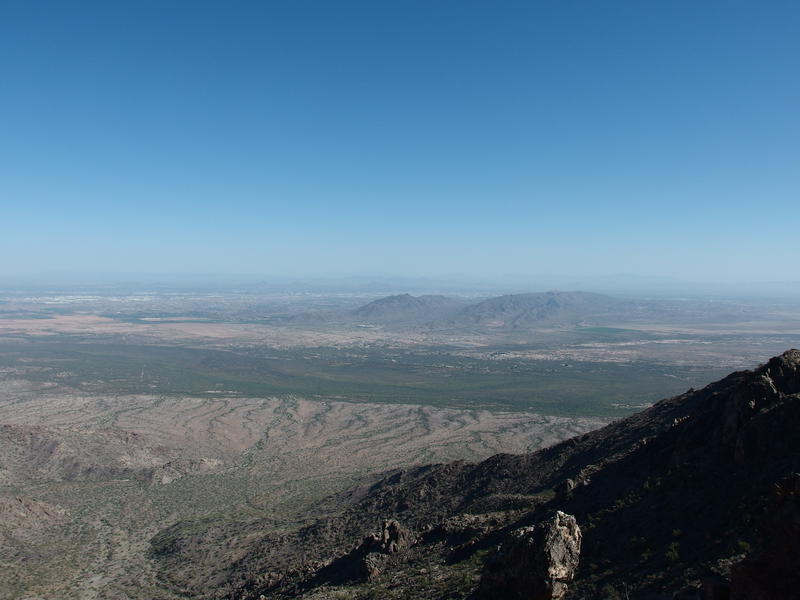 What goes up must come back down. Chris got a small head start on me, beginning the climb and boulder down while I slowly put my boots back on, cramping all the while. I caught up soon enough and we made the way together. The temperatures had soared and it was well past ninety on the exposed route. Once we made it past the boulders we took turns leading, one of us marching down while the other meandered and/or rested. Chris was feeling particularly affected by the heat and he often stopped for some shade and water while I snapped pictures or wandered around on the trail.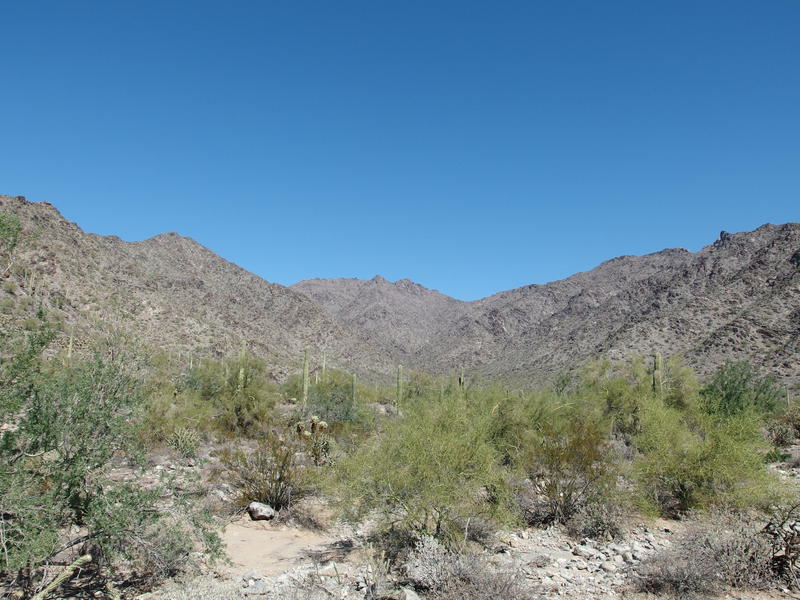 It took us more than two hours to descend, an embarrassing time compared to my initial climb up. When we reached the car at one in the afternoon our thermometers were reading over a hundred degrees. And in October, too. Hot, sweaty, and ornery we changed into whatever dry clothes we had remaining, drank the rest of our water, and then piled in for the long and dusty drive out. Between the two of us we had only brought three gallons of water and every drop was gone.
After returning to civilization and a much-needed stop at McDonalds we had some civil discussion about this outing. Really, the trail was fantastic. It was scenic, challenging, and well-constructed. There's the annoying half-mile of bouldering at the end, sure, but everything else was gravy. Plus the trailhead made for a decent car camp. However, there's only so much to do here. One trail in the entire wilderness, and the wilderness is pretty tiny in general (14,000 acres), and everything off trail is just terrible. I could see returning to bag Butterfly Peak on a cooler day or maybe coming back with a friend just to show them something different, though a two-hour drive from Mesa can get you to a lot of more awesome places in the Mazatzals or even Payson. That length of drive over bad roads for just another desert hike is a bit hard to swallow.