A few weeks ago I found myself in hot, sunny Arizona. Katie, Noah, and I were visiting some family in the Phoenix area during the warmest time of the year. After a few days of catching up inside during the daylight hours and swimming during the evening I was starting to get a bad case of cabin fever. And when it came to local hikes there was no question in my mind: I wanted to climb Camelback Mountain.
This was not the first time Katie and I had spent some time in Arizona. It was back in 2012, a few months before our marriage, when we last came to visit. During the long weekend I tackled Camelback with Katie's cousin. I made it less than halfway up before turning around. Could have been the warm temperature, or the elevation, or just plain old wimpitis, but it was irking nonetheless. I leaped at the chance to revisit and conquer the mountain.
I left the house an hour before sunrise, hoping to get an early and relatively cool start to the climb. I didn't know that park didn't open until after sunrise. So my re-attempt on Camelback started with a thirty minute car-line wait switching between various Phoenix radio stations. When I finally managed to pull in and park the setting was chaotic; over a hundred people were going to be climbing this mountain with me this morning. This was not going to be a normal, solo wander through the thick Upper Peninsula woods. With a quick sigh I grabbed my backpack with water and headed towards the Echo Canyon trailhead at the far side of the lot.
Camelback Mountain is a fairly tall formation in the Scottsdale area, a two-peaked mountain surrounded by suburbs and city. Between the 'head' and 'hump' is known as Echo Canyon, though I was unable to confirm if any sound echoed or not. There are two trails that climb the 1,280 feet to the taller hump (a grand total of 2,706 above sea level). Echo Trail, which skirts around the camel's head and has a large parking area, is the most popular route. The alternative is Cholla, a sparsely traveled trail that comes in from the east.
Many of the morning's hikers dallied near the restrooms, forming groups and emptying bladders full of coffee. Not wanting to waste the morning cool (80° cool, that is) I pushed forward onto the wide gravel way. The first leg involved a mid-grade set of switchbacks that zig-zagged beneath the shade of the mountain. There were a few little side treks here, leading to interesting geologic formations and historic sites, but they held little interest to me. I was here to climb the mountain.
The trail climbed quickly, ever steeper, until I rounded the ridge and was greeted by a direct shot of the rising sun. If I wasn't sweating in the shadowed morning heat yet, I was now. Here the trail bent southeast and dipped slightly, a pleasant respite after the introductory climb. I was now rounding the head of the camel, under some of the steepest rock formations on the mountain, and the trail had a tall fence to keep people from tumbling off to the side. A few short railroad tie stairs showed up here and there, easy climbs to hop over, and then the rail showed up.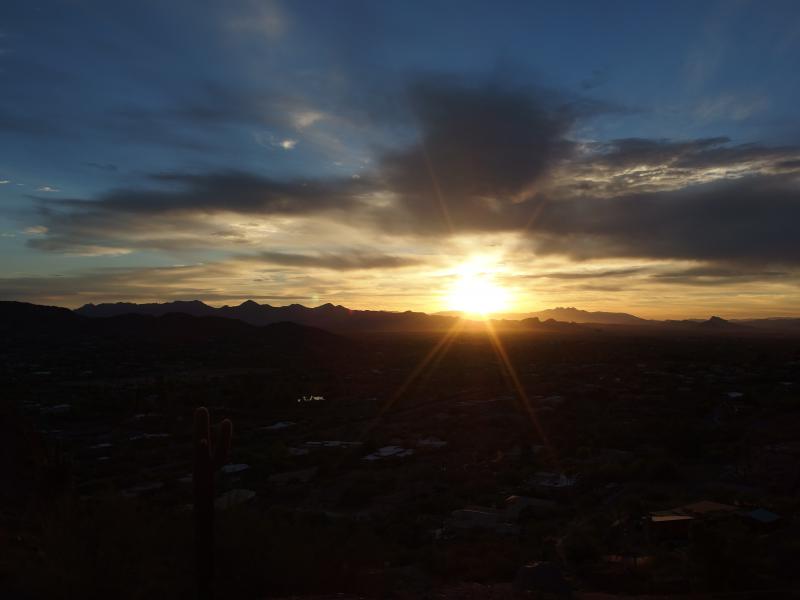 I remembered the rail well from the first visit. The trail climbs directly up a tall, ridiculously steep slide of rock, one that would have been close to impossible to climb without railings sunk into the rock. Ahead of me people inched up the rock, clinging to the metal poles, a slow and steady dirge up the sandstone. I took a deep swallow of water before joining in the march.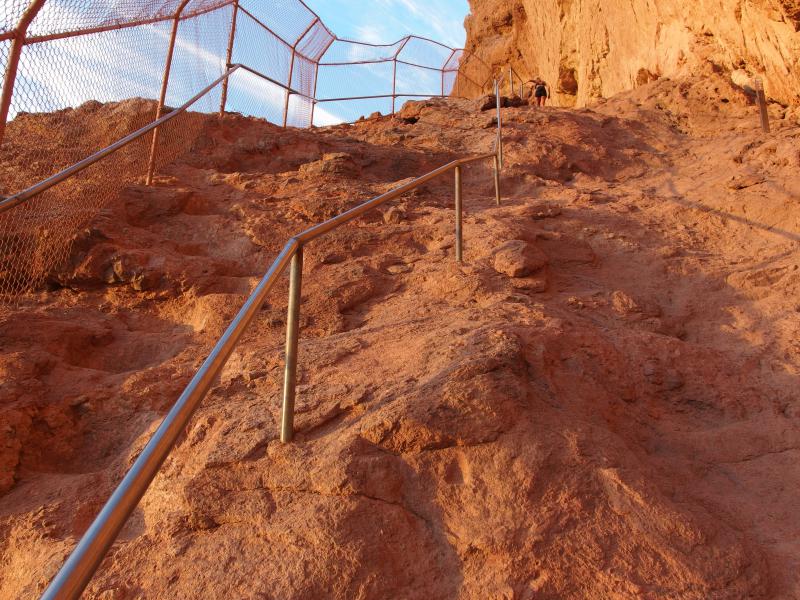 Once moving up the rock it was easier to keep going than I pictured. The railing is useful for the tricky spots, when an extra-long step pushed me past balance, but for most of the climb I just scrabbled up the rock. When I reached the top, slightly winded and sweating, I couldn't help but look down happily. That seemed so much harder last time.
My climb was far from over, though. There was still the boulder stairs to tackle, where I had turned around last time. There was another railing here, a much more useful one, as the car-sized boulders had no obvious route up them. This section of the hike appears easier but actually covers more height, the rugged rocks hiding the steepness that the sandstone slope had shown off. Once my breath was back to normal I tackled it, taking each obstacle with slow carefulness.
This section was just as tough as I remembered. I frequently had to scurry off to the side to catch my breath and avoid slowing down other hikers. There were a few people who were running up the trail, lean and fit people who probably ran to the trailhead and only saw Camelback as a minor obstacle on a longer route, and I didn't want to slow any of them down. Some of the boulders were too tall for even my long legs and I was forced, like countless others, to crawl or circle around.
When I finally reached the end of the boulder stairs I wasted little time finding a good seat to rest on. Less than half of the hike was behind me, though I told myself it was the more difficult half. I was comfortably within Echo Canyon, with only the tall hump to climb up now, and was making shockingly good time. I could afford to take a break.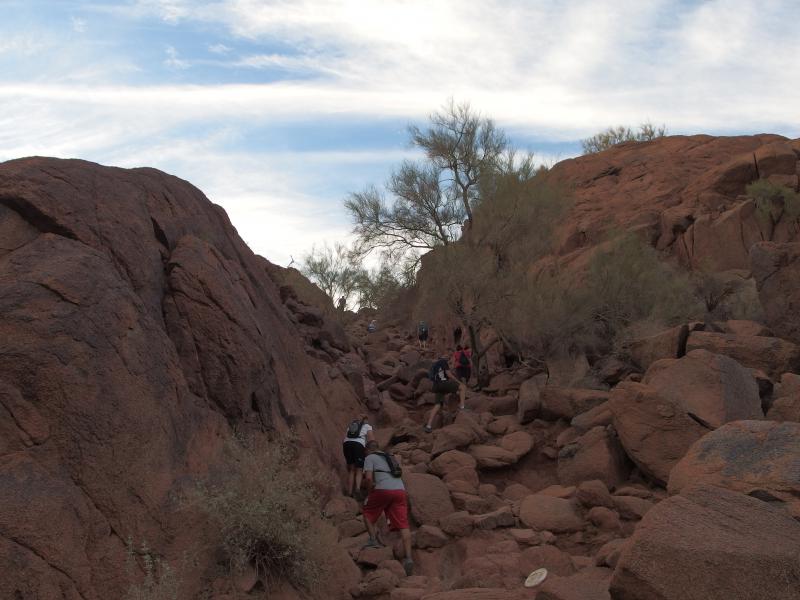 As I sat and let my legs refresh I watched others climbing up the mountain. There were a few already near the peak in the far distance, either runners or climbers that must have started before the sunrise. Many more were at the same point as I, taking their time and resting frequently. The wide variety of hikers was surprising. Some of them seemed right at home climbing a city mountain, wearing sports bras or other fitness clothes, a single water bottle strapped to their waist. Others wore baggy clothes and untied sneakers, half-tripping on their way over the rocks. There were kids and grandparents, couples and loners, townies with ear buds and tourists with cameras (like me). It was a crazy assortment of people marching up Camelback Mountain this morning.
Finally I pushed myself back up, testing my knees and legs, and continued up the climb. There was a second boulder staircase, longer than the last one, that created several bottlenecks. After these stairs views to the south began to open up, a wide vista of Phoenix and the airport and South Mountain beyond. I was now out of Echo Canyon, over halfway up the mountain, and for the first time I started to feel certain that I was actually going to climb this thing.
There was still six hundred feet to go, though, and it was a rocky six hundred feet. The last leg didn't seem terribly steep or tough compared to the boulder staircases or the sandstone ridge, but it may have been. I slipped into the zone. One step at a time, a quick stop for a drink of water, a picture or two, and the distance passed easily. Before I knew it there was nothing left to climb. I had reached the peak of Camelback and the crowd up here was oppressive.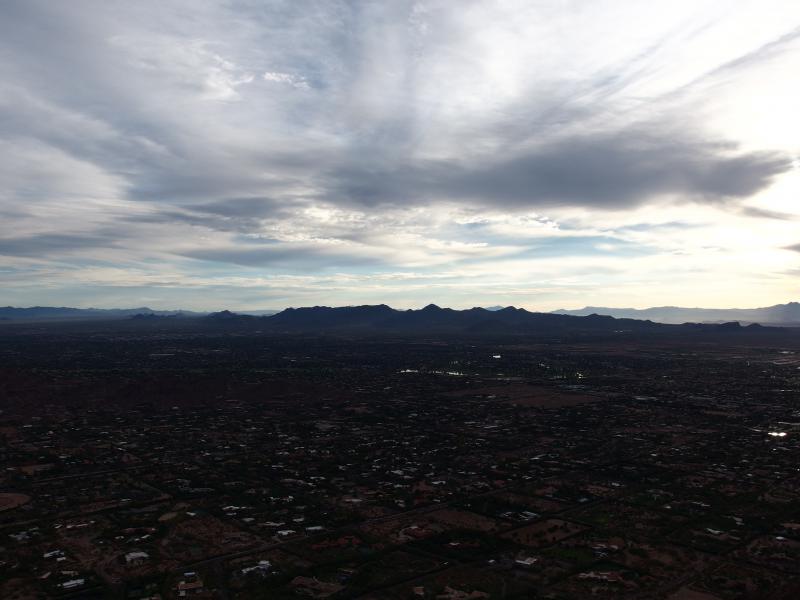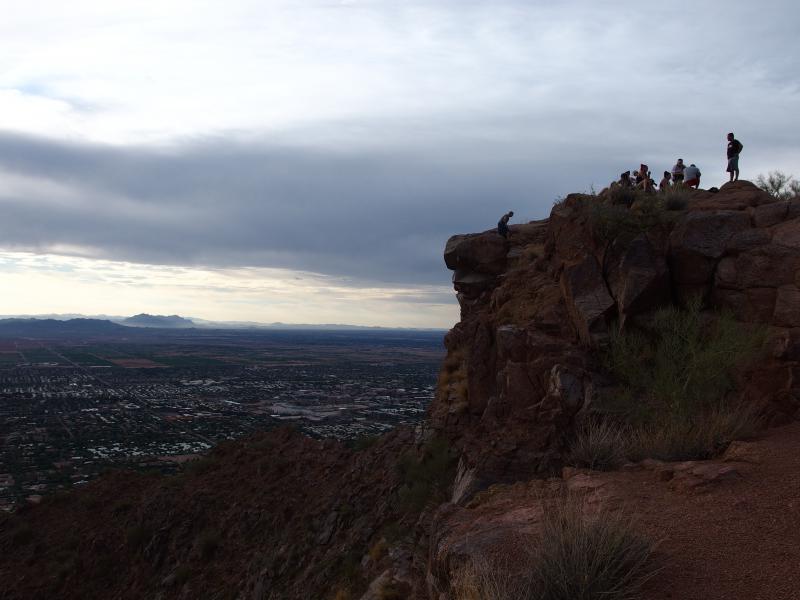 At least eighty people had reached the top before me. Some of them were doing yoga, others were gazing at the sites around me, and most were chatting with fellow climbers. It felt like more like a local coffee shop than the top of a mountain. I meandered around, exchanging a few pleasantries, and took pictures of the city around me. A few guys were even talking business, discussing the feasibility of a new internet technology that seemed terribly derivative of a dozen existing applications. This was surreal.
With the peak bagged I wasted little time heading back down. It was a long way down and it was hot. There were still a lot of people coming up, hikers who had started after me or (very few) that I had passed on the ascent. Going down was easier, but took longer, than going up. Between avoiding climbers and being overly cautious with my fragile knees I made slow time back down.
I tried to check out the local flora more on the descent. There were scraggly looking bushes (Candlewood) and the familiar Saguaro cacti, and plenty of lower brush that clung onto gravelly patches between rocks. The only animals I saw were hummingbirds and chipmunks, the former and surprisingly high numbers. Compared to the green-green of Michigan and wide range of wild animals it seemed scarce, but being in the middle of a big city like Phoenix probably didn't help.
Less than two hours since the start I was back at the car, pulling out of the busy lot and on my way back to the house. There was a giant breakfast waiting for me, one that I couldn't wait to dig into. I had bagged the peak, climbed Camelback Mountain, and I couldn't wait to tell my future hiking partner (Noah) all about it.