The last leg of the Chapel Loop is a relatively easy jaunt from Mosquito Beach back to the trailhead. There are two possible paths, one on each side of Mosquito River, with the longer western option darting over to Mosquito Falls before looping back up. Of the three sides of the lopsided triangle that makes up the total loop, this leg is the shortest.
I stood and stared at the deep snow in front of me, swaying slightly from exhaustion. The day's warm sun had turned it into slush that did not support my weight, even in snowshoes, regularly sinking up to my knees as I attempted to follow the trail. Tired of putting up with the snow I cut off the trail, heading over to the shoreline, hoping that the downward trend had taken me from the cliffs and down to the lake level. It had.
This was a lucky break. I hadn't been entirely sure if this was Mosquito Beach or not, lacking a decent map, and as far as I knew there could have been another cove to pass through before reaching this spot. Happy to see (some) bare ground I bounded forward, following the rock and harder patches of snow ever westwards.
The previous hiker, whose deep footprints I had been loosely following since the Lover's Leap area, had also taken this route. Thanks to their occasional missteps I was able to keep track of the better packed spots and avoid the soft ones, and, with a bit of luck, trace out the layers of rock underneath. If there was sand on this beach the snow and ice completely hid it. Only layers of sandstone poked through, stairs dropping from the forest down to the water.
After rounding a few points I saw some open water ahead. This had to be Mosquito River. The return trip was here, the last leg of my hike. I sped forward, snowshoes scraping obscenely against the exposed rock, and came upon the small funnel that marked the mouth.
Similar to the outflow of Chapel Lake there was a small tumble of water here, an almost-waterfall spilling out over the rock layers, though this one was much smaller than the one on Chapel Beach. I crept up the edge, letting the water spill over the edge of my shoes, peaking up the opening at the head. A bridge lay ahead, another sagging crossing over the frothing water, and a choice showed up.
There are two ways back to the trailhead. The short one is more direct and is about two miles, staying east of the river and crossing Chapel Creek ahead. The longer one circles around through the woods and goes to Mosquito Falls, maybe two and a half. If I crossed the bridge I was sentencing myself to the longer loop. I crossed the bridge. What's an extra half mile, anyways?
This beach also houses a small campsite with restrooms. I meandered around a bit, trying to trace the trail. It was hard to make out with the little side-paths to the beach and such. There was almost no trail markers anywhere out here, leaving me to depend on month-old winter tracks and the random dry/muddy spots to track the lakeshore trail. Here, with the deep snow and few tracks (most people turned up the eastern path, it appears), it was all but impossible to keep track of where to go.
After a fair bit of random wandering I finally found a small sign pointing south to Mosquito Falls. It was slightly indented, perhaps indented from previous visitors, a promising sign, though none had passed this way in several weeks.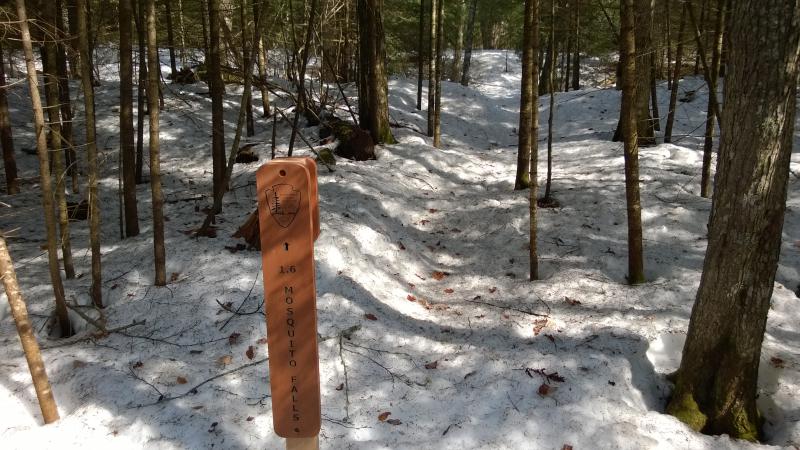 Once the trail got me away from the pines near the shore the woods opened up, familiar open hardwoods like those along the Chapel Falls section. Two ski tracks were all I had to go on. The woods were open enough to confuse me, no obvious lines or paths to deduce the true way, so I kept to the ski tracks. Plus, they had packed down the snow just enough for me to (mostly) stay on. If I wandered off their narrow press my shoes quickly sunk in a foot.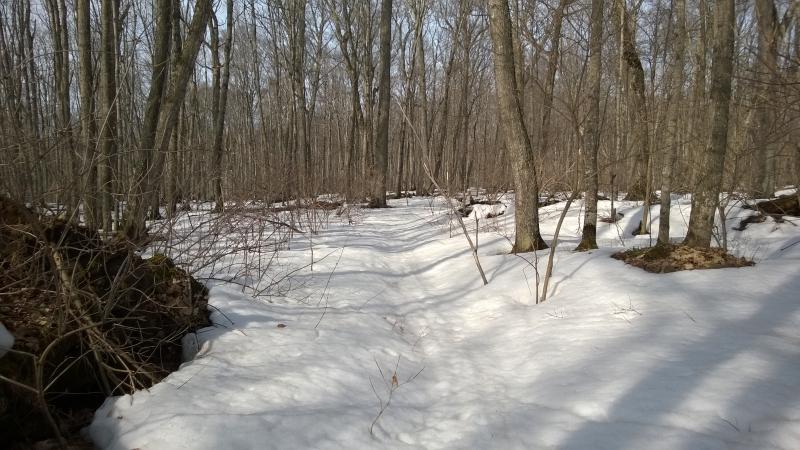 The woods climbed quickly from the shore, pushing the breath out of me as I climbed up the long, shallow grade. At times the slope of the hill, combined with the open woods, left wide swaths of dry ground around me. There was never enough dry to wander off on, though, just enough to tease me as I trudged along the slushy snow. At one point I could make out the now-distant bay of Mosquito Beach to the north, a view that would be blocked for much of the greener months.
I pushed on along the slight trail. It was apparent that the skiers either had paranormal abilities to detect where the trail was under the deep snow or they just didn't care. I followed them like a gullible child anyways. I was heading north and east, towards the parking lot. There were two big obstacles in front of me, the two rivers but I was at the point where I was willing to just swim across the things. There was less than three hours of daylight left and too many miles yet to cover.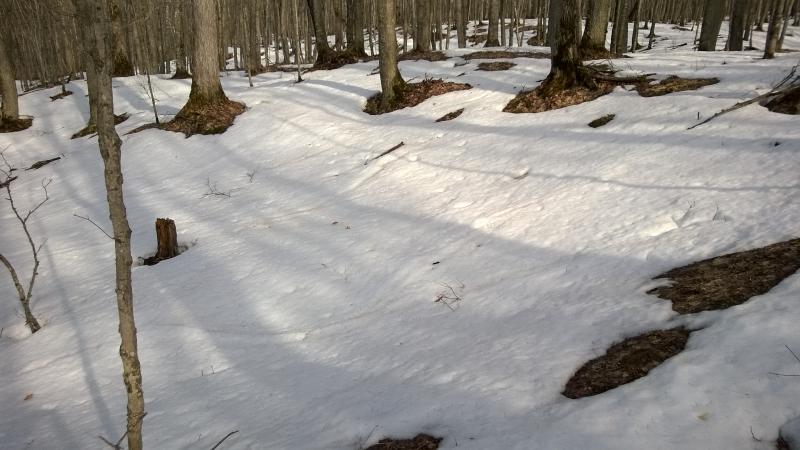 There were a few frustrating spots, where the skiers decided to have some fun gliding down hill and looping back up instead of staying focus, but eventually some pines started to show up ahead. Low pines meant water. I was getting close to a river or creek. I pushed up, half-watching the ski path to make sure I was in the right area, and soon came upon a mohawked footbridge covered in snow. Finally, some hard validation that I was in the right area. Plus a waterfall lay near the bridge. Maybe this was Mosquito Falls.
I crossed the bridge, checking my map for the next waypoint. Chapel Creek was next, less than a mile away. Excellent. The skiers appeared to go nuts here for some reason, tracks criss-crossing through the woods randomly, so I just headed east. If I could find the creek and follow it downstream to the bridge the parking lot would be a short hop farther. Soon the next patch of pines showed up and I ambled over. Another river. Excellent. But there was a sign here, pointing upstream. In my excited state I somehow did the exact opposite and headed downstream.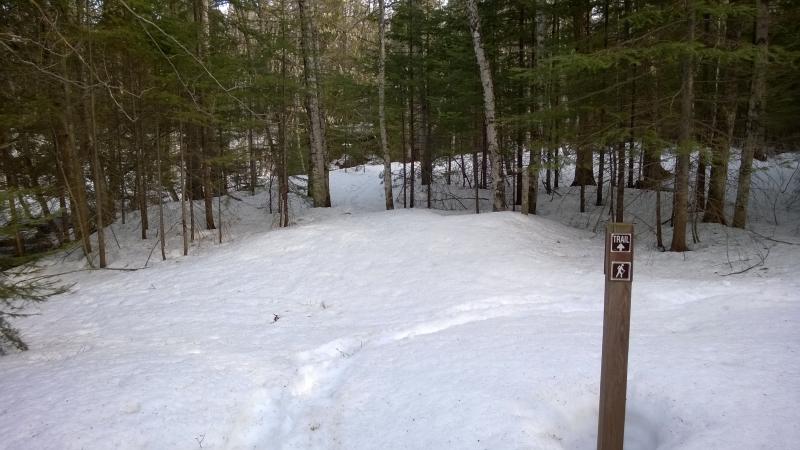 I can't explain why I headed downstream. I did think it was Chapel Creek and it only made sense that the bridge would be to the north. But there was a sign, pointing up. Whatever the reason was I found myself plowing through deep snow, deeper than my thighs, more crawling than walking with my snowshoes dragging behind. And then I ran into a creek heading the wrong way. I stopped, completely confused.
To my right, there was water running north. To the left, water running north. But I didn't cross (what I thought was) Chapel Creek. Could it be two different streams? I didn't think so. There was a lot of ground covered since my last crossing. I was so confused.
Getting scared that I would end up spending the night lost in the woods I checked my phone. Excellent, no service. I backtracked for a bit, getting to a spot that felt somehow felt safer, and started making ever-widening circles. I had to get my bearings. Then it clicked - the first creek I crossed was a tributary. Mosquito River lay ahead of me. I followed my crazy path back to the trail sign and looked at it. Upstream. I looked and saw a bridge. Oh. Well, that was a waste of an hour.
Chagrined now, I crossed the bridge and saw the upper falls and, on the opposite bank, the main falls on Mosquito River. There were pretty and small, nowhere the size of Chapel or Spray Falls, surrounded by large pines and cedar. At least I was over halfway back to the trailhead now. If I could stop getting lost that is.
The path turned sharply north and stayed very close to the river. It climbed up and down small tributaries and leaned in close a few times to get nice and muddy. At one point there were sections of boards laid out below the beaver dam. It was pretty, a surprisingly scenic leg of the trail, and part of me was glad to have taken this longer route. Most of me was exhausted.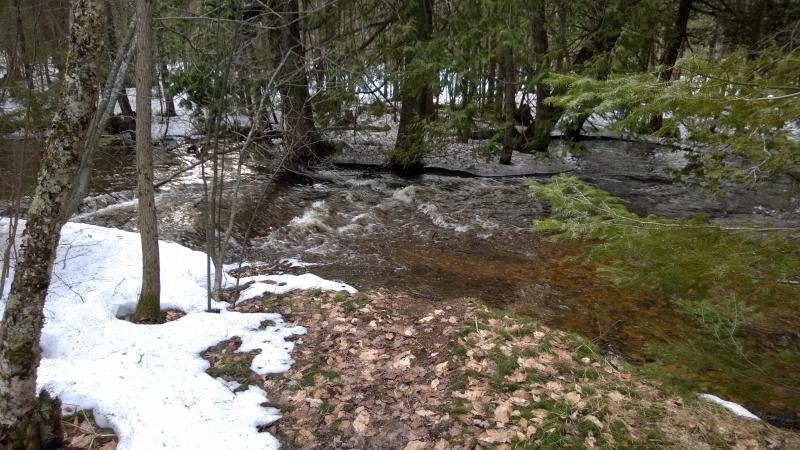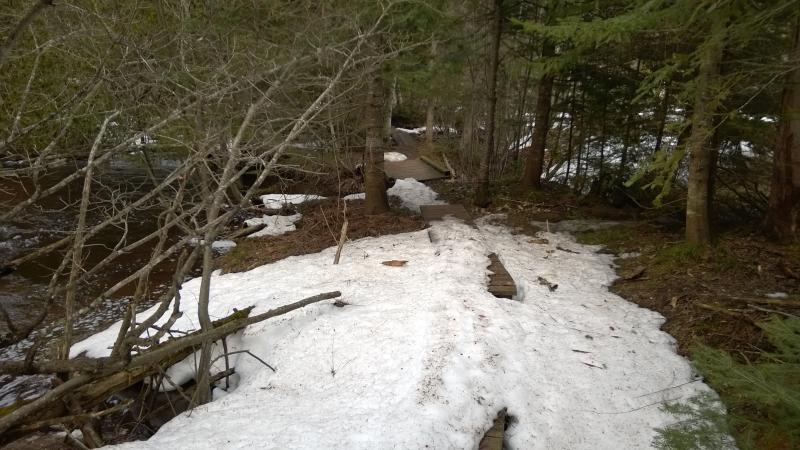 When the path leaves Mosquito River and begins to climb back up on its way to Chapel Creek pine trees began to spring up, making a lovely needled-covered trail. Hopeful I took off my snowshoes, thinking that between this change in cover, the well-traveled trail on the other side of Chapel Creek, and the area near the trailhead would all be easy enough to do in just boots. There were a few tricky spots but it was a good choice overall, letting me stretch out my legs and gain some much-needed time.
Chapel Creek was an easy crossing and the path up to the main trailhead easy. It was huge up there, a wide parking lot still covered in snow, with restrooms and maps and informational signs. And large water puddles. The path to Chapel Falls was completely flooded in at least two feet of water. I couldn't believe that I had missed this area on my way in.
I pushed through the parking lot and quickly sunk into deep snow. There was a lot of tracks here, ski and snowshoe and boot, and not a single path was packed enough to support my weight. The warm day had turned everything, traveled or not, into soft slush. With a low growl I strapped my snowshoes back on, for the twentieth time today, and crept along the uphill slope.
When I finally reached the dirt road the sun was low, rays barely peaking out through the trees. Temperature was dropping quickly, though the dirt road, which had been frozen as hard as concrete on my walk in, was now soft and mushy from the day's higher temperatures. It was a long walk back, a long time to contemplate the hike.
Chapel Loop is normally a nine mile loop. With today's sidetreks and detours I had hiked and snowshoed over twenty-three miles over thirteen hours. And it wasn't easy going, not with the puddles and slush and mud. This was, by far, one of the most challenging adventures to date. It was magnificent. The views were amazing, the weather warm and mild, melting winter scenes were beautiful, and I didn't see a single other person on the loop. If I had a choice I would go for a day like this again, even after all of the hardships and soreness. Utter exhaustion is a small price to pay for an adventure like this. Though I would pack some more food. Two granola bars is not enough for a day like this.