It was so, so early in the morning. I watched sunrise try to seep over Ives Hill in the east but got impatient and headed downhill before the rays touched my chilly outcropping. There was a long hike in front of me and I didn't want to waste time, especially on a lazy sun. Most of this hike would be along logging roads but it would still be approaching twenty miles in length. Breakfast Roll, a small peak nestled in the eastern Huron Mountain Club property, was my goal, and I was taking a lengthy roundabout route there on this crisp fall day.
My tumbling bushwhack downhill was interrupted quickly by an unexpected logging road. It snaked up the northern flank of my mountain and cut through the twin peaks. Unused and overgrown, the two-track still expedited my journey down to the sandy plains that surround Ives Lake. Morning sun was still trying to break through the shedding trees when I made it to the bottom and I shivered in the crisp air. It had been tempting to head east from the twin-peaked mountain with Upper Salmon Trout Falls less than a half mile. However, this waterfall is on HMC property and I didn't dare trespass, especially on a fall morning when the leaves were changing and rustling loudly underfoot. Instead I followed the logging road down to the northwest where it joined with a larger sandy road, one that was oddly straight and could take me directly to the Huron Mountain Wildlife Foundation's Stone House.
After a stroll down the sandy roads tall pine trees began to sprout up around, planted in straight rows. I knew I would have to veer away from my route soon. Ives Lake was a short distance in front of me, but Ives Lake was on the HMC. To reach Breakfast Roll without trespassing I'd have to circle around the lake to the east, maintaining a wide berth from the lakeshore. Thankfully a logging road brached off to the southeast before the property line. An interesting sight caught my eye at this intersection: an old, crumbling building obscured by trees. I crept up to the homestead's side wondering who lived here so long ago. The southeast corner had caved in completely exposing the inside rooms, giving me a glimpse inside without forcing me to risk the sagging floorboards. To the east more buildings in far worse shape stretched along the road, some with only a cement foundation to show me where they stood. I guessed that this was an old farm, with either a chicken coop or a stable behind the house, but who lived so remotely so long ago baffled me.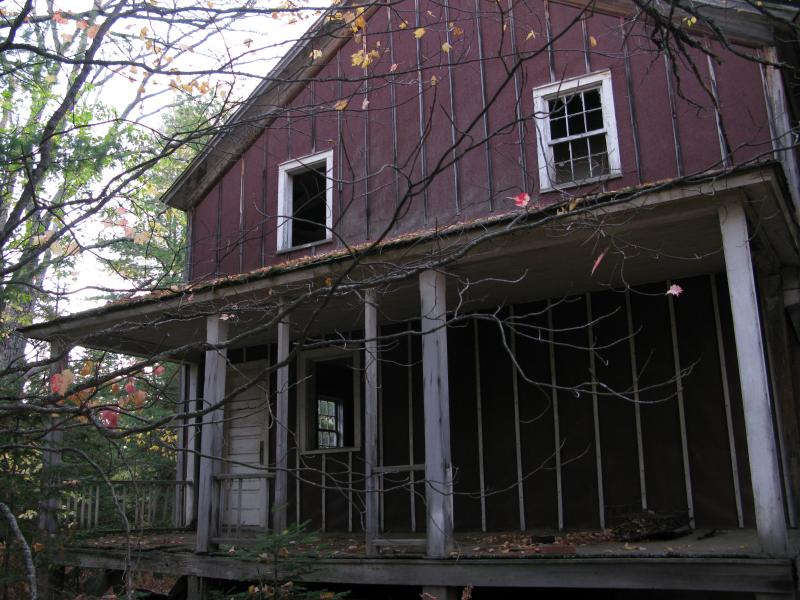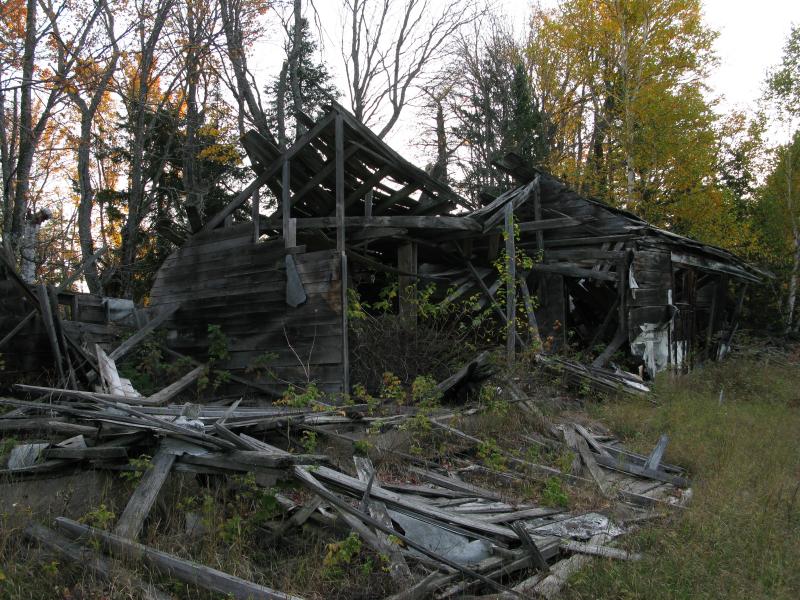 This road led me into the warm sun. More planted pines were on my right now and a steep, small valley to my left. I walked quickly now in the strengthening sunlight. While I was trying to calculate how long my hike would be based on the winding logging roads and whether or not I'd make it before the day's end an unwelcome sound grew quickly behind me. An old truck was rushing down the road. It stopped quickly before passing me and a friendly face poked out. There had been numerous gates off of the Northwestern Road to the north with signs warning against motorized traffic (especially snowmobiles) so I knew this man came from one of two places. Either he was part of the logging company that owned this land or he was a guard from the HMC to the north. Either way I steeled myself for a lecture.
The guard turned out to be a rather helpful person once he found out that I wasn't hunting or fishing. We were both on commercial forestry land. He was a Club guard on duty but was out checking his hunting blind on Longyear property. The ruins behind us were the remains of an old Longyear farm set up for loggers long ago. I told him of my destination and he laughed at my planned route but did agree that the route kept to public land. On his way out he asked if I could just stay away from any other people along my hike, as there were some Club members up this weekend for the fall colors. Thanking him I continued on my hike as he drove off. For all of the horror stories I've heard about the Huron Mountain Club and its guards our meeting was cordial and informative, and I put some of my assumptions to rest as I briskly walked down the road.
Not all of the logging roads I followed met up nicely. Some of them led to private property while others just ended. For one reason or another I found myself pushing through recent logging trying to get further east. Branches cracked loudly underfoot announcing my comings and goings for all the trees to hear. A few times the forest opened up in front of me, offering me glimpses of the towering Ives Hill in the east. A beast of a mountain, Ives Hill rises up hundreds of feet from the southeast side of Ives Lake with numerous outcroppings on all sides. I've caught glimpses of this mountain on previous hikes on the other side of Salmon Trout River, but now it felt close enough to touch. After finding another network of logging roads that wound and snaked its way northwards I decided to take on the challenge. Slowly, painfully, I made my way up the steep slope.
Ives Hill had a strangely stoic atmosphere. My hike was led over broken rocks and around huge pines. Veering right or left would not change or ease the climb so I pressed forward, pausing to rest every once in a while. Today's hike was not even halfway done, maybe not even a third complete, and I didn't want to tire myself out too much on a side trek. Eventually a steep outcropping rose up to my left and I climbed up around it before turning left myself and following the ridgeline. Glimpses teased me for a while before the full western view opened up in all it's glory. Ives Lake lay before me in all its glory while the sun's rays lit up the leaves like the whole forest was burning.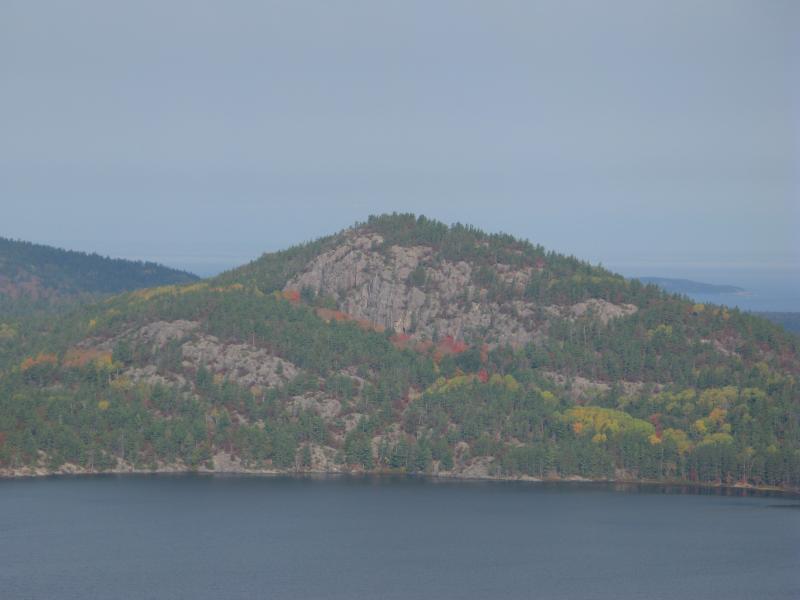 The view took my breath away. I stood in wonder, gazing hungrily at the incredible view. Mountains I would never climb and lakes whose shores I would never follow were so close. The only thing I did not see was Mountain Lake - everything else I could imagine was right here. Conway Lake, Pine Lakes, Huron Mountain, Homer Mountain… all of them were here, visible, and I drank in the view eagerly.
I rested longer than I planned here. The view was too much to turn away from quickly. I was tempted to follow the ridgeline of Ives Hill north, which would take me to Breakfast Roll, but my legs were tired from the hike and climb and I needed some flat ground. Back down the hill I found more logging roads and took them north. Roads that were once sandy and wide now became narrow and grassy. Most of them had doubled back to Ives Lake Road, an option that was not open for me, so I followed the narrow lanes of grass until they ended at a small, picturesque swamp named Lily Pond. My destination was just beyond the pond so I circled around it carefully. Even though I was on public land I still felt awkward. A road connecting the Huron Mountain Club to Ives Lake cut through public land up ahead. No sounds approached from either way and I crossed quickly, heading up Breakfast Roll tired but greatly anticipating the view.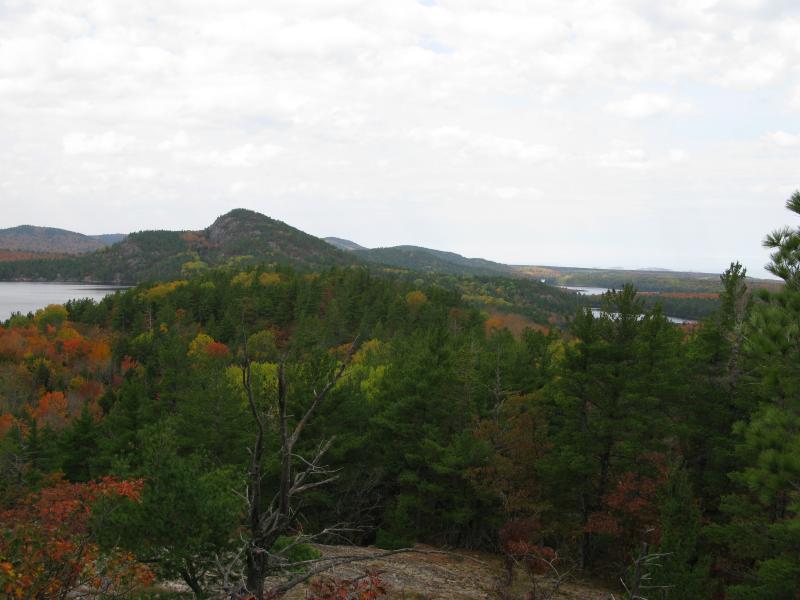 I climbed the western flank first and was greeted by a close view of Ives Lake and Mount Ives. With a bit of imagination I thought I could hear Eighty Foot Falls below me, draining the lake. I turned east and continued up the mountain, getting more glimpses of the land around me. Conway Lake to the north, the Pine Lakes and Huron Islands to the west, and eventually Salmon Trout Point to the east all opened up. While I didn't tackle the true peak of Breakfast Roll I did gain enough elevation to see everything I had hoped for, an excellent complement to the early grand views of Ives Hill.
It was after noon by the time I started heading back south. I had left some water and food back at the twin-peaked mountain, but that was miles and miles away, so I tried to make quick progress back. Following grassy roads, sandy two-tracks, and sometimes bushwhacking, I stuck to the low ground and tried to keep my route as easy as possible. First one, then two walking sticks helped me along. I wasn't carrying any gear but the long hike combined with a lack of food was wearing me out fast. Signs started to crop up pointing the way to the Upper Falls of Salmon Trout River and I followed these. I wasn't planning on visiting this waterfall, but it was near my gear and promised an unbroken path south. This route changed from logging road to maintained path a few times but never offered a way west. so eventually I broke away and trudged through the woods one last time. Finally reaching my food and water I sat heavily and recharged, exhausted but accomplished.
The way back to the car was easy at this point. I rested a few times, eating and drinking excessively, and felt pretty good when I bumped into the Northwestern road. My adventure was a complete success. I made it to Breakfast Roll without trespassing on the Huron Mountain Club a single time. It had been tempting a few times to visit the Upper Falls or cut close to Ives Lake, but I held back and stuck to the public land. While I drove away I made a few mental bookmarks to return again soon to further explore Ives Hill and Florence Pond. Views and opportunities like this can't be turned away!