This summer I haven't had much free time to pursue my usual passion of solo hiking and backpacking. Instead, my weekends have been full of Mountain Rescue and parenting. Sure, the kids and I go hiking together, it's just not the same as the epic twenty-plus mile death marches that I prefer. Anyways, camping is something that I've wanted to try with the kids for some time: an escape from the city, a way to burn off plenty of child energy, and a way for me to spend more time outside than a few hours wrangling them along a path.
Camping with all three kids by myself the first time was a scary prospect. I picked a spot in the Mazzies about ninety minutes from the house with just enough elevation to skip the worst of the summer heat and went for it. We had a ball. They were helpful with the camp chores, loved playing in the open area, and even made their own dinners and s'mores. After the initial success I set my aim higher for the second trip and, near the end of June, we headed up to Flagstaff for a more involved adventure.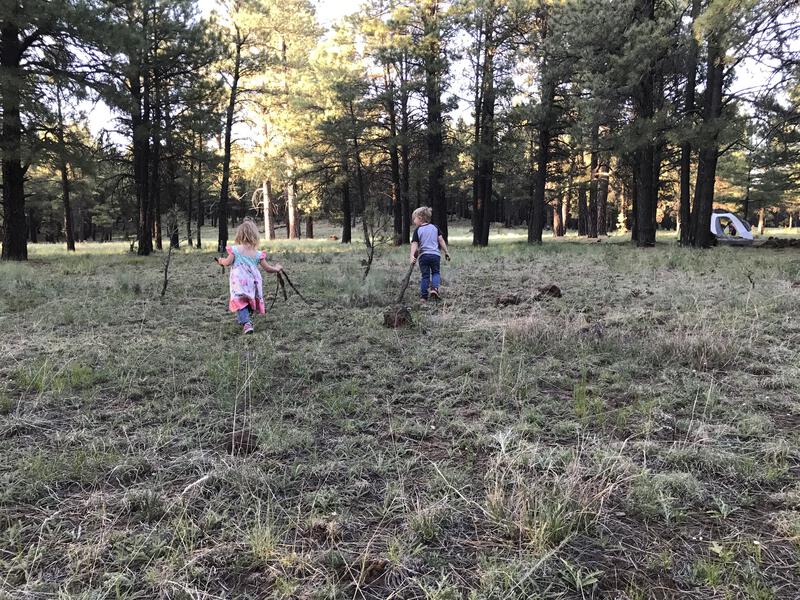 Minutes after picking a nice campsite along the forest road and setting up the tent we assigned jobs. Thomas and Charlotte would collect firewood while Noah blew up the air mattresses. I showed the two how to look for good branches and let them loose while I went back to help Noah. Within thirty minutes camp was ready for the night and (with only minor help) we had a healthy stack of wood for dinner. Shoot, if we do this often enough, they might start cooking for me too.
Dinner was an experiment that ultimately failed. I had some pie-irons, bread, cheese, and meat, and planned on making grilled cheese. However, even after slathering on the butter, the bread kept sticking to the irons, and then half the sandwiches were charred, so we decided to fill up on s'mores instead. Sacrifices. It was well after dark before we settled down for bed and, with the exception of Charlotte being too stubborn to stay in her sleeping bag for more than a few hours at a time, we had a quiet night.
We slept until after the sunrise, something I never do on my own while backpacking, which was nice in its own way. After some minor cleanup I had the fire going again and, thanks to the cool Flagstaff temperatures, soon had a crowd of kids trying to warm up. Breakfast was supposed to be raisin bread and cream cheese via pie irons and ended up being more toast-like.
Once breakfast was eaten and the fire was out and our gear was stowed it was time for the real event. We piled into the Jeep, drove another two miles down the road, and then parked at a large lot with a few vehicles. Before heading out on the short trail I gave each kid a bike helmet, two with headlamps taped to them (I only had two extras), and stuffed some extra lights, jackets, water, and food in a pack. It was time to go caving.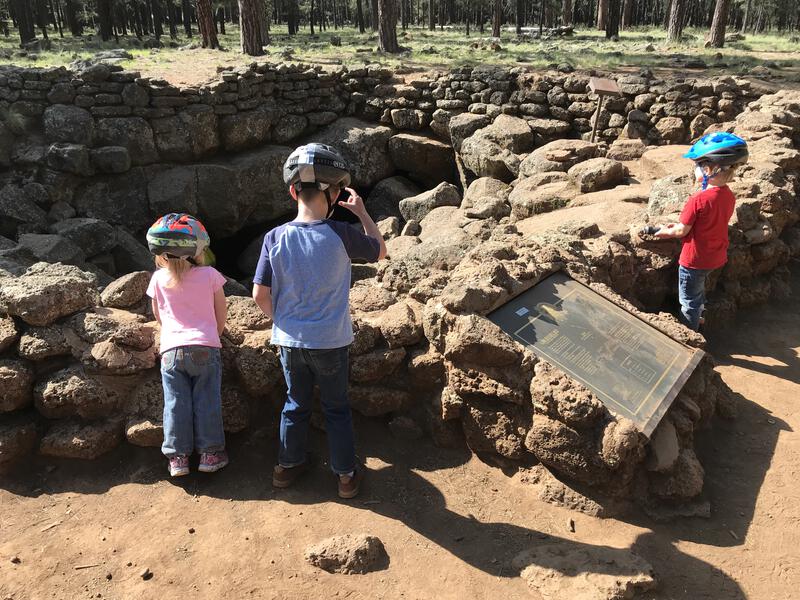 I had made some assumptions about these lava caves. I knew they were popular so I figured that they'd be easy enough for the kids to wander around, not being too difficult or lengthy. Turned out I was wrong. The descent down the pit was difficult, and I had to hold multiple hands over some of the drops, and then the entrance and first few hundred yards was choked with boulders that forced us to crawl and slide and shimmy. Sure, this wasn't as hard as Scroll Cave in Oracle, where I had rescue training a few weeks earlier, but it was definitely pushing my comfort levels with the kids.
Luckily, I have three champs. Noah and Thomas scurried ahead, helping each over the obstacles, and Charlotte was slow, careful, and independent. I did have to holler at the boys to slow down more than once. There were a few other people in the cave that marveled at how sure the little ones handled the new experience. Not only did they show no fear at the dark environment, they were amiable and chatted with every person they saw.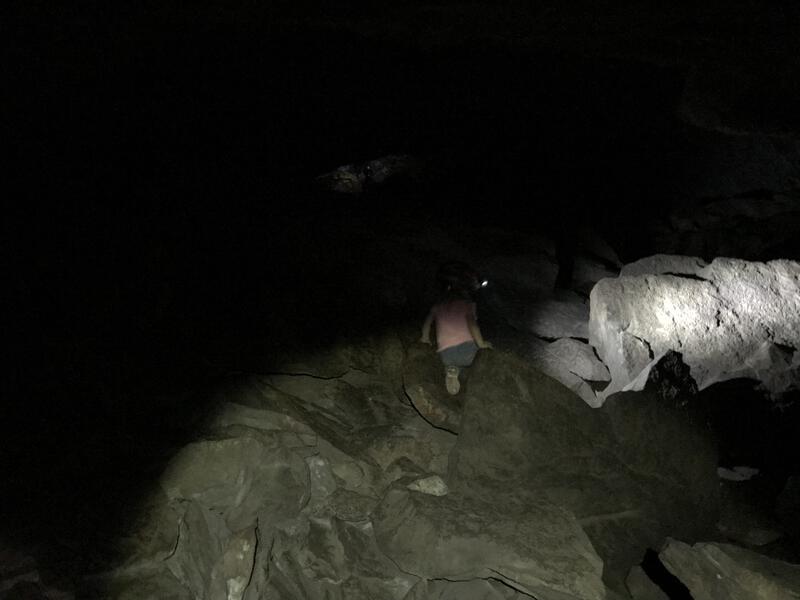 Sure, there were a few bumps. Charlotte didn't want to hold on to my hand or let me help her, so she fell a few times and had some mini tantrums. Thomas, who only had a flashlight, kept hitting it against rocks and bumping the battery out of place until I could catch up and fix it. At least the cave got better. After the first pile of rocks it really opened up, mostly flat floors and yawning ceiling, and there was plenty of interesting formations to poke around as we ventured further in.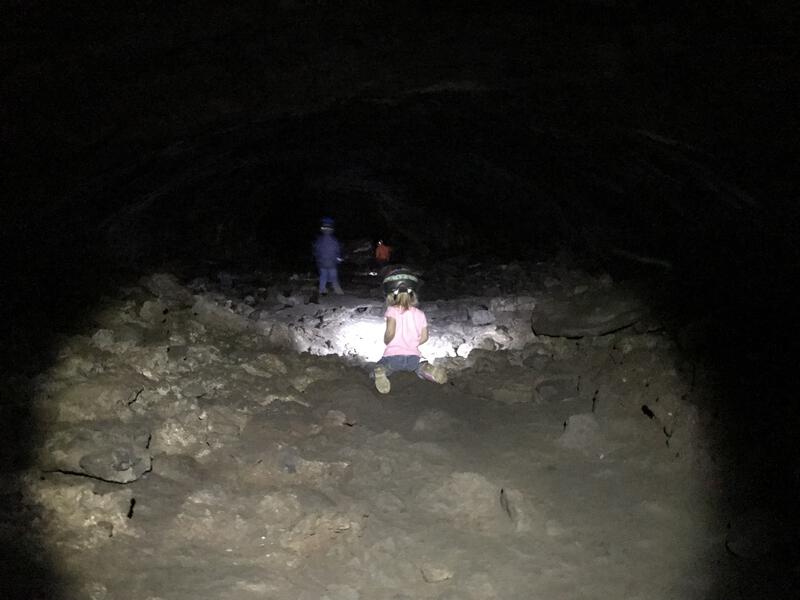 We made it over an hour before I called a stop. All three were getting tired, Thomas was starting to get scared (because he kept breaking his flashlight), and while I knew the cave was less than two miles I wasn't sure how far we had gone. Passed out some snacks, talked things over, and we decided to head back out. By now even independent Charlotte was done and she let me carry her out which, while a one-arm carry isn't the easiest thing to handle, I was happy to do.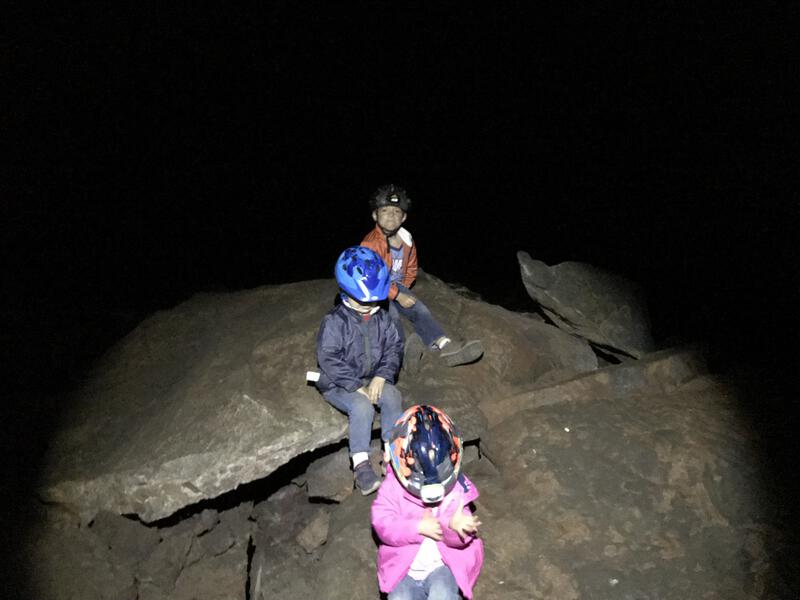 Returning was much easier, as it always is. I even let Noah and Thomas go off on their own for a bit, where the tunnel forks and re-joins shortly after, and you could see their pride at navigating the cave on their own. Climbing up the boulders was easy, even with the increased crowds of people, and we were back on top within an hour. Thomas was tickled to be back in the sunlight.
Between camping and the cave I had a quiet ride home. They fell asleep until we reached Black Canyon City, and we stopped for some food before finishing the ride. I still can't get over how easy camping with them is, and if I throw an extra activity like hiking under the pines or a cave, we can easily burn through an entire weekend together. The possible adventures that the four of us can embark on while Katie's working weekends is beginning to unfold like a growing map of Arizona, and I can't wait for our future trips.