For several hikes now Chris had made the drive down the 101 to meet up with me. It's not a long drive from his place up in Scottsdale, maybe thirty miles to our usual meeting spot in Gilbert, though rush hour can double or triple travel time. To balance things out we decided to aim for a hike closer to him. With limited knowledge of the McDowells we decided to head for the popular Tom's Thumb area.
Tom's Thumb is a small spire of rock that is easily visible from most of Scottsdale. It sits on a ridgeline north of Lookout Mountain and sticks out like a sore thumb from the semi-jagged horizon line. From the northern trailhead it is only a thousand foot climb over two miles, relatively easy compared to Camelback or Flatiron. However, Chris and I had thrown an extra obstacle in the mix. It was over a hundred degrees in September when we started, the mid-afternoon sun burning down on our Midwestern frames, and both of us were sweating before we even reached the trail.
The trailhead was nice if a bit hard to find, a large steel structure with restrooms, kiosks, and cool cement benches. We didn't linger long. I missed my random off-trail wanders from the Upper Peninsula and my frustration with the built-up spectacles on these Phoenix hikes was starting to wear off on Chris. Soon we were on the dirt paths winding over to the rocky hills. The trail wasn't bad, loose gravel with a few ankle-rollers, and we wasted little time with route finding.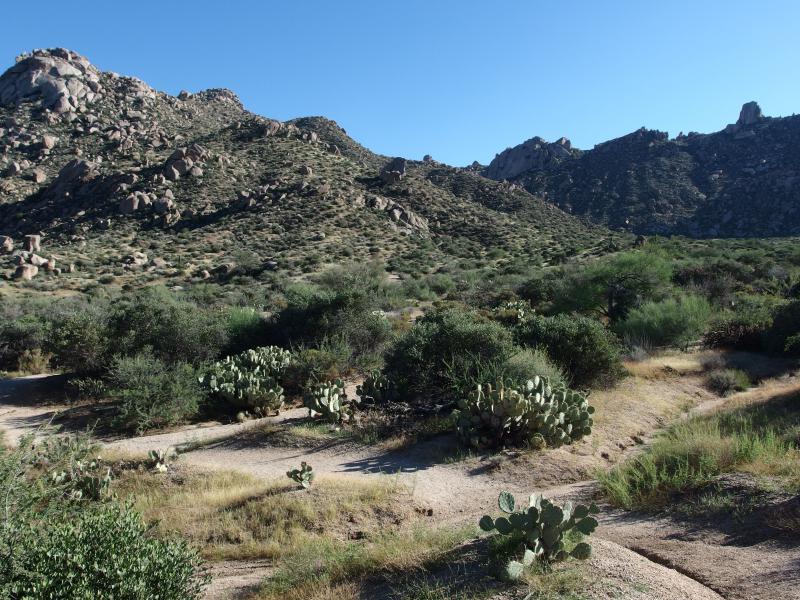 At first our path was flat and meandering, slowly approaching the hills, and then it bucked up like a startled colt. The hills here were more piles of boulders than mountains, heaps of rounded rocks filled in with scrappy vegetation, and the path had a hard time finding a way through. Between the sudden steepness and the sun's assault down we stopped a few times for water breaks, gulping down bottles with little concern of running out.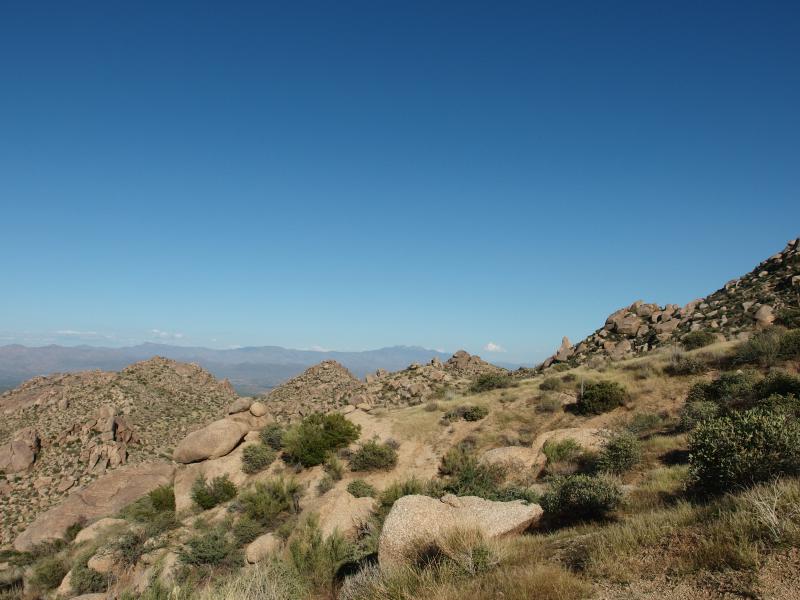 Our path made for an interesting route. It made a direct assault on East End initially, climbing up a steep ridge, before slicing over to the western face. Most of it was uphill, with only a few drops over small ridges, keeping our legs busy and our talk short. I kept glancing over to the hill above us. It seemed interesting, a boulder-strewn peak that may make an interesting future hike. I didn't know it at the time but East End is actually the tallest of the four McDowell peaks (Drinkwater, McDowell, and Thompson are the other three) and we came within a mere two hundred feet from its summit.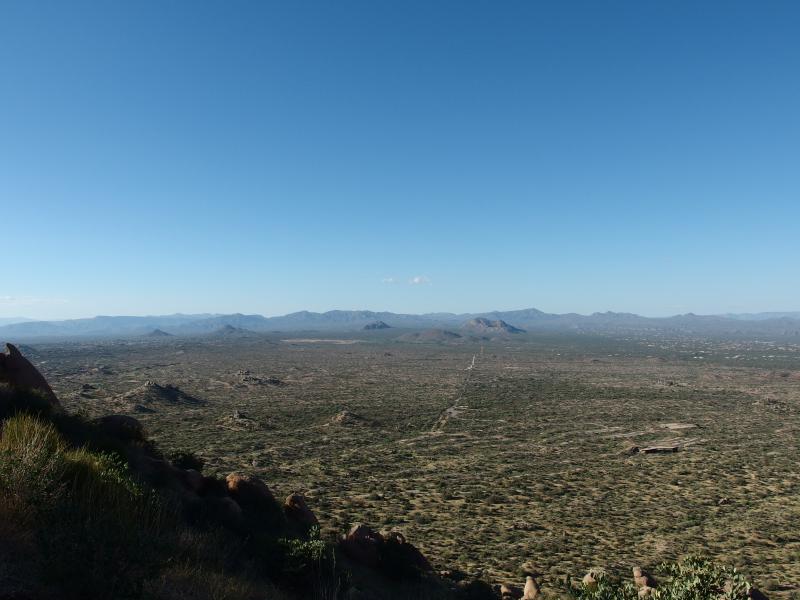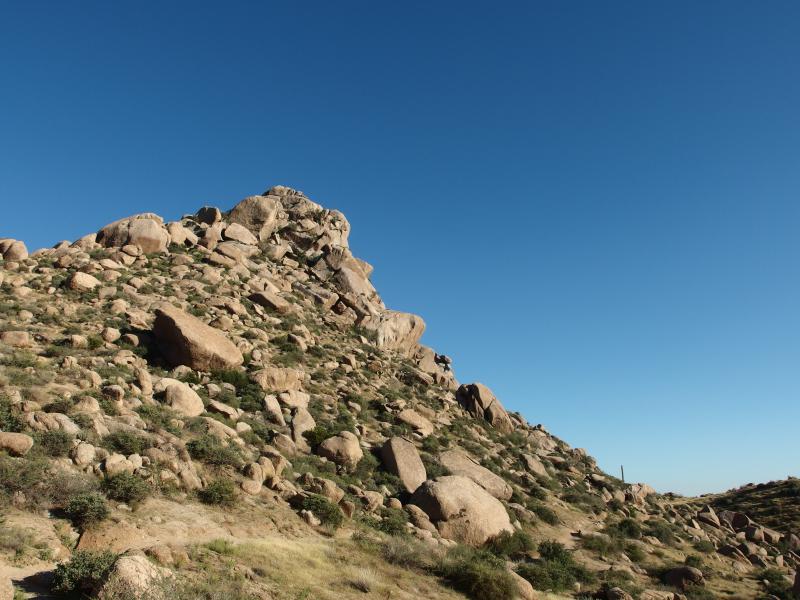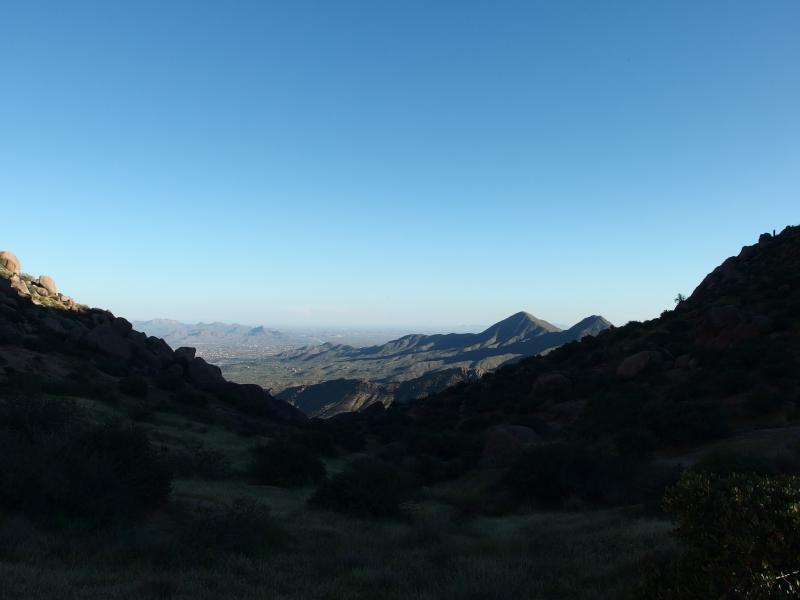 Eventually we broke over the saddle and were greeted with our first view south. A few houses and roads showed up in the distance, probably part of Eagle's Nest. Distant peaks blocked out views of Phoenix proper. Maybe we'd get a better view of the smoggy Valley of the Sun when we got reached the thumb.
Heading west over the saddle we soon began to climb again, though it wasn't nearly as sharp as the beginning of the hike. We'd go up a few large rock ledges, drop down a bit on the other side, and repeat. Things were more rugged on the ridge. I had to stop and hunt for the trail a few times, worried about wandering too far one way or the other and end up below the ridge. Along the way we scattered up two mule deer, odd-looking things that bounced away from us like stiff-legged white tails, a warped version of a familiar site.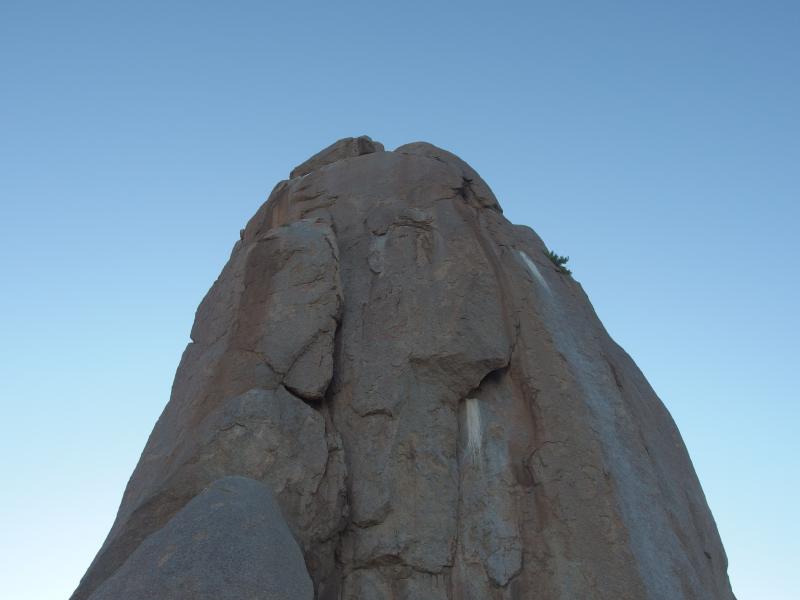 Tom's Thumb showed up out of nowhere. One minute we were wandering between huge boulders and the next it loomed above us like an erect monolith. The thing was huge, much larger than one would guess from below. It completely blocked the ridge. We looked up at wonder and relaxed in the cool shadow it cast over us.
Outside of Tom's Thumb there were two other destinations that I had in mind. The first, Lookout Mountain, promised a great vista of Phoenix below. We had bypassed the spur for that already, worried about the coming sunset. The second was Ogre's Den. I had caught a few mentions of a small cave that was maybe a few hundred yards past the thumb. We just had to find a way around this massive jut of rock.
There was a faint footpath that led down to the left through thick undergrowth. It was slow going, dropping suddenly over boulders and weaving through prickly bushes and cacti. We took a good ten minutes to just get past the thumb and another five to find Ogre's Den beyond. It was tricky, no markers or anything. A suspicious boulder on the left drew me off trail and the cave sat underneath.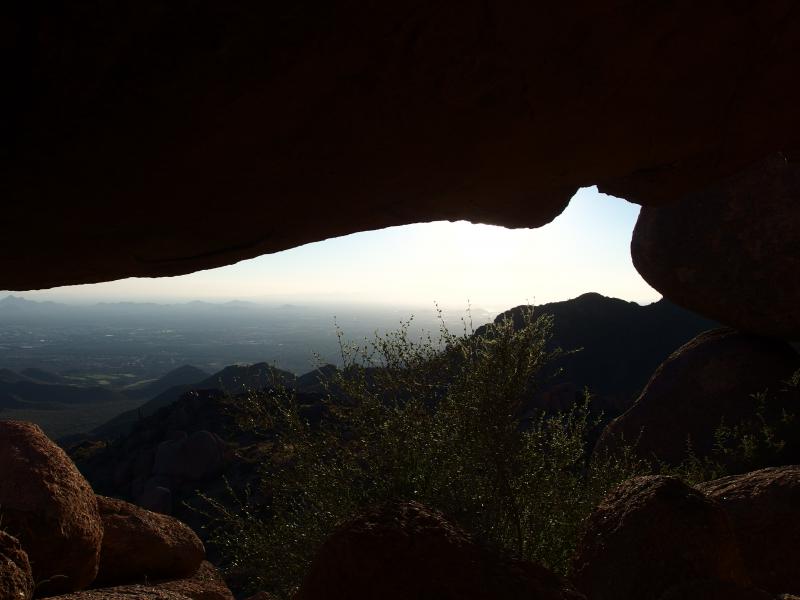 It was a small cave that forced us to stoop as we entered. The floor was sandy and littered with coals from past campers. On one wall was a vivid painting with little trinkets scattered on a ledge above. The main feature, though, was the view. Looking out of the opening was a wide vista of Scottsdale and Phoenix beyond, hazy with smog and the setting sun. We rested here and enjoyed the view, eventually finding the logbook and leaving our names behind.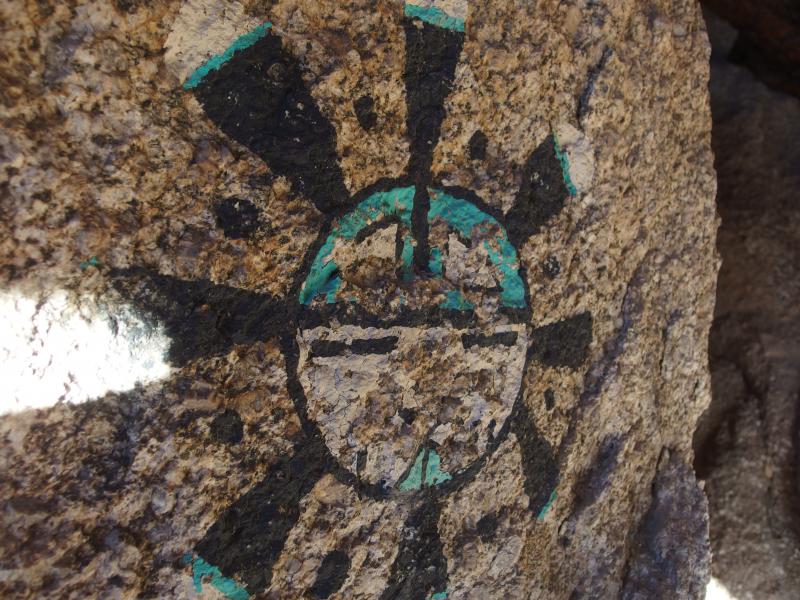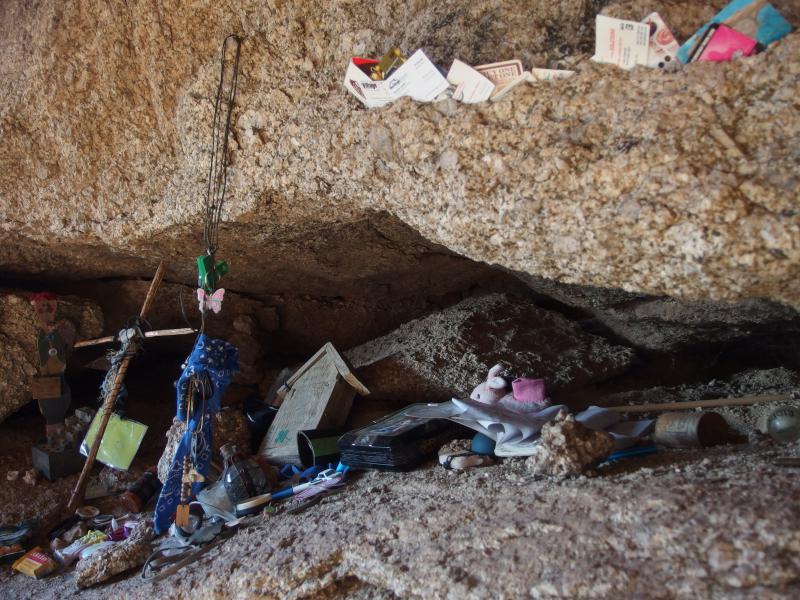 Less than an hour of sunlight remained in the sky now. We hastily left the cave and headed back to Tom's Thumb, pausing briefly for a few more views over the valley. Stopping by Lookout Mountain was out of the question now. The extra mile of unknown terrain would have eaten up all of our light. We left the thumb in a half-trot, uninterested in heading down the steep trail in the dark.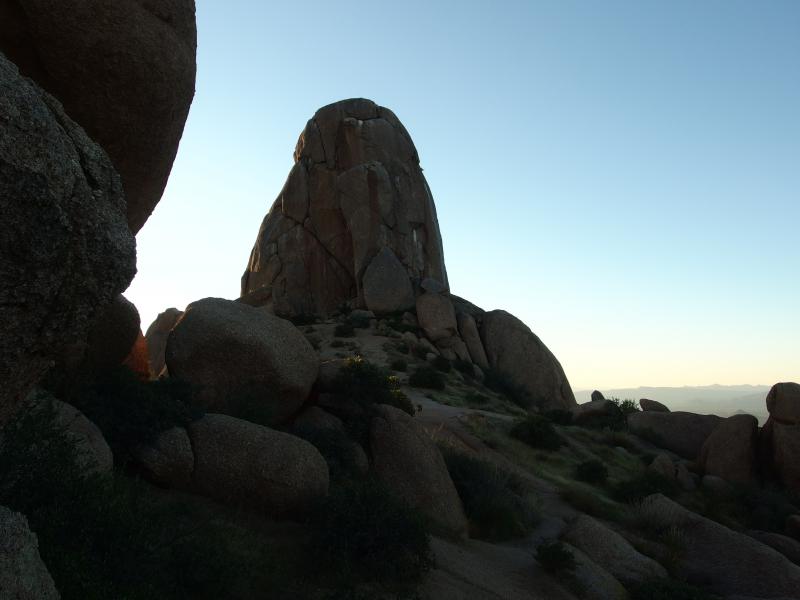 The way down wasn't hard. We spent most of it in the shade cast by the ridge behind us. A combination of the downhill trend and cooling shade gave us a welcome boost of energy. There were a few climbs, sure, little dips in the trail along East End's flank, that we soared through. Soon we were back on semi-level ground below the boulder hills.
Dark came quickly once the sun set. Neither one of us had a flashlight but we were close enough to the trailhead to not be concerned. Along the way I almost stepped on a rattlesnake and only Chris's shout of warning kept me from getting a nice bite. Eh, only a matter of time before I get bit by one of those things. We made it back to the car after dark and cruised back to Scottsdale. Along the way we chatted about future hikes, adventures for future weekends, ideas ranging wide from the Grand Canyon to the Sierra Estrella. It was nice to have a hiking partner again.