There was one thing that I wanted to do on New Year's weekend - go on an epic adventure to end a rough year of hiking. The weather was perfect, even a bit wet with some overnight storms, and overnight plans for Tortilla Peak and Reavis Ranch and the Mazatzals floated through my mind during the holiday festivities. However, I was on call this weekend, which meant that I had to remain in cell range and be somewhat responsive for debugging if things broke at work. Plus super-pregnant wife. South Mountain was about as good as I could hope for.
South Mountain is not what I'd call a remote hike by any stretch. It lays along the south side of Tempe/Phoenix, with some of the trailheads less than a few miles from I-10 and I-17. There are dozens of maintained trails, even more use trails, and on any given weekend there are thousands of hikers, bikers, runners, and riders out there. Camelback might see more traffic, but it's close. Anyways, today I was going for the more removed southwestern side. On this end of the mountain there are a few Ahwatukee suburbs and only a few roads and trailheads. Plus, the elevation gains are more impressive and the views of Sierra Estrella should be outstanding.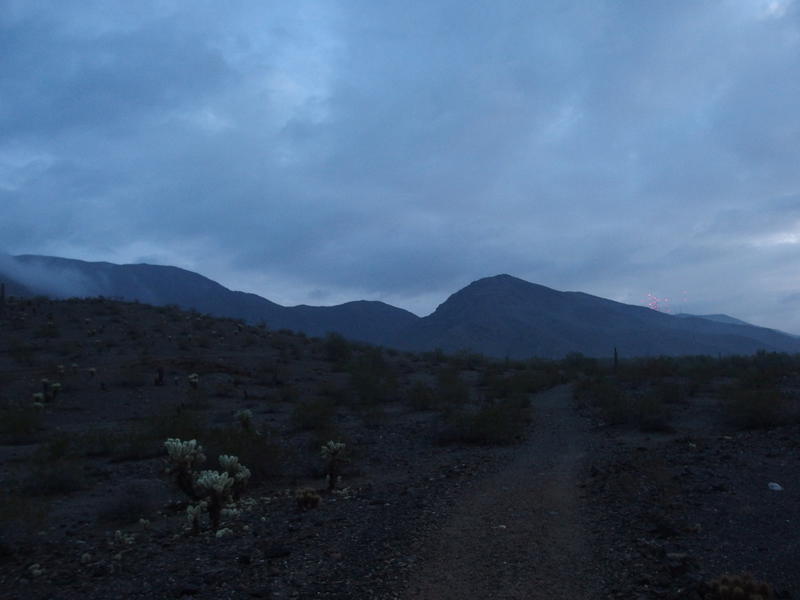 My timing was perfect. I pulled into the parking lot shortly before seven o'clock, with just enough predawn light leaking through the cloudy skies to leave my headlamp in the van. Only two other vehicles were in the lot, and I saw a hiker and dog head out along a different trail than I was aiming for, so it looked like I'd have a quiet morning. The first ten minutes were a bit stumble-y as my eyes adjusted to the dim light and rocky ground. Once I got past the first wash things were bright enough for me to really push off with my poles and get some speed on.
Those clouds were a bit threatening. The ground still smelled damp from overnight rains, misty fog clung to the top of South Mountain above me, and the low planes roared invisibly nearby. I must be right in the takeoff route from PHX and heard one every couple of minutes. Anyways, a little drizzle wouldn't be the worst. My pack was light and it wasn't too cold out, and my planned route should only take a few hours.
Pushing hard against the poles I cruised along the flat trail. Parts of it looked to be an old two-track. It went up and down a few washes (or maybe the same wash, I wasn't that attentive), swung around some low hills, and forked into smaller trails a few times. I only picked the wrong fork once and had to backtrack through a small forest of cholla to get back on track. Between the quick pace and the humidity my asthma triggered before the real climb even started. Good thing I remembered the inhaler. When I reached the steep section my legs were warm, breathing was set, and I couldn't wait to tackle it.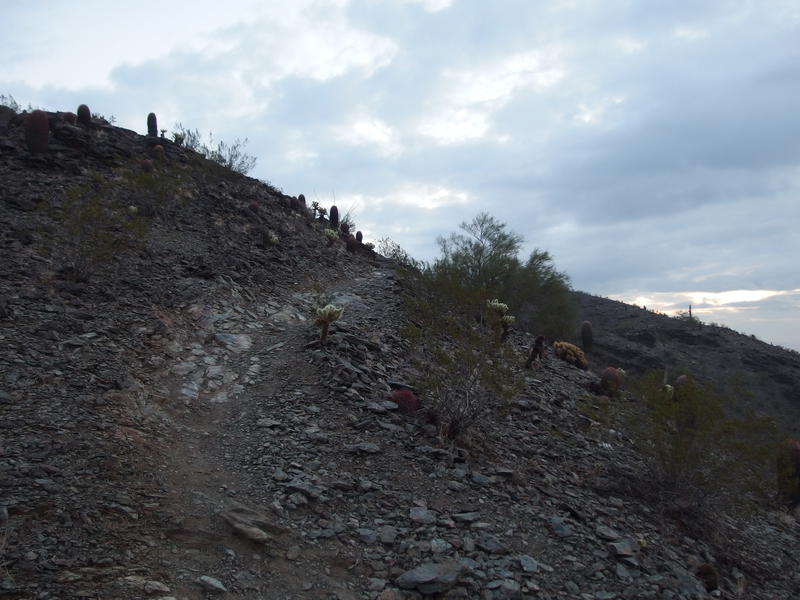 The climb is just over seven hundred feet in height, all switchbacks that dance back and forth over the tip of a rising ridge. Half of the time I had views of the identical rooftops and winding roads of Ahwatukee, the other half was of the steep canyon that separated this ridge from the main bulk of South Mountain. I was much more interested in the latter. Clouds clung to the top of the mountain and drifted lazily towards me before dissipating. Was it raining up there? I'd find out soon enough, as long as I could keep up a fast pace.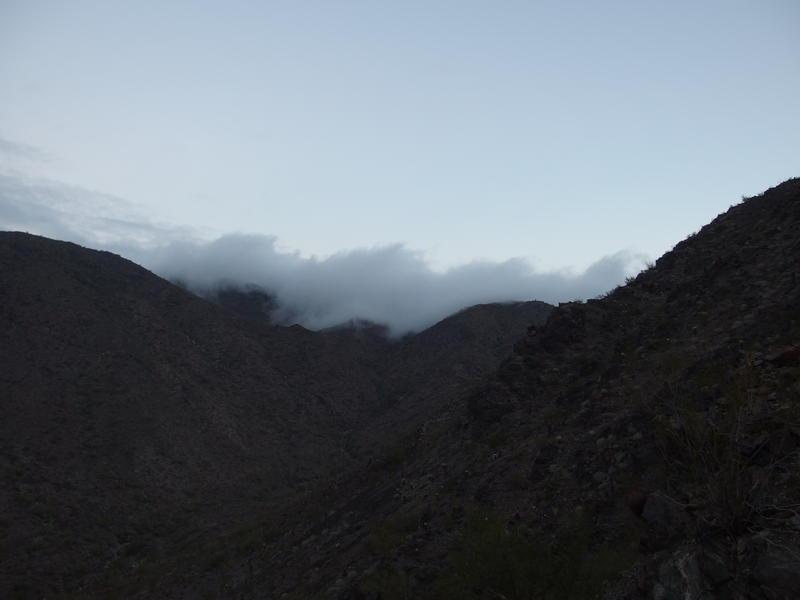 My pace was rather punishing. I refused to give my legs a break, beyond a quick photo now and again, feeling the soft burn become sharper as I gained elevation. Sometimes a good hard climb is exactly what I need in the morning. Two trail runners, both heading downhill, kept my ego in check. If they were heading out already they made my early start feel downright slovenly.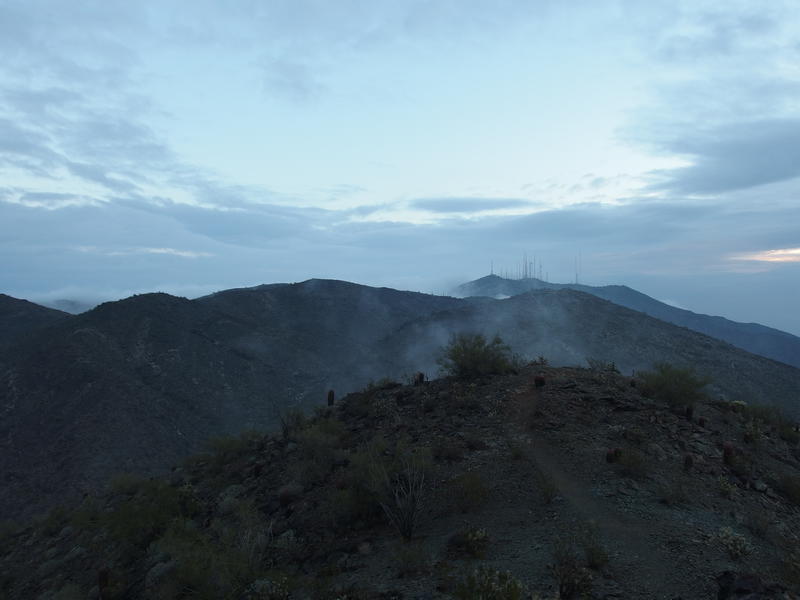 With one last push I broke the top of the ridge. The climb had been enjoyable, just steep enough to work up a sweat while not slowing me down too much, and the trail was well-cut into the rock layers. Plus the views, even over Ahwatukee, were pretty good. But I had to stop soon. Humidity, along with my huffing and puffing, had completely fogged my glasses. I ambled along half-blind until I rounded a bend and found a good spot to pause and cool down a bit.
I had brought a plethora of snacks for today. There were some things in my storage bin that were getting a bit aged plus some shiny new things from Christmas to try out. Even though I wasn't that hungry I started on a stale granola bar and washed it down with an Energy GU. Still not sold on the GUs - been trying them since the spring and haven't really felt that energized or less-crampy when eating them. They're sugar-sweet and easy to suck on while moving, so I still bring them along on occasion.
Back to the hike. With clear view and a sugared stomach I continued along the ridge, swinging around some outcroppings and bouncing up and down a few small saddles. Then I bumped into the National Trail junction. Huh, totally forgot that the National Trail comes all this way. Fifteen miles end-to-end, from Pima Canyon to Alta Trailhead. Might have to do that one day, or maybe even a full in-and-out of it. Anyways, the view across Telegraph Pass at the junction was ridiculous and I had to stop here and watch the clouds roll through.
A hiker climbed up from the pass and we had a quick chat. He was doing a basic loop today but was familiar with my planned destination ahead, Goat Hill. We chatted for a short time, talking about different South Mountain trailheads and the beautiful clouds around us, and then I bid him a good day and took off. We were heading the same way but at very different speeds. Now that I was on mostly flat ground my fast walk was transitioning to a trot. The cool temps must have given me some extra energy.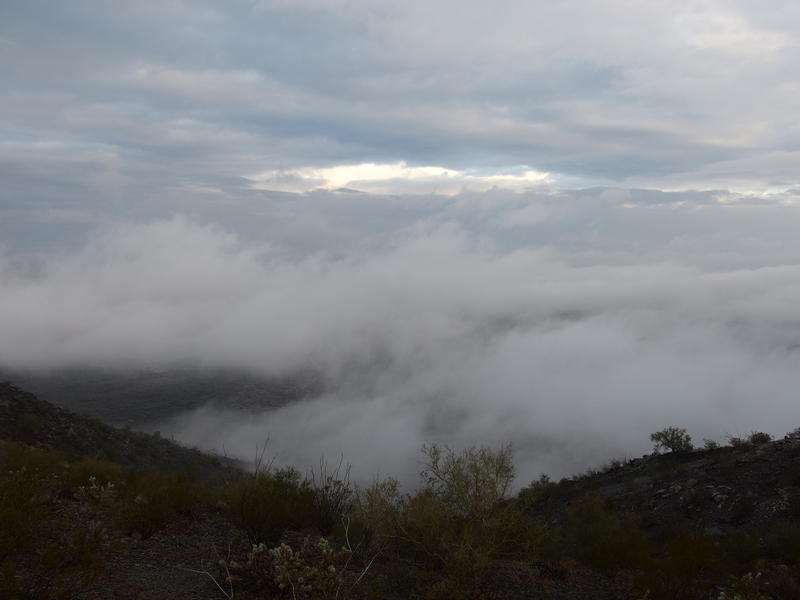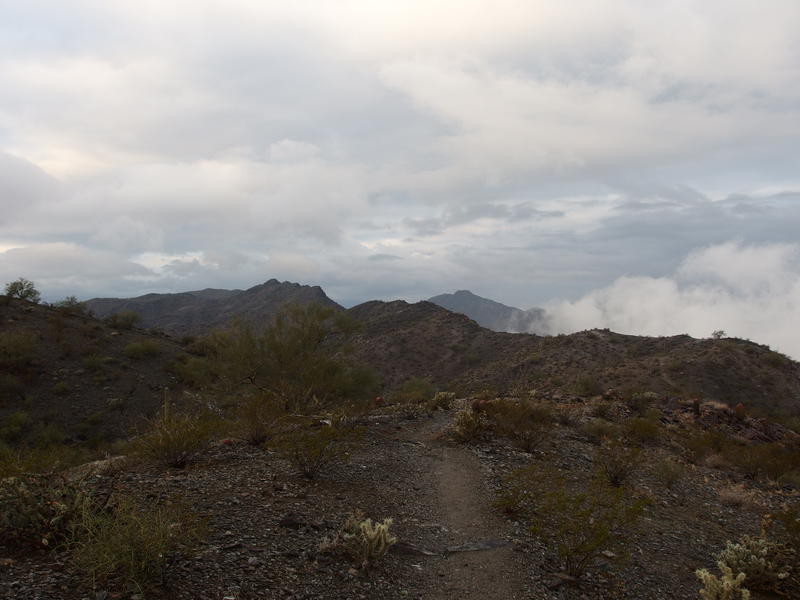 Halfway to the turnoff for the hill I got my first work page. I did my best to address it while still moving forward, staring at my phone and hitting the screen as I slid over rain-wet rocks and splashed through small puddles. Some error rate on some node was high enough to trigger an alert. It wasn't critical, so after double checking a few things I closed it and focused on the task at hand. I don't like being distracted by my phone, especially so during a hike, and when the second one pinged me I let loose a few choice swears before shushing it.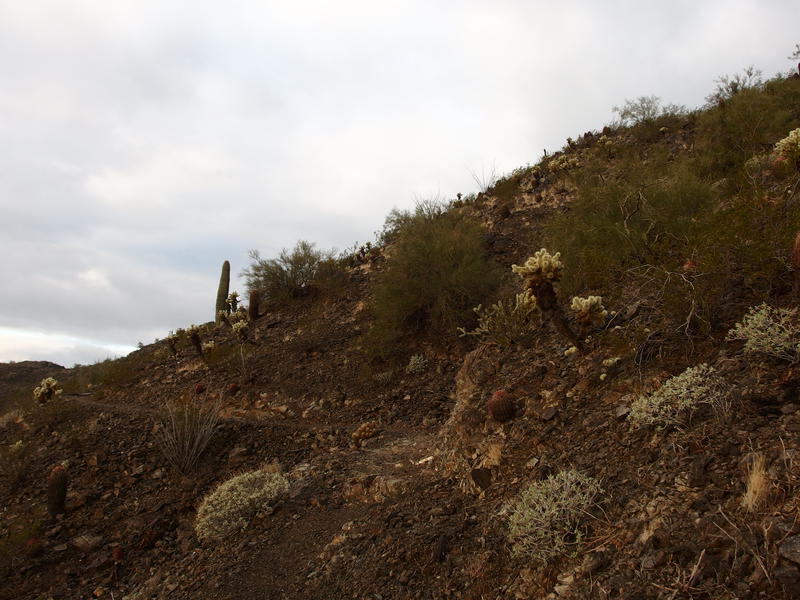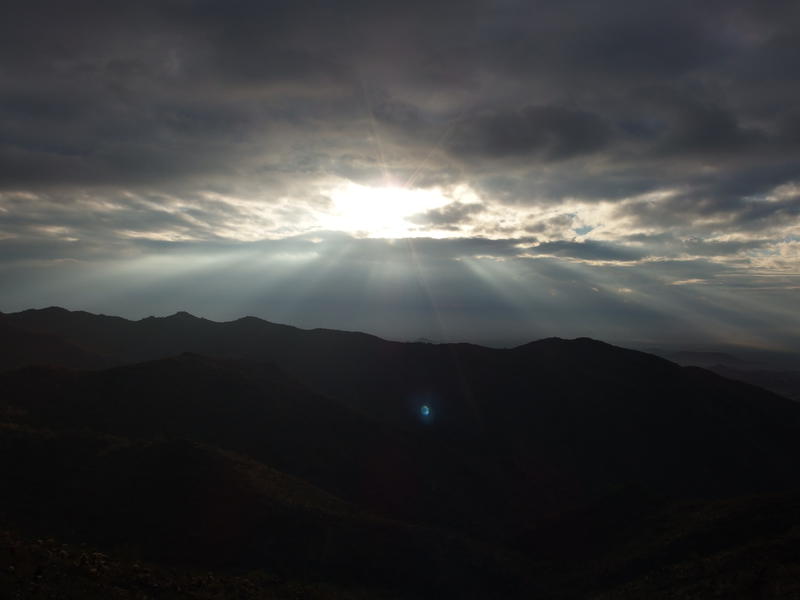 During the pages I covered a fair amount of ground. The path was now dancing along the side of Goat Hill itself, weaving in and out with the rocky contours. Plus, now there was sun. It took an hour after the sunrise, but sunshine was now breaking through the southern clouds and lighting up the path around me. It felt good after the cool wet and I enjoyed the odd feeling of a good sun-warmth instead of the usual summer death rays that Arizona tends to receive.
National Trail slid past the final peak of Goat Hill and the side path split off near a green, spiky plant of some sort. I followed the path, which swung back and climbed up the final peak with a series of gentle switchbacks. Shoot, this is easier to climb that Pyramid Trail had been. The last ten feet was loose and crumbly and then I was on top, with a flat rock to sit on and a cool breeze forcing me to pull a sweater out of the pack. I curled up and checked on my phone annoyingly, closing the last page and seeing a message from Katie. Ah, she wasn't feeling that good this morning. Those work pages weren't enough to cut my hike short, but a message from my pregnant wife was.
My original plan was to simply backtrack. This would give me a respectable nine miles and two thousand feet of elevation change. There had to be a quicker way down. I scanned some maps and noticed that there was a retired path that heads straight down to the parking lot instead of making that long swoop over by Telegraph Pass. Plus it was called Lost Mine Trail, which sounded like a win in my book. I shrugged off the sweater, pulled my pack back on, finished a Larabar, and headed back down to National Trail.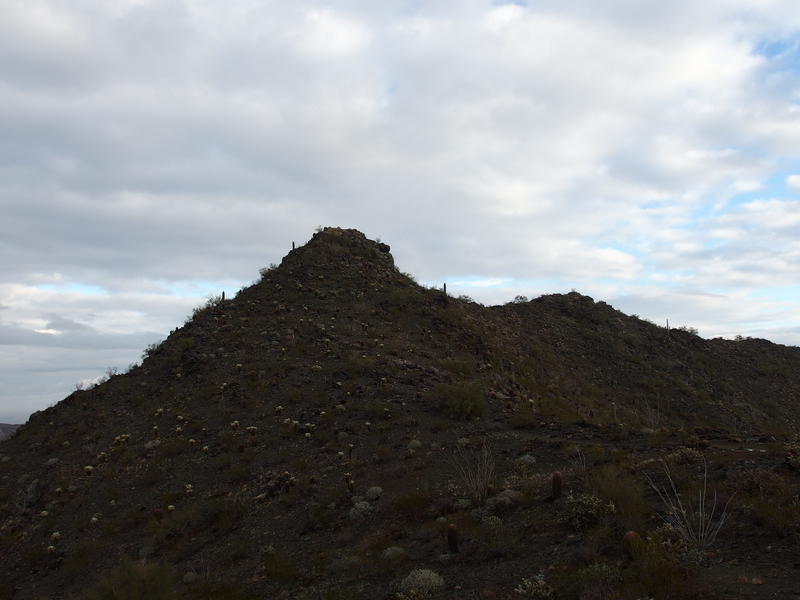 Less than a mile west on National and I reached the turn off for the descent. Well, I missed it at first. There was no trail marker or obvious fork, simply a break in the cactus that looked kinda like a path. Well, it's not like I was going to get lost. All I had to do was head downhill. I shrugged off some doubts and started on the old trail.
It played on a rounded ridge for a time, forked, and then dove down the slope with an intensity that I did not expect. This was fun! I trotted and slid down the loose gravel, ducking under a few overgrown palo verdes, and watched out for the few trail washouts along the way. This was much steeper than my climb. I idly wondered how tough a reverse loop would be, to tackle this side first and then meander down the more mild Pyramid Trail. There'd probably be more traffic as the day progressed - I had been lucky to only see those two runners and the man back at the trail junction - and it'd probably be easier on my knees. This direction was fast, challenging, and I had epic views of the southern clouds and Sierra Estrella on the whole descent.
A few namesakes began to show up along the trail, mostly collapsed exploratory shafts that only showed a few feet in. There might be more to see off-trail. As interesting as old mines are I was in a bit of a rush to get home and check on Katie. However, as I neared the bottom there was one I couldn't ignore. A large crack in the hillside complete with supporting beams and large piles of poor rock heaped below it. I ventured into the cracks for a bit, carefully testing the loose rock that filled the old shafts. Someone found something interesting here. This was much more than a one-man endeavor.
Eventually I tore myself away from the remains and pushed on. The trail got hazy here, splitting into multiple paths that explored different sections of the mine, so I merely hopped into the nearby wash and followed it down. Which wasn't that easy of a go. There were a few footprints in it, and maybe those two piled rocks was supposed to be a cairn, but I had lost the main trail. Washes head downhill and my van was parked downhill so I stuck to the wash.
A few hundred yards later and a main path swooped in west, and with it came voices and hikers. My solitude was broken. Tucking in with the trekking poles I sped up a bit, taking advantage of the well-defined path, which turned out to be Lost Ranch Trail. That joined with Gila, which joined up with the lower part of Pyramid near Bursera. All of these paths were running off of South Mountain and merging together like a mirror of the nearby canyons and washes. With the confluence came more people.
I passed three dozen people over the last half mile, which was completely nuts compared to the first seven miles of the hike. When I reached the van I wasted no time pulling off my gear and hitting the road. Turns out that even the remote trails of South Mountain sees a lot of traffic. Sure, I could see myself coming back in this area, if I could get another early start with perhaps some cold, wet weather to dampen early crowds. With several hours of hiking under my belt before nine I drove back to the house, wondering if the kids had even noticed I was gone yet.