There is a set of waterfalls in the Mazatzals that, for as many times I've adventured in the wilderness, I had never seen. They are somewhat popular on social media sites, even though they are deep enough in the mountains that many visitors opt for overnight trips. There is even a convenient, if overgrown, loop to reach them, a route that also passes by several other smaller waterfalls, all of which would be flowing during certain times of the year. Deadman Falls of the Mazatzals seemed like the perfect destination for me to escape the increasing stresses of the pandemic.
Unlike most of my Mazatzal visits, I left the house relatively late, and reached a mostly-empty Barnhardt Trailhead a few minutes after the sunrise. So many of my adventures start in the dark that it felt weird to not bring or wear a headlamp today. I shivered in the early light, pumping my arms in the parking lot as I got my gear ready, trying to convince myself that I didn't have to bring extra clothes, that today's hike would warm me up soon enough.
I started down Half Moon Trail first, retracing the start of my backpacking trip from 2016. Unlike that late summer outing, though, I soon faced formidable obstacles. Half Moon crosses four large creeks, all of which were flowing heavily. Two of them, Barnhardt and Rock Creek, were too wide and deep to cross with rocks, and I had to balance on deadfall in order to cross. The rest of the trail was a muddy, yet pleasant, roller coaster across the lower hills of the wilderness, with frequent spots to admire the snow-dusted mountains I'd soon be climbing.
About two hours in I had finished Half Moon, with its challenging creek crossings, and was starting up Rock Creek Trail. This fun trail is one of the steepest in the wilderness, climbing 3000' in less than four miles. Before the climb the path plays along Center Creek, crossing it a few times, and I noticed some small waterfalls on it that had escaped attention during my last, drier, visit here.
Once the trail leaves Center Creek and pleasant shade it climbs fast, twisting up the manzanita-covered foothills of the Eastern Mazatzals. This is one of my least favorite sections of trail. Full sun exposure, combined with the grand views of the rocky highlands above (that never seem to get closer), plus the steep grade, are designed to wear a hiker out. I kept on trucking and let the sweat run off in rivulets. Even as my pace slowed I eventually reached the rocky ridges, then the first hints of snow, and finally Rock Creek Falls itself.
There are many impressive drops below the trail crossing, drops that would require lengthy detours and risky scrambles down scree, so I only dropped down one tier before pushing on. After all, this was not the main focus of the hike. Rock Creek Falls was just a sideshow to my main destination. After a few photos I clambered back up to the trail, continued a short distance uphill, and found a flat, dry rock for a lengthy breakfast break.
My ascent was not done yet. I still had to hundreds of feet to climb until the saddle at 7030', and the snow was holding on strong at this height, making the trail harder to find and each footstep harder to trust. So instead of pushing hard on tired legs I rested, enjoying the view of a snowy Mogollon Rim to the east, munching on frigid granola bars. There was no real rush today, no drive to reach the next campsite or water source, no desire to speed down the trails, just a need to relax and enjoy the refreshing scenery.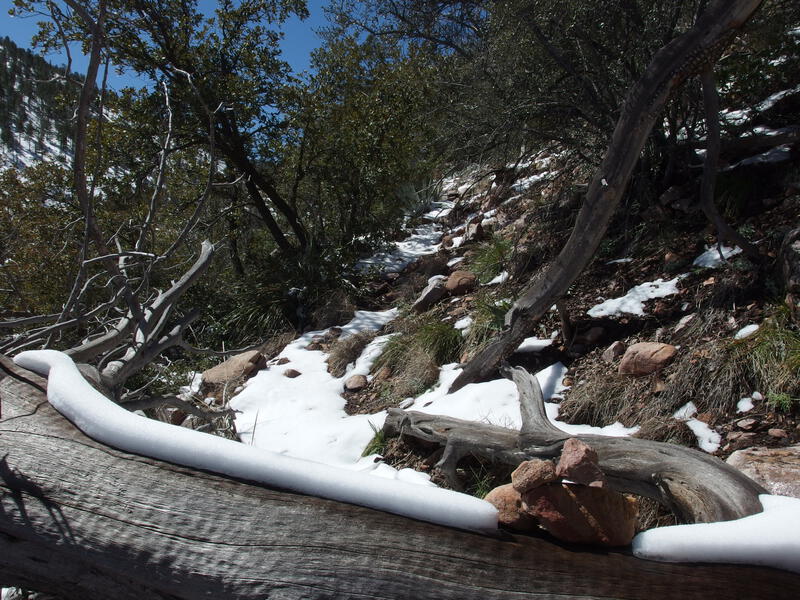 Once I felt good and ready I continued on, hunting cairns and faint tread, slowly climbing to the saddle. This section was overgrown and I had to pause a few times to find safe ways around different obstacles. Beyond the saddle, where the route drops a half mile to the regularly-maintained Mazatzal Divide Trail, things got even worse, with manzanita growing thick around the tread, hiding cairns and stabbing shins. I was able to track the trail most of the way to Hopi Spring, where some kind souls had built an impressive tank feeding from the otherwise slow seep, and from there it was an easy trot down to the Mazatzal Divide.
I was feeling tired at this point, and my boots were soaked through from a combination of snow and flooded trail, so I switched to auto-pilot. The path and views were pretty, going through some stands of Ponderosa and offering huge views of the western wilderness, but I had hiked this area plenty of times, so I cruised to Horse Camp Seep. There were two older men with dogs refilling their water here and we exchanged a brief greeting before I pushed on, following North Fork Deadman Creek downstream. I found a footpath that bypassed the steep drop by the camp, one that crossed and re-crossed the creek, though it was flowing too hard today for me to hop over easily, and I was forced to scramble in a few spots to continue moving downstream, and even had to wade across once in frigid, knee-deep water. It was worth it. Soon I was standing on the edge of an enormous canyon carved deep in the rock with the triple drop of Deadman Falls roaring at me.
Pictures really don't do this thing justice. The canyon is huge, obscenely so, stretching long to the west, and North Fork Deadman Creek raged far below. Two separate creeks (one from Horse Camp Seep, the other from Sandy Saddle) each dropped over a hundred feet before joining to form a third, larger drop, deeper in the canyon. There's a fourth drop about a mile downstream that I couldn't see (though I imagined I could hear it competing for attention). Mist rose on gusts of wind to coat my glasses, drizzling rain from below in some sort of inverted world. I sat and gawked at the spectacle.
At some point I dragged myself away from the canyon's edge and made my way back on the rim, crossing the creek and heading a short distance up the Sandy Saddle drainage for lunch. There was a nice rock seat right above this drop, which from this angle showed off a small rainbow (unreal), and I filtered some fresh water and had some tuna with crackers. Letting my boots and socks dry on the warm rocks, I breathed in the surroundings, feeling the stress of reality wash away.
It was after two before I continued on. I wasn't worried about rushing back, knowing that Barnhardt was easy enough to follow in the dark, even without a headlamp, although my wet boots would get quite unpleasant with a temperature drop. Mazatzal Divide Trail did not help with the boots, as much of the trail was more of a small creek than a walkway. Splashing along, I kept my eyes on the distant ridge, knowing happily that this (along with other winter storms) would keep the wildlife and foliage hydrated deep into the summer.
Three backpackers, one couple and one solo, passed me on the trail, and we all exchanged brief pleasantries and tips before continuing on. Horse Camp Seep would be a bit busy tonight. There were a few groups of dayhikers along Barnhardt, though judging by the prints on the muddy trail, it was much busier earlier in the day. Of course, there were waterfalls to admire along the way, including the so-called Big Kahuna and Hawaiian Mist, which sat next to the trail and begged for short photo detours.
The sun was preparing to set as I returned to the trailhead. Those two older men from Horse Camp had made it back and we chatted again, sharing stories of past Mazatzal adventures. Last year they had survived a harrowing loop on the western side, with spider bites and water poisoning and a lengthy hospital stay, and as scary as it sounded, I could see the gleam of accomplishment through the story. This wilderness is terrible and beautiful, challenging and rewarding, and today's rewarding twenty-one mile loop was precisely what I needed.