When Chris and I talk about going out on a hike together, it always starts with a general idea of where we want to go and quickly devolves into long phone calls with dozens of possible destinations discussed. Weather forecasts, trail conditions, endurance, points of interest, time constraints are all plotted and debated while my wife rolls her eyes and the hours tick by. The idea of a quick overnight trip in early December started in Garden Valley, drifted over to Reed's Water and Buzzard's Roost, made a short detour up to Tortilla Flat and Reavis beyond, and then came back to Garden Valley. We finally decided on Battleship for reasons that now escape me. They seemed good enough at the time.
Our route was a good fit. We both had all day Saturday to play around outside but I was supposed to be back by mid-afternoon Sunday so that Katie could spend some time with her family. This would give us a full day to hike in along Boulder Canyon to Battleship, an area that Chris hadn't been through yet, with time to spare for setting up camp at either Lower La Barge Box or Battleship itself. Then we would wake up early and try for a quick exit by sticking to established trails. The whole loop was a mild twelve miles long, through land that I was familiar with, and only a mild dash of epic.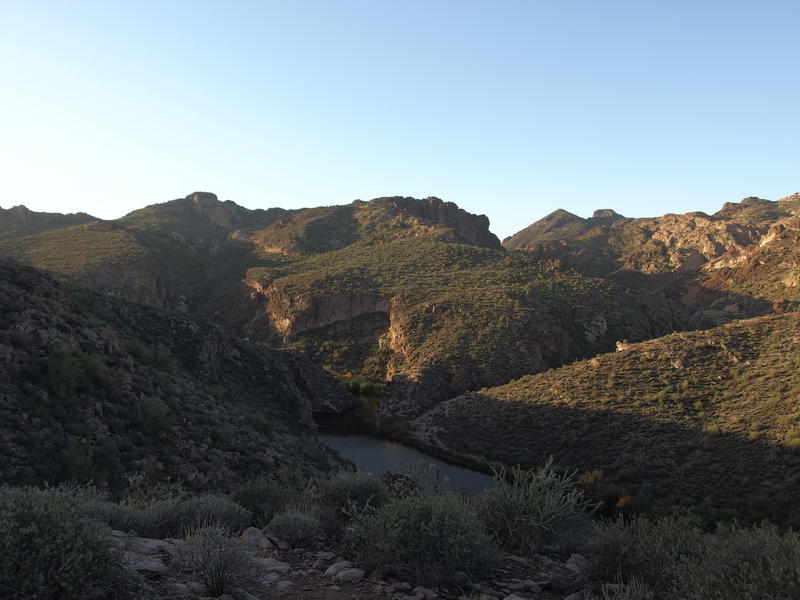 We met shortly before sunrise and made it to the Canyon Lake Marina trailhead by eight. I wasn't sure when this trailhead was opened, as it's gated off overnight, though when we parked there were already six or seven vehicles in the lots. Either there were a lot of ambitious backpackers out last night (through a decent thunderstorm in the area) or early rising dayhikers. I filled out the overnight permits, hung them from the car mirror, and we set off across the road and began the climb up Boulder Canyon Trail.
I remembered this trail too well. Katie and I had taken it earlier this year on our way to the La Barge creek. It climbs slowly, with an ever-present view back on the road and marina behind, and the sound of cars bumping over the one-lane bridge is intrusive. At least you're walking towards some good stuff. To the right was the bottom of Boulder Canyon, pushed-back waters of Canyon Lake weaving between cacti-covered hills, and ahead there was the occasional glimpse of Battleship and Weaver's Needle beyond. Chris and I paused at a scenic overlook, letting the morning sun warm our winter-chilled clothes, and admired the views ahead.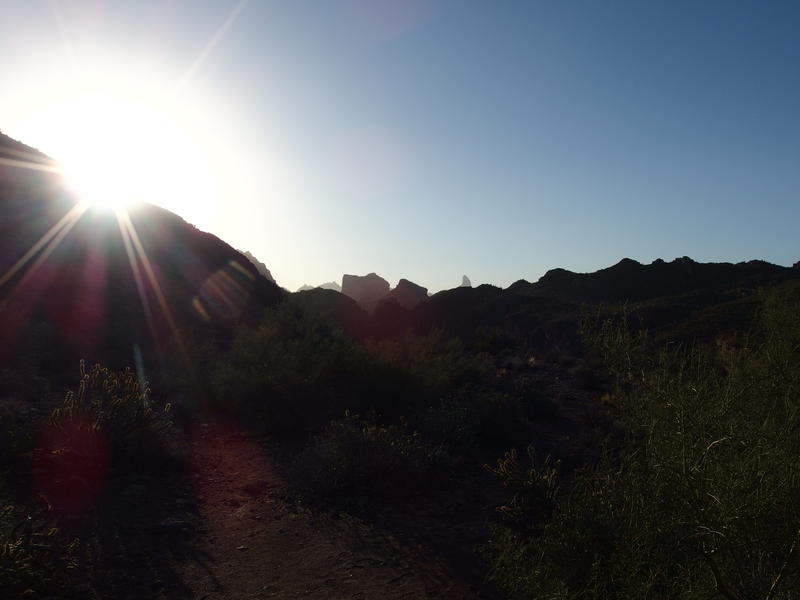 Our first choice of the day lay here. Either we could continue climbing, taking the trail up to the top of Frog Mountain another 400' above us, or we could descend a few hundred feet and take Boulder Canyon itself south. Both the trail and canyon end up in the same spot, the bow of Battleship, it's just that the trail climbs and the canyon is off-trail rock hopping. Chris voted to tempt the canyon and I complied.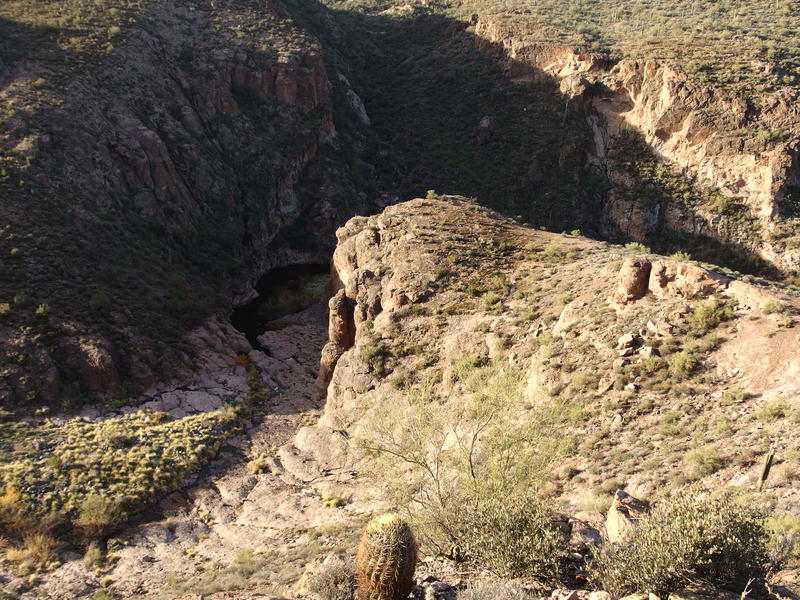 The descent into the canyon was not pleasant. We found a few cairns and hints of a trail along the way, though there wasn't enough to track a route all the way down. There were gravelly sections to slide on, large rocks to step around, cacti to dodge, and even a few pebble-covered rock formations that threatened to twist ankles. All this was bad enough to deal with on a day hike and today we were carrying overnight bags. We cautiously made our way down and hoped that this route would not be a regret.
Speaking of overnight packs - the temperatures this weekend were relatively cold. Highs in the mid-fifties, lows approaching freezing. This is nothing compared to winter camping in the Midwest yet was definitely outside our more recent Arizona experience. Chris had a 60L pack with a 40° bag, liner, and tent; I had a 40L pack with a 20° bag and tarp. Not sure which one of us would be warmer tonight, especially if we ended up at an exposed site.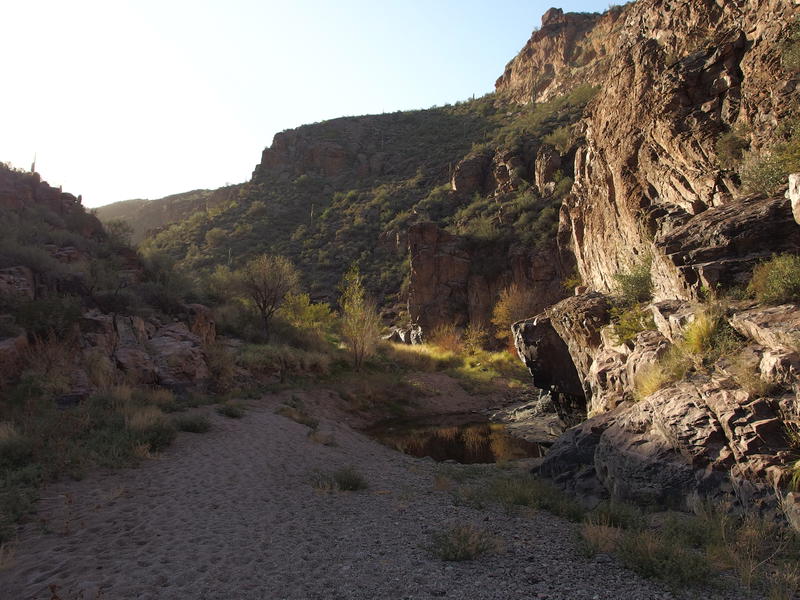 Thankfully, we both reached the bottom safely and took a moment to appreciate the flat sandy base of Boulder Canyon. A few pools of water lay under rock cliffs, testament of the rain we've been getting over the last few weeks. Dozens of foot prints were dug into the sand, none fresh, other curious hikers over the summer opting to explore this canyon instead of sticking to the trail above. Squaring up our packs we followed the time-softened tracks, adding our own boots to those that came before us.
Sand gave way to gravel, gravel gave way to boulders, and then it was good old fashioned boulder-hopping. I didn't mind this at all. My pack was light and legs were ready for a little workout, so I skipped along nimbly. Chris did not have as light a pack or ready legs and made his way along a more cautious route. We weren't in any particular rush, plenty of daylight and single digits to cover, so we ate up the extra time chatting about random things. I had just heard an interesting research project involving mice, Alzheimer's, and gamma frequencies, and Chris knew how to pronounce Alzheimer correctly, so we had some lively back-and-forths.
Rock walls began to close around us and more obstacles forced our route to weave around. A small part of me began to worry. There wasn't much written about this route online, with the most recent triplog on hikeaz mentioning overgrown brush and an early retreat. I depend a lot on hikeaz these days, as most areas of the Superstitions are far too rugged for random bushwhack vectors. Shoot, even a little creek bed like this one could have a sudden drop too steep to handle without rope. I began to wind up along the vegetated banks more and more, hoping to find easy paths to bulk up my confidence, and found only dead-end game paths and catclaw. And then we hit the overgrowth.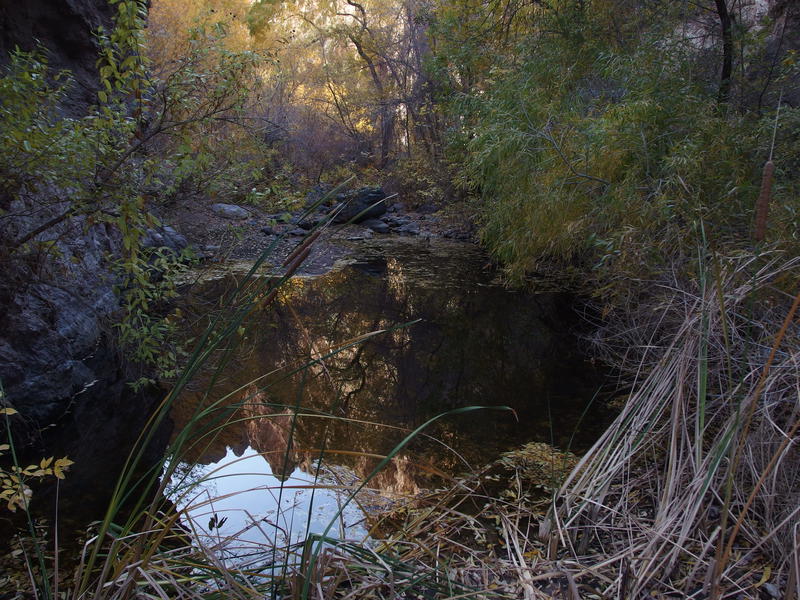 This much green in a desert canyon is always a cool site. It means year-round pools (and the water smelled plenty stagnant for that) and nighttime fauna, as well as established campsites and fire rings. And there were a few sandy campsites pushed up against the overhanging rock walls. It also usually means hard going. This time, though, the going was not so hard. A well-worn path wound through the green, reeds and branches pulled back out of the way, and it stayed high above the large pools of water. This was some of the easiest hiking all morning, shaded by trees and high canyon walls.
Beyond the pools were huge rocks that we had to climb up and over, and then a section of tall trees and the fork between La Barge and Boulder. We stopped here for a solid break, munching on snacks and sipping water, and I tried to tempt Chris into taking the La Barge fork. See, I had a hidden agenda. I wanted us to go up and camp in La Barge box, a few more miles upstream, so that I could continue past the box and do a loop with Calvary Trail this afternoon. Battleship was okay and all, but we had done it already. Chris didn't like the idea of more off-trail hiking in dry creek beds and wanted to find Boulder Canyon Trail. So we stuck to that plan and passed by my fork.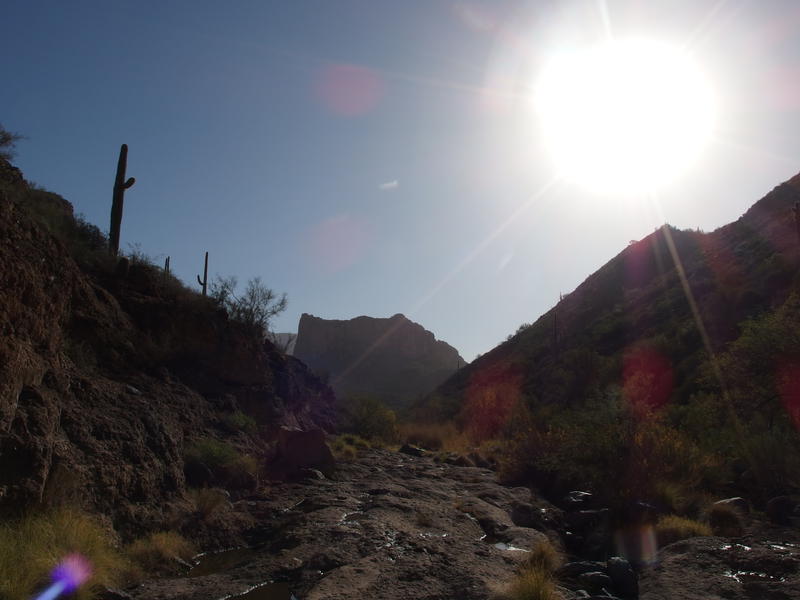 We still had a lot of creek to cover before trail, though. Boulder-hopping was followed by pushing through eight-foot-tall stands of reeds and large stretches of pitted bedrock. A few stands of trees showed up, though they were now twisted and gnarled. The towering rock walls were replaced by steep hills of loose basalt rock. Hackberry Mesa was up there some five hundred feet above us, covered in cholla and palo verde and foxtail grass. The late morning sun poured down on us, slowly heating up the air around us.
When first one cairn, then two, showed up ahead I hollered back to Chris with excitement. Finally, Boulder Canyon Trail, and with it a certain guarantee on a quicker pace. We climbed out together, joking about how awkward it felt to just walk on flat ground without hop-skipping about, and then made tracks southwards. Almost half of the day had burned away already and we were ready to get on with the Battleship.
We passed by a few groups and made small talk before running into a huge, ten-person crew on the far side of Second Water. Now this was a crew we were curious about. They made an eclectic mix of preparedness: a few ultralight tents, some gas canisters for cooking, a small dog, and several gallons of water were strewn about. Not sure why you'd haul in gallons of water with how much rain has been falling, with the proximity of their camp to a year-round source at Second Water, maybe some people are more hesitant on filtering than I am. Their plan was to hike up Battleship this afternoon so we parted ways, knowing that we'd be seeing them again soon.
A few hundred yards later and Chris called for a brief stop. He needed to change out his socks and wanted to rest before the upcoming climb. I paced nearby and waited, uncertain of my own water situation, before hopping down into a nearby section of Boulder Canyon. My hope that we were going to camp along La Barge, next to flowing water, had expired. With four liters of water capacity and relatively cool temperatures camping away from water shouldn't be an issue - except I started with only two liters of water and already drank one. So I needed to drink more and filter up while I still could. We had passed by dozens of rock tanks and deep pools and a flowing tributary, but here there was nothing here. After twenty minutes of hunting around and finding only damp dirt I came back to see Chris had taken off without me.
Knowing that there was only one way he'd go I grabbed my gear and headed back to the dry creek, hopping from rock to rock and still looking for water. Boulder Canyon Trail ran parallel to Boulder Canyon (imagine that) so it wasn't like either one of us would get lost. A few hundred yards later and I found several deep rock tanks below a steep tributary coming down from Black Mesa and set up shop. I guzzled down my remaining water, filtered up to capacity and drank another liter, and when I finally got back up to return to the hike both my stomach and pack were gurgling with liquid fullness.
A short time later and I stood parallel to the stern of Battleship. It sits 500' above the trail and there is a cairned use trail that starts further to the south that Chris had probably gone over to. I looked up the steep slope of cactus and loose rock and saw both a challenge and an opportunity to catch up with Chris before he reached the stern. Unless he was already on top setting up camp, anyways. Girding my loins I tackled the rough hike with gusto, pushing up without pause, letting the first good sweat of the day run down my face with a certain amount of pleasure.
Chris was resting behind a ridge of boulders and was surprised to see me. He had been watching for me down along the use trail to the south and didn't expect me to come up from the west. We chatted briefly before that ten-man group passed us by - they must have finished setting up the campsites while I was filtering water - and then we followed them up. Less than a hundred feet of easy climb later and we were rock-climbing the final few yards to the flat southern mesa.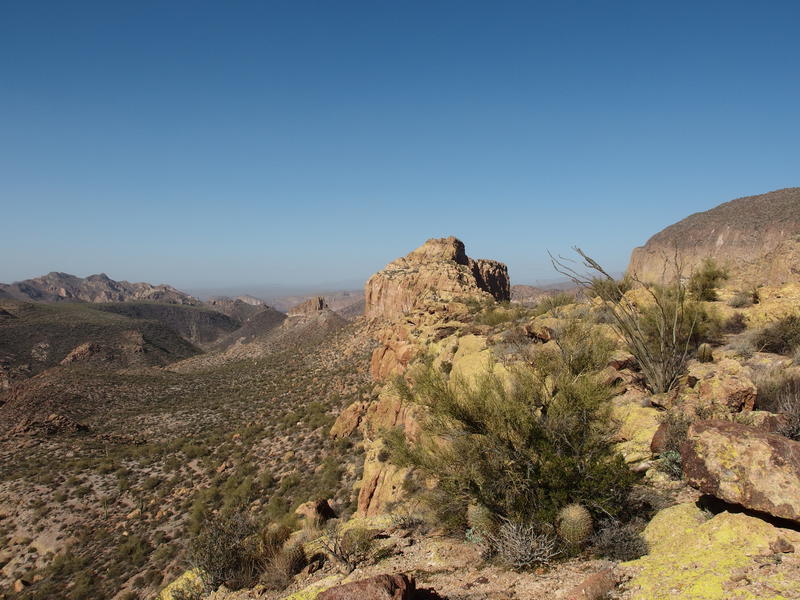 We meandered along the mesa, looking for good campsites or fire rings on the way. The idea of camping on the northern mesa had been floated and turned down; it would have meant hauling our packs over the tricky center spine. Plus, Chris was beat. We reached a flat area and he decided to break for a late lunch, hoping that the extra calories would perk up his spirits enough to set up camp. I danced uncertainly nearby, not quite ready to stop for that long, and watched the ten-man group slowly make their way along the center spine ahead of us. Finally I couldn't wait any more and asked my hiking partner if he was planning on doing the length of Battleship today. He said no and I was off like a rocket, zipping towards the summit like a hooked fish.
There was one guy waiting at the start of the center spine, too scared to continue with his friends. I tried half-heartedly to convince him to come along with me but he was pretty spooked by the exposure. So I dropped down the ten-foot drop and walked the narrow length, then started the half-boulder, half-hike climb route.
I vaguely remembered some sections and guessed at others. It's not like there's a lot of options on how to continue - at its widest, Battleship is only twenty feet or so across along the center. If there's not an obvious way forward, backtrack and find another path. Just as I was getting set in the groove the large group showed up in front of me, defeated and retreating. I talked to these guys too, trying to convince any of them on finishing the hike, yet no one was biting. So I reached the false summit alone, almost a dozen other guys behind me unwilling to go on, and felt pretty darn manly.
That false summit threw me for awhile. If you stand on it, the true summit not more than a football field away, it looks like an impossible drop of a saddle is in the way. Plus, there's no obvious way up to the summit from here, which is quite a de-motivator. You can either backtrack twenty feet and slide down the west face onto a ledge to continue on or hop along hoodoos to continue. I forgot about the hoodoos and had to hunt for the backtrack. After that it was a short rock cliff, gravely slide, handful of cactus thorns, and sudden climb up a shortcut until I reached the summit.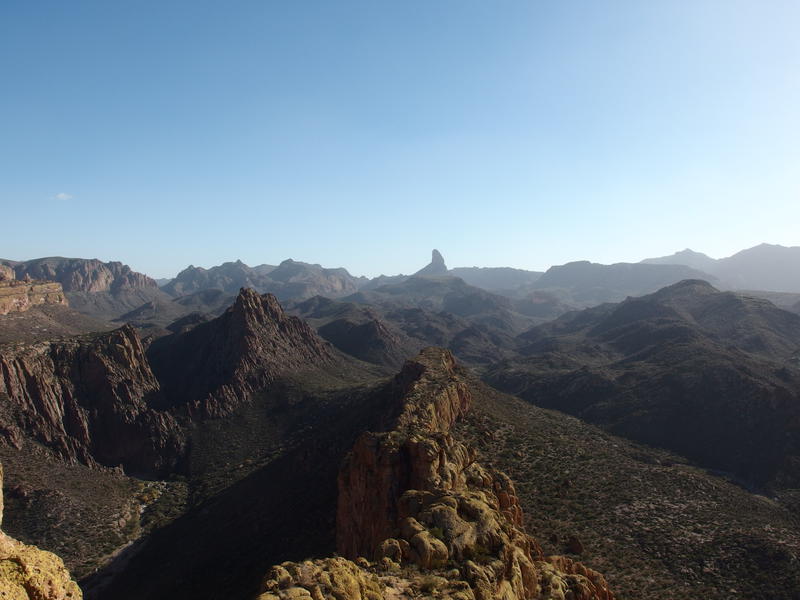 Still full of adrenaline from the quick hike up, I hopped along the summit (turns out that there are three separate peaks) until it felt like I was on the very tip-top. From here I looked around, barely able to make out the ten-person group hanging out near the center spine. I gave them I loud whoop, and then was surprised to hear someone near Second Water respond instead. Sound travels pretty easy out here. After that I signed the peak log, gazed around one last time at the different vistas around me, and then zipped down off the summit.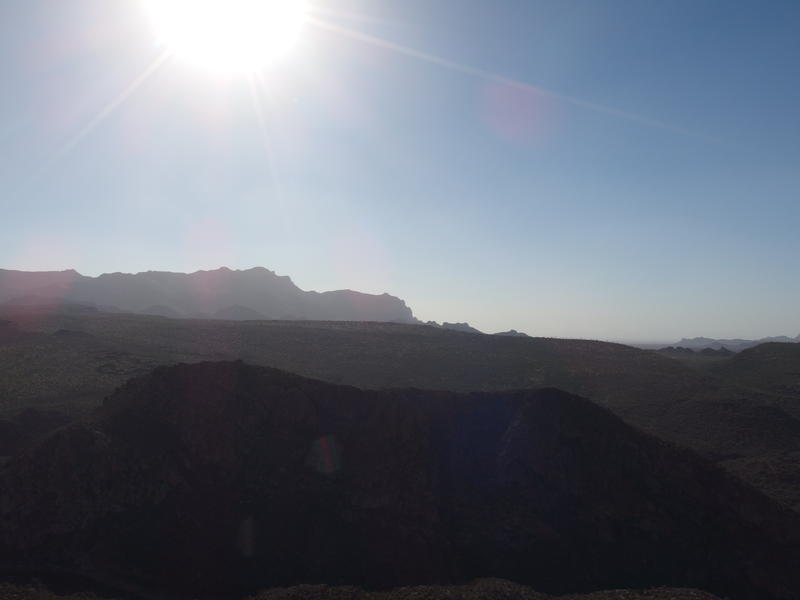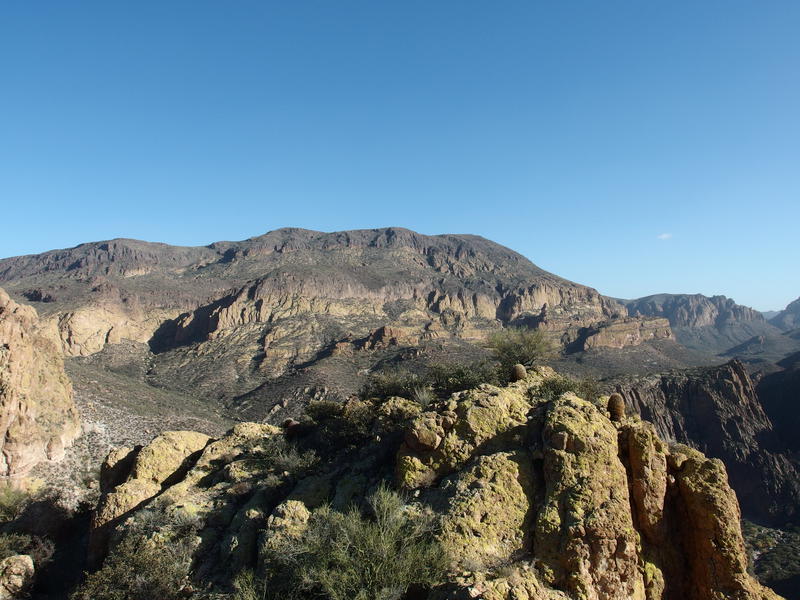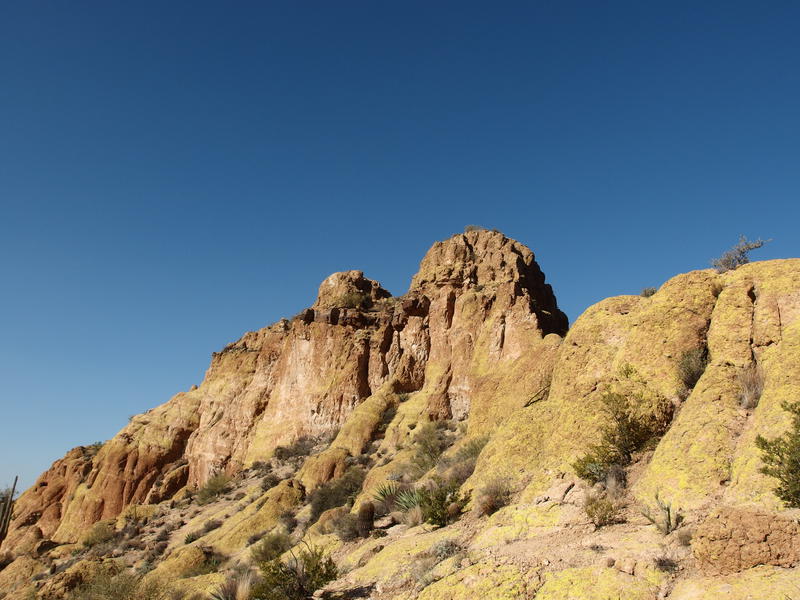 Chris had been busy while I was out playing on the summit. His tent was set up, old firepit had been built back up, firewood collected, and he was laying back on his sleeping pad and munching on a second sandwich. I briefly considered that LaBarge loop. It was three (very tough) miles in length and I had two hours of daylight to spend. Or I could just be lazy. Tonight was going to be cold, approaching freezing, and we were going to be awfully exposed. Setting up a decent shelter and getting a good fire started was probably a better idea.
Four attempts later and I finally had a decent shelter. Having good anchor points is very important with a tarp, especially when we expected strong winds, and the loose dirt on top of Battleship did not make for good anchors. Even heavy rocks can roll a few inches and ruin a good pitch. That, plus some messing around on nearby rock formations, wasted away the remainder of our afternoon. We timed our dinner nicely and saw some great sunset colors playing on the nearby rock formations as we shoveled steaming, re-hydrated concoctions in hungry mouths.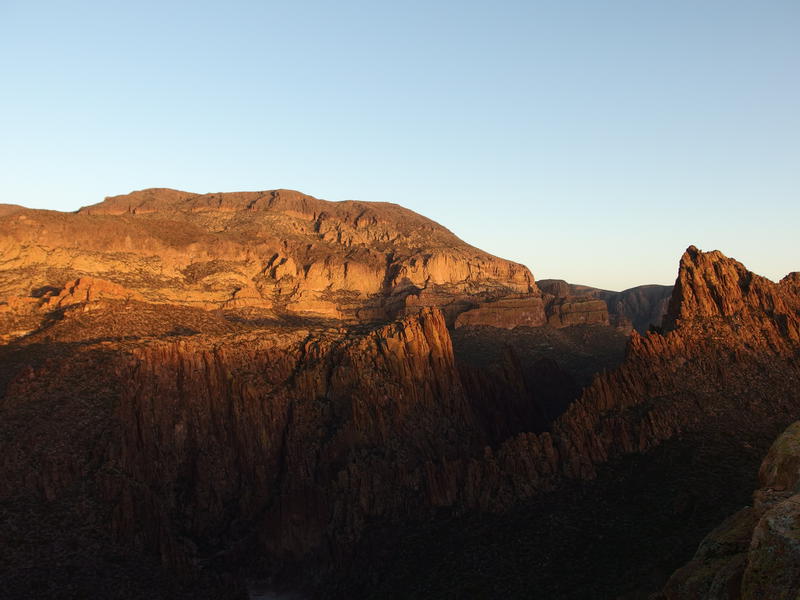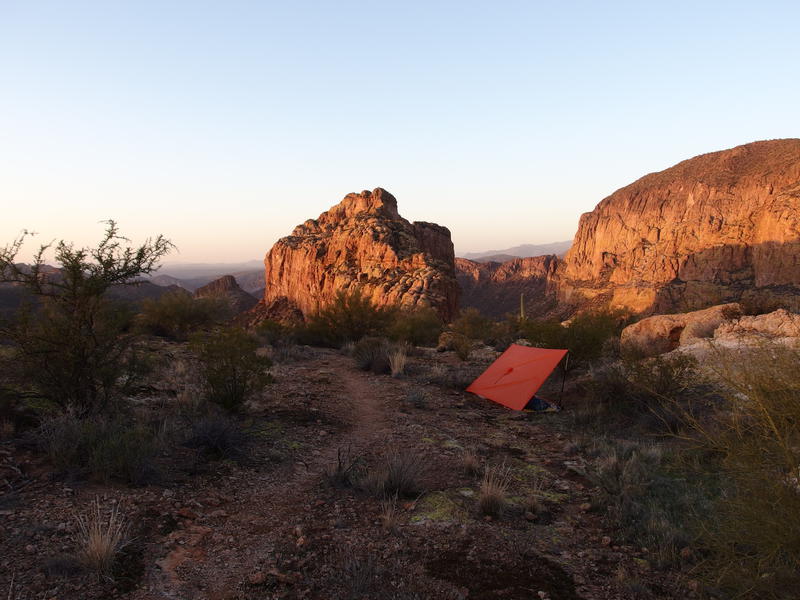 The campfire was a great touch. It was cold out, cold enough to justify rotating to heat different sides, and the skies were beautiful. There was some excitement out that night, too. A few choppers were playing around by First Water in what could have been a search and rescue mission, plus there was a night time hiker in La Barge that ignored our hails. We tried guessing at their intent, unsure if there was a rescue going on here too or if they were being arrogant. It was shortly after eight when the cold finally pushed us into our respective shelters for the night.
Strong wings kicked up a few times over night, and my tarp shelter made it until four before collapsing on top of me. The 20° bag was useless exposed to the wind and I shivered for an hour and then got up. Stirring up last night's embers I got a hot fire going before packing up my gear and starting on breakfast. Chris woke up just as the coffee was starting (imagine that) and we watched the sunrise together, shivering as the hot, bitter brew tried to wake our tired bodies up.
With little else to do today we made our way down off of the ridgeline, retreating back to the stern and taking the long, cairned route back to Boulder Canyon Trail. There were a few patches of almost-frost on the grass down here. I didn't think it got close to freezing last night, yet maybe the calm air down here dropped to lower temps. The large group was up and stirring, hot bacon sizzling on large gas stoves, and we were more than a little tempted to stick around and try mooching some second-breakfast off of them. Their guard dog (a small white terrier) looked vicious so we kept it to small talk before continuing on to Second Water for some fresh water.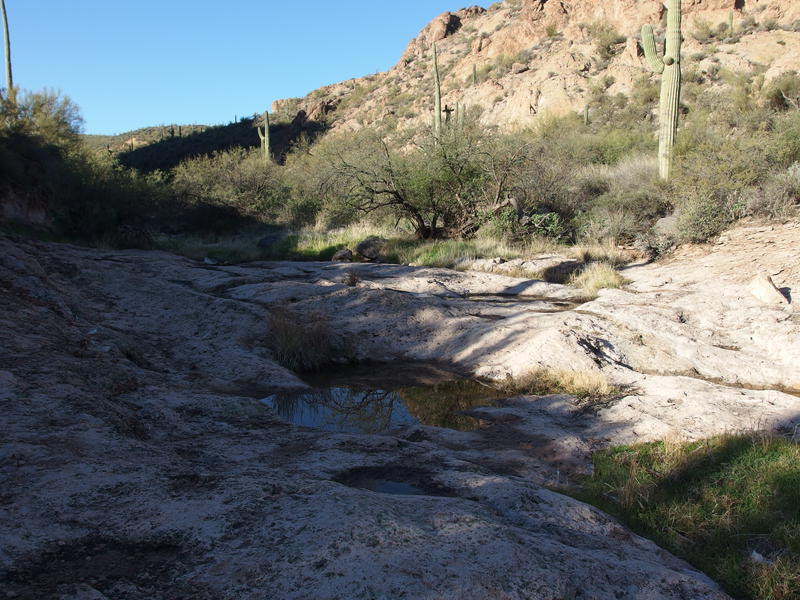 I definitely needed more water - four liters had barely gotten me through dinner, breakfast, and the other activities since my last filter - but only pulled two. Our trailhead was a few mere miles distant and it was still chilly out. Chris only needed one and hopped back on the trail before me. We met again before the final Boulder Canyon crossing, briefly joked about retracing our earlier hike in, and then started up the shallow saddle between this wash and La Barge.
See, La Barge and Boulder Canyon parallel each other closely several times in the Superstitions. There's Marsh Valley when Needle Canyon (tributary to Boulder) flows just a saddle away, then Lower La Barge Box and Battleship, and then the shallow saddle under the bow of Battleship. That saddle is where our trail (barely) climbed up now. It's also where an old paint mine is, one rich in Dutchman Lore, so we took some time to follow a few paths and check out the red shafts. There were a few interesting finds, like an old rock wall and what appeared to be a makeshift house built into a square pit.
Beyond the paint mind there was just the climb up Frog Mountain, the same climb that Katie and I had done some six months earlier. I stayed back with Chris for part of this climb, gazing up at the cliffs on Geronimo Head and pointing out little spurs that I remembered hiking along back in January. When the trail steepened and he slowed down I decided to push forward. A good workout seemed appealing, and a nonstop 500' climb on semi-fresh legs would fit that. I hauled up the trail without a pause and reached a good resting spot at the top out of the wind. Sprawling out on some flat rocks I enjoyed the warming sun while waiting for Chris to catch up.
It didn't take long before the click-clack of his trekking poles broke my rest. We ventured on together, enjoying the little up-downs of the trail as it slowly made it's way to Frog Mountain, and not enjoying the traffic as much. Now we were back in the realm of dayhikers, close to the trailhead, and there were inexperienced beginners, out-of-shape dogs, and tourists that cluttered up the trail. Guess if we wanted some more solitude we should have ventured further east. We tried to be civil, answering questions about Battleship and campsites and water to those who asked, politely saying hello to others, and found our way back to the marina.
This was definitely one of the shorter backpacks I've gone on this year, especially given how close I am to taking a lengthy break from long hikes (newborns tend to do that). Chris was happy with the outing, mostly wanting a success under his belt and a good story to boot, and I was content. It was nice to explore the lower hike in along the bottom of Boulder Canyon and to spend some time with him, but much of this hike had been along familiar grounds. I'm running out of time to get any new ground explored before this third kid shows up.