I stared at the stone monument, reading yet not comprehending the words etched on the smooth finish. 'Tumbles of Tlapak' was the title of the thing, maybe a paragraph or two, about odd lifeforms and extra dimensions and Kcymaerxthaereal. It reminded me of something from Lovecraft. An odd little fantasy tale sitting on the shore of Big Bay. Shrugging to myself I walked past the stone, down to Squaw Beach, and onto Lake Superior.
Today's morning adventure was another ice walk, this one in an area I had visited many times before. North of Squaw Beach stretches a long line of tall cliffs, punctuated only by Black Rock Point, that circles around and plunges back down into Salmon Trout Bay. I had walked the tops of these cliffs before but had never been able to explore the base that much thanks to the steep cliffs and slick underwater rocks. With any luck I'd be able to tread on top of the thick ice a good distance up from Big Bay.
Someone had beat me to the ice. Snowmobile tracks led from a parked truck and trailer off into the distance. As I plodded my way away from the land, following their trail, I noticed that they didn't stop at the solid ridgeline. They had driven on the ice beyond in a long line leading northeast. Now, according to the MODIS photos much of the ice in the bay has been here for months. Standing on the edge, looking down at the creaking, groaning ice, I don't know how anyone would have the guts to drive a snowmobile over it. Maybe I'm just not that used to lake ice.
Turning away from the snowmobile tracks I started north, slowly following the ridge back towards the shore in a lazy swoop. The cliffs didn't waste too much time. A few hundred feet north from the Tumbles of Tlapak and there was a four-foot wall of sandstone, and a few more hundred yards later the land rose up eighty feet or more above me. It wasn't all a sharp drop, though. The forest above draped over the edge, coming down towards the lake in a steep slope, before abruptly ending in rocky cliffs.
The ice formations came soon, too. A few spots had enough of an overhang to support icicle chandeliers while others spawned frozen waterfalls that piled downwards. There wasn't as much ice here as the Freda or Redridge cliffs, sure, but what was here was impressive.
Already Black Rock Point seemed much closer. I tried not to get my hopes up, remembering from yesterday's hike near Freeman's Landing that the ice could not be trusted (and/or I'm not brave enough to tackle that type of ground alone). Still, if I could make it Black Rock Point, then I could climb up that trail and follow Sullivan Creek Road back to Big Bay. Or, if I made it that far, maybe walking all the way around Salmon Trout Point to the bay on the west side… No, that was getting to hopeful. One leg at a time.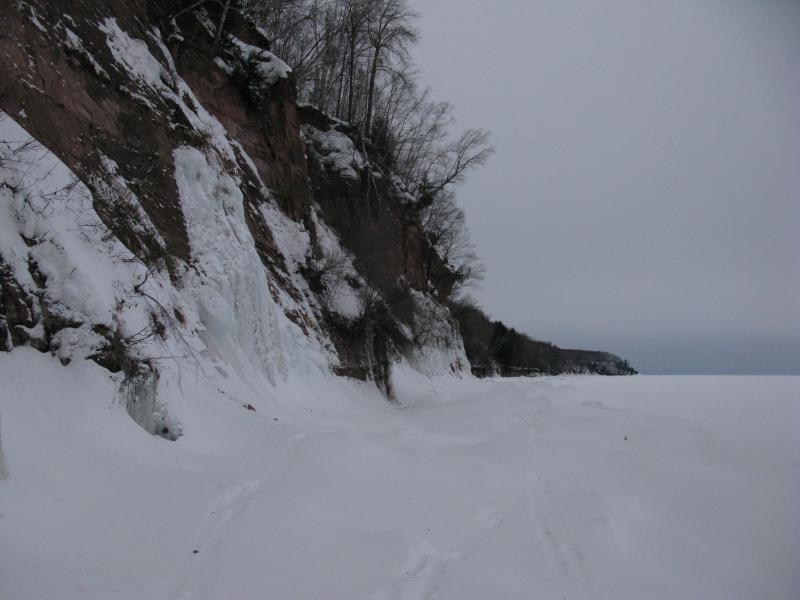 My trail began to narrow, the solid snowy ridge coming in close to the tall cliffs. Not that I minded. I wanted to walk next to the cliffs anyways, get a feel of just how massively high these things are. The snow and ice masked the foot of them, though I think its safe to assume that the waters of Lake Superior lap right at their base. Gnarly scrub hung onto sections of the cliffs, stubbornly grasping onto cracks for a foothold, while other areas were just bare rock.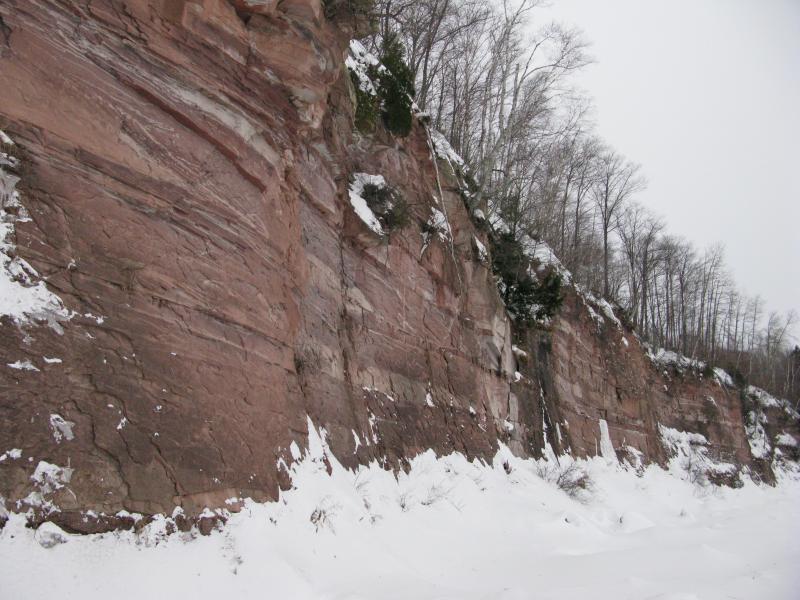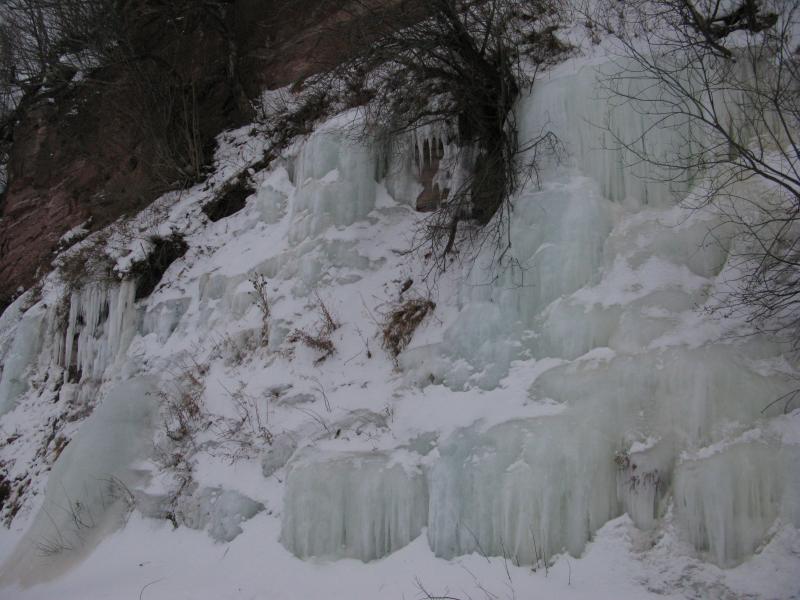 At least two skiers had been out this way, winding their way around the drifts and piles of ice from the cliffs. I tried not to follow their tracks too close, in case others wanted to follow their trail, but the narrowing didn't give me other options in some spots. That started to worry me a bit. I started glancing to the forest, wondering if it would be possible to climb up there before making it to Black Rock Point. There were a few spots ahead that could work, just maybe. I'd still have to make a steep climb up snowy woods after the sharp sandstone cliff.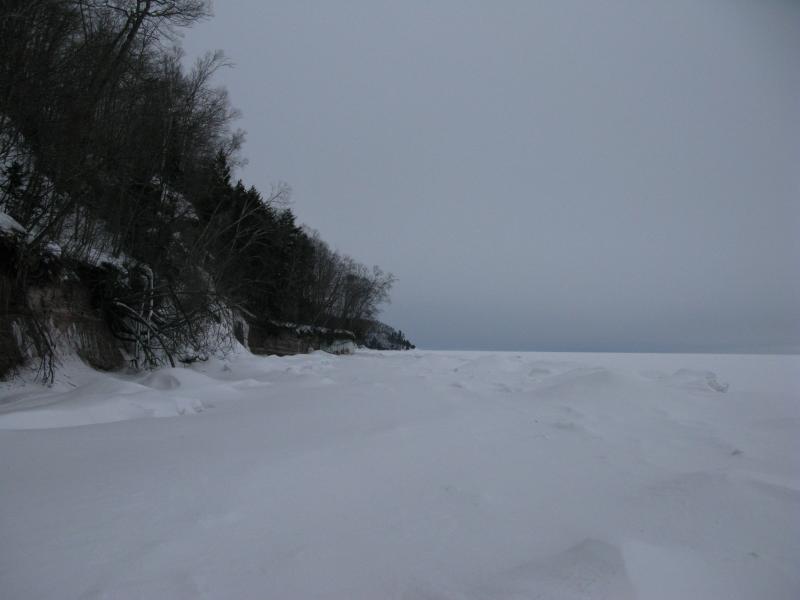 The end of the road came suddenly. I rounded a bend that distracted me with a solid wall of ice seeping out of the rock. When I looked ahead I saw that the ridge was no longer welcoming. Waves from winter storms past had pushed the snowy chunks high up against the shore, merging it with the icy seeps, forming a sloped ice wall stretching into the distance. I could try my luck on the thinner ice below the ridge, the ground that was still making deep booms and shuddering noises and whose cracks were visible from my perch above. Over three quarters of the way to Black Rock Point I was forced to turn around and head back to my car.
Snowshoeing back was a long and tedious journey. I had really hoped to reach the point today. Maybe I could have if I would have dared the groaning ground. Or I could have fallen through. Faint pink left over from the missed sunrise filtered through the clouds to the south and I wondered if the snowmobiler was still out cruising around on the ice. I'm sure he would have laughed at me turning around so quickly, afraid of a little ice.