As I've began to venture into the Sierra Ancha Wilderness, I can't help but wonder if it'd be a suitable destination for my kids. Compared to the Superstition and Mazatzal Wilderness it is rather small (a mere 20,000 acres), which is reflected by the shorter trails and easier access, yet it is much more rugged and overgrown, thanks to a few wildfires that decimated the area over the last two decades. It's hard to think of any trip out there that wouldn't involve miles of thorny bushwhacking. Eventually I picked a new destination, near the wilderness boundaries, that should be easy enough for them and offered enough variety to keep us all occupied.
We started with an 'easy' car camp along NF-489 on a Friday night. It was close to sunset by the time we pulled off of AZ-288 and most of the campsites along the road were already occupied. I crept the Jeep along the rough track, inching over the jagged rocks and around sharp turns, hoping to find some place to spend the night before things got too bad. Luckily there was an open clearing large enough to park a vehicle and setup a tent near Pocket Spring, complete with a large waterfall, and we made quick work during the waning light, getting everything set up in time for a late-night dinner of hot dogs and chips.
The morning was a chill affair. I didn't sleep well in my hammock, interrupted once by a late arrival to another campsite and once by a herd of elk traveling past us, and so I immediately heated up some coffee and let the kids wake up and play on their own accord. Every once in a while I tossed some donuts at them while I tore down camp. It was after eight by the time we were finally ready to get moving, and even then we dallied, checking out an old gauge shack by our camp and an even older wreck in Pocket Creek, possible relics of this area's mining history.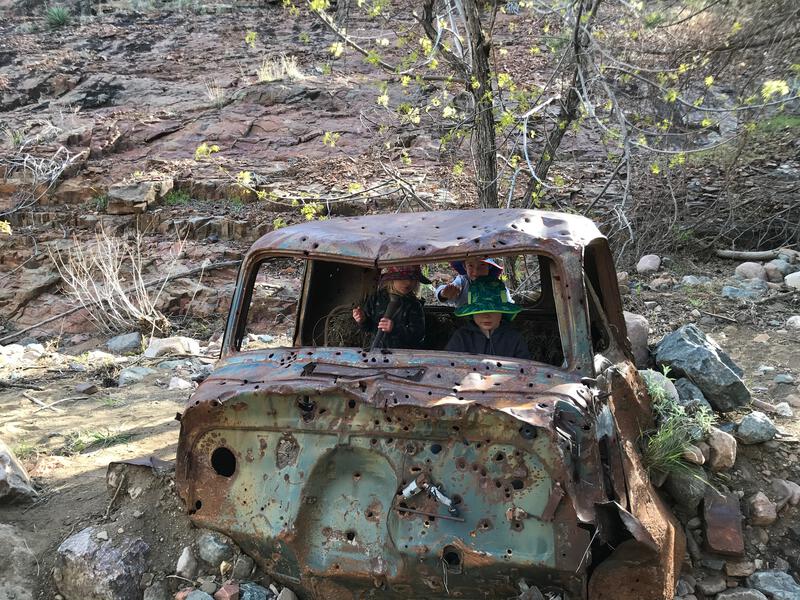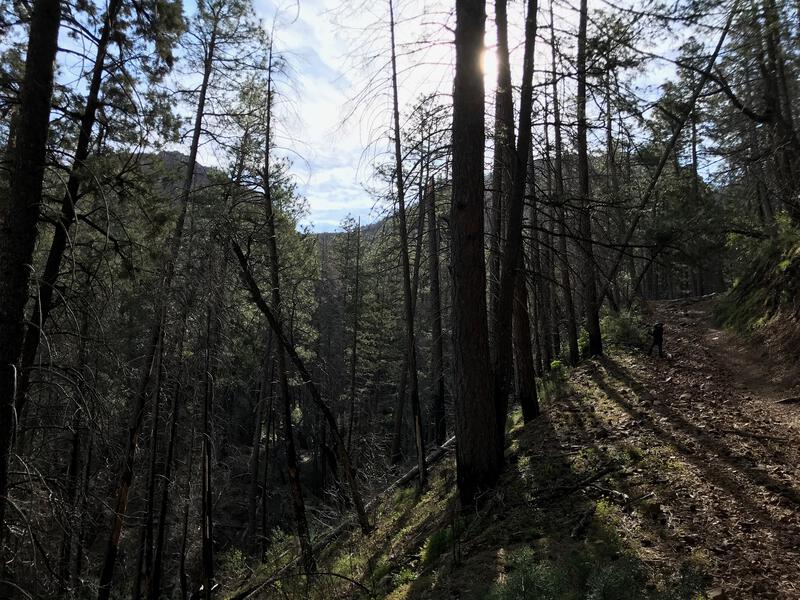 Once we made our way to the old road I began to realize my assumptions about this hike may have been incorrect. Yes, the route was clear, and there was no brush to push through. And yes, it was a relatively short hike up to the top. However, it was still a steep and difficult walk. The rocks underfoot were loose, rivulets of water caused frequent distractions and obstacles, and dozens upon dozens of deadfall laid across the track, most of which were too difficult for Charlotte to get around by herself. I ended up spending most of the walk holding her hand and scolding the boys for traveling too far ahead. By the time we reached the saddle (well, the first one, anyways), we were all ready for a break.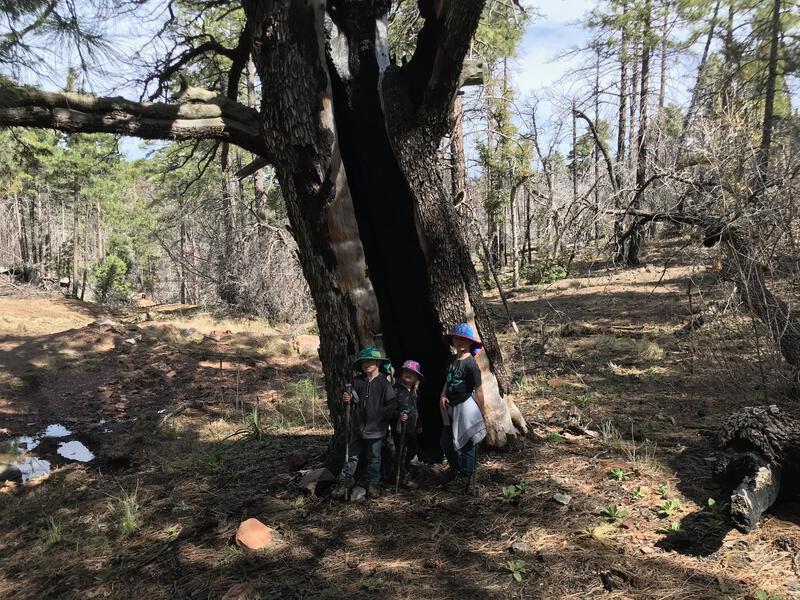 We stopped briefly at the first saddle, where an old juniper sheltered a large campsite and the trail forked. Then we continued to push up to the south to a second saddle, one closer to the old mines, and that's where we stopped long enough for a snack. For a brief second I thought about taking them up to Zimmerman Point to the north. That destination involves a lot more bushwhacking than I wanted to subject the kids too, though.
There were two destinations beyond the saddle that I wanted to get to. The first was Asbestos Point, a small spur that peaks at 6652', that offers commanding view of Tonto Basin and Roosevelt Lake. Most of the walk to the point is on an old two-track, with the the last few hundred yards being a steep, overgrown hack through manzanita. All four of us crawled up the slope, pulling up a few feet at a time and sliding back down, fighting against gravity and nature to reach the sorry, rocky point.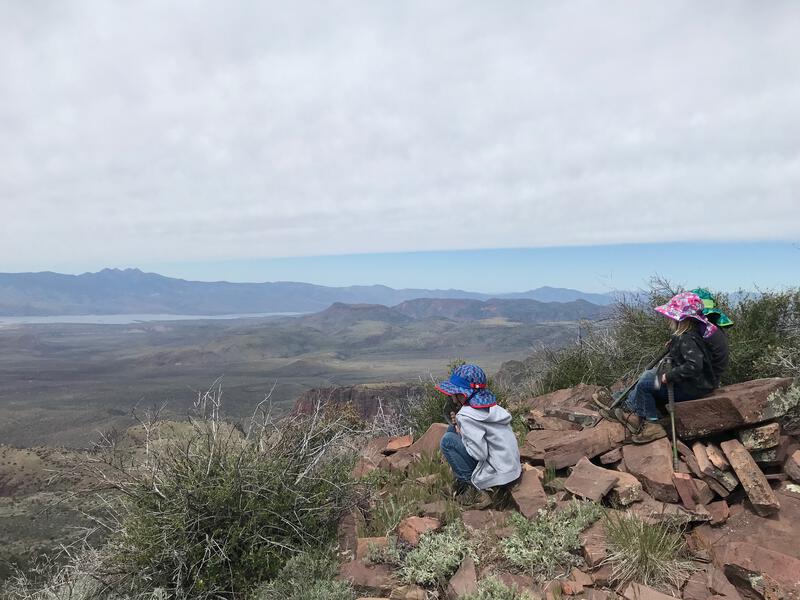 We spent little time on the peak, quickly driven away by cold wind and exposure. The descent was tough and I was very thankful once we returned to the old track. Now it was time for our second destination - the old asbestos mines.
I debated quite a bit about the letting the kids know about the mines, asbestos being bad and all. Ended up deciding to let them go in one of the shafts, one I knew was safe, and that we'd spend only a few minutes in the dark. It took some time to circle all the way back to the saddle, where a side-track led down to the mines, and then even longer to check each shaft along the road, looking for the safe one. I ended up letting them go into a two tunnels in total, one with old beds and doors in it, to show them how the miners lived up here. They enjoyed the little adventure, though they would have been happier if we would have continued deeper into the depths of the mine.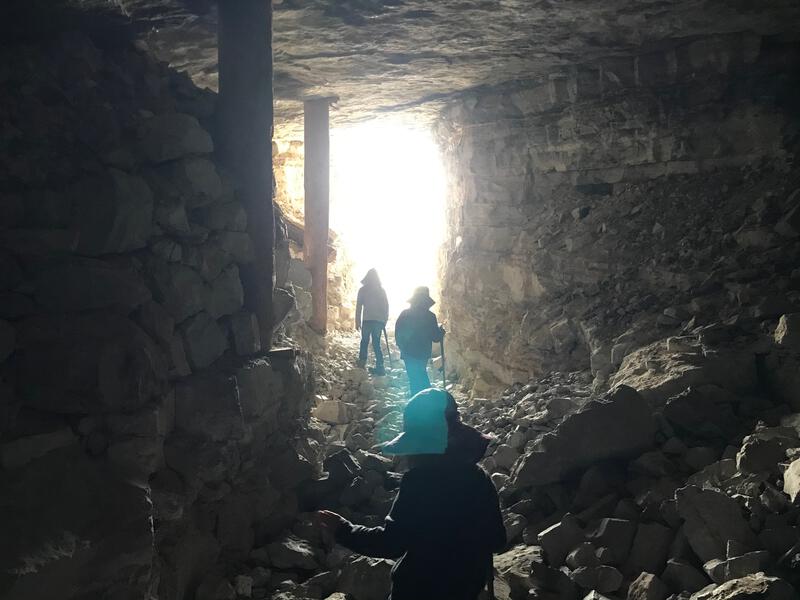 With both the destinations checked off the list we returned to the saddle one last time for second-lunch. There was a nice fire ring set up here, with logs for chairs, and, if you ignored the wind exposure, it made for a pleasant resting spot. I splurged a bit and had sandwiches, juice, and candy for them, special treats for a tough morning adventure. After all, they had climbed over 2000' from our campsite, a sizeable haul for little legs.
I dreaded the walk back down, with the obstacles and rocky road and fire-damaged forest, yet it wasn't too bad. The boys traveled fast and played with the water while Charlotte and I trotted along behind them. Even with the steep descent we made good time, returning to the Jeep around two in the afternoon. That was plenty of time to enjoy a post-hike treat, change into clean clothes, and still return to Gilbert before dinner. All in all, it was a great first introduction to the Sierra Ancha for the kids.