Eating lunch with a waterfall splashing a mere arm's distance away brought back fond memories of Michigan hiking. High cliffs overhead kept the sun off me, keeping the desert temperatures reasonable, and as long as I didn't let my foot dangle too far down the rock no needles poked at me. It was a luxurious and appreciated break after the terrifying rope-assisted drop from Bluff Spring Mountain.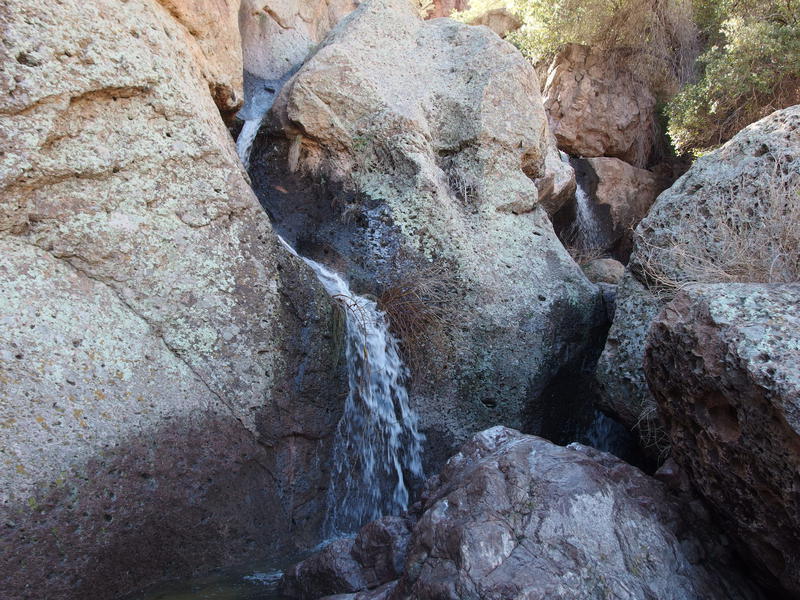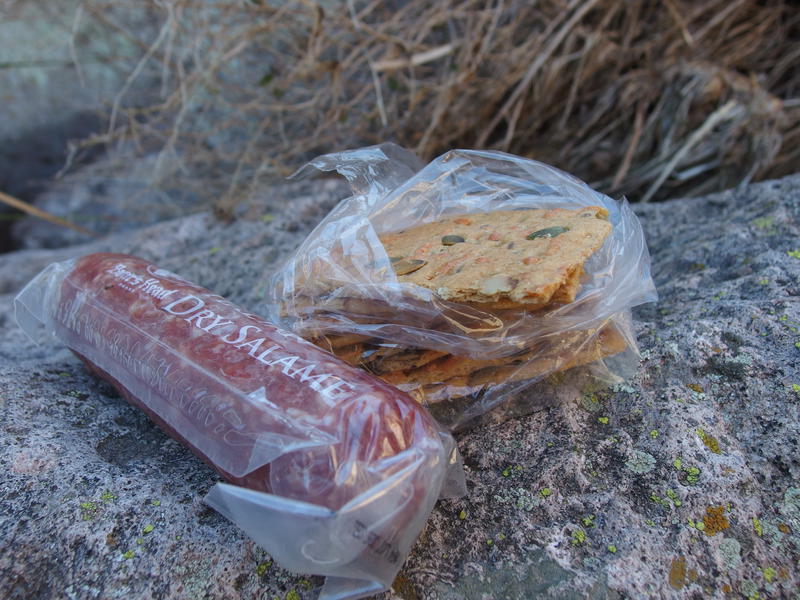 Lunch was a simple affair of sausage and crackers, with some hazelnut spread for dessert. And water, lots and lots of water. It was hard not to enjoy the fresh stuff rushing down the waterfall above after such a long morning. The wind rustled in the trees around and the creek played around and the rocks and I had to force myself to move along. Could have spent hours lounging back here watching the clouds drift overhead.
There was plenty of miles to hike yet today, though. I was a long way from my parked car at Peralta Trailhead and every option to get back involved some hefty climbs. Well, most options I've already traveled, so I would be taking the Terrapin Trail back. It's a trail that I needed to finish up. It also happened to be the shortest return option. To get to Terrapin I needed to find my way down to the remains of Little Bull Pass and Dutchman, so I packed up my gear and began pushing my way down the creek.
This creek turned out to be the toughest, most overgrown, and most ridiculous sections of the Supes I have tried hiking. I couldn't just hike the bottom of it, with deep pools of water and slick rocks underfoot. Surrounding that was huge boulders ranging from the size of cars to small houses. Growing in between and around these boulders was a whole mess of tangled trees. Once I realized the mess I was in I tried to hike up and out of the creek, hedging my bets with the steep slopes of talus under the base of the swooping cliffs. And by hiking I mean more climbing trees, swinging from branch to branch and crawling like an arthritic gorilla, until I finally reached the blessed loose slopes of crumbling rock.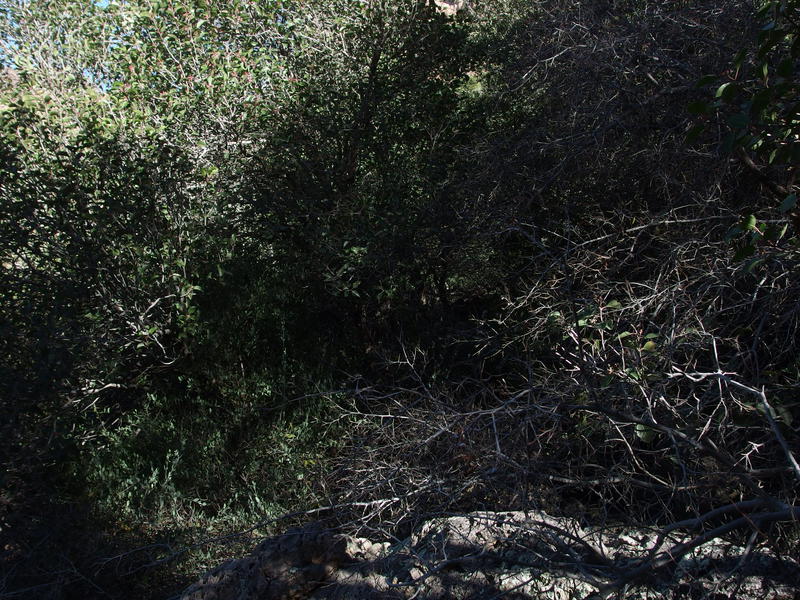 From here it was just a matter of following the hillside down, dodging in and out of the washouts and picking which group of cacti I wanted to dance with. As I slowly made my way towards the flatter land I wondered just how other hikers made it up here. This is a well-known waterfall - did they all take the longer route around to the east? Or maybe they jumped in and waded through the creek? There had to be a simpler way. Eventually I reached the flat lands and could stretch my legs out and stroll with abandon. Soon I'd find the remains of Little Bull Pass trail.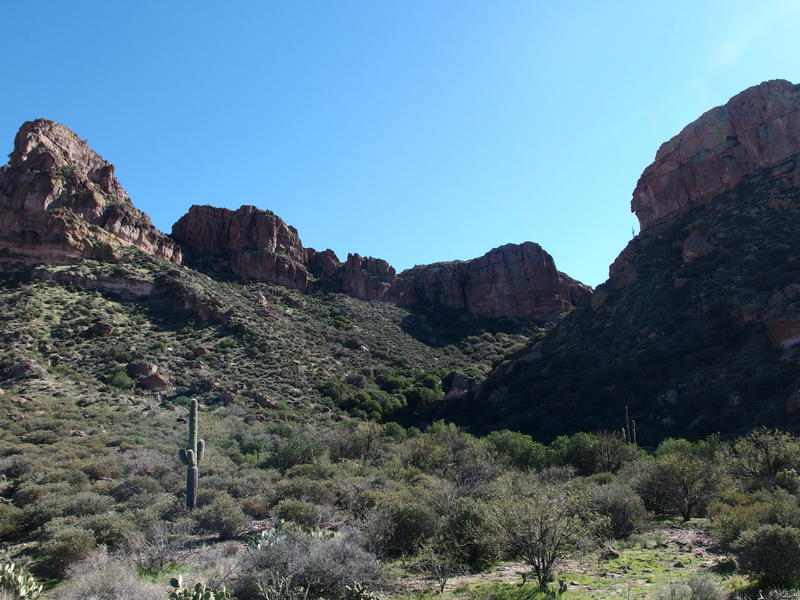 Or not. I didn't have it loaded up on my GPS, so I stuck close to the creek that flowed down from the mountain and watched for cairns. No cairns showed up but the creek began curving west which was good enough for me. It joins with Needle Canyon near the Dutchman Trail so I figured it would serve as an ad-hoc route. It flowed past a wide stretch of exposed yellow rock, which I had seen from the cliffs a few hours ago, and then entered a verdant pasture with picturesque squat trees and a few prickly pears.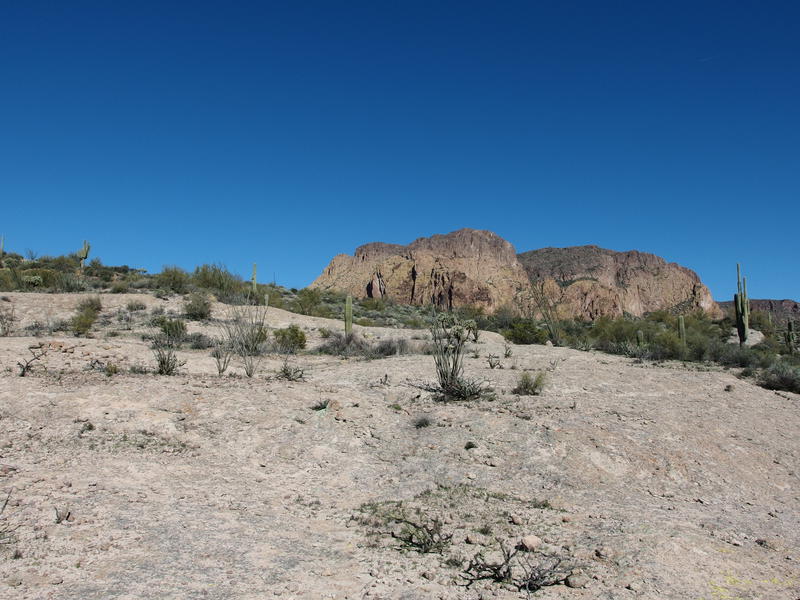 Abruptly a deeply cut trail showed up perpendicular to my route, right where the creek flowed into Needle Canyon at a huge, calm pool. I stepped onto it warily. You need to be careful with trails - once you put your feet on them there's no telling where it will take you. Straining my ears I listened for voices or footsteps, knowing that I was on a key route to Charlebois, which had to be busy this weekend. There was nothing, only me and the quiet desert in the heart of the Western Supes.
West took me towards Terrapin Trail. The way was wide and easy, with recent trail maintenance keeping the brush back. Most of the clipped branches were still green and just starting to wilt, so I'm guessing the maintenance crew had gone through in the last few days. Marching quickly towards the looming Weaver's Needle I was startled when a lone backpacker poked up on the trail ahead.
The backpacker was very curious, asking what I was up to this deep in with only a day pack. As soon as I mentioned that I had been on Bluff Spring Mountain information flooded out of him. His buddy was an avid Dutchman hunter, finding old mining drills and shafts all over this mountain, and this guy was curious what I had found. He wasn't that interested in the claims and ended up passing on many more helpful tips to me for a revisit than I gave him fresh stuff. After fifteen minutes of rapid-fire talking I had to tear myself away, knowing that there was still miles for me to hike this afternoon.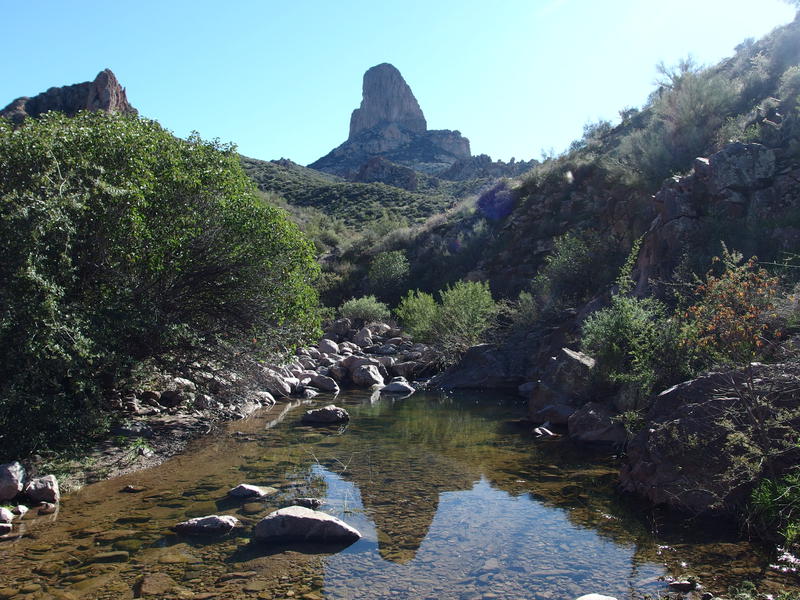 Dutchman Trail dragged on, and when I eventually reached Terrapin Trail that dragged on as well. Fatigue must have been wearing on me. Terrapin was pleasant enough. I bumped into a busy trail crew digging fresh water drains on the trail and re-aligning some sections, covered in sweat and hauling tons of heavy gear, which must have been the same guys I had seen earlier in the day while I looked down off the mountain. I always pictured trail maintenance as relatively simple trimming, not shoveling rocks and dirt around, and did not envy their work in the warming temperatures. Thanking them I pushed on, hauling up the 500' climb to Terrapin Pass before plopping down on a nearby rock for a needed break.
The pass gave me an interesting look back up at Peak 3999, which I had circled around many hours ago. It didn't even look like anything special, just the crest of a steep hill up there. Sure seemed prominent when I was up on the ridge. I rested and drank deep. I had three full liters on me from my lunch break and there was still plenty of flowing creeks near the trail if I needed a refill.
As I sat another backpacker walked up and rested nearby. This guy was much newer to the Supes so we discussed trails and, after I learned he was planning on doing the basic Weaver's Needle Loop (down Terrapin, over Dutchman, and back up Peralta), I suggested that he change things up and head east to Charlebois. Less elevation difference, prettier area, and much better backpacking options. After twenty minutes of sharing past experiences (he had some great stories of hiking in Oregon) we parted ways.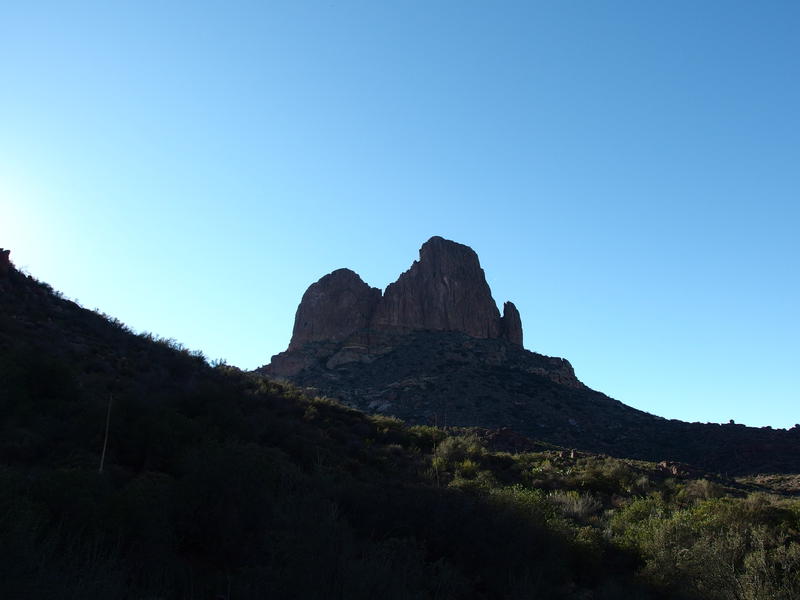 From Terrapin Pass the trail climbed another two hundred feet in a long, gradual slope, rounding off at Bluff Spring Pass and the highpoint for this segment. Along the way Weaver's Needle changed shape, going from a sharp knife edge to a segmented ridge. The shadows also changed. Daylight was running out. I tried to push on faster, tired legs complaining and overworked joints sending pain signals. Getting stuck out here after dark was not a concern - I had a headlamp and from here on out the trails were familiar territory - but I was ready to be done.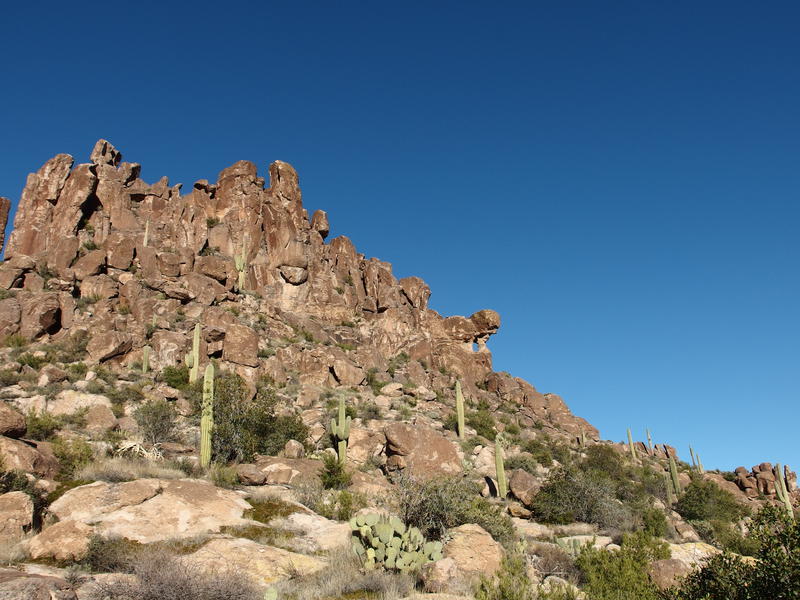 Descending down Bluff Spring Pass was easy even if my knees hurt something fierce. Trekking poles helped. Along the way I looked around for good views of Bluff Spring Mountain to the east and didn't find any. There are some rough trails over that way that lead to old mining camps, promising history lessons and good vantages, and I was not about to check out any of them today. I made it down to Bluff Spring Trail, completing the lasso I had started in the dark morning, and turned towards the parking lot.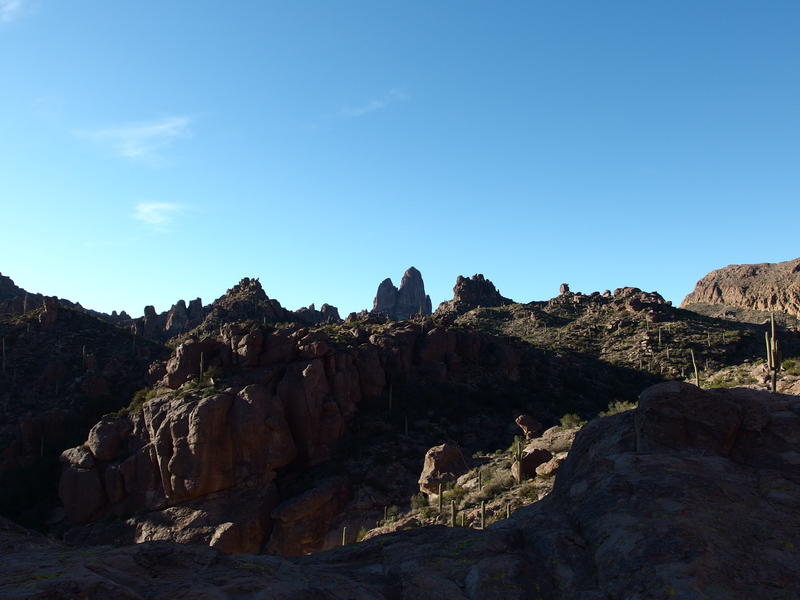 There was one thing left to look for this evening, one last item to check off my list, and I only had the vaguest of descriptions to work off of. Somewhere in between the first and second crossing of Bark's Canyon was a rock with the name 'Peralta' sketched into it. This is a key part of the Dutchman legends, something found by ranch hands that 'proves' the existence of Spanish mining activity back here, and definitely not a prank pulled by later generations. Anyways, I poked along the trail, looking for a cairn or footpath leading off the trail to this rock, and instead found the rock itself right along the trail.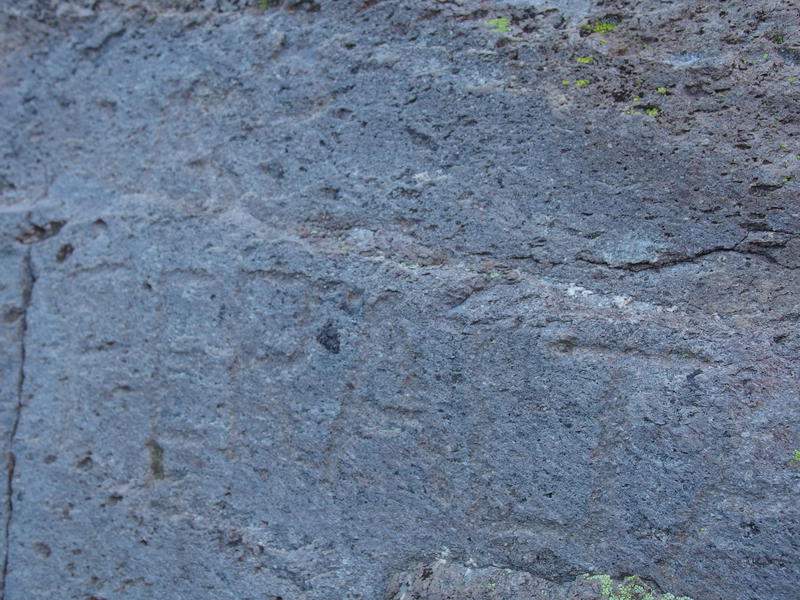 Darn, that was easy. Must have passed right by it a half-dozen times since moving down here and never noticed it. To be fair, the etching blended in with the rock and it was shallow marks at best. I debated splashing some water on it to make the letters pop and decided against it. Leaving the rock as I found it I continued down the trail, crossing Bark's Canyon and heading down Cardiac Hill.
As I descended my phone reception cut in and I updated Katie on my progress. She wasn't worried, though I was about an hour behind schedule, and seemed to appreciate it. We've talked about getting a location beacon to keep her more informed of my progress and any emergencies out in the wilderness, for now a simple text when I get reception seems to work. Maybe in a few months I'll try out a Spot or something.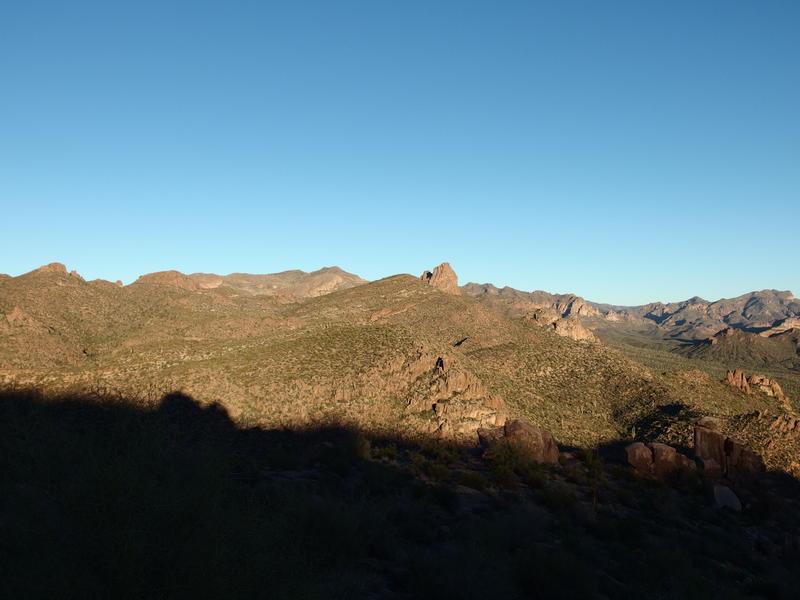 The final descent passed by easy enough. I made it back to the car with maybe thirty minutes of daylight left. Even better, there was no one else on the trail until I got the parking lot. Two backpackers and one trail crew was all I saw today, an unexpected blessing during this time of year in the Superstitions. A sunrise view from Bluff Springs Mountain, exploration of Hidden Valley, finding a seasonal waterfall, and finishing up a section of trail, all in the context of a quiet day-long adventure - it doesn't get much better than that.