Moving to Wisconsin from the wilds of the Upper Peninsula was a difficult move. Living in a small duplex on Wheatfield over the last two years with few friends nearby didn't help the transition. It was a nice place for Katie and I to start in but we were anxious to have a more solid footing. We found a pleasant rental on the north side of Menasha with a fenced in backyard and quaint feel that seemed like the perfect post-wedding house for us.
Our search for a new place was difficult to schedule around wedding plans. I had hoped to find a new place to move in several months before our August wedding but could not find the right place. When we finally found this house it was already July and it wouldn't be available until late August. This led to one of the busiest months in our lives: a wedding, a job change for Katie, and moving all within three weeks. Needless to say, it was a huge relief when we finally had all of our stuff in the new place and could finally breath again.
The move itself was hectic. We had two weekdays to move everything we owned. Late nights and friends helped with the craziness, especially since both Katie and I couldn't afford to take any time off of work. Unpacking took much longer, close to three weeks, but things are starting to settle in nicely now.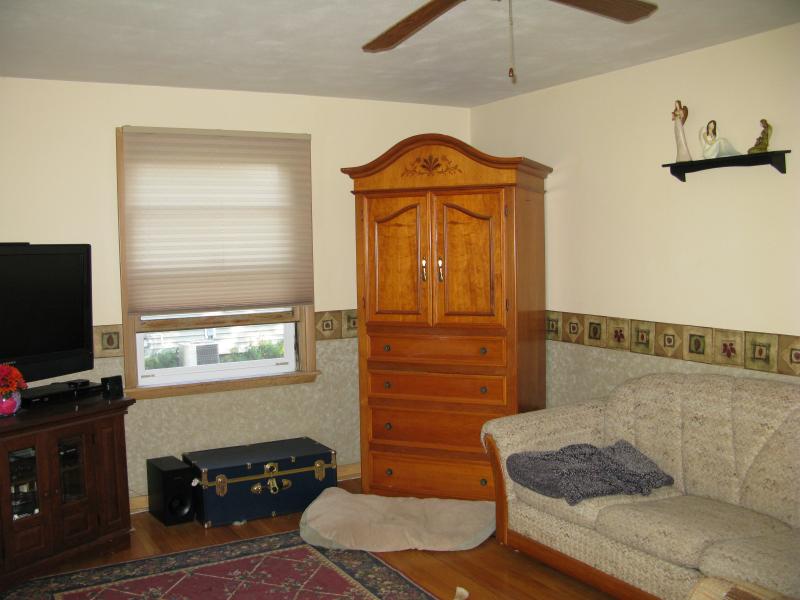 Our living room is smaller than the duplex but feels a lot more cozy. We weren't able to fit all of our books comfortably like the last place but the games and movies are all within easy reach. A new (wedding-present) Blu-Ray and surround system also bumps this room up a few notches. Katie's new job at Pottery Barn will hopefully bring some additions to this room over the next few months, including a couch and low window bench.
There is no real dining room, just an open area in the kitchen for a small table. I'm a little worried about this, as it really limits dining social events, but we'll have to tackle that when we have a large group over for dinner. Katie is a big fan of the multitude of drawers in the kitchen - the duplex only had two small drawers.
One of the biggest improvements is the backyard. Having two large dogs and a fenced in backyard is amazing compared to the single tie out that we're familiar with. Logan and Brody spend as much time as possible playing, guarding, and relaxing out here. Another new item is a room in the basement that will be my office. It's quiet, secluded, and will be a great place for me to spend some quality time coding or reading without worrying about animals crawling over me. Overall this is another step forward in Katie and I's life together, and I hope the next move we make is owning a house like this one.